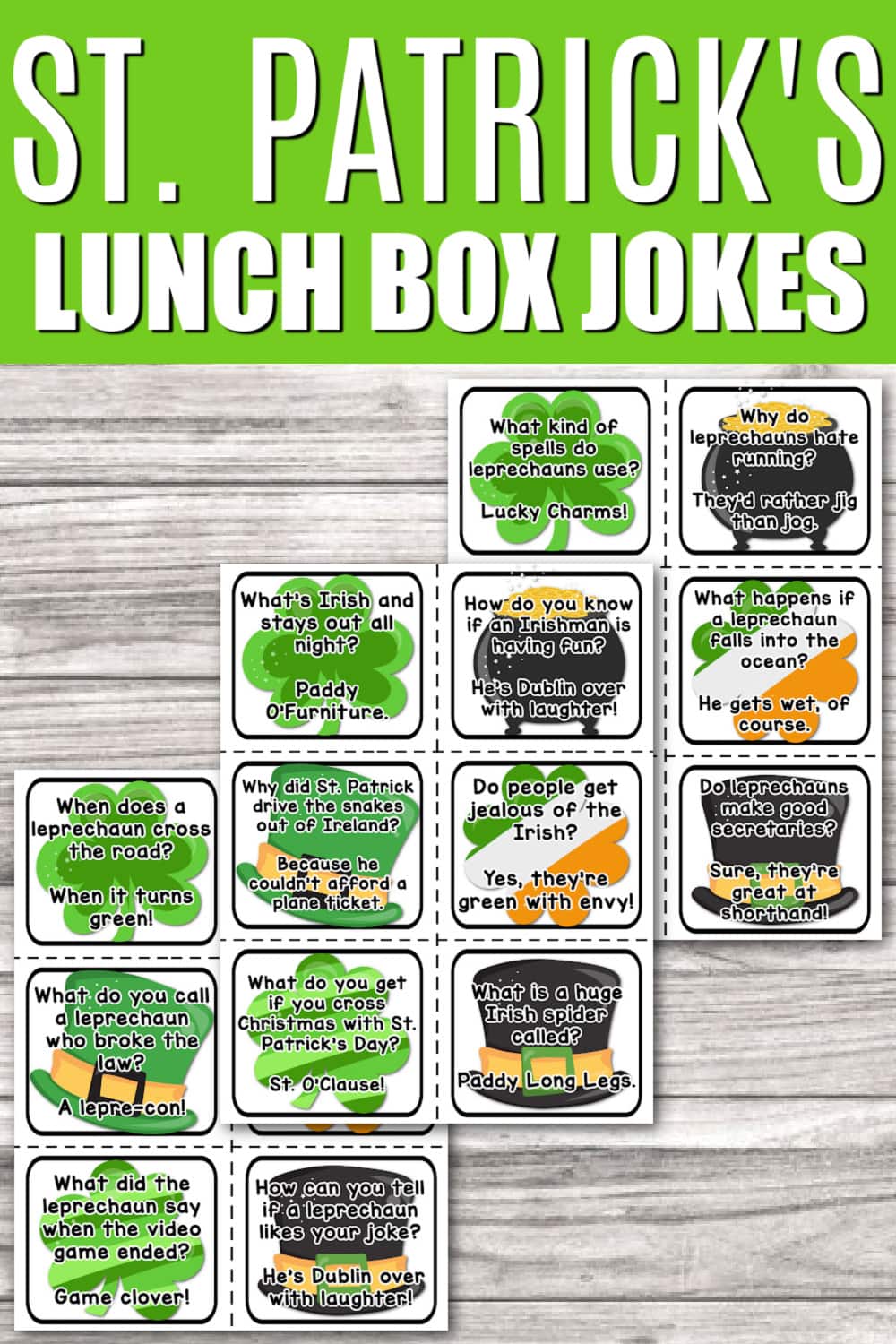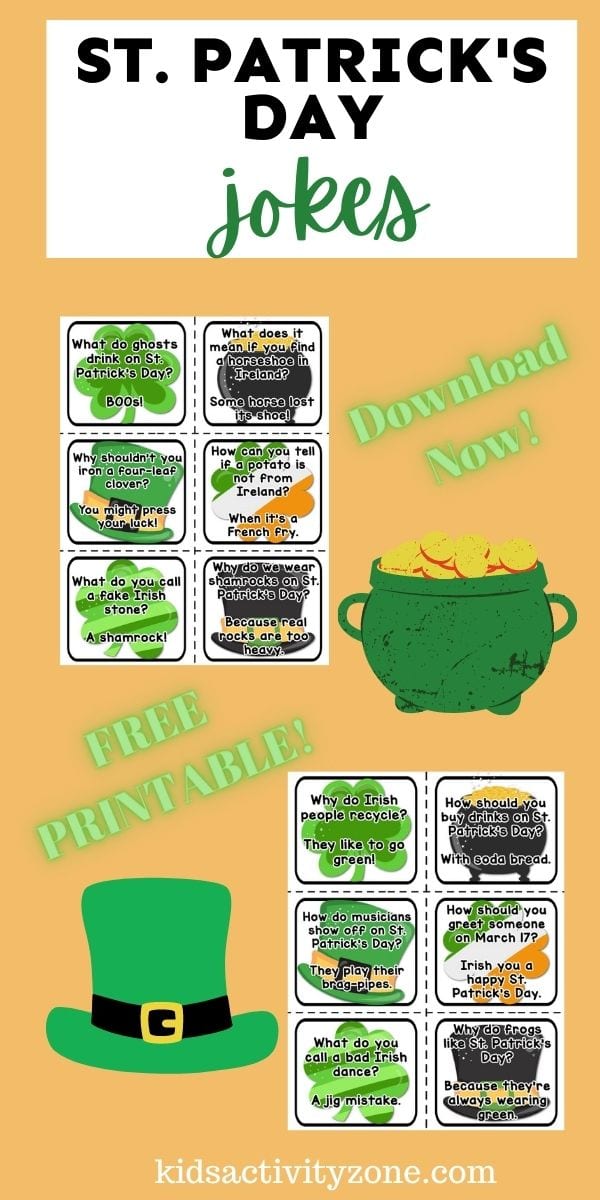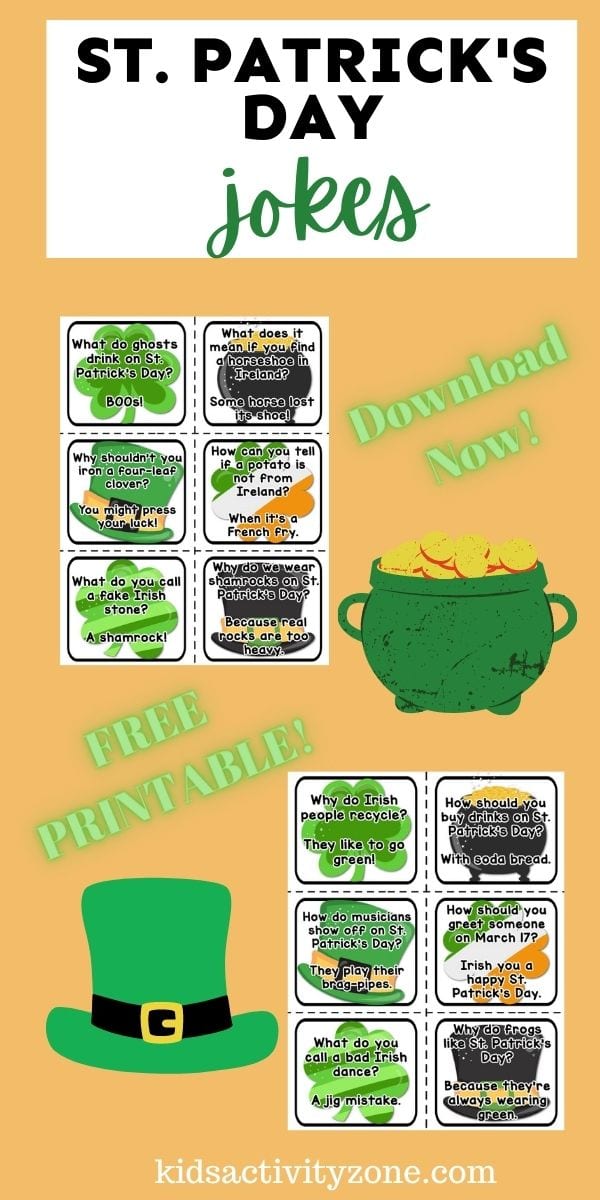 Kids love celebrating St. Patrick's Day and it will be so much fun for them to have these St. Patrick's Day Jokes on March 17th! The best part is that there is a free printable of these fun jokes that are perfect for surprising them with in their lunchboxes!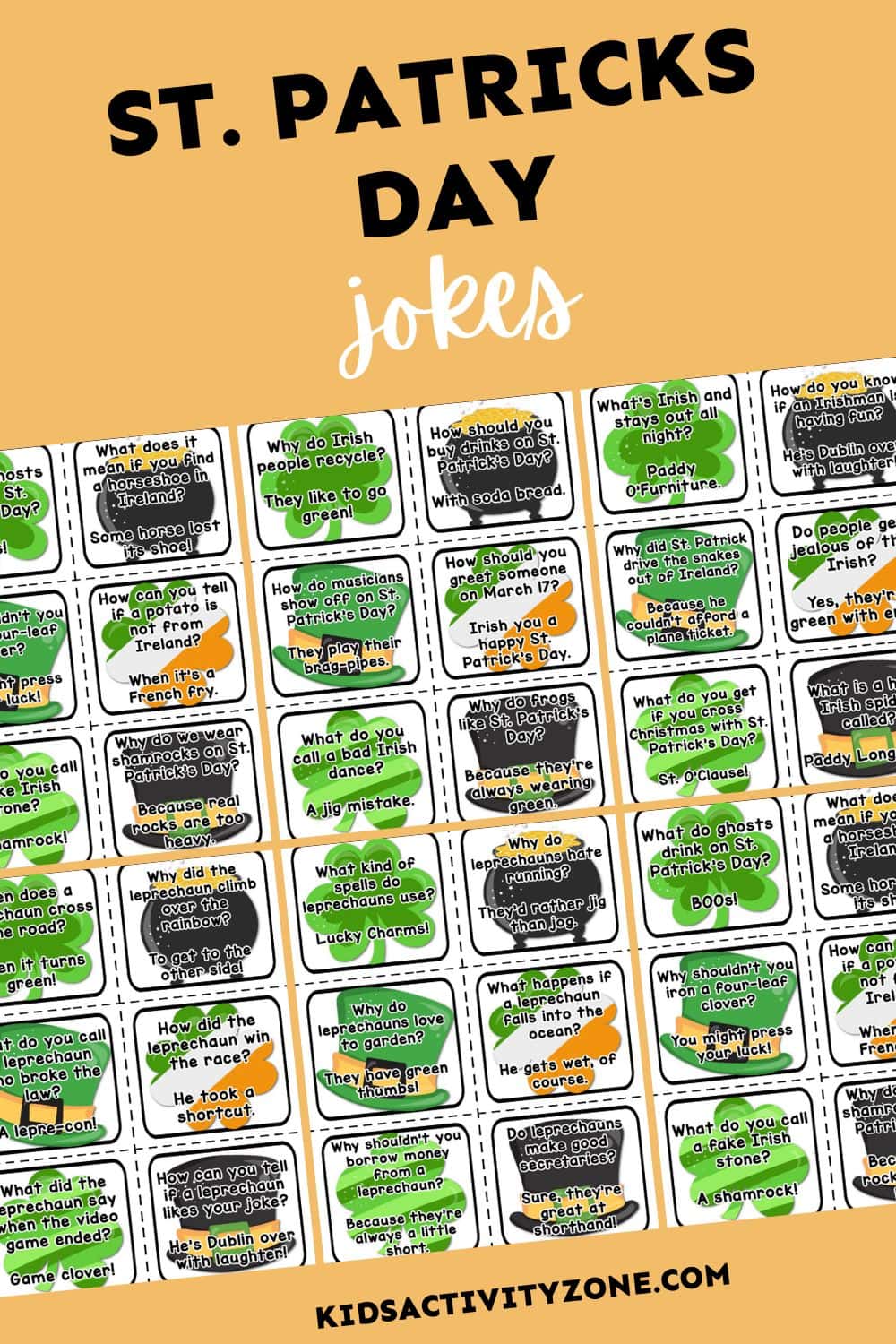 Sometimes, the school day can be a little dull for our sweet kiddos. What better way to brighten their day than putting jokes in their lunchbox?! You can plan to put these lunchbox jokes in their lunch for the whole week before St. Patrick's Day.
It can even become a fun holiday tradition that you put silly jokes in their lunchbox for every holiday! These Easter Lunch Box Jokes are a favorite in my family.
Then, on St. Patrick's Day, surprise them even more by adding a rainbow cupcake to their lunch! They'll definitely have the coolest, most fun, lunchbox at their lunch table. And be sure to send them to school in green…gotta avoid those pinches!
If your kid really loves these jokes, you don't have to wait until the next holiday to include some silly jokes! These lunch box jokes printables are perfect for any time of the year.
It may be the perfect way to let your kid know that you're thinking about them if they're having a rough week. Plus, getting a note from your parents is always a good thing!
Why You'll Love these St. Patricks Day Jokes
What's more fun then knowing you'll put a smile on your children's faces when they open their lunch at school! A little laughter goes a long way.
Your kids will have something fun to tell their friends and teachers at the lunch table!
Need points in the "cool mom" category? These silly jokes will definitely help out!
If you have littles that can't read yet, then brighten their morning by reading a joke to them at the breakfast table!
They can have a bowl of lucky charms and you can share some giggles before they head off to school. Or, you can make this tasty lucky charms ice cream as an after school snack and read some jokes then!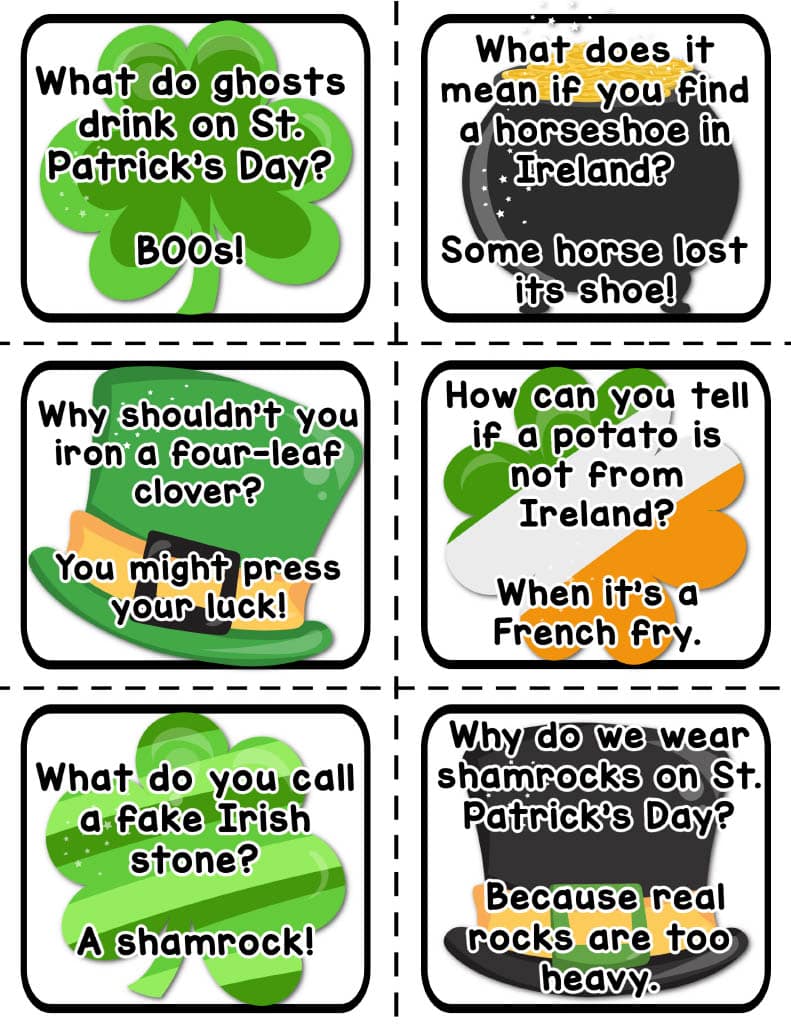 Lunchbox Food Ideas
So you've got these silly Saint Patrick's Day jokes for kids, but are you stumped on lunch ideas? I know, the lunchbox creativity burnout is very real! But there are so many easy and delicious recipes you can try.
A favorite in my house are these ham and cheese rollups and pizza crescent rolls. So much tastier than a lunch-able for every lunch. If your kiddo is a fan of peanut butter and jelly, then these homemade uncrustables will be a mega hit!
For the occasional sweet treat, I love to throw in a chocolate sprinkle cookie or a tasty fruit pebbles treat.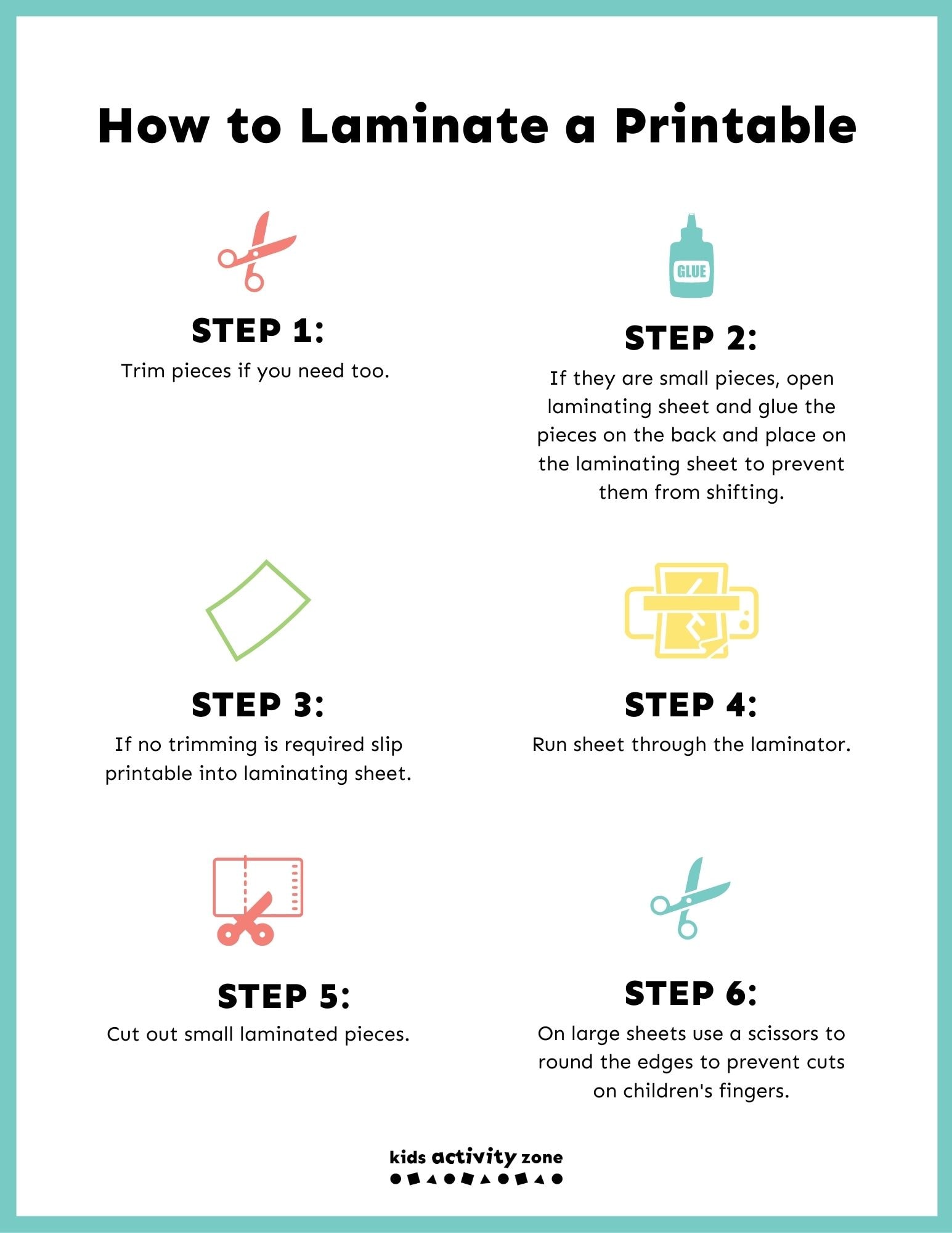 Printing Tips for these St. Patrick's Day Free Printables
To make sure your lunchbox jokes will be sturdy enough for a lunchbox full of yummy food, I recommend printing these on cardstock! You can even laminate them with the tips above so that you can use them again.
If you don't have cardstock, a regular sheet of 8.5 x 11 printer paper will work just fine! But I'd recommend you definitely laminate them if you print on printer paper.
More St. Patricks Day Activities
St. Patrick's Day is such a fun little holiday to celebrate! There are great leprechaun crafts you can make like these leprechaun lookers and this leprechaun trap. Crafts that let the imagination run wild are my favorite!
I always make a pot of gold slime with kids around St. Patrick's Day too. So many fun craft and activities to do!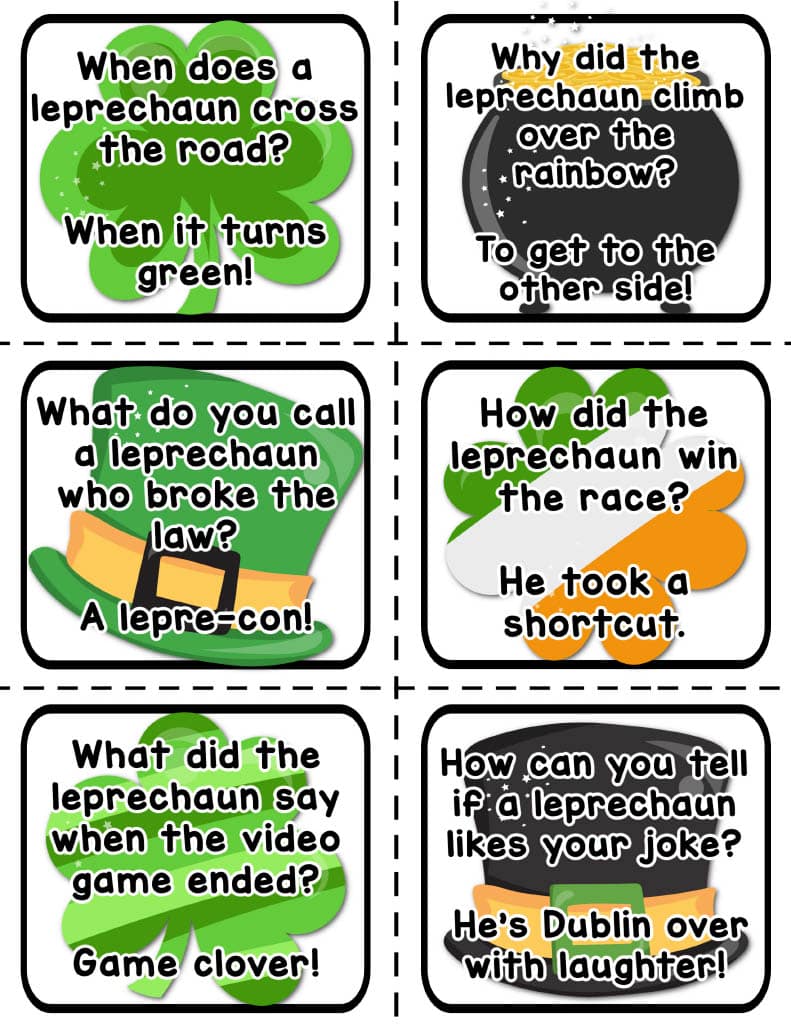 These fun St. Patrick's Day jokes are the perfect way to get extra festive for an often forgotten holiday!
More Free Printables You'll Love