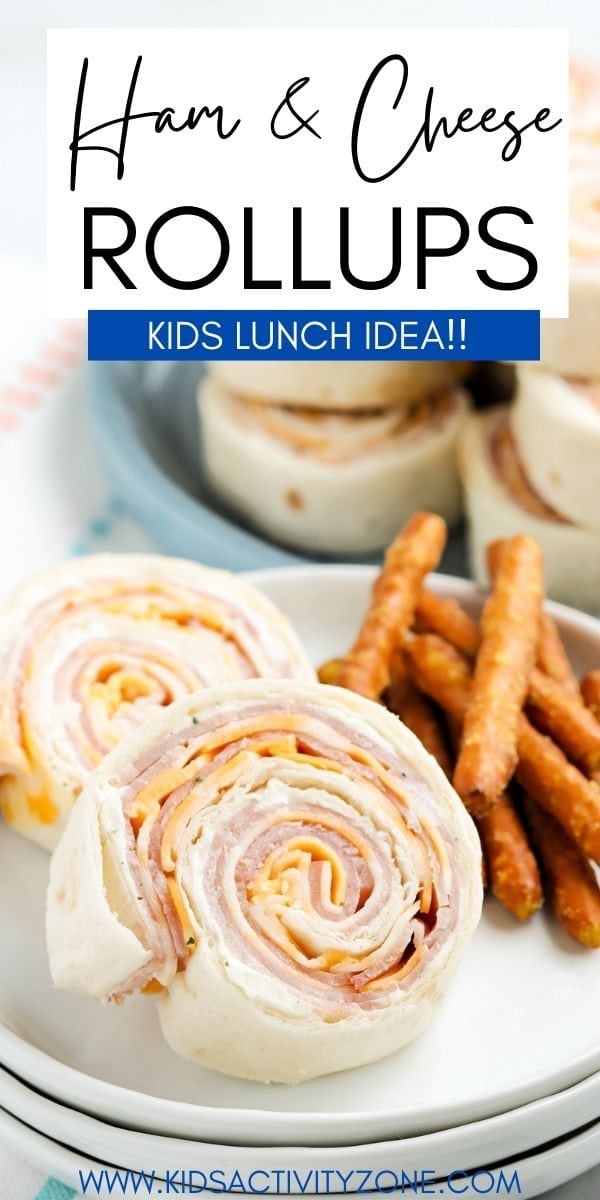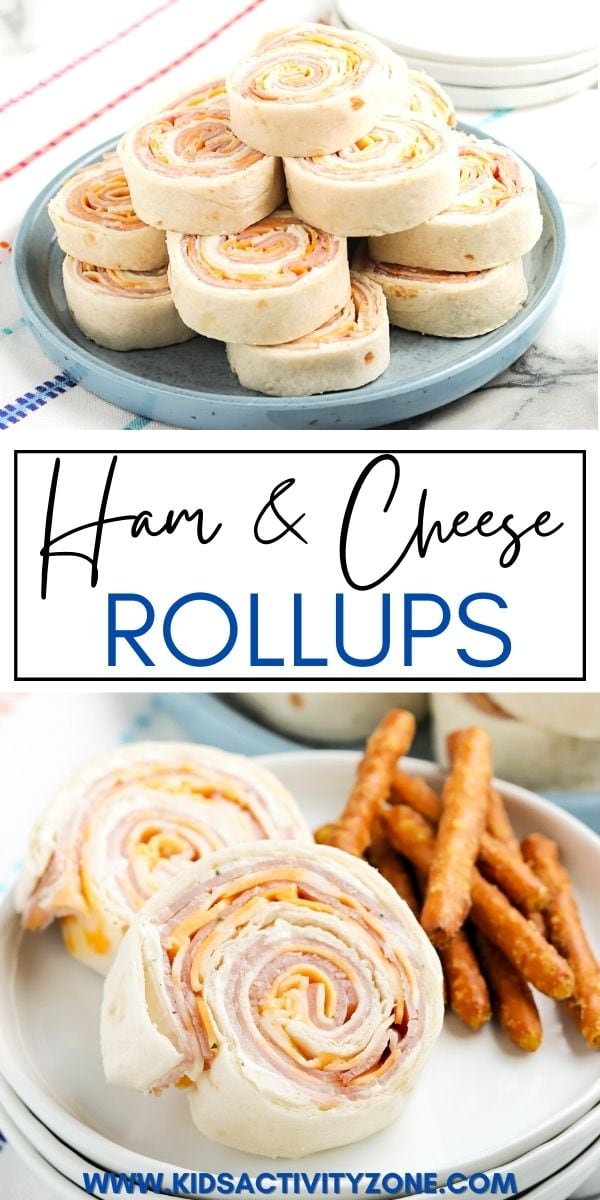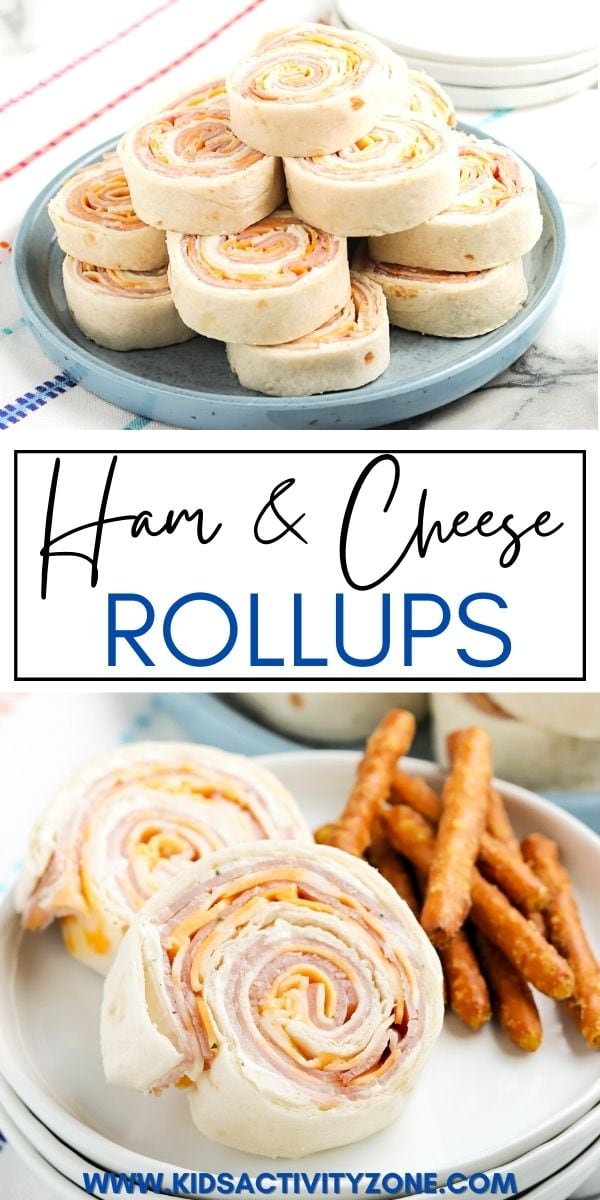 Ham and Cheese Rollups are a quick and easy lunch or appetizer recipe that the kids will love! Soft tortilla shells with a delicious seasoned cream cheese spread topped with ham and cheese. Roll them up, cut them and you have a super simple recipe for picnics, game day snack, Christmas appetizers and so much more!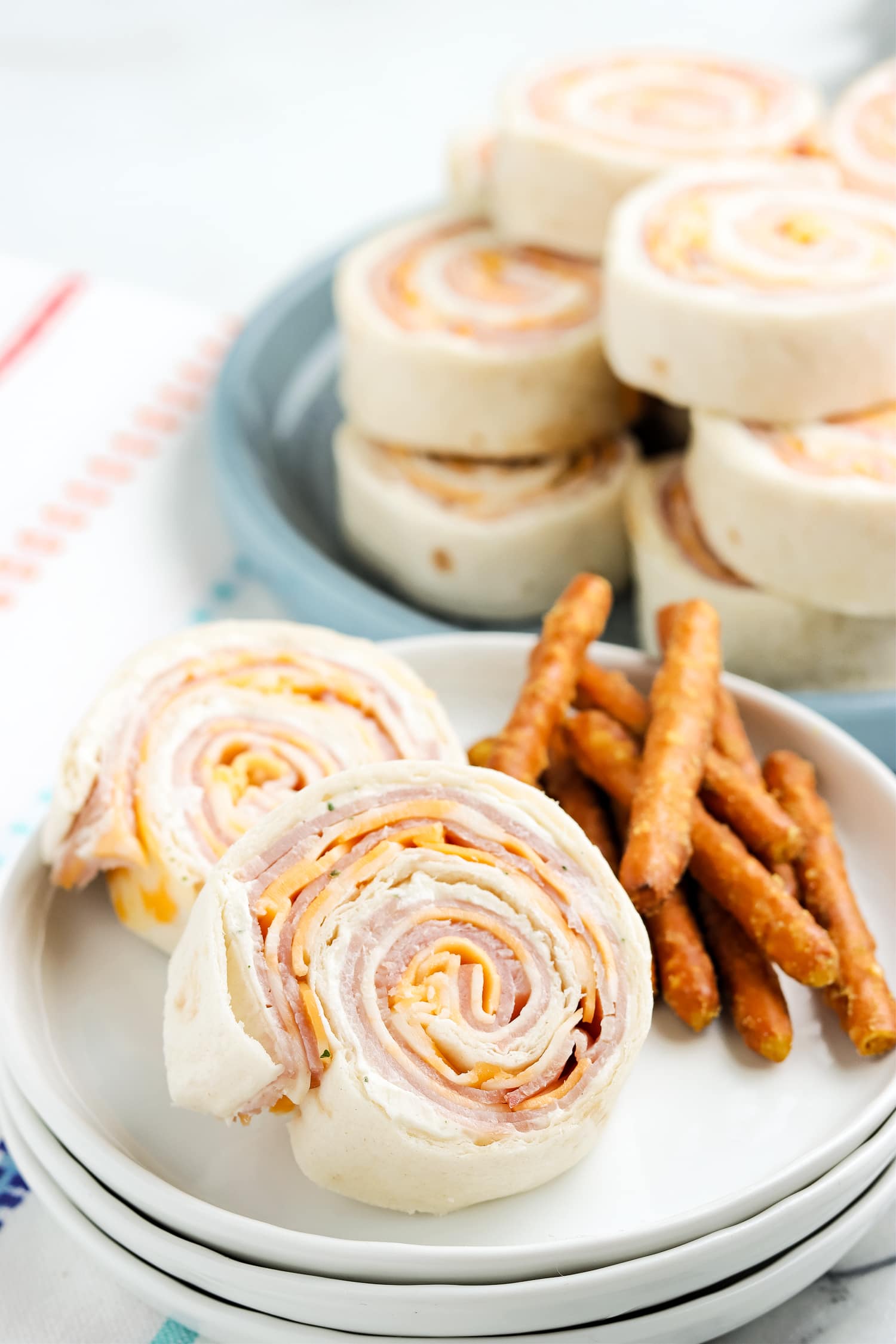 Pinwheel Sandwiches Made with Ham and Cheese
If you're looking for a way to make lunch more exciting for your children, these Ham and Cheese Pinwheels are an absolute must-try. Using a few simple ingredients, such as flour tortillas, cream cheese, and deli slices, you'll have the perfect treat for your children to eat for lunch or a midday snack.
You might even want to prepare this fun ham spirals recipe when making a snack board for your kids, especially when they're having friends over to hang out and have fun!
They also make a great appetizer at the holidays or finger food for game day snacks. Whenever you make these easy ham and cheese rolls they will be a hit and it couldn't be more simple with only 6 ingredients that you can prep ahead!
Why Children Love Pinwheel-Style Sandwiches
It's a great way to ditch the traditional bread and use something different with ham and cheese slices, such as tortillas. Most kids love something new and different.
They have a fun shape that gets children more excited to eat them. Who doesn't love the look of ham and cheese roll-ups?
Parents can customize them for their children. As a parent, you know what your children like best, so you can use any type of ham, cheese, or other deli meats that you think they'll enjoy most with these pinwheels!
When following this pinwheels recipe, it's much easier to prepare the tasty Ham and Cheese Pinwheels than you might think. If you're trying to achieve that perfect shape, it's as simple as tightly rolling your tortilla full of ingredients before slicing it into individual pieces and serving it!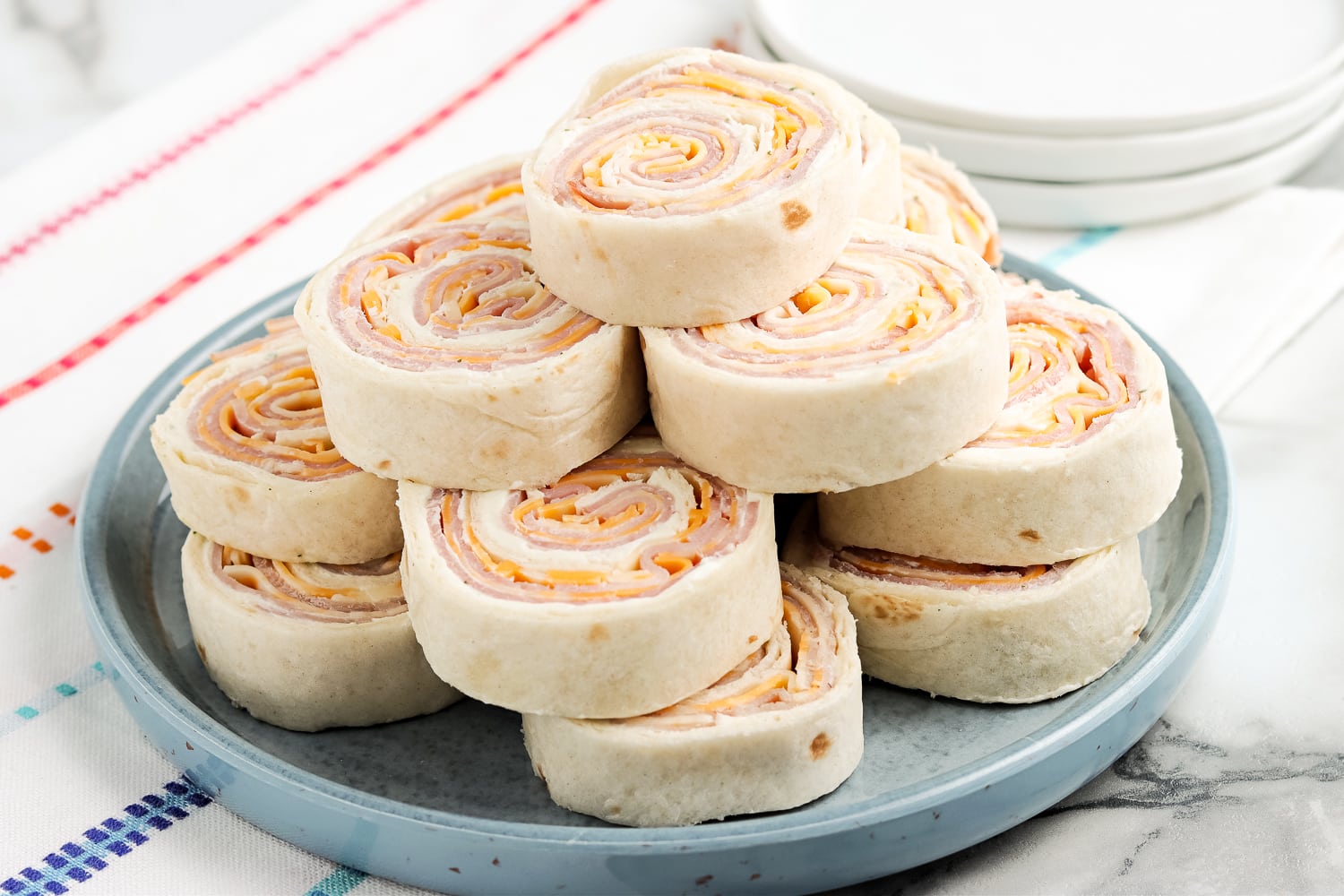 Ingredients for Ham and Cheese Rollups
When you want to make these pinwheels, there are some important ingredients you'll need to have, such as:
Flour Tortillas – Use large flour tortillas because they're easy to work with and taste the absolute best! Make sure your tortillas are fresh so they are soft and easy to roll up without breaking. You can also warm them up for a few seconds to help make them easier to roll.
Cream Cheese – Spread cream cheese on your tortillas to give these pinwheels a cheesier taste that pairs well with your ham. Make sure it's soft!
Deli Ham– Get the thin-sliced kind because it's easier to roll up with the other ingredients!
Thin Deli Cheese – Choose any cheese you like for this part, such as Colby jack or even American.
Mayonnaise – Don't like mayonnaise? Miracle Whip would be an substitute or use liquid ranch dressing and skip mixing the mayonnaise and ranch seasoning.
Dry Ranch Seasoning – You could also use ranch dressing and skip the mayonnaise!
Yep, you've read that right – it's only going to take six ingredients total to make such delicious treats for the family.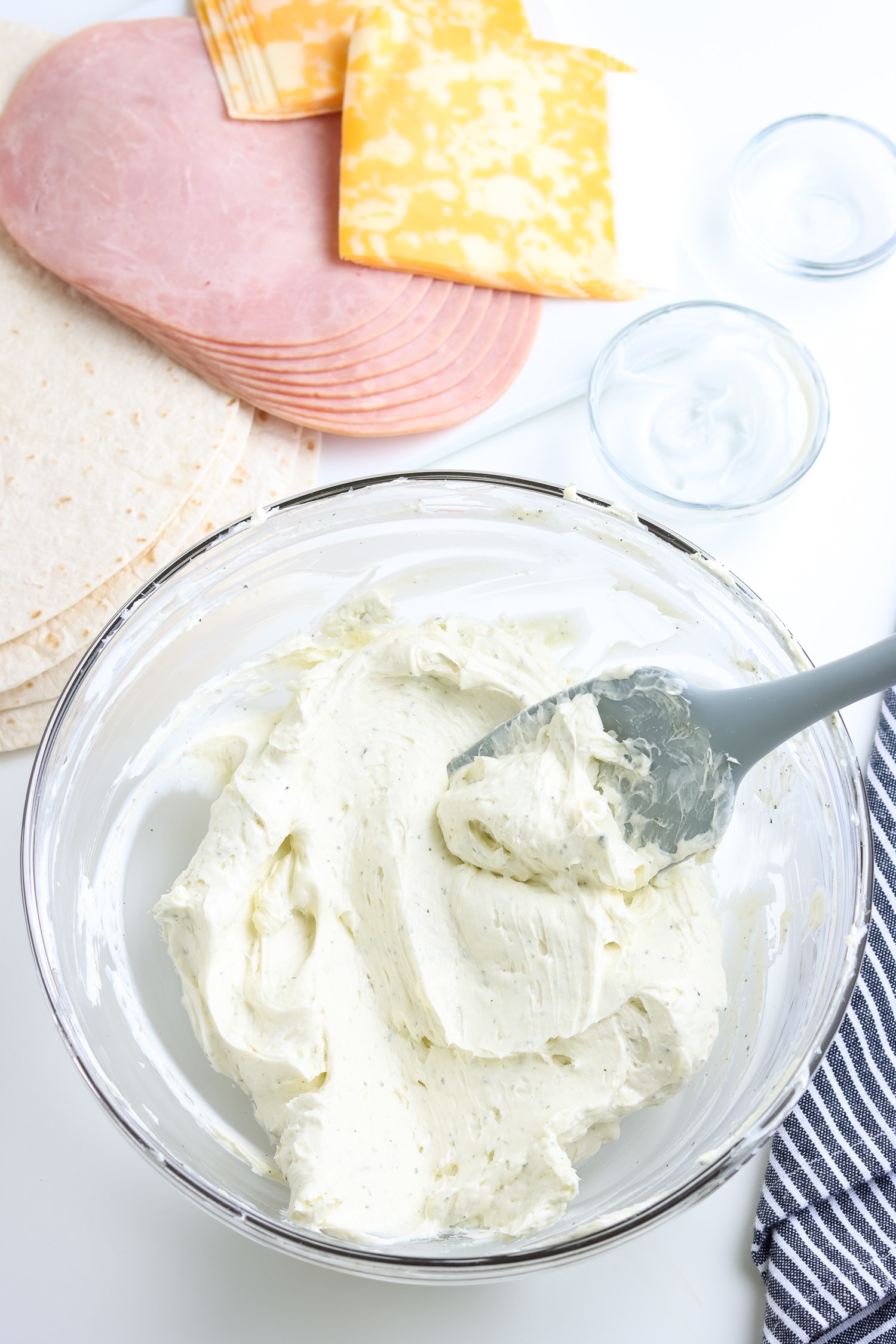 How to Make Ham and Cheese Rollups
Cream Cheese Mixture – In a medium bowl, beat cream cheese until soft and creamy, then add the mayonnaise and ranch dressing mix. Mix until combined.
Spread – Add cream cheese mixture to tortilla. Using a small cookie dough scoop works well. Then spread filling out evenly over the tortilla.
Layer – Place ham on tortillas evenly, then top with cheese slices. Repeat ham and cheese layers
Roll & Cut – Tightly roll tortilla then slice into pieces about ½ inch thick, you should get 8-10 slices from each tortilla.
Can I use Miracle Whip instead of mayo?
If you prefer Miracle Whip over mayo, it's perfectly fine to use that as an alternative ingredient in this recipe. You can also use ANY kind and style of mayo you like, whether you prefer the origins, low-fat, or even the kind made with olive oil.
Another quick and easy substitute would be using liquid ranch dressing instead of mixing the mayonnaise and dry ranch seasoning mix together.
Or grab the seasoned, spreadable cream cheese and skip the mayonnaise and dry ranch seasoning mix. There's so many options with these easy rollups!
Do I have to use cream cheese?
While it's not an absolute necessity if you don't have cream cheese while making these, the cream cheese does add a special touch and goes so well with the deli cheese and ham!
However, you can skip it if you need to. If you're not sure whether you'll like the pinwheels with the cream cheese or not, you can make a few with it and a few without to test it out.
Which type of ham is best to use?
You can get any type of deli ham from the grocery store. Black forest ham is a great option. Tavern ham would also work well when you're preparing this pinwheels recipe.
No matter what you decide to use, make sure it's sliced thin enough so that it's easy to roll up with your cheese in the tortillas.
How do I store leftover Ham and Cheese Pinwheels?
Store in airtight container in refrigerator until ready to serve or if you have leftovers. Should be served same day for best results. They will last in the refrigerator for 2-3 days, but the shells starts to get soggy from the cream cheese mixture.
If you know you will have leftovers or are prepping them ahead of time make sure to dry off your ham slices with a paper towel. This will help prevent the moisture getting into the tortilla.
Are there any other ingredients I should add?
While you don't need to add anything else to these tasty pinwheels, you can always toss in a few extras that you like, such as banana peppers, sliced jalapenos, olives, or even diced tomatoes.
Variations!
Now that you know how to make delicious Ham and Cheese Rollups, you're probably wondering what other variations you can make. The possibilities are endless!
You can replace the ham with other types of deli meat, such as roasted chicken, buffalo chicken, or even honey turkey. Use some of your favorite types of deli meats to add a special touch to these pinwheels.
In addition, you can use different types of cheeses, such as Swiss and American, depending on what you like best. Add a kick for the adults with pepper jack cheese!
Another idea is to get seasoned spreadable cream cheese and try different flavors and skip the mayonnaise and ranch mixture.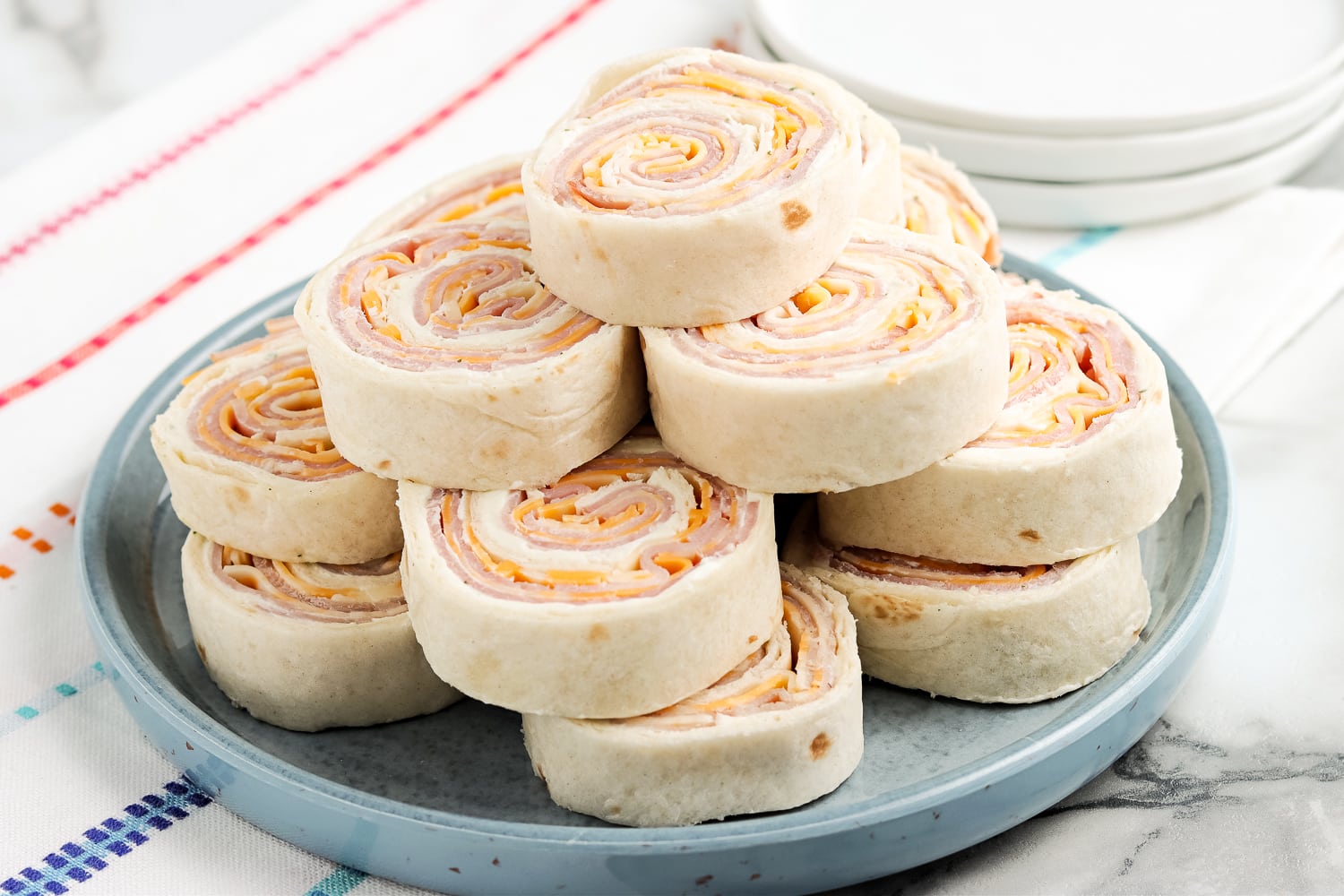 More Kid Friendly Lunch Ideas!
Kids love the famous Smuckers Uncrustable sandwiches that are stuffed with their favorite combination of peanut butter and jelly. Now you can make homemade uncrustables!
These Pizza Crescent Rolls are an easy recipe that is a fun twist on pizza. Soft crescent rolls that are stuffed with mozzarella cheese and pepperoni.
If you take a picture and share it Instagram make sure to #kidsactivityzone or tag us @kidsactivityzoneblog so we can see them!
Yield: 45-50 Pinwheels
Ham and Cheese Rollups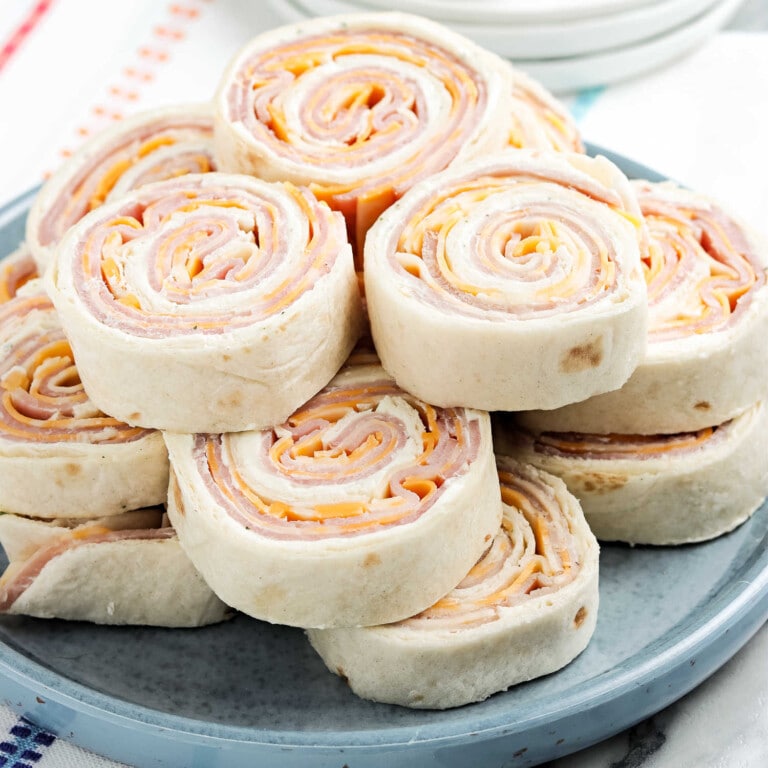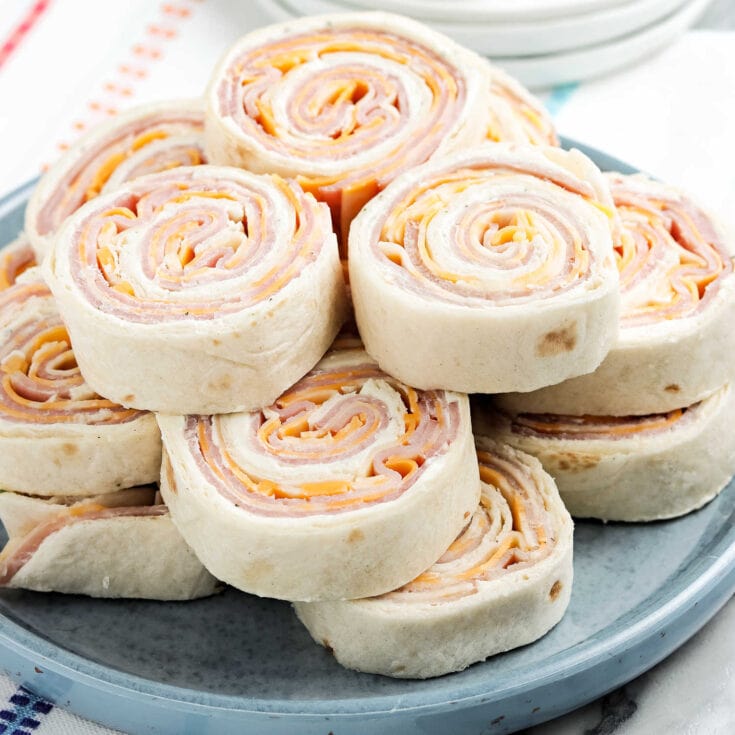 Easy Ham and Cheese Pinwheels only have 6 ingredients and are the perfect lunch, snack or appetizer for kids!
Ingredients
5 large flour tortillas
2 packages (8 oz each) cream cheese, softened
2 Tablespoons mayonnaise
1 package (0.4 oz) dry ranch dressing mix
30 pieces thin sliced deli ham, amount will depend on how thick you want it
30 pieces thinly sliced cheese, Colby jack, American or your favorite, amount will depend on how thick you want it
Instructions
In a medium bowl, beat cream cheese until soft and creamy.
Add mayonnaise and ranch dressing mix and combine well.
Add cream cheese mixture to tortilla. Using a small cookie dough scoop works well. Spread filling out
evenly
Then lay 3 slices of ham out evenly on top of tortilla and top with cheese 3 slices
Repeat ham and cheese layers.
Tightly roll tortilla up.
Slice into pieces about ½ inch thick, you should get 8-10 slices from each tortilla.
Store in airtight container in refrigerator until ready to serve.
Should be served same day for best results.
Recommended Products
As an Amazon Associate and member of other affiliate programs, I earn from qualifying purchases.