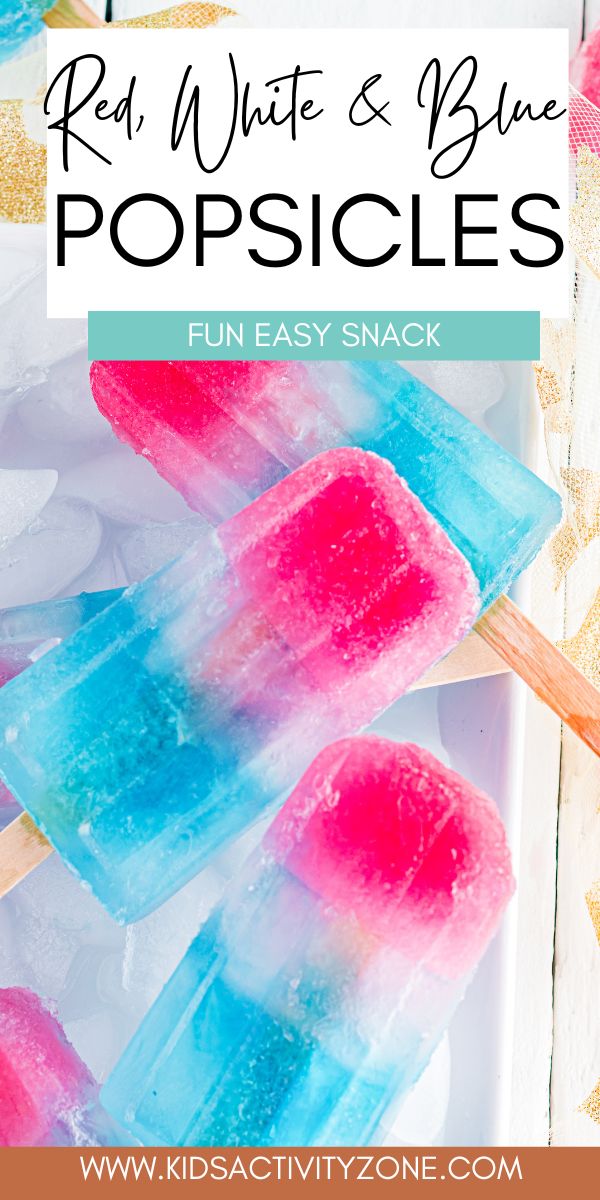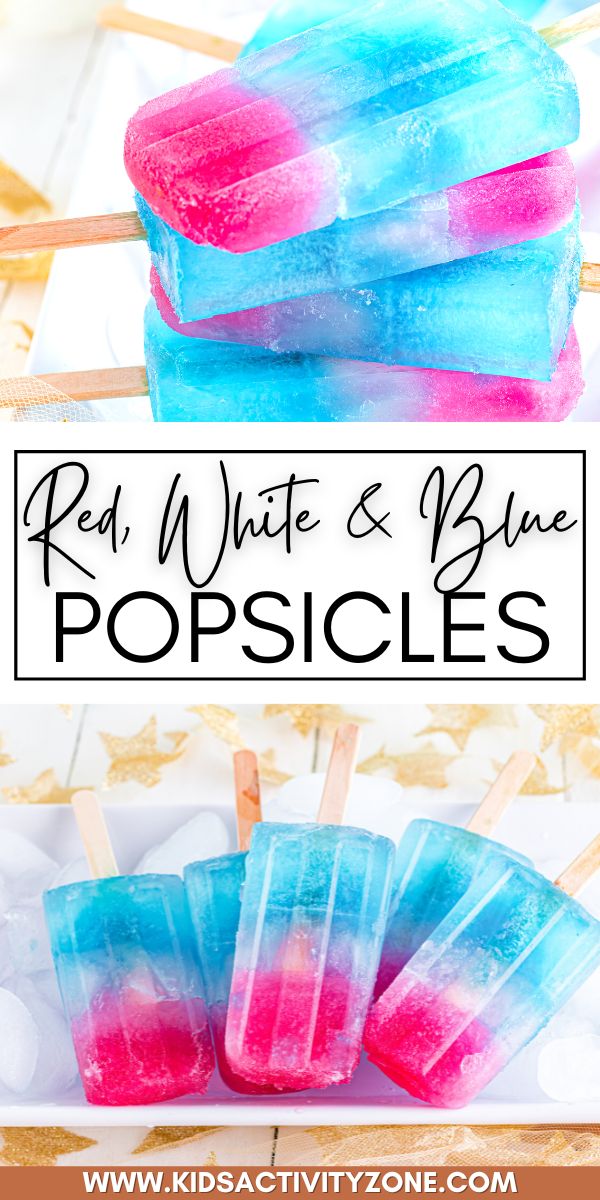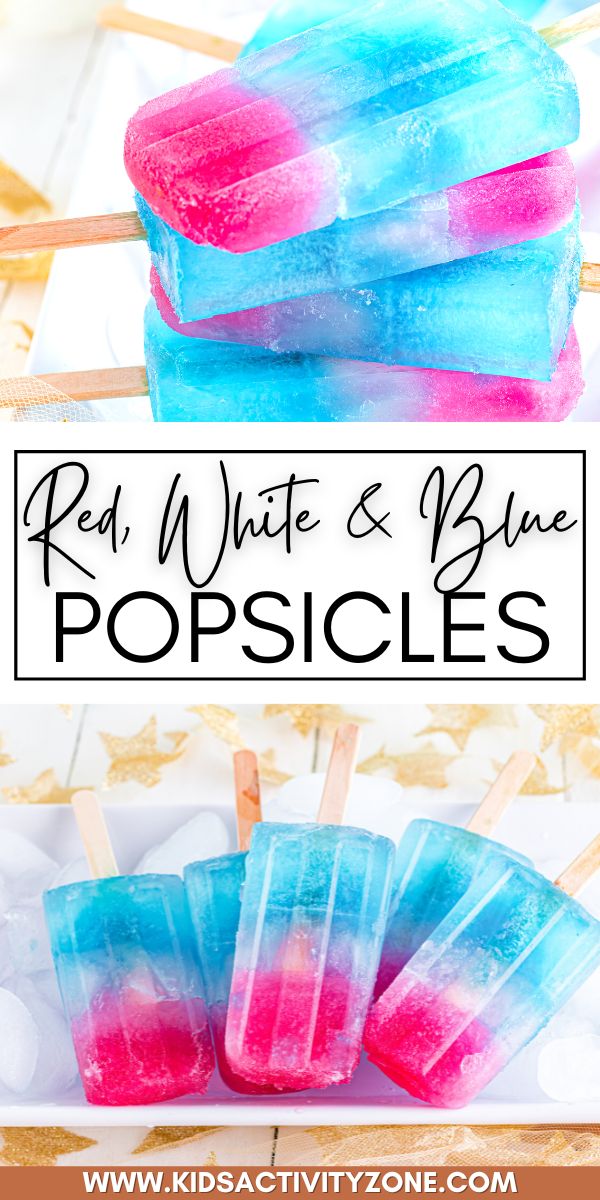 Cool off this summer with these refreshing Red White and Blue Popsicles! The perfect festive treat for your 4th of July celebrations. With only three ingredients all you need is popsicles stick and mold and you'll be enjoying these.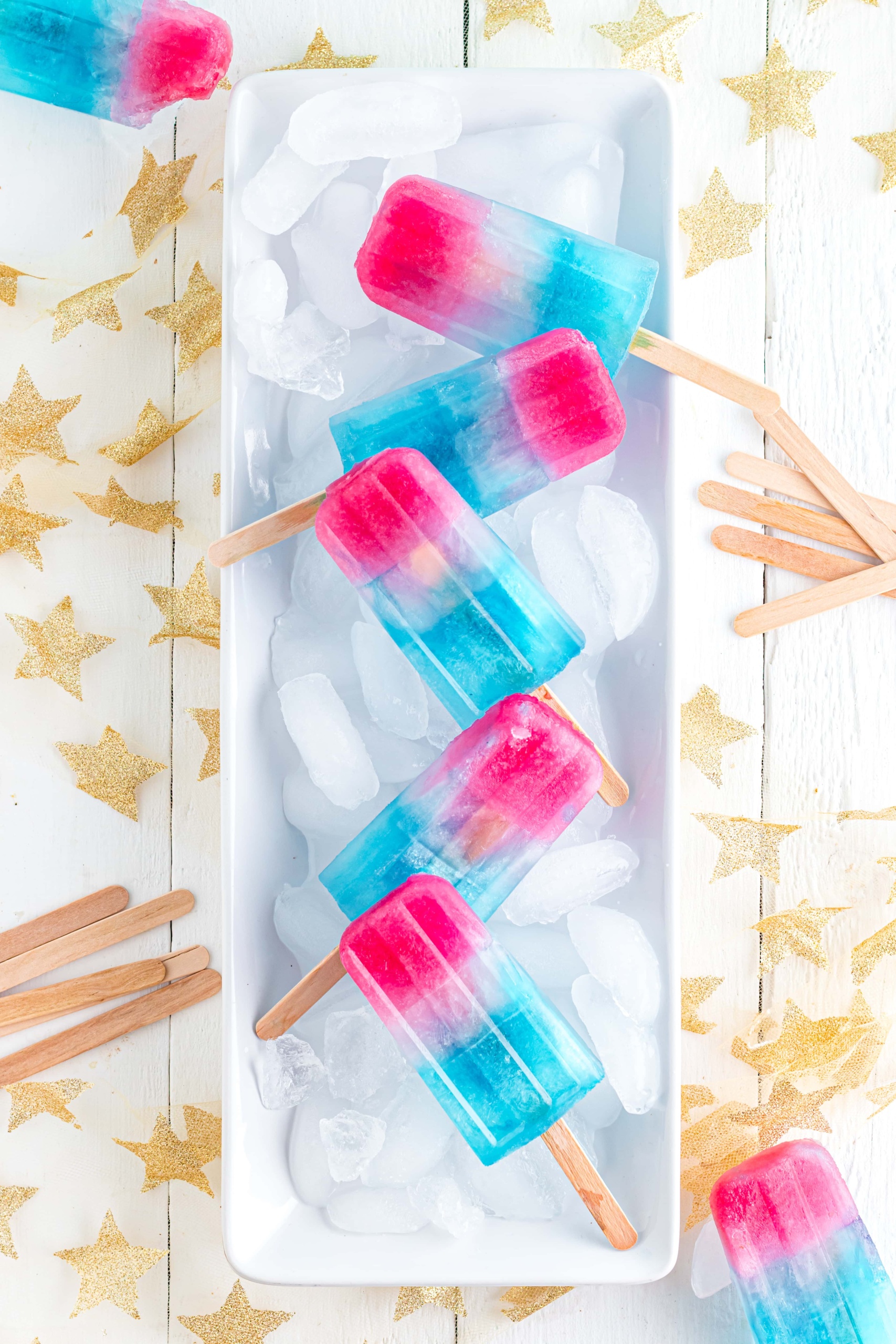 These red white and blue popsicles are such a fun treat for the 4th of July or Memorial Day! Plus, they're really easy to make. They take a little bit of time and patience as you wait for each layer to freeze, but the hard work is done by the freezer.
I love making red white and blue snacks to keep things extra festive around the fourth of July. These 4th of July cookies with M&Ms and red white and blue strawberries are two of my favorites to make. The kids love jumping in the kitchen and making these super fun treats too! It's the perfect way to get the whole family involved in the festivities.
Sure, you could go to the store and buy ready-made red white and blue ice pops, but the memories you make in the kitchen together are worth so much more. While each layer of these popsicles freeze you can make plenty of snacks, like yogurt bark, or tons of fun crafts.
Make matching red white and blue tie dye shirts for the whole family, or simply print out these 4th of July activities to complete. While you're waiting for the evening fireworks show, fill the day with lots of themed activities and treats and you'll have a jam-packed day full of fun!
Why You'll Love Red White and Blue Popsicles
Making your own popsicles is a really affordable treat and so much fun to do! You can even reuse leftovers to make plenty more popsicles.
These are the perfect refreshing snack on a hot summer day. Cool off from a day full of fun with a cold popsicle using this red white and blue popsicle recipe.
You can change up the flavors and colors that you use to make the popsicles! If you need to theme colors for a different holiday, it's really easy to do. And if you want different flavors you can mix and match until you make what you want.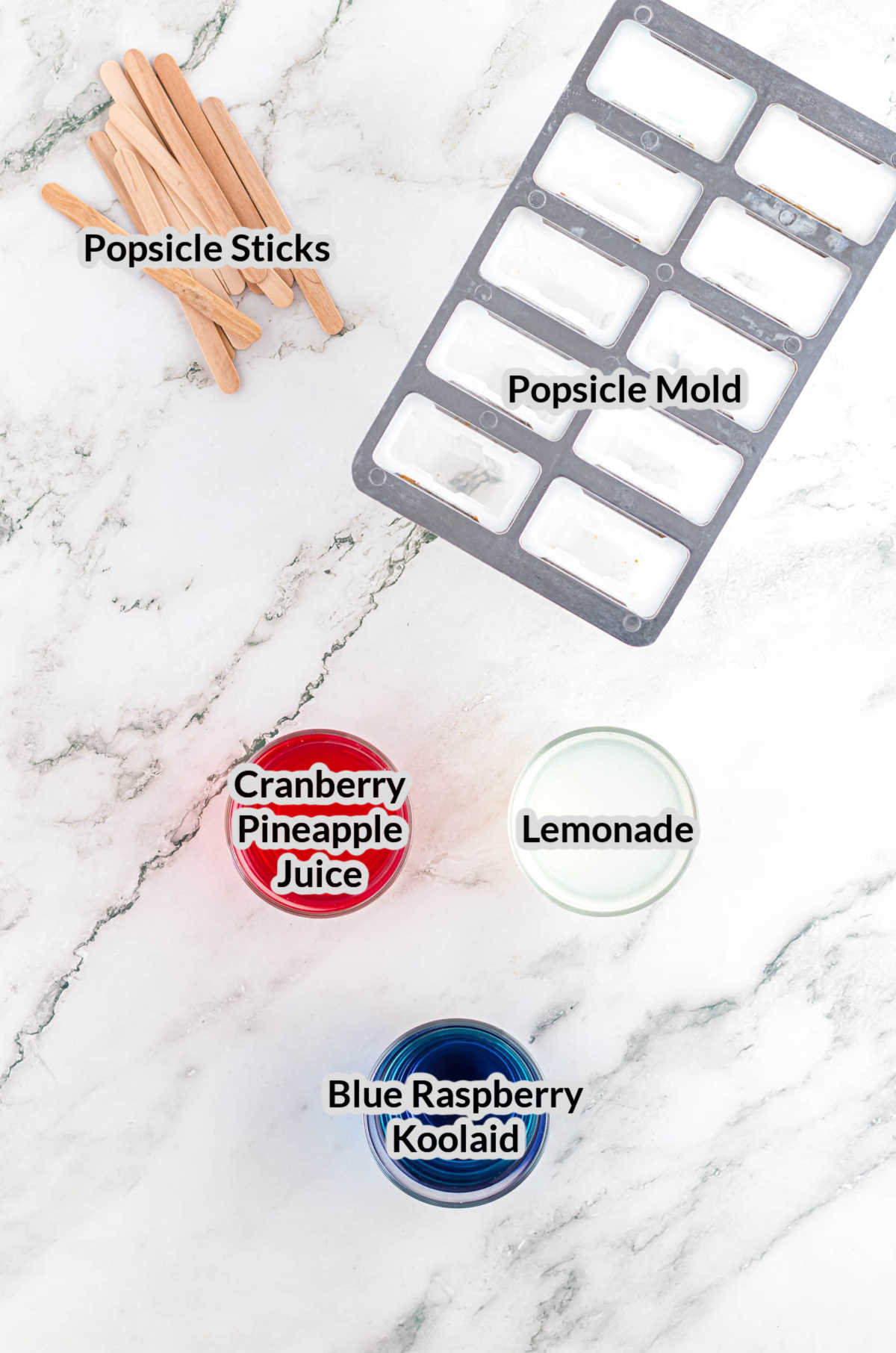 Ingredients for Fourth of July Popsicles
Cranberry pineapple juice – You can use straight cranberry juice if you prefer, but it will be quite tart! You could also use any other cranberry juice combinations or even fruit punch.
Lemonade – Make fresh squeezed lemonade or lemonade from packets/powder.
Blue raspberry koolaid – Blue raspberry koolaid tastes delicious with these flavor combos! You could also use berry blue Hawaiian punch.
Popsicle mold – This recipe makes enough mixture for 10 popsicles. So be sure you have enough popsicle mold slots for this recipe. Silicone popsicle molds are my favorite to use since the popsicles pop out easily!
Popsicle sticks – You can either use wooden popsicle sticks or reusable popsicles sticks!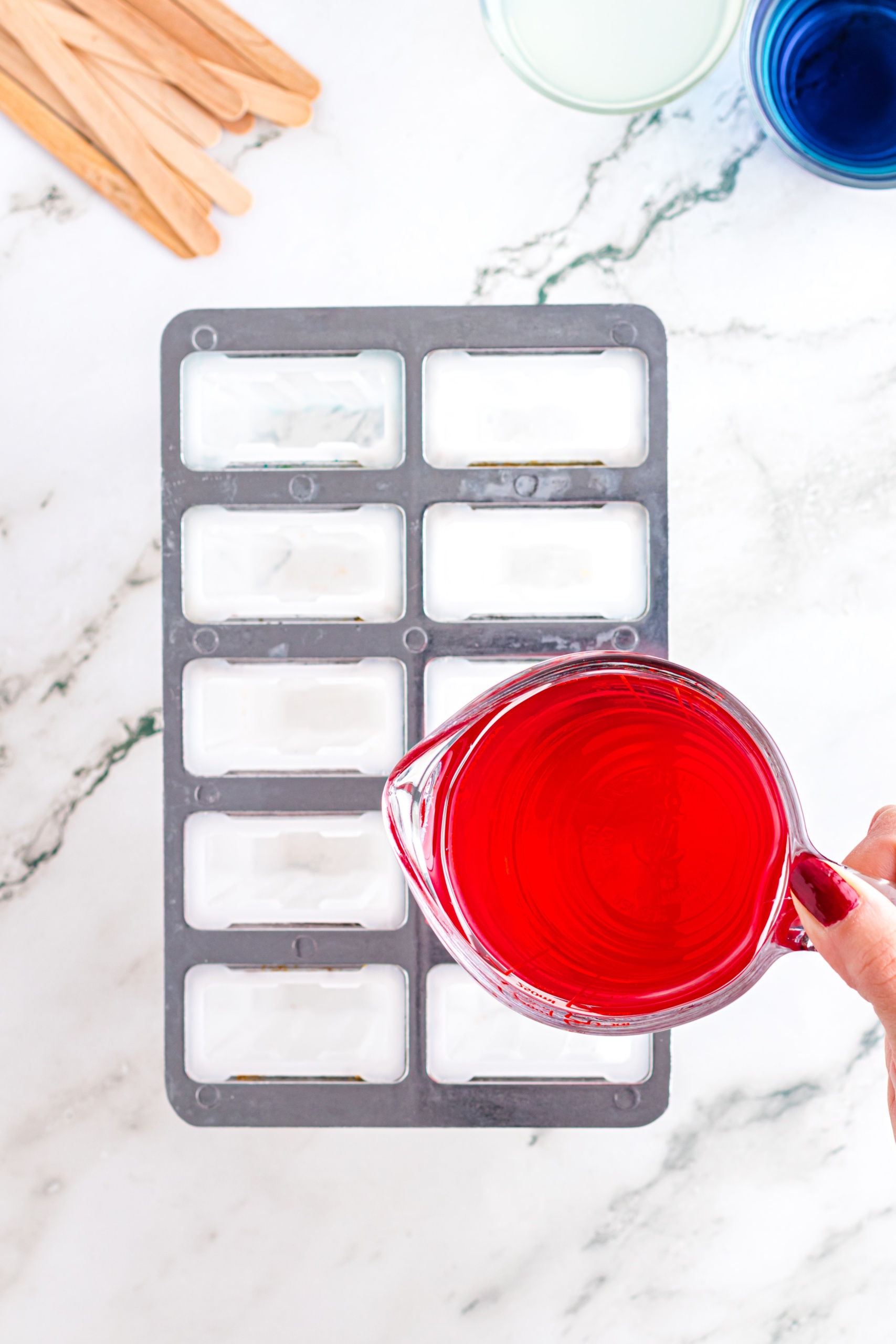 How to Make Red White and Blue Popsicles
Fill each slot of the popsicle mold ⅓ full with cranberry pineapple juice, or whatever juice you've chosen. Allow the juice layer to freeze for 2 hours.
Then add the second layer, the lemonade, on top of the cranberry juice and place the molds back into the freezer for 2 hours.
Cover the popsicle mold and insert the popsicle sticks, then allow the lemonade layer to freeze for 2 hours.
Finally, add a layer of raspberry Koolaid on top of the lemonade and allow 2 hours for it to freeze solid. You can also leave them overnight, or longer, and enjoy whenever!
Carefully un-mold the popsicles when you're ready to eat them and enjoy your cold refreshment!
What other juices can I use in these popsicles?
If you want to make these popsicles super healthy, use 100% fruit juice!
Grapefruit juice, cherry juice, or 100% fruit punch would all work wonderfully for the red layer. For the white layer, you can use white grape juice, pineapple juice, or white-cran-strawberry juice. The blue layer can be blueberry juice or add a drop of blue dye to some lemonade!
You can also pureé fruits to make fruit bars! If you want, blend fruit with yogurt and/or milk to make smoothie bars.
Pro Tips
If you have a deep freezer, place you popsicles carefully in it to freeze each later. They typically tend to be colder than a fridge freezer combo, so your popsicles may freeze faster between layers.
Add fresh berries and fruit into each layer of juice for an extra surprise and flavor in your popsicles!
Double the recipe to make a large batch of popsicles so you have plenty for a hot summer week.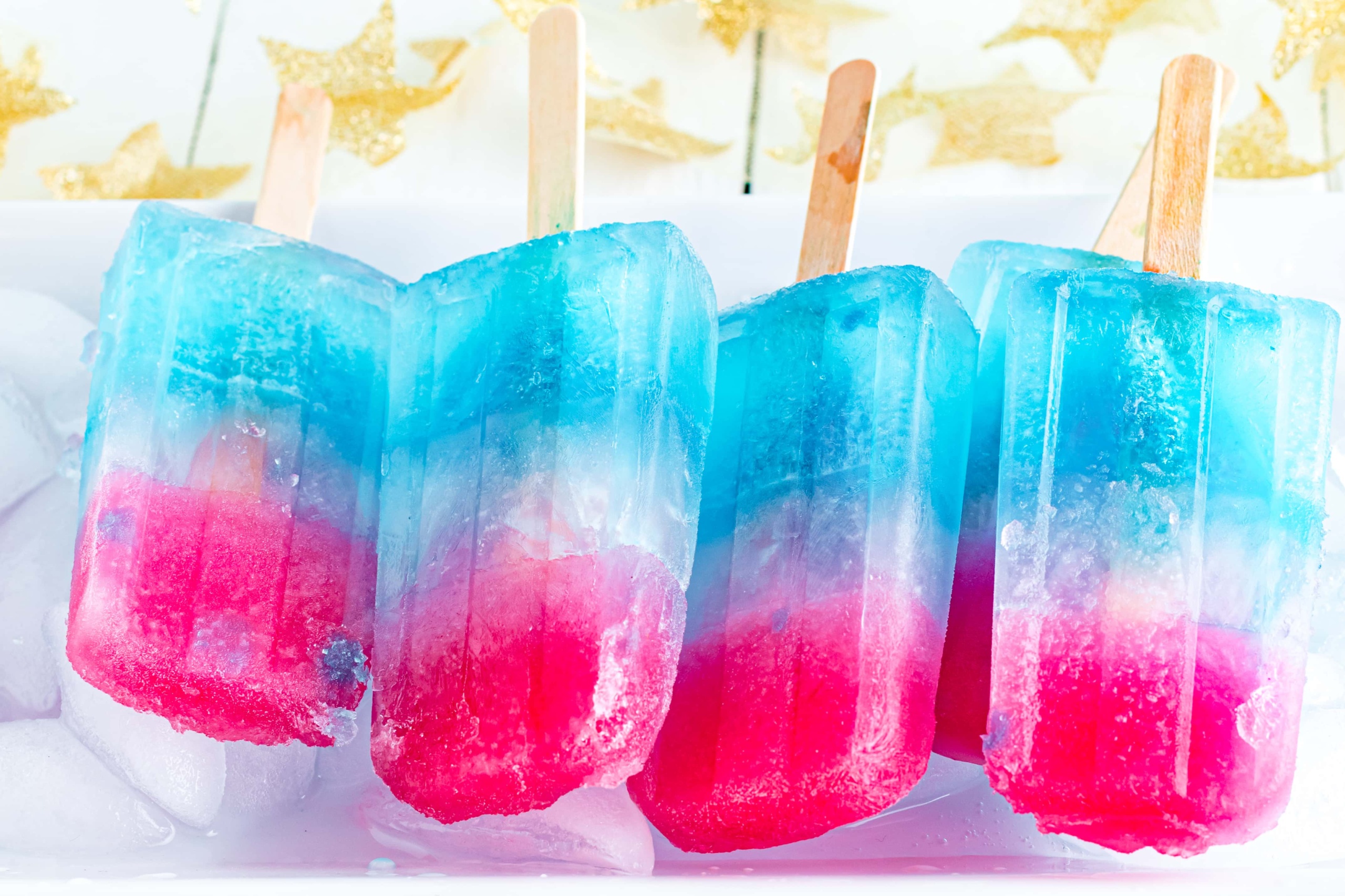 You're going to love this super fun and extra pretty red white and blue popsicle recipe!
More Summer Refreshments You'll Love
Yield: 10 Popsicles
Red White and Blue Popsicles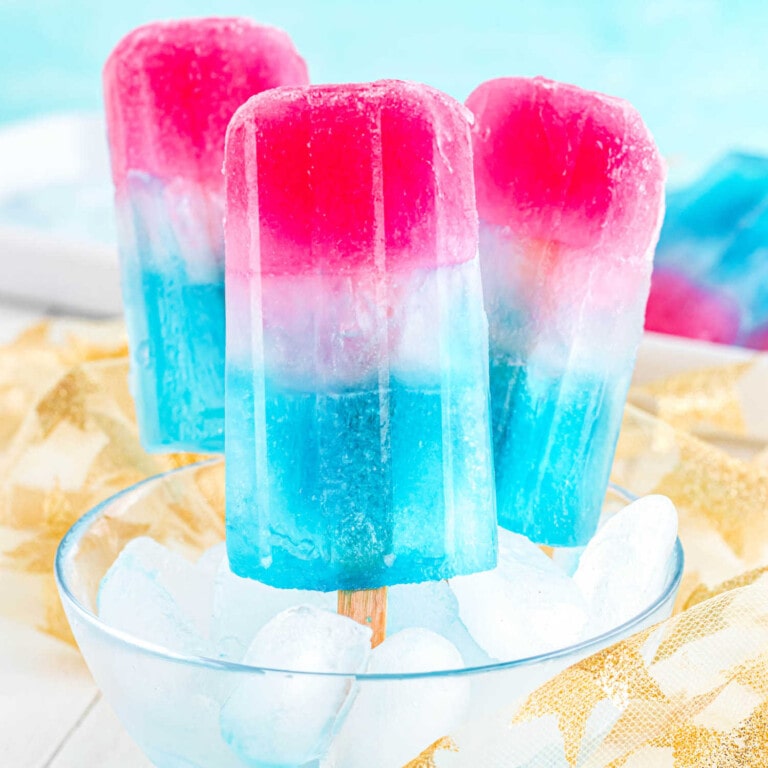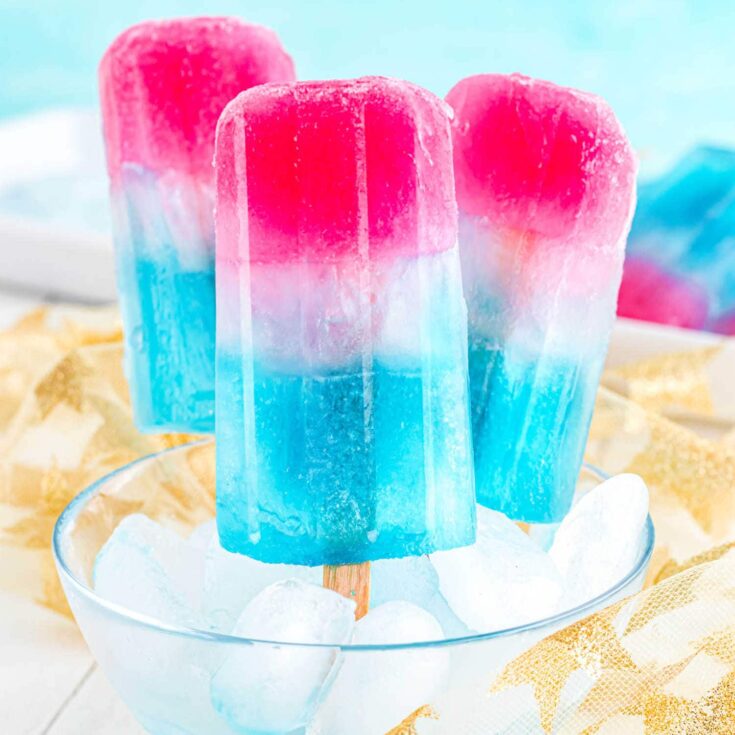 Festive and refreshing homemade Red White and Blue Popsicles are the perfect summer treat to cool off with.
Total Time
6 hours
5 minutes
Ingredients
¾ cup cranberry pineapple juice
¾ cup lemonade
¾ cup blue raspberry Koolaid
Instructions
Fill the popsicle mold ⅓ full with the cranberry pineapple juice.
Allow the juice to freeze in the popsicle mold for 2 hours.
Once the cranberry juice has frozen add the second layer of lemonade up to
another third of the mold.
Cover the mold and insert the popsicle sticks. Allow the second layer to freeze
for another 2 hours.
Once the lemonade layer has frozen add the final blue raspberry Koolaid
layer.
Allow the final layer to freeze for 2 hours or overnight.
Carefully unmold the popsicles and enjoy
Recommended Products
As an Amazon Associate and member of other affiliate programs, I earn from qualifying purchases.
Nutrition Information:
Yield:
10
Serving Size:
1
Amount Per Serving:
Calories:

29
Total Fat:

0g
Saturated Fat:

0g
Trans Fat:

0g
Unsaturated Fat:

0g
Cholesterol:

0mg
Sodium:

1mg
Carbohydrates:

7g
Fiber:

1g
Sugar:

5g
Protein:

0g