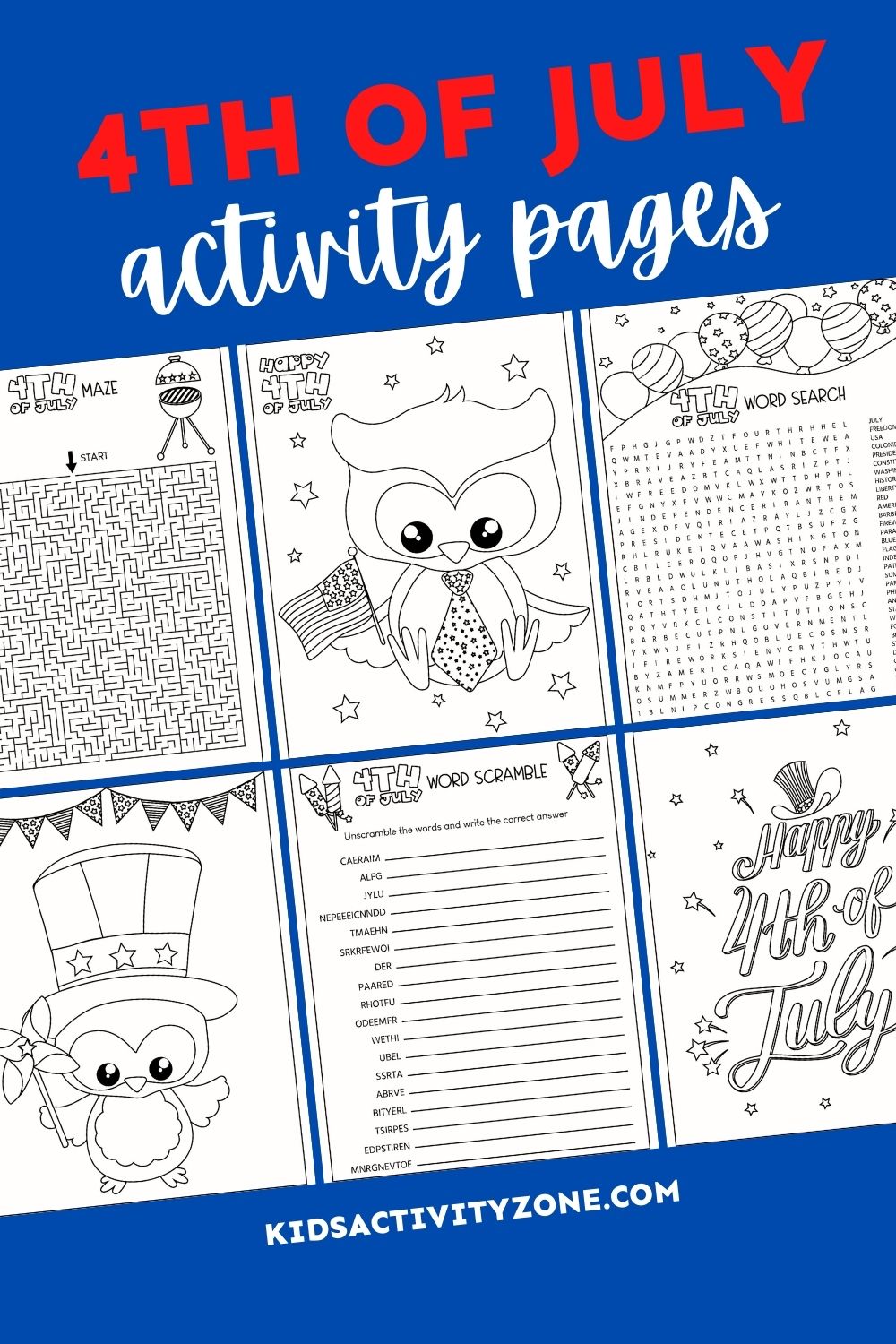 Grab these fun, themed 4th of July Activities. These free printables includes coloring pages, word scramble, word search and word challenge. The perfect addition to parties, fun work for kids during the summer and more!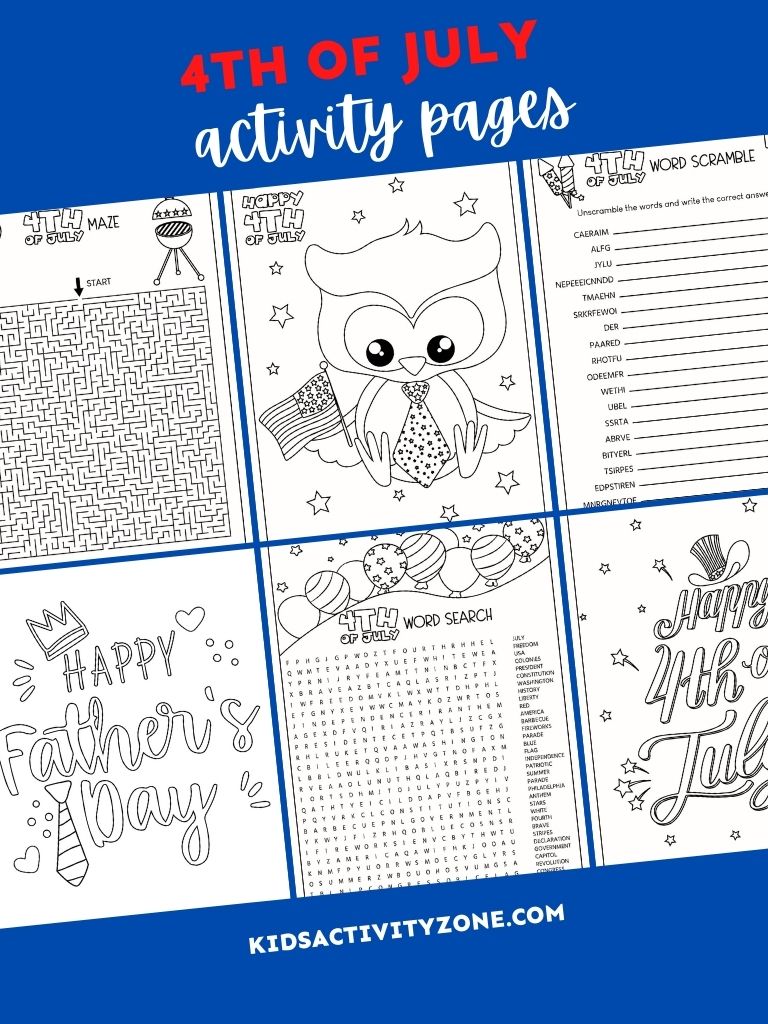 Free, fun printable activities to celebrate the 4th of July with! So many different activities to choose from in this free printable packet. This Printable 4th of July Activity Packet includes something for everyone no matter their age.
If you are looking for more fun printable activities make sure to check them all out here.
What's included in your Printable 4th of July Activities
4th of July Themed Coloring Pages
4th of July Maze
4th of July Word Challenge/Anagram
4th of July Word Search
4th of July Word Scramble
4th of July Word Search
There's nothing like a fun Word Search! All of the words that need be found in the word search are fun 4th of July theme words like July, Freed, History, Liberty etc.
Make a game out of it and set your stopwatch to see who can find the most words in a few minutes or see who can finish it first!
Or see who can finish the entire word search first. Whoever finishes first is the winner.
Remember those dollar store prizes again!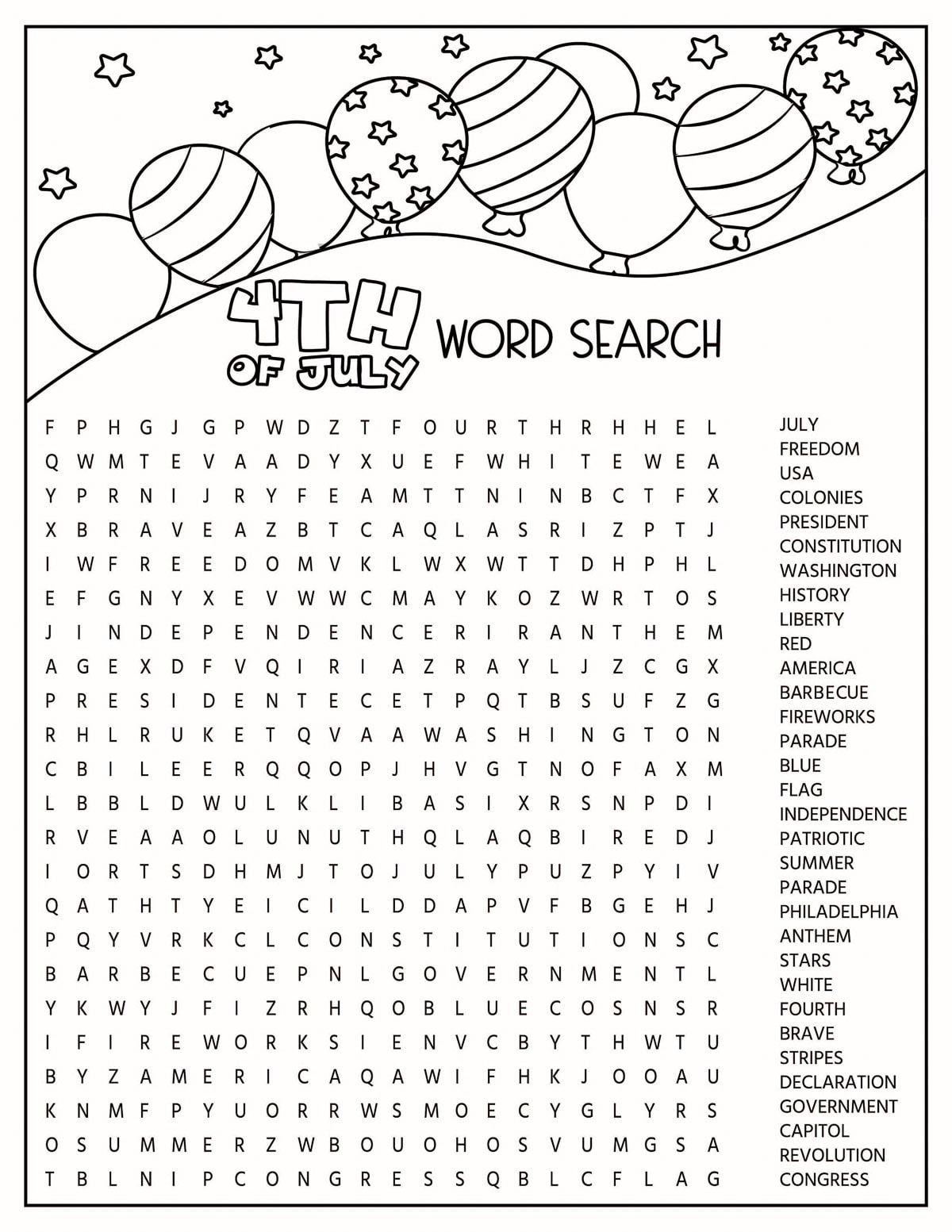 4th of July Word Challenge or Anagram
A fun patriotic themed Anagram using the words "4th of July"!
Anagrams are a great brain exercise. They target the cognitive areas of problem solving, reasoning, executive function, memory and vocabulary.
Plus, they are just plain fun!
Make this a competition during a party by setting a timer to see how many words participants can come up with in that amount of time. Whoever gets the most wins!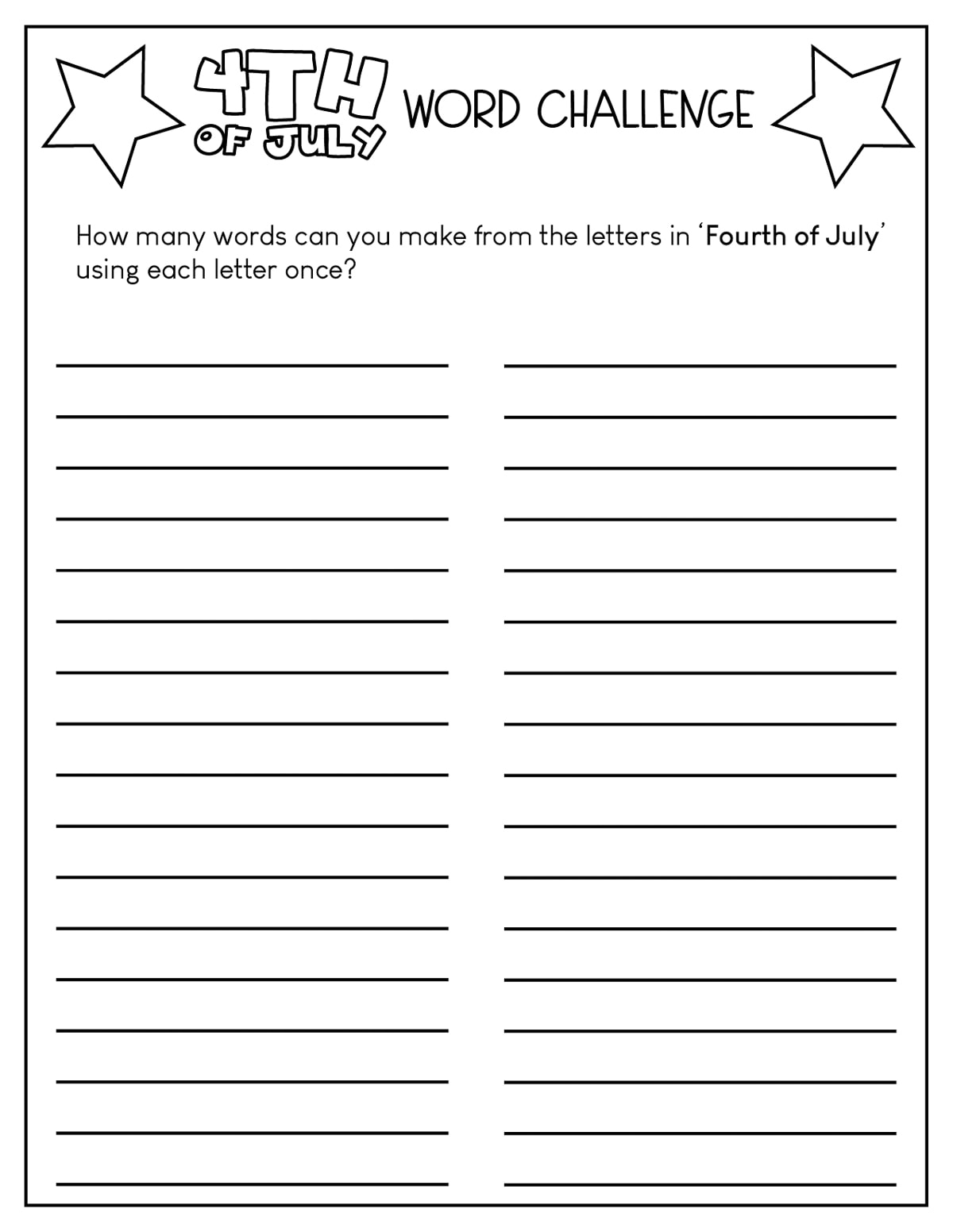 4th of July Maze
Mazes are always such a hit with kids and perfect for a range of ages. This printable packet includes a patriotic themed maze.
Did you know mazes are great for boosting children's problem solving skills, plus it teaches children patience and persistence while improving their cognitive though processes.
Plus, they are FUN! That's the main thing, right? They enjoy doing them, plus they are great benefits!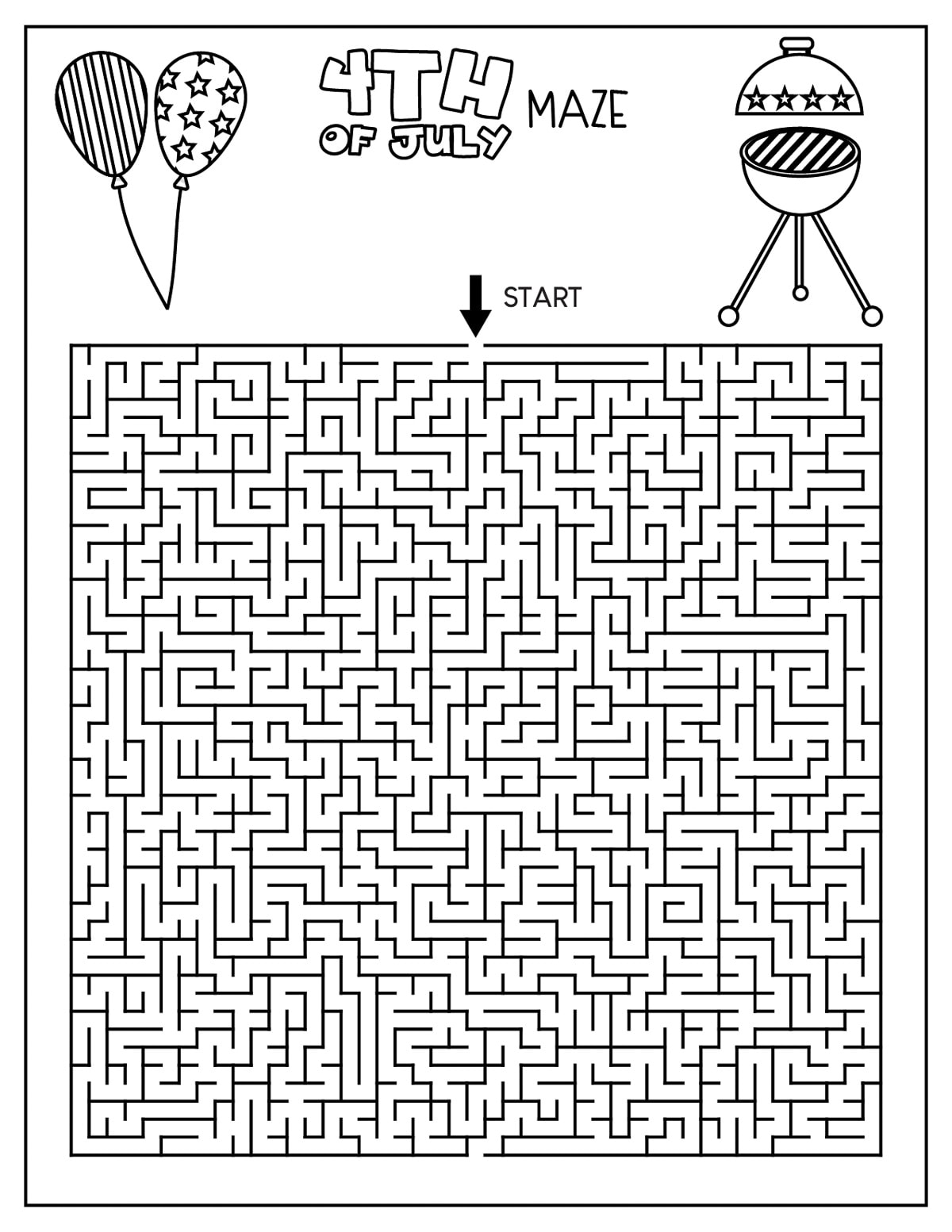 4th of July Word Scramble
A set of 18 words that are patriotic themed words to unscramble. Unscrambling words is great for kids. It helps with their spelling, boosts working memory, extends vocabulary and more!
Plus, it's a great competitive activity if you are having a party for kids or adults! Make sure to grab some prizes for the winner/winners at the dollar store.f
A few different ways to make it competitive is to set a timer for a certain number of minutes and whoever has the most unscrambled by the end of the time wins.
Another way to do it is to see who can correctly unscramble all of the words first!
Either way it's a fun way to have a little competition and make it fun, yet learn at the same time.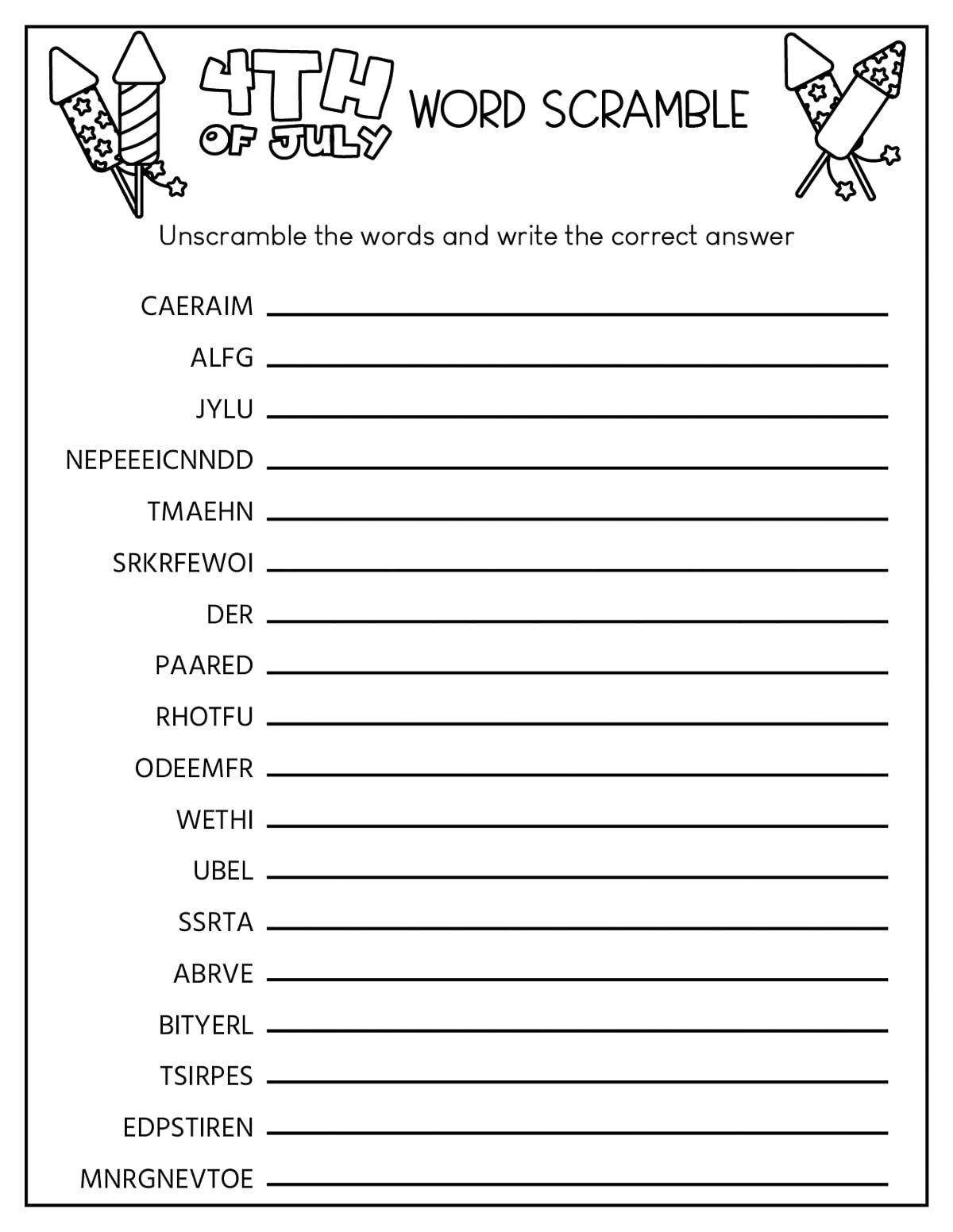 4th of July Coloring Pages
These free, festive patriotic coloring pages will entertain the kids and give you something to hang up on your refrigerator for the holiday!
Make sure to grab our favorite Twistable Crayons for your coloring pages!
MORE FUN WITH RED, WHITE AND BLUE!
If you take a picture using these 4th of July Printable Activities and share them on Instagram make sure to #kidsactivityzone or tag us @kidsactivityzoneblog so we can see them!