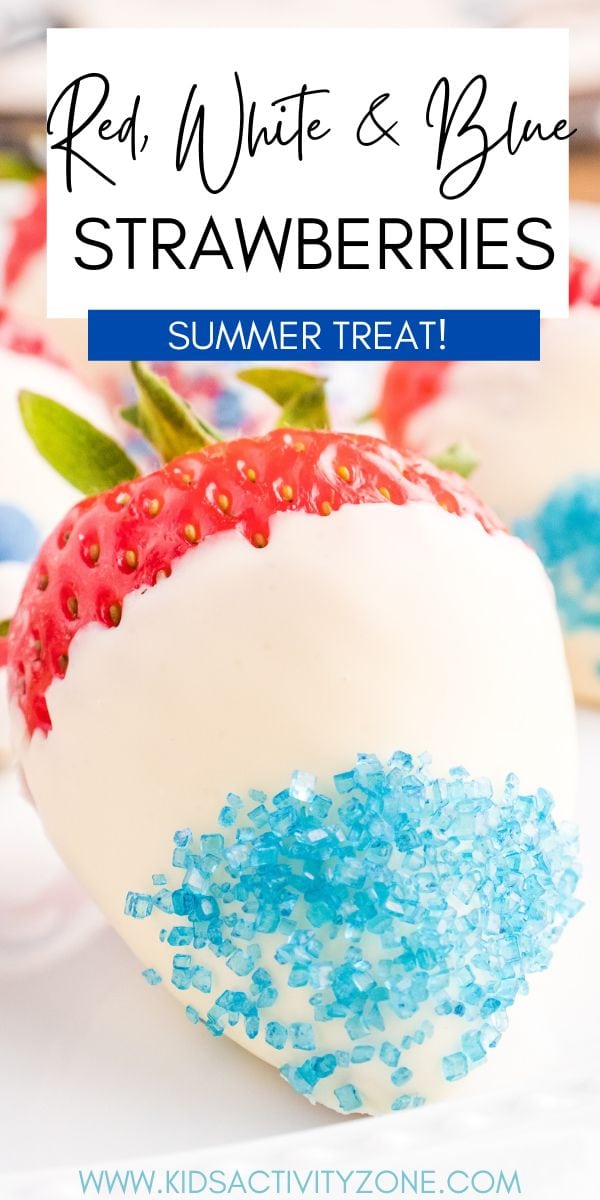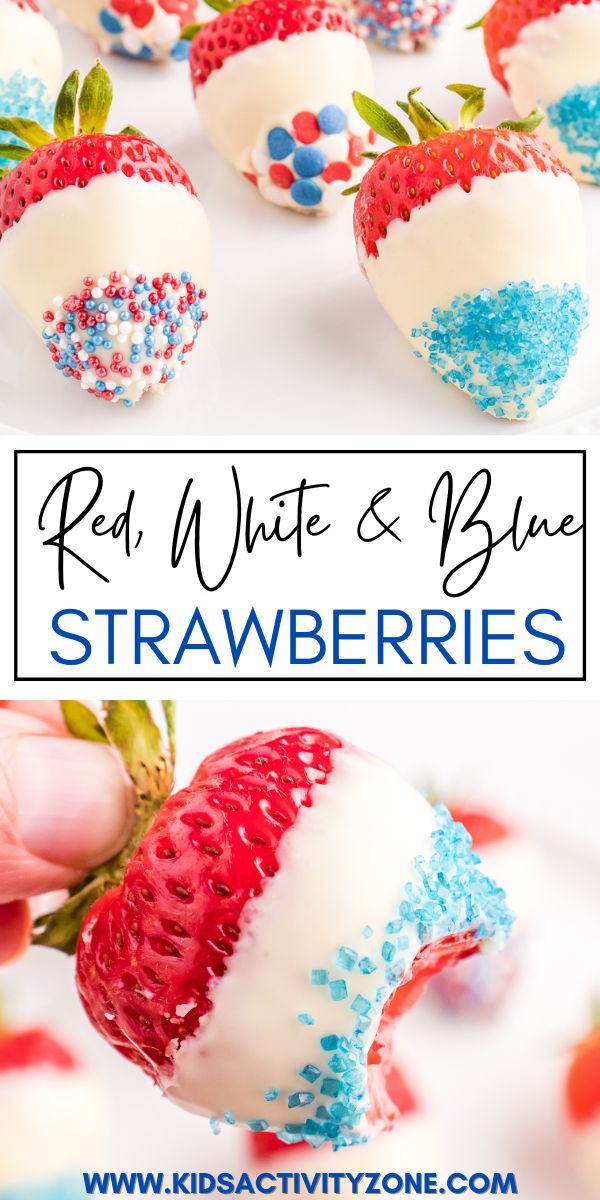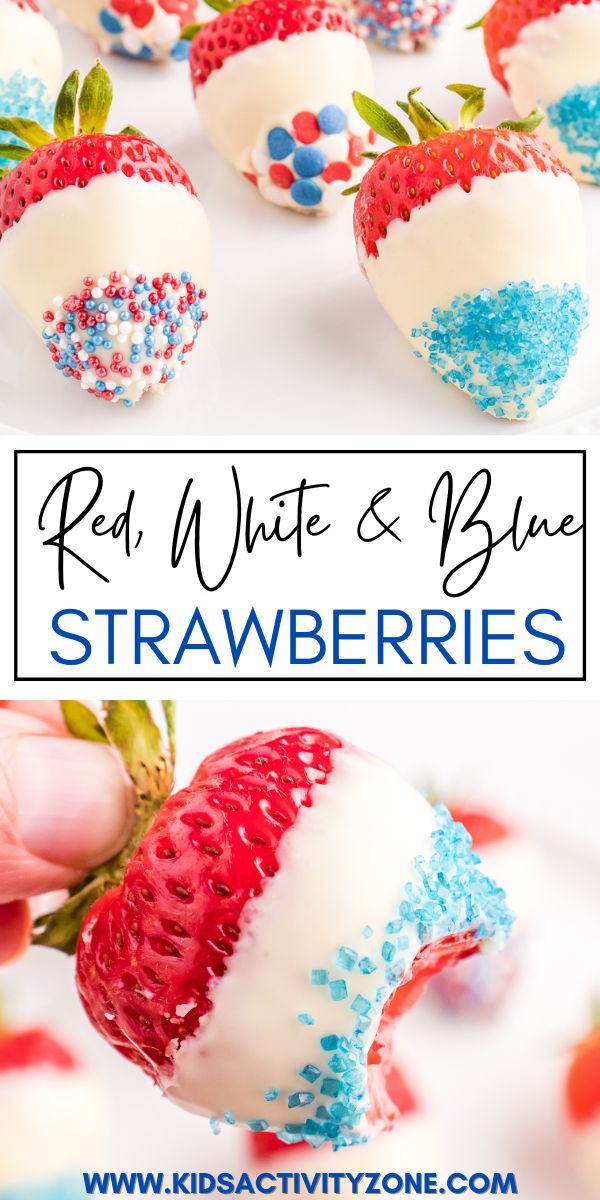 Fresh strawberries dipped into white chocolate then patriotic sprinkles make the perfect summer treat! These red, white and blue strawberries are so festive, easy to have the kids help with, and delicious.
If you are looking for easy patriotic recipes and activities, these white chocolate covered strawberries are a great sweet treat to try! Everyone will want to try one of these Red, White and Blue Strawberries at your Memorial Day and 4th of July Parties.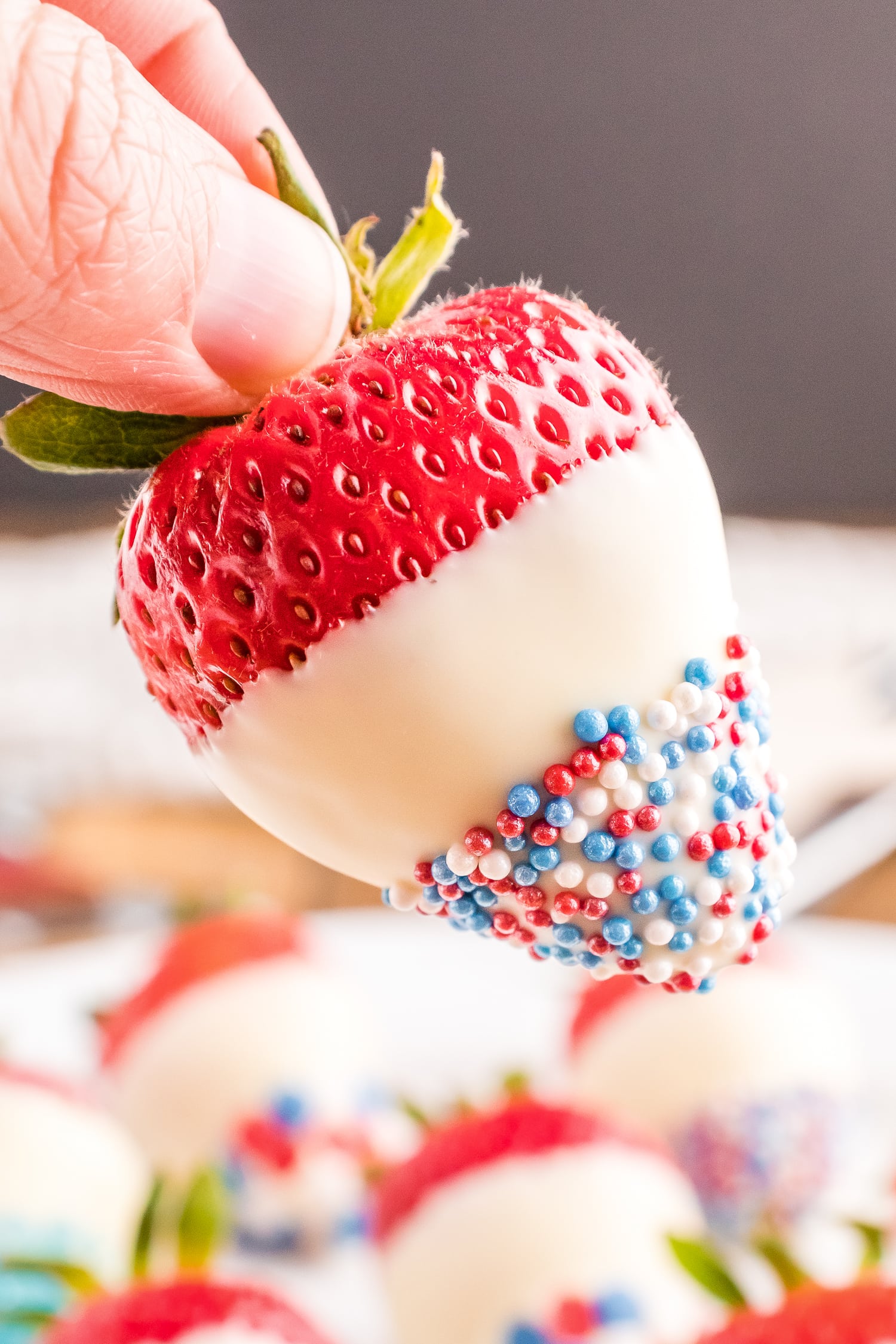 Easy White Chocolate Dipped Strawberries
This is a really easy recipe to make with kids – you only need a microwave to melt the white chocolate and then just dip and decorate.
The white chocolate pairs perfectly with the fresh strawberries – it's the best summer treat!
Add some red, white, and blue sprinkles and you get a light and fresh dessert that's perfect for BBQs, picnics, and potlucks.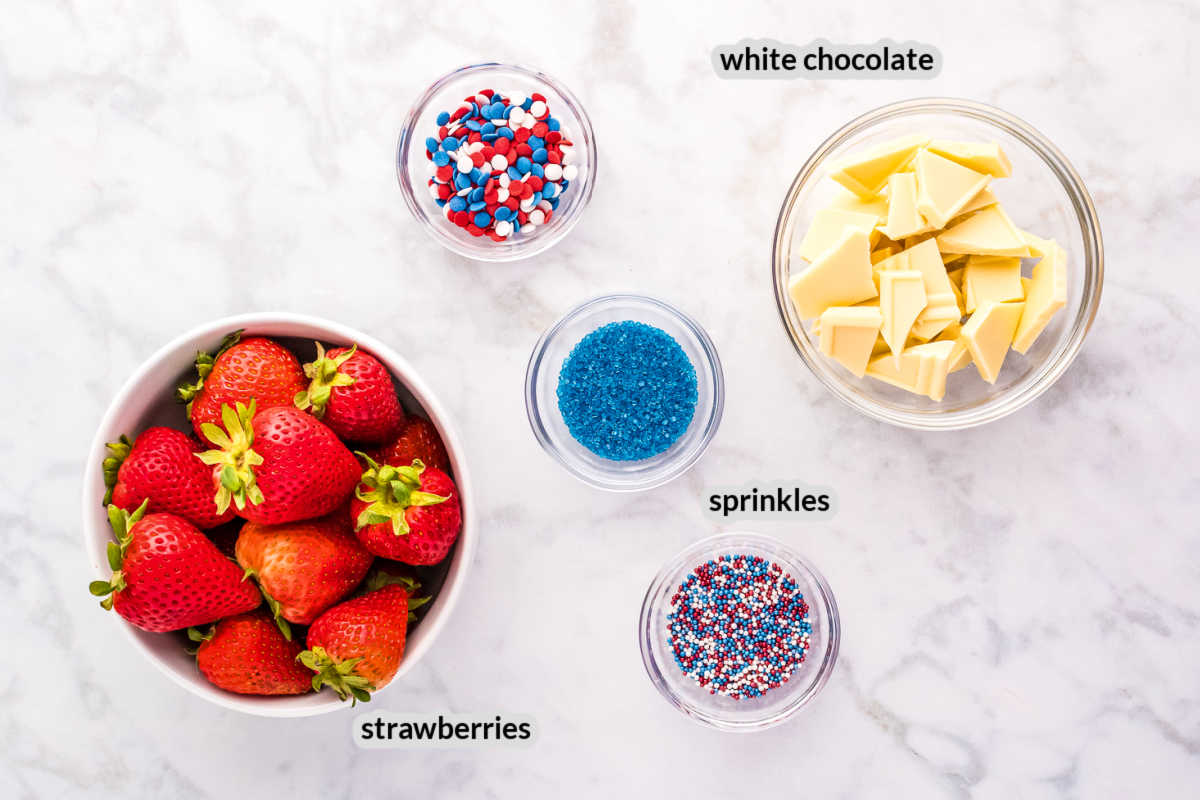 Ingredients for Red White and Blue Strawberries!
Fresh whole strawberries – wash and dry them and keep them with the stems intact.
White chocolate – I like to use white chocolate baking bar and break it into pieces before melting it.
Red, white and blue sprinkles – or other patriotic sprinkles that you like.
Products Needed to Make Chocolate Dipped Strawberries
How to Make White Chocolate Dipped Strawberries
Melt: Place the chocolate pieces in a microwave-safe bowl. Warm the chocolate at 50% power in the microwave. Do this in 30-second intervals and stir between each one until the chocolate is smooth.
Dip: Hold one strawberry by the stem and dip it 2/3 of the way into the melted white chocolate. Allow the excess to drip off.
Decorate: Carefully spoon the sprinkles over the bottom 1/3 of the chocolate. Place the chocolate dipped strawberry on a baking sheet lined with parchment paper and repeat with the rest of the strawberries.
Set: Leave the white chocolate covered strawberries on the pan for 30 minutes so the chocolate can set. If you are not serving them right away, keep them in the refrigerator.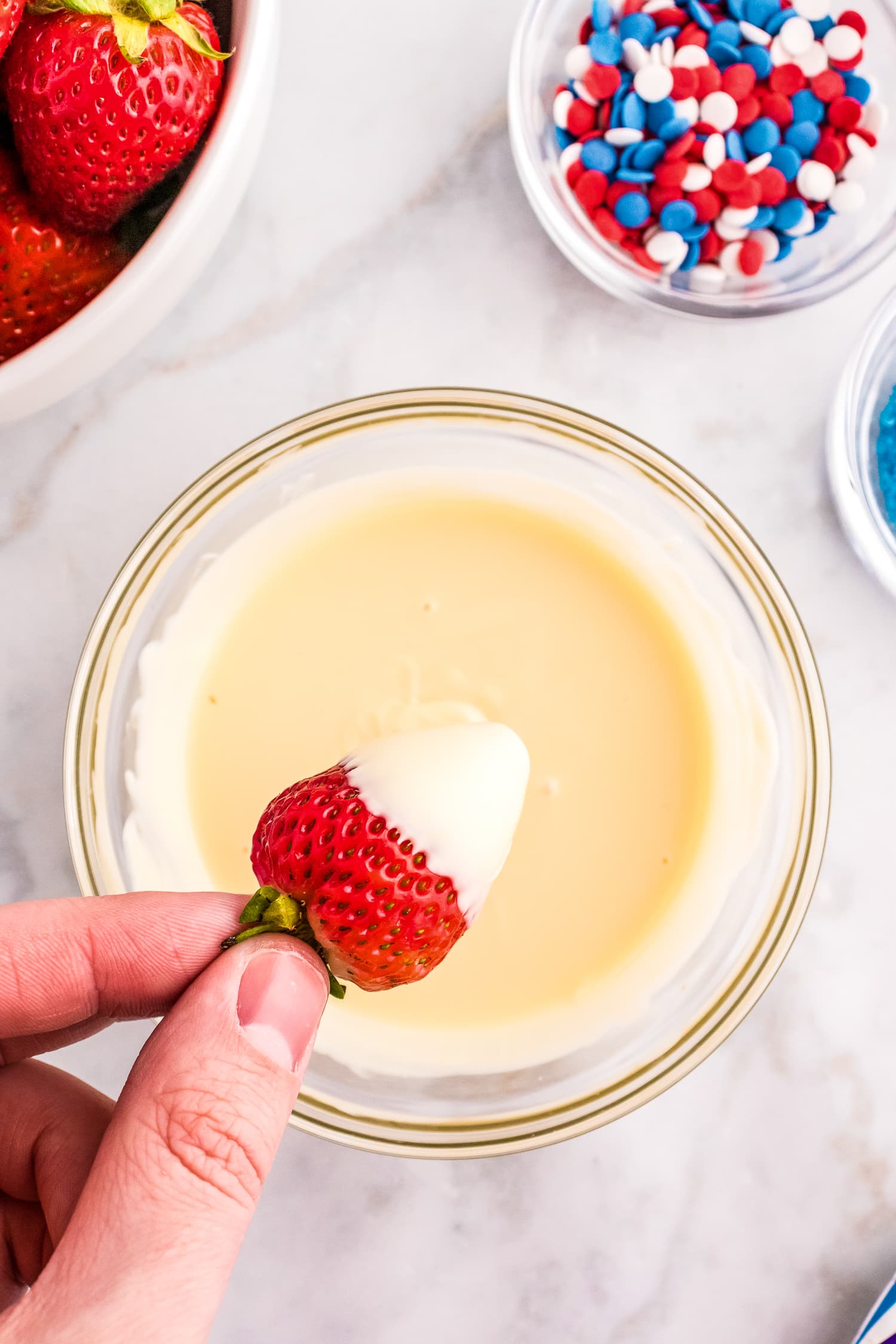 Tips for the Best White Chocolate Strawberries
You only need one cup of chocolate for 12 strawberries, but I always melt extra to make it easy to fully dip all of the strawberries evenly.
Be sure to use dry strawberries. After you rinse them, use paper towels to blot them dry.
I think it works best to hold the stem while you dip them, but if it's loose (or fell off) just hold the very top of the strawberry.
I don't recommend rolling or dipping the chocolate covered strawberries in the sprinkles. Instead, use a spoon to sprinkle the sprinkles onto the chocolate. It's easier and less messy.
If you're not serving them right away, keep them in an airtight container in the refrigerator. I like to stack them with wax paper separating the layers so they don't stick to each other.
They will hold well at room temperature, but if it's a hot day when you serve them, keep them chilled as long as possible before serving them.
How should I store the dipped strawberries?
It is best to store them on the counter on a baking sheet with a layer of plastic wrap lightly draped over them if you plan to enjoy them within 24 hours.
If you need to store them for more than one day they need to be stored in the refrigerator. It's best to place a couple sheets of paper towels into the bottom of your airtight container then place the strawberries on top to soak up any sweating that the strawberries do.
What if I don't have melting chocolate?
If you don't have melting chocolate, you can use one cup of white chocolate chips plus one tablespoon of vegetable shortening or coconut oil. White candy melts can also be used, but they usually don't taste like white chocolate. Another option is vanilla almond bark.
What if the chocolate starts to harden?
If the melted chocolate starts to get too thick to work with, just stick it in the microwave for another 30 seconds and stir.
Instead of using the microwave to melt the chocolate, you can melt it using a double boiler or a bowl over simmering water to prevent the chocolate from hardening.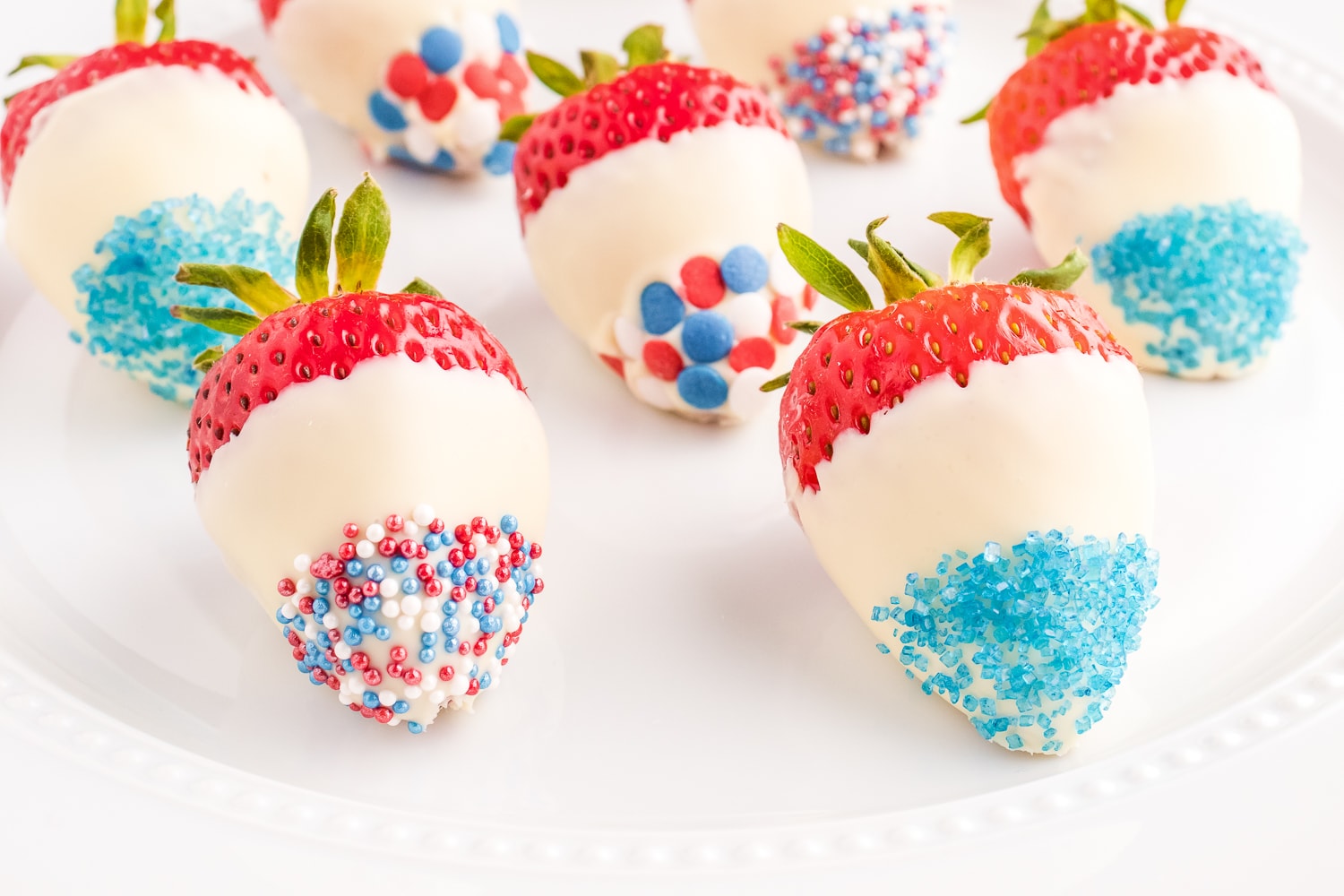 Have fun making these red, white and blue strawberries! They're such a fun kitchen project to make with the kids – they'll love helping and then eating these chocolate strawberry treats. Enjoy!
More Red, White and Blue Activities!
Yield: 12 Dipped Strawberries
Red, White and Blue Strawberries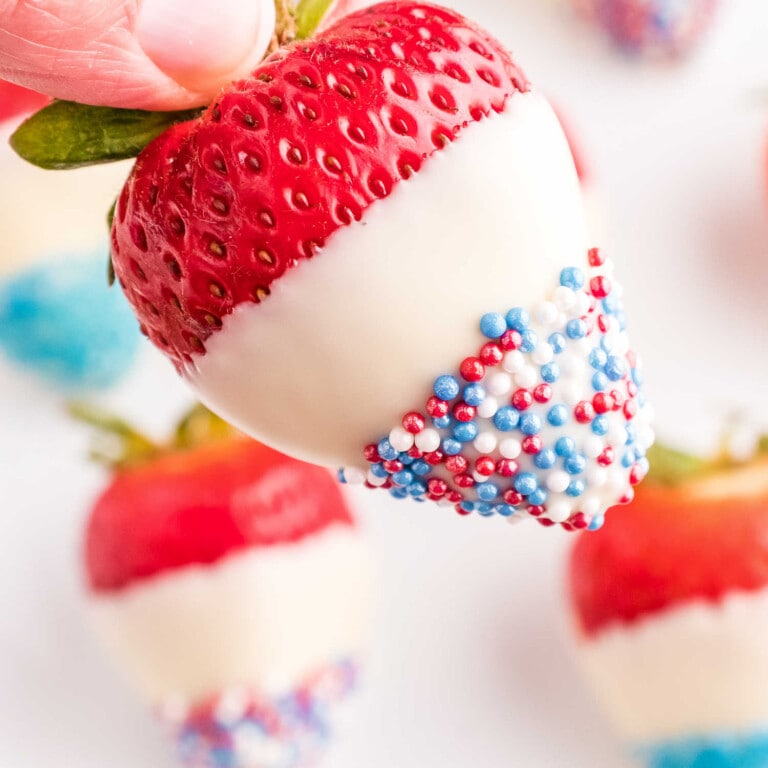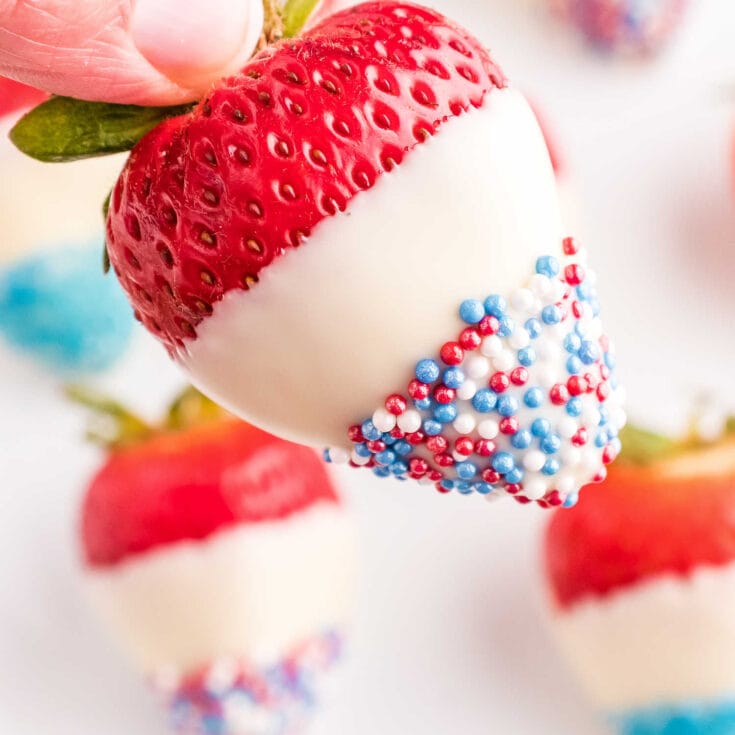 Easy Patriotic Dipped Strawberries! Dip your fresh strawberries in white chocolate and sprinkles for a festive summer treat.
Ingredients
1 pound strawberries, washed and dried (tops on)
1 cup white melting chocolate, broken into pieces (I used a 4-ounce white baking bar)
Assortment of red, white and blue sprinkles
Instructions
Line a baking sheet with parchment paper and set aside.
Place the white chocolate pieces into a medium microwaveable bowl. Microwave on 50% power for 30 seconds at a time, stirring after each time. Continue until all the chocolate pieces are completely melted (don't overheat or chocolate with seize).
Pour a few tablespoons of each kind of sprinkle into small, separate bowls.
Hold the strawberry by the stem and dip into the melted chocolate, leaving the top third uncovered. Alternatively, you can spoon the melted chocolate onto the bottom ⅔ of the strawberry. Gently shake off any excess chocolate.
Immediately spoon the sprinkles carefully onto the bottom third of the strawberry, leaving a plain white center band.
Place the dipped strawberries on the tray lined with the parchment paper. Let them sit for about 30 minutes or until the chocolate sets. After the chocolate is set, place the dipped berries on a tray and serve.
Recommended Products
As an Amazon Associate and member of other affiliate programs, I earn from qualifying purchases.
Nutrition Information:
Yield:
12
Serving Size:
1
Amount Per Serving:
Calories:

89
Total Fat:

4g
Saturated Fat:

3g
Trans Fat:

0g
Unsaturated Fat:

1g
Cholesterol:

3mg
Sodium:

11mg
Carbohydrates:

11g
Fiber:

1g
Sugar:

9g
Protein:

1g