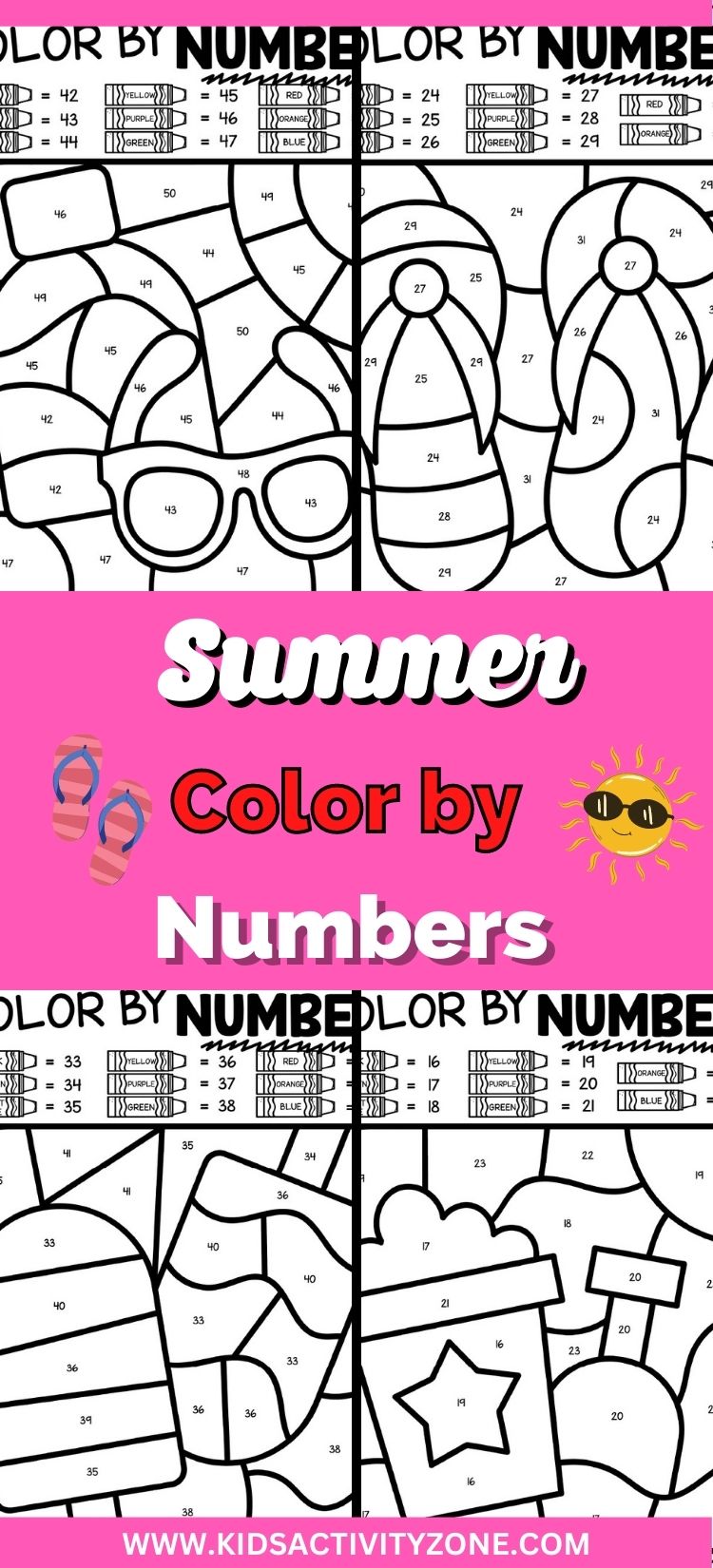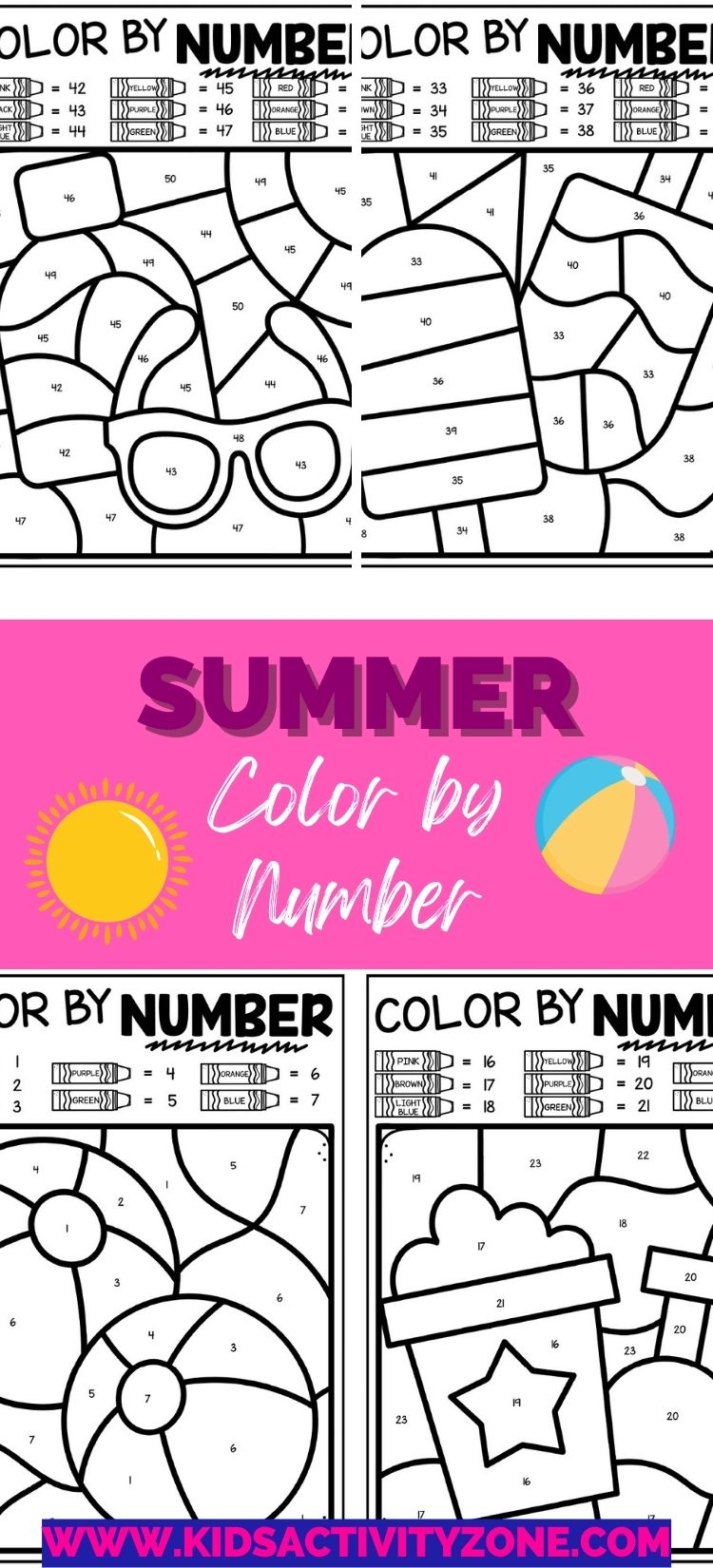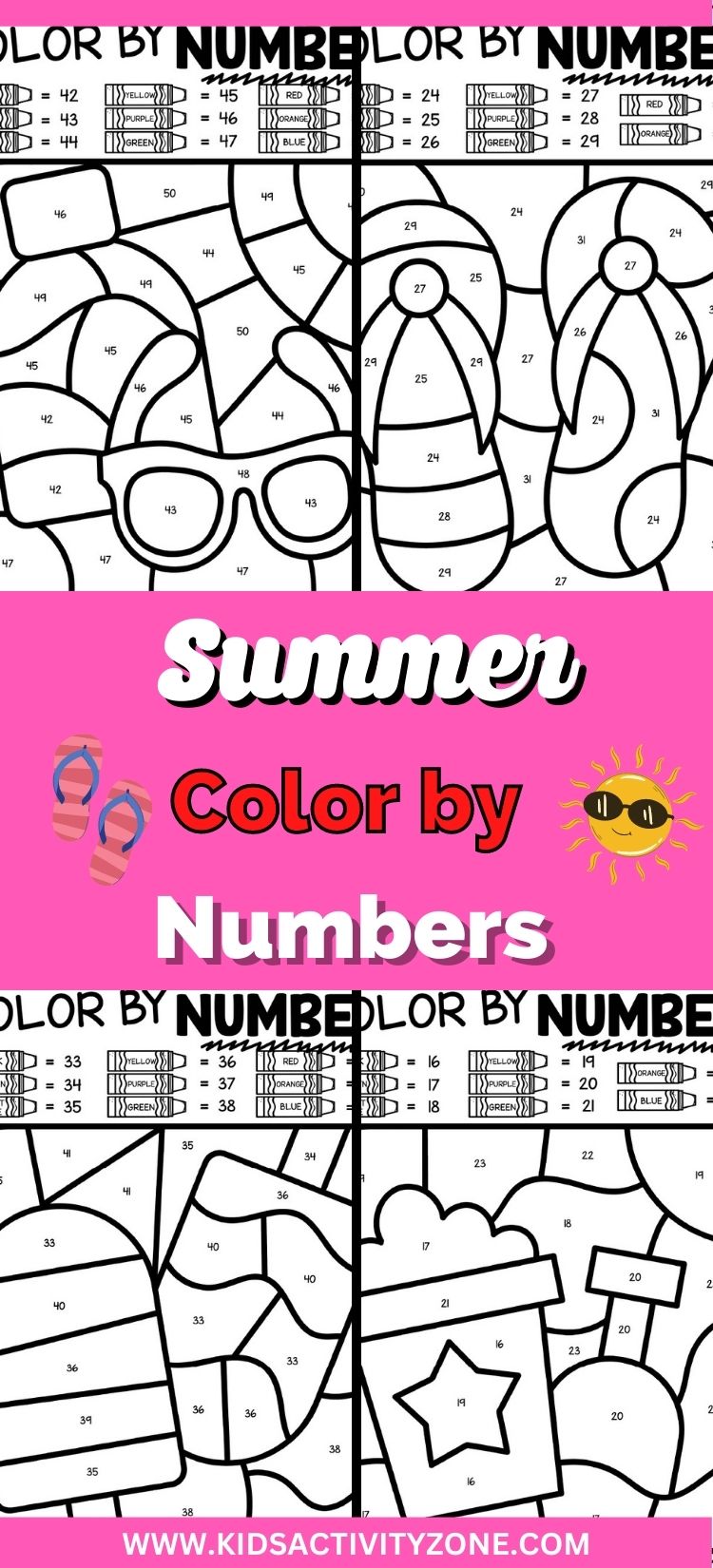 Rainy days during the summer can be a drag, but don't fret! Print off these Free Printable Summer Color By Numbers sheets. Tons of different summer scenes that the kids can color while stuck inside!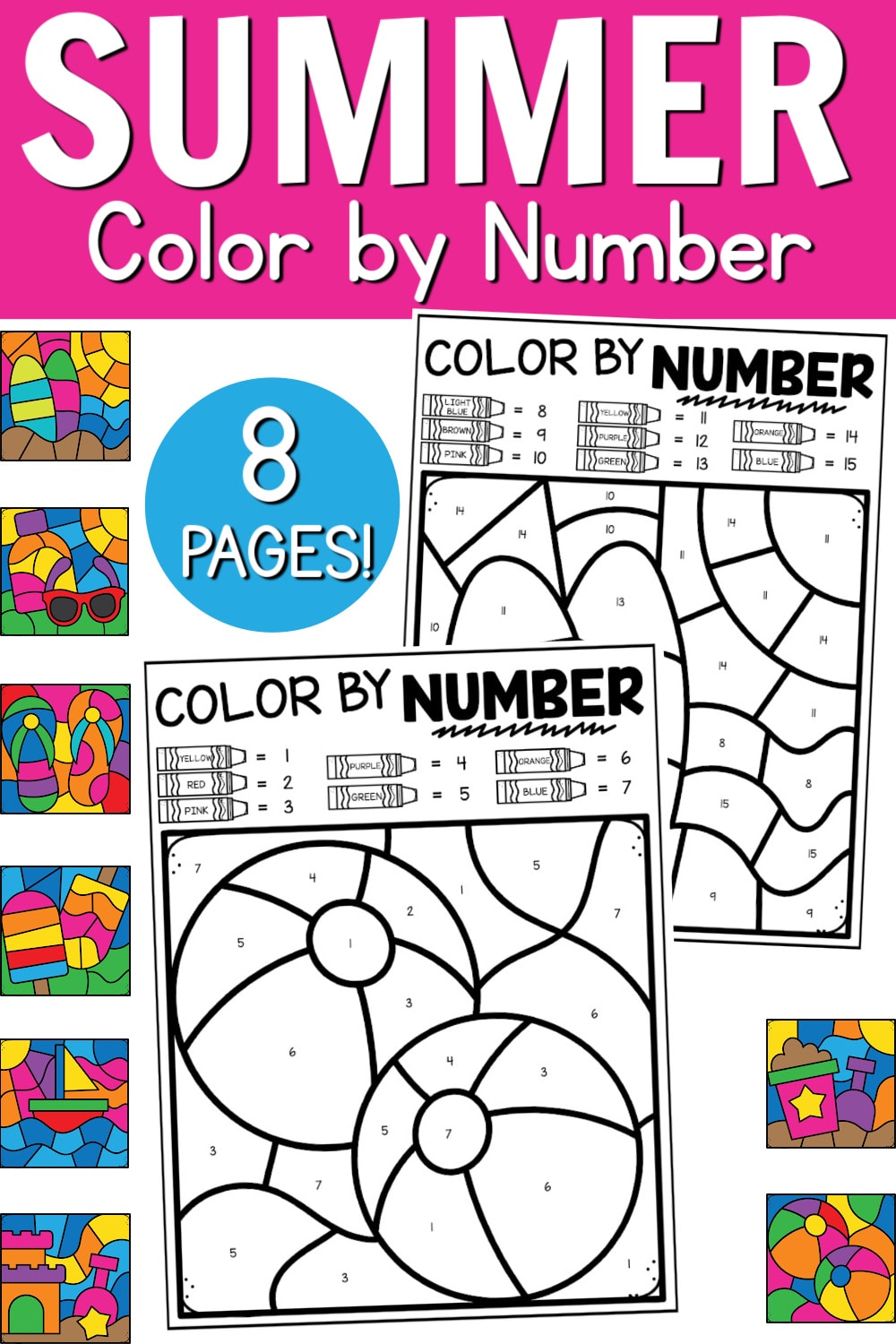 Summer rain got ya down? Then print out these fun summer color by number pages and create your own sunshine! These free printables are cute summer scenes that will cheer you up in no time.
You can make your own sunshine with this rainbow sun craft too! But if you're stuck in the house without the supplies to make that, then these free color by number printables are the perfect thing. And they don't require a color printer either! Just a simple black and white printer and you're good to go.
Summer days are usually packed with outdoor fun with my kids, but sometimes it rains or it's just wildly hot. So, we cycle through a lot of different indoor activities. Sometimes we'll just snuggle up on the couch and watch a movie, but other times I want to stay away from screen time so we'll do crafts. We'll even make fun summer treats like frozen yogurt bites sometimes too!
So next time the kids are begging for something to do when you need to stay indoors, just print out a page or two (or all of the pages) and have fun!
Why You'll Love Summer Color by Number
These are the perfect activity to fill time on a rainy summer day! You can dream of the sunshine and the beach until the cloud begin to break.
Coloring by number is a great way for children to practice their number identification and color identification. They'll be practicing numbers and colors in the summer without even knowing it!
This activity is completely free! Just print out the pages and grab your coloring supplies to complete this super fun and easy activity.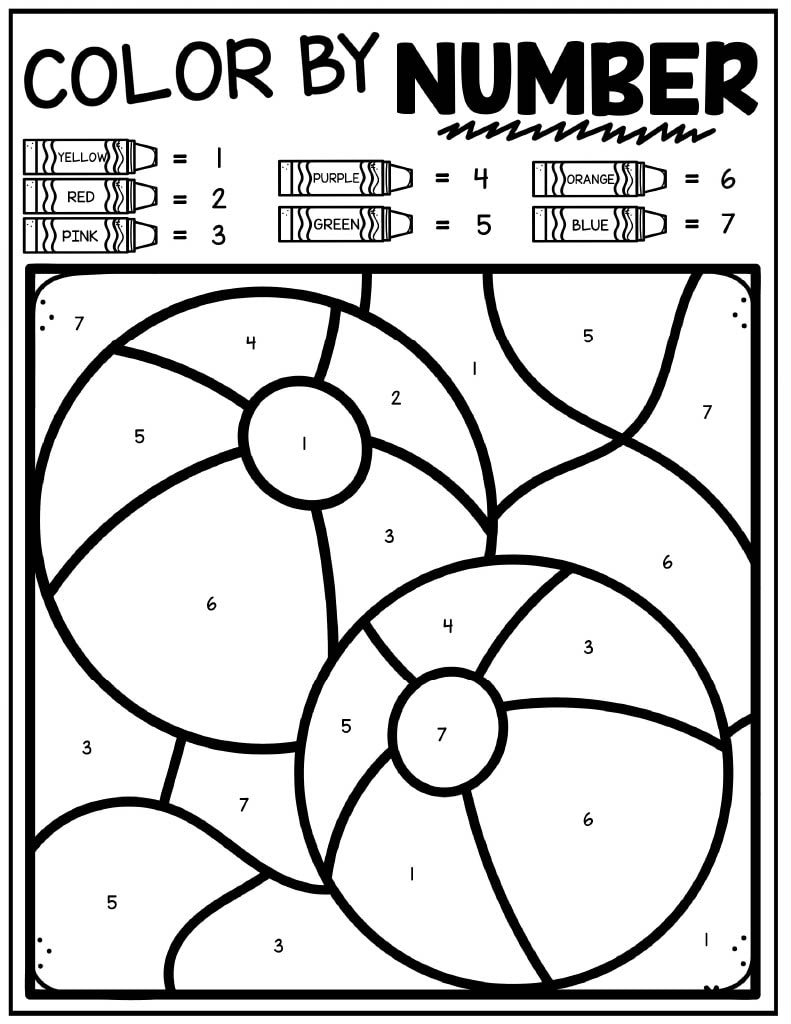 Supplies needed for Summer Color by Number
Coloring supplies – You can choose between crayons, markers, colored pencils, or even water color paints! It doesn't matter what you use, as long as you've got the colors that each page calls for on the keys. These Twistable Crayons are a favorite at my house since they're sturdy and last a long time. So check them out if you need new coloring materials.
Printer – These summer color by number printables only need to be printed in black and white. You can print all of the pages or just a few. If you don't have a printer, check to see if your local library allow you to print. Most libraries do and often it's free!
It's really easy to have a fun summer day indoors! You can make a kid's summer snack board to munch on, create a masterpiece with these free color by number printables, and make some delicious homemade slushies to sip on. There's plenty of time to catch some rays during the summer. So, taking some time to relax indoors (while still having a blast) is always a great idea!
Tips for the Best Summer Color by Number Coloring Pages
To make these pages easier for younger children to follow, color in each crayon in the key with the color it asks for. This will help your children more easily identify the colors that they need to use for each number.
Color different colors with different materials to create a fun texture on your page. For example, you could color the popsicles in an alternating pattern of crayons and colored pencils to make the textures different.
Add some fun summer themed stickers to your coloring pages to add extra pizzazz to your artwork! Your local craft store will have fun stickers, or you can check the craft section at your local Walmart.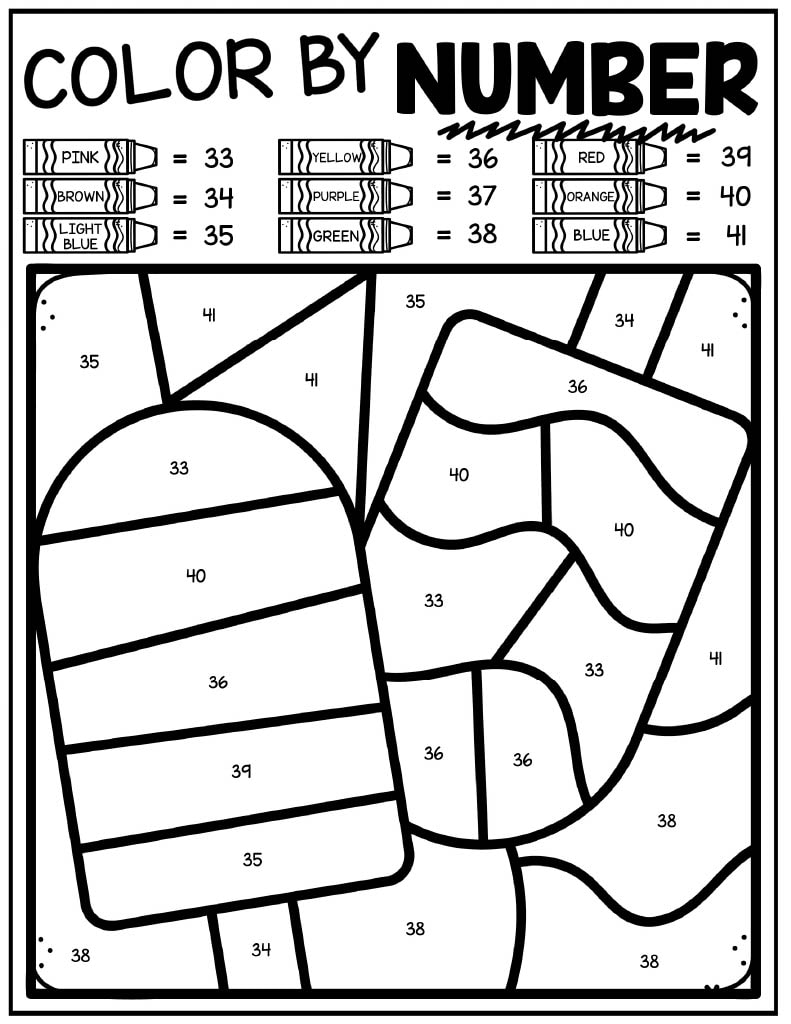 Don't forget to display you works of art! Hang them on the fridge, give them to grandma and grandpa, or tape them on your kids bedroom wall for them to admire all summer long!
More Printable Activity Pages You'll Love