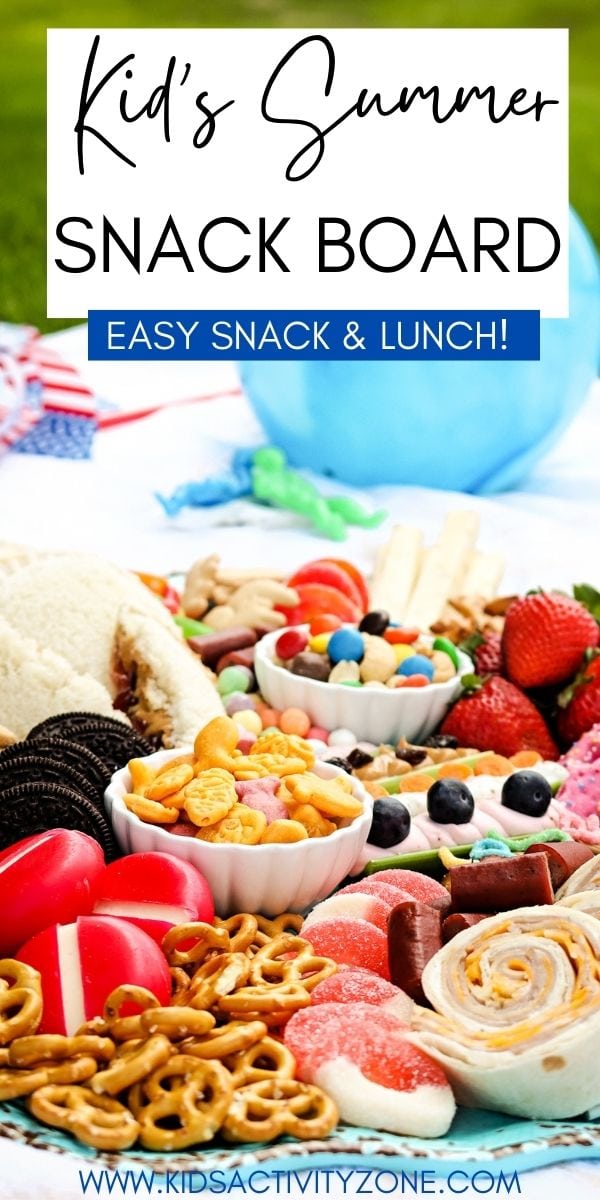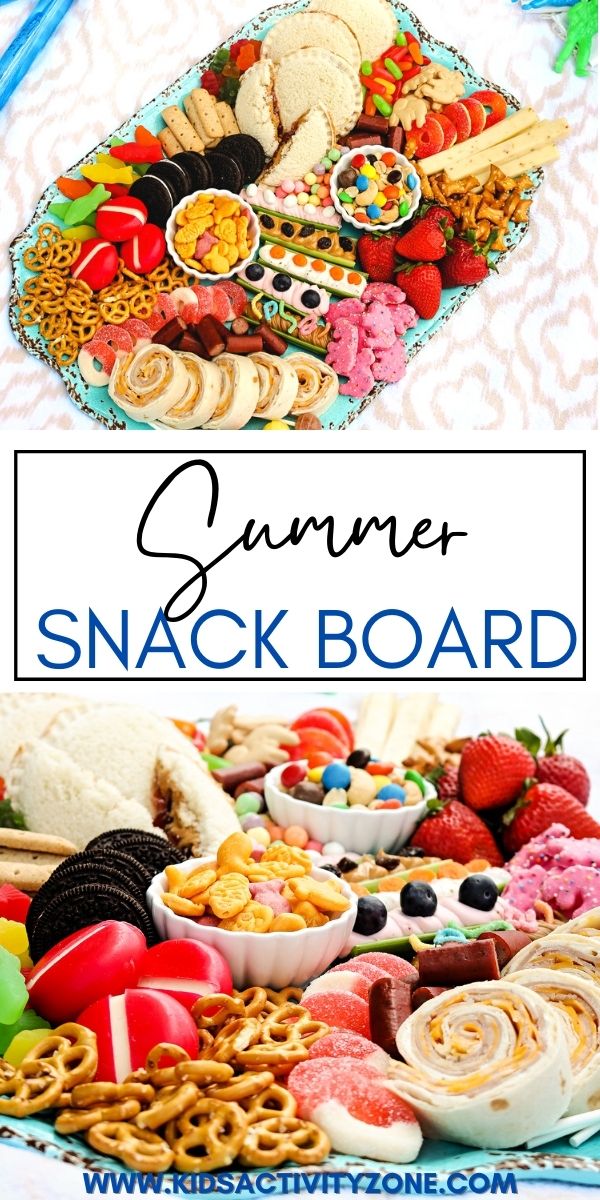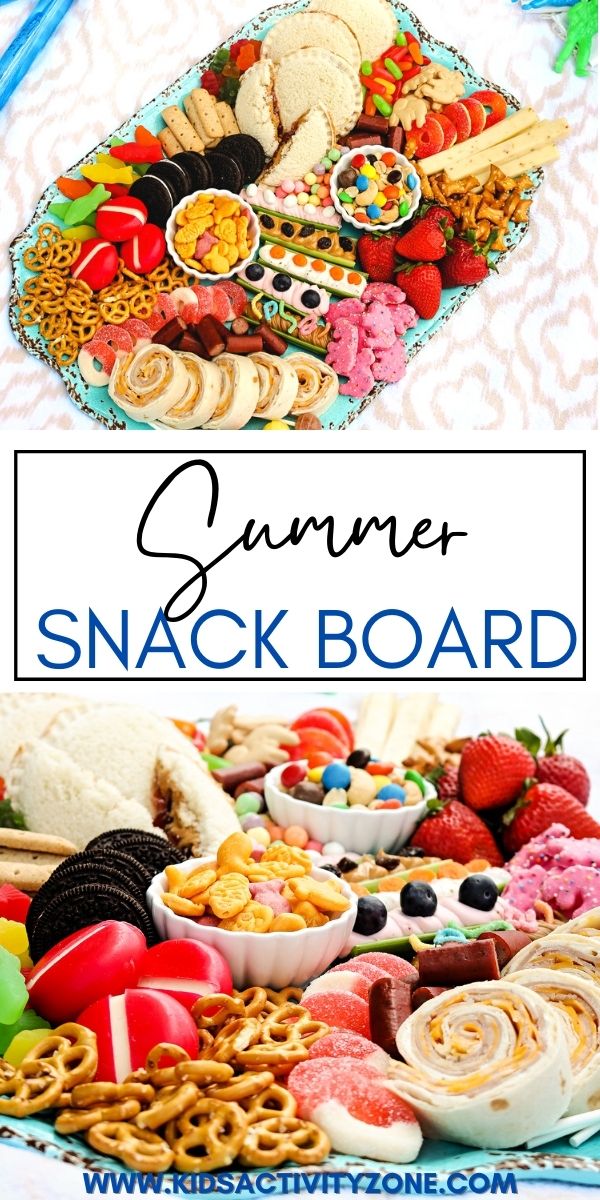 Bring out your child's inner foodie with the Summer Kid's Snack Board. It's the perfect way to serve children snacks during the summer months when they're home from school and feeling hungry!
It would also make a fun lunch for the kids. They can pick their favorite snack to make their own lunch. Mix things up and have fun this summer with this easy lunch idea for kids!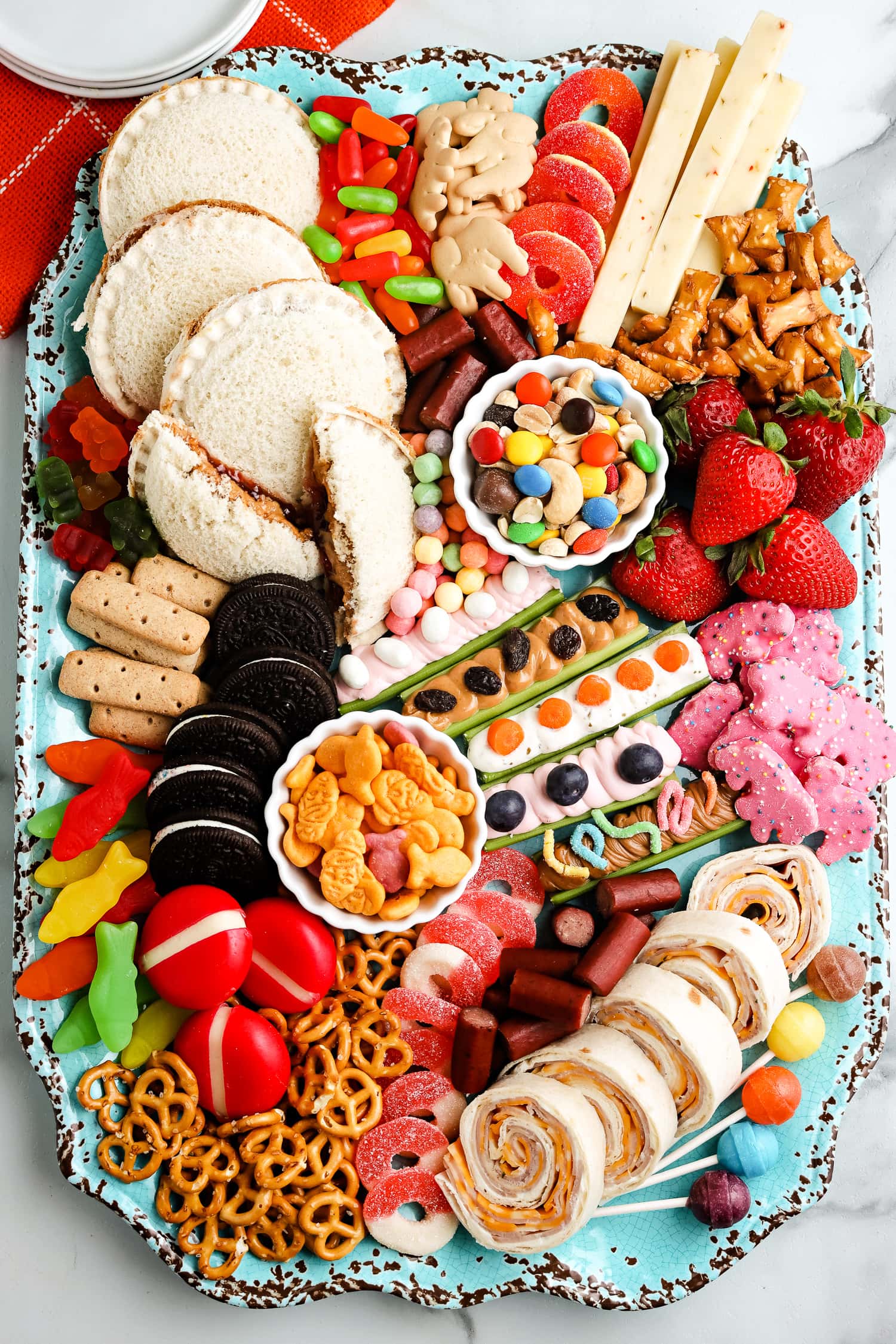 Snack Charcuterie Board
Prepare the perfect Snack Charcuterie Board full of tasty foods that children love. If you didn't already know, a charcuterie board typically consists of finger foods that you can grab and enjoy on the go.
While adults often have these boards with crackers, cheese, and fresh fruit, such as grapes and apple slices, you can easily put a kid-friendly version of the board together by adding some of your children's favorite foods!
We took a few of our favorite kid friendly snack and lunch ideas like our Ham and Cheese Rollups, Homemade Uncrustables and Ants on a Log and used them on this easy snack board for kids!
It's fun to assemble this board when your children are spending hours by the pool or having friends over during the summer because you'll never have to worry about hearing them say, "I'm hungry!"
The Benefits of Snack Boards for Kids
Snack boards are a great option for children at home during the summer months. How many times have your children complained before that they're hungry in the middle of the day between the meals that you'd typically prepare?
If it has happened more often than you can count, creating a snack board would resolve that problem. The other benefits of the Snack Charcuterie Board for kids include:
Having an impressive variety of tasty snacks to choose from.
Enjoying some of their favorite foods with their siblings and/or friends.
No worries about coming in and out of the house to grab a bite to eat when you're offering the snack board as they participate in activities, even when outdoors.
Completely customizable to cater to the snack preferences of your children.
What are some good kid friendly snacks?
There are so many fantastic kid-friendly snacks to choose from when you're preparing a board like this one at home!
While it typically depends on what your child likes and what ingredients you have at home, fresh fruit, cheese sticks, Goldfish crackers, animal crackers, and homemade uncrustables are a few of the best options to consider adding to the board.
Which summer snacks for kids are the best to serve?
If you'd like to keep it healthy and tasty, consider preparing the homemade uncrustables, ham and cheese rollups, and ants on a log with a few extras beside them, such as trail mix and strawberries.
If your children don't like strawberries, swap them out for any other fruit they do like, such as blueberries, grapes, or even apple slices.
Summer Snack Board Ideas!
Strawberries
Trail Mix
Grapes
Blueberries
Apple Slices
Animal Crackers
Goldfish
Gummy Bears
Nilla Wafers
Cheesesticks
Snap Peas
Carrots
Mini Cookies
Will I need special equipment to prepare the snack board?
No, you won't need much to assemble the snack board. It's good to have a large serving board with edges for assembling the different snacks and treats you plan to put together for your children.
If you don't have one, you can buy a charcuterie board from Amazon with more than enough space to hold everything you plan to serve to the kids.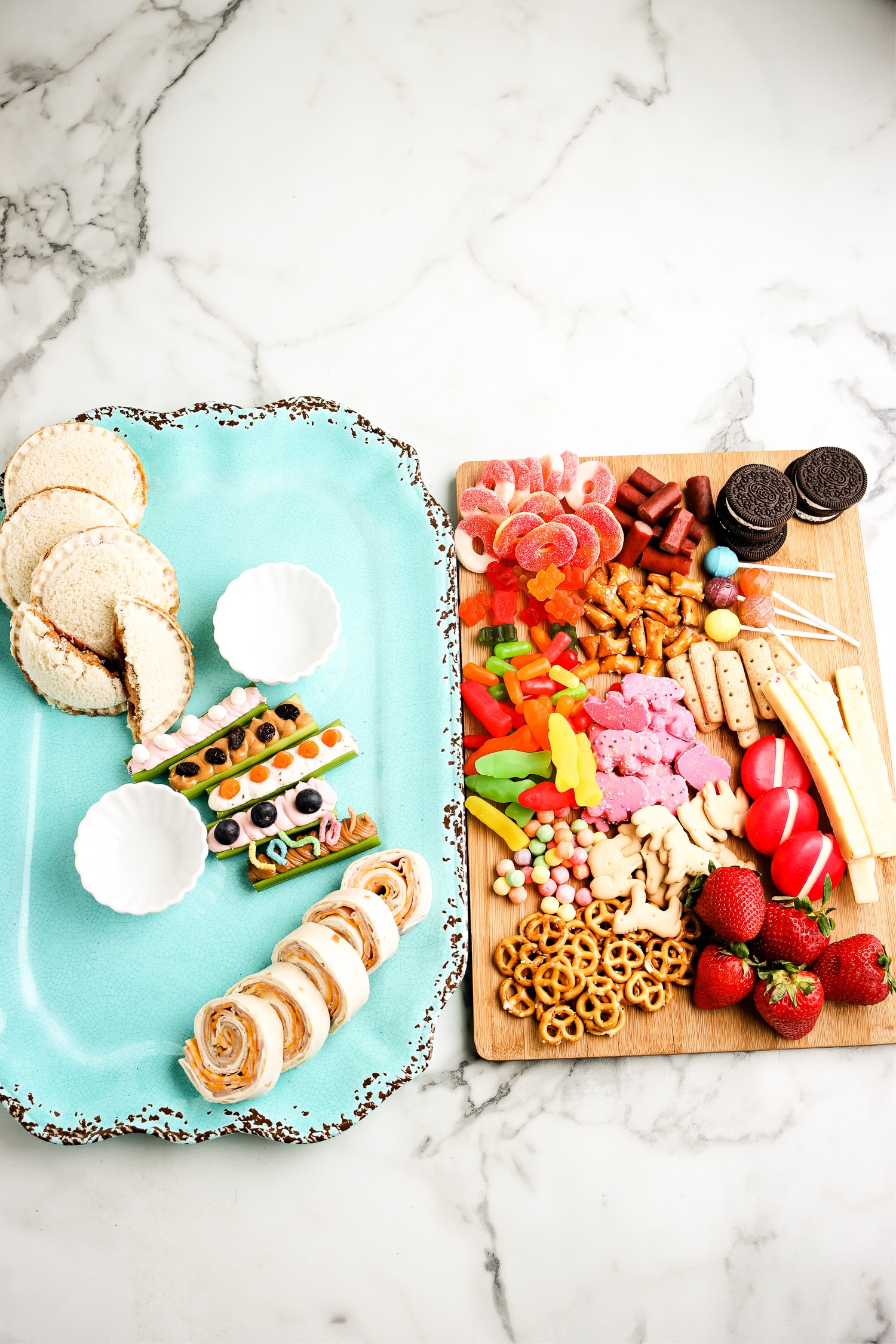 Snack Board Assembling Tips
When putting different foods on your board, make sure to add the largest items first along with any bowls you are using to hold candy etc. It gives you an idea of how much space you have available to fit some of the smaller items between those big items.
Be sure to fill those holes within the board with some of the small items, such as small candies or little pretzels to give the board a much fuller appearance.
While you want to fill the board with plenty of tasty treats, be sure to leave some space on the edges so that you'll be able to hold it and take it over to the children, whether they're hanging out in the living room or spending time in the backyard with friends and family.
Different Ways to Assemble Your Summer Kid's Snack Board
Consider trying one of the following options when assembling the snack board for your children:
Place fruits in one section, with sweets in another section and savory treats in the middle as a barrier between the two.
Fill the board with your bigger items, such as the homemade uncrustables and mini pinwheels, and then sprinkle small items around them to look decorative, such as gummy bears, trail mix, and sliced fruit.
Use a cookie cutter to create fun shapes when adding certain foods to the board, such as the gummy rings, Goldfish crackers, and little pretzels. Some shapes to use include stars, hearts, and cartoon characters!
Get your children even more excited for the summer with a Summer Kid's Snack Board full of flavorful treats. They'll look forward to grabbing what they want from the board while spending time with family and friends.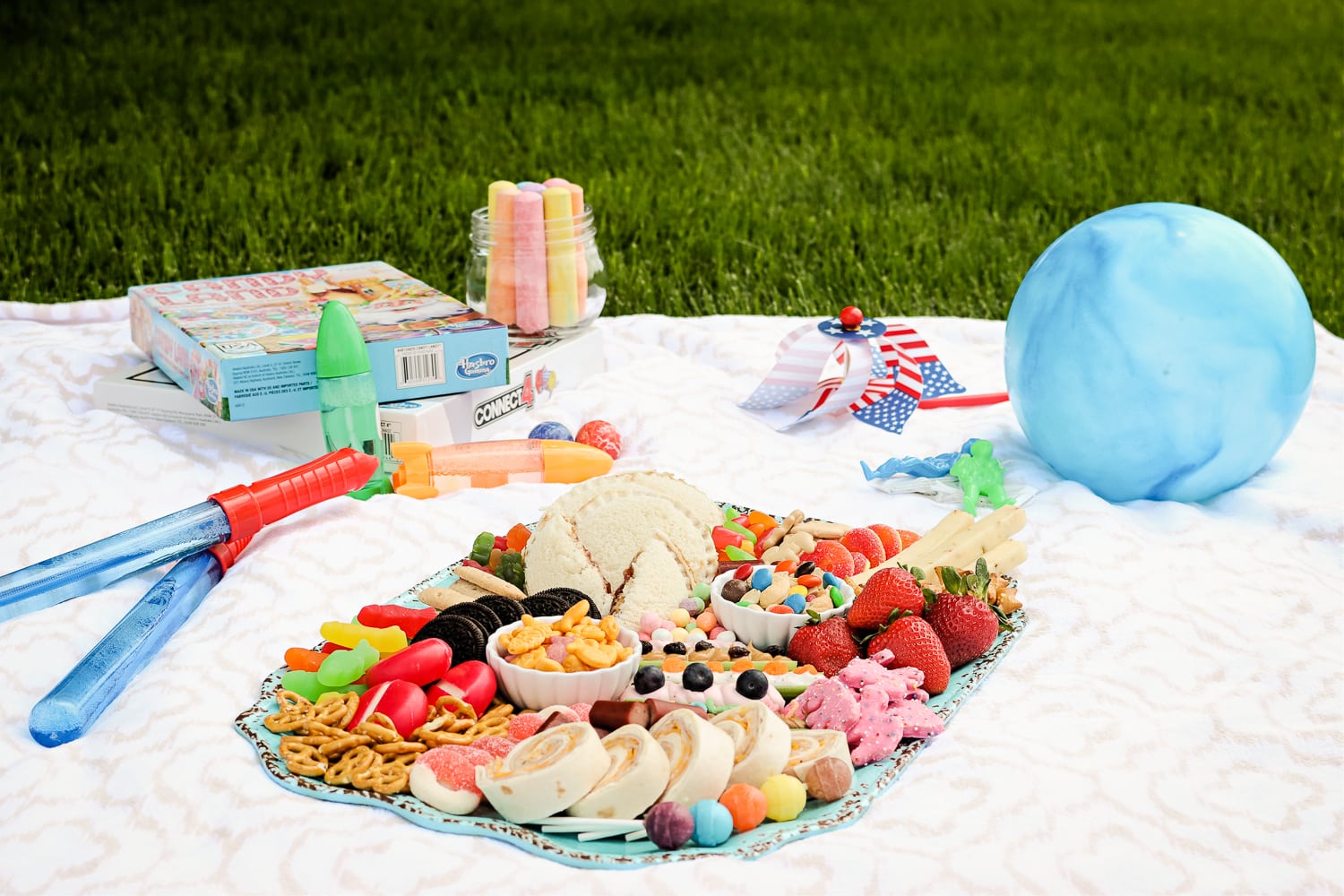 If you take a picture and share them on Instagram with #kidsactivityzone or tag us @kidsactivityzoneblog so we can see them!
More Kid Friendly Recipes!
Cinnamon Roll Waffles start with a canned cinnamon roll that's cooked in the waffle maker and then topped with a cream cheese glaze.
These Pizza Crescent Rolls are an easy recipe that is a fun twist on pizza. Soft crescent rolls that are stuffed with mozzarella cheese and pepperoni.
Quick and easy Mixed Berry Smoothie is an easy snack that the kids will love. A creamy mixture of frozen mixed berries, banana, vanilla yogurt and milk.
Yield: 1 Snack Board
Kid's Summer Snack Board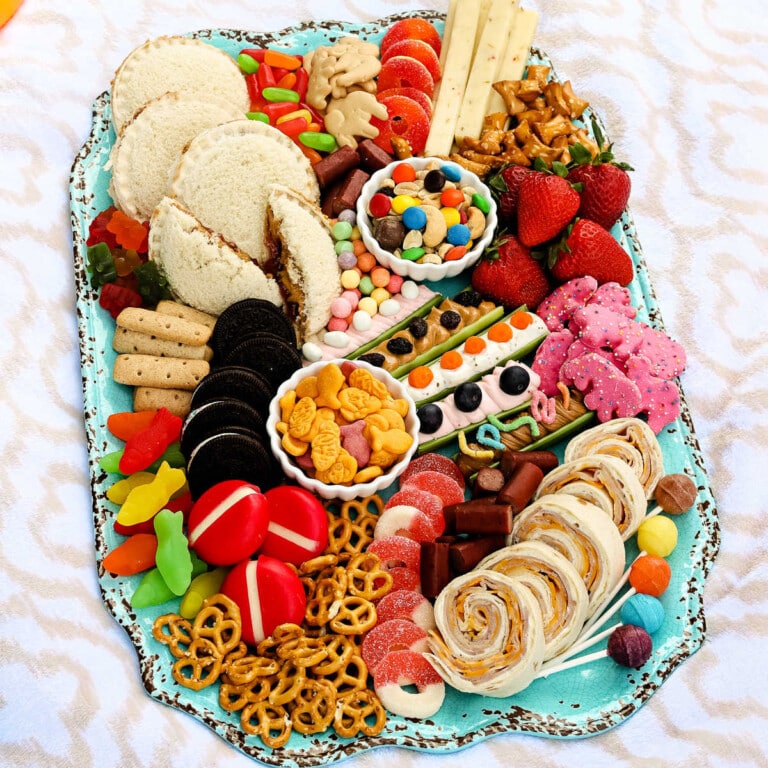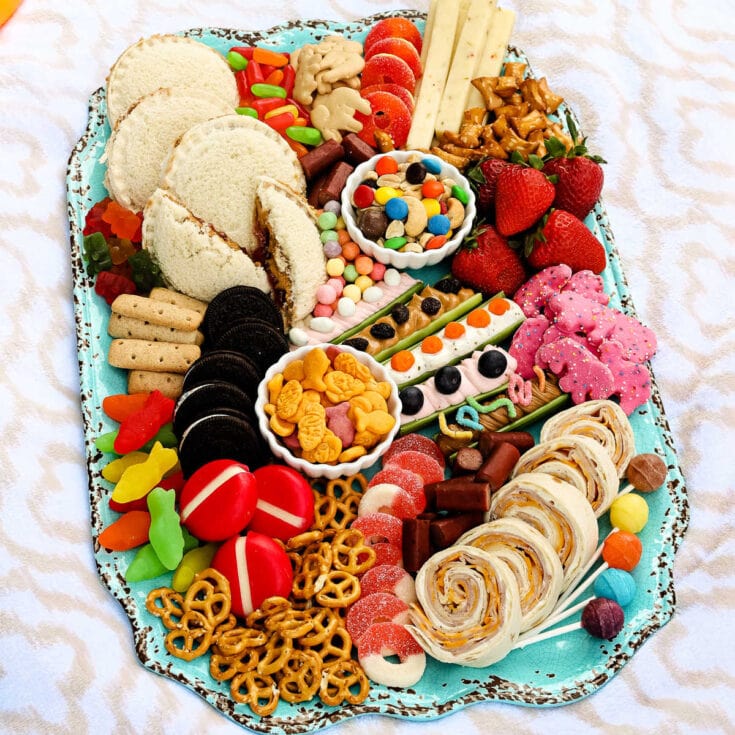 Quick and easy snack board for kids! It will make the perfect lunch or snack by the pool, lake or when playing outside!
Ingredients
Cheese Sticks
Babybel Cheese
Strawberries
Meat Sticks
Pretzels
Graham Cracker Sticks
Circus Animal Cookies
Animal Cookies
Trail Mix
Goldfish Crackers
Oreo Cookies
Candy: Gummy Bears, Gummy Rings, Gummy Fish, Lollipops, Chewy SweetTarts, Mike & Ike
Instructions
Start with large board, using one with edges is easiest.
Place the bowls for the crackers and trail mix on first.
Then add the largest items like the Uncrustables, Pinwheels and Ants on a Log.
Now, add the medium size items like the cheese, strawberries and cookies.
Next, add more medium size items like the gummy rings, meat sticks, animal cookies.
Fill holes with smallest items like small candy and pretzels.
Serve immediately