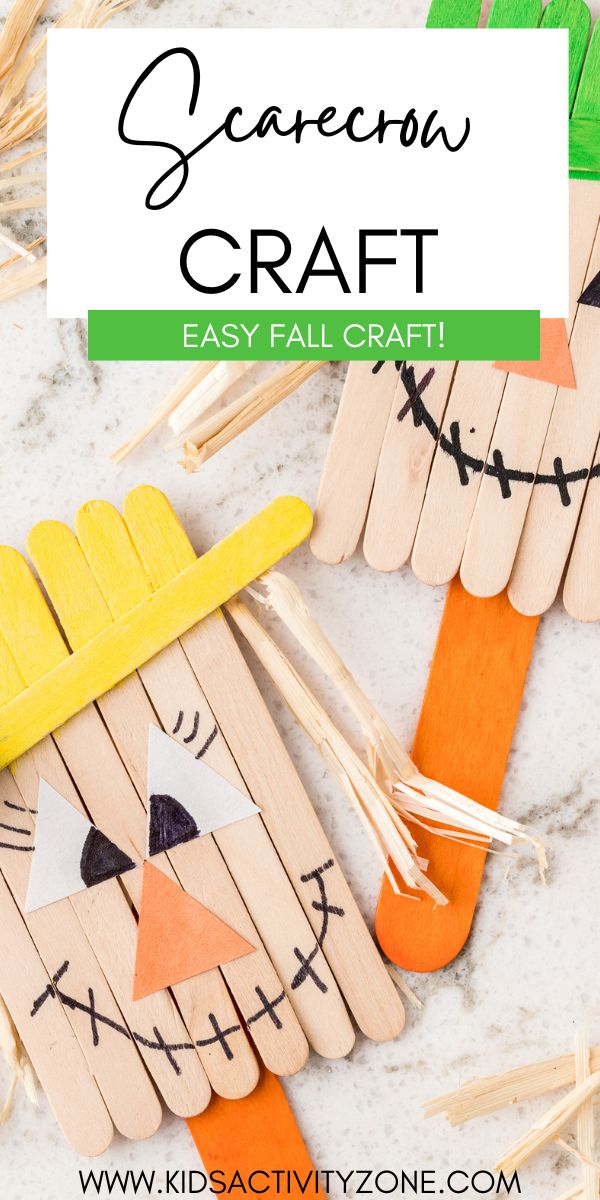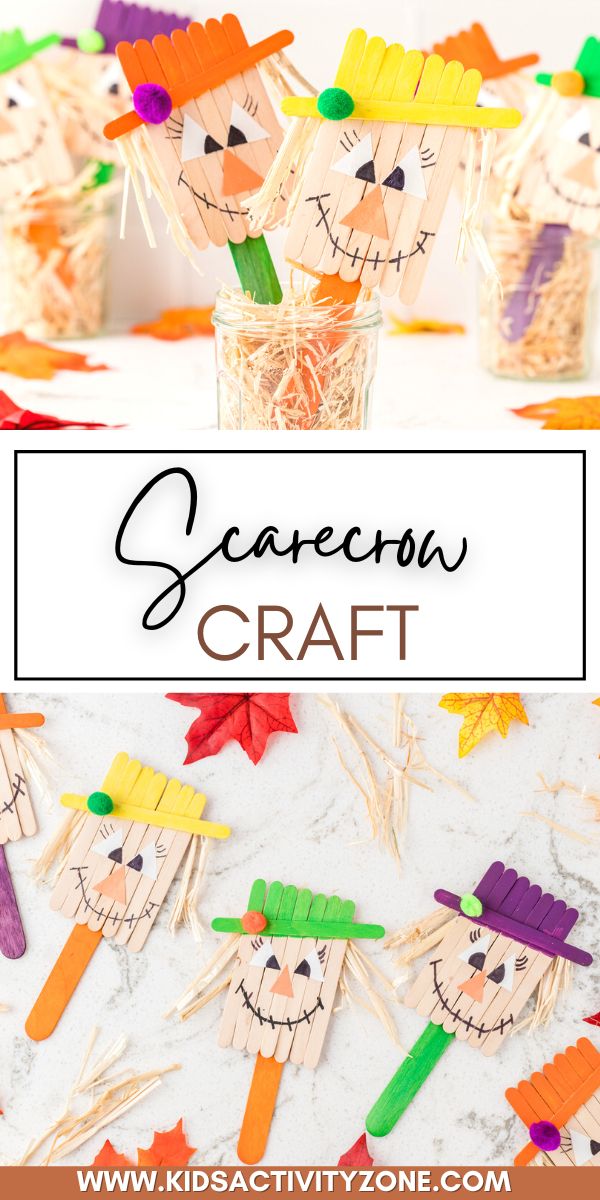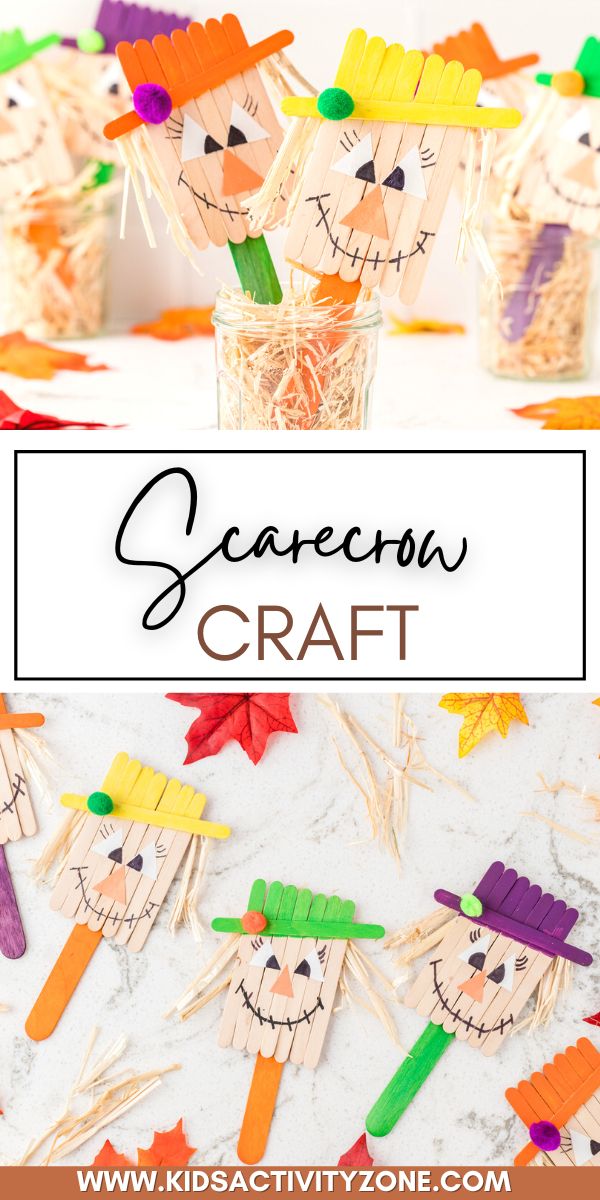 Easy Scarecrow Craft made with wooden craft sticks is the perfect fall kids craft! These cute little scarecrows are easy to make with household craft supplies. An easy and fun fall activity for the kids.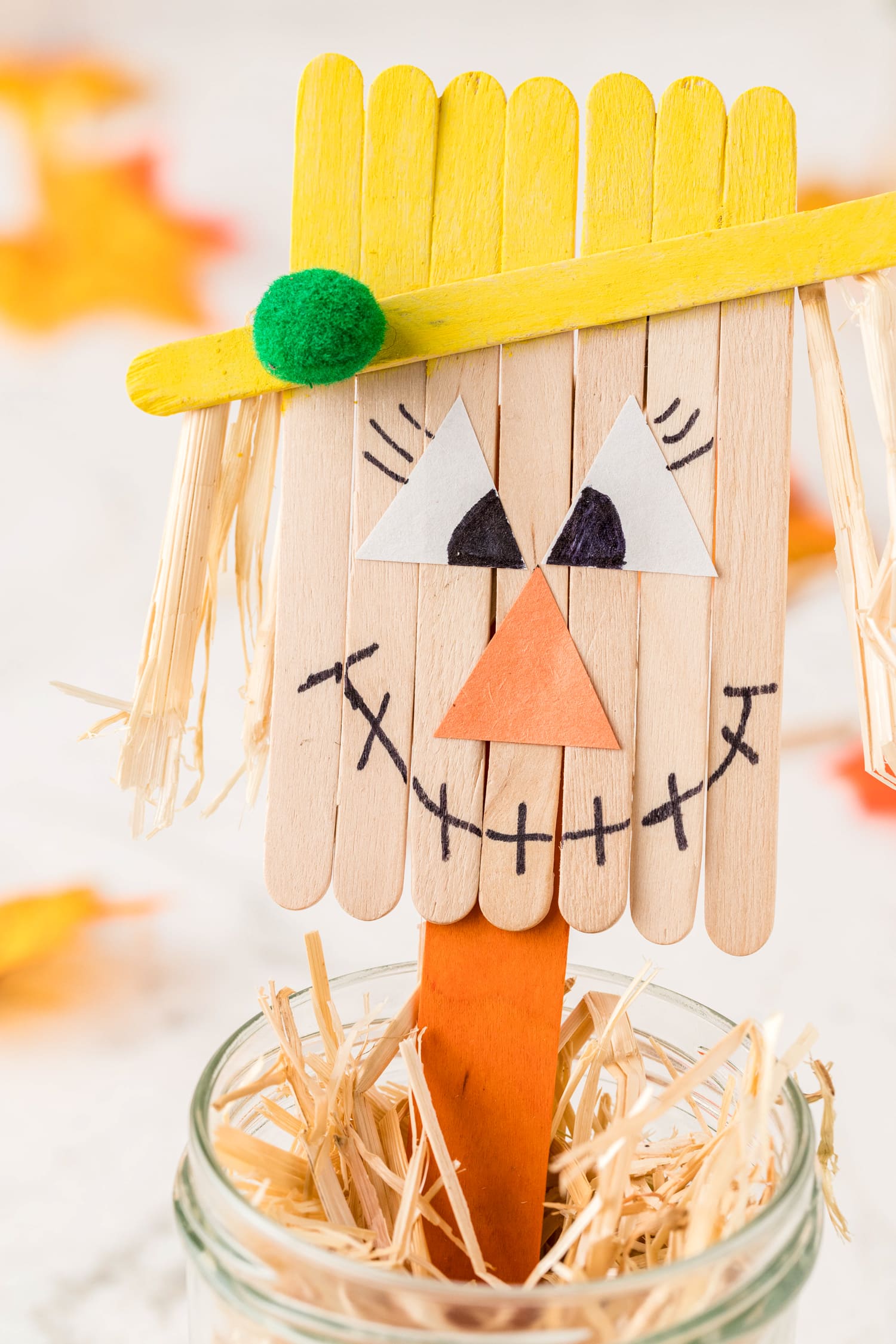 This scarecrow craft for kids is so much fun to make! I love that this little scarecrow craft has so much character. It would be the perfect craft to make while you're reading through The Wizard of Oz as your nighttime book!
Popsicle stick scarecrows are a great group craft since craft sticks come in large batches. And if you have any leftover popsicle sticks, save them and make this Grinch Popsicle Stick Craft at Christmas time!
Why You'll Love this Scarecrow Craft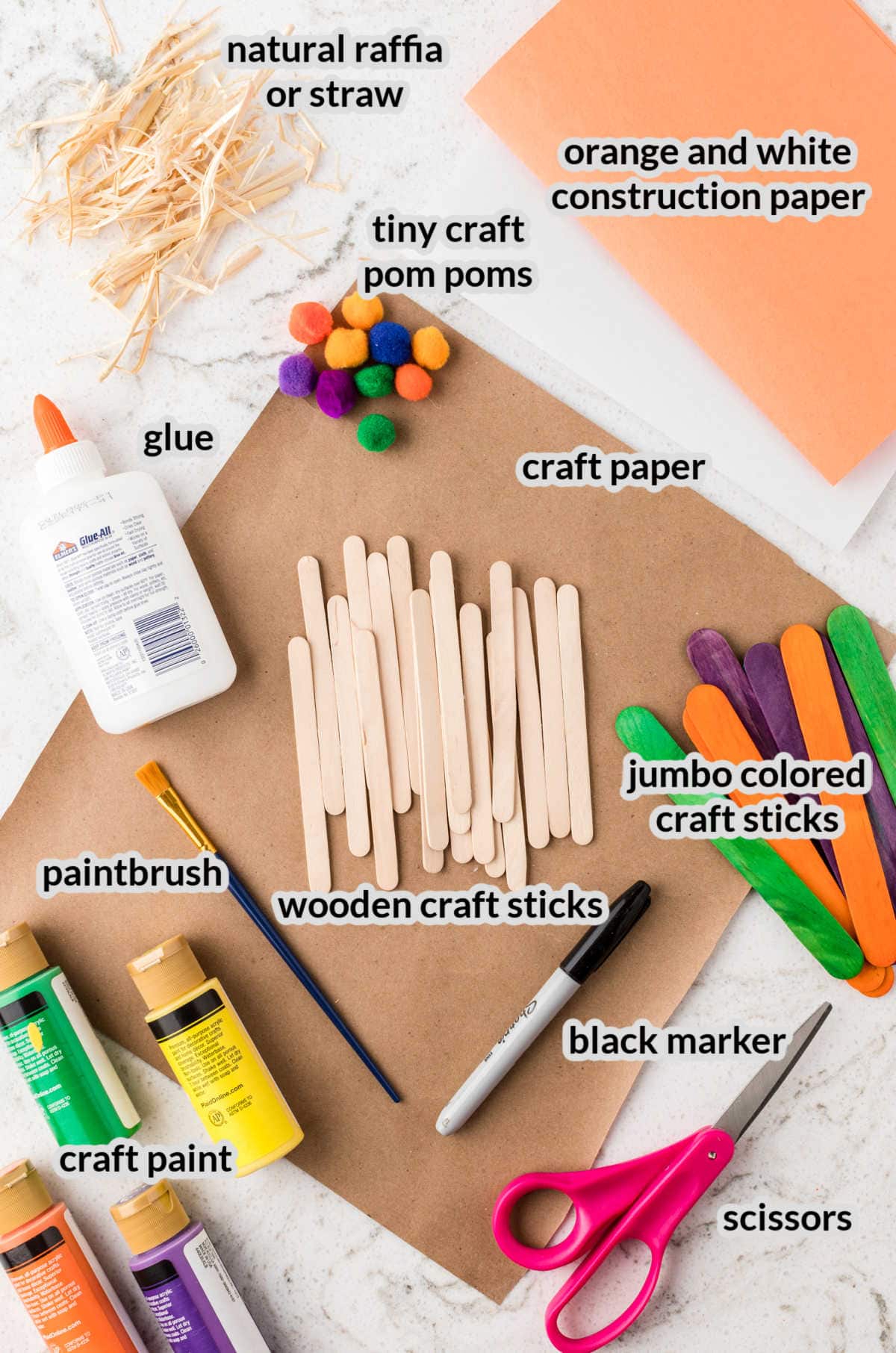 What You'll Need for this Scarecrow Craft
Helpful Tools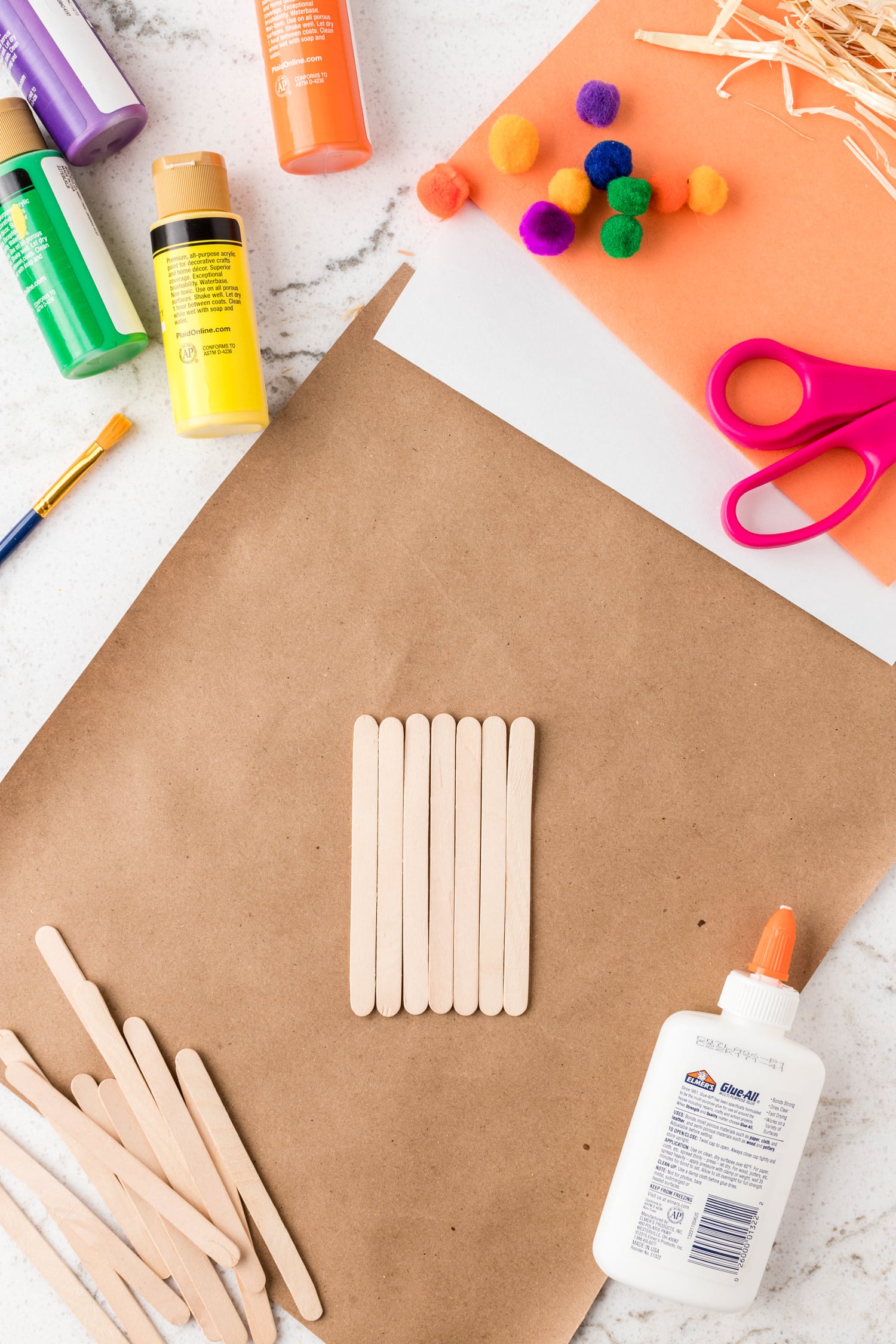 How to Make A Popsicle Stick Scarecrow
Glue: After covering your workspace in craft paper, place 7 wooden craft sticks side by side one another. Take an eighth craft stick and place glue on one side. Stick it diagonally onto the other craft sticks and let it dry.
Paint: Once dry, flip over the craft sticks and glue another stick diagonally on the front to make a hat. Once that is dry, take your paint color of choice and paint brush and paint your scarecrow's hat.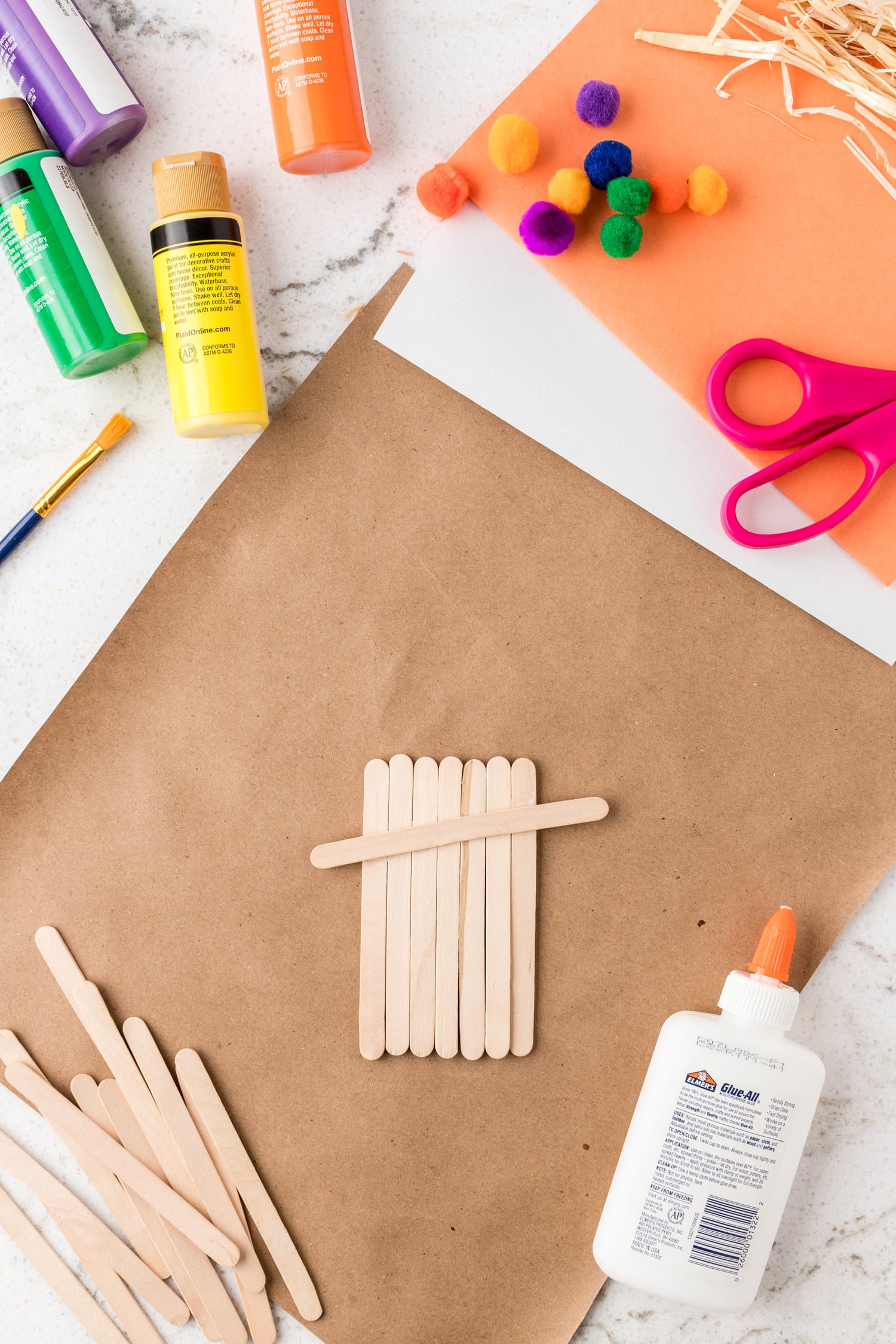 Cut: Set aside the craft stick and let the hat dry. While you wait, take your construction paper and cut out two white triangles and one orange triangle. Then, glue the eyes and nose onto the front of the craft sticks.
Draw: Using your black marker, draw eyes, eyelashes, and a smile onto your scarecrow.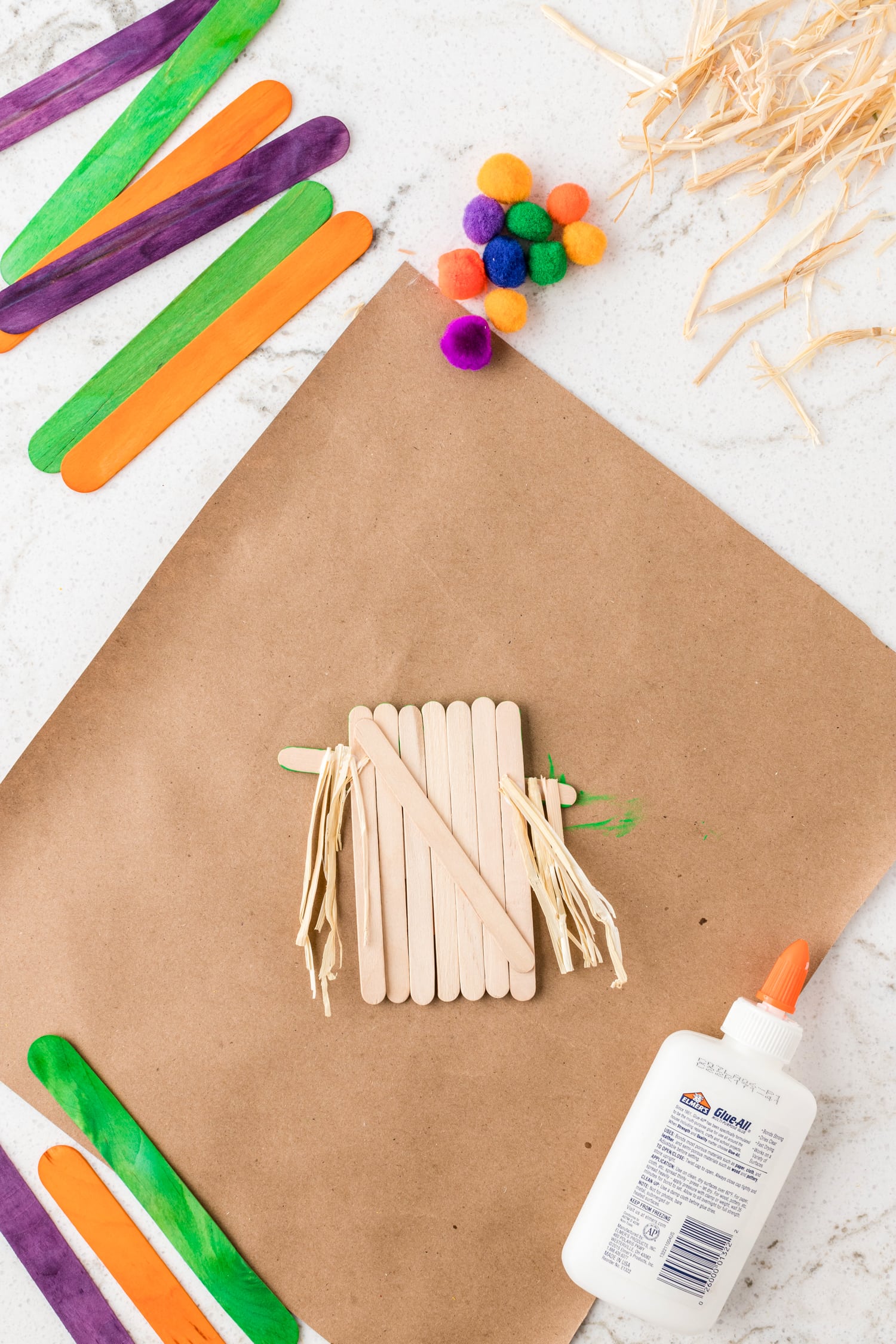 Glue: Take a few strands of your raffia or straw and glue them on the back of your scarecrow, just under the side of the hat. Then, glue on of the jumbo craft sticks on the back as a stand for your scarecrow.
Finish: Wrap up your fun scarecrow art by adding a pom pom to one side of the hat as a little decoration. Ta da! The perfect popsicle stick scarecrow!
What do I use if I can'd find raffia or straw?
You can use curling ribbon or yarn if you can't find straw!
Fun Tips for the Best Scarecrow Craft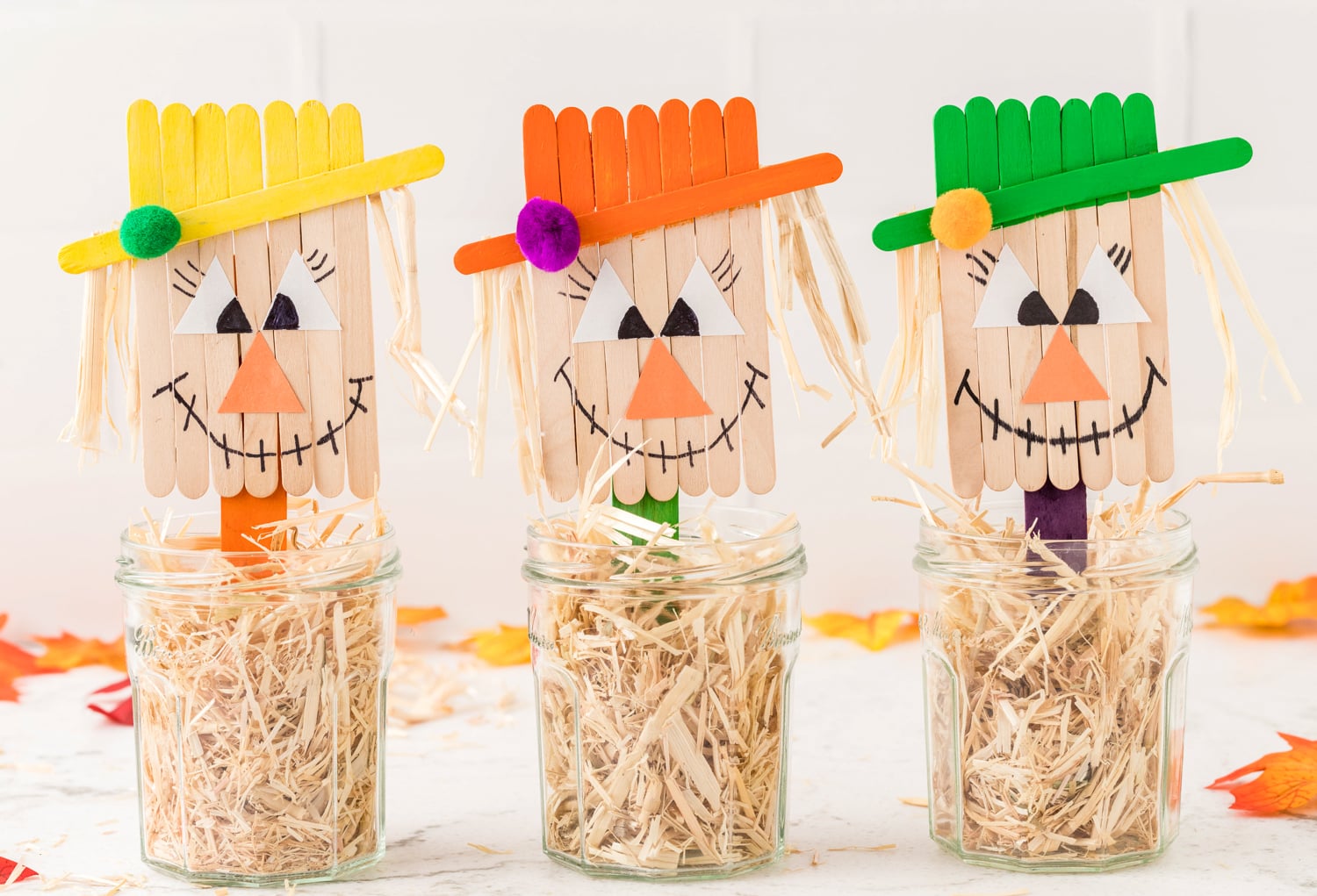 You can never have too many fall craft ideas! These little scarecrow friends will provide so much entertainment.
More Popsicle Stick Crafts You'll Love
Yield: 1 Scarecrow Craft
Scarecrow Craft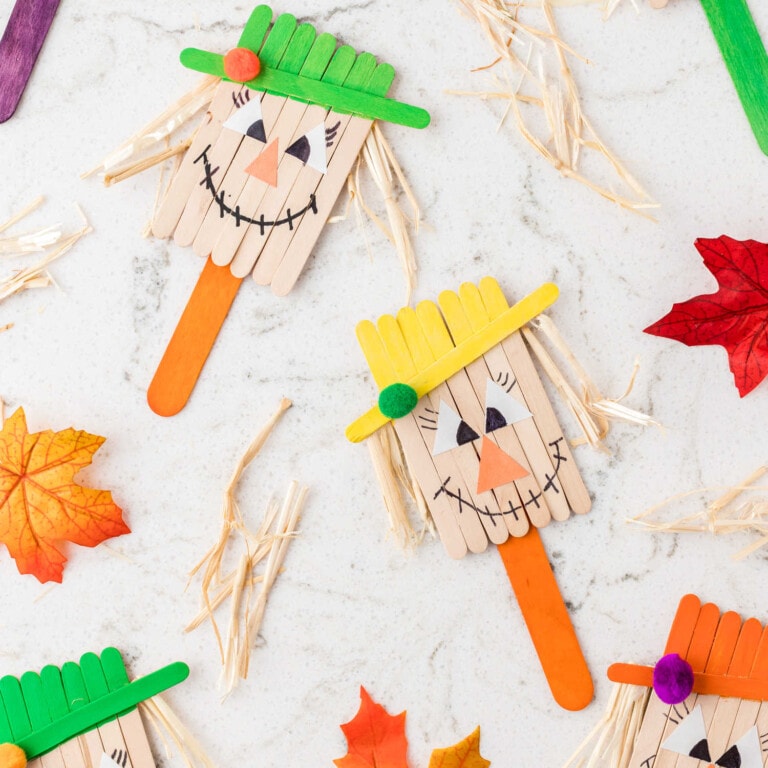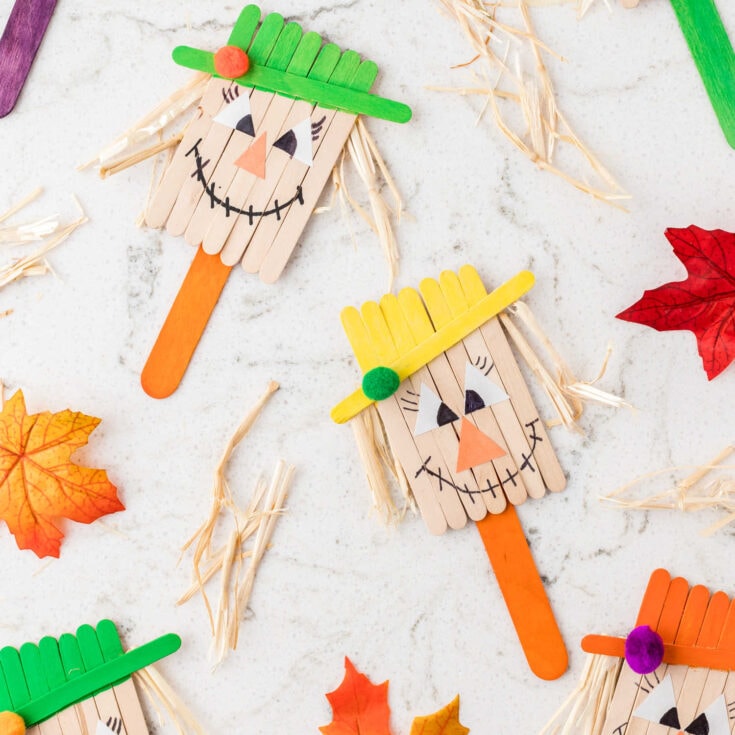 Quick and easy Scarecrow Craft made with wooden craft sticks makes the perfect fall kids activity!
Instructions
We used craft paper to create a protective layer for the table or countertop before beginning the activity.
Let's start by laying 7 wooden craft sticks side by side vertically. Take an additional wooden craft stick and layer one side with glue. Press this glued side down across all of the sticks diagonally to secure. Allow drying for at least 2 minutes.
Once dry, flip the previously glued wooden craft sticks over. Glue a stick slightly diagonally across the front of the wooden sticks to create a hat. Allow drying for another couple of minutes.
Now it's time to paint the hat with your choice of craft paint. Allow drying for 5 minutes.
While the hat dries, let's prepare the eyes and nose for the scarecrow. Cut 2 small triangles from the white construction paper for the eyes. Cut 1 small triangle from the orange construction paper for the nose.
Affix the eyes and nose to the face of the scarecrow with glue. Use a black marker to fill in the pupils of the eyes and make eyelashes and a smile!
Now let's give our scarecrow some hair! Glue several pieces of raffia just under the hat on the back of both sides to create some hair. Allow at least 3 minutes to dry.
While the "hair" is drying, place a small dab of glue on a jumbo wooden craft stick and affix it to the middle of the back of the craft. Allow drying for 2 to 3 minutes. Finally, add a small craft pom pom to the hat for decoration.
Notes
Add a magnet on the back of popsicle stick scarecrow and make it a fun fall refrigerator magnet!
Attach a piece of twine to the top and make a hanger to display your scarecrow art.
Pre-cut the triangles for eyes and noses to save time!
Recommended Products
As an Amazon Associate and member of other affiliate programs, I earn from qualifying purchases.