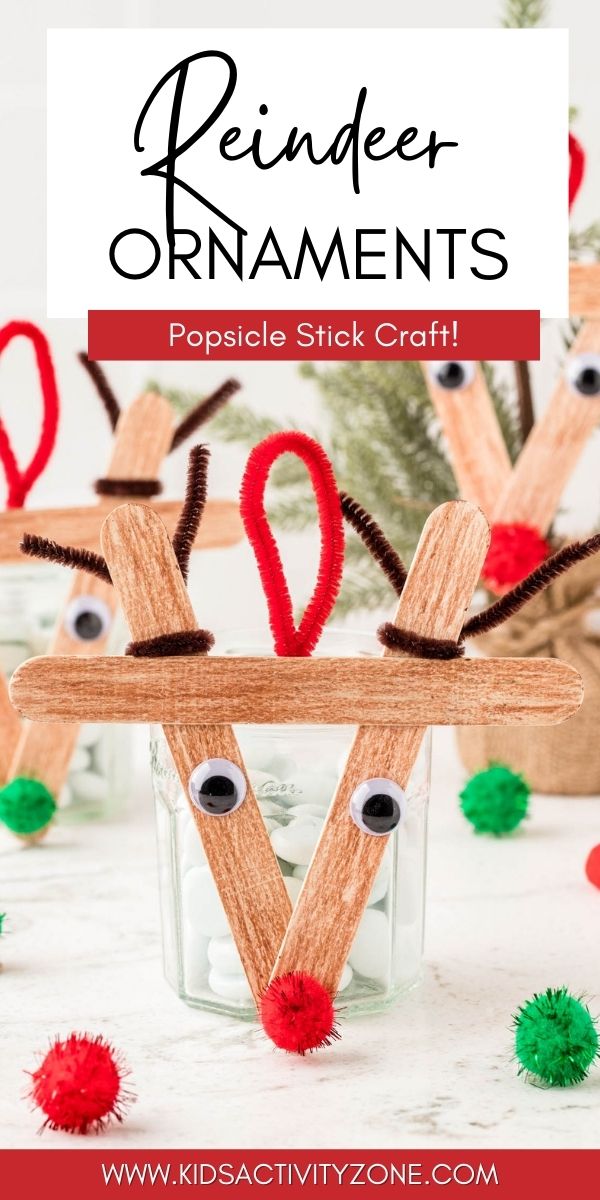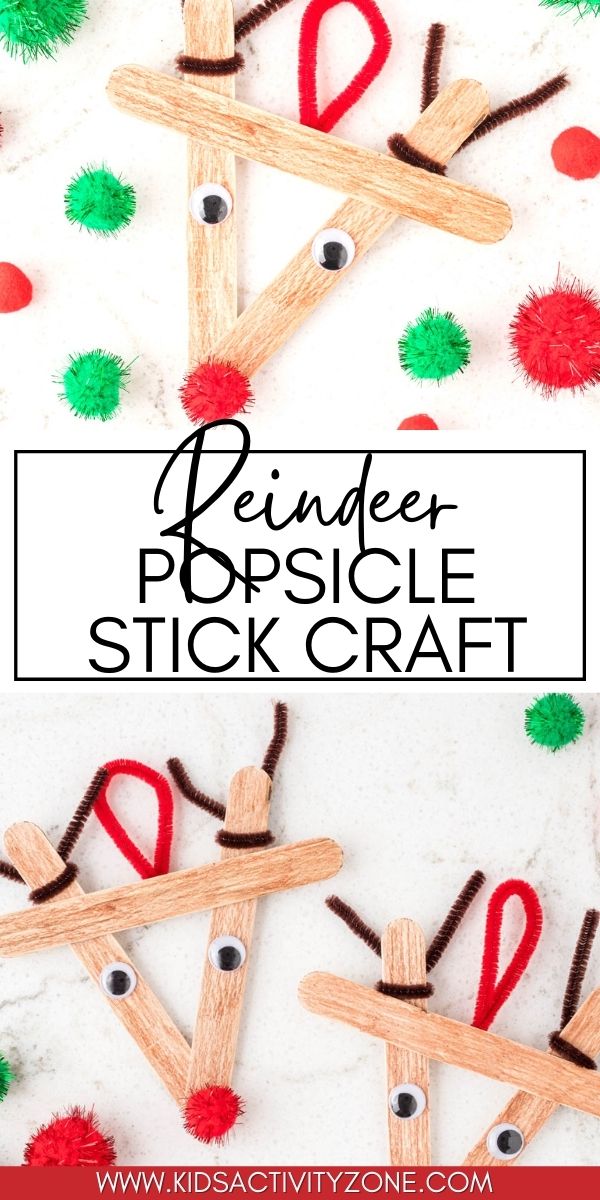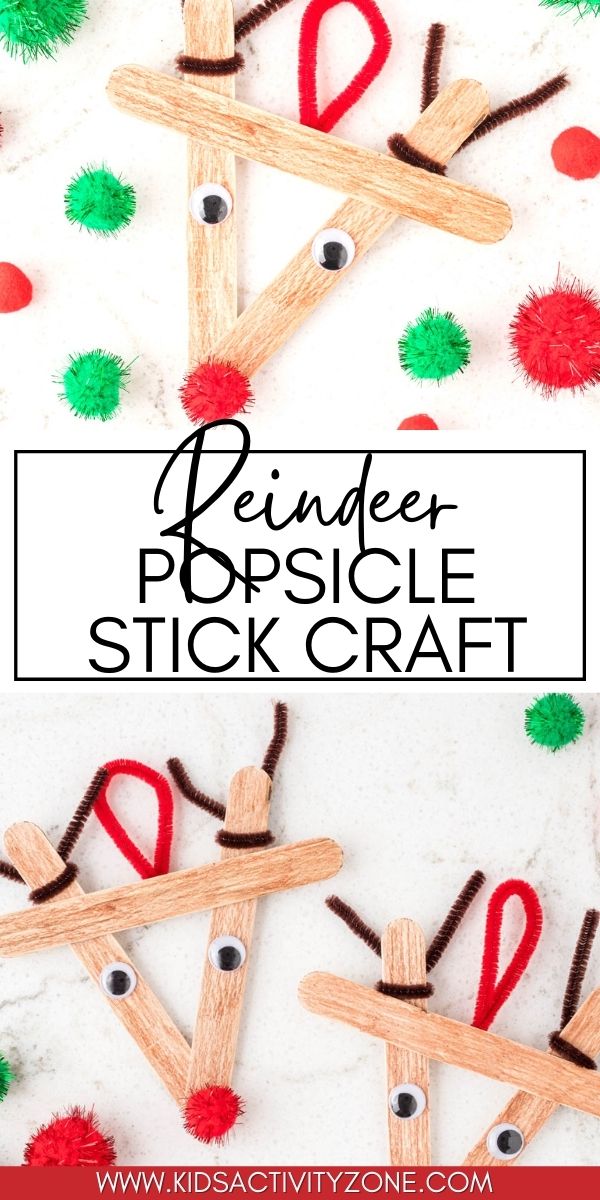 Make this adorable Reindeer Popsicle Stick Ornament for Christmas this year! This is an easy homemade ornament that the kids will love to make. With only a few supplies you probably have on hand you will create an adorable reindeer popsicle stick craft to hang the tree. Create memories and cherish pulling out this DIY Christmas ornament every year!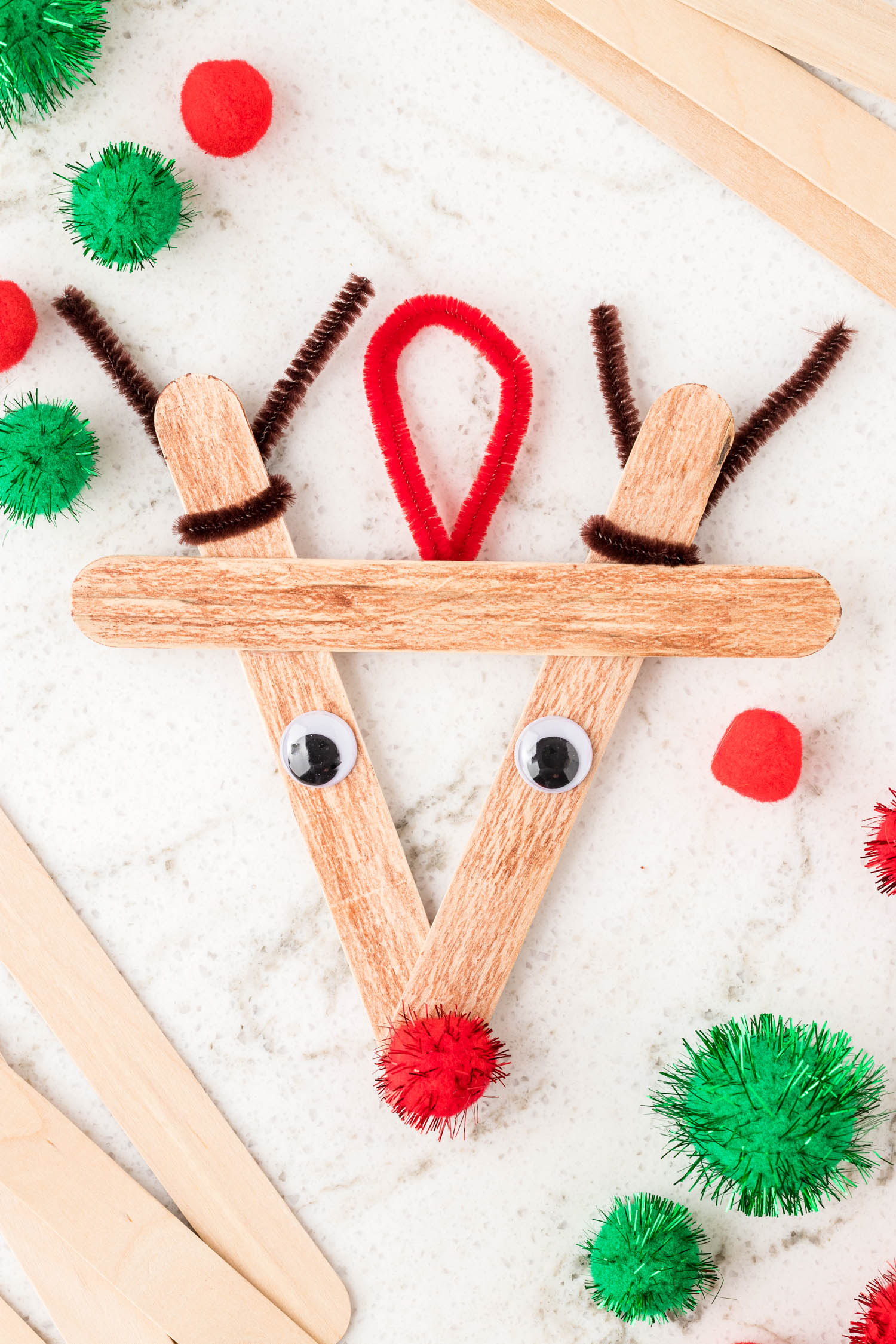 This super easy reindeer craft is perfect for all ages! It's super simple and creates a great Christmas ornament to hang on your tree, or gift to grandparents.
I love to make this with Rudolph the Red Nosed Reindeer on in the background, or after reading a book like Olive The Other Reindeer. And just for fun, I'll usually make a reindeer themed snack like Reindeer Chow or Reindeer Pretzels. Christmas crafts just have so much potential for loads of fun, so make the most of it!
Why You'll Love this Reindeer Popsicle Stick Craft
This reindeer craft is a great option for preschool age children who want to create something and use their imagination!
Popsicle stick reindeer are easy to make with large groups of children, making this a great craft idea for a class.
You can create such sweet memories when making handmade ornaments. I promise, you'll love seeing them each year when you decorate your tree and reminiscing!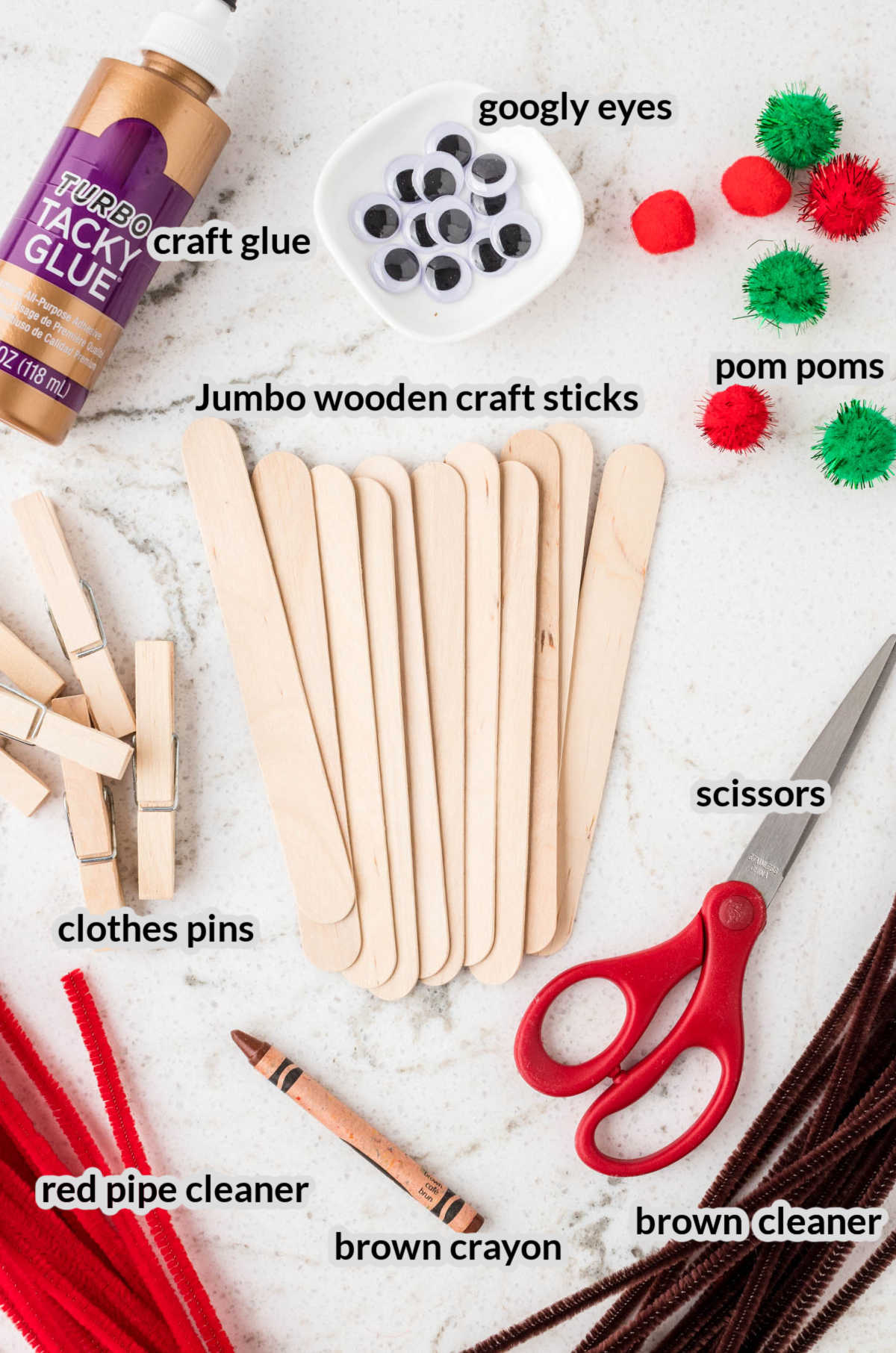 What You Need to Make a Popsicle Stick Reindeer
Jumbo wooden craft sticks – If you can't find jumbo craft sticks, you can use regular size ones.
Clothes pins – You will use these to help hold the corners together as the glue sets.
Red Pipe Cleaner – A red pipe cleaner will become the hangar for your reindeer popsicle stick craft. If you can't find red pipe cleaner, red ribbon will work great!
Brown Crayon – A brown crayon or a brown marker will work great, you just need something to color the popsicle sticks.
Brown Pipe Cleaner – These will create the antlers on your reindeer craft.
Pom Poms – You can use sparkly pom poms or regular pom poms for the nose of your reindeer.
Scissors – You only need scissors to cut the pipe cleaners, so standard scissors or safety scissors will both work great.
Googly Eyes – Be sure to get googly eyes that work in proportion to whatever popsicle sticks you're using.
Craft Glue – You can find craft glue at your local hobby store or on the craft aisle of your grocery store.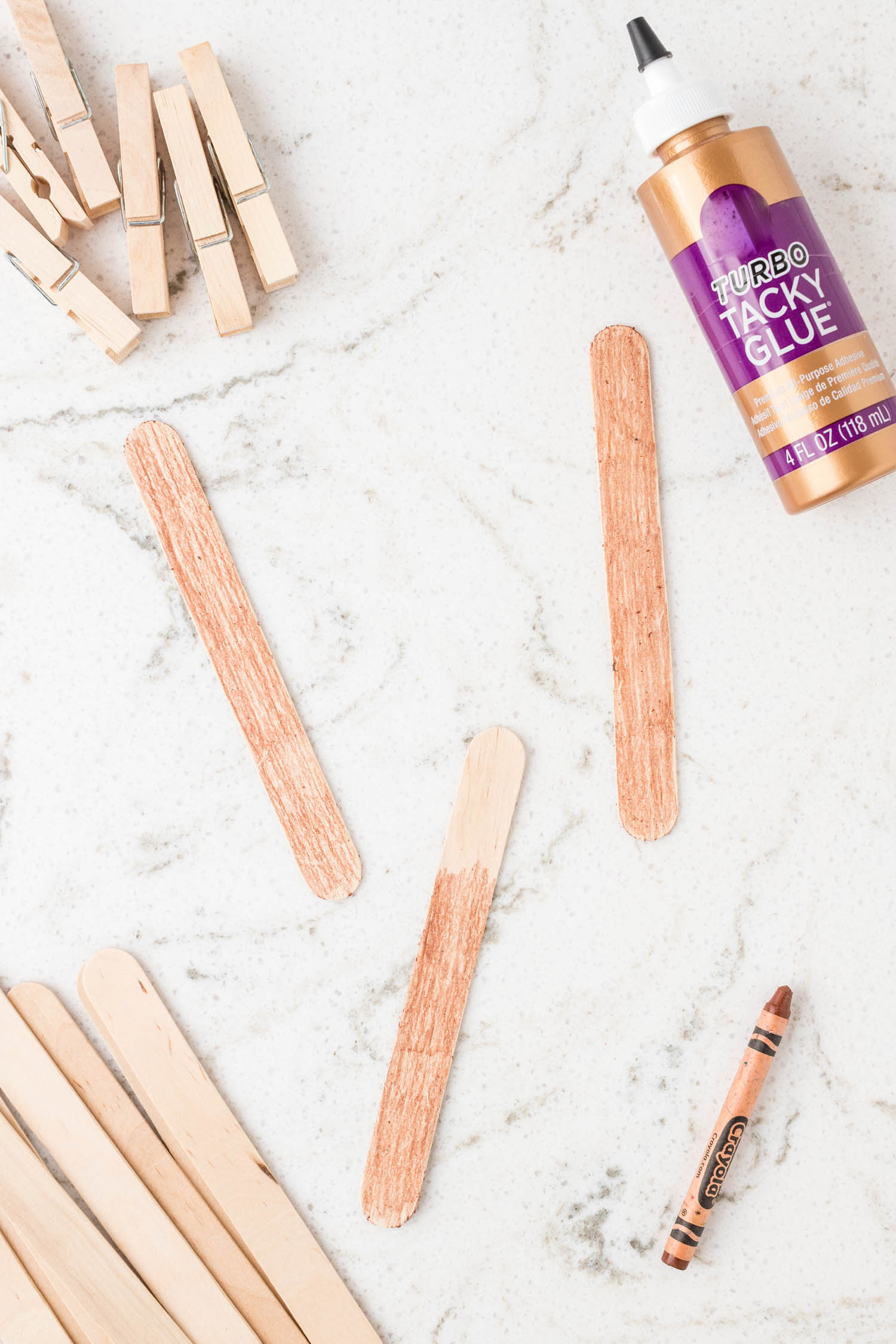 How to make this Reindeer Popsicle Stick Craft
COLOR: Using your brown crayon or marker, color your popsicle sticks.
GLUE: Add a dot of craft glue onto the end of one popsicle stick and glue it to another, making a "V" shape. Glue the third popsicle stick horizontally across the top of the "V" leaving some space at the top. Use the clothes pins on each place you glued to clamp them together as the glue dries.
Take a 6 inch piece of red pipe cleaner and create a loop, then glue it onto the back of the reindeer to make a hangar.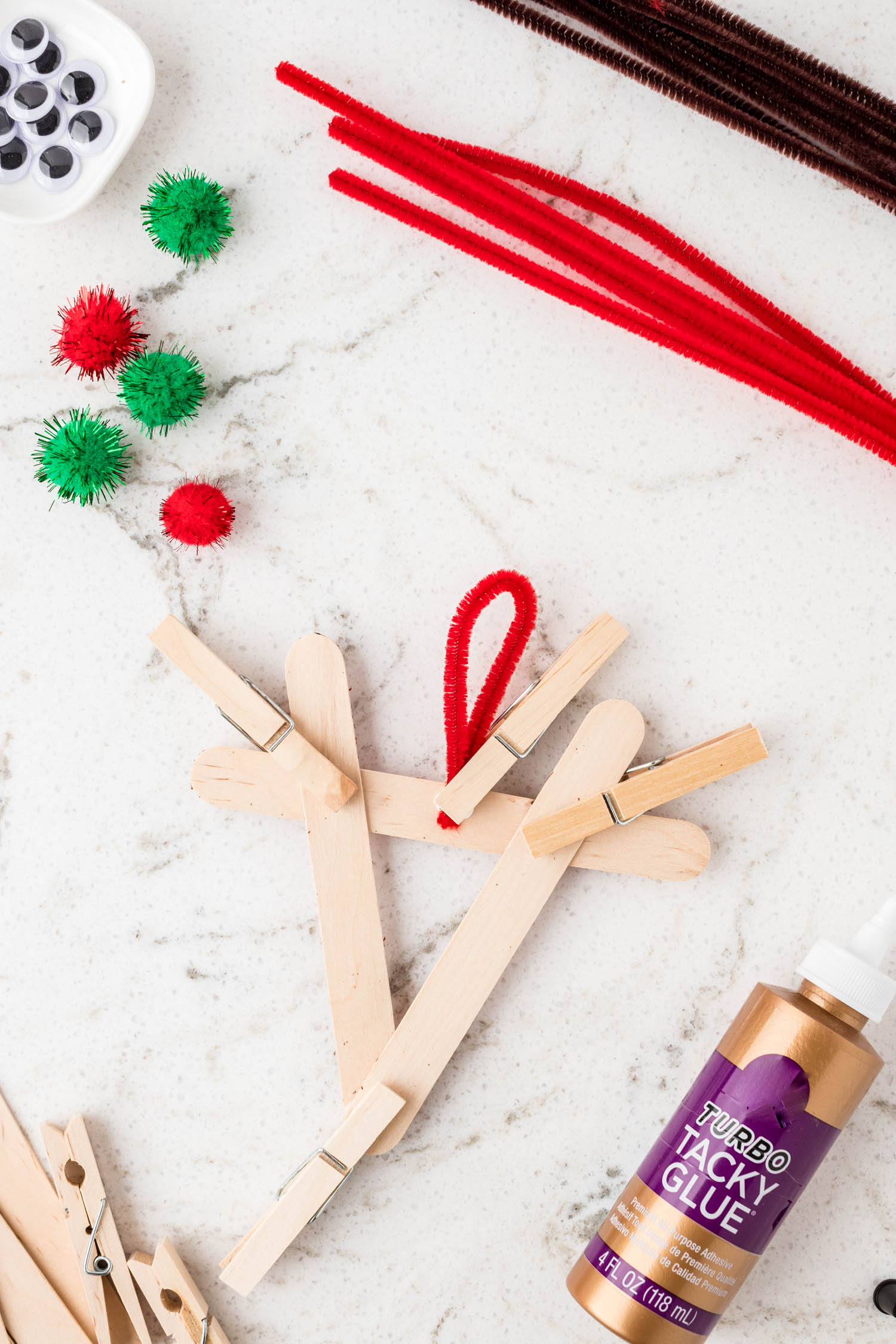 DECORATE: Once your glue is dry, cut a brown pipe cleaner in half and twist it around the tops of the "V" shape to create antlers.
Glue googly eyes to each diagonal popsicle stick, and a pom pom to the joined center of the popsicle sticks.
Allow the glue to fully dry and then hang it on your tree!
Can I use hot glue instead of craft glue?
Yes! Just be careful if you're making your popsicle stick reindeer with little kids that they don't burn their fingers on the glue.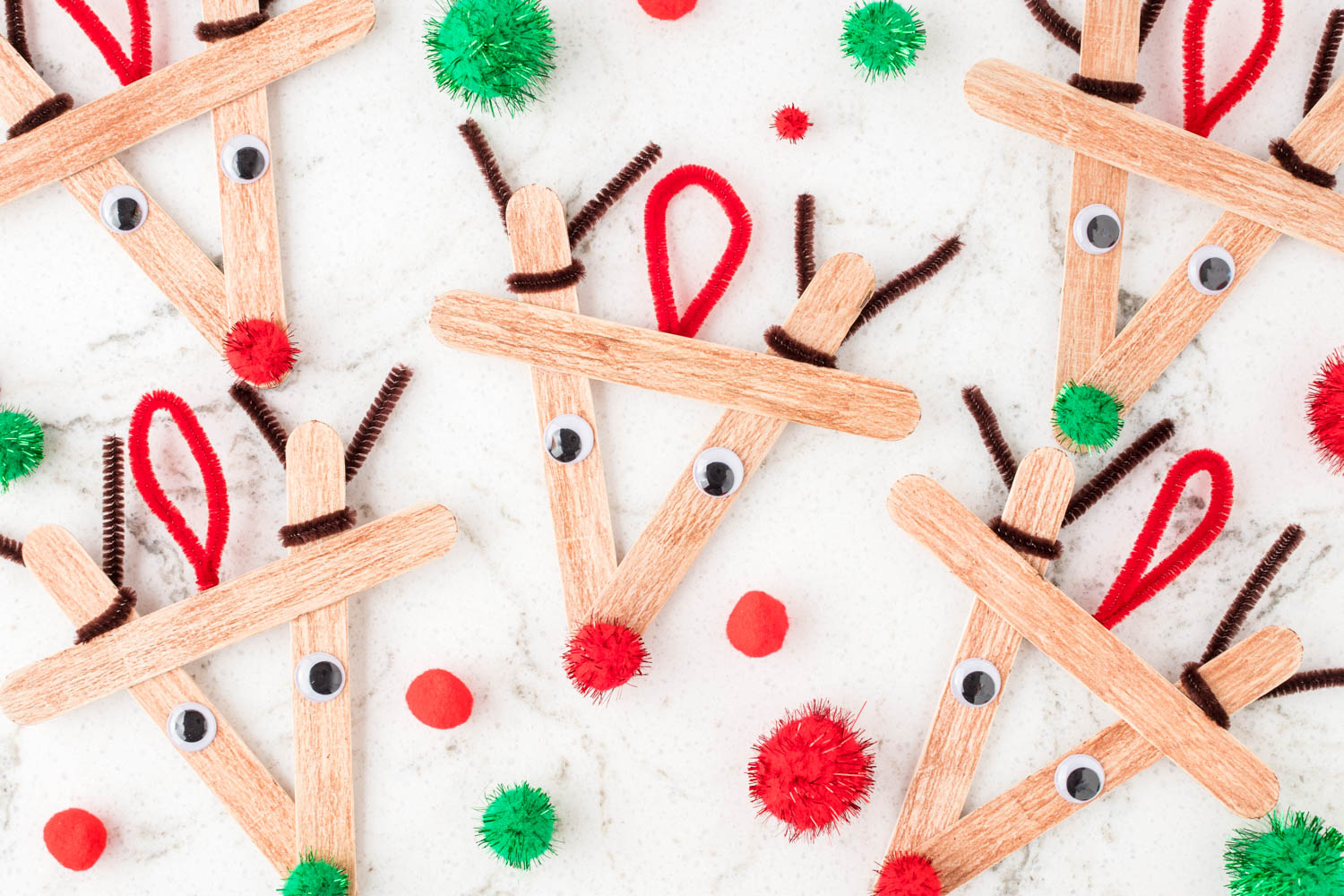 This is such a fun and timeless craft! So grab some popsicle sticks and have fun!
More Christmas Crafts You'll Love
Yield: 1 Reindeer Popsicle Stick craft
Reindeer Popsicle Stick Ornament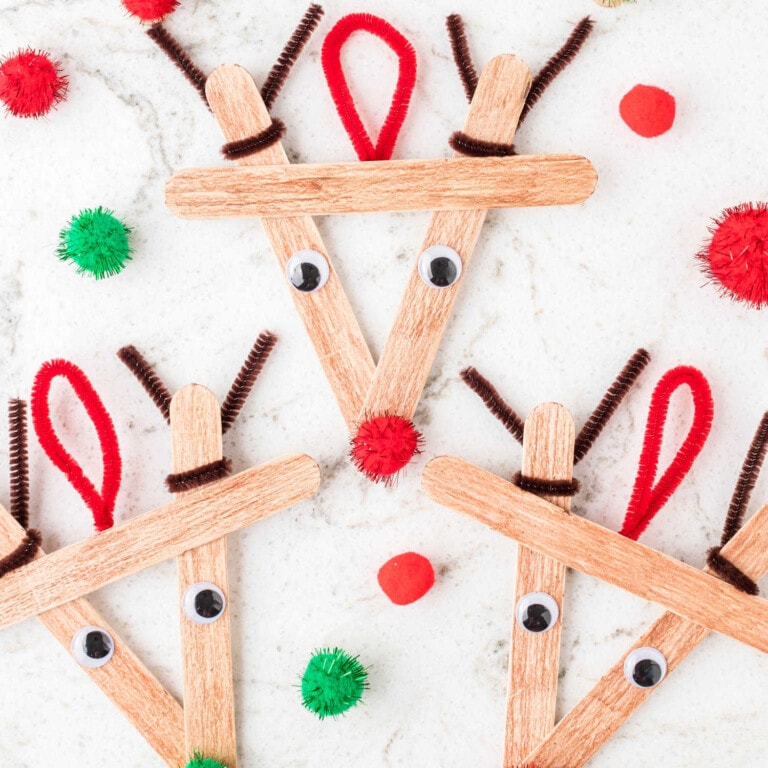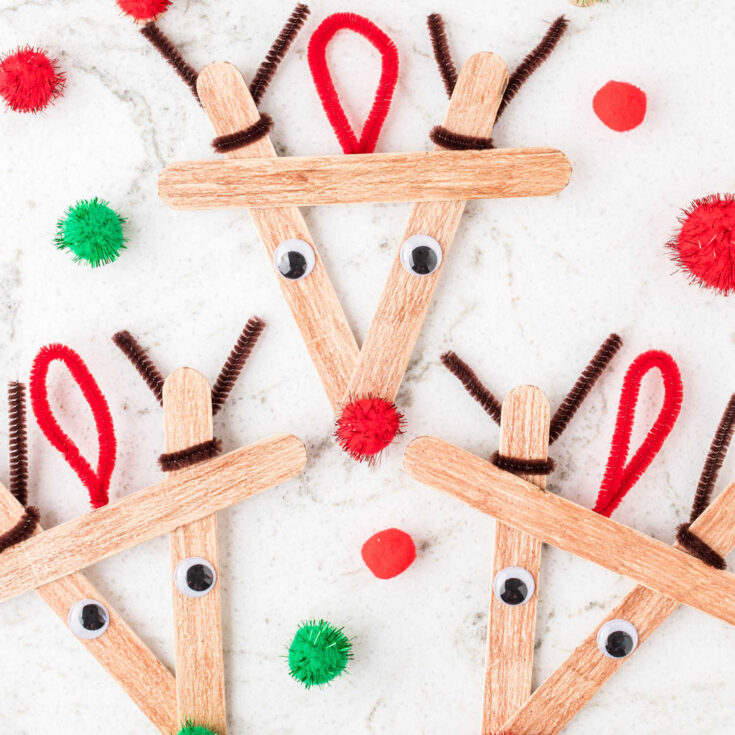 Easy Reindeer Ornament made out of popsicle sticks for an easy homemade Christmas ornament.
Materials
Instructions
Start by coloring 3 jumbo craft sticks with a brown crayon to create the effect of fur for your reindeer.
Glue 2 jumbo craft sticks in the form of a V-shape. Press them together at the point and clip them with a clothespin.
Take the remaining jumbo craft stick and glue it horizontally to the V, leaving about 1 ½ inch for the antlers. Clip the adjoining areas with clothespins to secure them. (You can also place a heavy book on top if you don't have clothespins.)
Next, cut a 6-inch piece of red pipe cleaner and twist it at the bottom to create a loop to hang your reindeer creation. Glue to the back of the reindeer to secure it with a clothespin. Allow drying for at least 5 minutes.
Once dry, add your antlers by cutting a brown pipe cleaner in half. Wrap the pipe cleaner around the craft stick, twisting it in the back to form a V. Repeat for both antlers. Remove the clothespins.
Lastly, add googly eyes and a pom pom for the nose with craft glue. Allow drying for at least 10 mins before hanging.
Hang it on your holiday tree, or give it as a gift!
Notes
If working with younger children, consider gluing the reindeer together ahead of time and having them finish the decoration without having to wait for drying time.
You may substitute regular craft/popsicle sticks for the jumbo size.
Recommended Products
As an Amazon Associate and member of other affiliate programs, I earn from qualifying purchases.