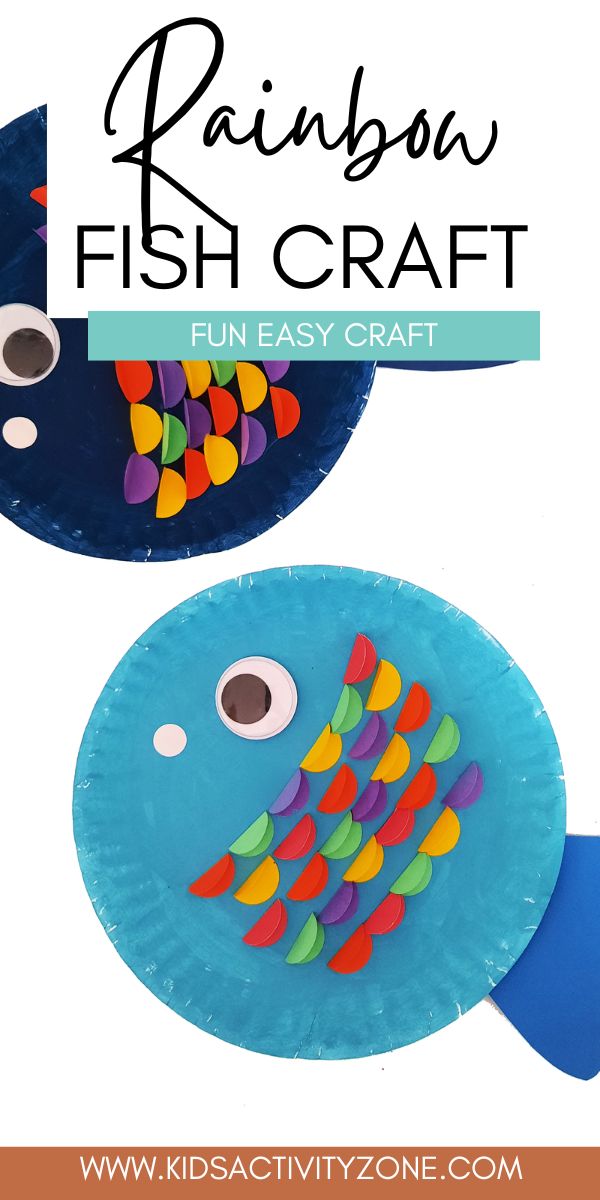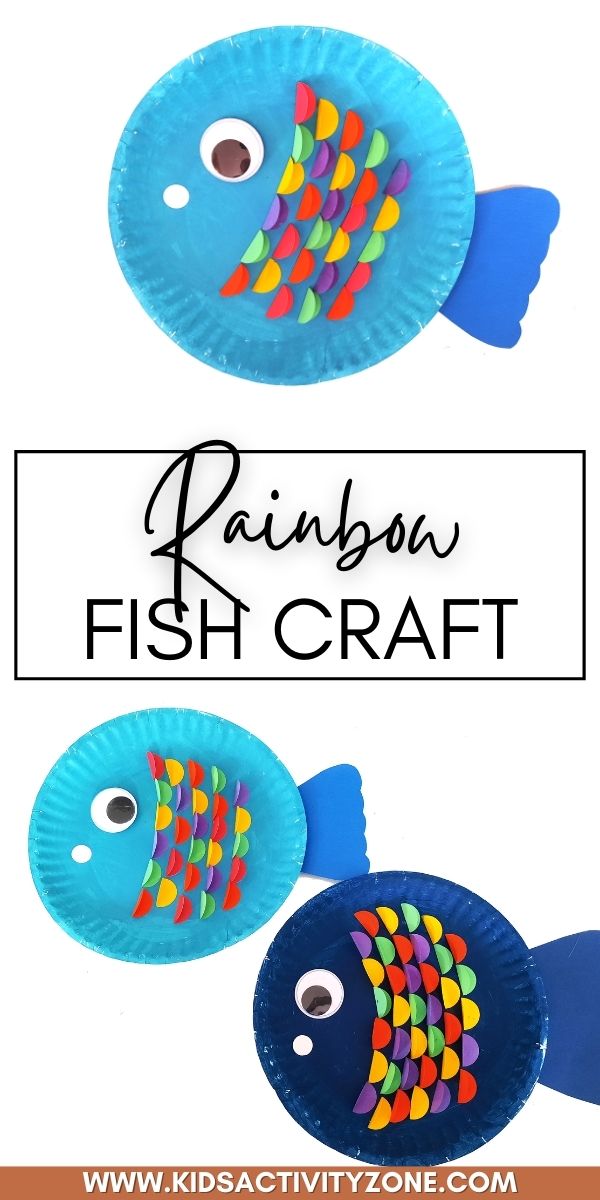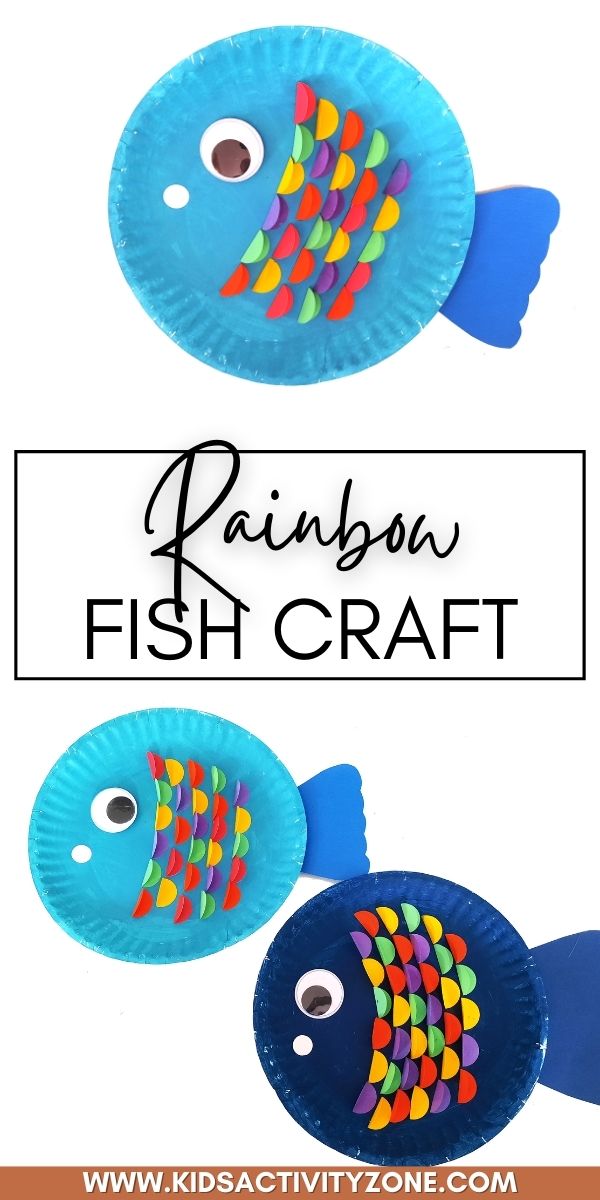 Cute Rainbow Fish Craft is perfect for preschool age kids! Take a paper plate, paint it and decorate it to look like a rainbow fish. It's a fun and easy kids activity they will have so much fun making.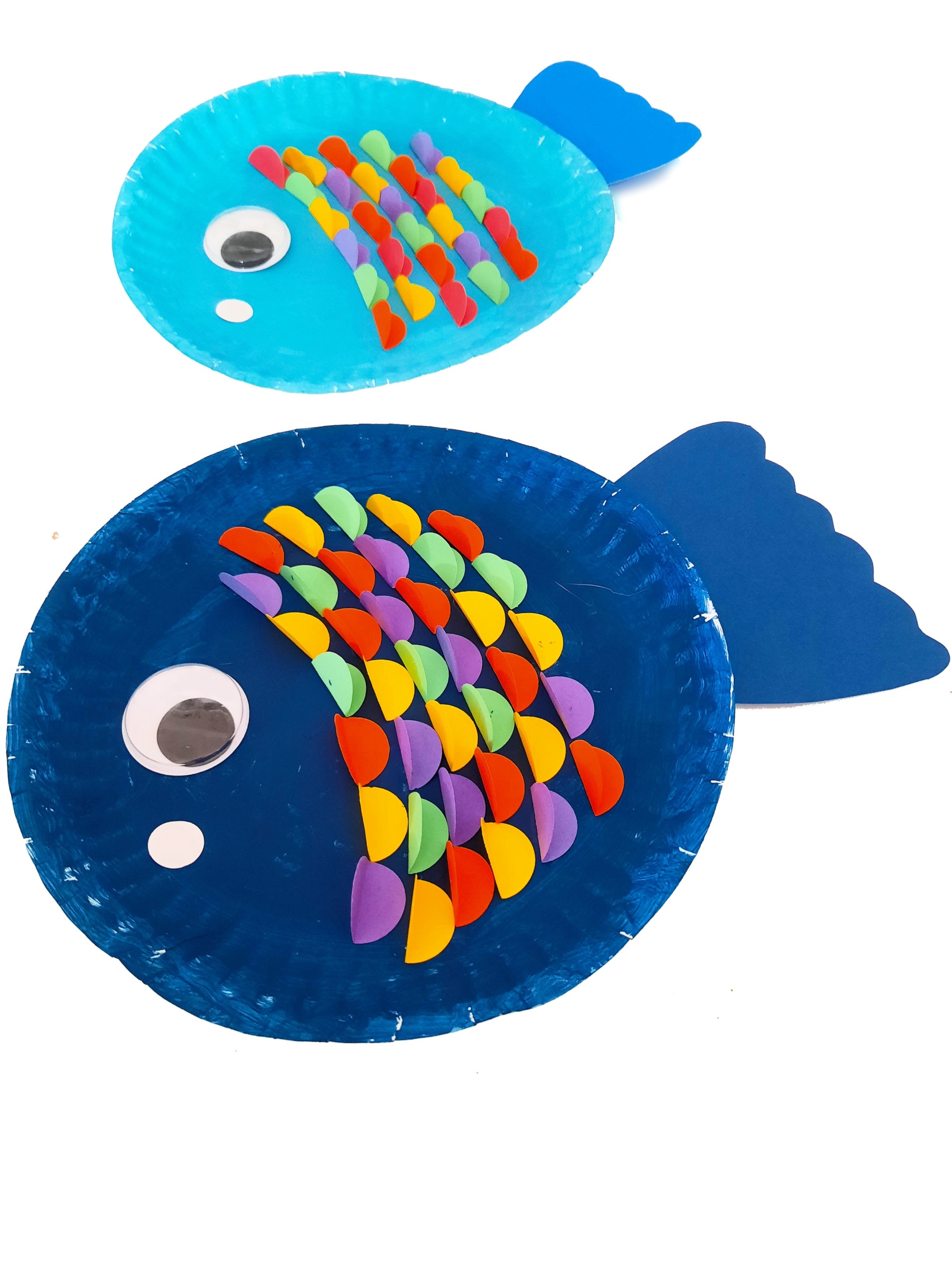 If your kiddos love underwater animals, then they're going to have a blast making this rainbow fish craft! I love paper plate crafts like this (or a paper plate jelly fish!) because they're so simple and I can easily put together a fun craft time for a large group. Plus, it's easy for kids of all ages to make!
This craft is perfect for classroom use, homeschool use, or simply just a craft time at home. It's also the absolute perfect craft to make after reading The Rainbow Fish by Marcus Pfister too!
Or maybe you can make this cutie fish buddy as you learn about the ocean. Add on this fun alphabet fishing activity and you've got a full day of educational content with a fun theme. So grab your supplies and start making this easy rainbow fish craft!
Why You'll Love this Rainbow Fish Craft
You can make a cute rainbow fish craft in just 25 minutes! Perfect for a short craft time.
This craft is affordable since many of the supplies can be used to make multiple paper plate rainbow fish, or used in other crafts.
Painting, cutting, and pasting are all great activities to work on refining fine motor skills.
Supplies need to make a Paper Plate Rainbow Fish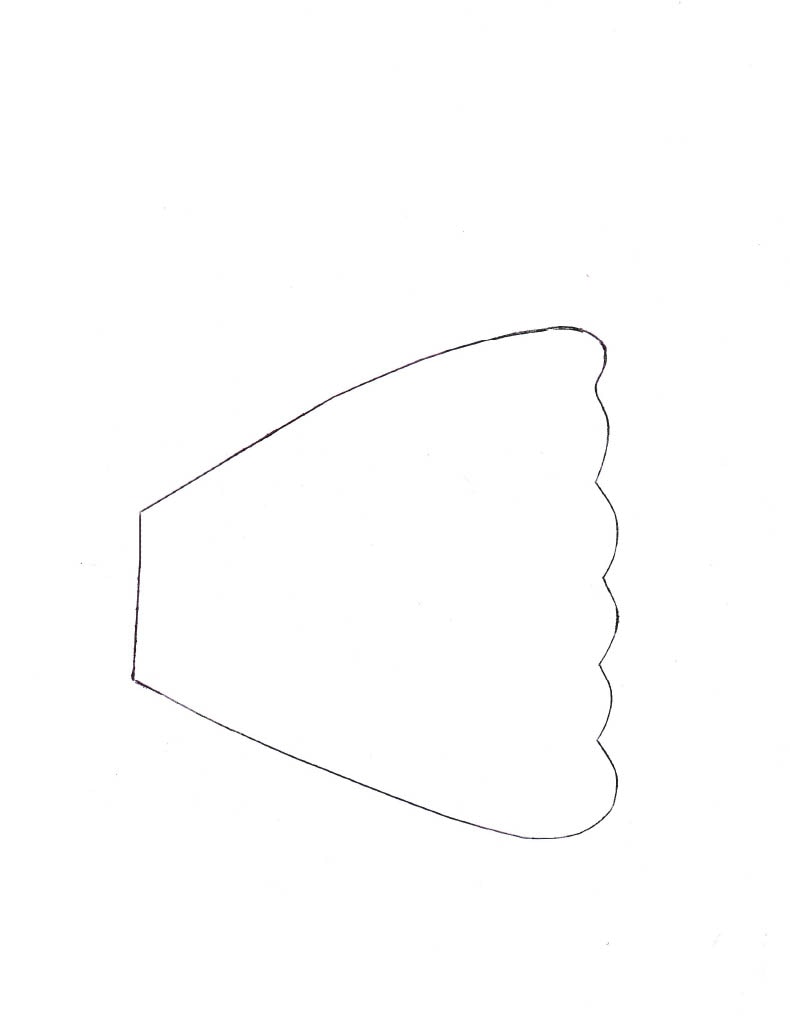 How to Make this Rainbow Fish Craft
Paint the paper plate with the acrylic paint color that you've chosen and let it completely dry.
While it is drying, print out the fish tail template and cut it out. Trace the tail onto card stock that matches the color you painted your plate. Cut it out and glue it to the back of paper plate.
Glue a large googly eye on the front, left side of the paper plate. Use a 1″ circle punch to punch out a ton of circles in various colors.
Fold each circle in half and glue them to the back ⅔ of the fish in a pattern that looks like scales. Then, make a small white circle and glue it under the eye as a mouth.
Allow all the glue to dry, then you're done!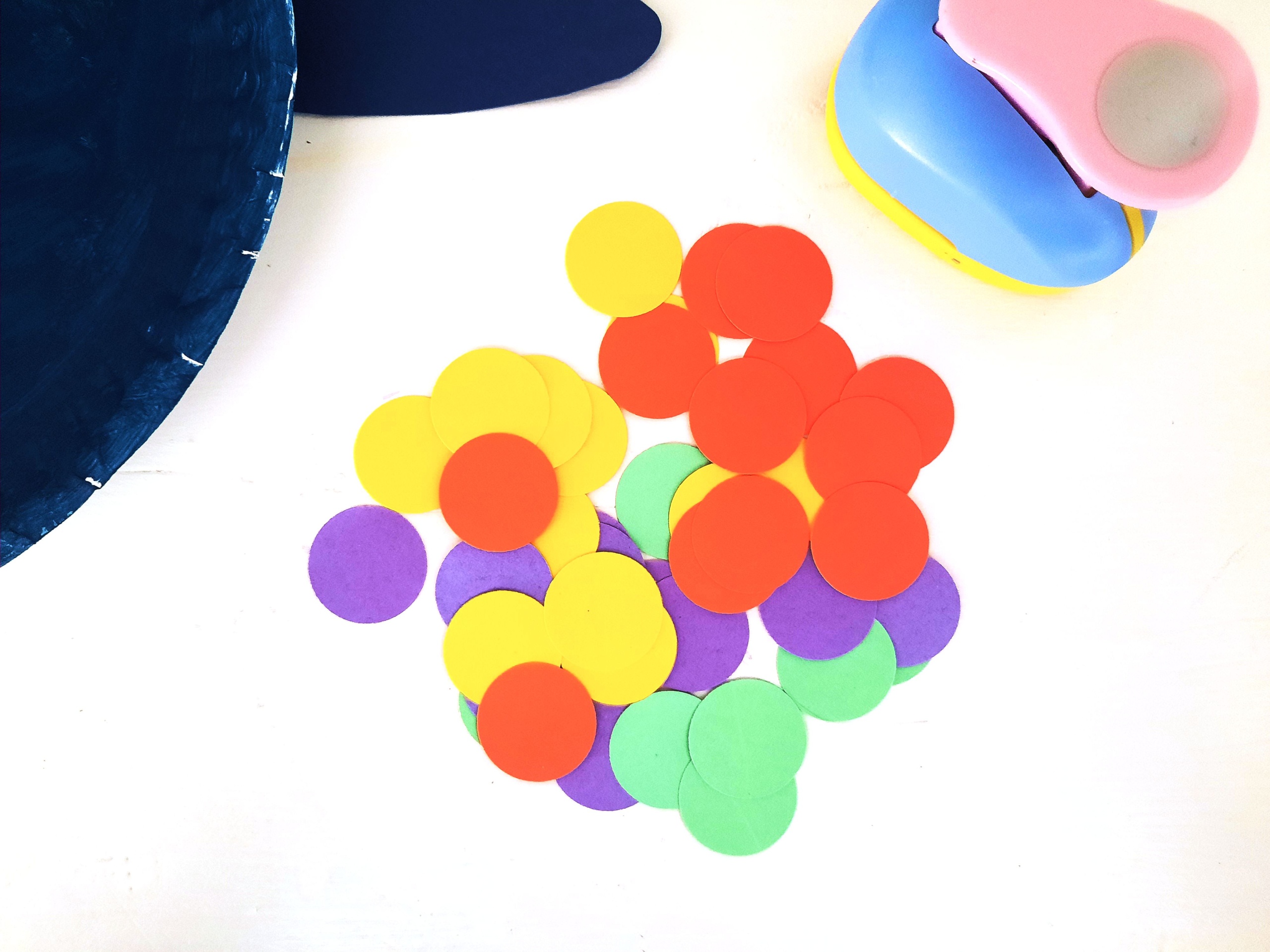 Can I use colored plates to make a rainbow fish?
Absolutely! Grab blue plates from the party section of your local Walmart and use them in this craft. It will speed up the process a bit and cut out the messiest section of the craft. You can also purchase plates in a different color if you want the base of your fish to be something other than blue.
Pro Tips!
Cover your workspace with craft paper or a disposable plastic tablecloth in order to protect from paint splatters and glue spills.
If you are in a time crunch, paint each plate ahead of time and pre-punch every circle. That way, you are set and ready to go to make a cutie rainbow fish!
Can't find large googly eyes? Paint an eye onto your fish or cut one out of card stock or construction paper and glue it on!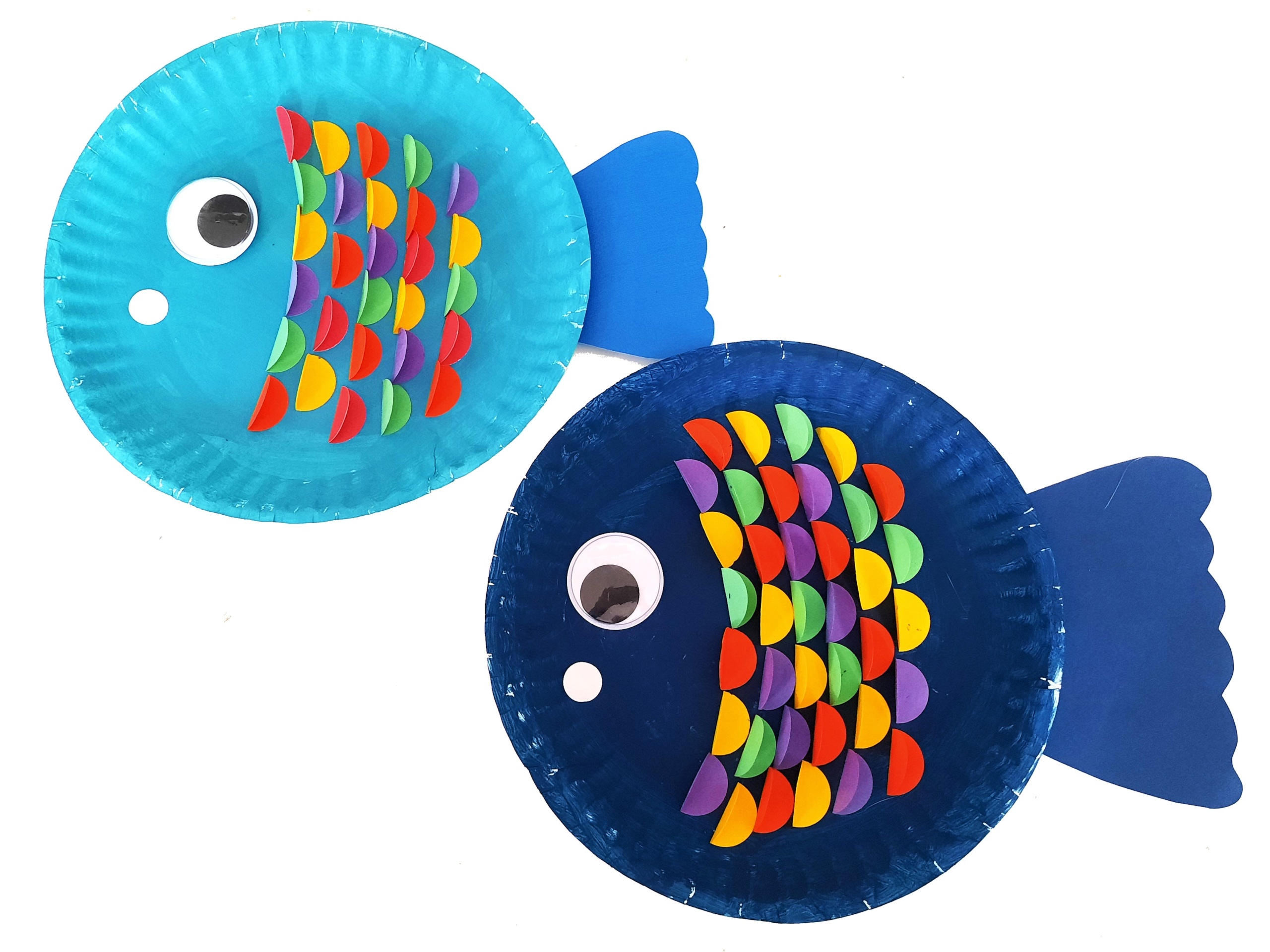 Have fun going under the sea during craft time!
More Paper Plate Crafts You'll Love
Yield: 1 Rainbow Fish Craft
Rainbow Fish Craft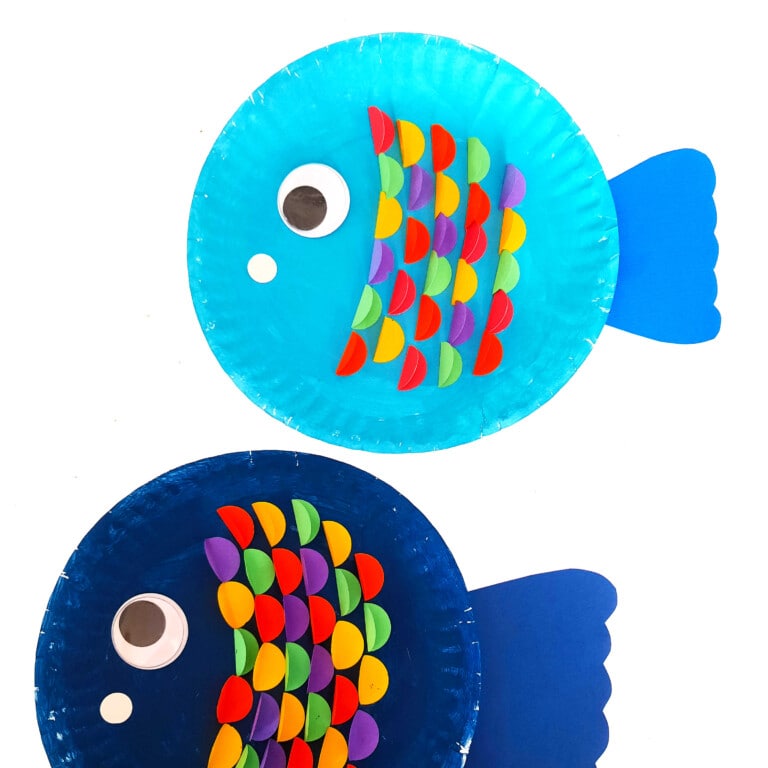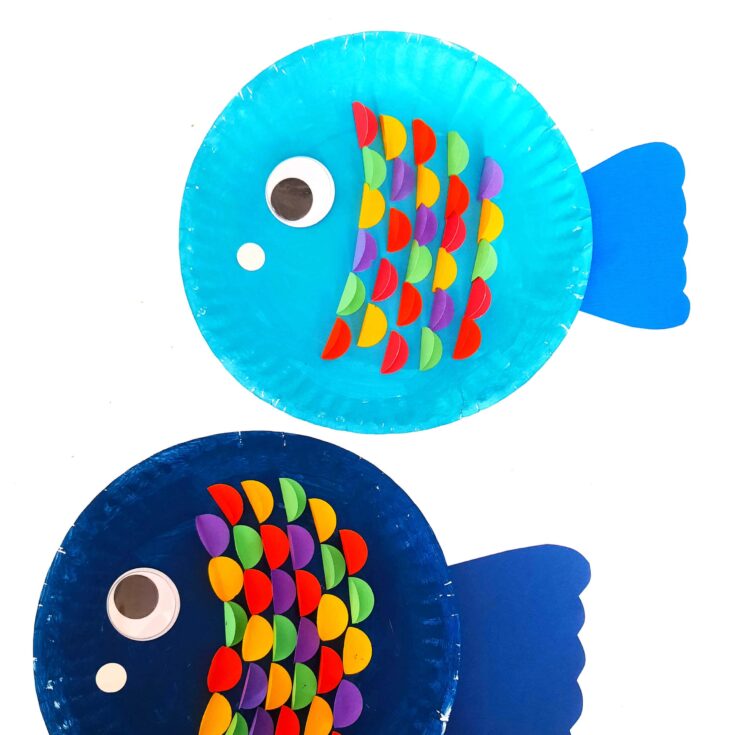 Fun and easy Rainbow Fish craft is an easy activity for preschoolers.
Materials
Instructions
Begin by painting a paper plate in your choice of fish colors. Let dry completely.
While the paper plate dries, print out the tail template and cut out. Trace the tail on a corresponding color of cardstock. Cut out.
Glue a large googly eye to the front of the fish.
Then glue the tail to the back of the fish.
Now, use the 1" circle punch to make a bunch of circles out of various colors of cardstock.
Fold the circles in half. Then glue the folded circles to the back ⅔ of the fish in a scale-like pattern.
Finally, use the smaller circle punch to make a small white circle out of cardstock or paper.
Glue the small white circle in place for the mouth.
Recommended Products
As an Amazon Associate and member of other affiliate programs, I earn from qualifying purchases.