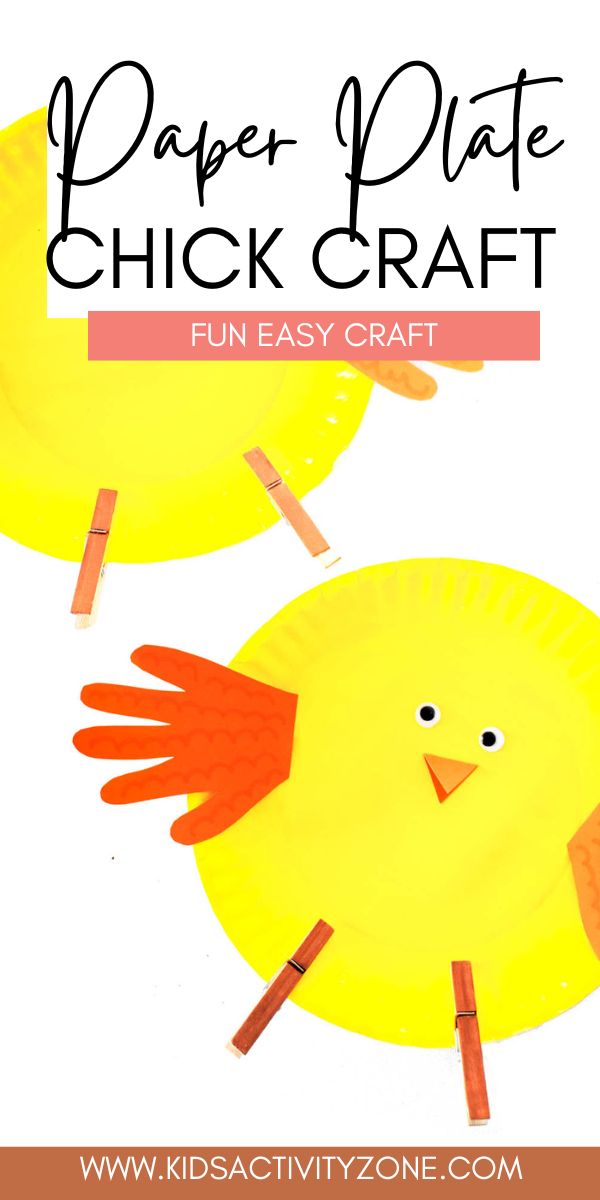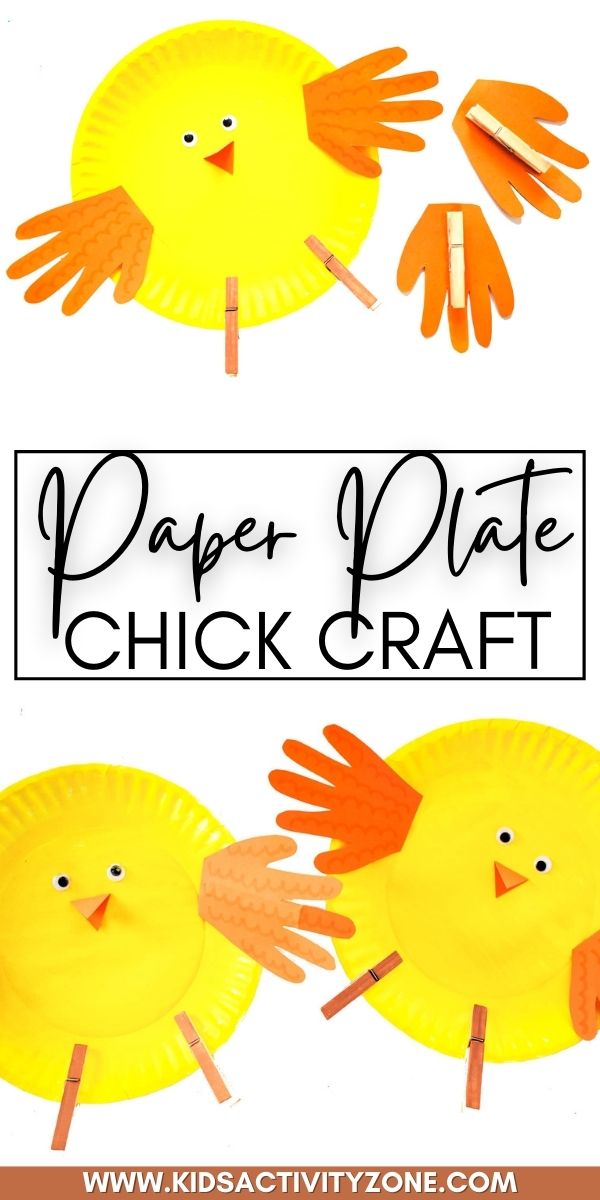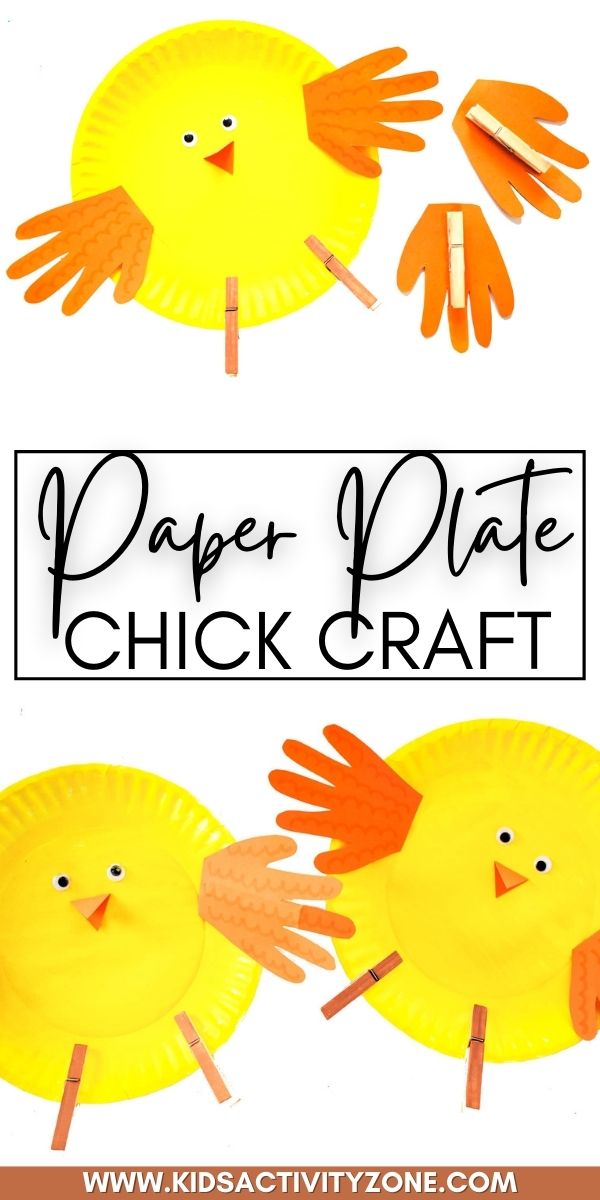 Adorable and easy Paper Plate Chick Craft that is quick and easy to make with kids. Trace your child's hands to create the chick's wings and then glue them to a paper plate that's painted yellow. Add clothespin feet, a nose and eyes for an easy kids craft!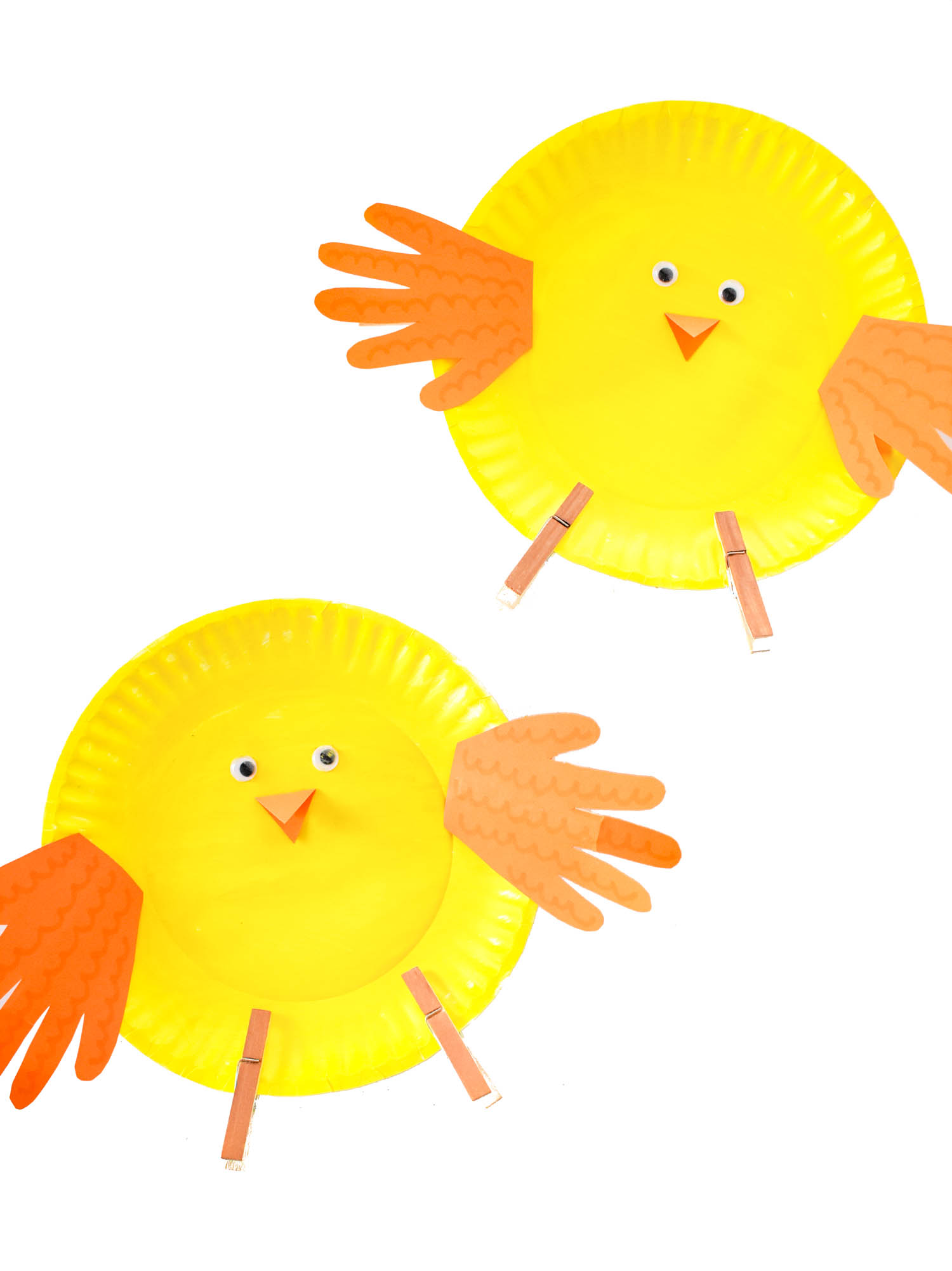 This paper plate chick craft is so cute and so easy! I love crafts that use a lot of things I've got around the house. I can just grab some supplies when my kids are bored and they can make adorable creations like this little chick. Doesn't get much easier than that.
This easy paper plate craft is a great Spring and Easter activity. You can make it just for fun, or turn it into a really cute lesson. There are tons of baby chicks around Spring time, so it's a great to time to teach them about chicks hatching.
If your kid has a science fair coming up, you can even use this craft to talk about the science behind incubating eggs and the process baby chicks go through to hatch! How fun would that be?
Making a paper plate chick is really easy, so grab your supplies and have fun!
Why You'll Love this Paper Plate Chick Craft
Painting, cutting, and pasting are all fabulous activities that promote the development of fine motor skills.
It only takes about 25 minutes of active time to complete this craft. The rest of the time allotted is to allow the paint and glue to dry. You can make this craft go more quickly if you prep the painted plate ahead of time!
This craft is great for children of all ages. Younger children may need a little bit more help, but they can still make this cutie little chick.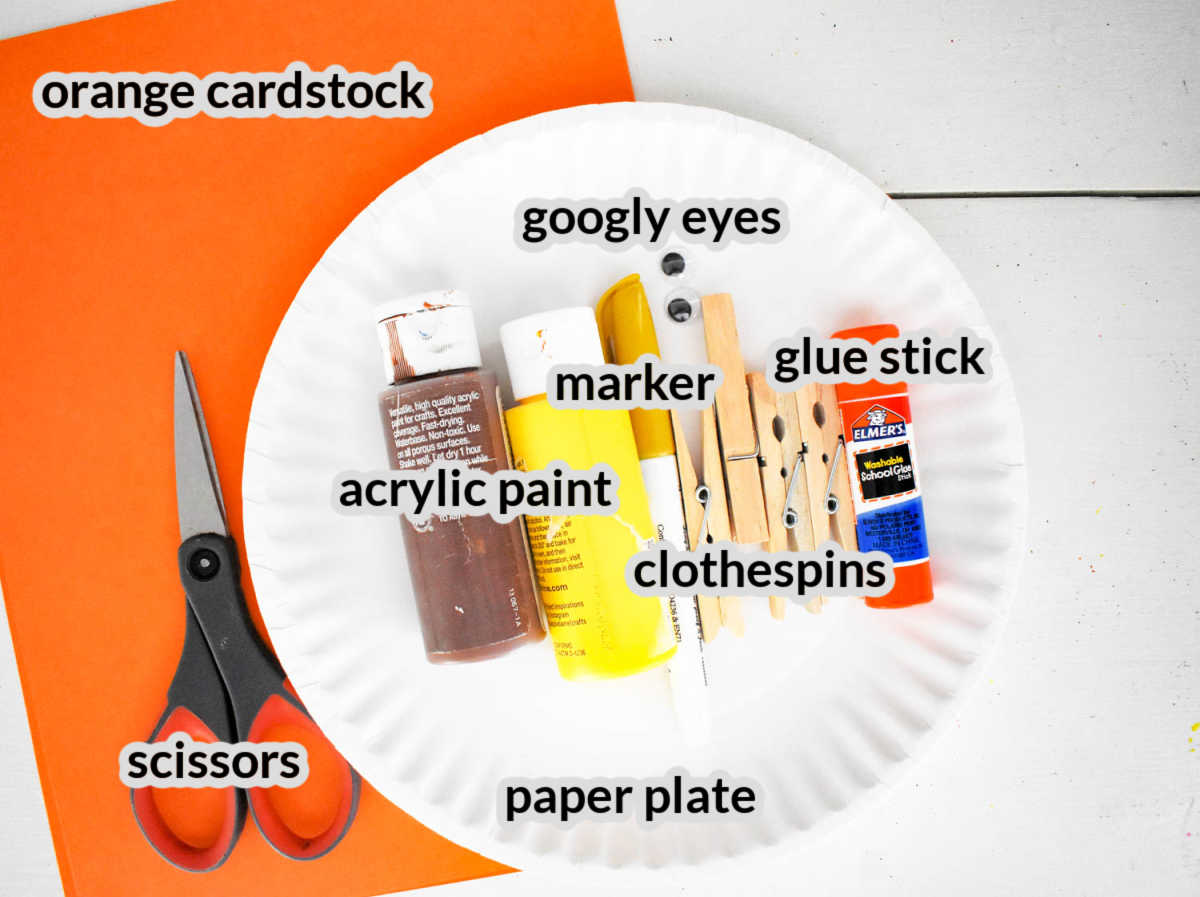 Supplies needed to make a Paper Plate Chick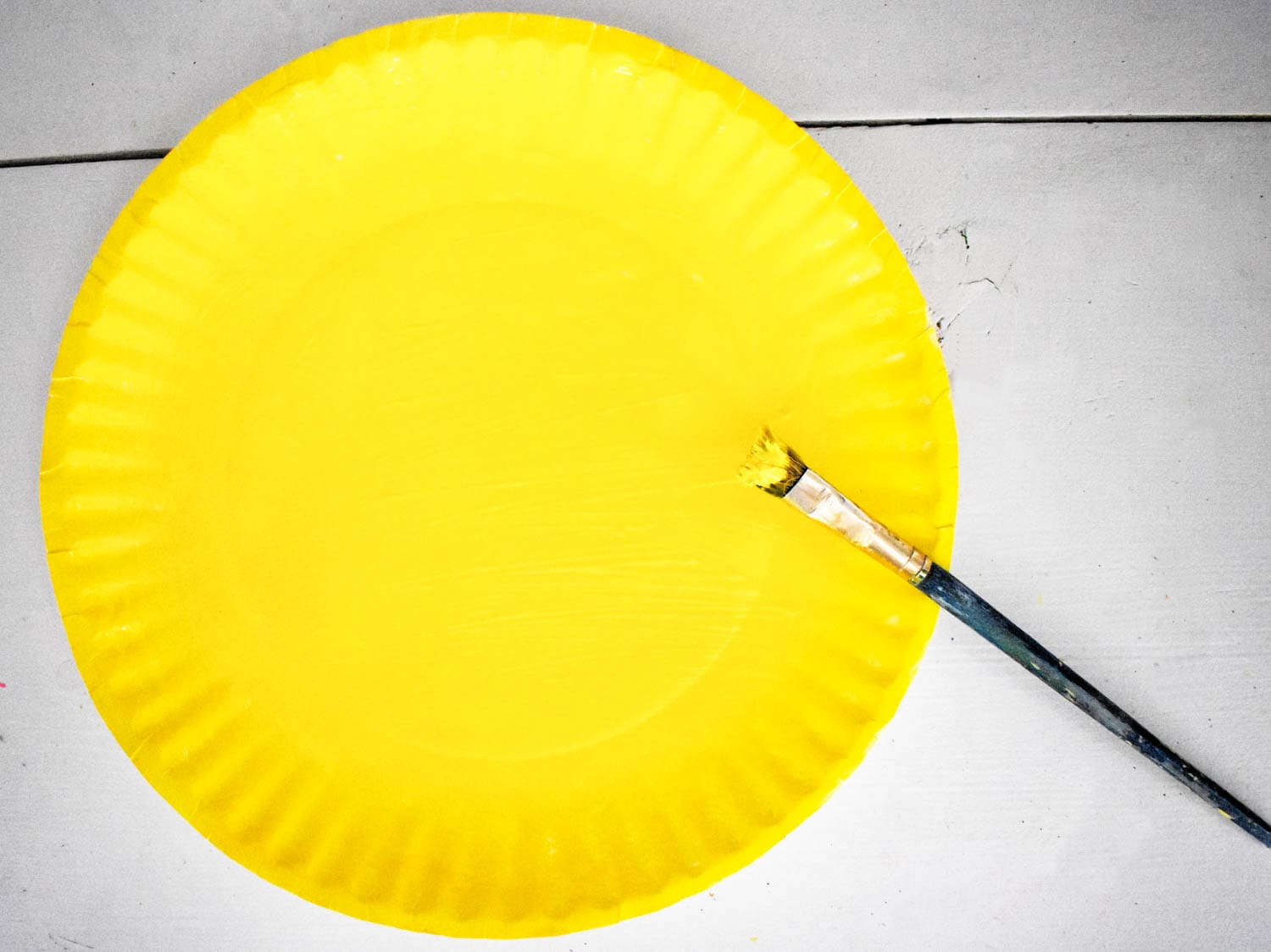 How to Make this Paper Plate Chick Craft
Paint your paper plate yellow and allow it to dry. If you need to make this craft go more quickly, buy yellow plates.
Then, paint 4 clothespins with brown acrylic paint. You can also leave them natural wood!
Trace your child's hand onto the orange card stock and carefully cut them out. Use the marker to add a feather detail onto each hand by drawing a wavy pattern.
Glue each hand to clothespins and set them aside to dry.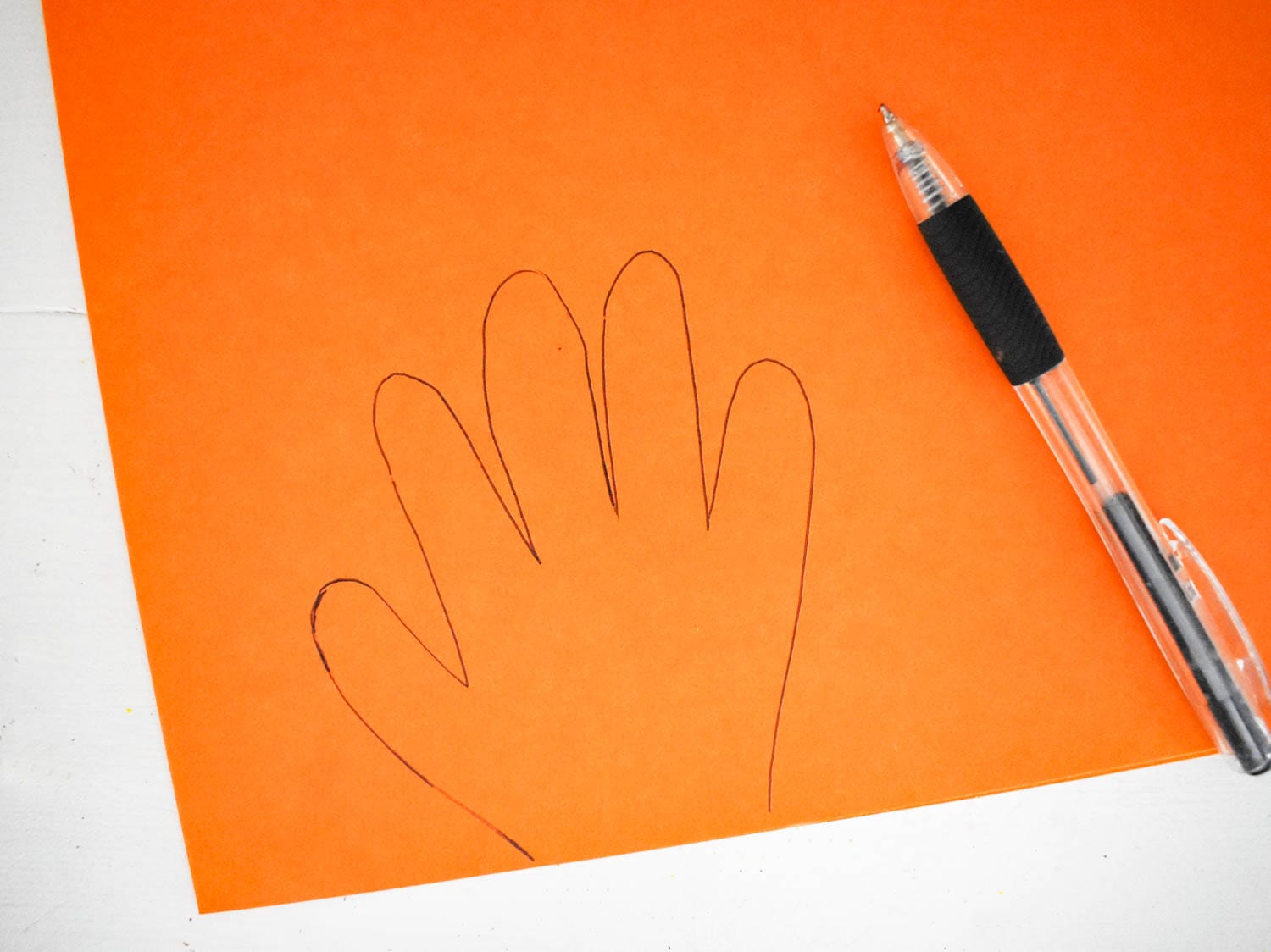 Then, cut a triangle beak shape out of the orange cardstock and glue it onto the middle of the plate. Glue googly eyes right above the beak.
Clip the clothespins with the handprint wings onto each side of the plate. Then clip the other brown clothespins onto the bottom of the plate as legs.
If anything is still wet, allow it to dry and then have fun!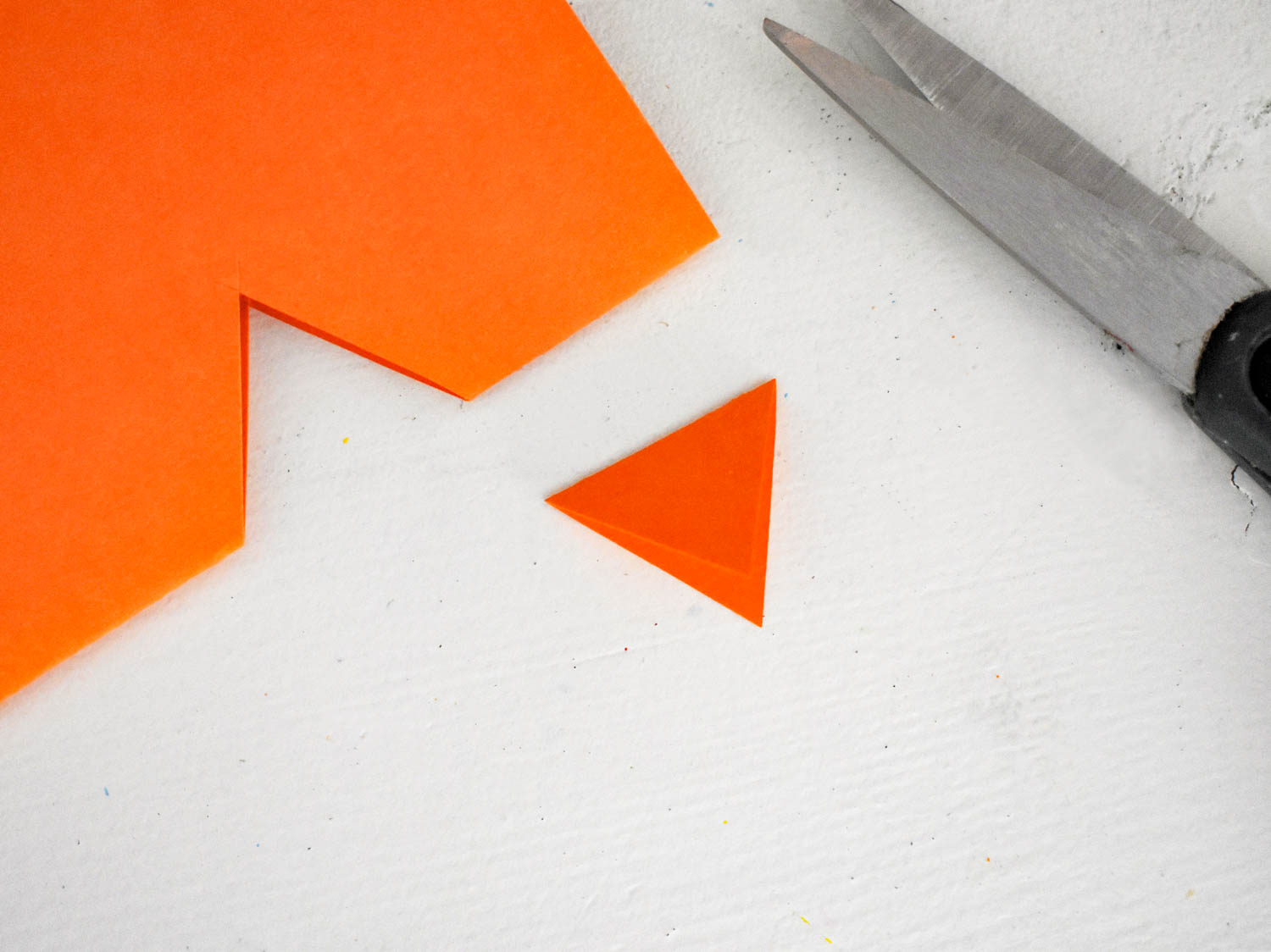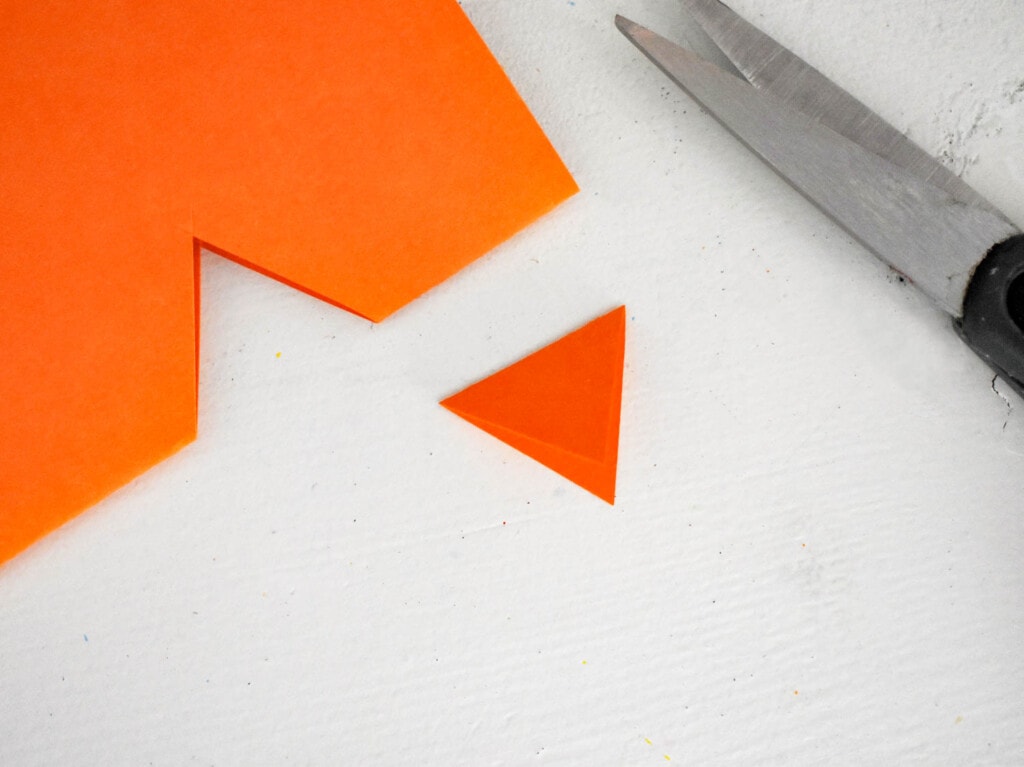 Can I use something other than googly eyes?
Sure! If you can't find googly eyes or don't have them, feel free to draw eyes on. You can also create eyes from construction paper or use eyeball stickers.
Pro Tips for the Best Paper Plate Chick
To make this easy paper plate craft go more quickly, use yellow plates and keep the clothespins the natural wood color. If you want to paint the plates, just paint them ahead of time so that they're ready to go.
If your child has super tiny hands, use two hands for each side! Place them close together to make the wings a bit more full on each side.
Make this paper plate chick extra fancy by gluing on a few craft feathers!
Pair it with these Books!
Meet five adorable chicks in this delightful That's Not My Chick book. Babies and toddlers will love touching the textured patches as they meet chicks with soft wings, fuzzy tummies, and rough feet.
The sky is falling! The sky is falling! Find out why Chicken Licken is in a panic in this fresh retelling of the well-loved story, complete with charming illustrations in sturdy board book format.
Count Mama Hen's new chicks, but… uh-oh! What's this… a duckling?? The Cluck Cluck Duck book utilize flaps and push tabs to keep littles engaged. Cluck Cluck Duck teaches counting and acceptance. I especially love the unique pop-up flaps used on the hatching eggs page in this one! They stay up after being opened until actively pushed back down.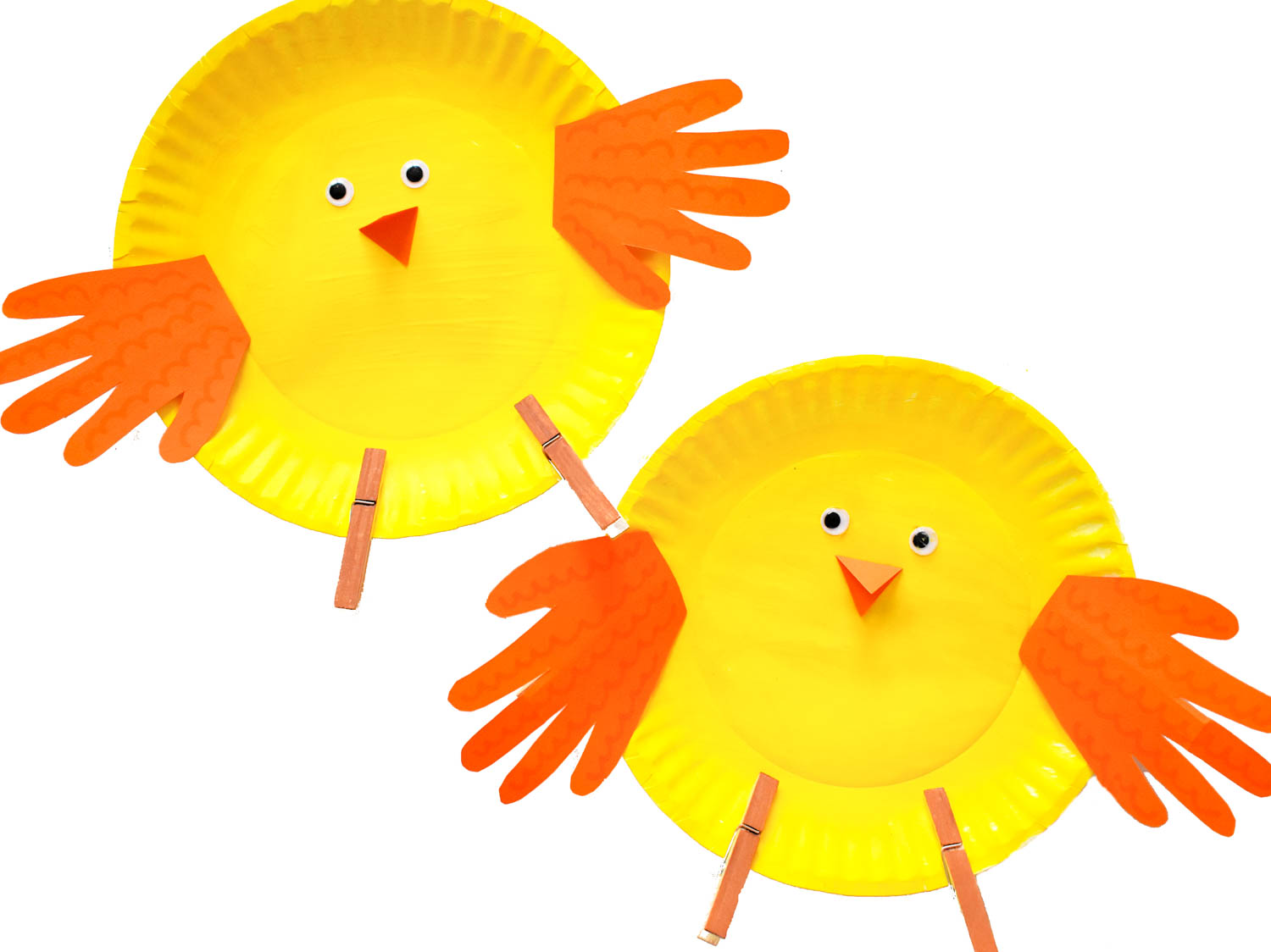 This precious little keepsake craft is sure to put a smile on everyone's faces. Have fun making your little chick friend!
More Paper Plate Crafts You'll Love
Paper Plate Chick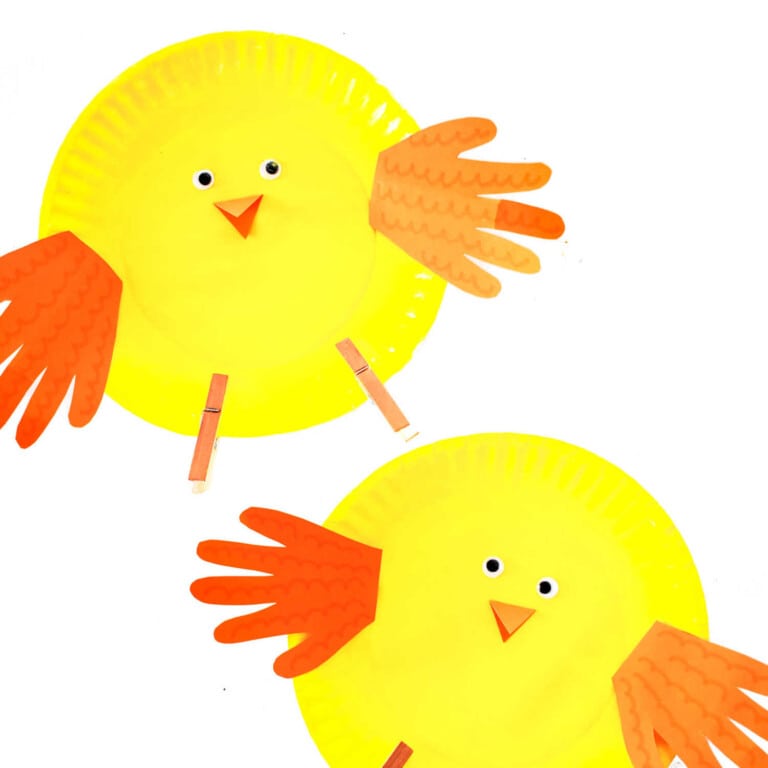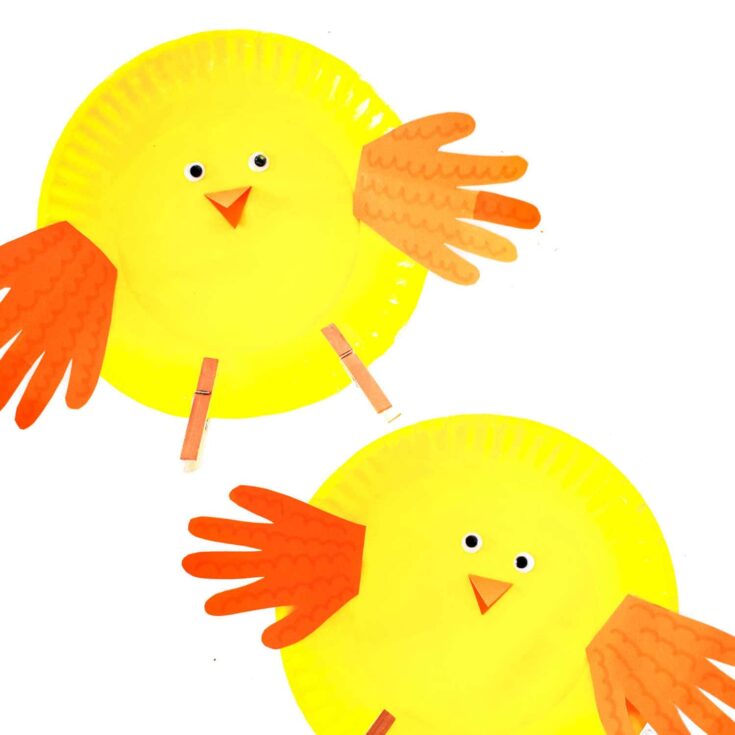 Quick and easy kids craft! Make this paper plate chick craft with only a few supplies.
Materials
Instructions
Begin by painting a paper plate yellow or buy yellow plates and use those. If you painted the plate let it dry completely.
Next, paint 4 clothespins brown or leave them natural.
Now, trace both handprints on orange cardstock and cut out.
Use markers to add fun feathery detail on one side of the hand prints if desired.
Then, glue the handprints to two of the clothespins.
Next, cut a triangle beak from the same orange cardstock and glue the beak in the middle of the plate.
Adhere googly eyes above the nose where the chick's eyes would be.
Finally, clip on the clothespins with the handprints for wings. And clip on the remaining two clothespins on the bottom of the paper plate for legs.
Notes
To make this craft easier buy yellow paper plates and leave the clothespin natural wood for the feet.
Recommended Products
As an Amazon Associate and member of other affiliate programs, I earn from qualifying purchases.