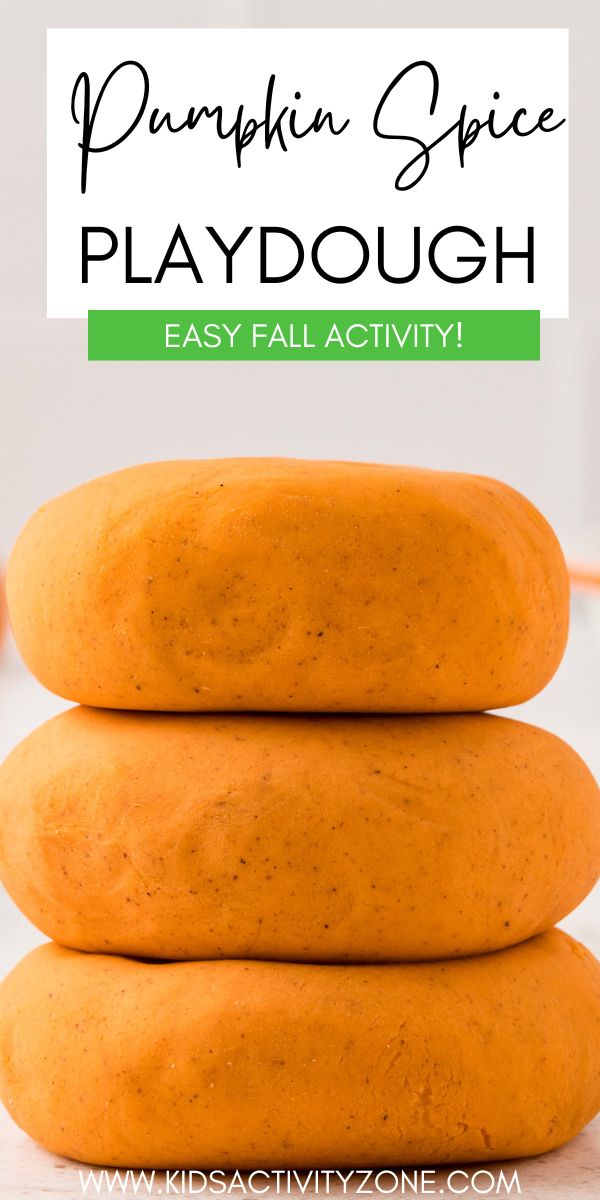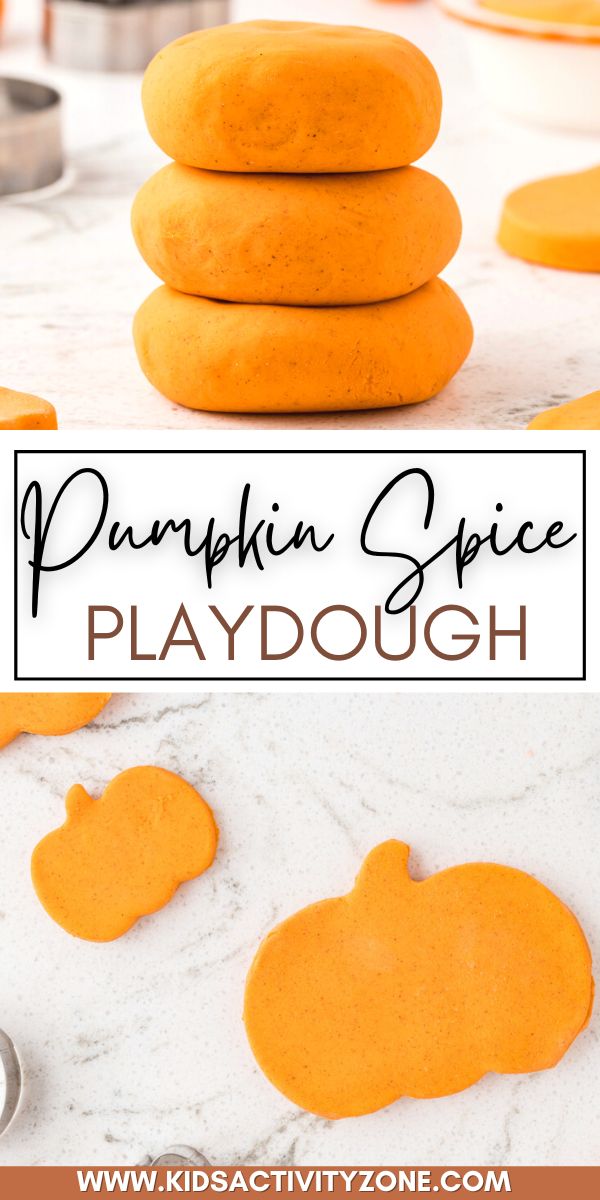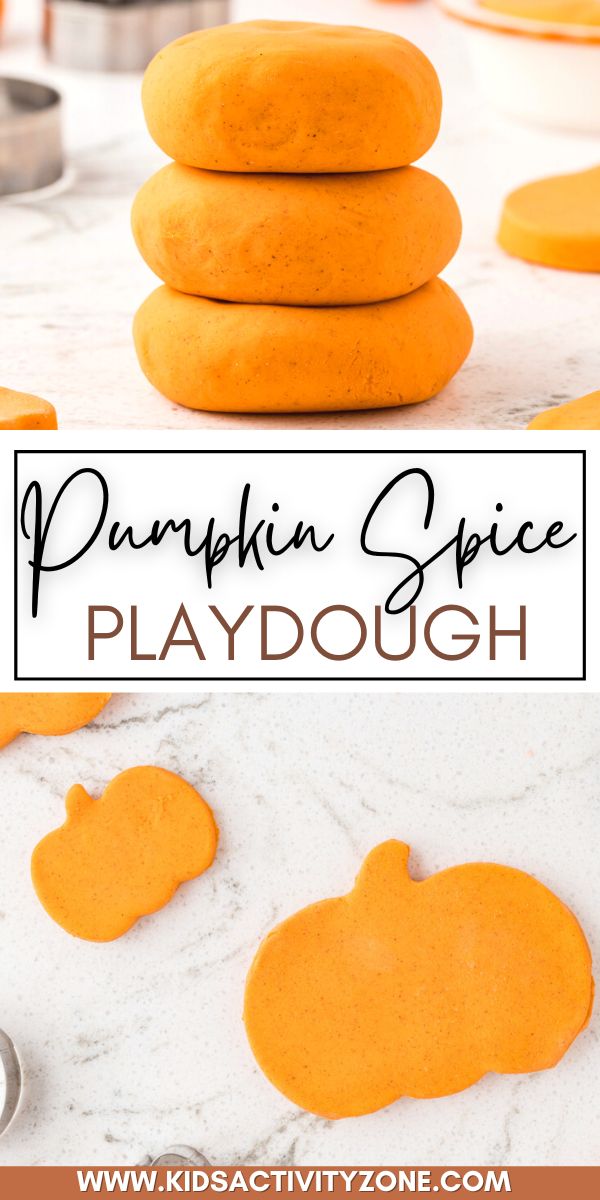 Pumpkin Playdough is so soft and smells just like pumpkin spice! It's the perfect fun activity for fall. This homemade playdough recipe is squishy and the kids will have fun using cookie cutters to create all things fall!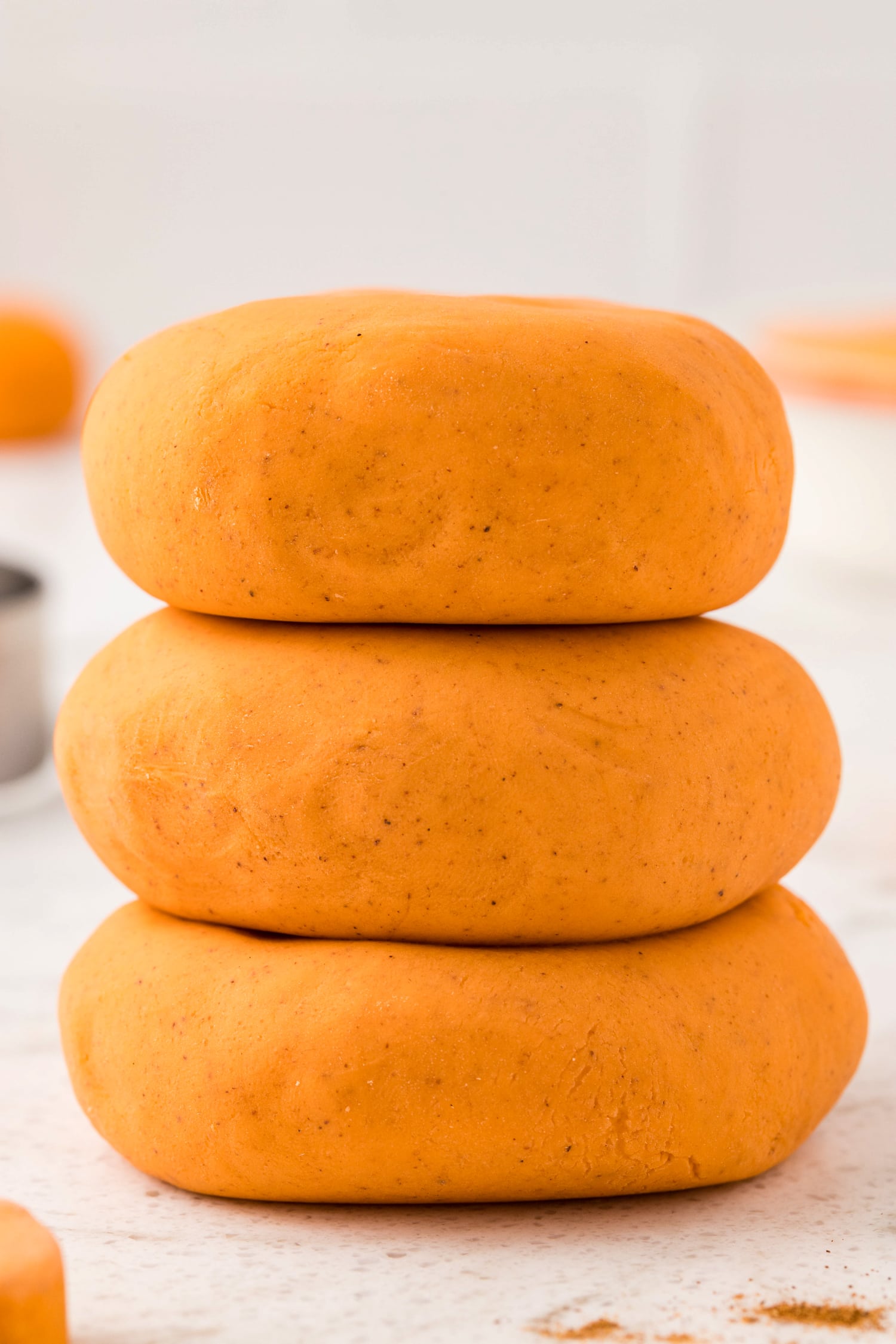 If you're looking to do some fun fall activities at home, this pumpkin playdough fits the bill! I love finding activities like this to do with my kids. We make this pumpkin playdough recipe in the fall and then Peppermint Christmas Playdough in the winter! Check out our recipe for the Best Homemade Playdough for the rest of the year!
Pumpkin spice playdough is quick and easy and will provide hours of entertainment for your kids. I love the open ended play that playdough provides. It's always so much fun to see what my kids use their imaginations to create!
Why You'll Love Pumpkin Playdough
Playdough is a great sensory activity for kids. The squishy texture and opened ended play help refine fine motor skills and encourage creativity.
This homemade pumpkin playdough recipe is non toxic, so you can rest easy while your kids play!
Your whole house will smell like pumpkin pie after making pumpkin playdough!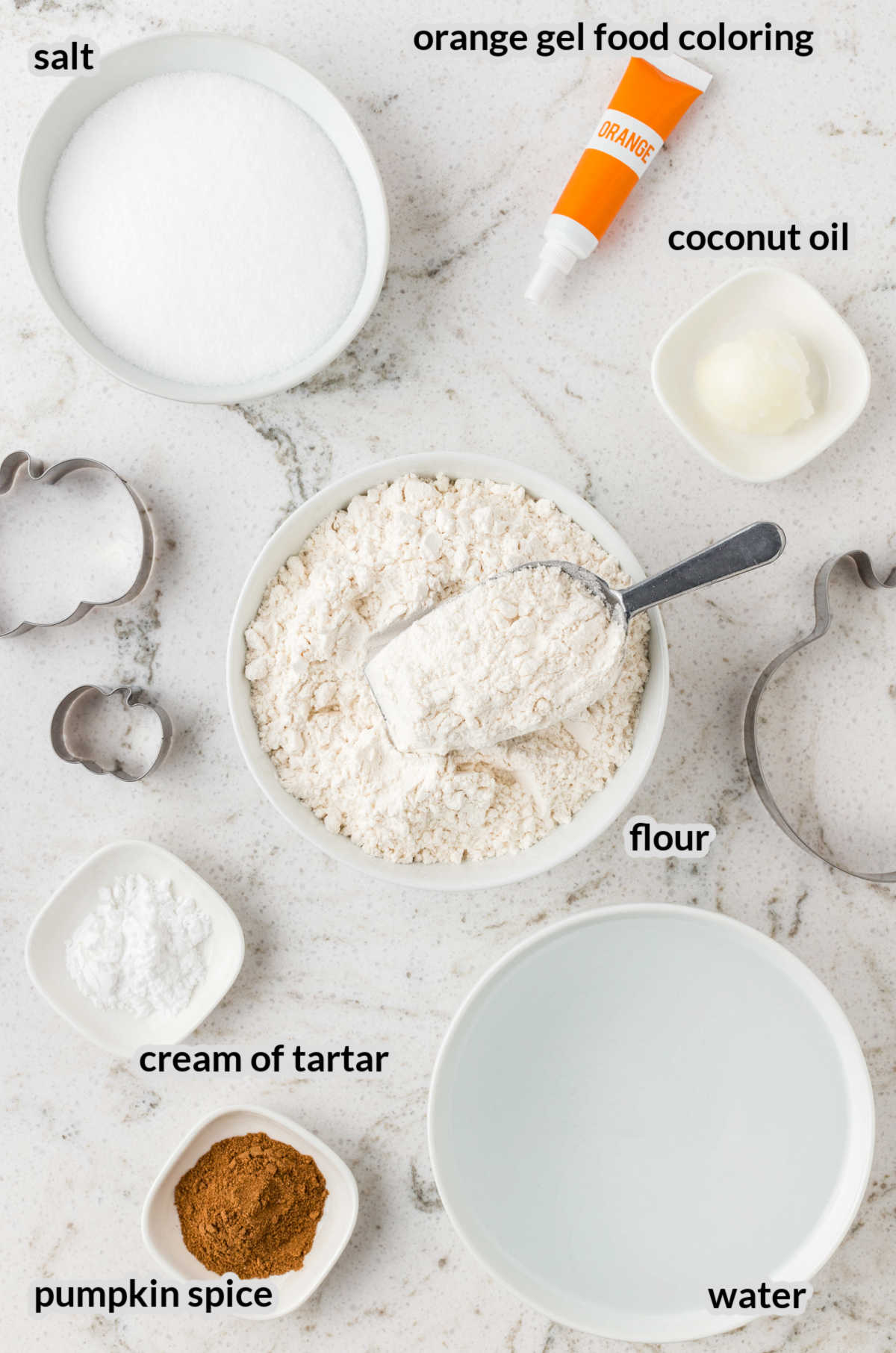 Ingredients for Pumpkin Spice Playdough
Flour – The secret ingredient to homemade playdough! I used all purpose flour, but any flour will work. It just may change the texture a bit!
Cream of Tartar – This gives playdough its smooth, squishy, and malleable texture.
Pumpkin Spice – Adding pumpkin spice to your playdough will makes it smell so yummy!
Water – You're going to end up boiling this water, and it will make the mixture really warm. So be careful if you're making pumpkin spice playdough with little ones.
Orange Gel Food Coloring – I find that gel food coloring works much better in this pumpkin playdough recipe. If you use regular food coloring, just note that you may need to adjust the amount used!
Coconut Oil – You can use any oil for you playdough, but I like the subtle scent of coconut oil and it's really safe for sensitive skin.
Salt – This helps keep the playdough from being too sticky. I used iodized salt in this recipe.
Can I eat this Pumpkin Playdough?
Though it does smell good enough to eat and is non toxic, you should not consume it. If you need a snack to munch on while playing with pumpkin playdough, try these No Bake Pumpkin Patch Cookies.
Helpful Tools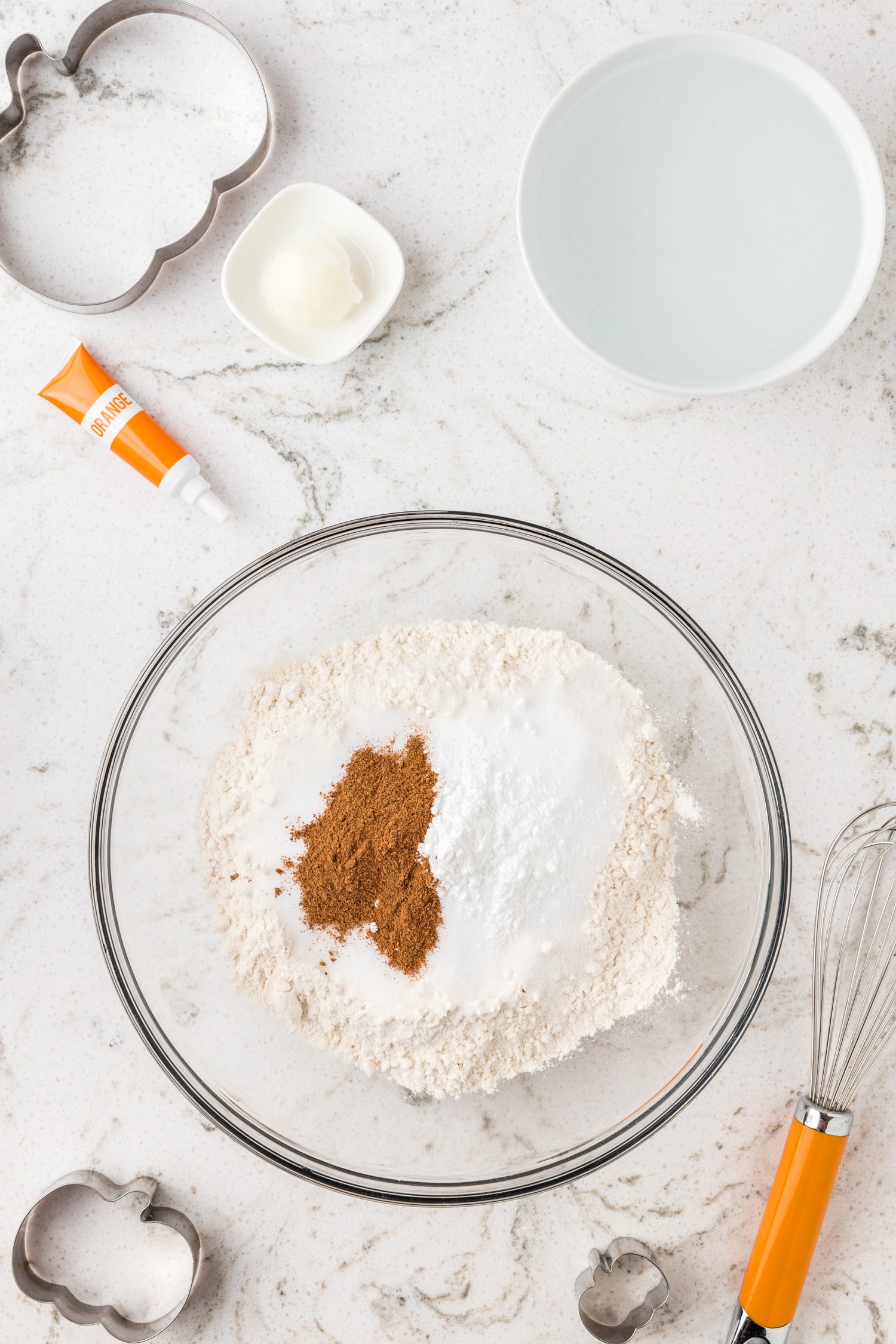 How to Make Pumpkin Playdough
Mix: Add flour, cream of tartar, salt, and pumpkin spice to a large mixing bowl. Mix with a whisk until evenly combined.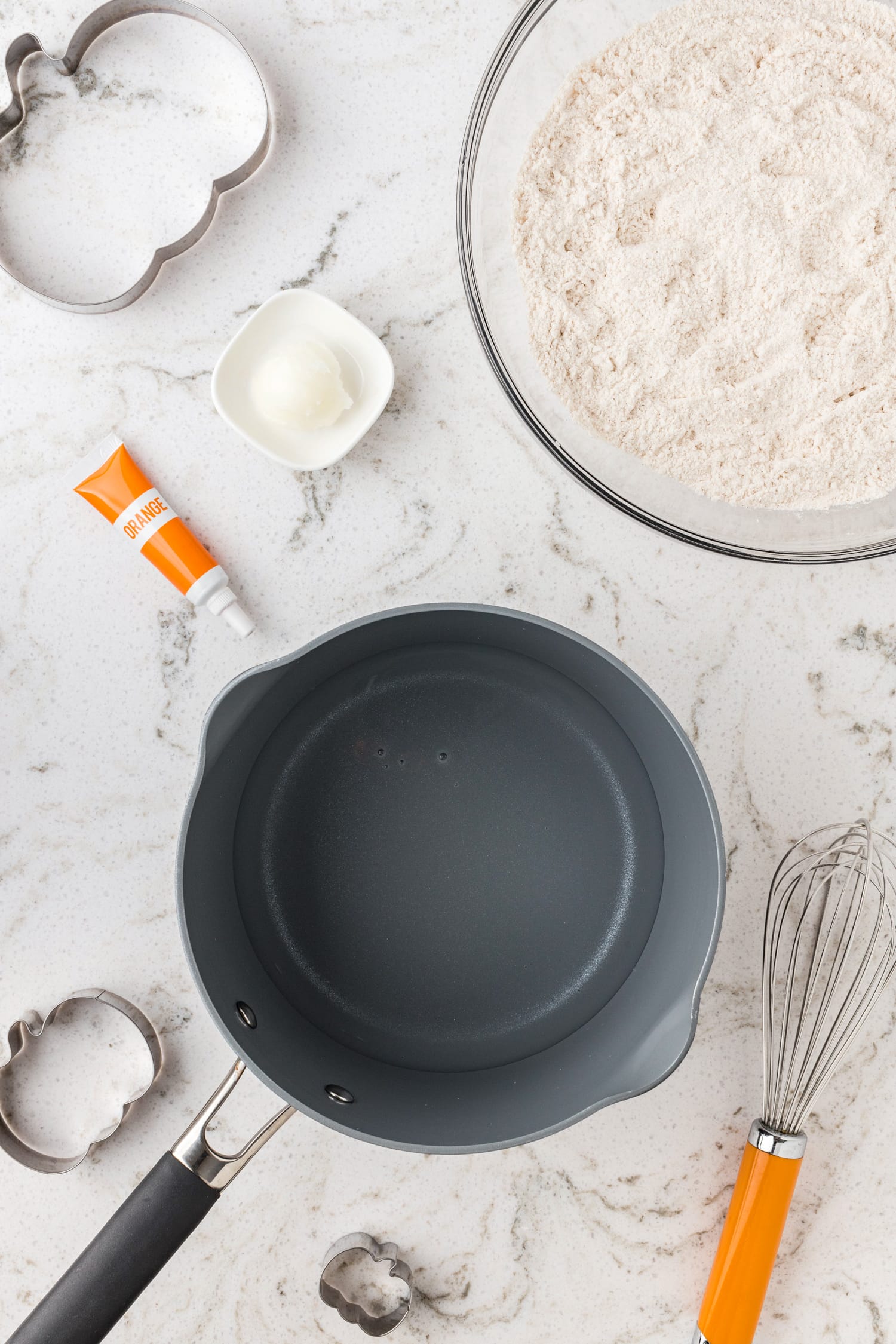 Boil: Add water to a medium size saucepan and bring to a boil. Once boiling add the orange food coloring and coconut oil. Stir until thoroughly incorporated and remove from heat.
Stir: Carefully add the wet ingredients into the dry ingredients and slowly begin to stir to incorporate the ingredients together.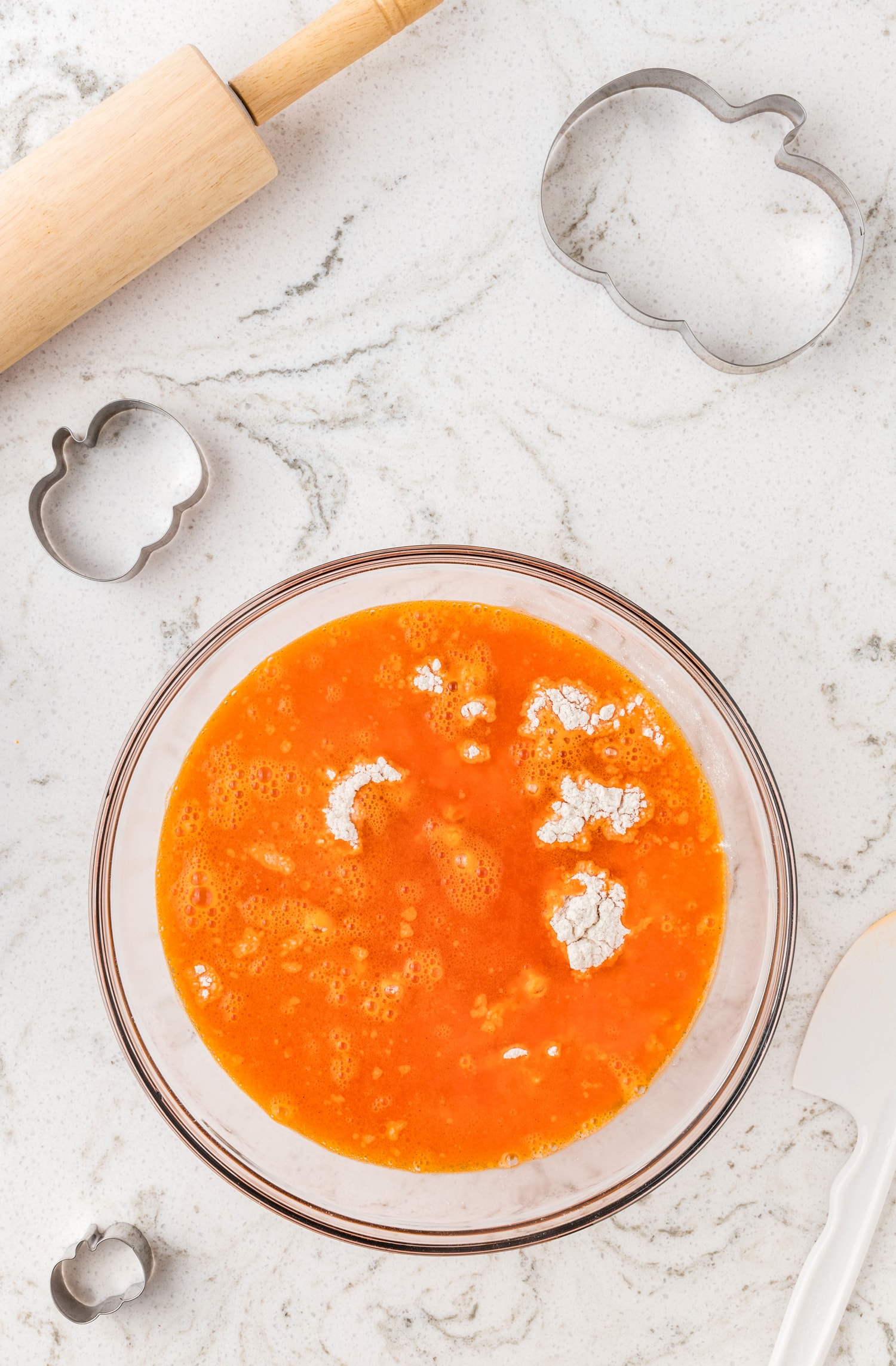 Knead: Once the ingredients are mixed together well, remove the dough from the bowl and place it on a lightly floured surface. Allow the dough to cool, then knead the pumpkin playdough until everything is fully incorporated.
Play: Get to playing! Use pumpkin shaped cookie cutter or any of your favorite playdough toys and start making memories!
How long will Pumpkin Spice Playdough last?
Pumpkin playdough will last for about 3 months when stored in an airtight container.
Tips for the Best Pumpkin Playdough
Use extra food coloring for a more vibrant color!
Make multiple batches of playdough and use colors like brown, green, and red, to have a full spectrum of fall colored playdough.
After you create fun fall shapes, bake them in the oven to preserve them and even decorate with them!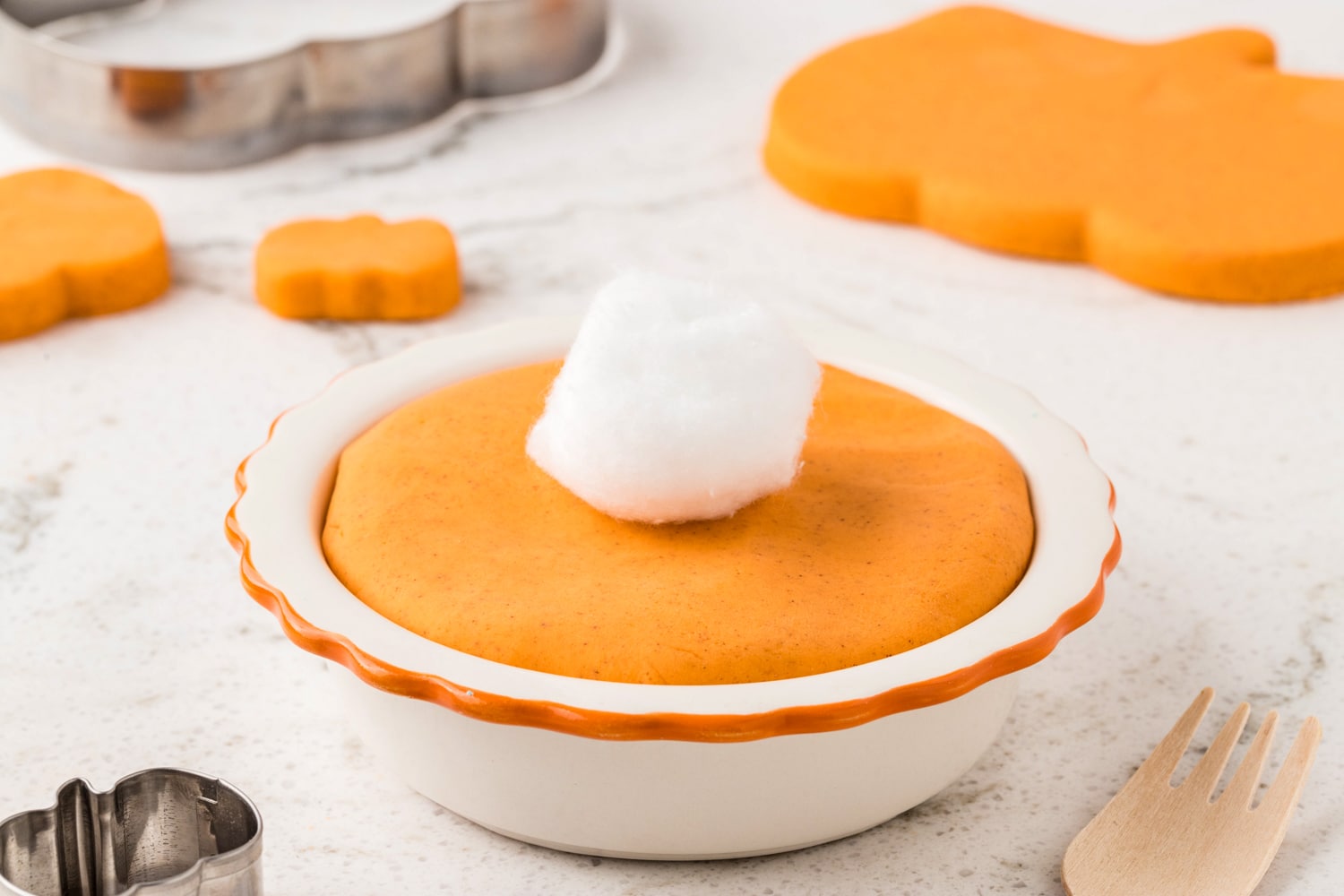 If you need fun fall activities to do at home during Thanksgiving break, just whip this up, and watch your kids create!
More Fall Activities You'll Love
Yield: 1 Batch of Playdough
Pumpkin Playdough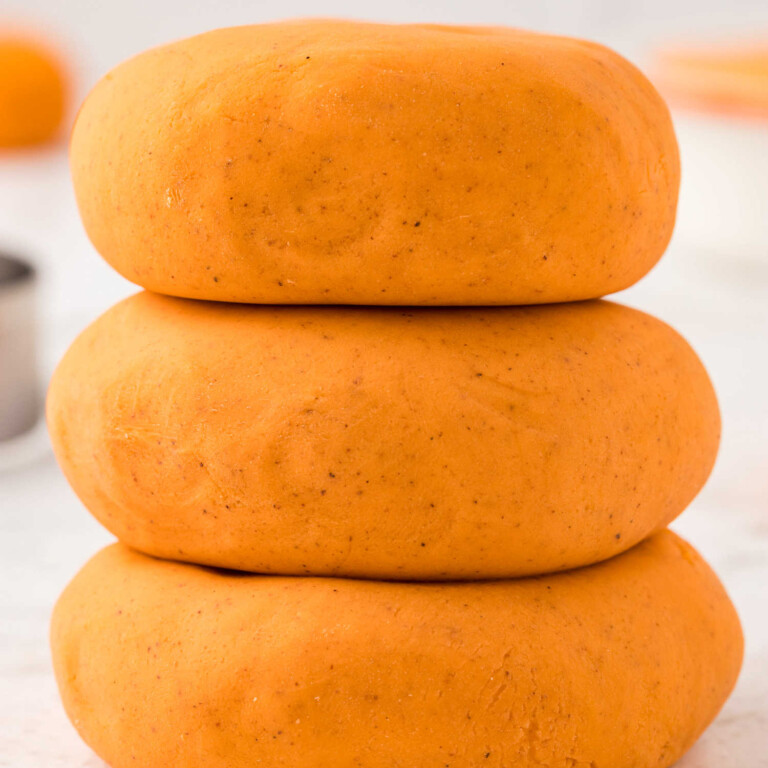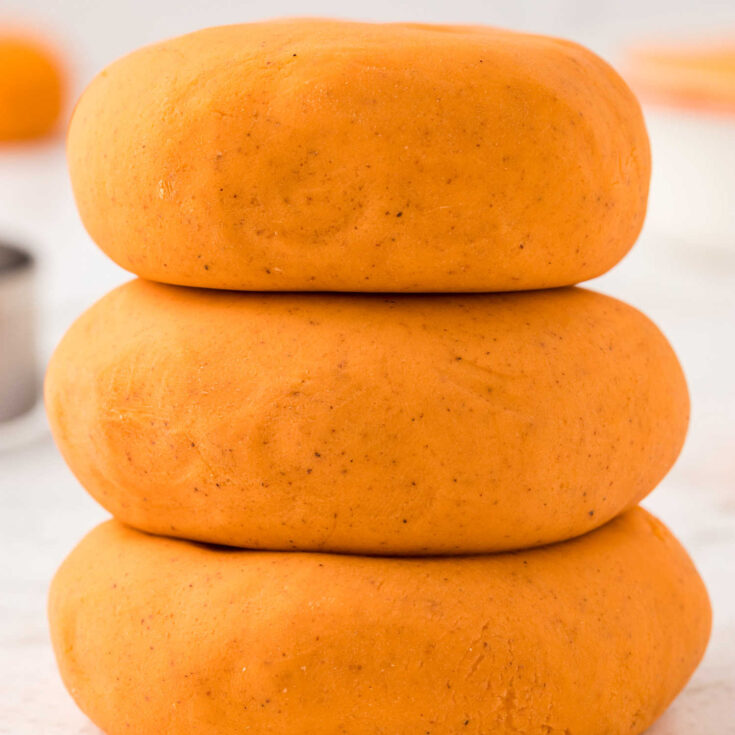 Soft, squishy homemade pumpkin playdough recipe that smells just like pumpkin spice!
Materials
2 cups of water
1 tablespoon of coconut oil
2 teaspoons of orange gel food coloring
2 ½ cups of flour
¾ of a cup of salt
1 teaspoon cream of tartar
2 teaspoons of pumpkin spice seasoning
Instructions
Let's start by adding 2 ½ cups of flour, ¾ cup of salt, 1 teaspoon of cream of tartar, and 2 teaspoons of pumpkin spice seasoning to a mixing bowl and whisk until combined. Set aside.
Bring 2 cups of water to a boil in a small saucepan.
Once water is boiling, add 1 tablespoon coconut oil and 2 teaspoons of orange food coloring gel. Whisk to combine thoroughly. Remove from heat.
Next, slowly and carefully pour the hot water into the dry ingredient bowl. Then use a rubber spatula to mix the ingredients until they are combined. Allow a few minutes to cool.
Now it's time to get your hands dirty! Place the dough on a clean, lightly floured surface and knead until thoroughly combined.
Once thoroughly combined, you are ready to enjoy your pumpkin spice playdough. Have fun!
Notes
If you are doing this activity with young children, use precaution as the initial mixture of dough will be very hot! Make sure you cool before kneading the dough.
Adding more food coloring will make this playdough more vibrant!
This playdough is not edible! Although non-toxic, you should not consume it.
Be sure to store your pumpkin spice playdough in an airtight container when not using it.
Recommended Products
As an Amazon Associate and member of other affiliate programs, I earn from qualifying purchases.