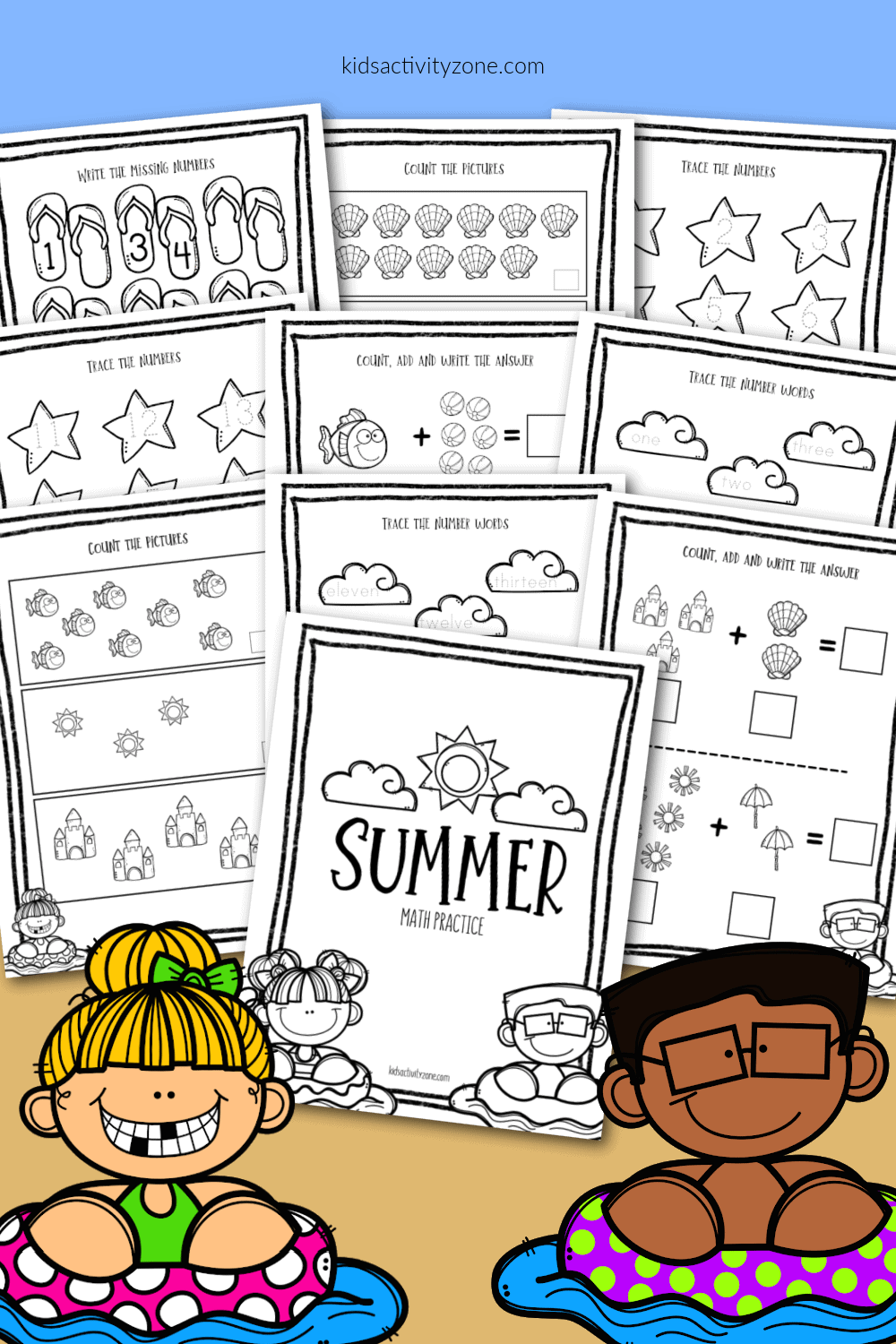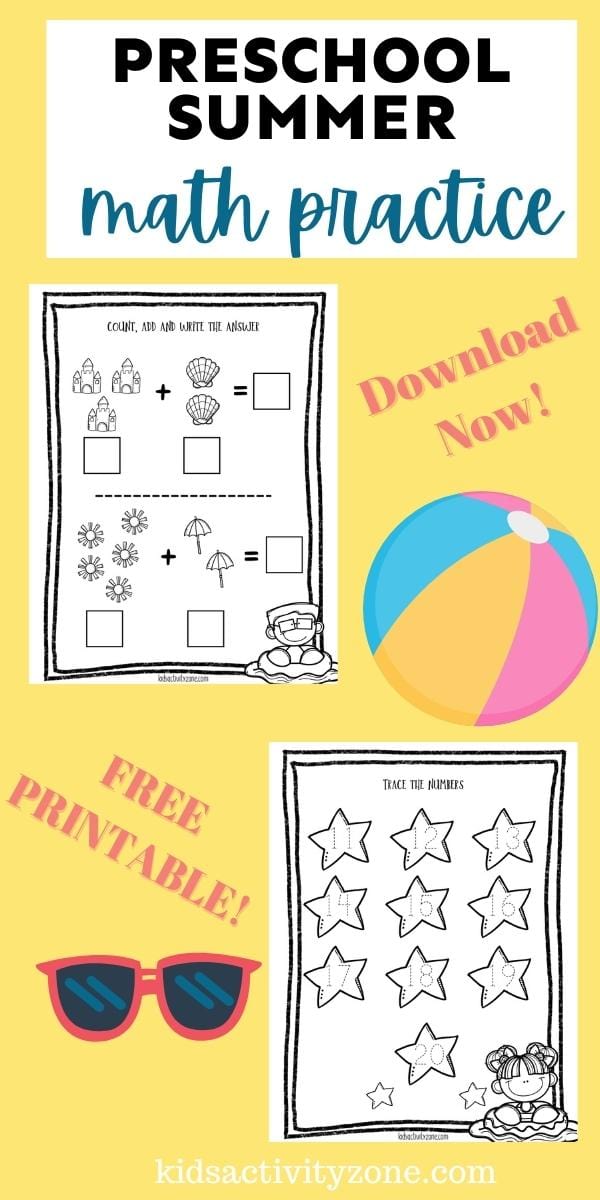 This free printable Summer Math Practice is perfect for Preschool and Kindergarteners to keep their math skills fresh until next year. They can trace, write numbers, add and more. Grab this printable math activities for preschoolers.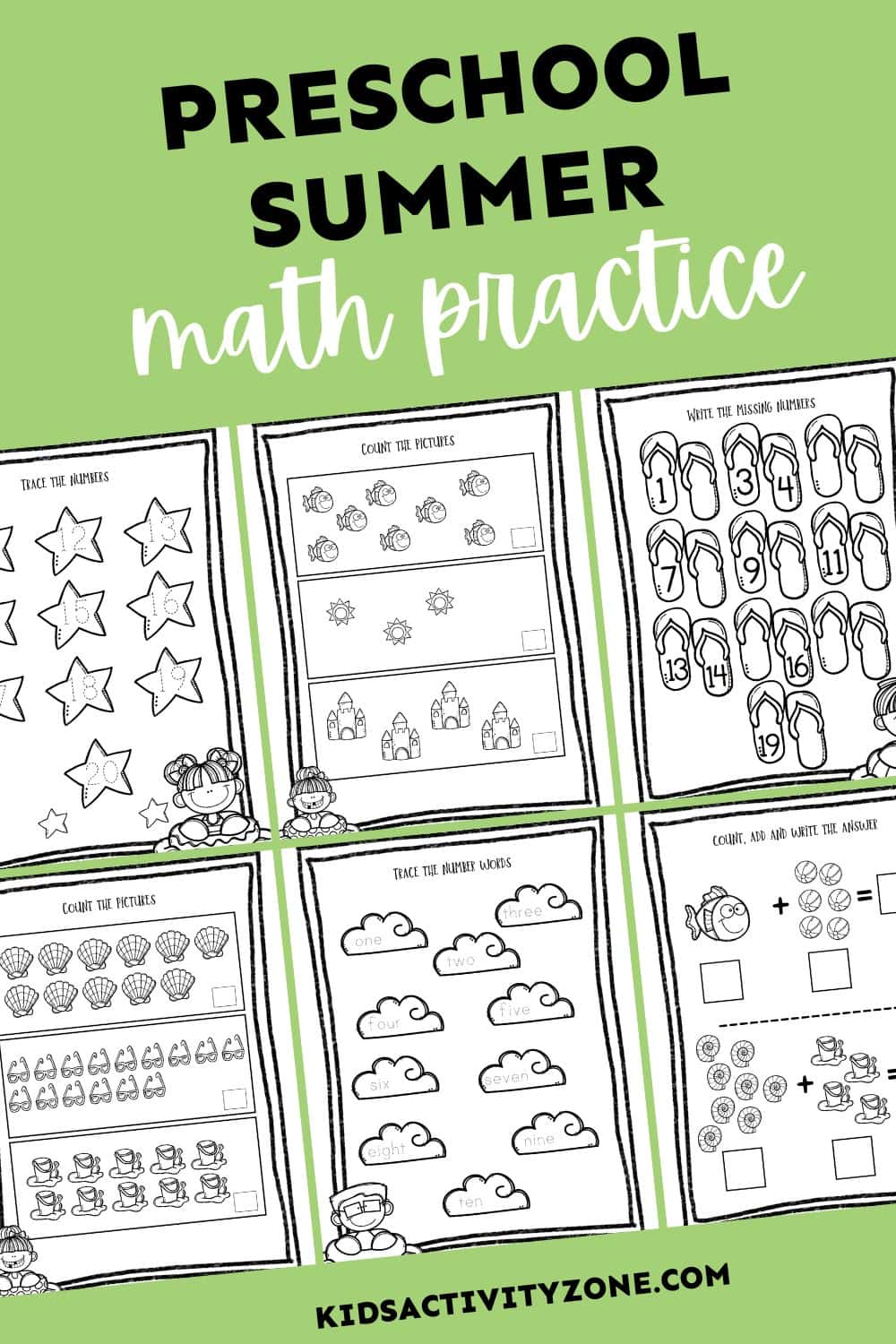 If you have littles who need extra practice on their math skills before heading into kindergarten, this preschool summer math practice is perfect! Math doesn't have to be boring, and these super cute pre k math worksheets are proof.
You can print these out as a fun activity for your preschool age children to complete. And while you're at it, get some extra alphabet practice with these Alphabet Coloring Pages!
No one wants to practice math when the worksheets are boring. That's just no fun! But with these free printables, your kids won't mind doing summer math practice. Print out however many you need, grab your favorite drawing and coloring supplies, and get to practicing!
Why You'll Love Preschool Summer Math Practice
These worksheets are a great way to prep your preschool age child for kindergarten the next year.
You don't have to use these worksheets for just summer math practice. These are a great activity to use as homeschooling material if you homeschool your children!
Easy worksheets like these promote independent learning and confidence.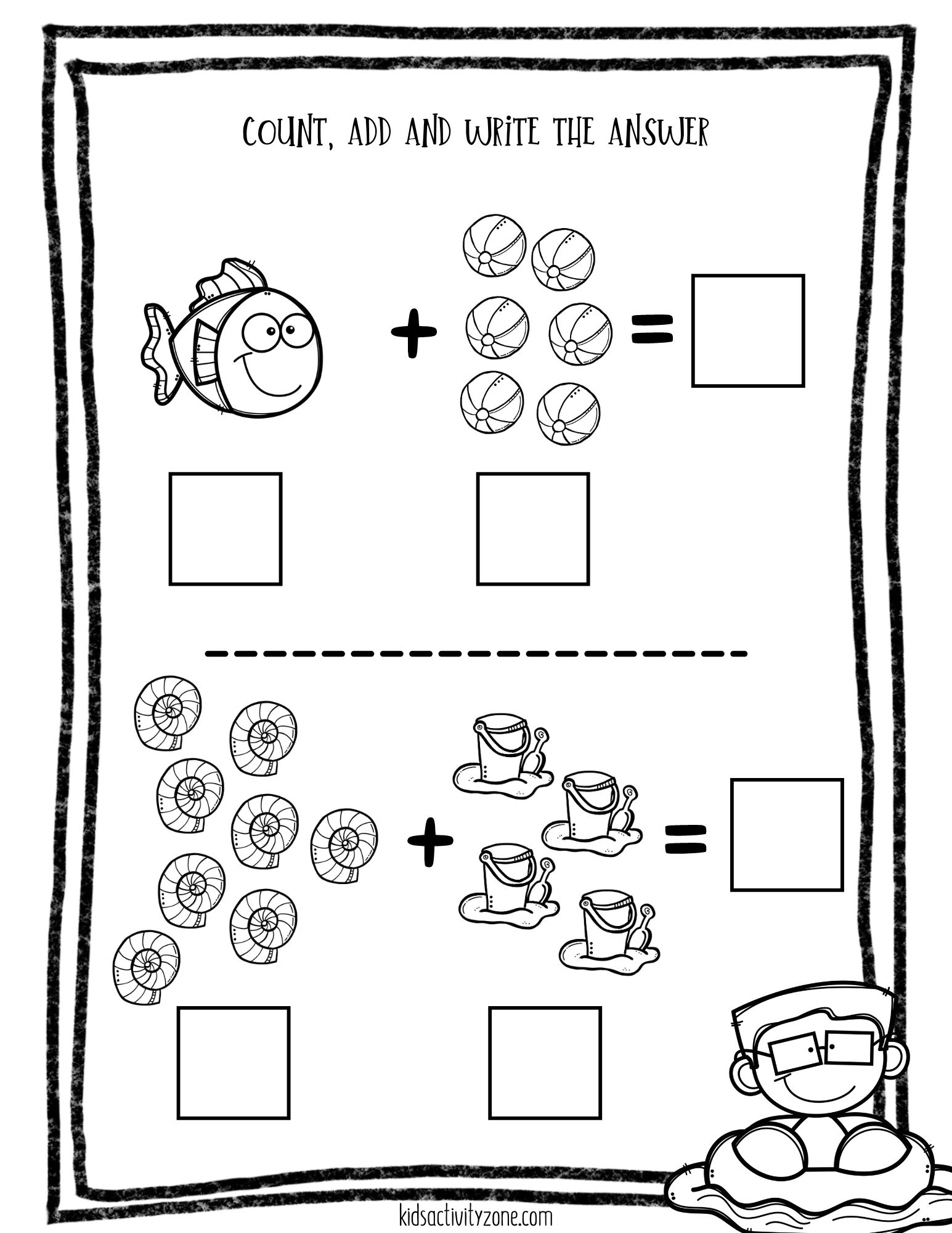 Supplies needed for Preschool Math Practice
You can use any supplies you want to complete these pre k math worksheets, but here are some of my favorites:
What's Included in Preschool Summer Math Practice
Trace The Numbers – These two pages help your child learn to write numbers 1-20. The dotted outlines of each number are in cute little stars to make it extra fun!
Trace The Number Words – This is a great way for your child to learn numbers and letters at the same time. They'll learn to spell numbers 1-20, learn their order, and learn how to pronounce them when you help them read each page!
Write The Missing Numbers – Not only is this great for number identification, but it's perfect for them to practice the order of numbers 1-20. You child will fill in each missing number in this summer math practice worksheet.
Count The Pictures – These six problems are such a fun way to practice counting! Your child will count cute little fish, sandcastles, and more. Then they get to write the total. Counting and writing practice combined!
Count, Add, and Write the Answer – These two pages are great combination practice. Your preschool age children will practice counting, very simple addition, and writing the total number freehanded.
Classroom Use
Not only can you use this fun preschool summer math practice as an activity at home, but you can use them in the classroom! These would be a fabulous way to end the school year and launch into summer.
Kids have usually lost their attention span to do more difficult activities by the end of the school year, so doing a fun summer themed activity is a great way to fill some time. Plus, it's beneficial for them to learn the skills presented in these pre k math worksheets!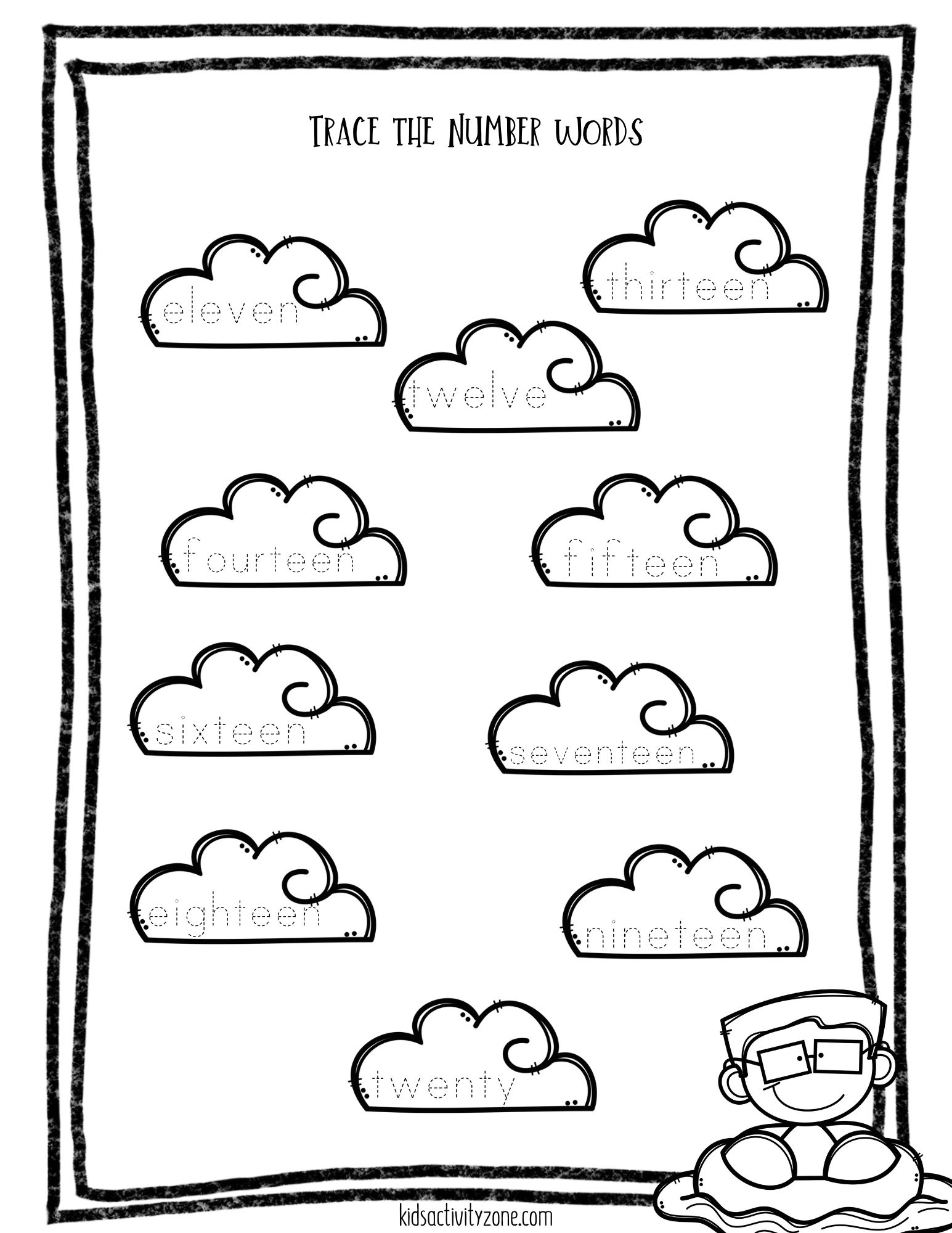 LAMINATE & REUSE!
If you have a child practicing their their math or if you are using this in the classroom it's a great idea to laminate it and reuse it.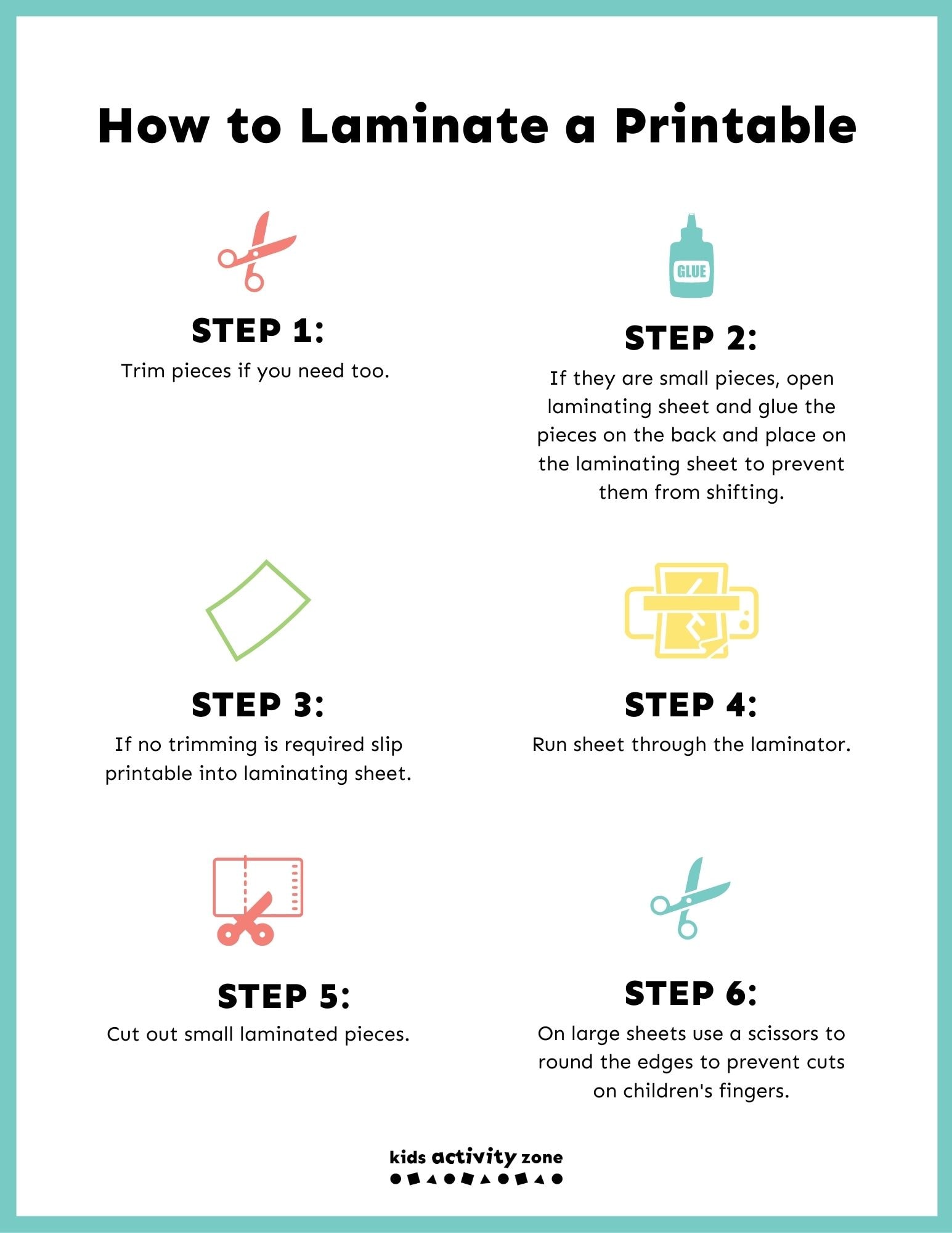 Simply follow the steps below to laminate the pages. These won't require any trimming to laminate them. We do recommend trimming the corners so they are rounded after you laminate them so they aren't sharp.
Grab a set of these washable dry erase markers that are kid friendly!
This is our favorite laminator and laminating sheets.
Printable preschool math practice worksheets are such a great problem solver! You get your kids to practice, you fill some time with a fun activity, and they're prepared for the coming school year. Such a win!
More Printable Activities You'll Love