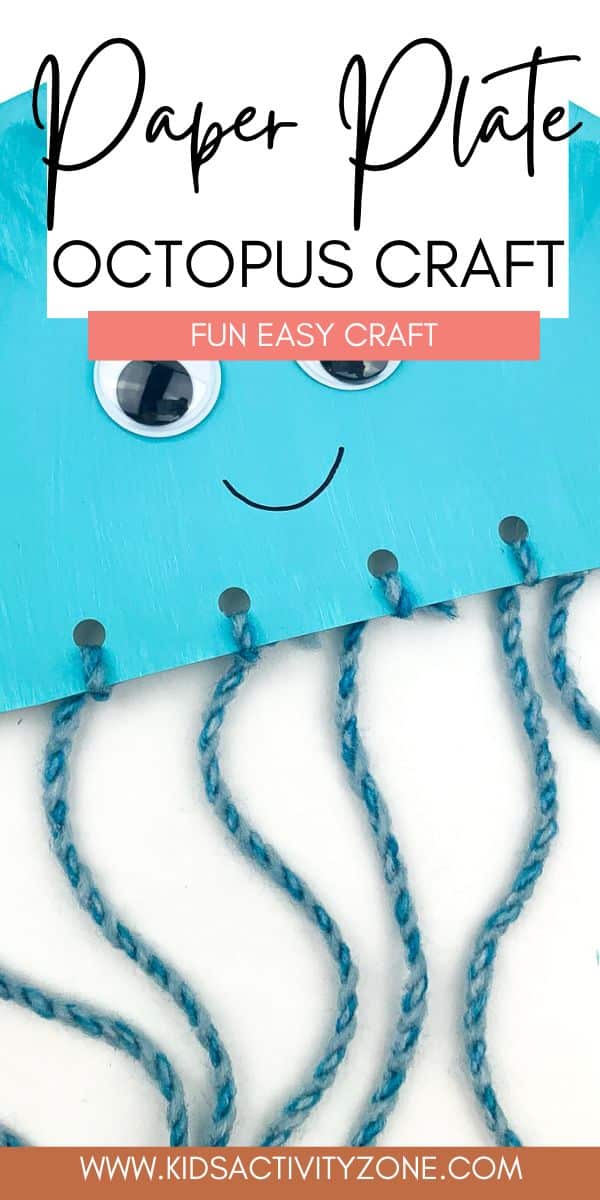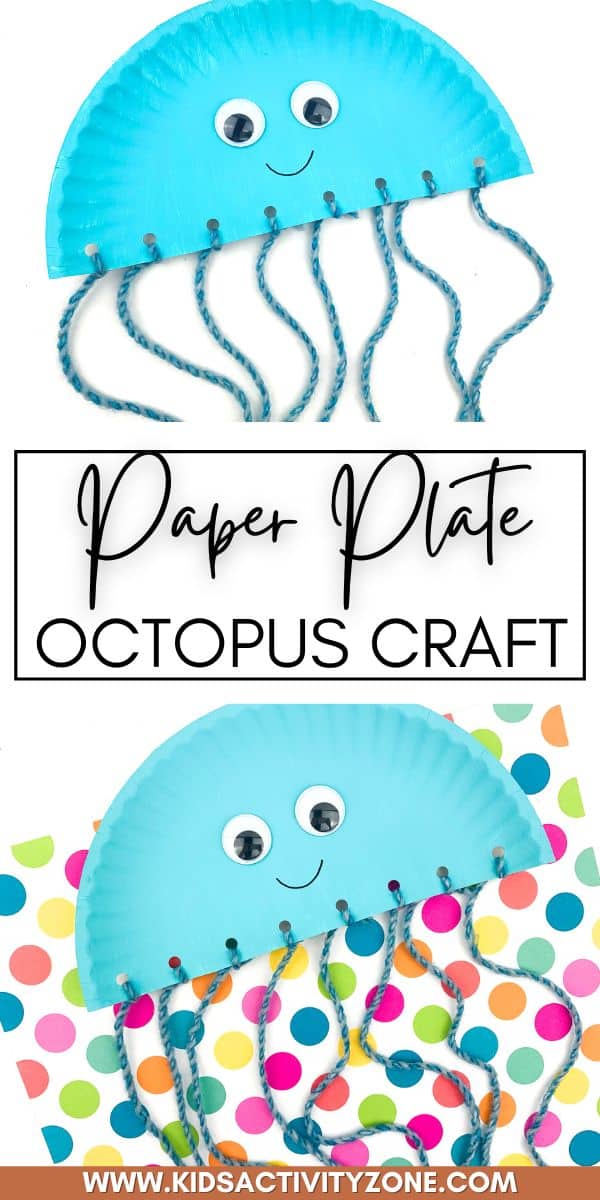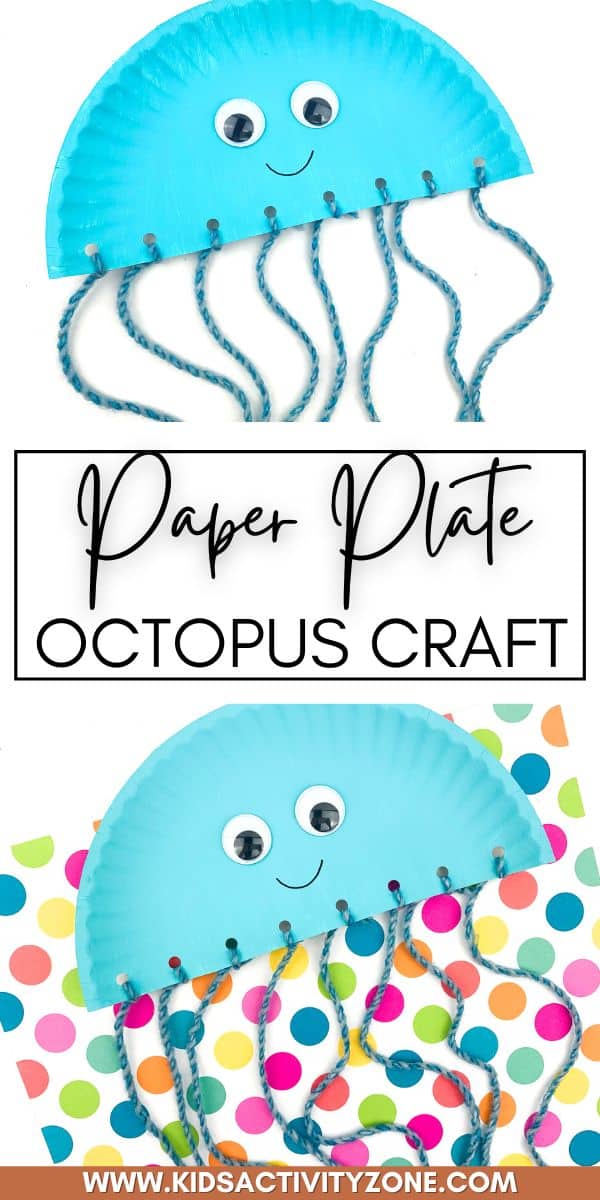 Create and adorable Paper Plate Octopus craft with minimal supplies and time! All you need to make this easy Octopus is a paper plate, paint, yarn and googly eyes. This is the perfect easy animal craft for preschoolers and kindergarteners.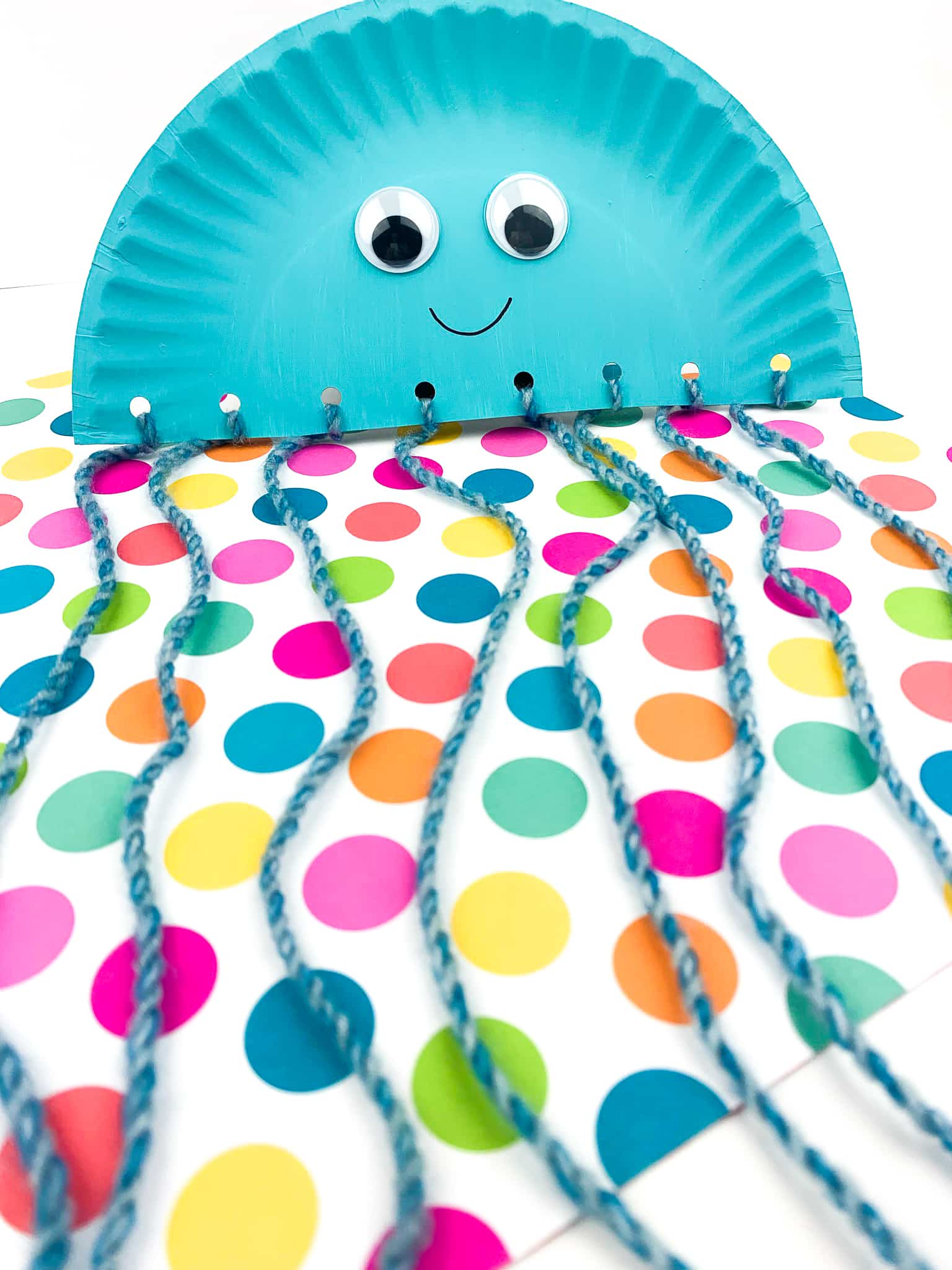 This super silly, super fun paper plate octopus craft is sure to put a smile on the face of your kiddos! Making an octopus with paper plates, paint, and yarn is about as easy as it gets. You can make this in a classroom setting, incorporate it into your homeschool cirriculum, or just have a fun craft day at home.
Learning about the ocean has always been my one of my kid's favorite topics. The octopus is such an interesting creature, so making this craft make what we learn extra memorable.
Of course, you don't have to teach to make this craft. You can simply make it on a rainy day when you're stuck inside! And bake delicious snacks like no bake s'more bars and pizza crescent rolls to munch on while you create a fun octopus friend.
Follow this step-by-step guide to learn how to make a paper octopus! But don't be afraid to branch out and make this little guy your own. Add anything you want to it and change up the colors to make it exactly what you want it to be!
Why You'll Love this Paper Plate Octopus Craft
Painting, cutting, and tying are all great activities to help develop fine motor skills. That makes this craft a great activity for young children!
It will only take about 20 minutes to prep and build this paper plate octopus craft. It's a great craft to use during classroom craft time or summer camp!
This craft doubles as a toy and a cute decoration. Add a magnet to the back of the plate to put it on the fridge or poke a hole at the top and hang it with a ribbon!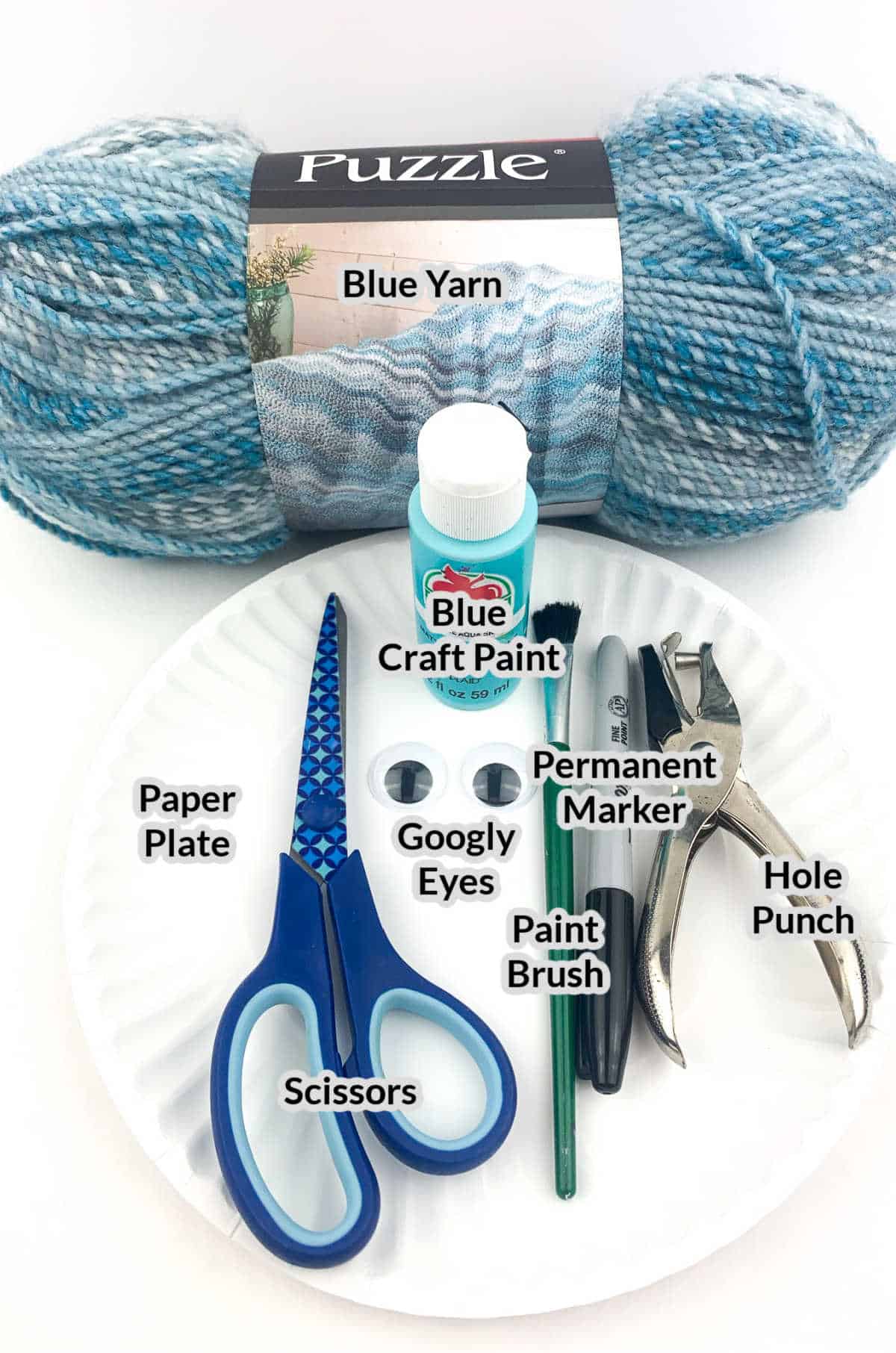 Supplies Needed to Make a Paper Plate Octopus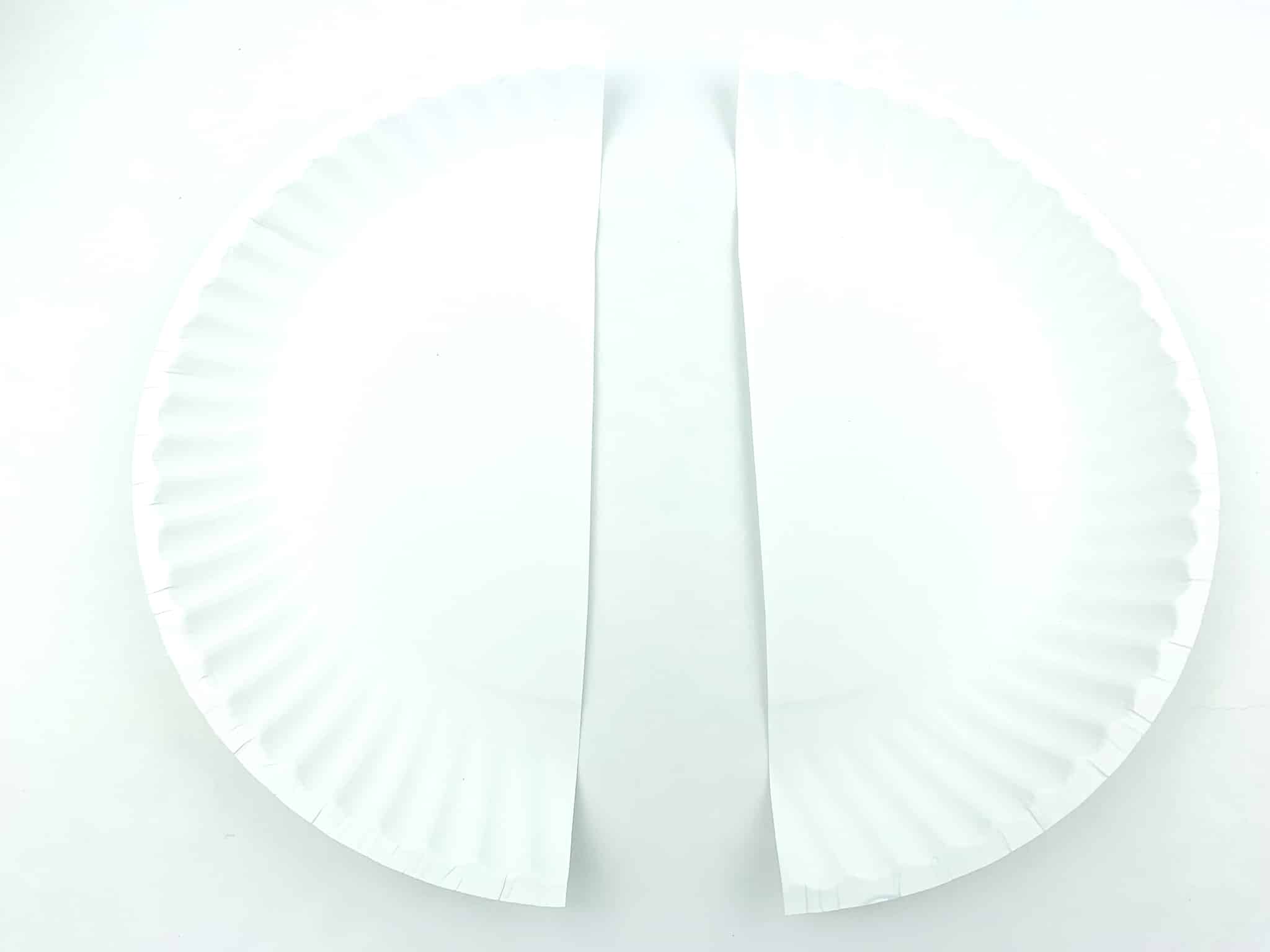 How to Make a Paper Octopus
Begin by cutting a paper plate in half and painting one half blue. Set the paper plate half aside and let it dry completely.
Once it is completely dry, punch 8 holes evenly across the bottom straight edge. Space them out evenly so that they reach all the way across.
Cut a 12 inch strand of blue yarn. Cut 8 total strands of yarn.
Then, strand a piece of yarn through each hole and tie the end into a knot on the unpainted side of the plate.
Glue googly eyes onto the paper plate and then draw a smiling mouth with permanent marker.
Allow everything to dry if anything is still wet, and then your paper plate octopus craft is ready for play!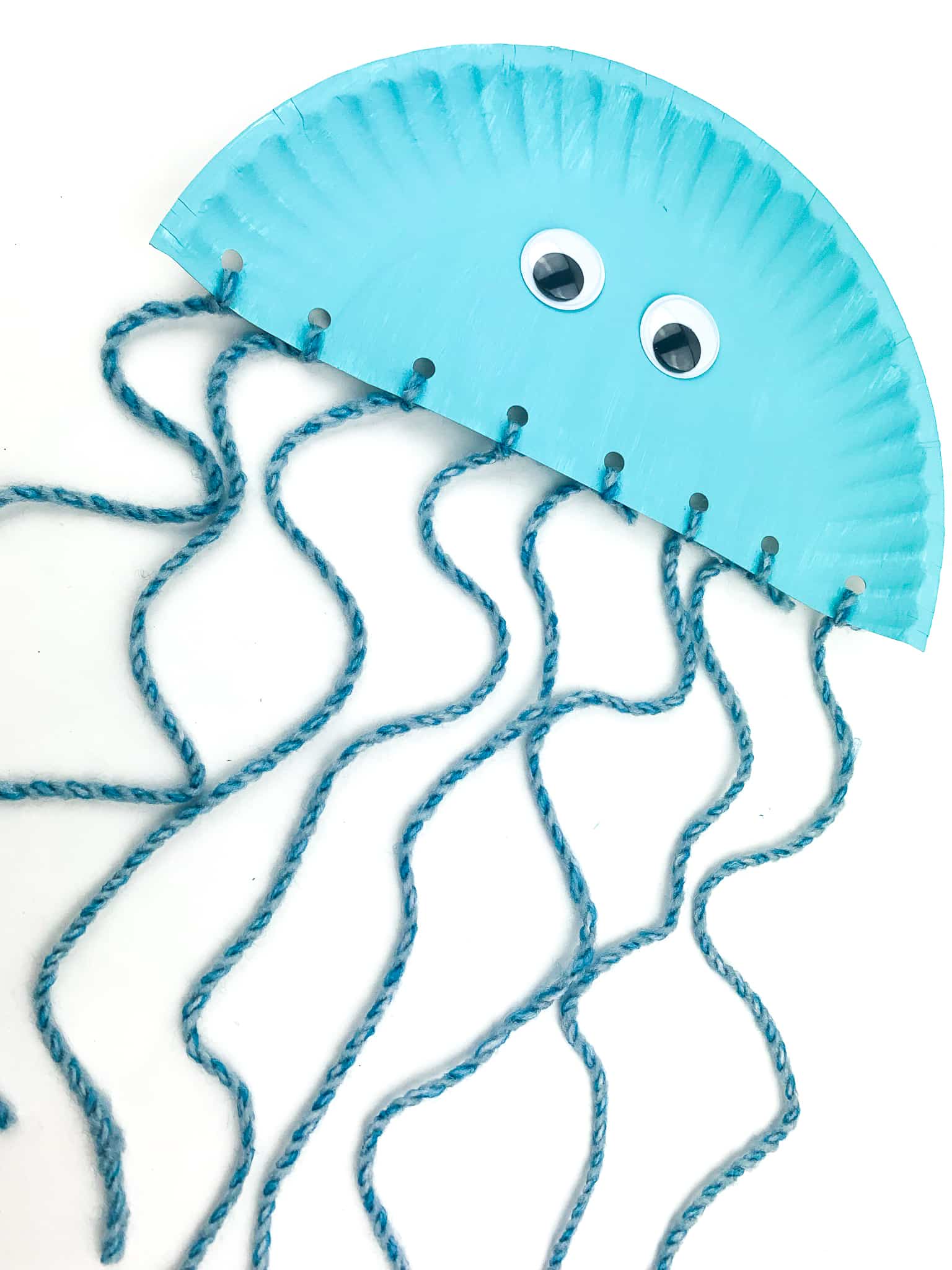 What can I use if I don't have yarn?
Blue curling ribbon would be a great replacement for yarn. Cut extra extra long pieces and curl them. Then your easy octopus craft would have extra silly legs!
Can I use card stock instead of a paper plate?
Card stock will likely not hold up well and will tear when you add the yarn tentacles to your octopus. However, you could carefully glue a piece or two together and then cut out a half circle. It would likely work then!
Pro Tips!
Save some time and buy paper plates that are already colored blue. You can find them in the party section or at your nearest party supply store.
Use glitter glue or sprinkle blue glitter on the paint while it's still wet. Then your little paper plate octopus has some sparkly fun!
If you make this craft with a large group or class, write the name of each child on the back of the plate before you paint. That way, every child leaves with their octopus and nothing gets mixed up.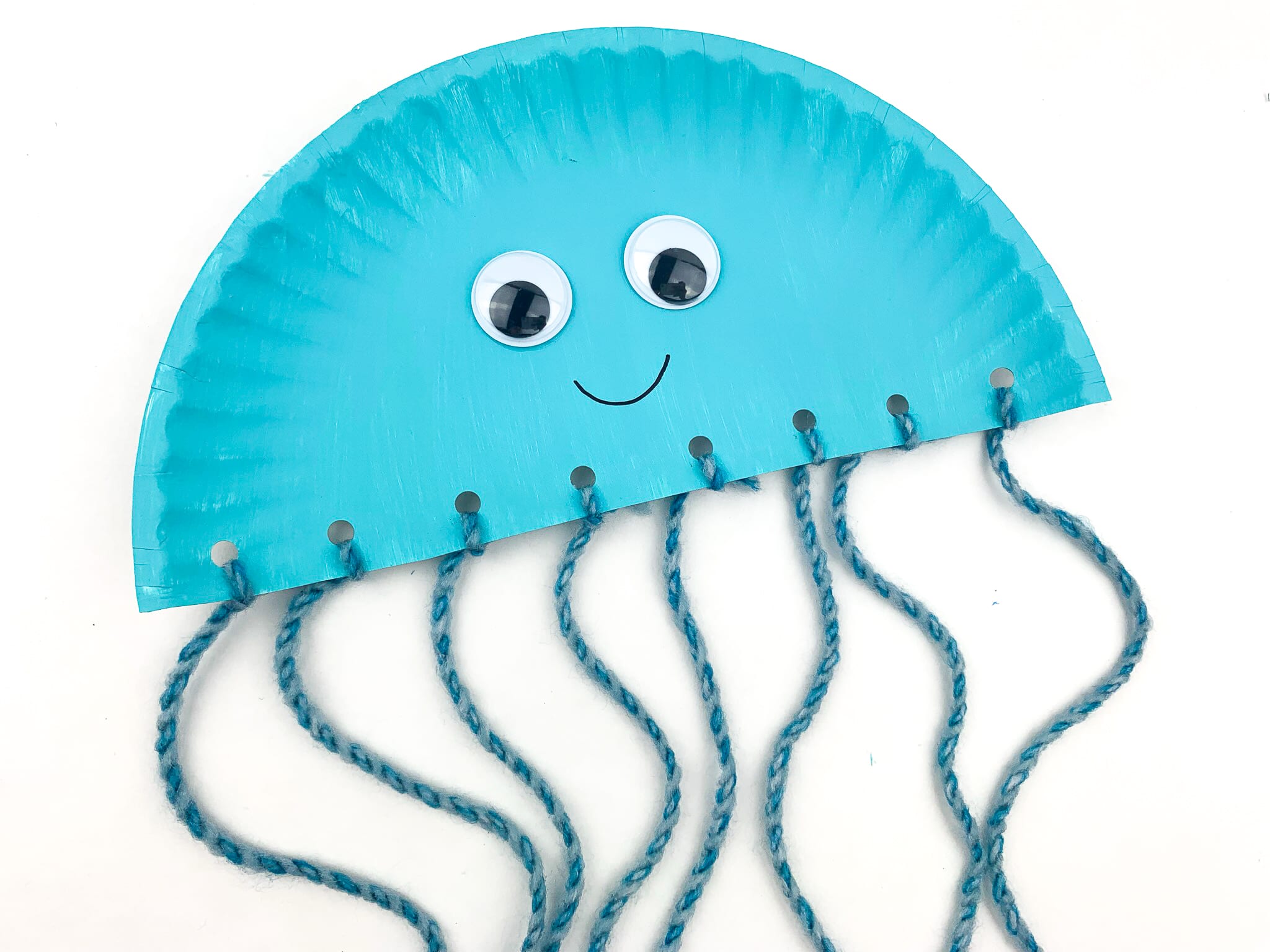 Enjoy your day "under the sea" making this happy little paper octopus!
More Fun Activities and Crafts You'll Love
Yield: 1 Octopus Craft
Paper Plate Octopus Craft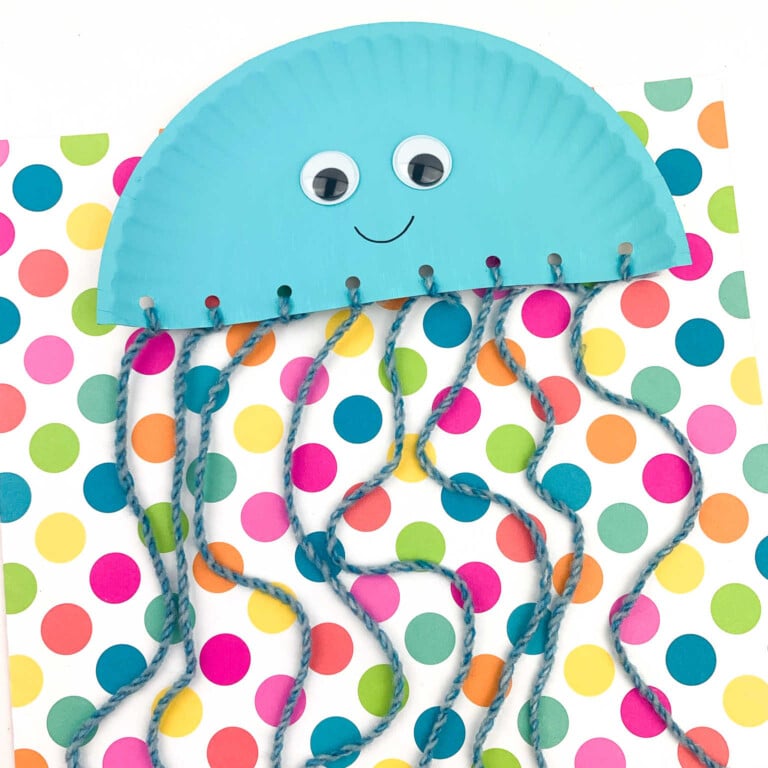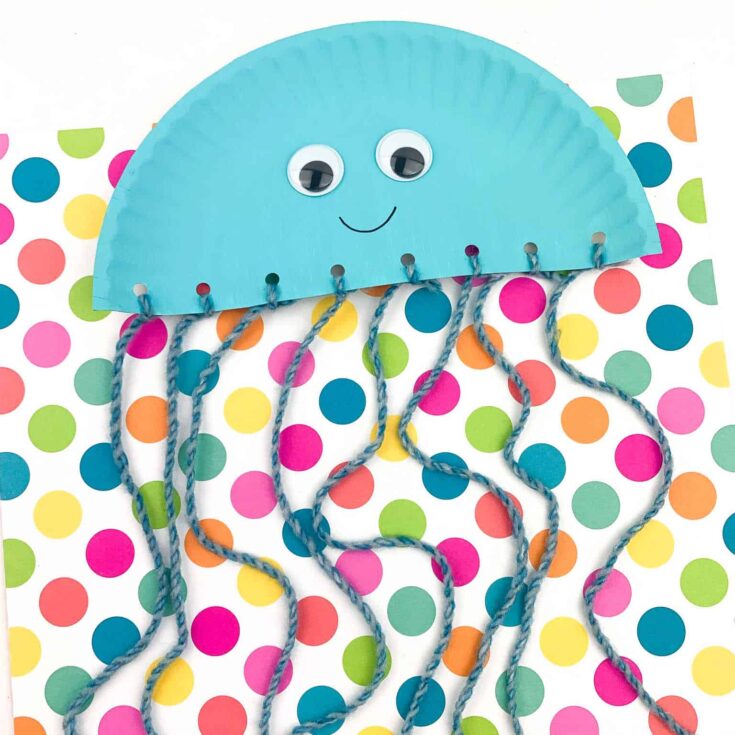 Cute, and easy Octopus Craft out of a paper plate. Perfect for preschoolers and kindergarteners.
Additional Time
30 minutes
Materials
Instructions
Cut the paper plate in half.
Paint one half of the paper plate blue. Use a second coat if needed. Set aside and allow to dry completely. You could also use a blue plate so you didn't need to paint it.
Using the hole punch, punch 8 holes into the flat bottom part of the paper plate. Try to space the holes out as evenly as possible.
Cut the yarn into 12 inch pieces. Complete this step 8 times.
String each piece of yarn into each hole in the paper plate and tie into a knot. (I place the yarn going through the painted side and tie in a knot on the unpainted side.
Stick (or glue) the eyes onto the paper plate. Draw a mouth.
Your paper plate craft is ready for play or display!
Notes
Use a blue plate so you don't have to paint it to save time!
Recommended Products
As an Amazon Associate and member of other affiliate programs, I earn from qualifying purchases.