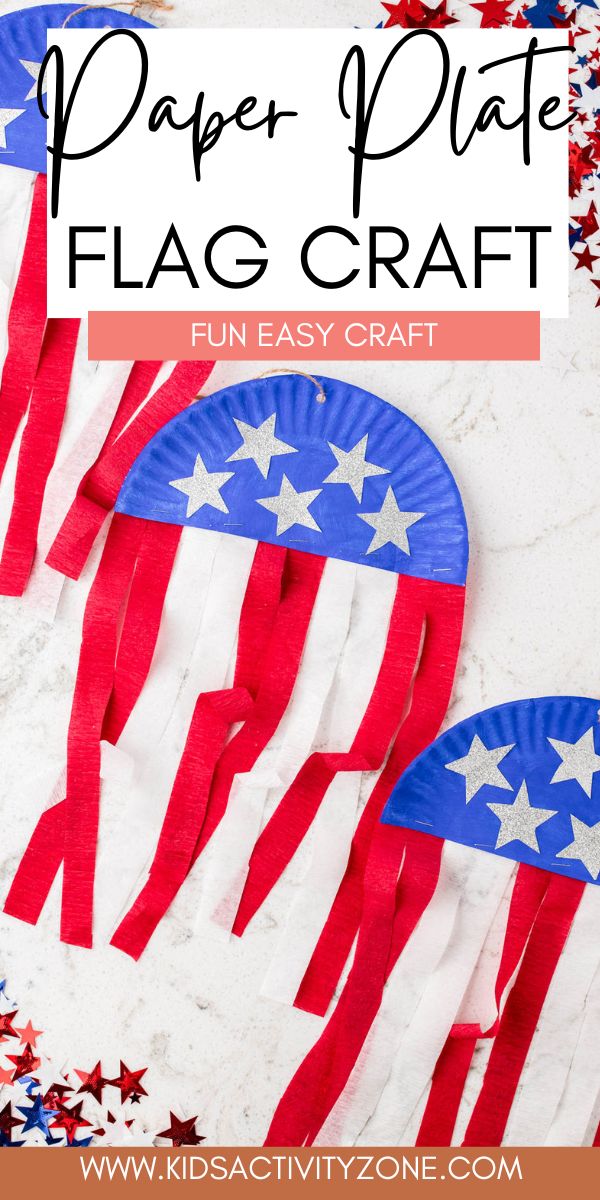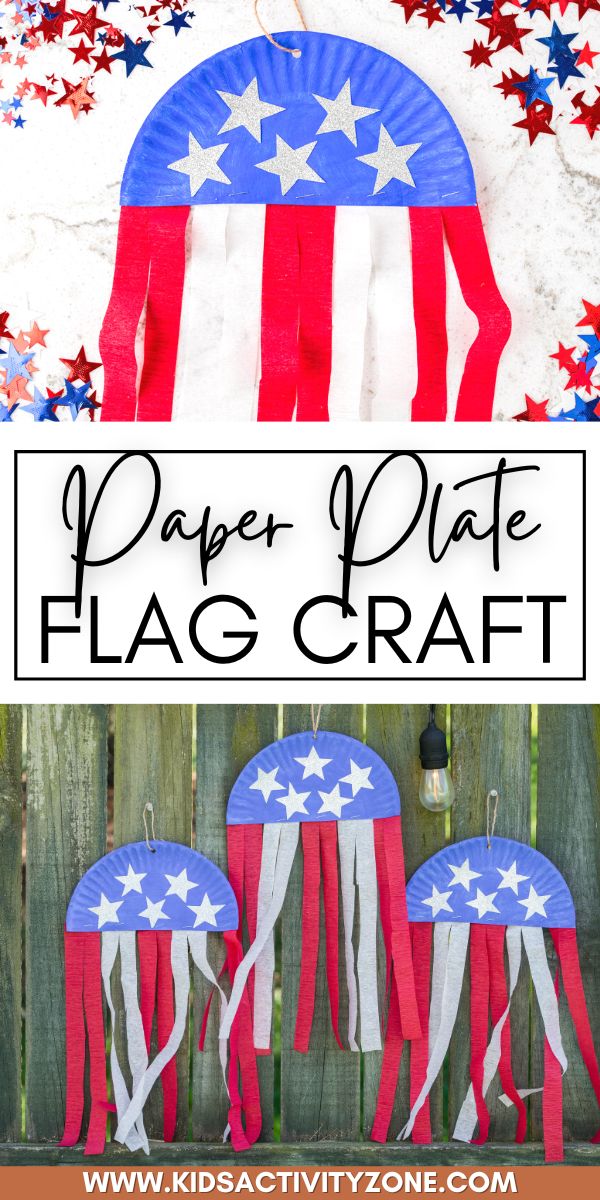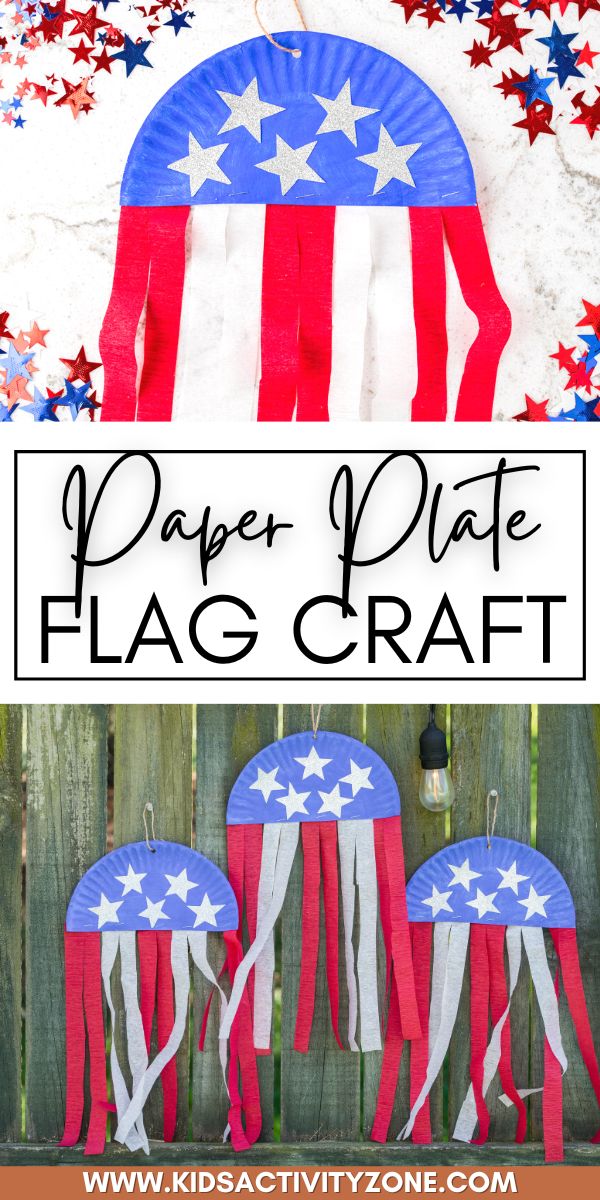 Turn a paper plate into an adorable Paper Plate Flag craft! This easy kids craft is perfect for Memorial Day and 4th of July. An easy Red, White and Blue craft that kids will have so much fun making this summer.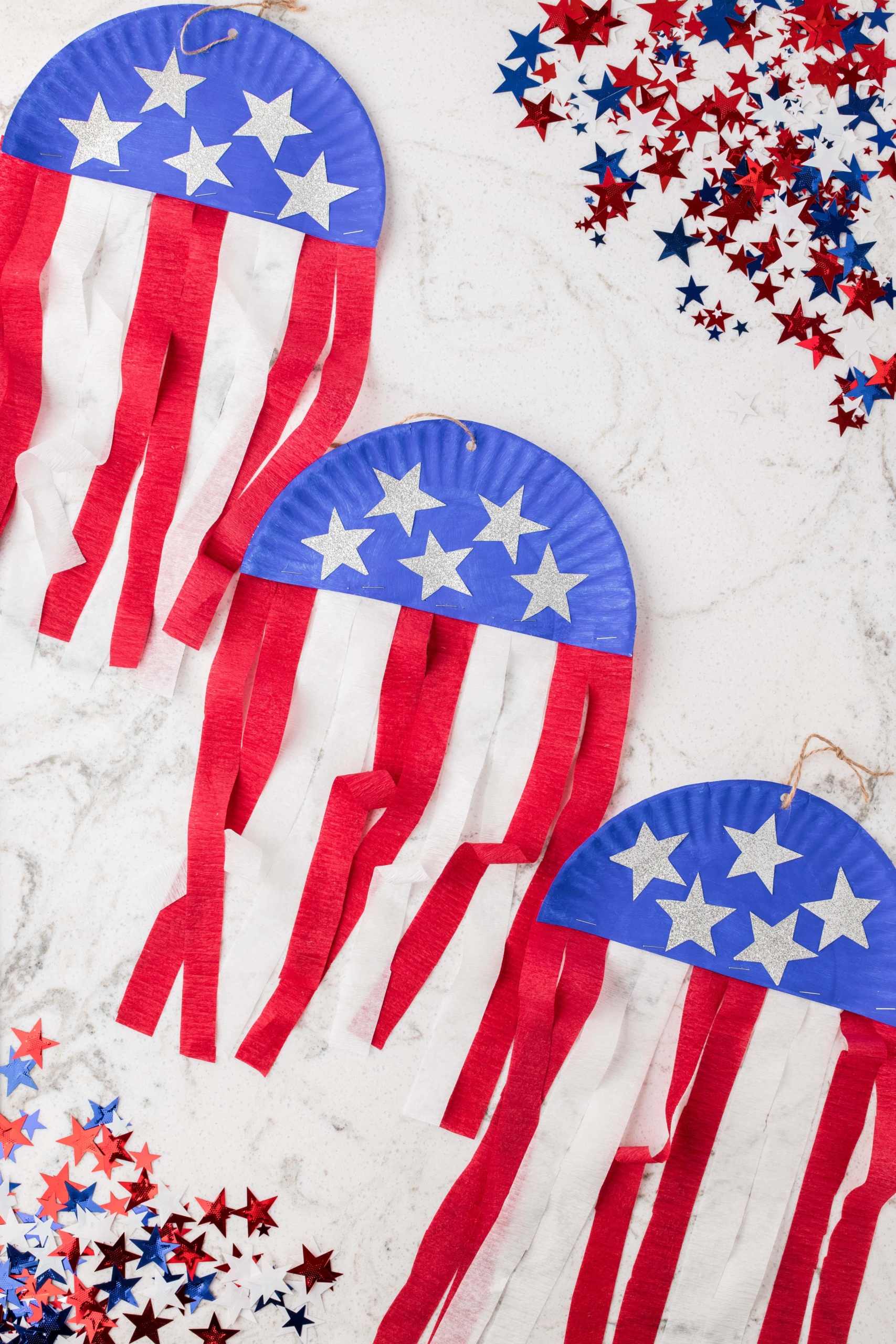 This paper plate flag craft is super easy to make and is the best DIY decor! If you are hosting a celebration for the fourth of July or Memorial Day, then you can include this fun craft time in your day. We love to make crafts and then make some sweet treats like 4th of July cake mix cookies.
I love this craft because it looks exactly like the patriotic bunting you can buy at the store, but I think handmade crafts are way better. The special memories that you can make while creating these decorations is worth more than the "perfect" pre-made bunting. I'd much rather make paper plate flags with giggles and laughs, wouldn't you?
Why You'll Love this Paper Plate Flag Craft
It only takes 30 minutes to make this adorable paper plate flag! A great activity to add into your 4th of July or Memorial Day party plans.
Cutting, painting, and glueing are all fabulous activities to work on fine motor skills, making this a really great craft for young children.
This craft only requires affordable materials that you can buy in bulk. It would be an affordable craft for a large group to make together!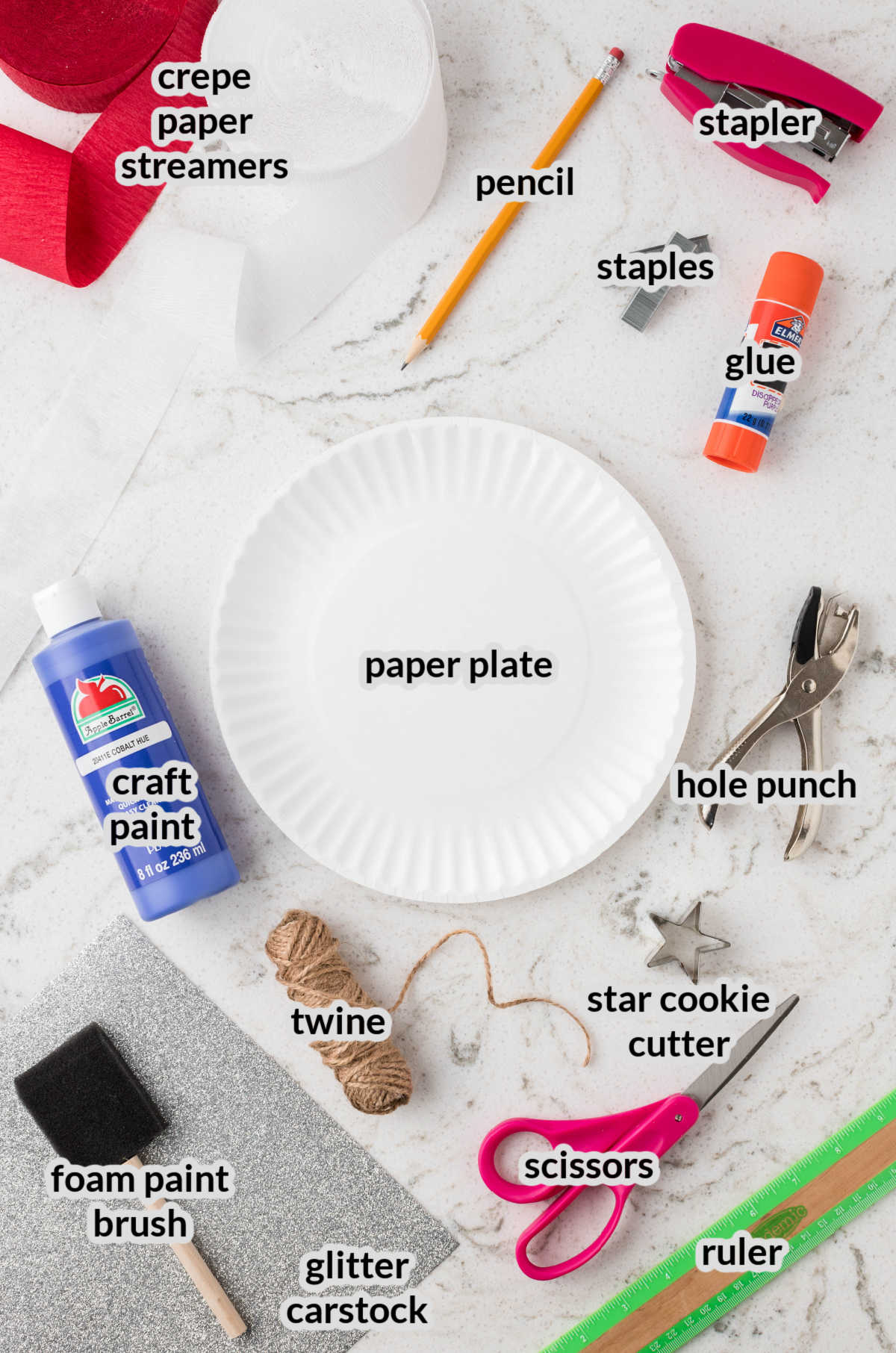 Supplies Needed for Paper Plate Flag Craft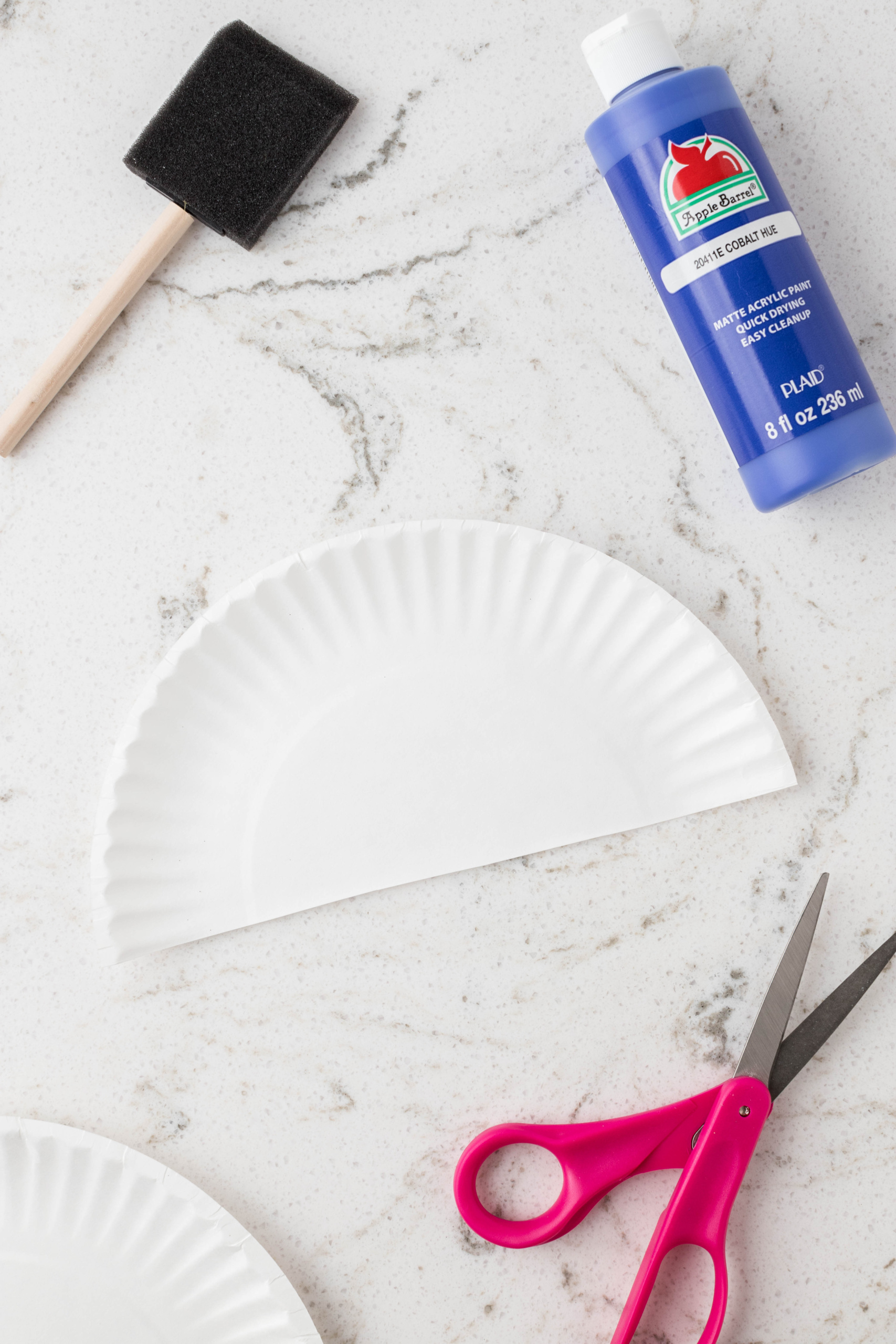 How to Make a Paper Plate Flag
Begin by drawing a straight line across the middle of a paper plate with the ruler and pencil. Cut the plate in half along that line.
Paint your paper plate half with blue paint, then set it aside to dry.
While the paint dries, make your stars. Take your glitter card stock and trace multiple stars with the star cookie cutter and a pencil. Then, cut out all of the stars.
Once the plate is completely dry, use the glue stick to glue the stars onto the paper plate in a random pattern.
Cut 5 strips of streamers, 6 red and 4 white, then cut those in half. Then, using the stapler, staple them all onto the bottom straight edge of the paper plate, alternating colors.
Lastly, poke a hole in the top of the plate and strand twine or string through it.
Hang in a visible place and enjoy your cute decor!
Can I hang this paper plate flag craft outside?
As long as it isn't too windy or raining, you can hang this super cute craft outside! It would be great decor for your 4th of July party. You can hang them one by one or attach multiple to a long strand of twine or ribbon to make a garland.
Pro Tips!
To speed up the process of this craft, purchase paper plates that are already blue. You can find them in the party section of your local Walmart or order them online.
Trace the star shapes on the back of the glitter cardstock so that you don't have to fight the bumpy glitter to get a solid outline.
If you have them, use glue dots instead of a glue stick and staples to attach the stars and streamers. You won't have to wait for any glue to dry and the streamers won't be showing staples!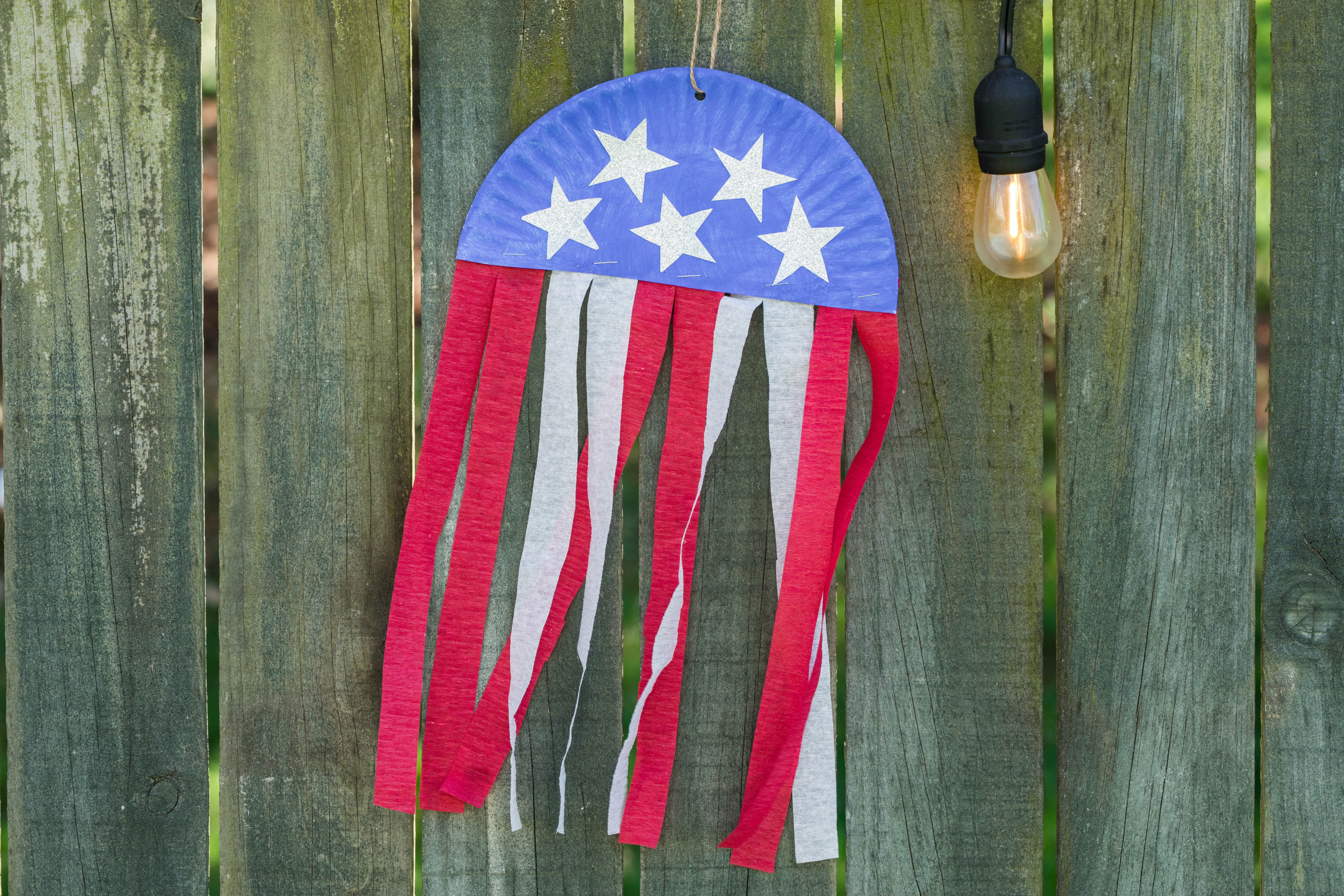 Skip the store bought American flag banners and make your own with super simple craft supplies and a whole lot of fun!
More Patriotic Crafts You'll Love
Yield: 1 Paper Plate Flag
Paper Plate Flag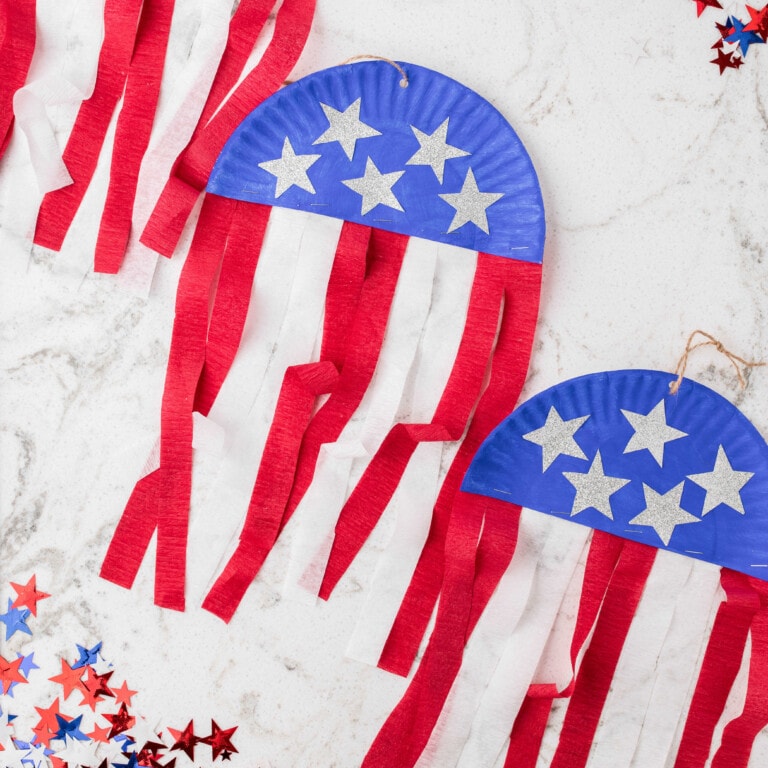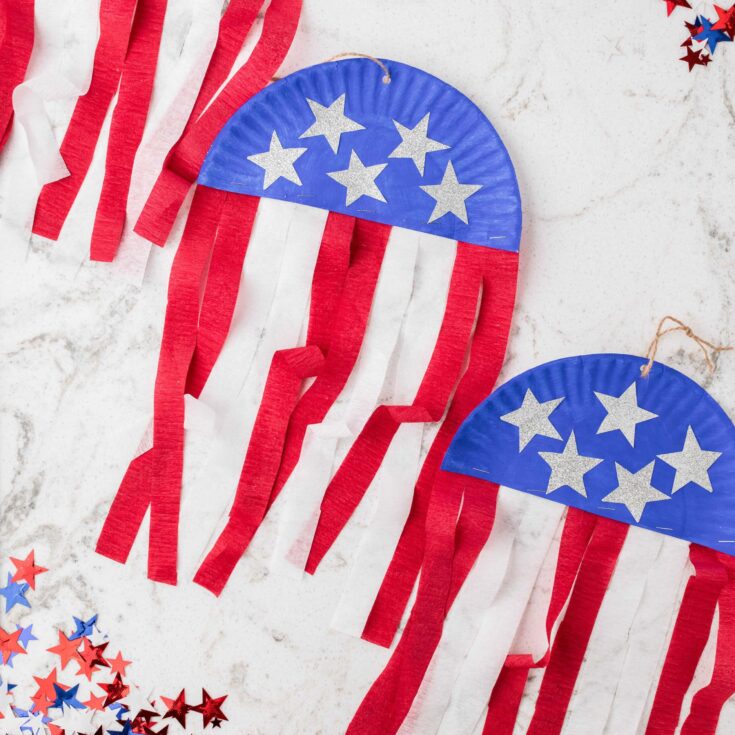 Easy Paper Plate Flag craft makes the perfect kids Memorial Day or 4th of July craft. Turn a paper plate into a flag for the perfect Red, White and Blue decorations.
Materials
Instructions
First, let's prepare our plate by cutting it in half.
Take ½ of the paper paint and paint it blue. Allow the plate to dry for 10-15 minutes.
While the plate is drying, use the cookie cutter to trace 5 stars onto the back of the glitter card stock and cut them out. Set aside.
Next, cut your red and white crepe paper streamers into 12-inch sections. You will need 5 streamers. Set aside.
Once the plate is dry, glue the glitter card stock stars onto the plate. Press to secure.
Staple or glue the streamers across the bottom of the plate with alternating colors. Once secure, cut each streamer up the center to create flow.
Punch a hole in the top and thread your twine through the hole to create a hanger.
Now your paper plate flag is ready to fly!
Recommended Products
As an Amazon Associate and member of other affiliate programs, I earn from qualifying purchases.