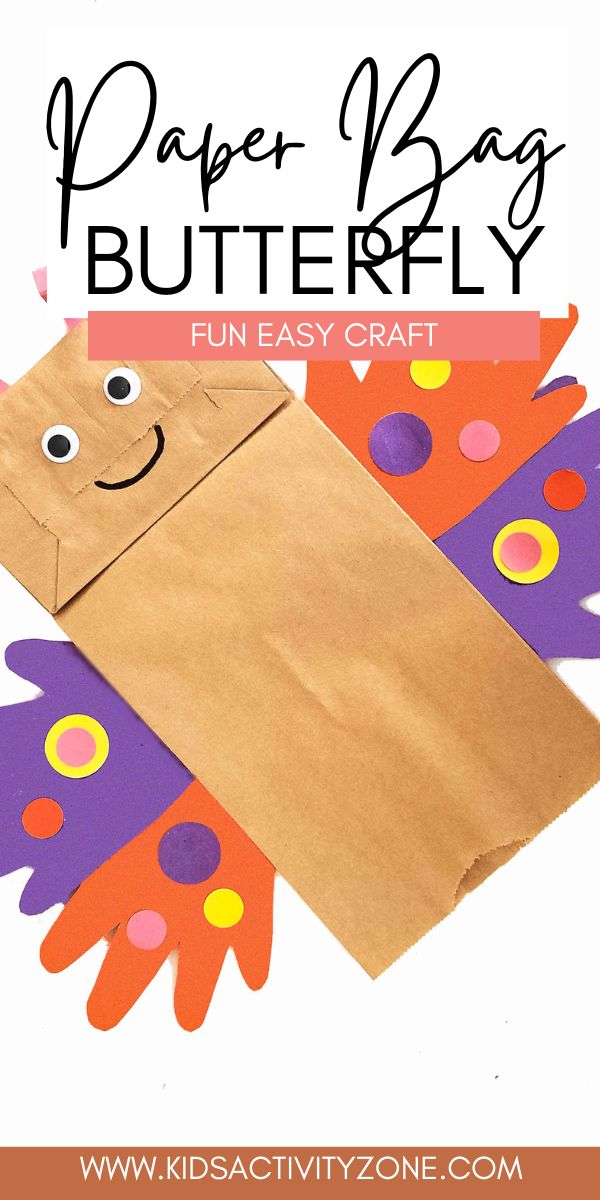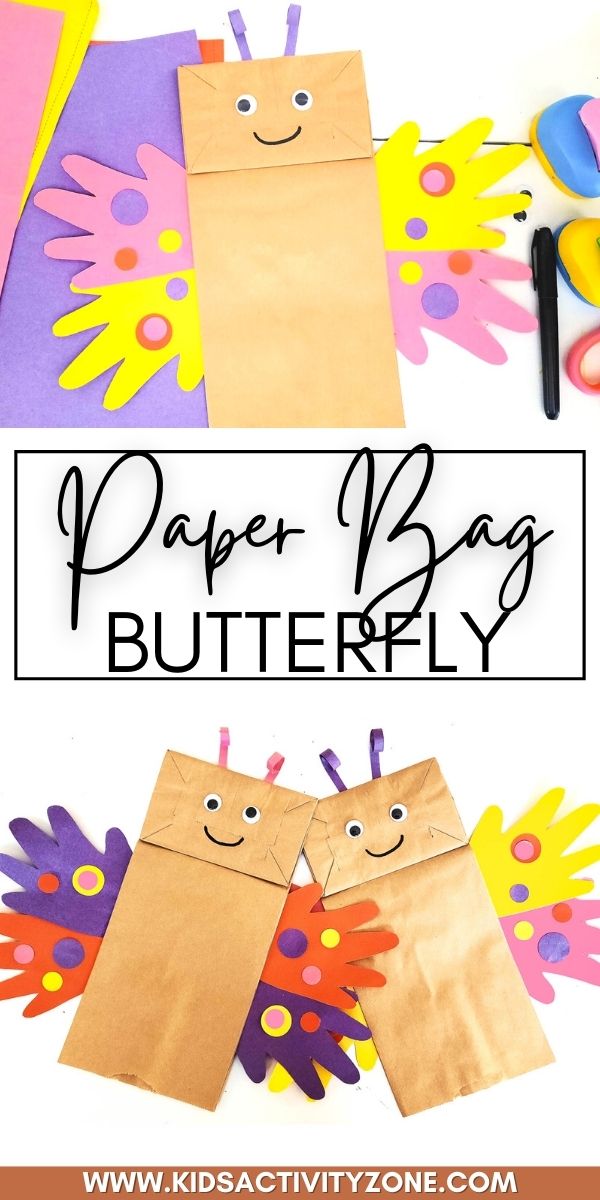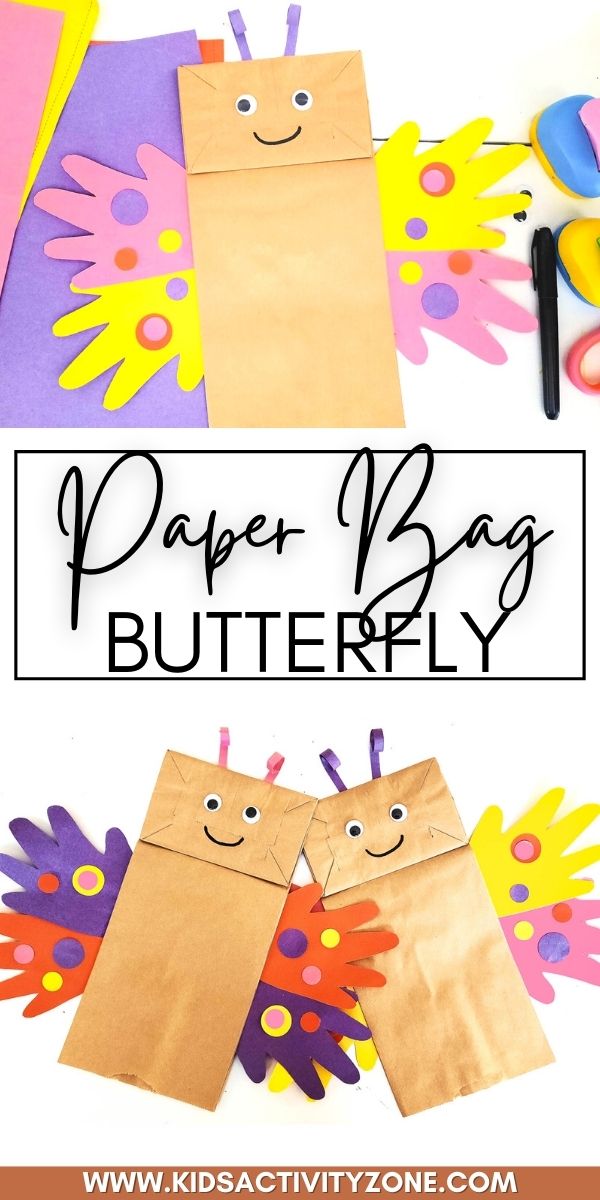 Fun and easy Paper Bag Butterfly craft is so fun to make with kids! It requires minimal supplies, is inexpensive to make and uses the child's handprints for wings. An fun kids craft for spring and summer.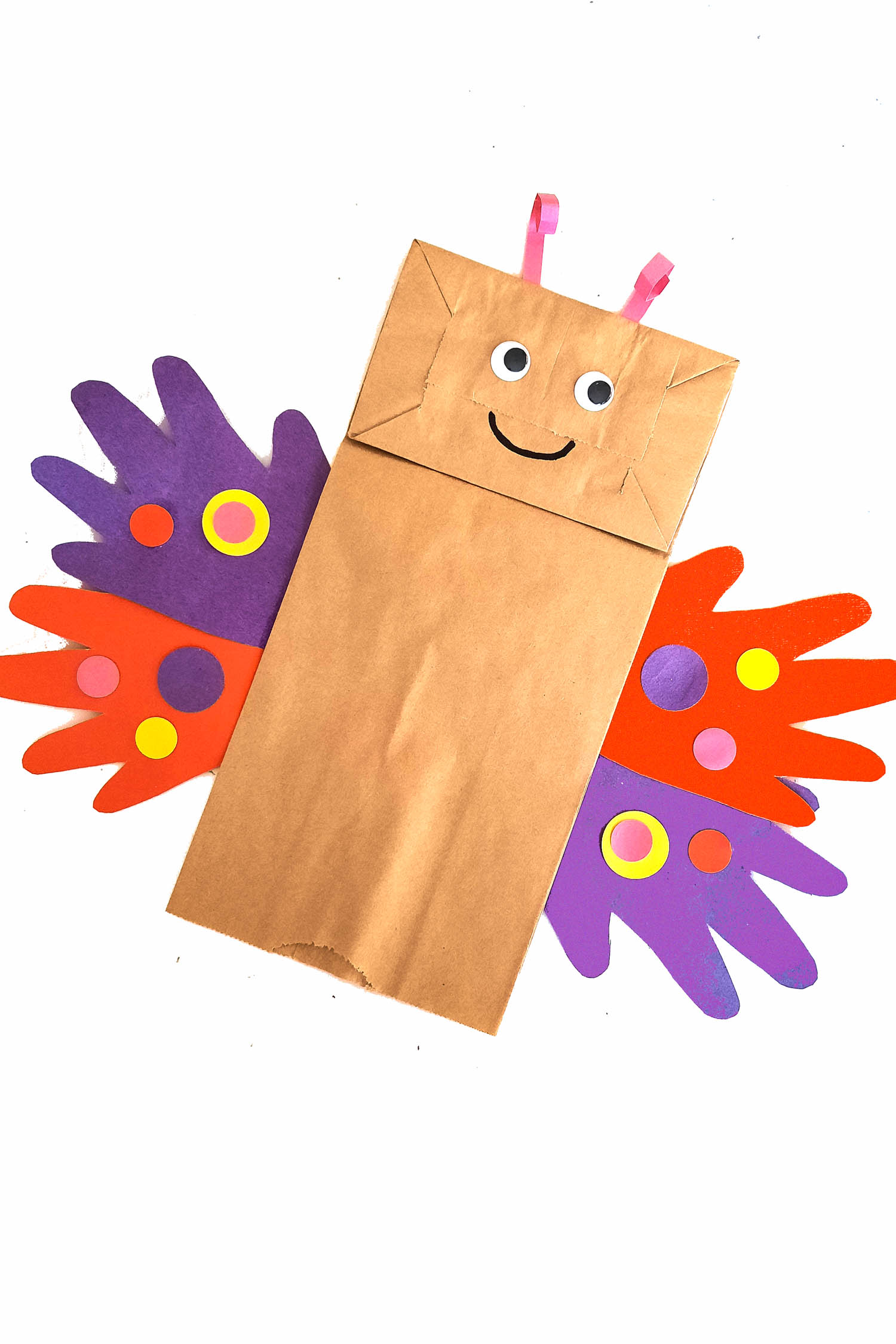 This precious paper bag butterfly is a great craft to make in Spring or Summer! It would also be a great craft for kids to make at a butterfly themed birthday party. Complete with some tasty spring sugar cookies!
I love this craft because my kids can pretty much make it unsupervised. There's a little bit of cutting and pasting, so younger kids may need some help, but overall this is a really simple craft.
It turns out so adorable and my kids really use their imagination to play with them afterwards. You can put on a puppet show with your paper bag butterfly or take it outside as you go on an adventure searching for real butterflies!
There's so much fun waiting, so let's get started!
Why You'll Love this Paper Bag Butterfly
This sweet paper bag craft uses your kids handprints as the butterfly wings. It's a great keepsake craft to look back on one day and remember how little their hands were!
If you do craft time a lot, you will likely have many of the supplies for this craft on hand. Either way, the supplies are affordable and leftovers can be used in many other crafts.
Cutting and pasting are great activities that encourage the refinement of fine motor skills.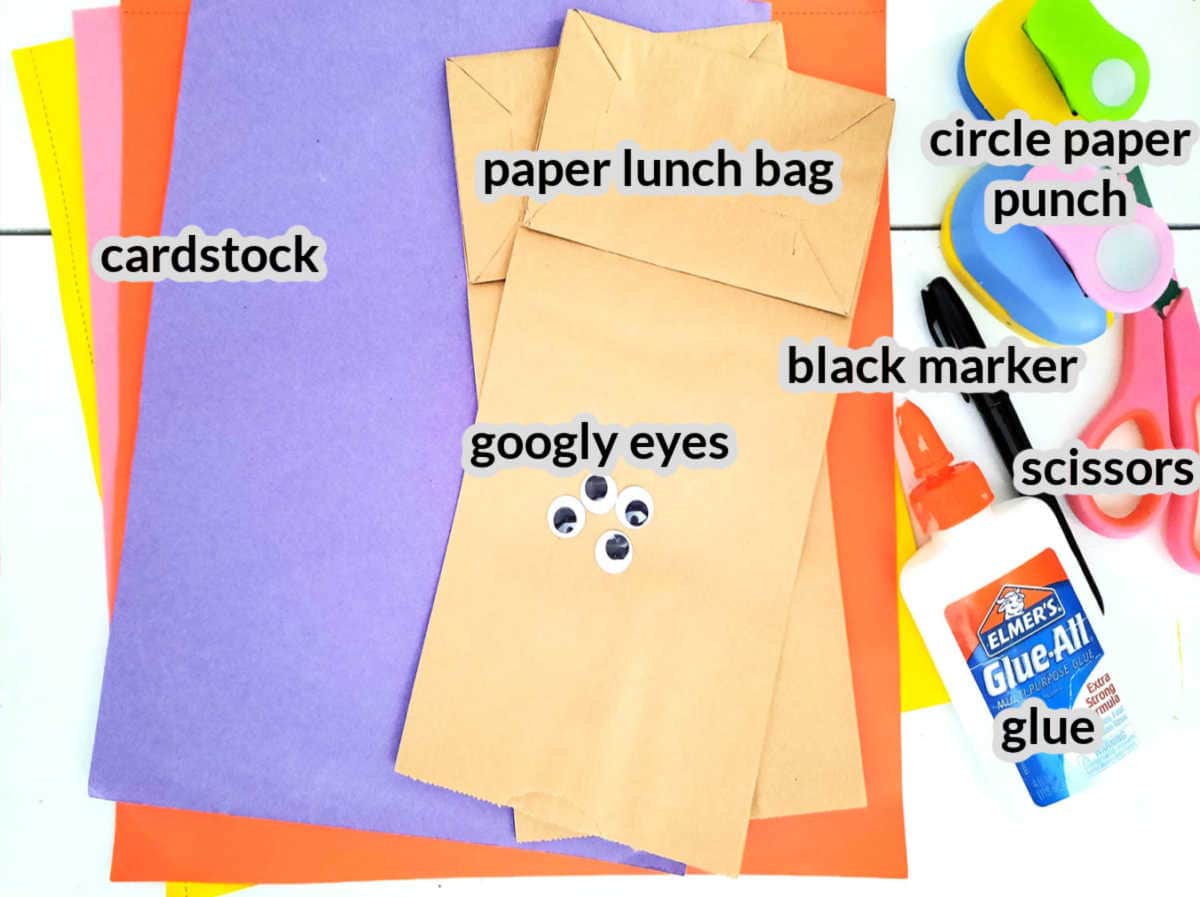 Supplies Needed for this Paper Bag Butterfly Craft
How to Make a Paper Bag Butterfly
Choose the two colors of cardstock that you want to use. Then, have your kids trace their handprints on each color. Older kids can probably trace their own handprint!
Cut out the handprints and then glue two to each side, one of each color.
Next, glue the googly eyes onto the flap of the brown paper bag. Then draw a mouth with the black marker. You can draw a simple smile or get a little more adventurous and creative with it.
Punch out different sized circles out of various colors of cardstock. If you don't have the circle punches, you can freehand a few circles to cut out. Glue them on the wings.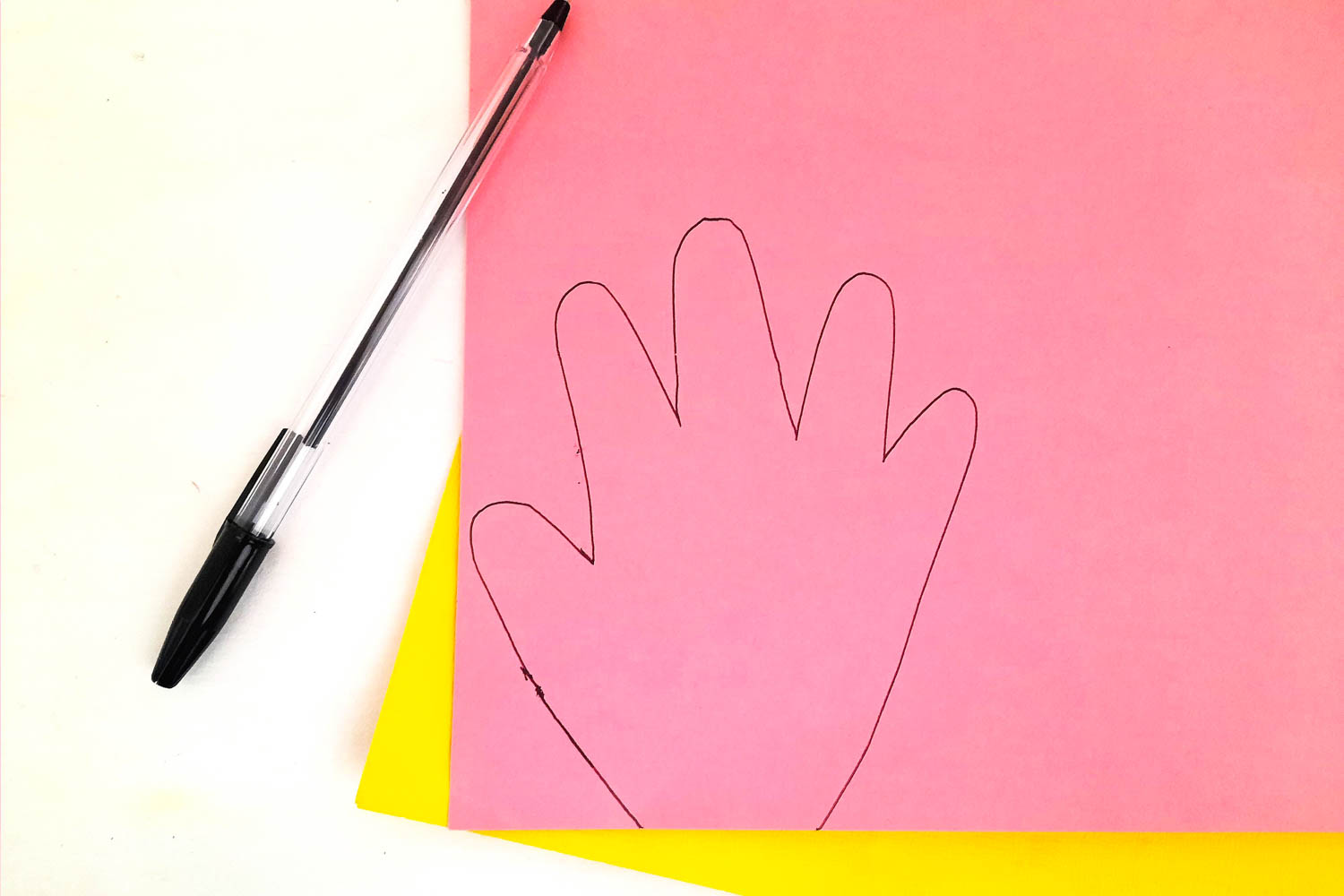 Cut two thin strips out of another color of cardstock and then twist the ends of the strips around your finger or a pencil to make antennae.
Glue the antennae to the top of the bag.
Allow all of the glue to dry and then have fun!
Are there any variations I can make to this craft?
Yes! In place of the curled cardstock, you could use pipe cleaners. And instead of circles punched out of cardstock, you can use some pretty circle stickers.
You can also draw eyes on instead of using googly eyes, and so much more. Use your imagination and make your paper bag butterfly exactly how you'd like it to look!
Pro Tips for the Best Paper Bag Butterfly
You can make so many variations of this butterfly paper bag puppet! Use different colors and switch things up to make each butterfly perfectly unique.
Feel free to add spring or summer themed stickers to each butterfly. You could also decorate them with glitter glue!
Make sure you add plenty of glue to each part you add to your butterfly so that it stays secure as you play!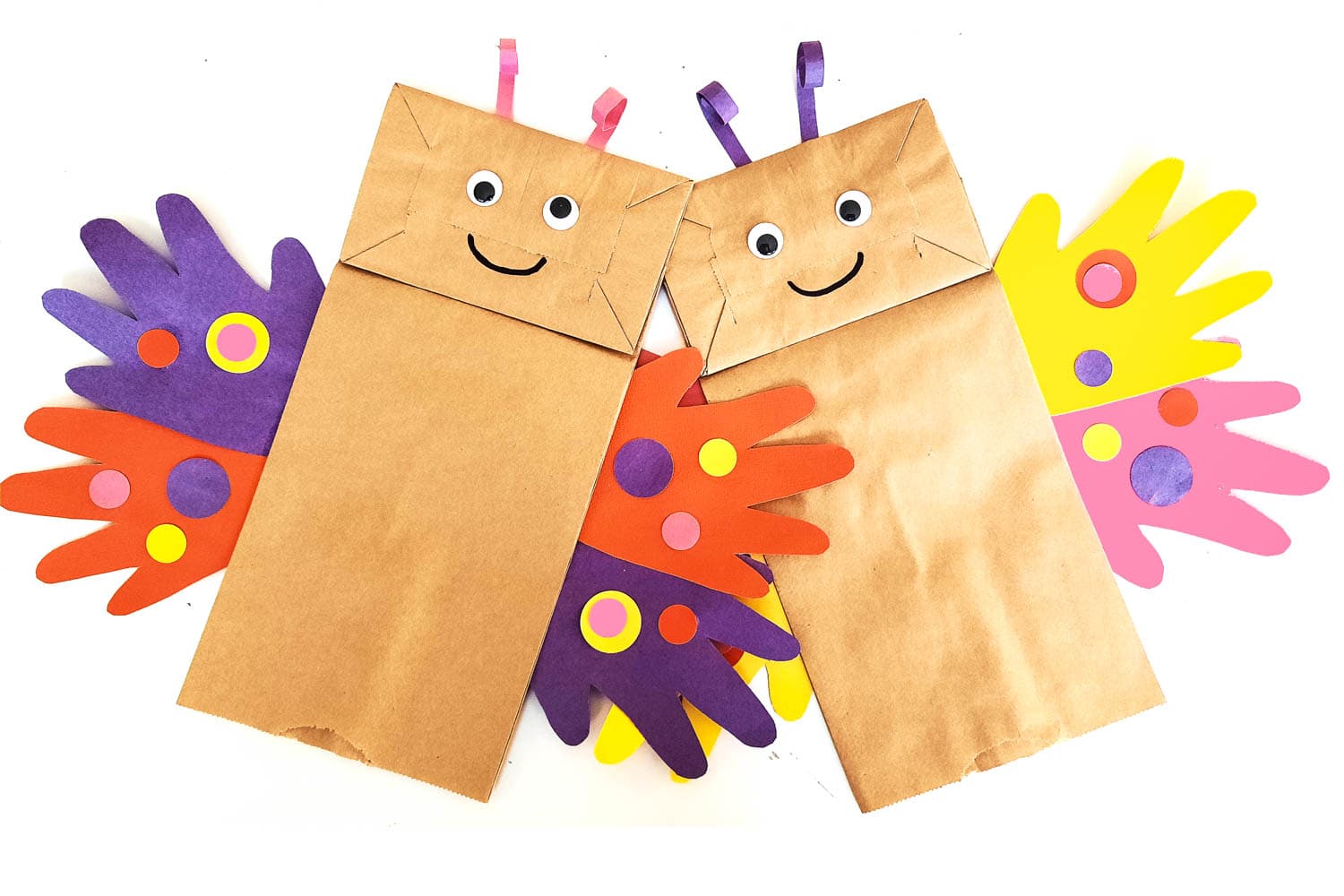 You're going to make so many memories with this sweet paper bag craft! I can't wait to see your creations.
More Butterfly Crafts You'll Love
Paper Bag Butterfly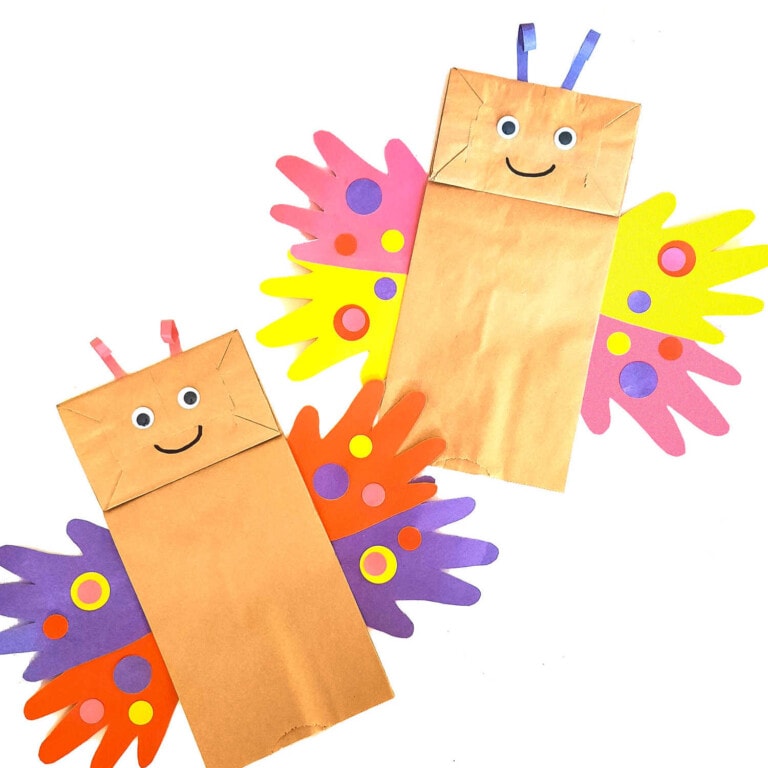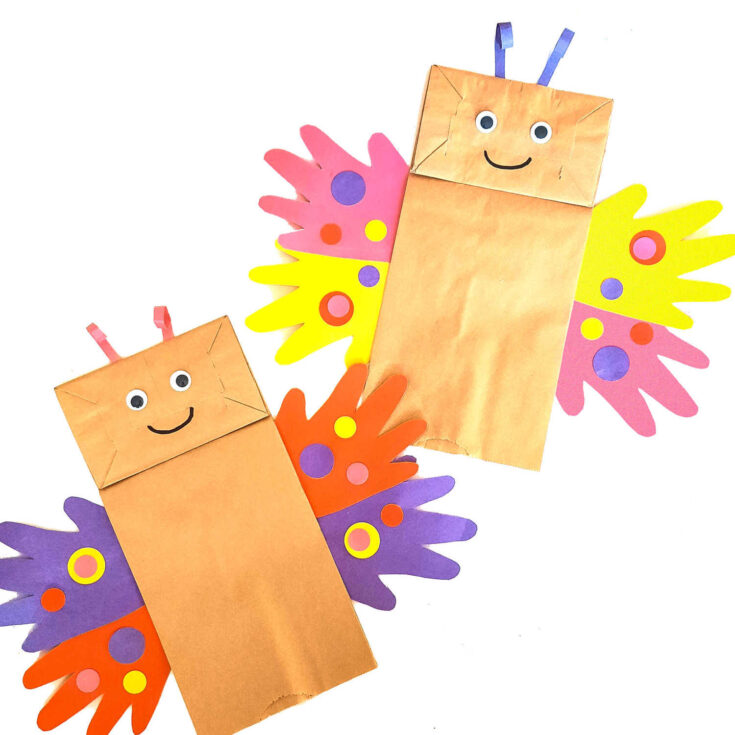 Fun, easy paper bag craft for kids! This Paper Bag Butterfly is easy to make and so fun for spring and summer.
Materials
Instructions
First, choose 2 colors of cardstock. Trace your little one's handprint on both colors. You will need 4 handprints total, 2 of each color.
Cut out the handprints.
Now, glue 2 of the handprints together, 1 of each color, side by side.
Glue the handprints to the side of the bag.
Repeat with the other 2 handprints on the other side of the bag to make wings.
Next, glue the 2 googly eyes in place.
Also, draw a simple mouth with the black marker.
Then, use the different sized paper punches to make circles out of various colors of cardstock.
Glue the circles on the handprint wings in your pattern of choice.
Finally, cut two small strips of your choice of color cardstock.
Roll the ends of the strips with your fingers or a pencil to make antennae.
Then glue the antennae in place at the top of the bag.
Such a beautiful spring craft that we had a lot of fun creating, and so many different color possibilities. Be sure to make more and see what colors you like best!
Recommended Products
As an Amazon Associate and member of other affiliate programs, I earn from qualifying purchases.