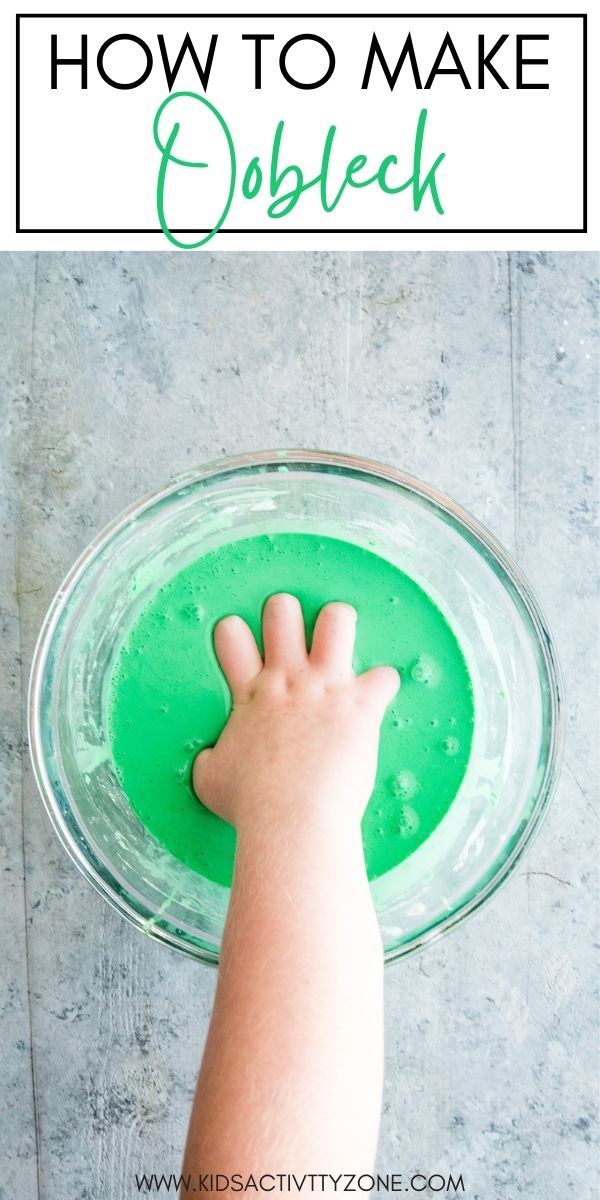 Did you know you can make Oobleck with only two ingredients? It's so much fun to play with and easier to make than slime! Sometimes it's liquid, sometimes it's solid, but it's always fun to play with! With ingredients that are found in your pantry anyone can make this.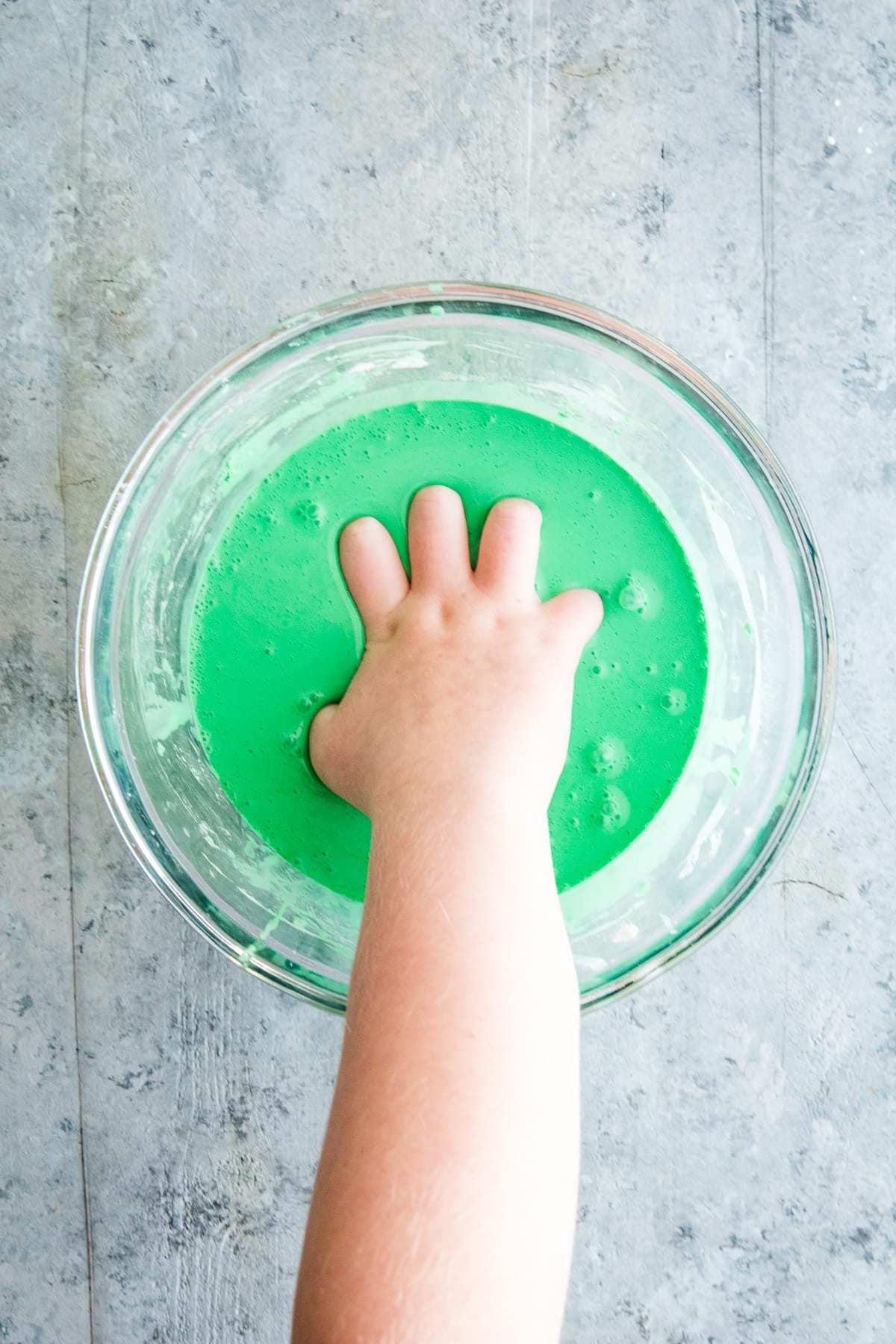 Whenever I need a quick activity to keep the kids entertained on a rainy day or when they are bored I grab cornstarch and water then mix up a batch of Oobleck.
It's a great activity that's so easy to do, takes a few minutes to mix and I always have the supplies on hand.
The kids love playing with it because the texture changes depending on the force you apply to it. Plus, you can change the colors for the seasons or their moods!
What is Oobleck?
Is it a solid or a liquid? Actually it's neither! Crazy, right? It's called a non-Newtonian fluid. This means it may seem like a solid or act like a liquid, but is different then a normal liquid or solid. Confusing, right?
This is why this is a great hands-on science experiment for kids. It shows how changes in pressure can change the properties of some materials.
To use this as a science experiment grab a spoon then apply quick pressure. This increases the viscosity in Oobleck forcing the cornstarch particles together and it makes it feel hard. With pressure you can even form it into a ball in your hands.
When you let the pressure off of the mixture it kind of melts and becomes a liquid again.
Join Bartholomew Cubbins in Dr. Seuss's Caldecott Honor–winning picture book about a king's magical mishap! Bored with rain, sunshine, fog, and snow, King Derwin of Didd summons his royal magicians to create something new and exciting to fall from the sky. What he gets is a storm of sticky green goo called Oobleck—which soon wreaks havock all over his kingdom! But with the assistance of the wise page boy Bartholomew, the king (along with young readers) learns that the simplest words can sometimes solve the stickiest problems.
Oobleck comes from the Dr. Seuss book Bartholomew and the Oobleck where a gooey green substance fell from the sky, Oobleck, and wreaked havoc on the kingdom. Read the book and then make Oobleck for a fun activity in the classroom or at home!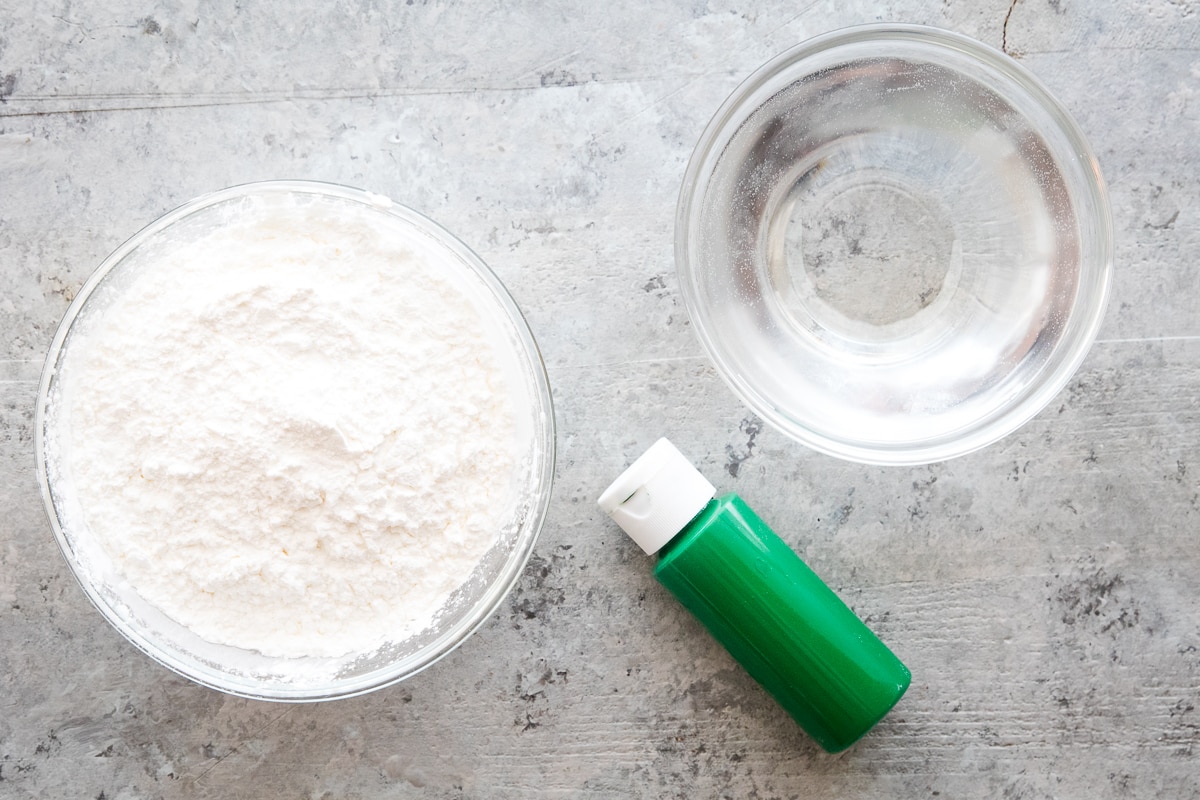 Only 2 Ingredients Needed!
Cornstarch – This can also be referred to as cornflour.
Water
Paint or Food Coloring (optional) – We added a green tempera paint to ours, but you can use food coloring too!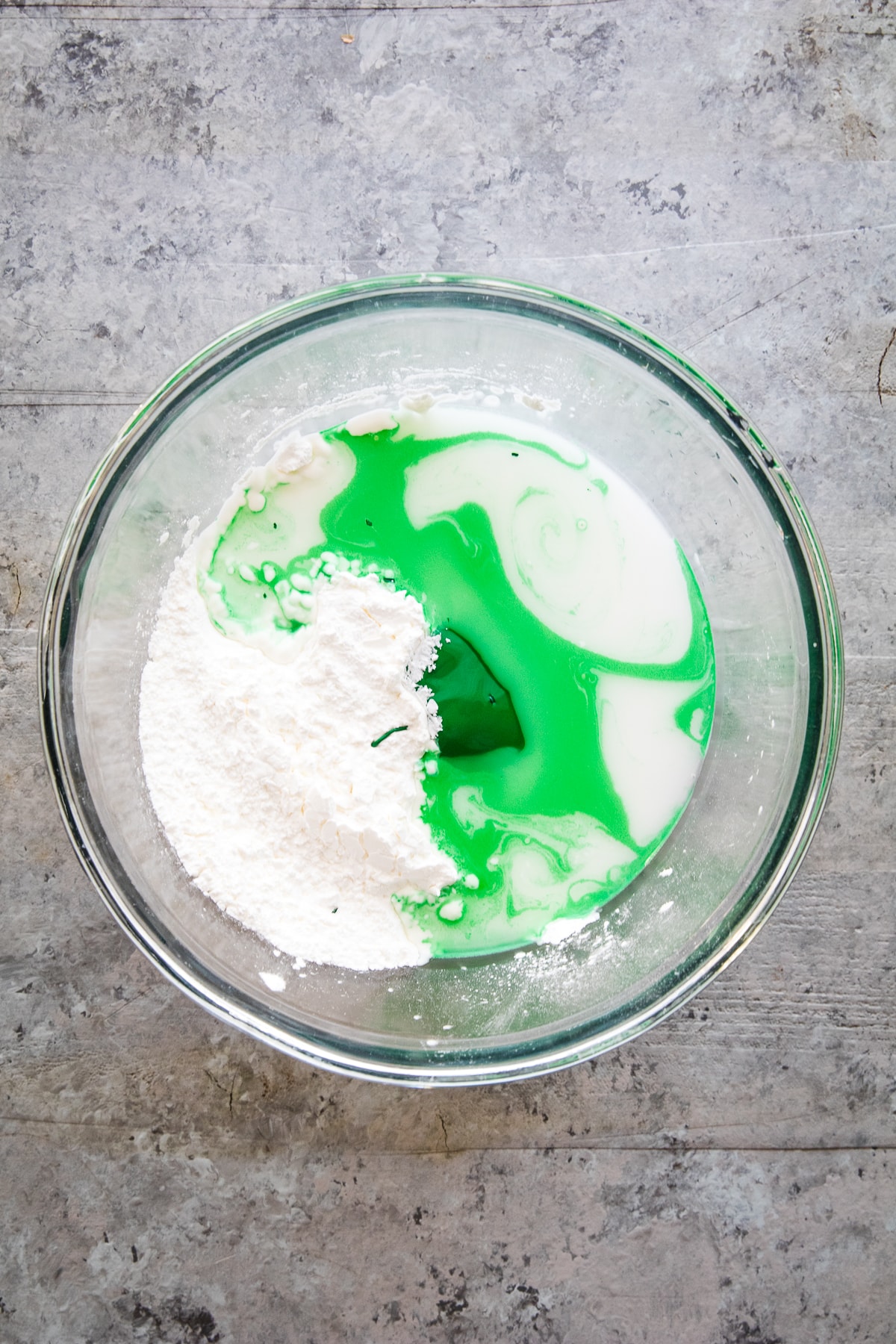 Mix the Oobleck Up!
Next just combine the cornstach and water in a bowl. Then mix until completely combined and no lumps remain.
If you want to color the it add a few drops of paint or food coloring to it and mix to combine it.
We added paint that was washable in case we had any accidents. It helped make it an easy clean up.
Now, dig your hands in and play!
How long does Oobleck last?
It only lasts about a day before it separates and needs to be disposed of. It's inexpensive and easy to make so once the kids are done playing just scrape it in the garbage or let it dry out overnight and scrape it out of the bowl the next day.
How to Play with it!
Grab a handful, squeeze it to make it hard then release it to make it ooze out through your fingers.
Drag your fingers through it in the bowl.
Grab an ice cream masher and use it to push down on it to see it get hard.
Make it a sensory bin and add in things to see if they float or sink!
At Halloween add in eyes and spiders. You could even put it in a witch's cauldron to make it festive.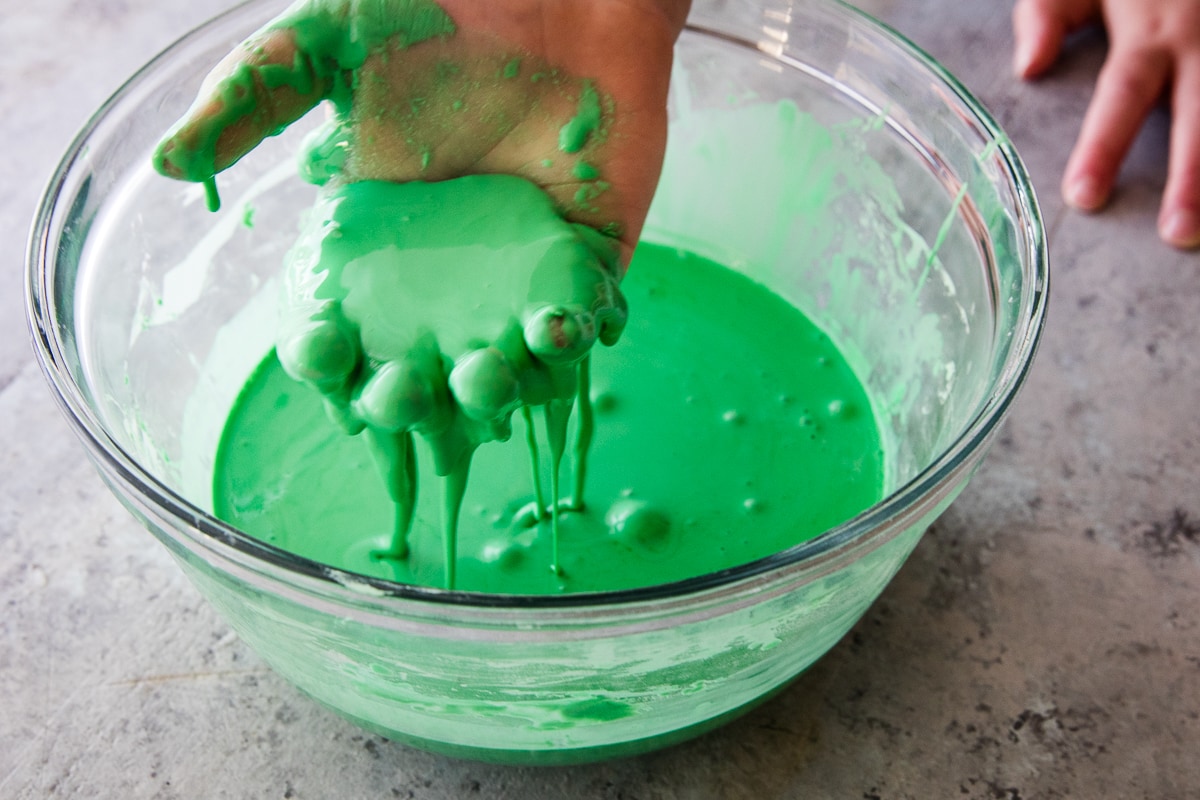 More Activities for Kids!
Have fun making your Oobleck!
If you take a picture and share them Instagram make sure to #kidsactivityzone or tag us @kidsactivityzoneblog so we can see them!
How to Make Oobleck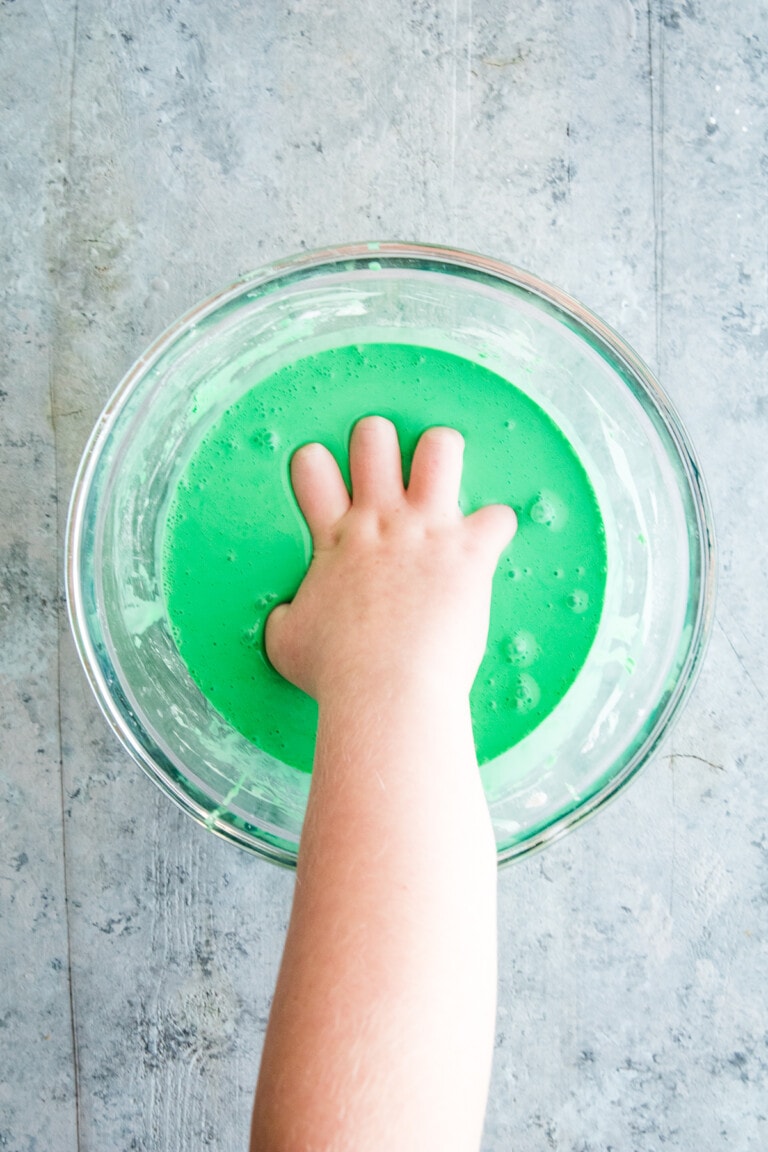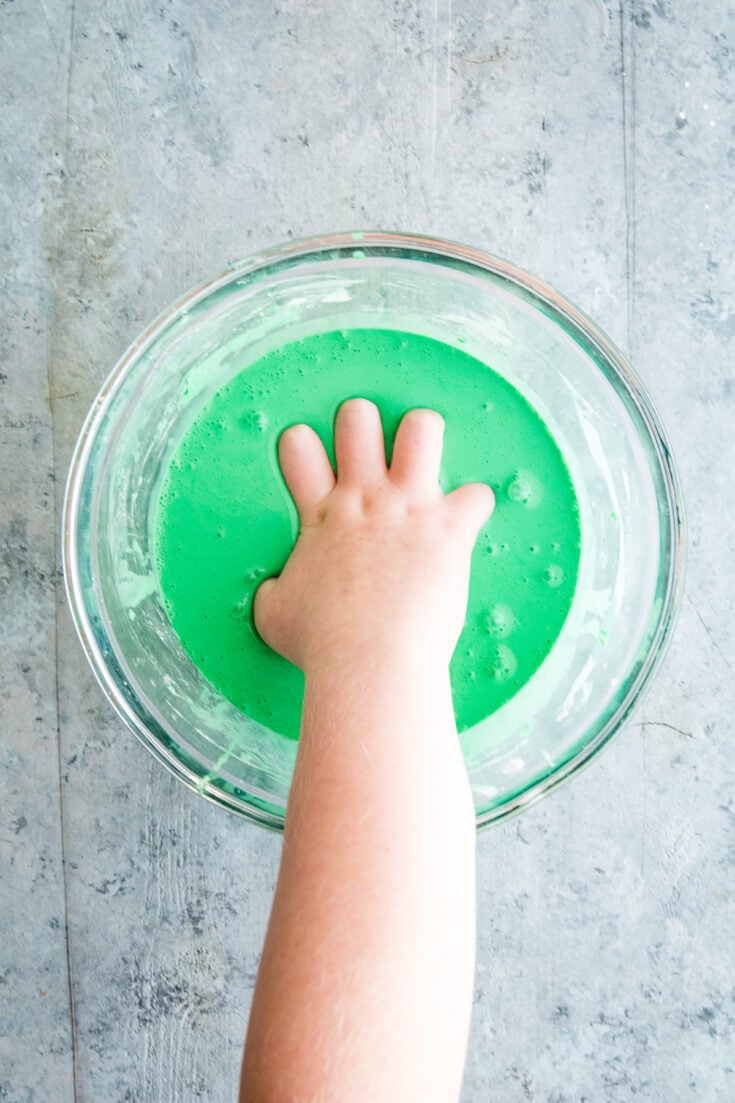 Quick and easy oobleck is such a fun activity with only a few pantry ingredients needed!
Materials
2 c. Cornstarch
1 c. water
Instructions
In a glass bowl mix together 2 c. cornstarch and 1 c. water until completely mixed and lumps are gone.
If you want to color your oobleck add a little paint or food coloring to it and mix together.
Notes
If the mixture is watery just add a little more cornstarch. If it is to thick add in a little water.
Recommended Products
As an Amazon Associate and member of other affiliate programs, I earn from qualifying purchases.