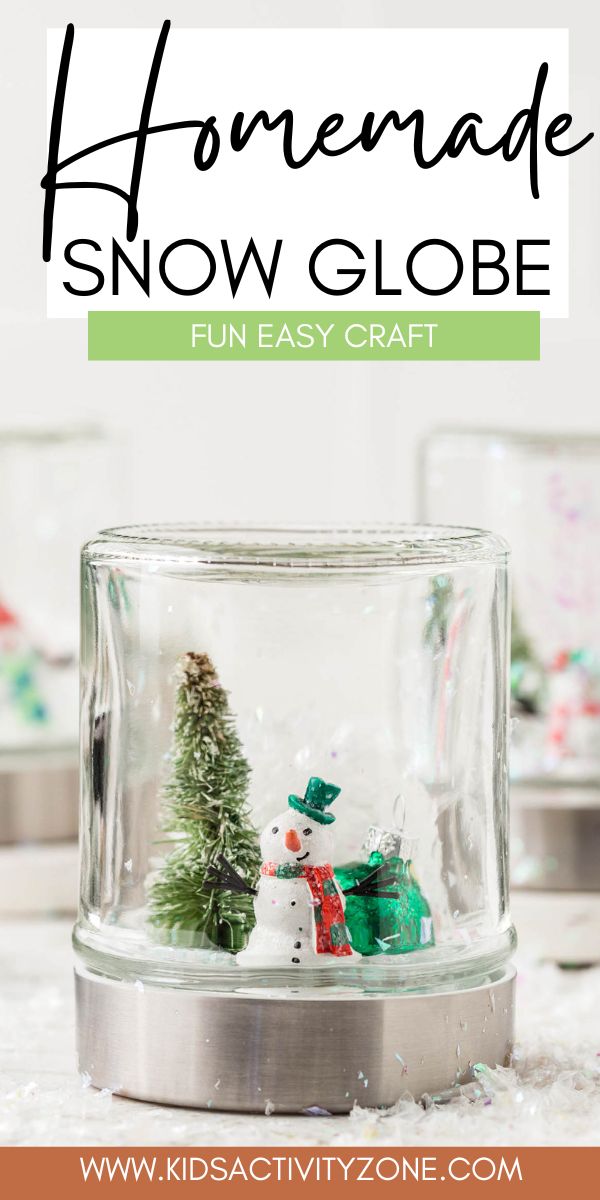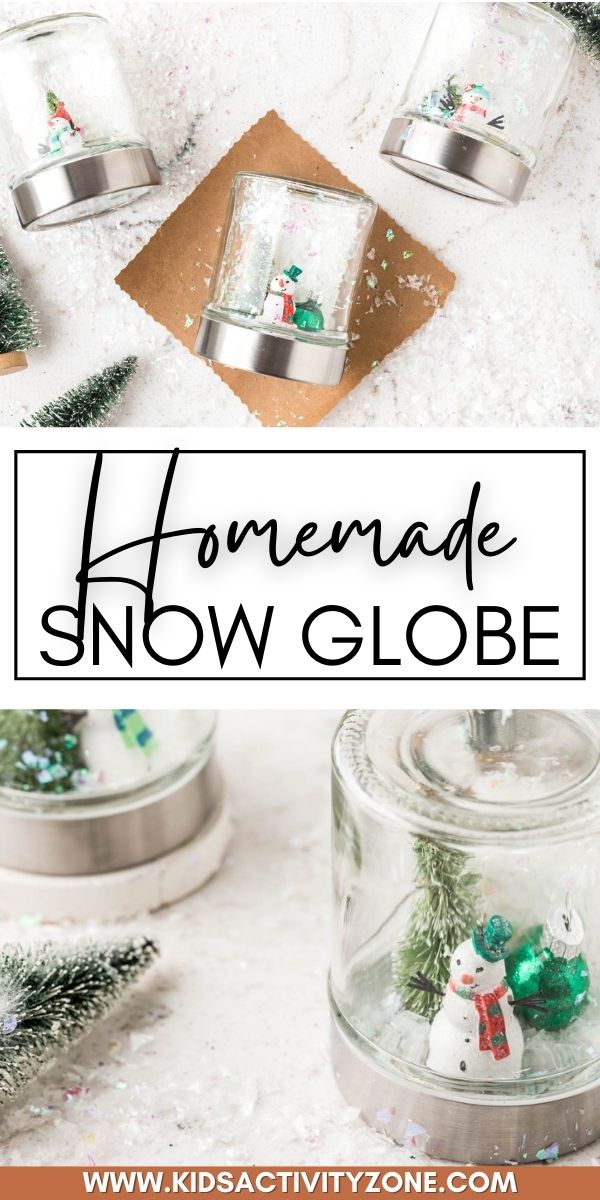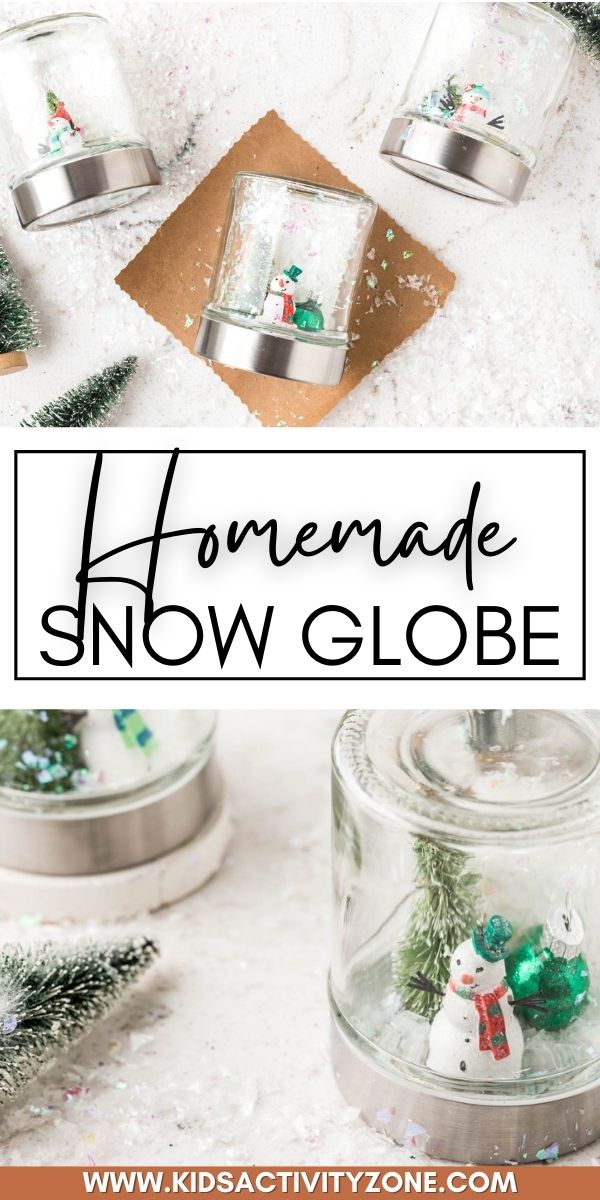 Learn How to Make a Homemade Snow Globe! These easy to make snow globes are a fun craft to make with the kids on cold winter days. Make them with or without liquid. Either way they are so cute.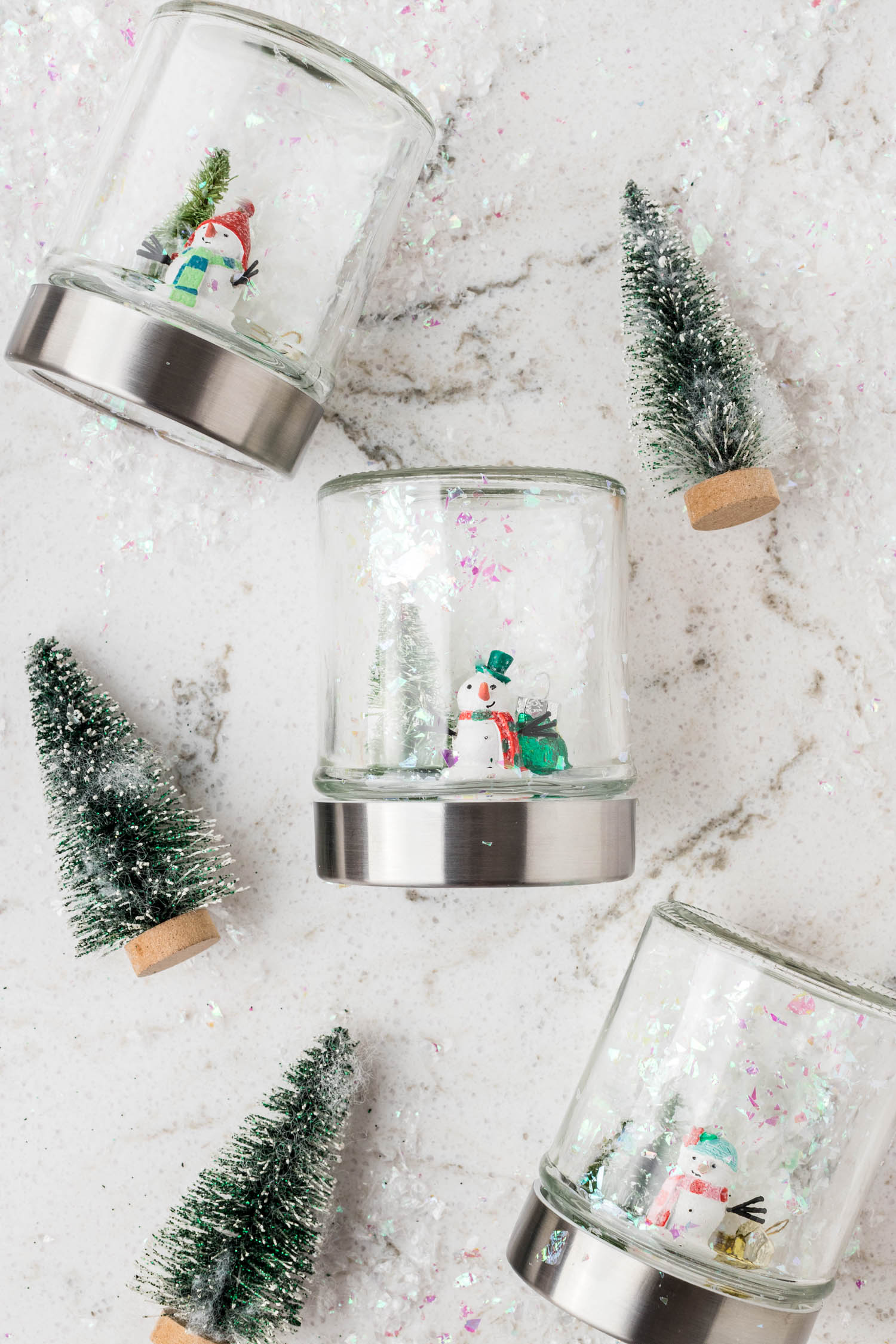 It may seem a bit daunting to create a snow globe yourself, but this DIY waterless snow globe is actually super simple. Your kids will have so much fun creating their own miniature winter wonderland! This craft is super simple and you'll only need a few supplies to complete it.
Now, if you want to work your way up to this homemade snow globe, you should make this adorable snow globe craft first and then make this one a little later. There's plenty of time during winter, so you've got more than enough days to make as many fun winter crafts as your heart desires!
This homemade snow globe is made without glycerin, but if you want it to have a more classic look, there are a few tips of how to adapt this craft to add glycerin.
Why You'll Love this Snow Globe Craft
These homemade snow globes make perfect decorations at Christmas time!
Have your kids make multiple snow globes to give out as gifts. These are an inexpensive and cute gift idea!
If you use a small enough jar, you can make this craft into a Christmas ornament!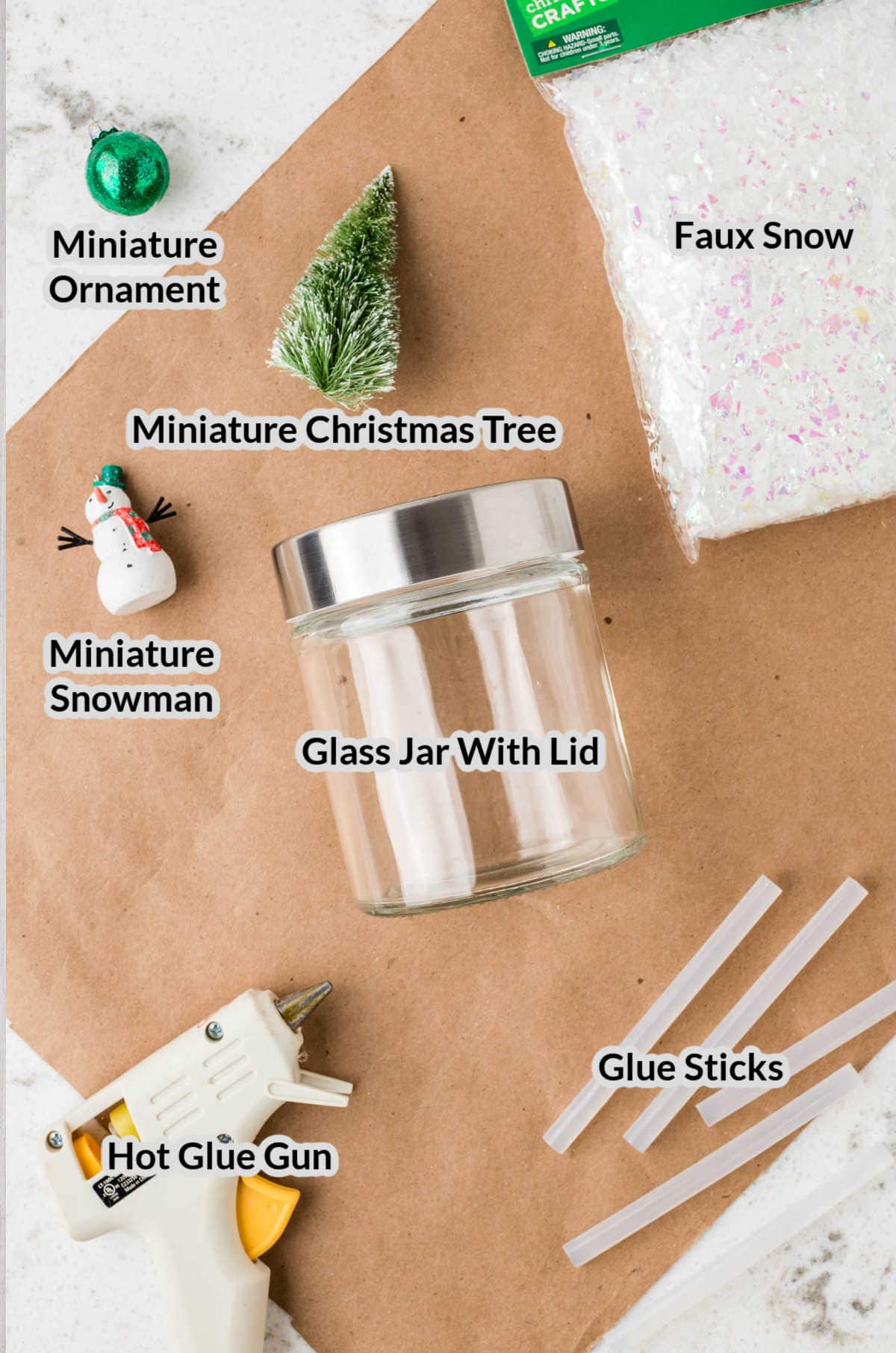 What You'll Need to make a Homemade Snow Globe
Hot Glue Gun – If you don't already have a hot glue gun, you can order one online or find one at your local craft store or on the craft aisle at your grocery store.
Hot Glue Sticks – Be sure to purchase glue sticks that will fit your particular hot glue gun.
Glass Jar with Lid – You can find glass jars at your local craft store, thrift stores, and even grocery stores. You could even use an old jam or salsa jar, just be sure to clean it well and take any stickers off.
Miniature Snowman, Ornament, and Christmas Tree – All of these miniature items can be found at your local craft store. You may also be able to find them in the holiday decoration aisle at your local grocery store.
Faux Snow – Be sure you purchase the glittery fake snow and not the fluffy stuff.
Optional (not included in this craft):

Glycerin – This craft does not use glycerin, but check out the notes section on how to use glycerin.
Distilled Water – You will need to specifically use distilled water for best results if you use glycerin in your snow globe craft.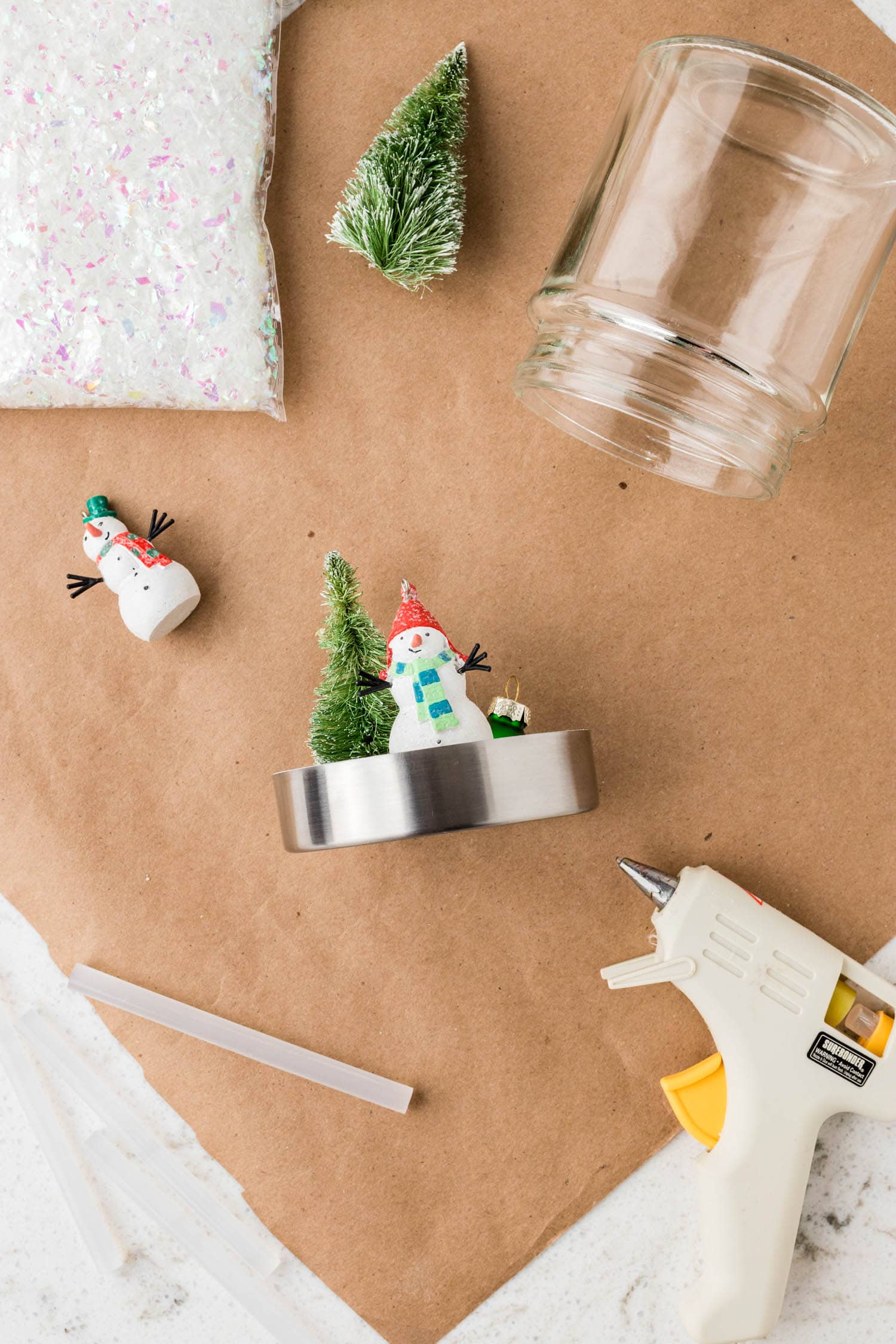 How to Make a Homemade Snow Globe
GLUE: Before you begin, cover your workspace with craft paper or a disposable table cloth. Flip your lid over and use hot glue to secure your mini snowman, ornament, and tree on the inside of the lid. Be sure that they are all glued near the center so that the jar can still fit over them.
FILL: Fill about 1/4 of your jar with faux snow. Very carefully screw the previously decorated lid onto the jar.
SHAKE: Flip the jar over and gently shake it to move the snow around and enjoy your mini winter wonderland!
How do I add glycerin to my snow globe?
If you'd like your snow to be more suspended, add a small drop of glycerin to your jar and fill your jar almost to the top with distilled water. Be sure you don't add too much glycerin, or the liquid will be too thick. TIP: Use tinsel glitter instead of faux snow if you add glycerin and water.
Can I use different miniature figures?
Of course! Any miniature figure will work perfectly in your snow globe. Just make sure it's the correct size.
Pro-Tips for the best Homemade Snow Globe
Tie a small ribbon around the outside of your jar lid for extra decoration and to make it more festive.
Use a large jar and larger figures if you'd like a bigger snow globe!
If you can't find faux snow, you can use large iridescent glitter flakes for a similar look.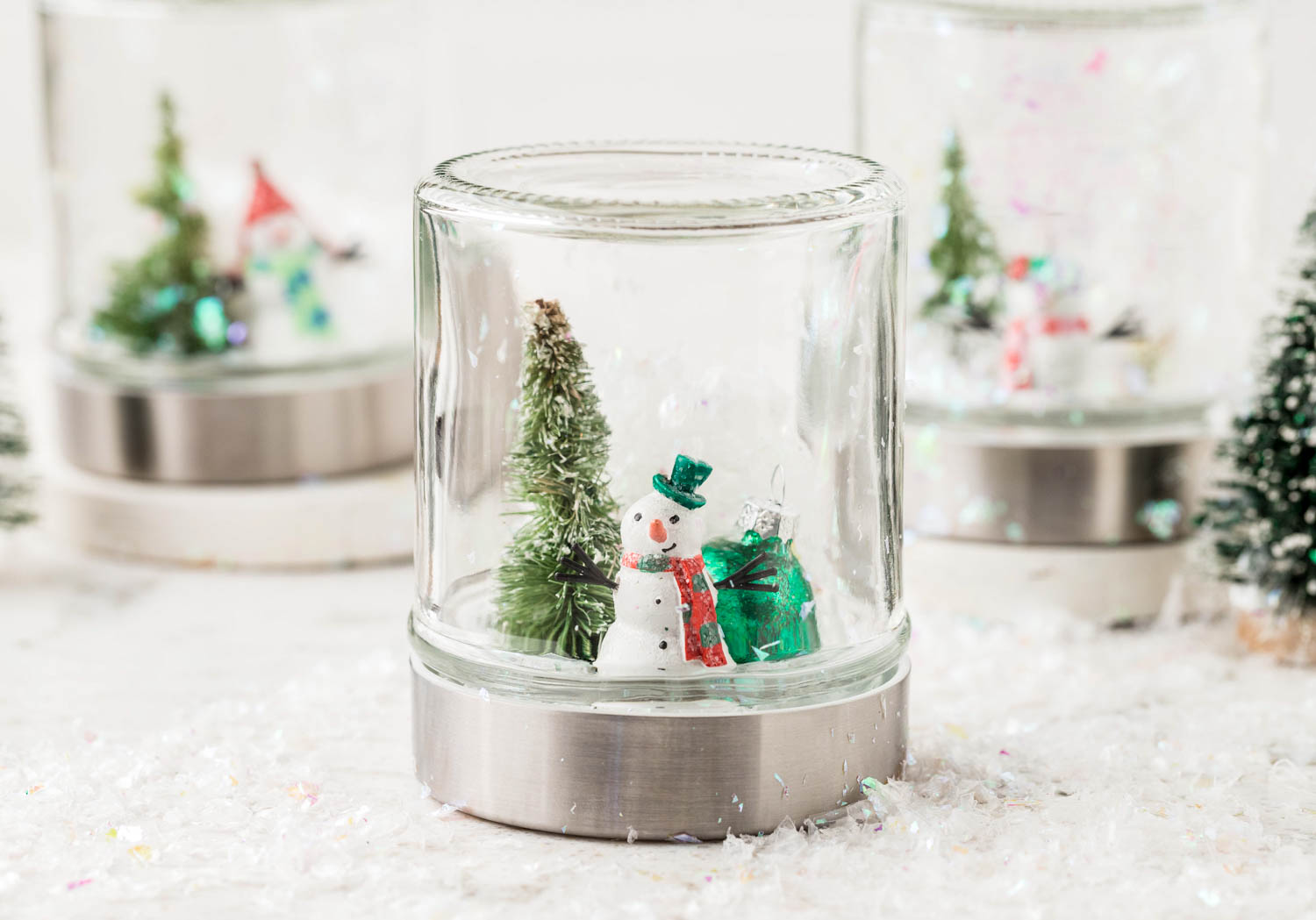 This diy waterless snow globe is so simple and so much fun! What a great way to create long-lasting memories.
More Winter Crafts You'll Love
Yield: 1 Homemade Snow Globe
Homemade Snow Globe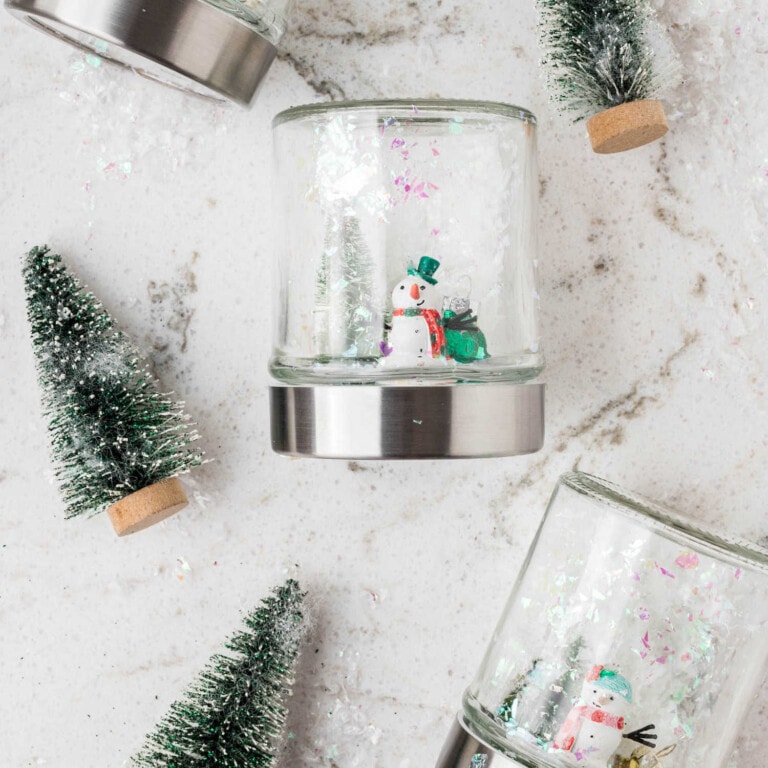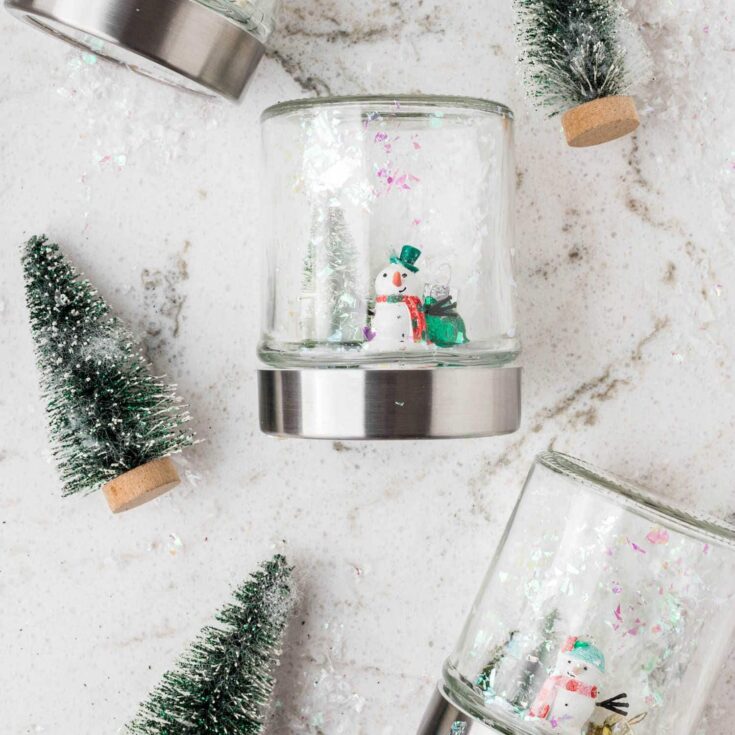 Homemade Snow Globes are an easy winter craft kids will love to make!
Materials
Miniature ornament
Distilled Water, optional
Instructions
To protect your work surface, cover it with a piece of craft paper or an old tablecloth. Heat your glue gun.
Once your glue gun is hot, grab the lid of your jar. Carefully glue the mini snowman, ornament, and tree onto the inside of the lid. Take care when placing the decorations, so they are glued near the center of the lid. This will help your jar fit over the top without obstruction. Allow the glue to dry for at least 10 minutes.
Fill the clear jar about ¼ of the way up with faux snow. Next, carefully place the lid on the jar and twist it tight to secure it.
Once secure, flip the jar over, and your homemade snow globe is complete!
Gently shake and watch the snow fly!
Notes
If you would like liquid in your snow globes fill your job with distilled water almost to the top then add a tiny drop of glycerin to the water for a smal jar, if your jar is large add a bit more glycerin. To much will make the water thick and chunky. The glyceril helps suspend the faux snow.
Tinsel glitter will work better in the liquid then faux snow.
Recommended Products
As an Amazon Associate and member of other affiliate programs, I earn from qualifying purchases.