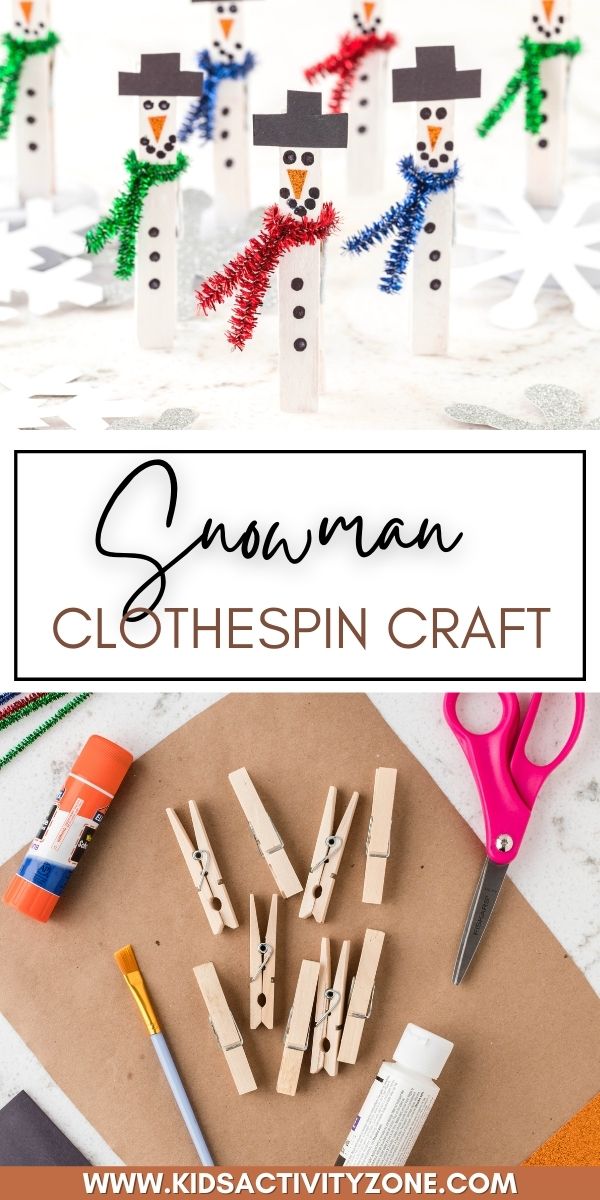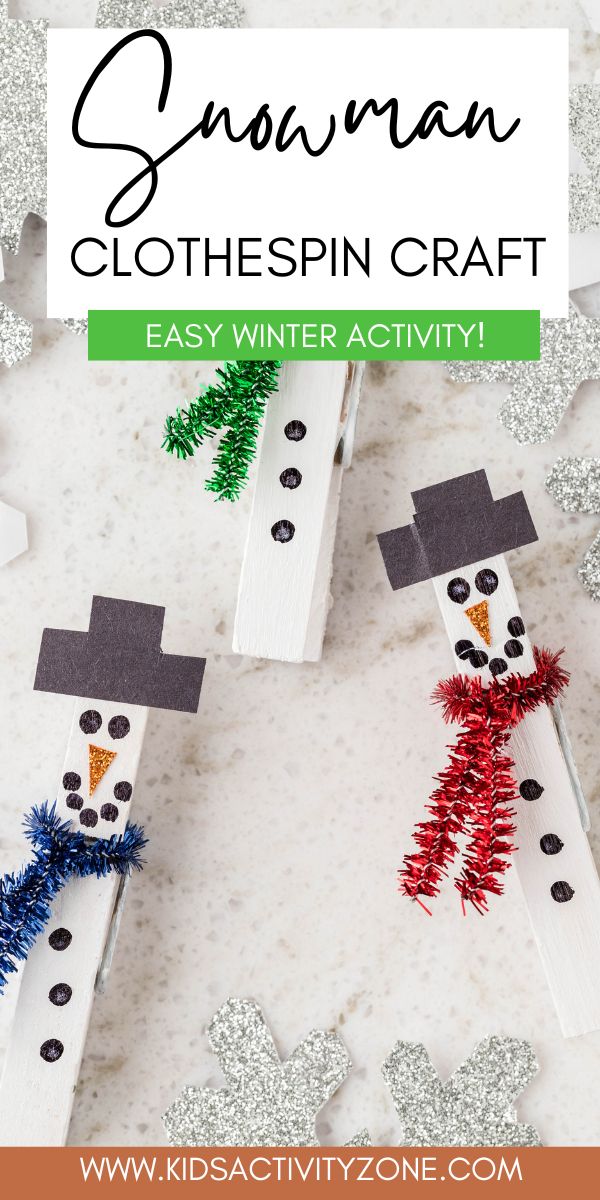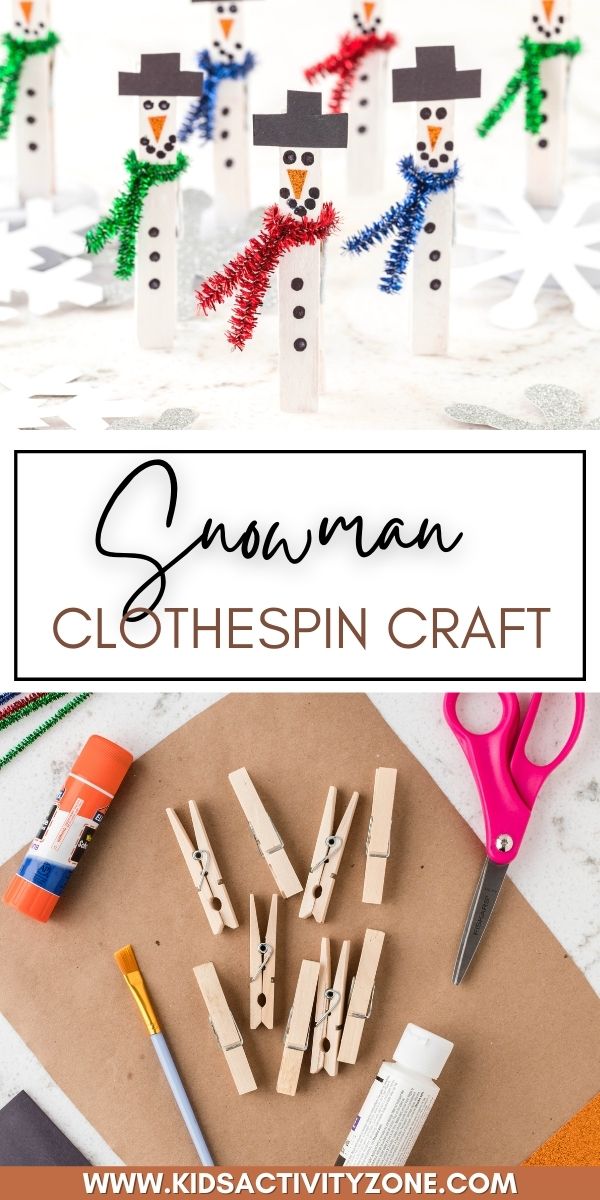 Cute and easy Snowman Clothespin Craft is a fun kids activity for winter! This easy craft idea for kids will keep them busy and it's perfect for cold winter days to keep them warm and busy inside.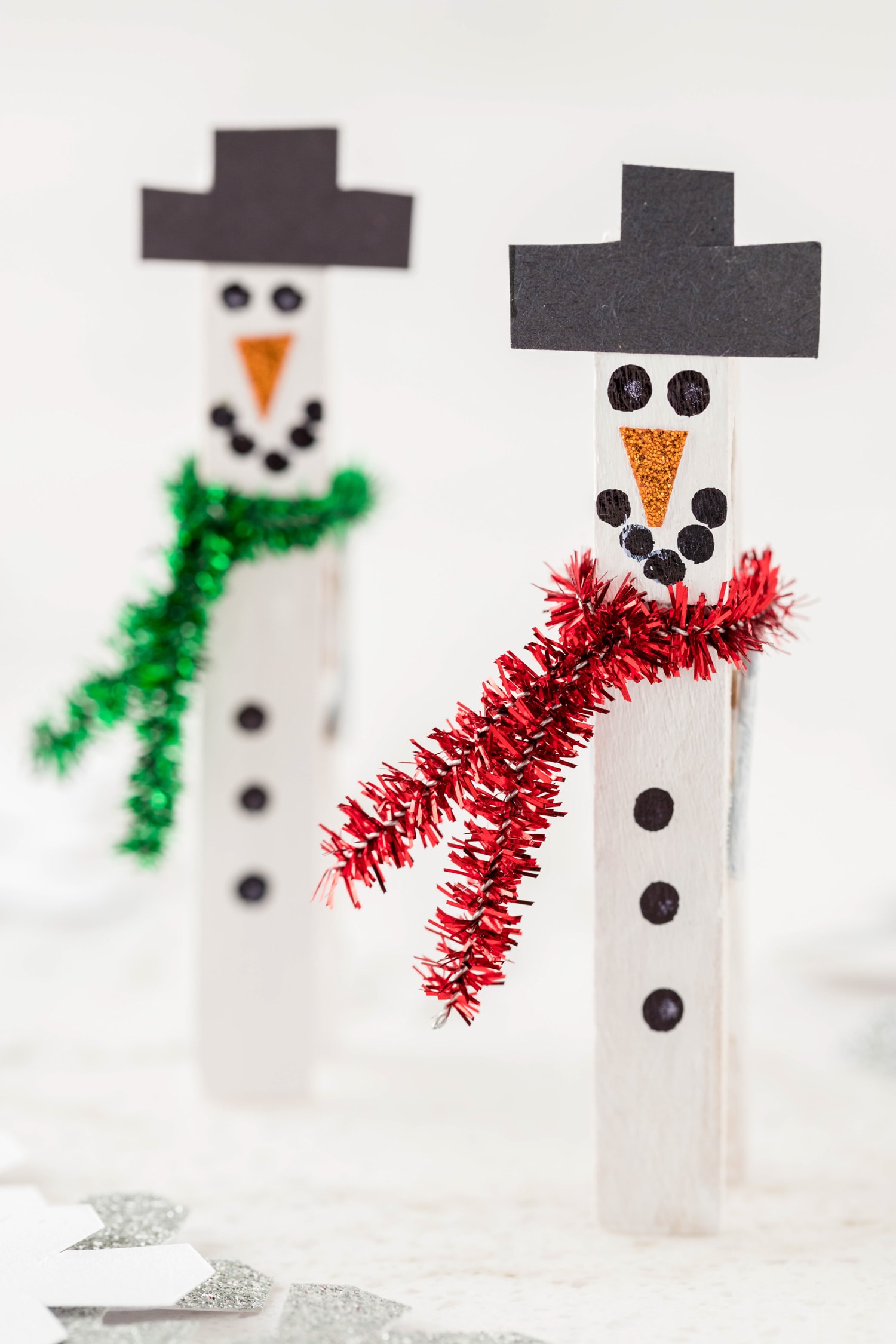 How adorable are these?! Making characters out of clothespins seems to be a classic craft and I love these clothespin snowmen. The kids always love to make holiday themed crafts, and what's better than a Christmas craft for kids.
This snowman clothespin craft would be perfect to make while you have Frosty the Snowman on in the background and you can make these snowman cookies for a treat afterwards too!
Why You'll Love this Snowman Clothespin Craft
This snowman craft is excellent to aid in the development of fine motor skills.
Clothespin snowman make the perfect little gift for your kids to hand out at Christmas time. Glue them to a Christmas card or add a magnet on the back!
This Christmas craft for kids is easy and quick to make!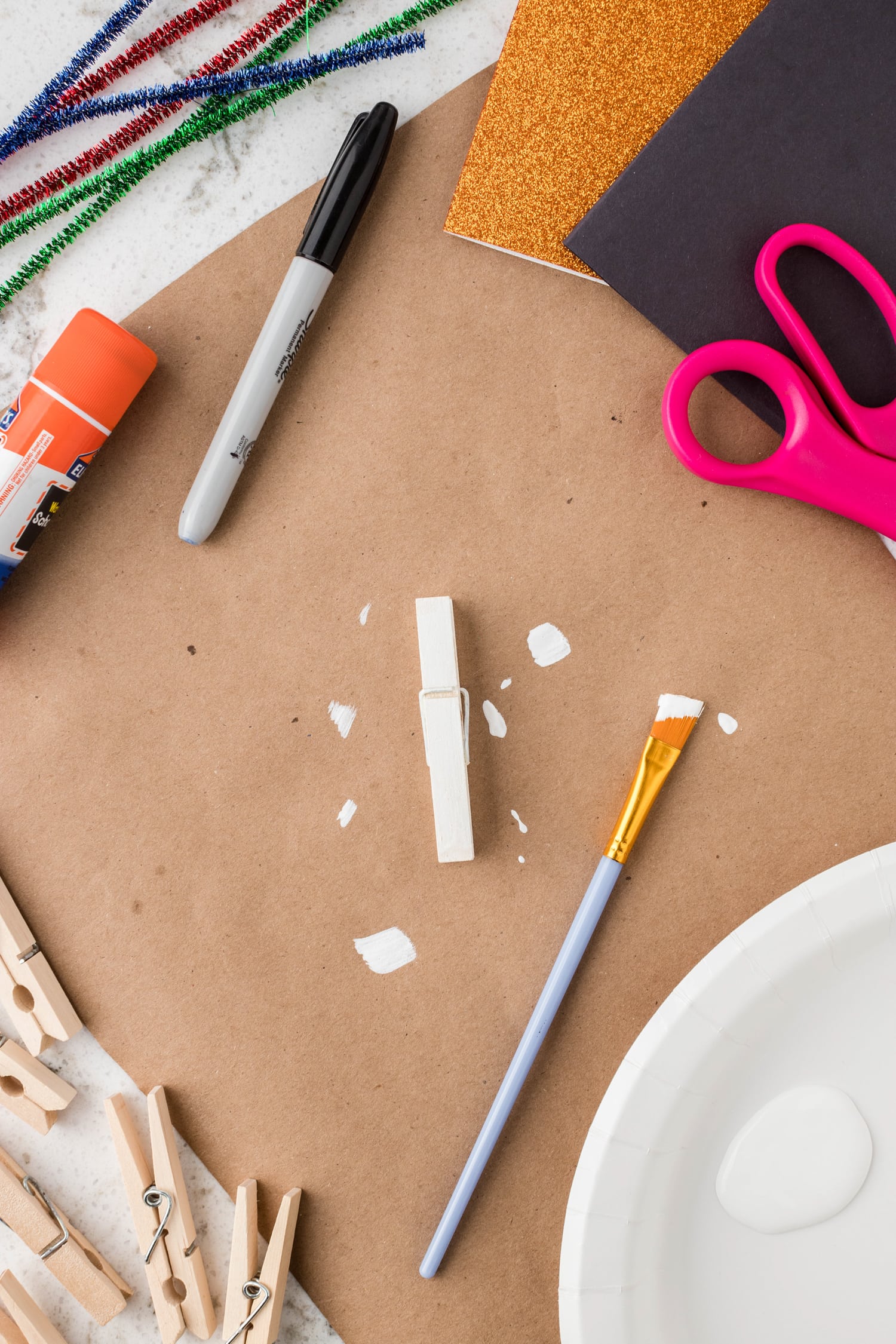 What You'll need for a Clothespin Snowman
How to make this Snowman Clothespin Craft
PAINT: Using your paintbrush, coat a wooden clothespin with a thin layer of white paint. Let it dry for five minutes and paint another coat.
CUT: While the clothespin is drying, trace a small top hat shape on your black construction paper and cut it out. Go ahead and cut a tiny triangle nose out of the orange glitter card stock as well.
GLUE: Glue the top hat and nose onto your clothespin snowman.
DRAW: Using your black marker, draw a dotted smile and two eyes onto your snowman.
DECORATE: Wrap a pipe cleaner around your clothespin snowman and twist it tightly in the front to secure it. Then, draw three more black dots below the scarf to act as buttons on your snowman craft.
All done!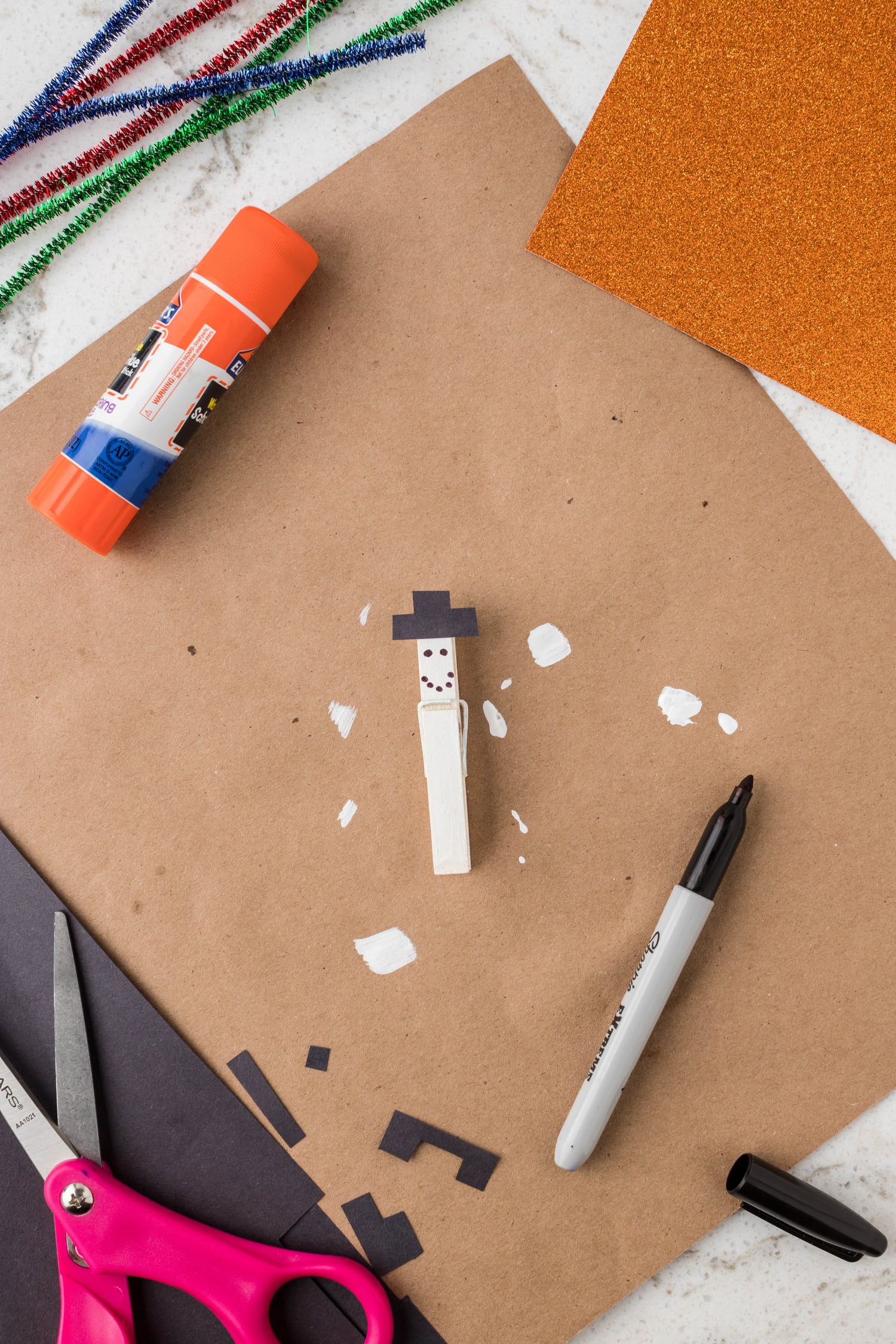 BONUS STEP: Add a magnet onto the back of your snowman clothespin craft to turn it into a fridge magnet. Or, glue it to the front of a Christmas card for the cutest decoration! You could even attach them to string or ribbon to create an adorable snowman garland.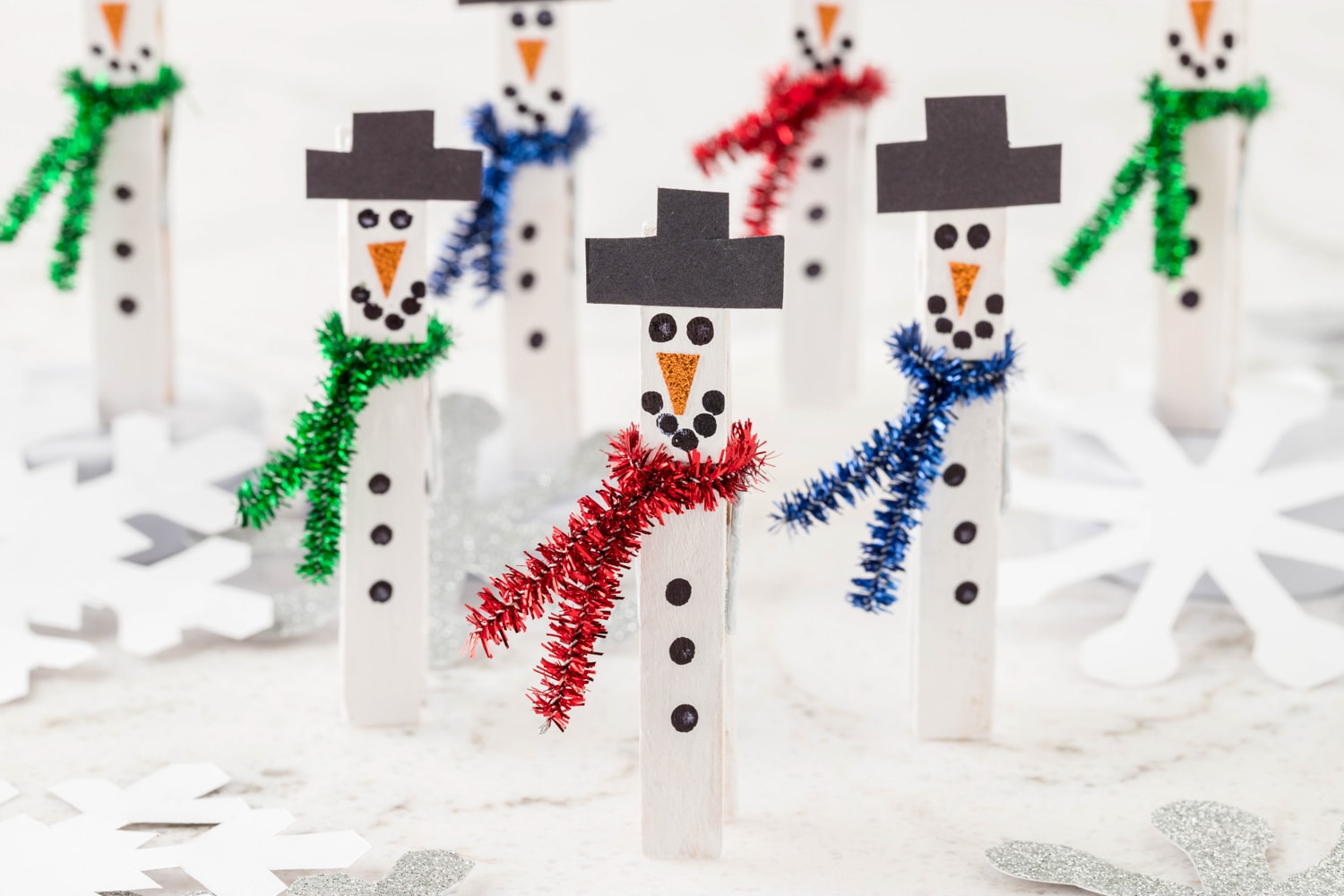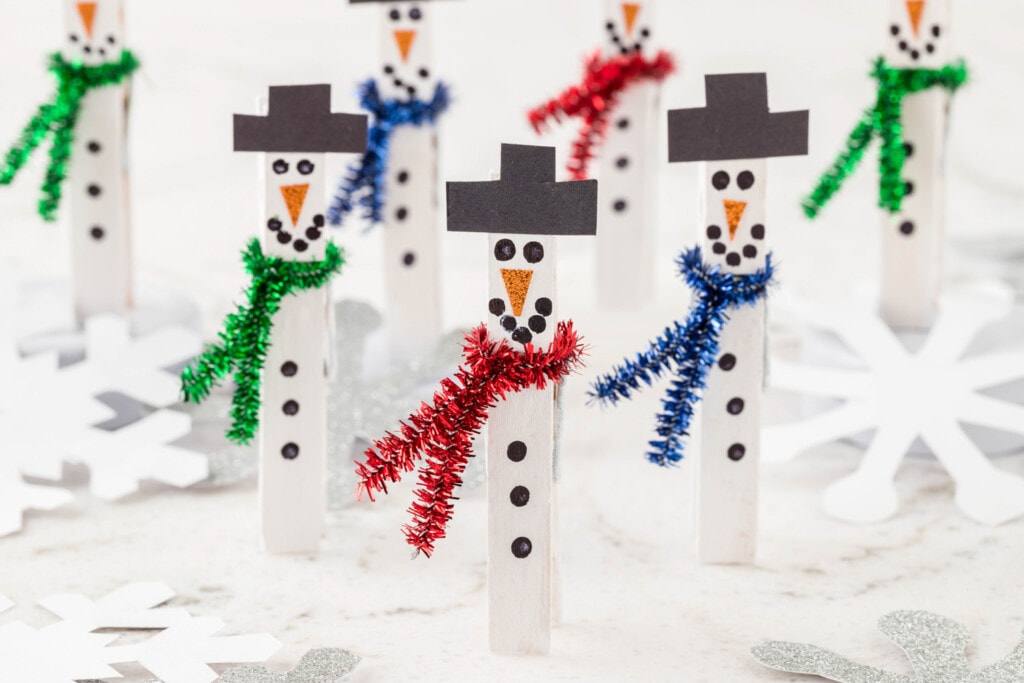 There you have it! The most simple, yet adorable, snowman clothespin craft!
More Christmas Crafts You'll Love
Yield: 1 Snowman Clothespin Craft
Snowman Clothespin Craft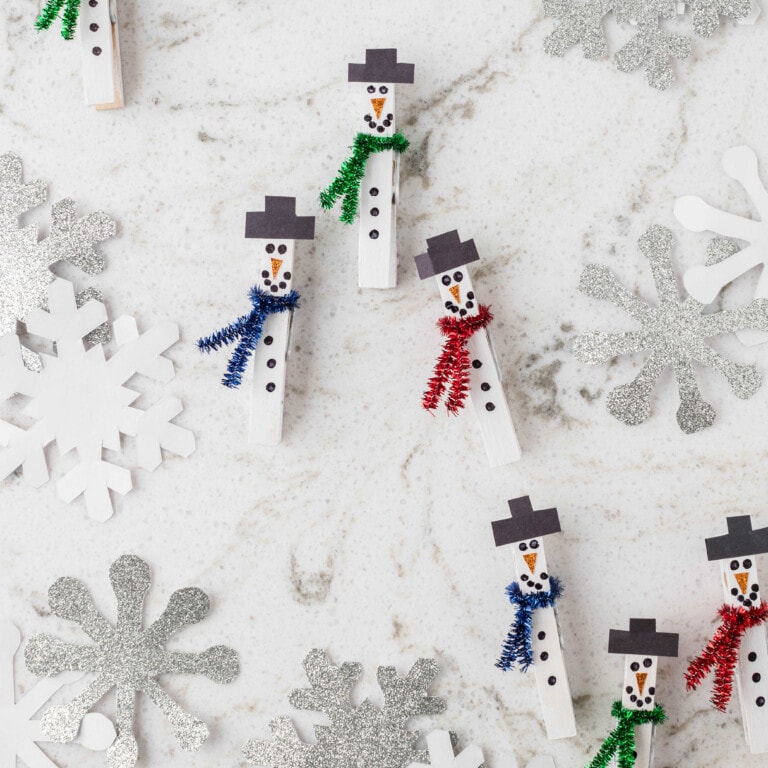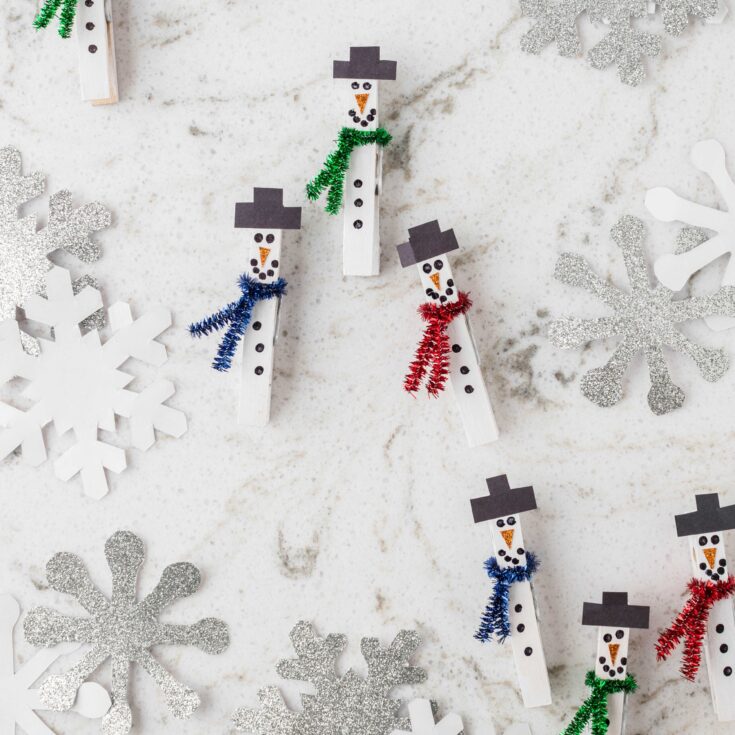 If you are looking for an easy winter kids craft this Snowman Clothespin Craft is just what you want to make! Simply paint a clothespin and decorate it to look like a snowman.
Materials
Instructions
Gather all your supplies and cover your surface to protect it from the paint and glue.
Take a wooden clothespin, and coat it with a thin layer of white craft paint with a small paintbrush. Make sure to get all the nooks and crannies. Allow about 5 minutes to dry.
Once dry, apply another coat if necessary and allow additional drying time.
Take a piece of black construction paper and trace and cut out a small hat. Glue the hat to the top of the clothespin.
With the black marker, make 2 dots for the eyes and 4 or 5 dots for the mouth. Next, cut a tiny triangle out of the orange glitter card stock and glue it on for the nose.
Let's finish the snowman by cutting a 4-inch section of pipe cleaner and bending and wrapping it around the neck of the snowman, twisting in the front to secure. Finally, add 3 dots underneath the scarf for buttons.
Recommended Products
As an Amazon Associate and member of other affiliate programs, I earn from qualifying purchases.