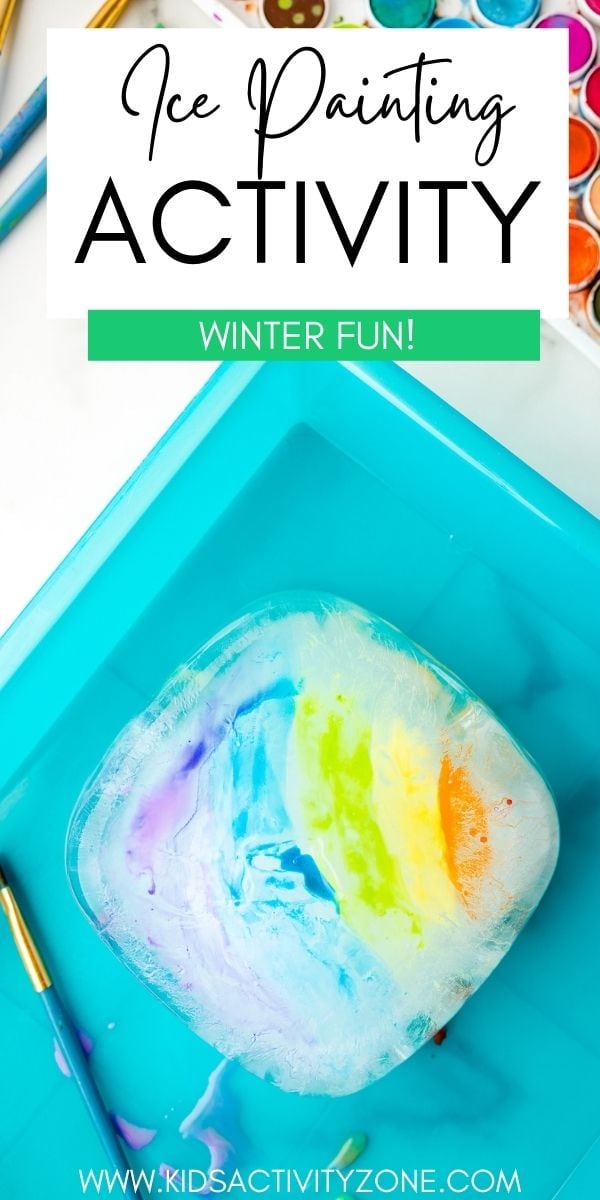 A fun mix of art, science and kids activity! This easy Ice Painting is a winter activity your children will love. Simply freeze water overnight and then have fun painting the ice and watching it turn colors as it melts.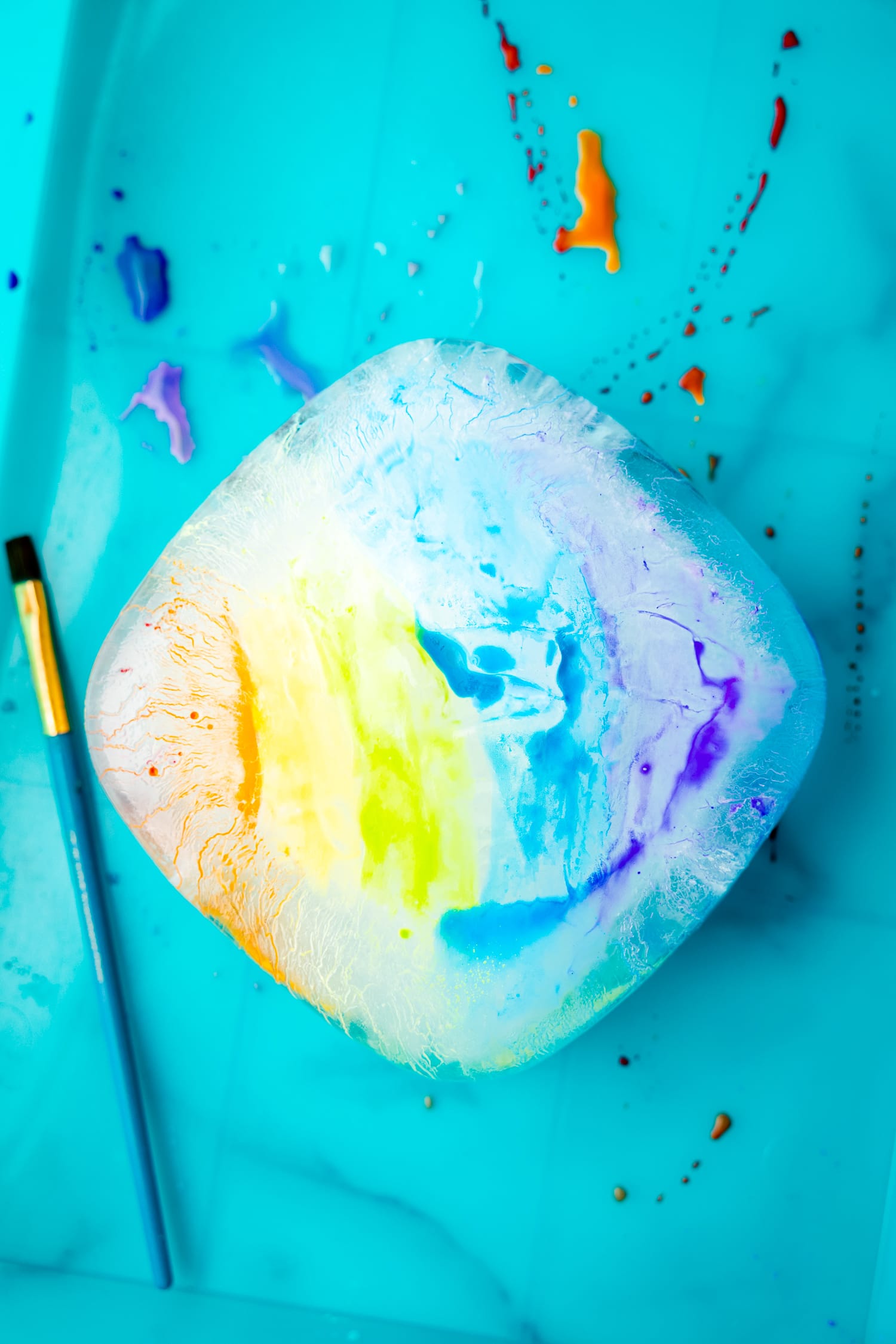 This quick and easy Ice Painting is not only fun in the winter, but also a great summer activity you can do outside and be as messy as you want to be just like our favorite Ice Block Treasure Hunt! Simply freeze a block of ice, paint it and watch it melt.
Did you see how those colors turn into new ones?
How fast does your ice melt?
There's so many lessons to be learned, plus it's FUN and INEXPENSIVE!
Freeze the Ice
The first step to this easy winter activity is to freeze your ice block.
Simply pour water into a Tupperware container and stick it in the freezer overnight.
You can pick whatever size of container you would like.
Paint the Ice
Then it's time to remove the ice from the container and have fun!
A quick trick is to run warm water over the outside of the container for a few seconds to get it to release easily.
We recommend placing it in a bin to catch the melting ice so it doesn't make a mess.
Fill up your empty Tupperware container with fresh water and use it to dip your brush into to rinse off in between your watercolor painting.
Decorate your ice with rainbows, sun, flower, dinosaurs etc. The possibilities are endless.
Then water it melt and turn into a totally different piece of art!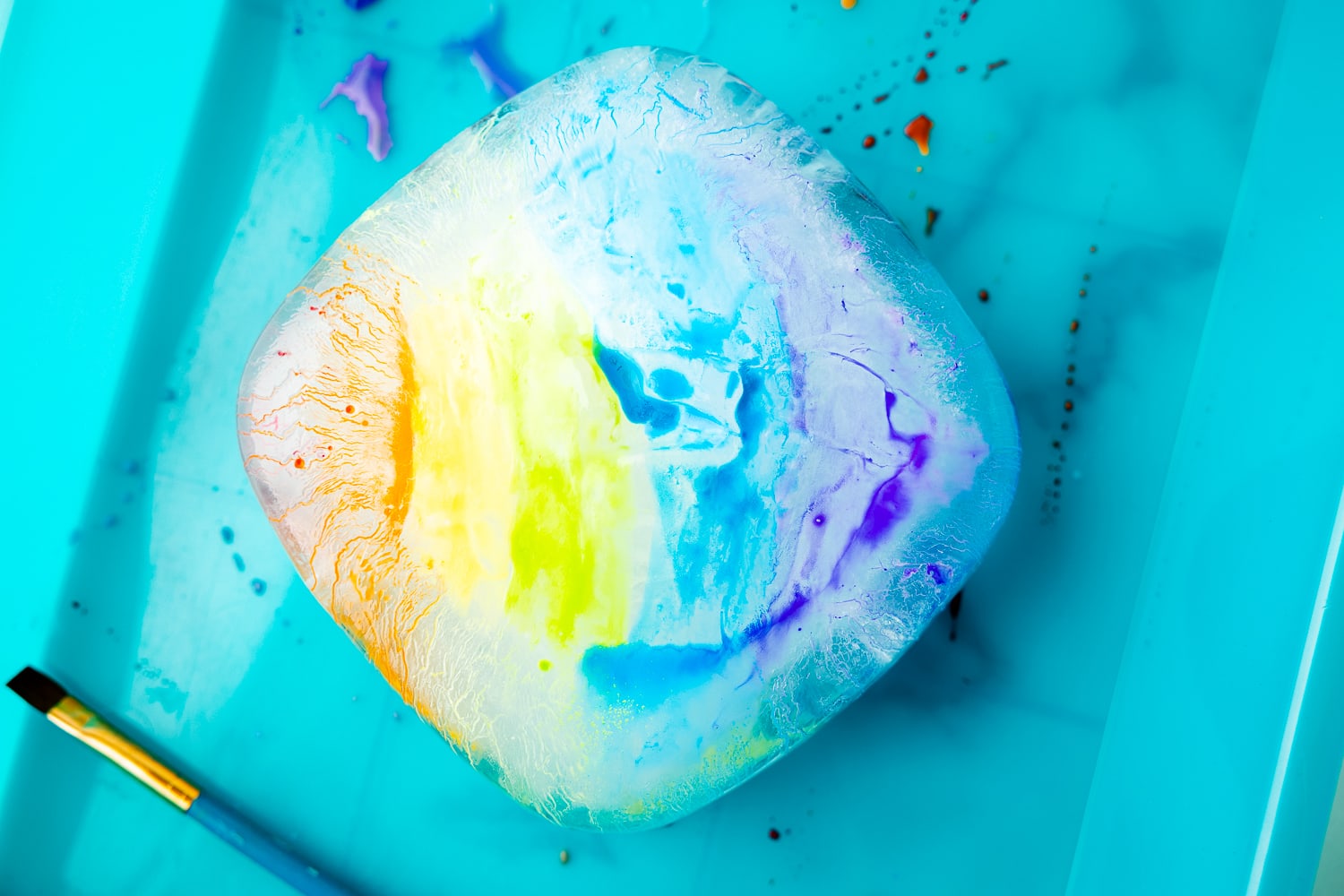 FAQS
What's the point of painting on ice?
This is a great activity for your child to learn about color mixing because as the ice melts, the color starts to blend. They can understand what color combinations create which colors. Let them experiment with different color combinations, like having them only use red and blue so they can find out what color will be made when the ice melts. It's also just a great activity to keep them entertained that's different than just classic painting. It's a great way to get your child's imagination going.
Can this be done on ice cubes?
This can be done on ice cubes, but you need to have a lot of them in a small container for the ice not to move around every time they touch it. You can also put a lot of ice cubes in one container, let them start to thaw, and then stick it back into the freezer, and you'll get a great texture to your ice block.
Can you reuse the ice block?
The great thing about this is that you don't have to go through sheets of paper every time they want to do a new drawing. Just run it under some cold water, and they have a blank slate.
Can this be made to match a certain theme?
Of course you can. I've done this before where I've made it into a larger block of ice and had some arctic animals sticking out from the ice block. I've also done one where I put dinosaurs in the icebox, so as it melted they revealed themselves.
MORE WINTER ACTIVITIES!
Quick and easy Paper Loop Snowmen are a fun activity to do on a cold winter day!
Adorable Paper Polar Bear Craft is perfect for kids curious about animals!
Make this easy Snowflake Suncatcher! Simply start by making a snowflake out of paper, then apply it to contact paper and decorate with tissue paper and finish it with another piece of contact paper on the back. They look so pretty hanging up in your windows!
If you take a picture and share them on Instagram make sure to #kidsactivityzone or tag us @kidsactivityzoneblog so we can see them!
Ice Painting Activity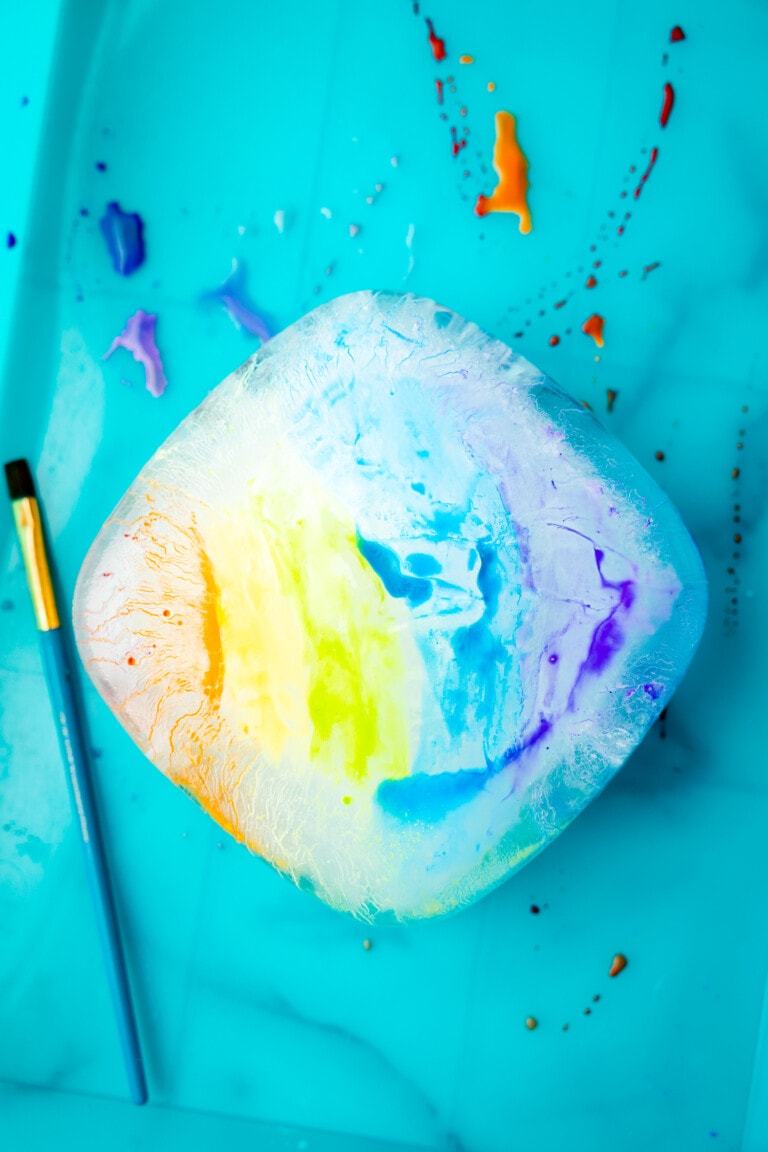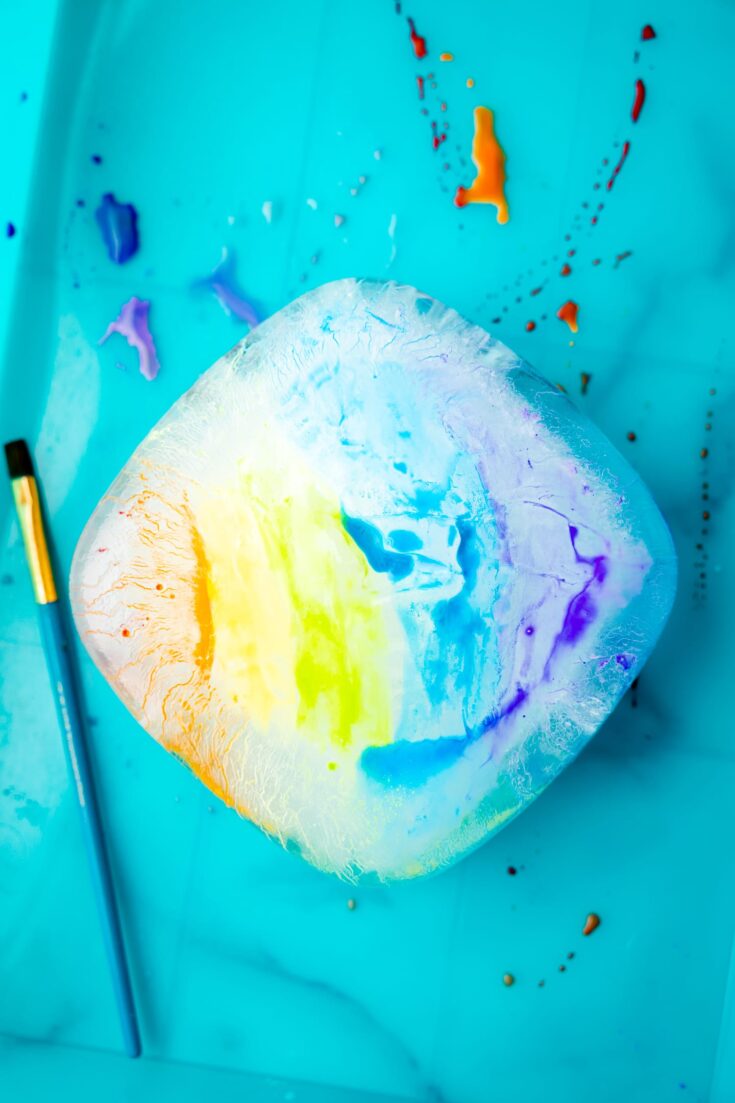 Easy winter activity for kids! Freeze ice then have fun painting it with watercolors and watching it melt co create new colors.
Materials
3 cups water, divided
Tupperware container
Large container or plate
Cup
Watercolors
Paintbrushes
Instructions
Fill your container with two cups of water and freeze overnight.
Remove the ice from the Tupperware and place it into the large container.
Fill the cup with the remaining water to dip your paintbrush into to change the colors of watercolor.
Allow your child to paint over the ice with the watercolors.
Recommended Products
As an Amazon Associate and member of other affiliate programs, I earn from qualifying purchases.