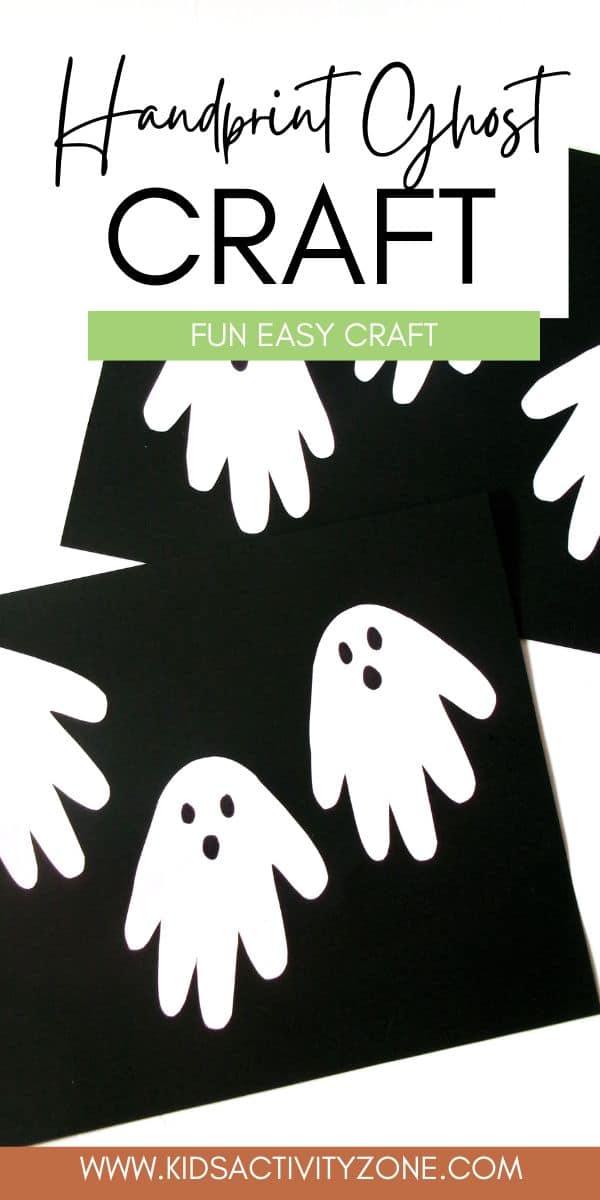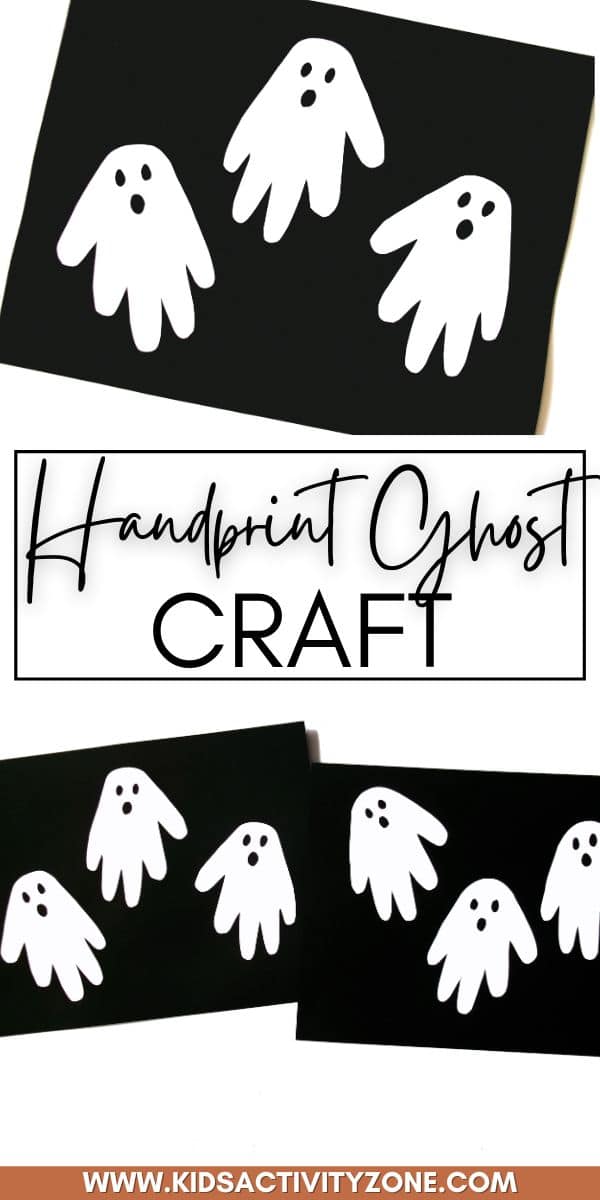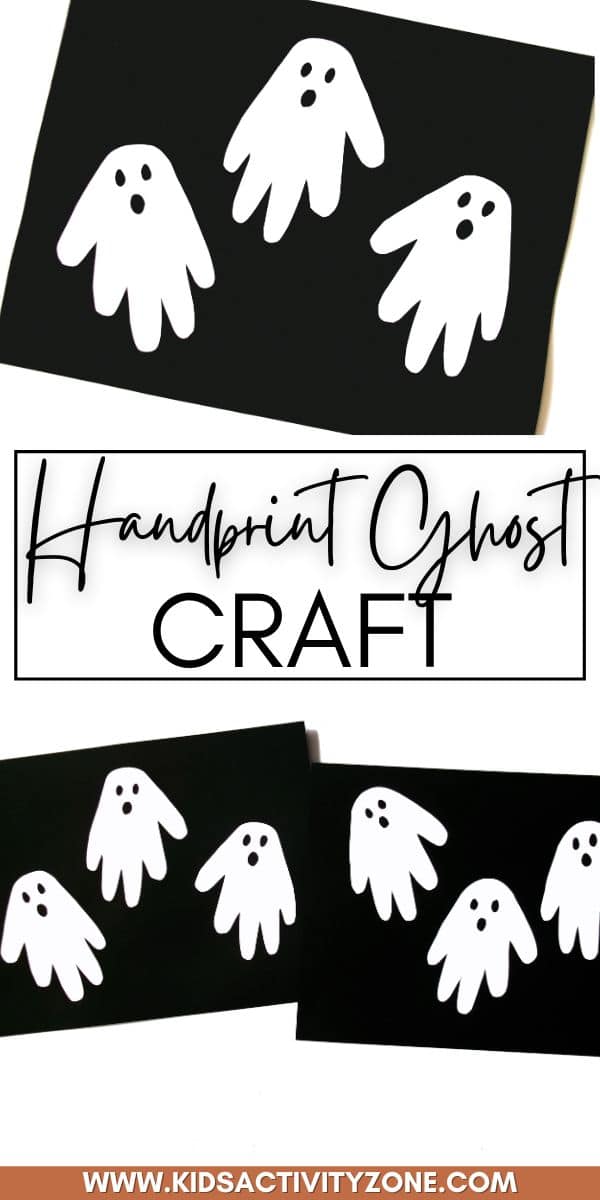 Create adorably spooky Handprint Ghosts! With simple supplies like white and black cardstock and a black marker, your child's handprint transforms into a friendly phantom. A fantastic craft that's perfect for Halloween. Dive into our step-by-step instructions on this ghostly craft!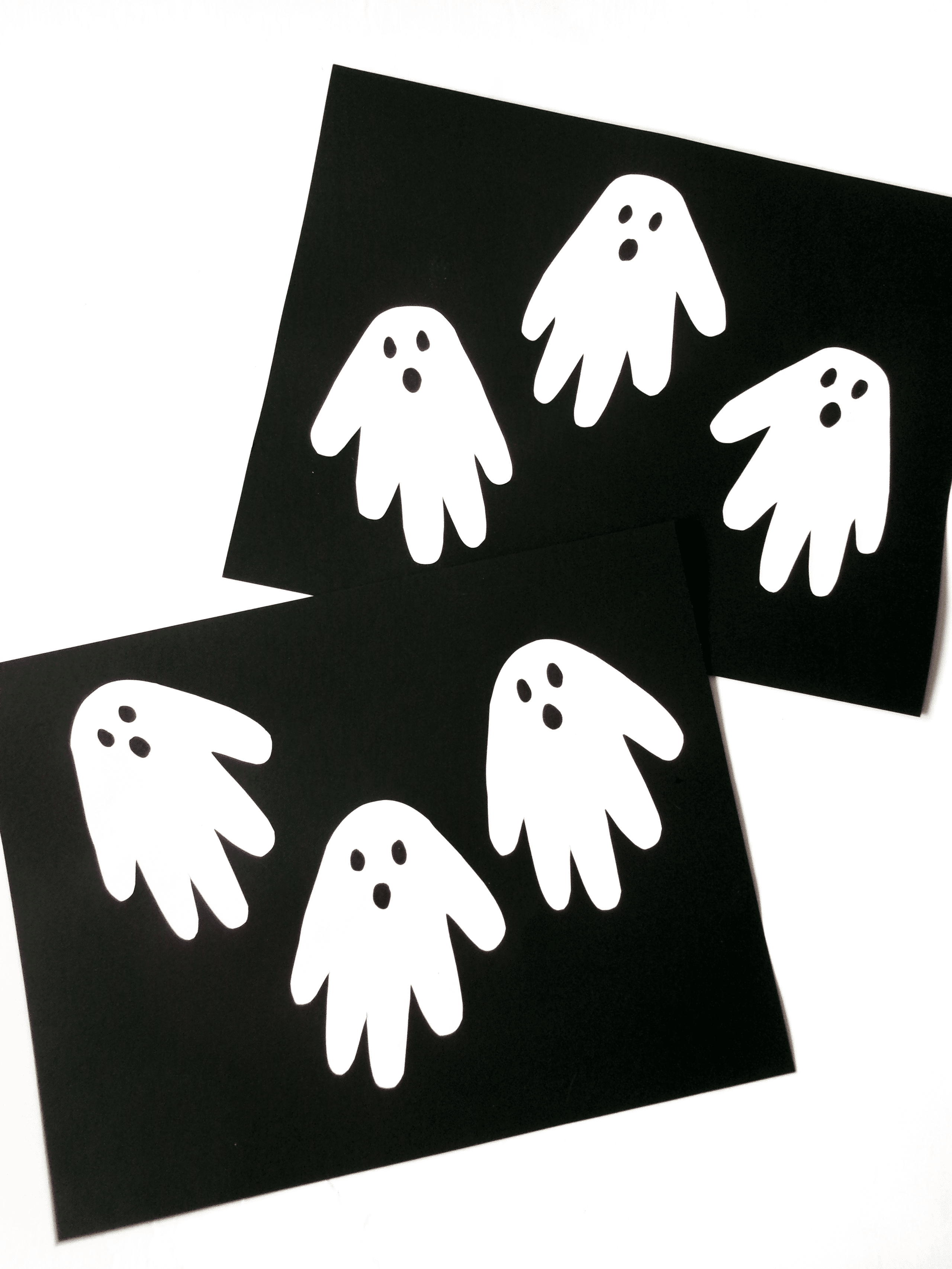 Spooky meets cute in this simple and fun handprint ghosts craft! This quick and easy craft is a great way to get into the spirit of Halloween. You can turn your handprint ghost art into a card, or proudly display it on the refrigerator as your hard-earned masterpiece. Handprint crafts are fun for all ages, and are the perfect keepsakes for parents.
If you're looking for an easy craft to make with a large group of kiddos, this one is a great choice! The supplies are simple and the steps to make the handprint ghosts are very easy. In fact, you'd probably have time to make multiple crafts. This easy glitter ghost craft is so much fun too!
Halloween is extra exciting when you've got an endless supply of crafts and activities to make. Start with a ghost handprint craft and then keep going to make as many fun crafts as your heart desires!
Why You'll Love Handprint Ghosts
This ghost handprint craft only requires 5 simple supplies! Easy on your budget and perfect for kids who need an easy-to-follow craft.
Handprint ghosts are a great craft for children of all ages. You're never too old to make cute characters from your handprints!
Cutting and glueing are two activities that help to refine fine motor skills. If your young children need to work on their motor skill, then you can have fun while doing it!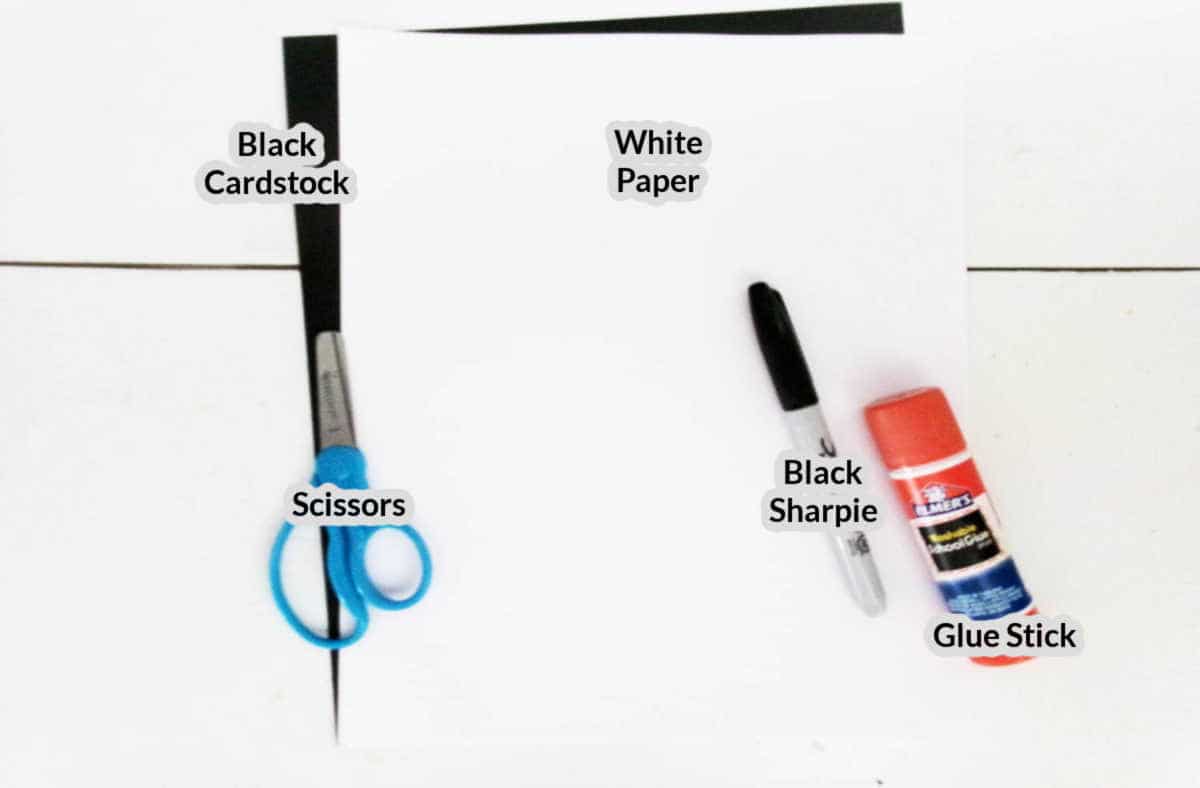 Supplies Needed to Make Handprint Ghosts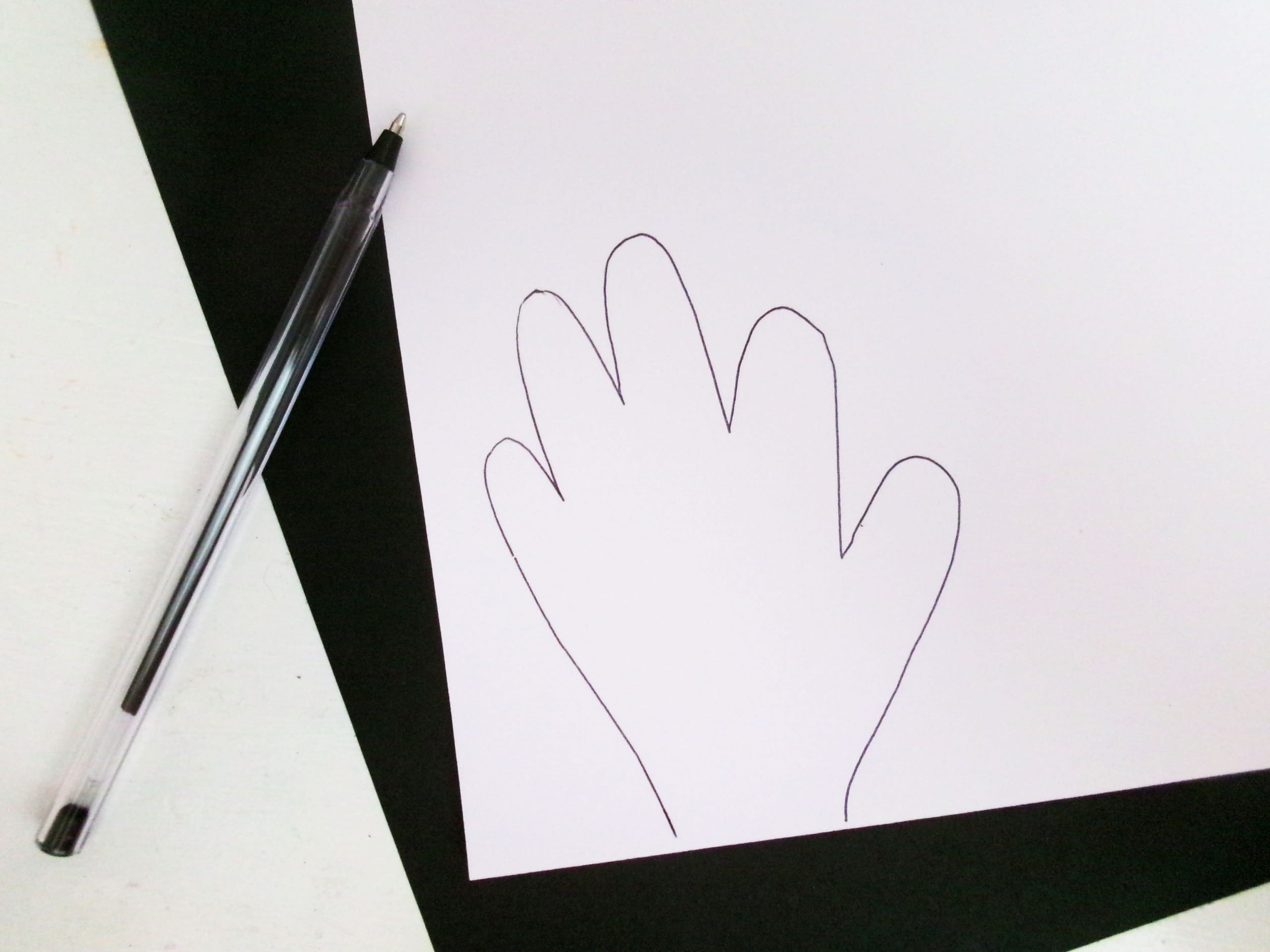 How To Make Handprint Ghosts
To begin making your handprint ghosts, trace your hand on a sheet of plain white paper. Thin computer paper works best for this.
Then, cut out each handprint. You can repeat these two steps and make as many handprints as you'd like.
Once you cut out each handprint, trim the wrist part to make a rounded edge.
Glue each ghost handprint, wrist side up, onto a sheet of black cardstock. We found that 3 ghosts fit well on card stock, but it will depend on the size of your hand!
Lastly, take the black marker and draw two dots for eyes and an oval shape for spooky mouth.
That's it! You handprint ghost craft is all ready to go!
What can I add to my handprint ghosts?
Ghosts can just simply be left white, or you can add some silly things to them!
Glue pipe cleaners or yarn around the outside edges of each ghost to give them more details.
Add googly eyes to make them look funny!
You can also add Halloween themed stickers to the cardstock, pom poms, and any other fun craft materials.
Get creative and make your ghost handprints match your personality!
Pro Tips!
Use white glitter card stock for your handprints to make sparkly ghosts! You can also make them sparkly by just using glue and glitter.
If you are making this craft with a large group, use a metallic sharpie to write each child's name on the back of the black card stock. It will be easily visible!
Make your handprint ghosts easy to display by adding a thin stick-on magnet to the back of the cardstock. You can find those on the craft aisle or at your local hobby store.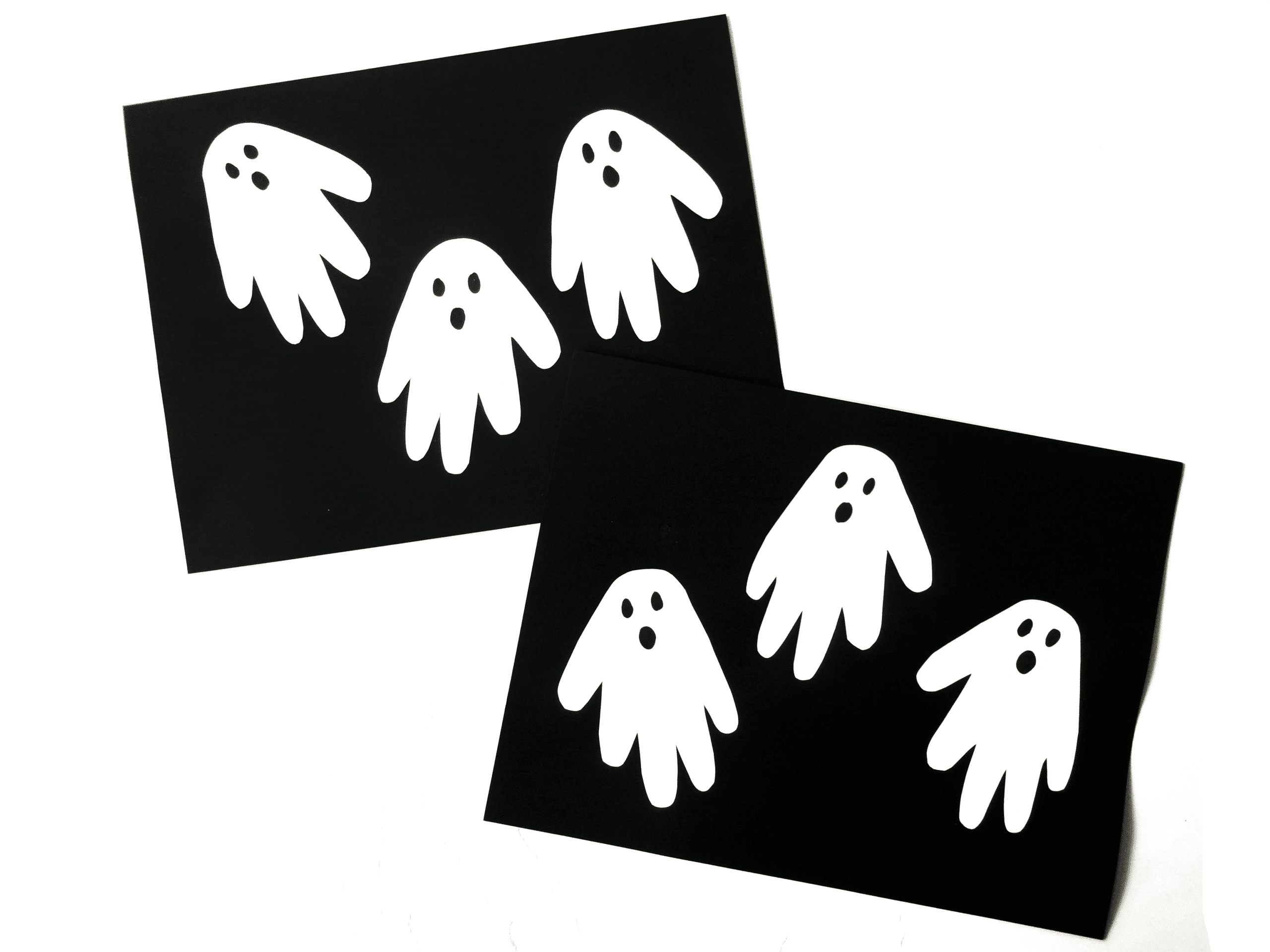 Have fun making your silly and spooky little handprint ghosts! The cute side of Halloween is way better than the scary stuff!
More Halloween Crafts You'll Love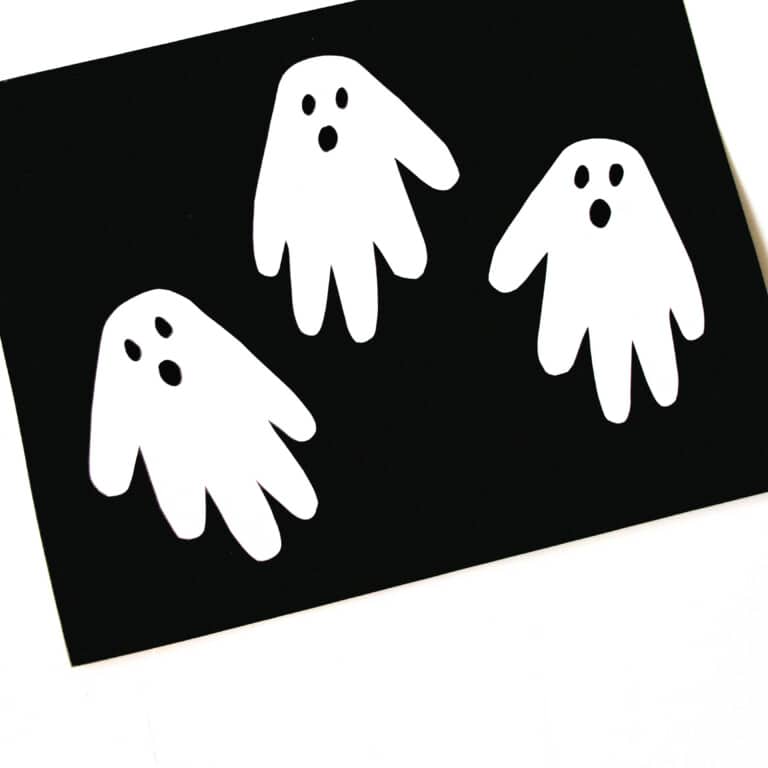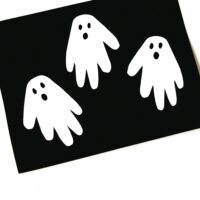 Handprint Ghosts Craft
Quick and easy Halloween craft for kids. This Handprint Ghosts craft is so easy to make and cute for fall.
Print
Pin
Rate
Servings:
1
Handprint Ghost Craft
Instructions
Begin by tracing handprints on regular white paper. We like using the thinner, regular paper for the ghosts as they just glue down better.

Cut out the handprints. Repeat these steps for as many ghosts as you'd like to make.

Now, trim the wrist part of the handprint so that it has rounded edges.

Glue the handprints, rounded wrist side up, on a sheet of black cardstock. We found 3 ghosts fit perfect on a sheet of cardstock, but you can make as many as you'd like.

Lastly, use a black sharpie to draw simple eyes and oval mouths on each ghost.