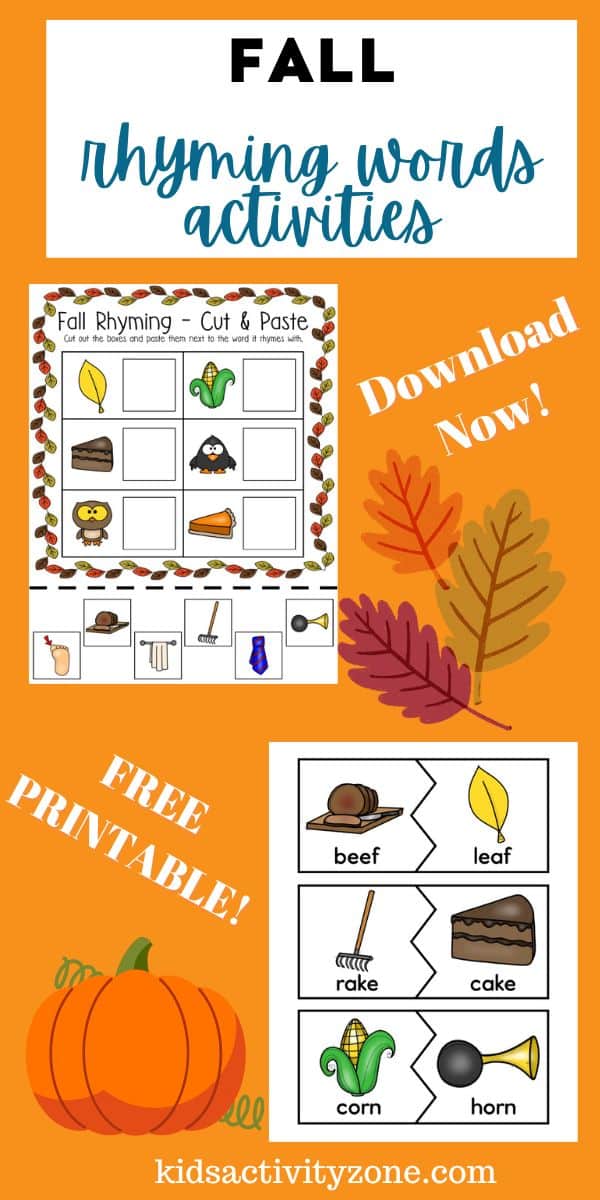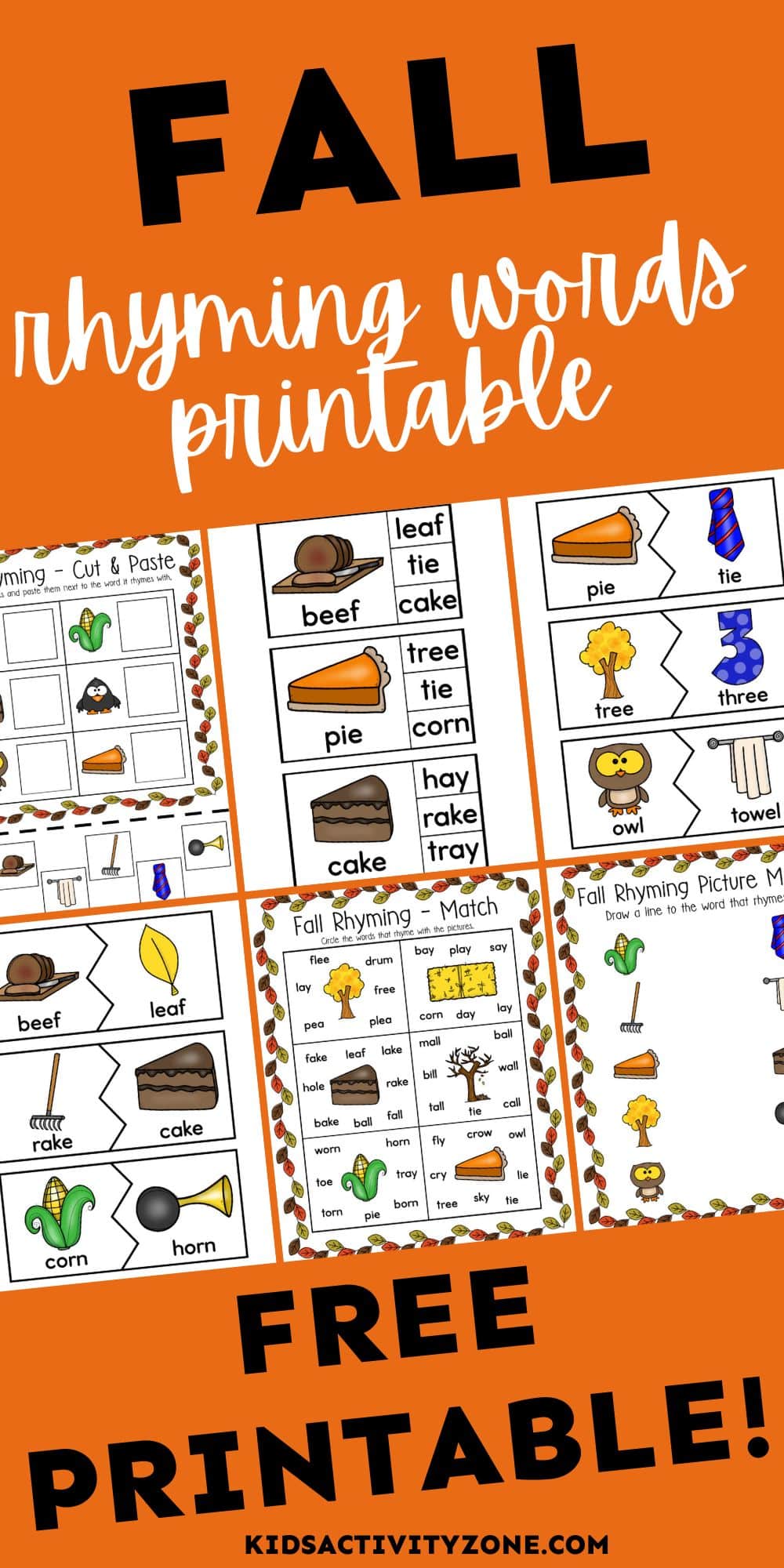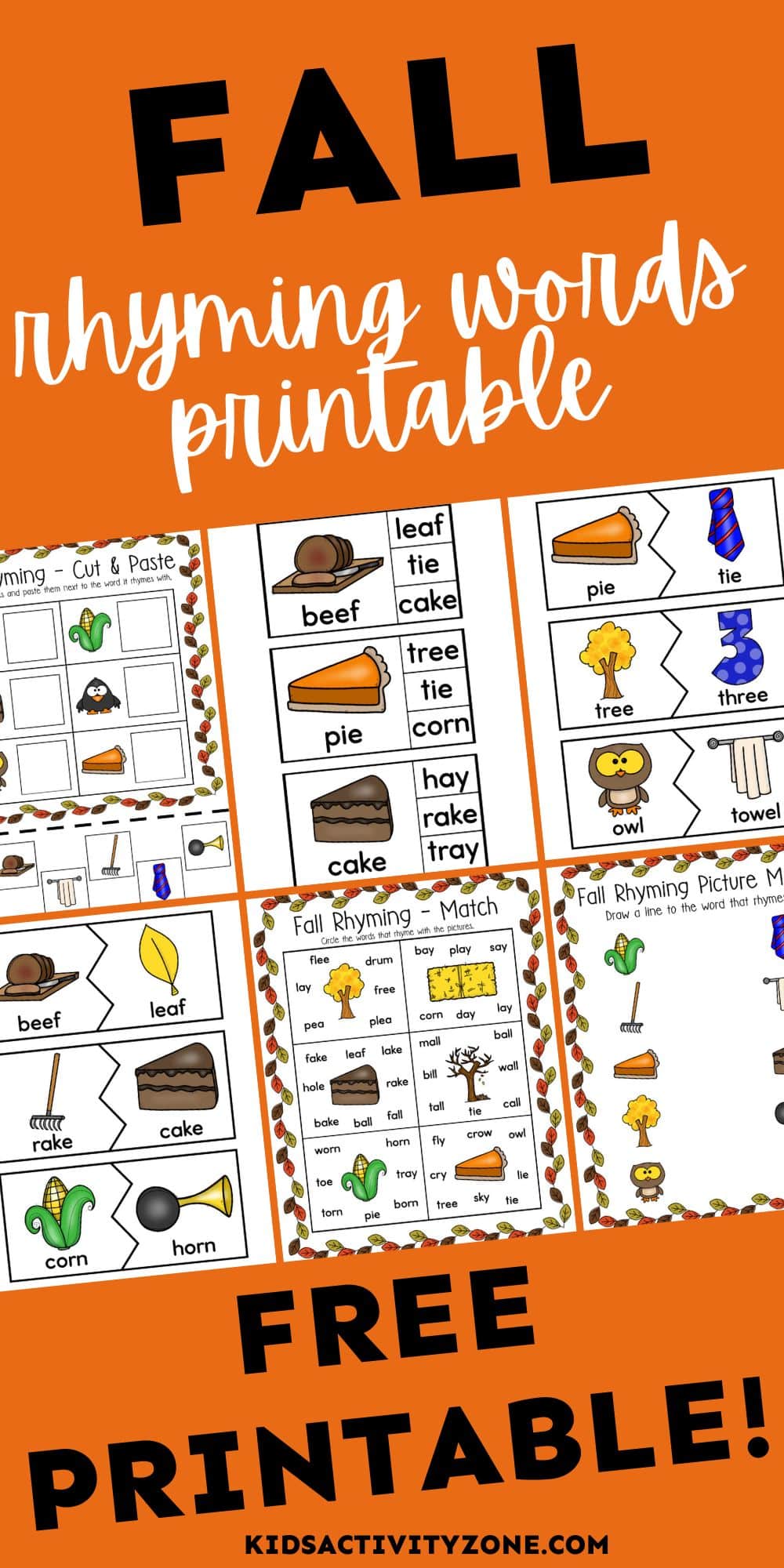 Grab this FREE Fall Rhyming Words Printable for your preschool and kindergartners. It's the perfect fun, engaging activities that kids will love to practicing learning rhyming words. Activities included matching pictures that rhyme, filling in letters, cutting and pasting and more!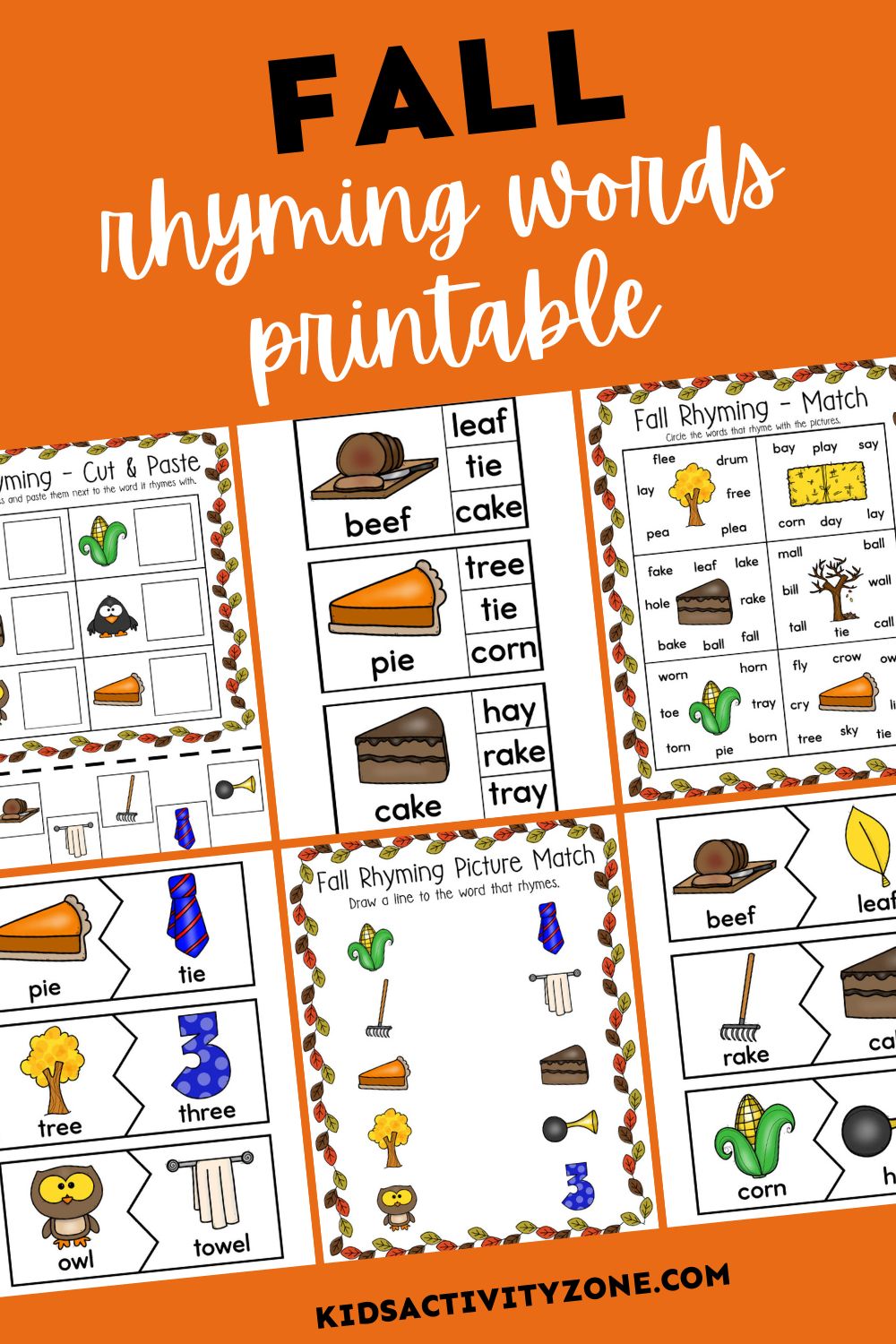 Teaching rhyming words has so many educational and developmental benefits. When kids learn what words rhyme, they're learning patterns in both written and spoken English. It's a great way to help kids learn to read and develop their skills with phonics as they learn to pronounce different words.
Now, making rhyming fall themed is just icing on the cake! This printable packet of fall rhyming words activities are a great way to keep educational entertainment themed for the beautiful season of fall. Your kids can learn how to pronounce words for the things they see all around them during fall! Pumpkins, ears of corn, owls, etc.
Make a tasty little snack like english muffin pizzas for your kids to munch on as they work, and voila you're the "best parent ever!" Education can be fun, and these fall rhyming words pages are the cutest proof!
Why You'll Love these Fall Rhyming Words Activities
These free printable worksheets are screen-free entertainment that isn't just fun, but also educational!
Printable activity packets like these are completely free. If you need affordable activities, this is the way to go.
This rhyming words activity is great for a wide range of ages and education levels. And if it's too advanced for your kids, or not advanced enough, not to worry! I have plenty of different printable activities for you to choose from.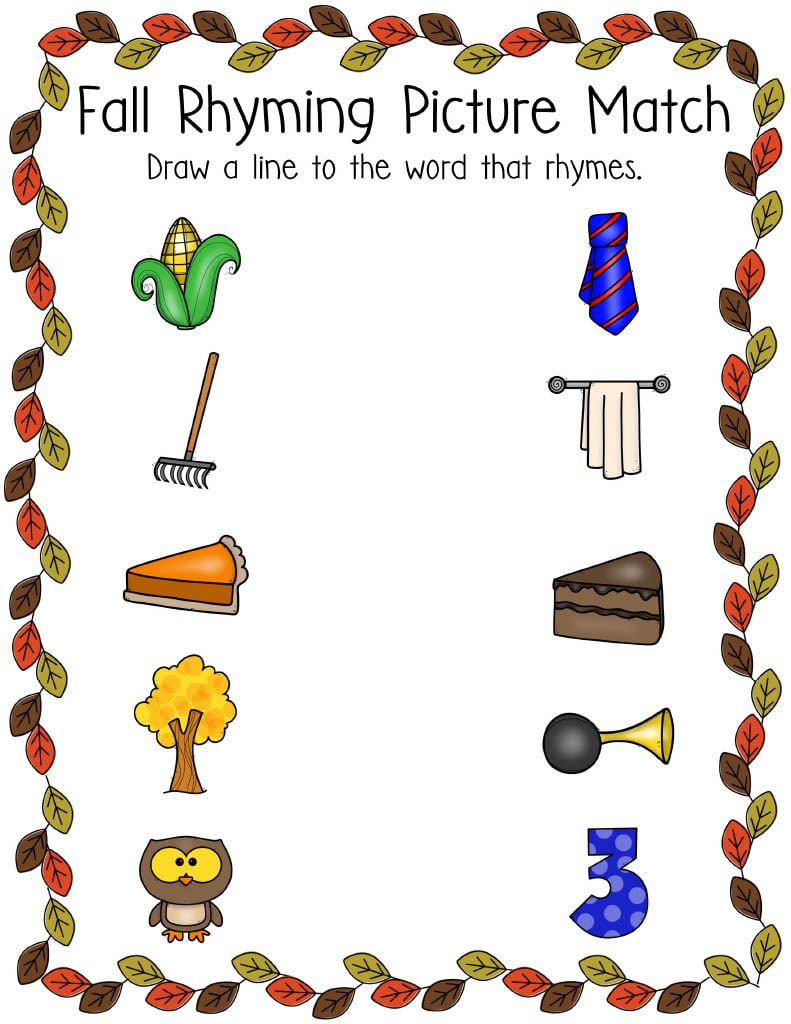 Supplies Needed
Writing utensils – You can use anything from a pencil to a crayon to complete these activity pages! There are some pages where it may be easier to use pencil, but other pages where crayons and markers will work perfectly. Colored pencils and pens will also work great.
Scissors – A few of these pages have activities where you will cut out certain objects. If young children are working on this rhyming words activity, considering using safety scissors.
Glue – Simply use a school glue stick or glue dots for the specific pages that ask you to cut and paste.
What is Included in these Printable Fall Rhyming Words Pages
Fall rhyming picture match – Your kids will simple draw a line with a pencil or crayon to match pictures together with names that rhyme. Ex. Pie-tie and owl-towel
Fall rhyming fill in the word – There are three pages with pictures of various different fall themed items and an item with a rhyming name next to it. Each picture is missing one or two letters at the beginning of each word and will need to be filled in by the child. These pages are great for kids who need to practice spelling and writing their alphabet!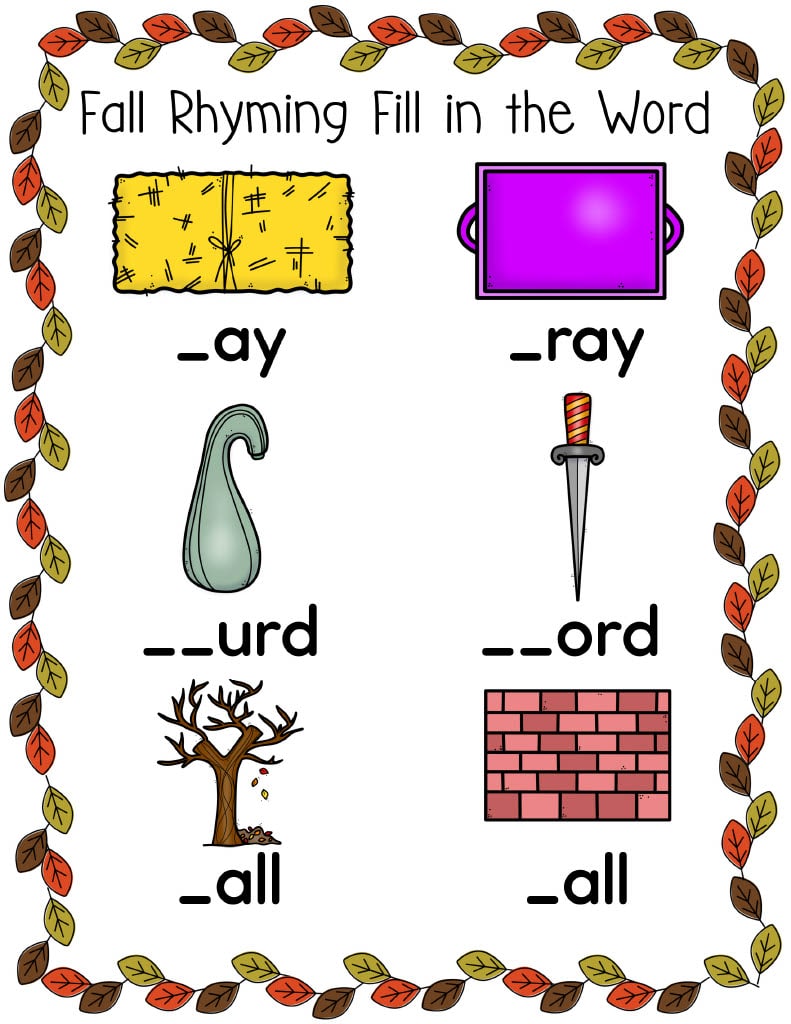 Picture matching cutouts – Once your kiddos spell out the rhyming words and identify them in the picture matching worksheet, there's another game for them to play! You or your children can cut along the zig-zagged lines of the next page in the worksheet packets. Then, shuffle up the cards and have your children match all of the word/pictures in this fall rhyming words activities packet.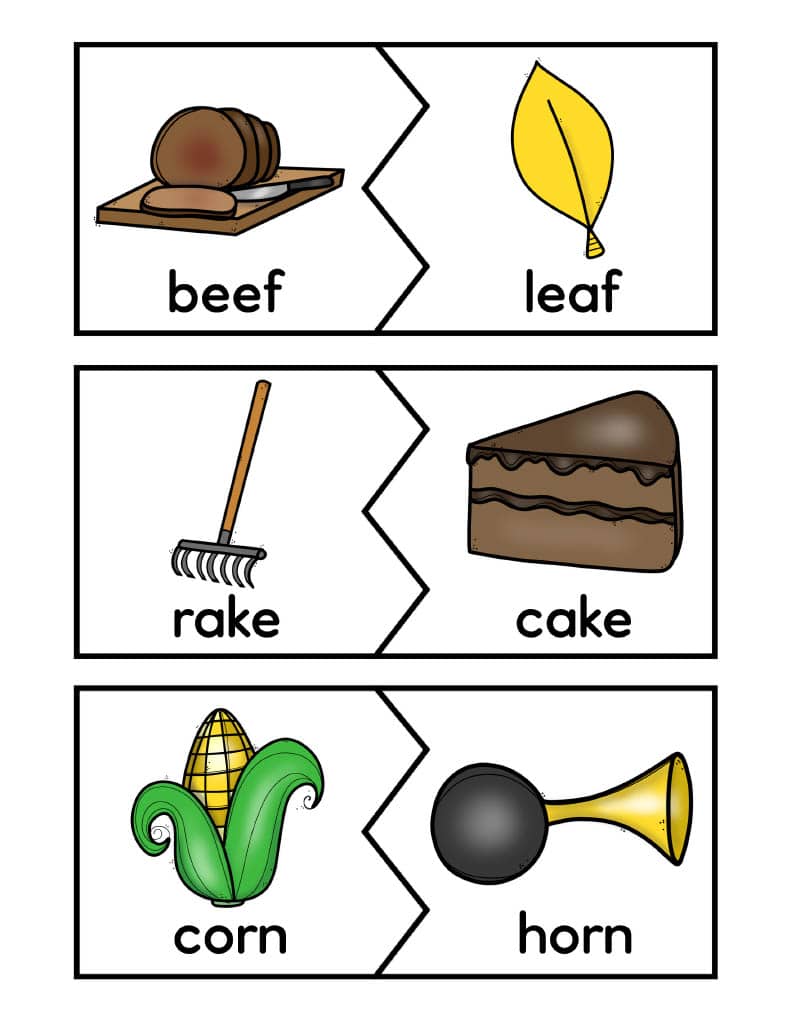 Fall rhyming match – On this page, children will work box by box to identify words that rhyme with the name of the picture in the center. For example, in the box with a tree the words flee, pea, free, and plea will rhyme.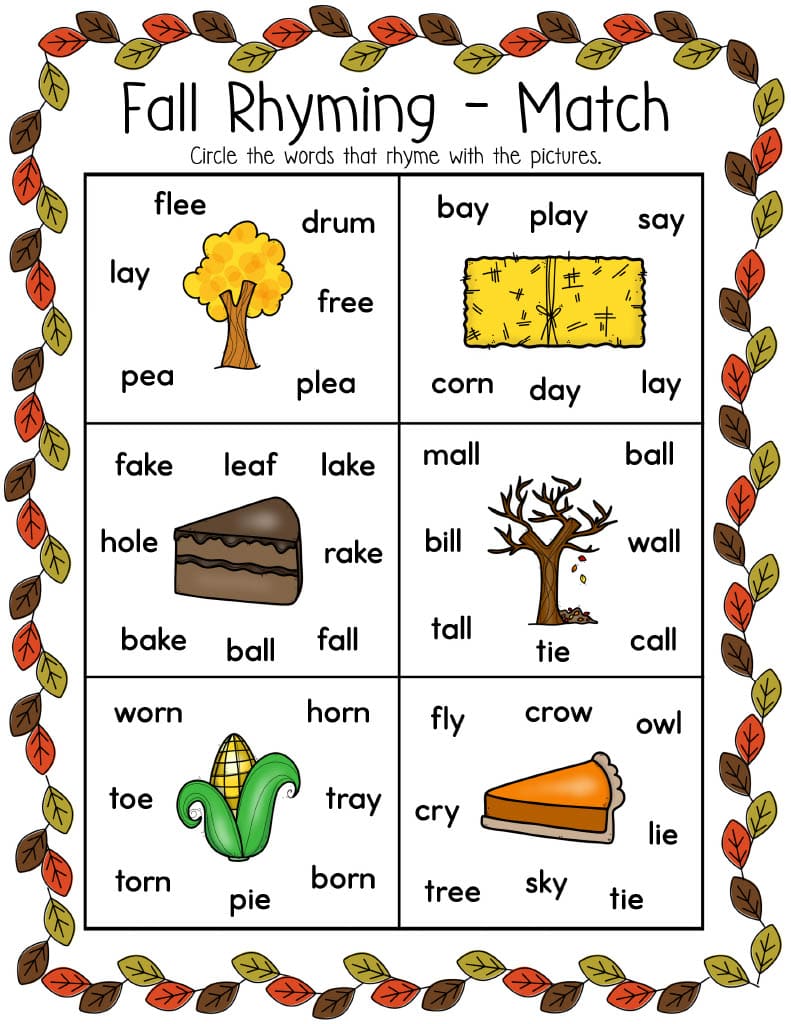 Word match – With each fall themed picture, there are three words attached to the right side. Kids should identify which words match with the pictures!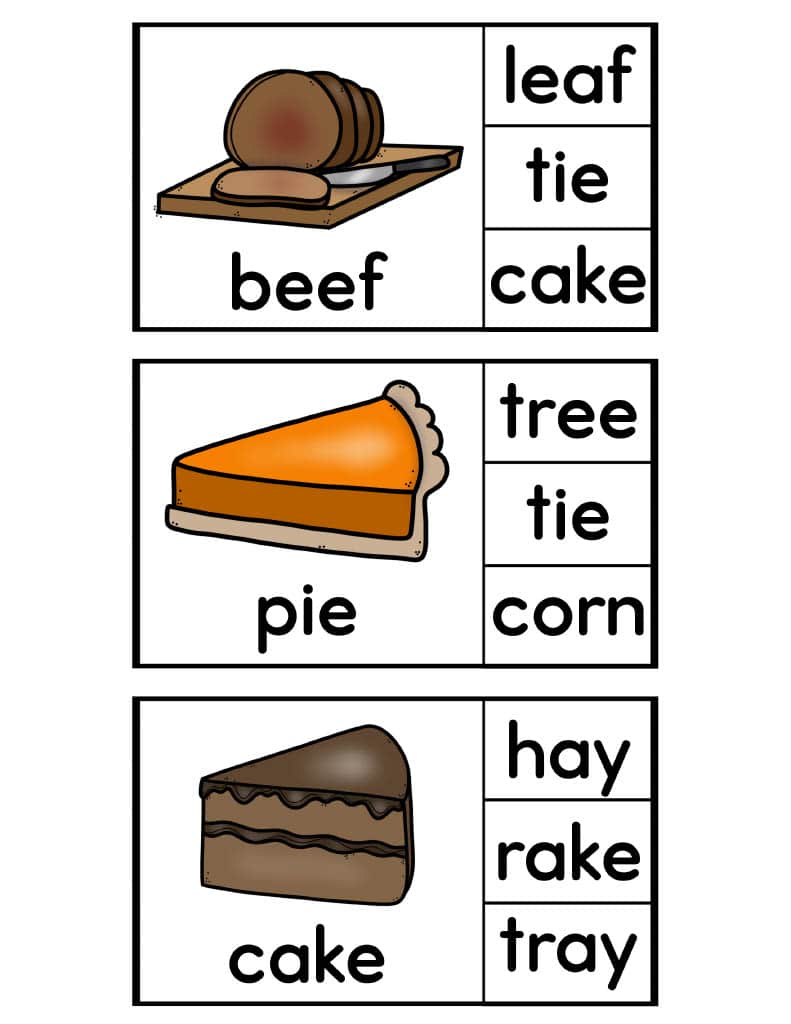 Fall rhyming cut & paste – Have your kids cut out the little square pictures and then paste the ones that rhyme with the name of the photos on the page. Ex. Beef goes with leaf.
Pro Tips!
Print these fall rhyming worksheets on card stock, especially the pages that you will cut. They'll hold up much better and will give you a sturdier surface to work with!
After cutting out the matching game, put all the pieces in a Ziploc baggie or empty pencil pouch to keep them together.
Make things extra fun by using cool pencils, crayons, or pens. Glitter pens would be super fun and Twistable Crayons are one of our favorite things!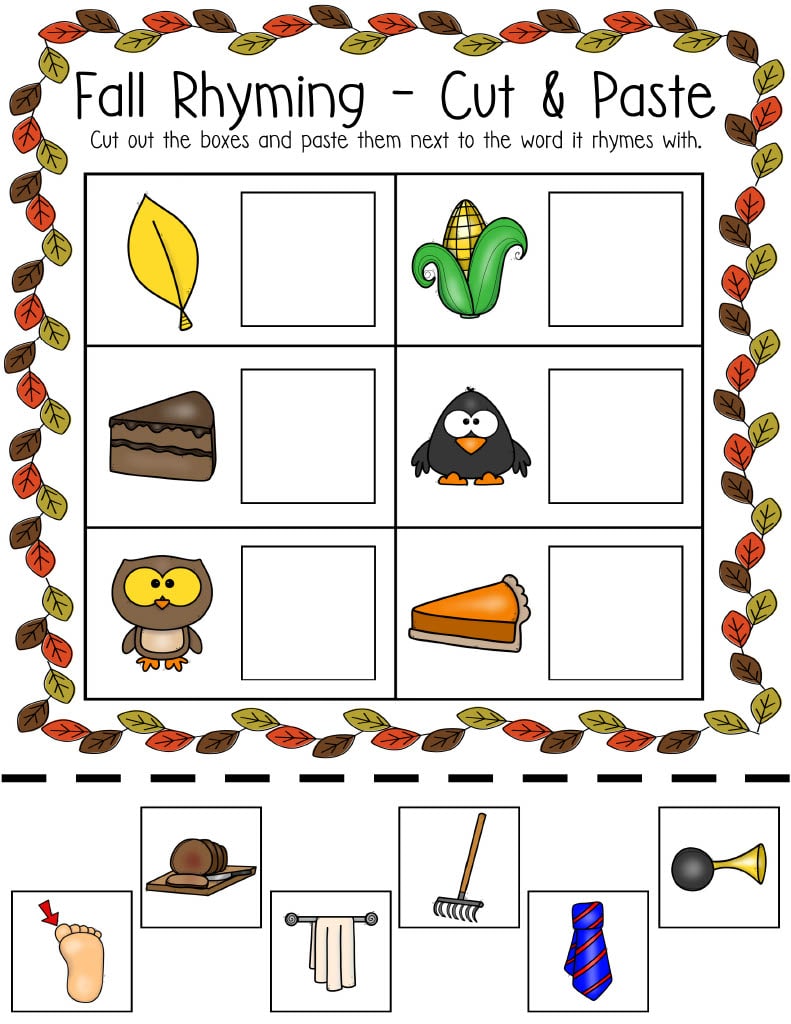 We can rhyme anytime…have a ball in fall…you get the gist. Have a blast playing these fun games and completing each cool worksheet!
More Printable Activities You'll Love