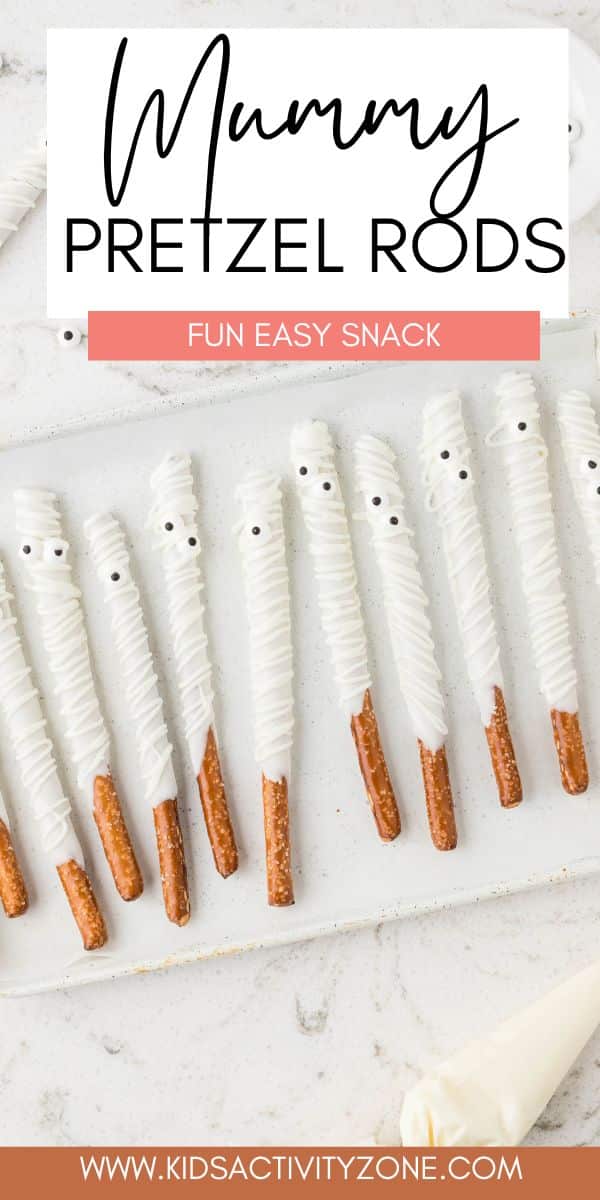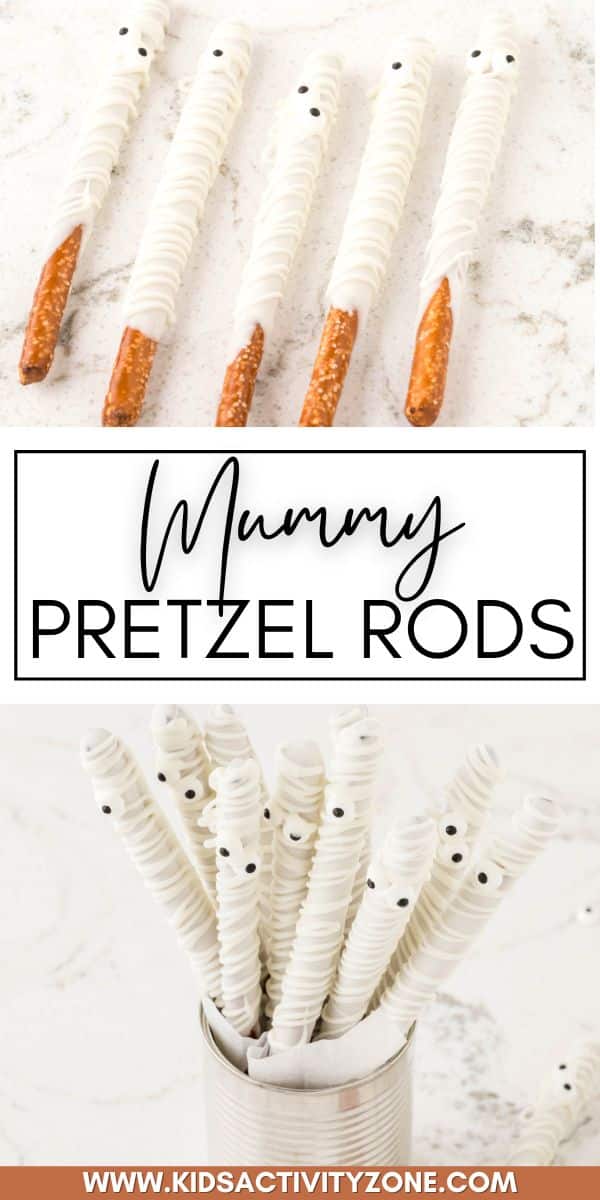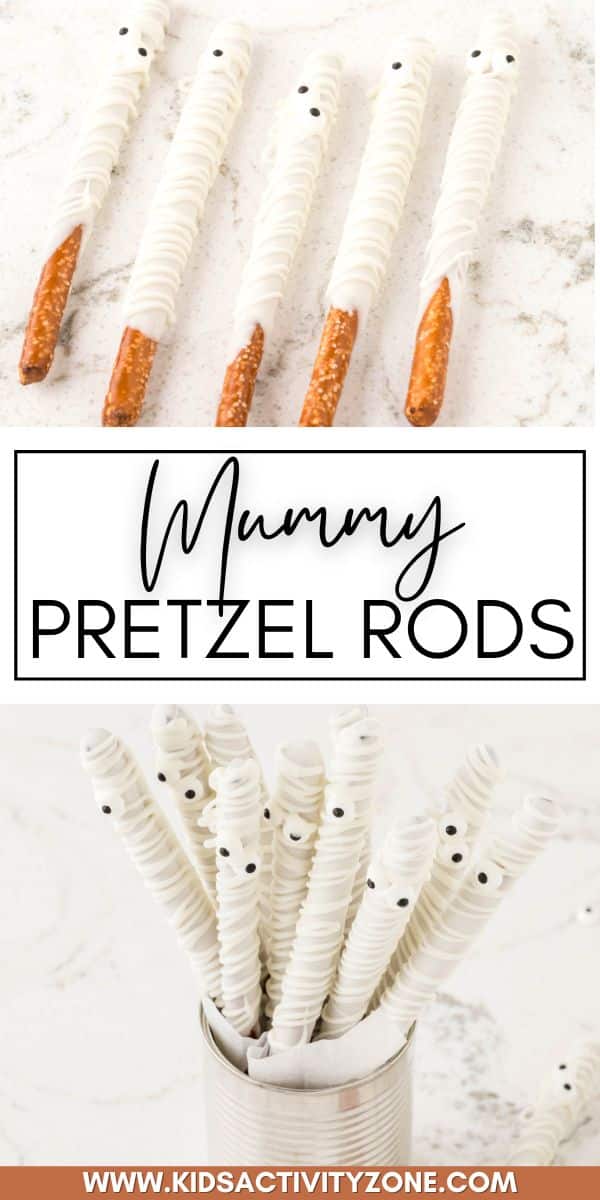 Turn snack time into a Halloween adventure with our Mummy Pretzel Rods! Only 3 simple ingredients – pretzel rods, white almond bark, and candy eyeballs – transform into delectably spooky mummies. Your kids will love making and devouring this easy Halloween recipe.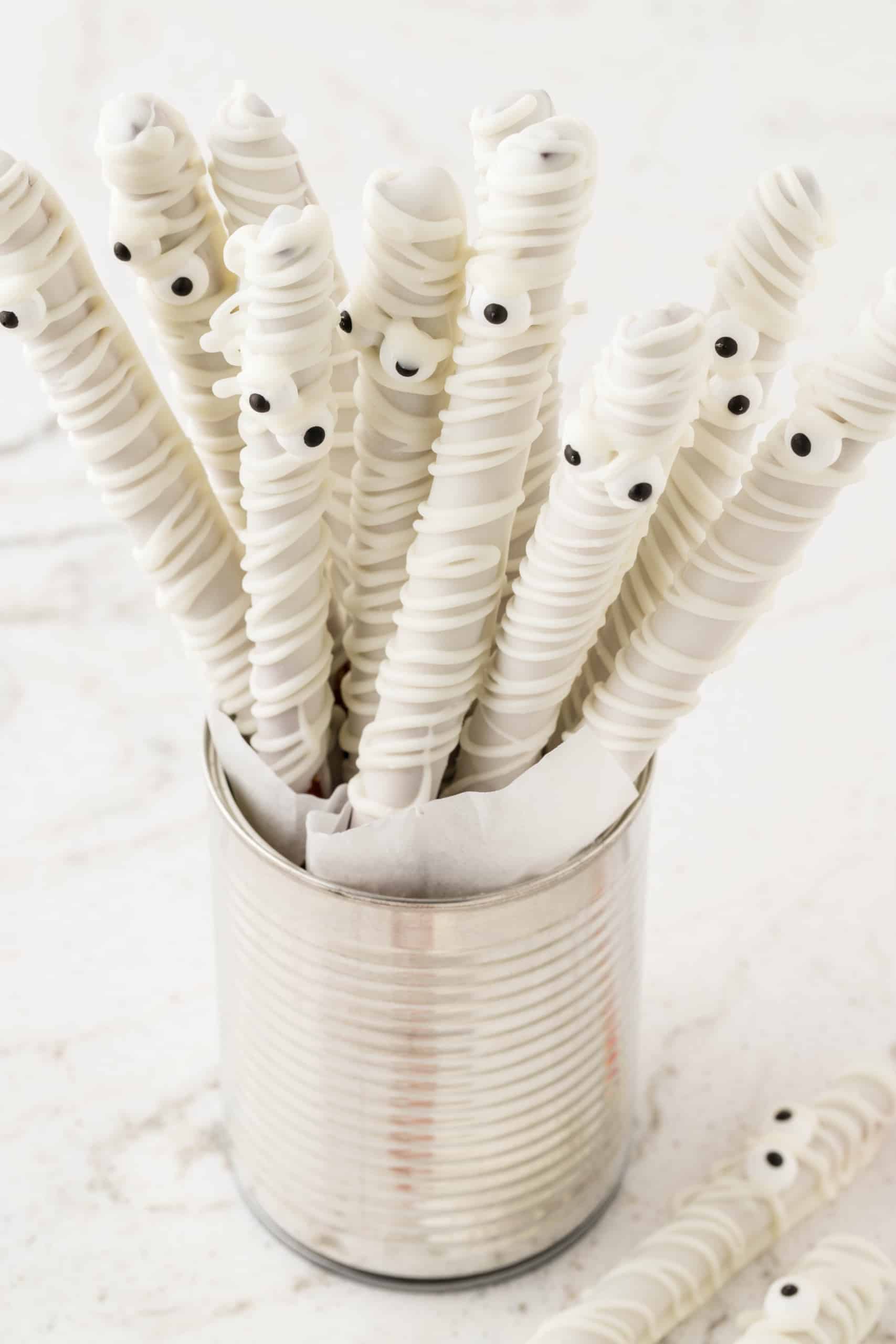 It's that time of year when spooky sweets are a huge hit! These cutie mummy pretzel rods are a Halloween treat perfect for all ages. You can make a whole table full of treats that double as spooky decor for the holiday. Ghost cupcakes and this ghosts in the graveyard dessert are both so fun and just as delicious as Halloween pretzels!
Pretzels come in all different shapes and sizes, so I love to use them in really cool dessert recipes. We make grinch pretzels rods and reindeer pretzels every year around Christmas! So now that we have a fun Halloween pretzel rods recipe, we're mastering more holidays.
The kids are going to love helping you make these delicious and super easy white chocolate mummy pretzels. In fact, they're so easy to make that your older kiddos may be able to make them all on your own. Mummy pretzel rods will be the spooky star of the party!
Why You'll Love Mummy Pretzel Rods
It only takes about 20 minutes to put these Halloween pretzel rods together. Then you can just let them set until they're ready to go!
All you need is 3 ingredients to make a big batch of Halloween mummy pretzels. So simple!
Wrap each pretzel stick in cellophane and tie a bow to hand out these mummy pretzel rods as a party favor or gift.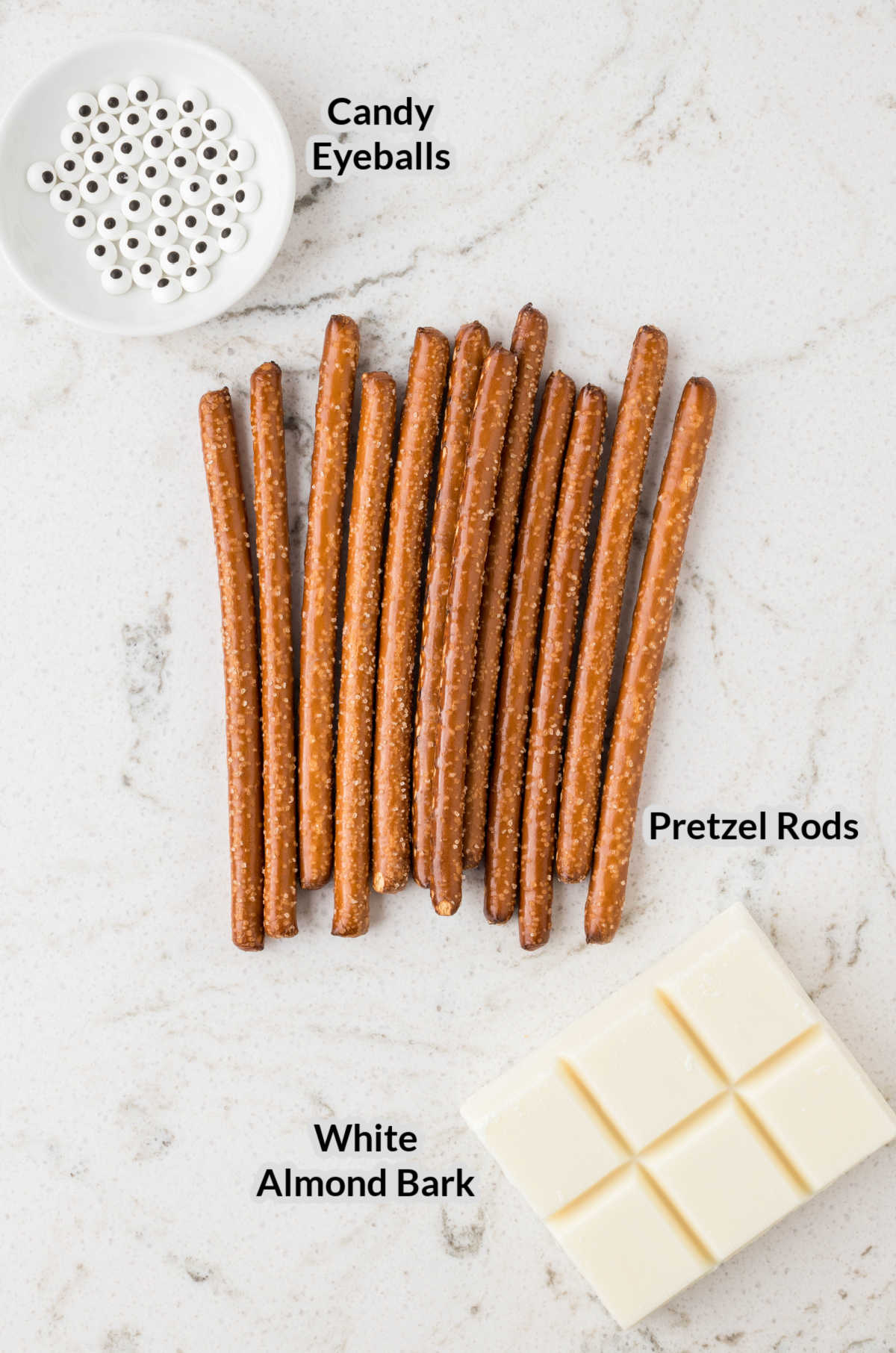 Ingredients for Mummy Pretzel Rods
Pretzel rods – Use the tall, thick pretzel rods as the base for this recipe. I like to grab a couple bags so that I can pick out the rods that aren't broken and ensure I have plenty to choose from.
White almond bark – I do not recommend using white chocolate in place of white almond bark. It can be more difficult to deal with and, once set, is more temperature sensitive than almond bark is.
Candy eyeballs – These can be found on the baking aisle of your local grocery store, and often at your local hobby store too!
Helpful Tools
How to Make Mummy Pretzel Rods
Line a large baking sheet with parchment paper or wax paper and then set it aside.
Then, place 12 ounces of white almond bark into a microwave-safe bowl and microwave for 1 minute. Stir the bark and heat in additional 30-second increments until smooth and creamy.
Once the almond bark if completely melted, allow it to cool for a minute or two. Place a large piping bag over a tall glass with the top of the bag folded over.
Pour the melted white almond bark into the piping bag and then start dipping each pretzel about ¾ of the way up. Allow excess almond bark to drip off and then place it onto the previously prepared baking sheet.
Add edible eyeballs to the top of dipped section of the pretzel.
After dipping all pretzels and placing the eyeballs on them, cut the very end of the piping bag to create a small hole.
Drizzle the remaining melted almond bark over the dipped pretzels to create a zig-zag pattern that looks like a wrapped mummy.
Allow 30 minutes for the mummies to dry and set. Once dry, trim off any excess almond bark to create a uniform look.
Serve in a cup or on a plate for a cute display, or wrap in cellophane to hand out as gifts!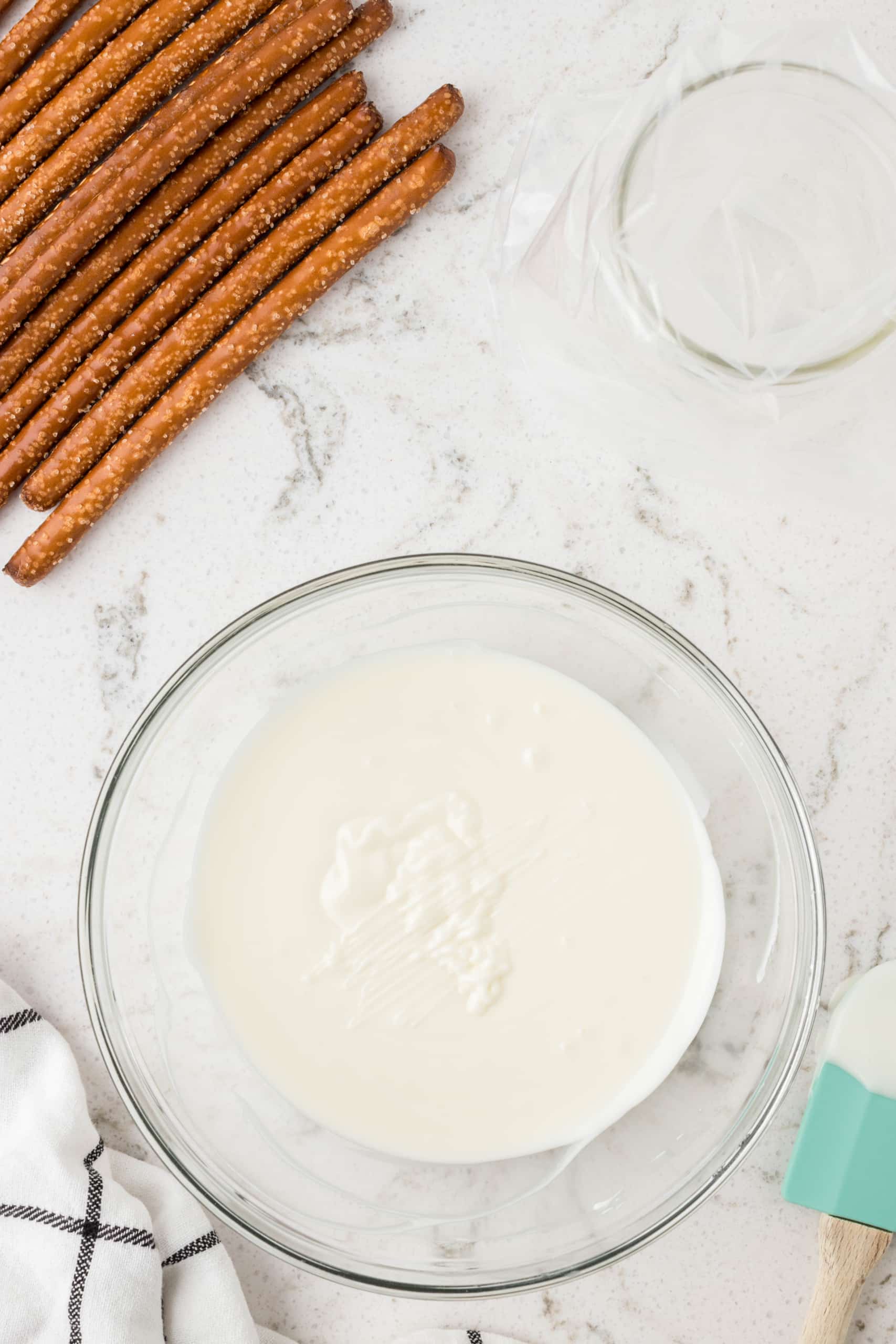 How to Store Halloween Mummy Pretzels
Place chocolate covered pretzel rods into an airtight container and store at room temperature in a cool, dry place for up to 2 weeks. Do not refrigerate or freeze because condensation inside the container can cause the chocolate to sweat and make the pretzels stale.
What can I add to mummy pretzels?
Grab some Halloween sprinkles to give these mummies some decoration. Of course, mummies are typically white, but who says we have to follow those rules? A combo of orange, black, and purple sprinkles would be super cute sprinkled onto the body of each mummy pretzel.
Add extra flavor by putting some extract in the almond bark. Peppermint extract and orange extract would taste great.
Pro Tips!
Work quickly while the almond bark is melted. Dip each pretzel and add the eyeballs, then you can drizzle the zig zag on them. If you have someone helping you, let them add the eyeballs so you can keep dipping pretzels!
Choose the straightest pretzels you can find. Try to steer away from the curved or bumpy ones.
If you need your pretzels to set more quickly, place them in the refrigerator until the chocolate hardens.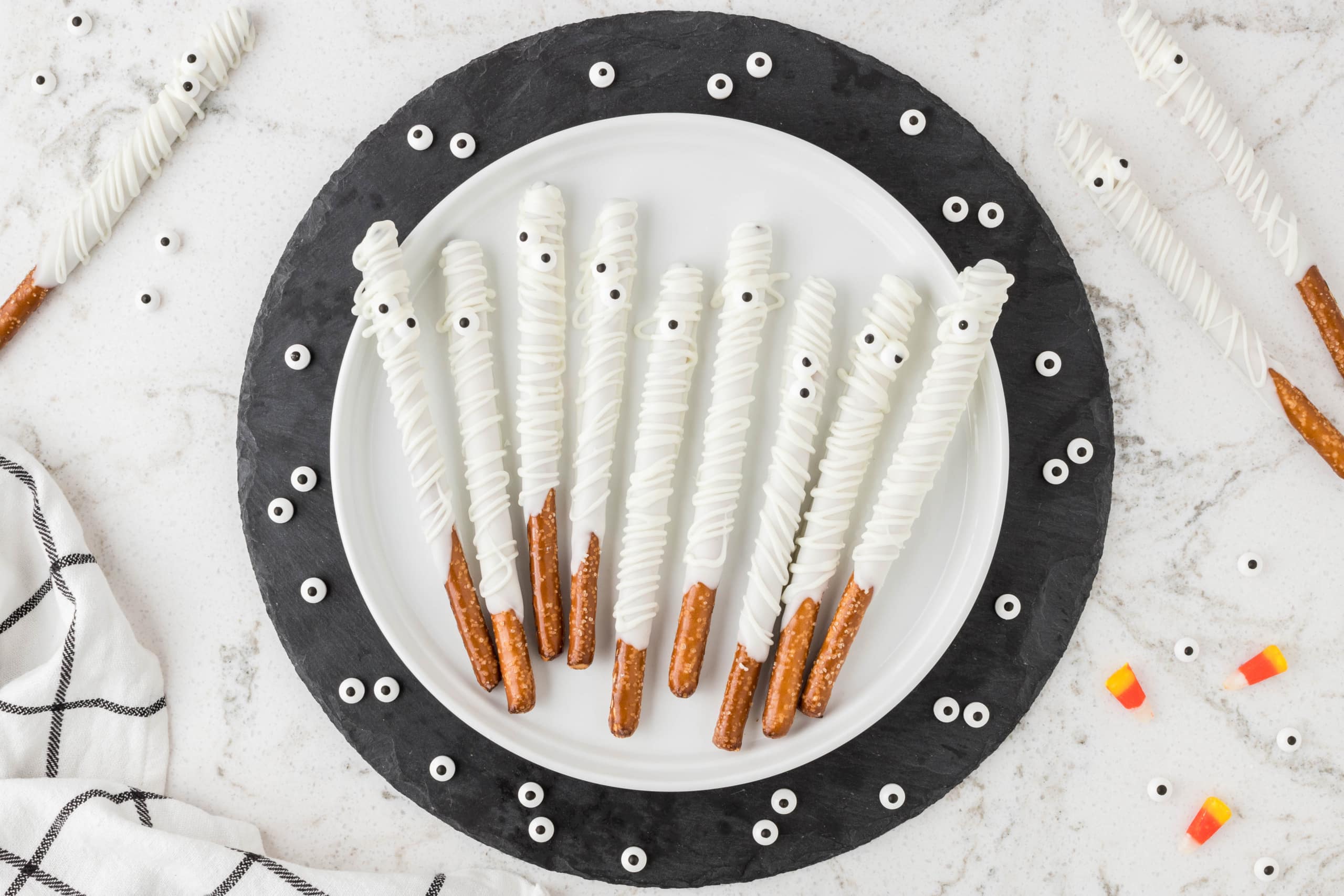 We love this silly, spooky, and oh so fun mummy pretzel rods! Halloween sweet treats are just a blast to make!
More Halloween Recipes You'll Love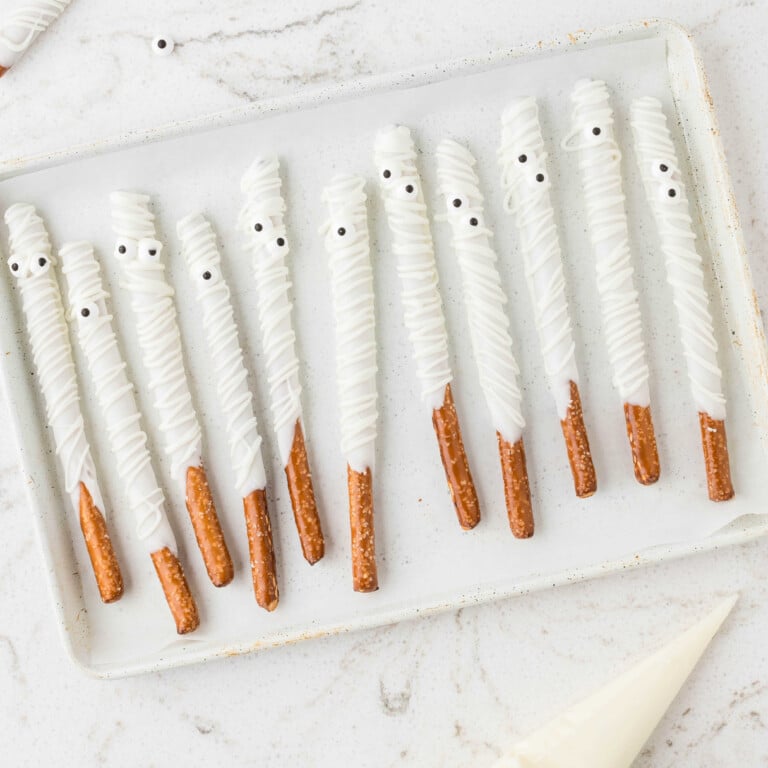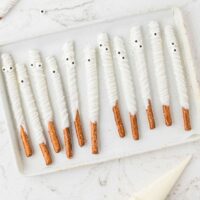 Mummy Pretzel Rods
Quick and easy Halloween treat with only 3 ingredients. Kids will love making and tasting these Mummy Pretzel Rods!
Print
Pin
Rate
Servings:
12
pretzel rods
Ingredients
12

pretzel rods

12

ounces

white almond bark

24

edible candy eyeballs
Instructions
Prepare a large baking sheet with parchment or wax paper and set aside.

Grab a medium microwave-safe bowl and place 12 ounces of white almond bark in the bowl. Microwave for 1 minute, stir and heat for additional 30-second increments until melted. Once melted, allow to cool for just a few minutes.

While the almond bark is cooling, place a large piping bag in a tall glass with top of bag folded over. Pour the melted white almond bark into the piping bag.

Start by dipping each pretzel rod about ¾ of the way up with melted almond bark. Remove from almond bark, allow the excess to drip off, then place it on your parchment-lined baking sheet. Repeat until all pretzels are dipped.

Once all the pretzels are dipped, add your edible eyeballs. Then take the piping bag and cut a small hole in the tip. Drizzle the remaining melted almond bark over the dipped pretzels in a zig-zag pattern creating the effect of wrapping your mummy.

Allow at least 30 minutes to dry the mummies. Once dry, you may need to use a small sharp knife to trim off excess white chocolate.
Notes
You can use a large plastic bag if you don't have a piping bag.
Placing the piping bag in a large tall glass or cup will help when coating the length of the pretzel rods.
Nutrition
Serving:
1
g
|
Calories:
210
kcal
|
Carbohydrates:
14
g
|
Protein:
7
g
|
Fat:
15
g
|
Saturated Fat:
1
g
|
Polyunsaturated Fat:
13
g
|
Sodium:
265
mg
|
Fiber:
3
g
|
Sugar:
2
g