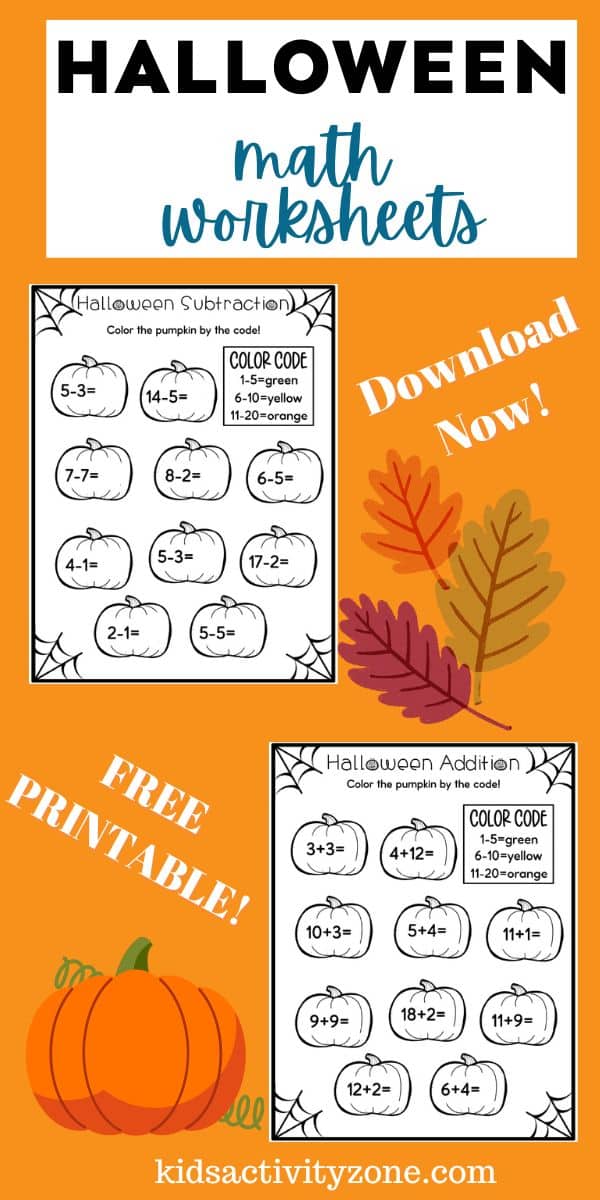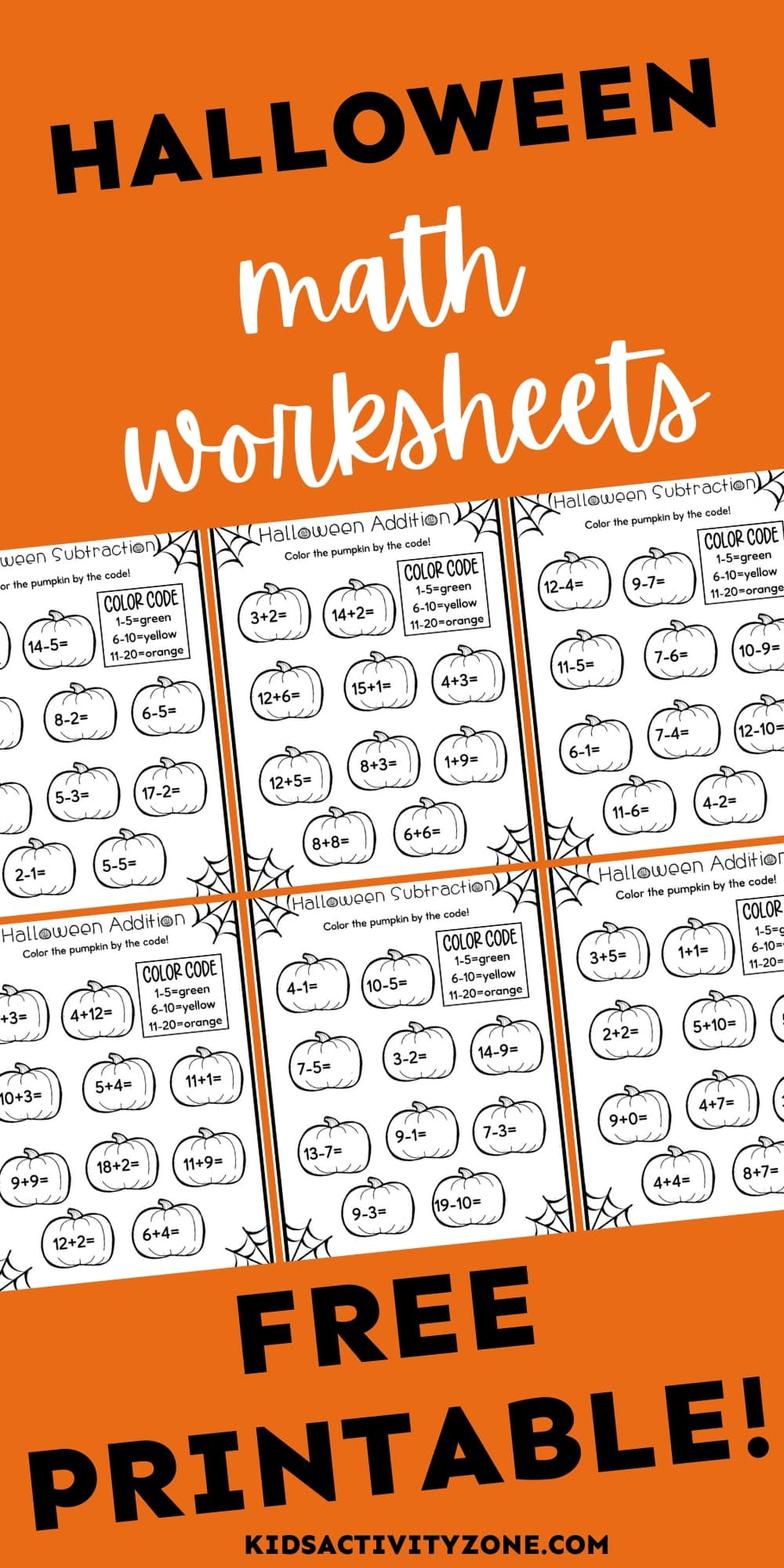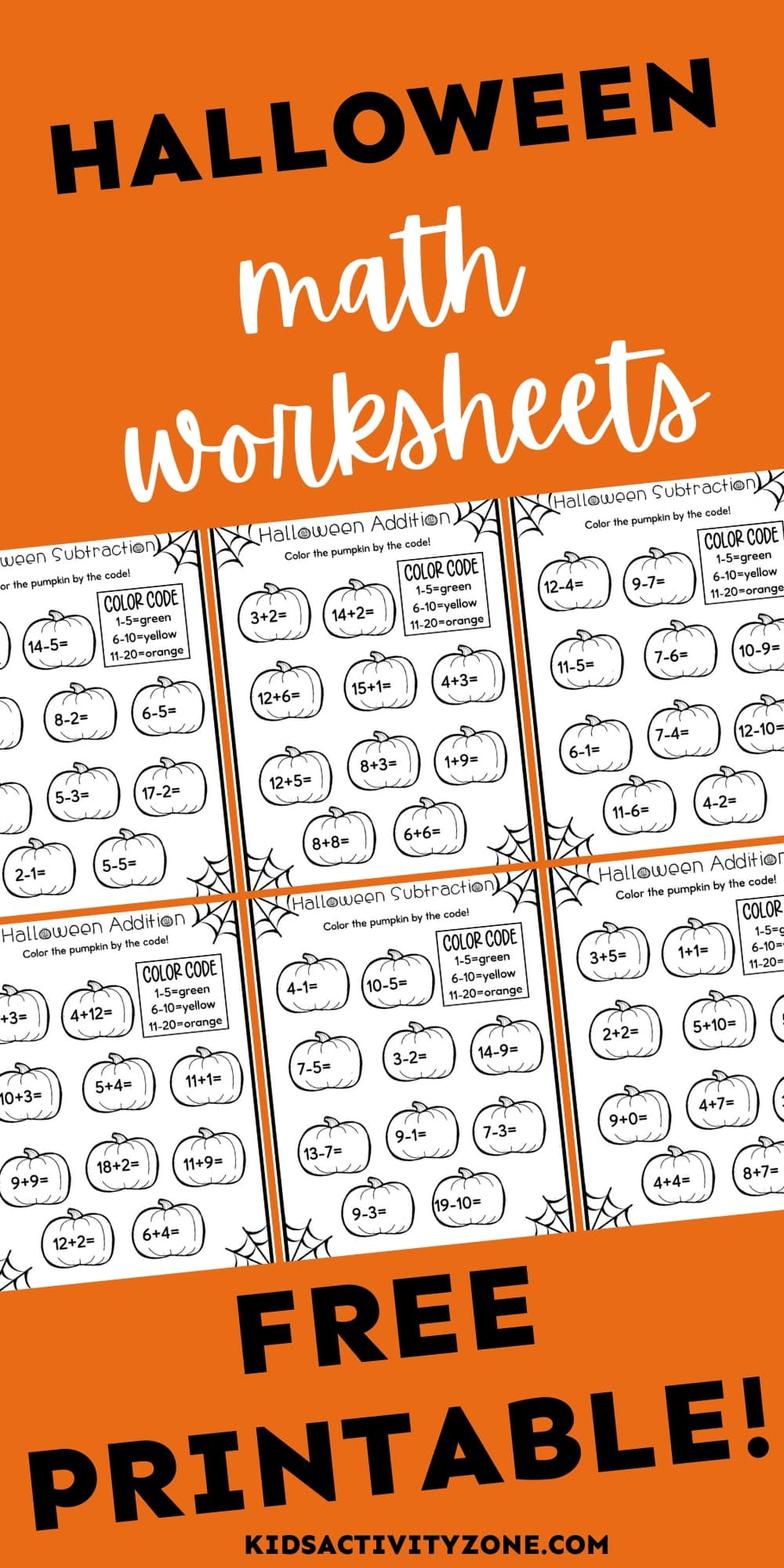 Free Printable Halloween Math Worksheets that are perfect for kindergarteners and preschoolers. Plus, there are keys included for them! For even more fun color your pumpkins with the color code. Grab these fun free Halloween worksheets to practice math with your children or in the classroom.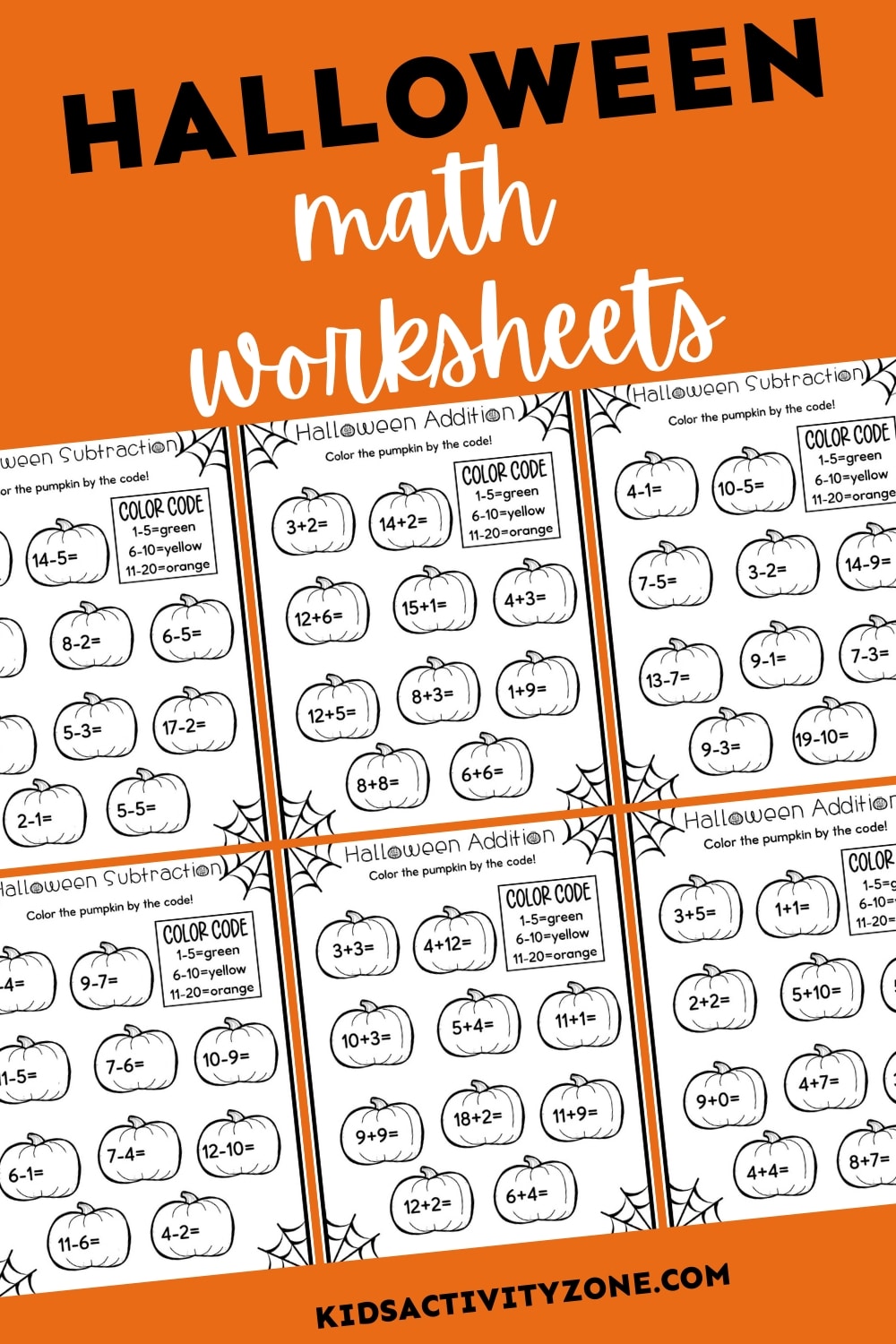 Math is spooky already, right? Put it on a Halloween themed worksheets and it's EXTRA spooky…but way more entertaining! These super fun halloween addition and subtraction worksheets are the best way to make math practice more enjoyable.
Most kids love Halloween but hate math. So combining the two may make them want to actually work on their math skills.
Each of these halloween math worksheets work on basic addition and subtraction skills that elementary aged children learn in school. And after they solve each equation, they'll get to color in the pumpkins too!
If your kids are needing some extra math help, or just want a fun activity to do after school, then print out these worksheets and whip up a batch of Halloween snack mix. Here's to making math fun…and maybe a little spooky!
Why You'll Love these Halloween Addition and Subtraction Worksheets
These free halloween math worksheets can be used in a classroom setting as an assignment, or at home as an activity to encourage learning. It's educational and fun!
Not only do these worksheets focus on math, but then you'll color the pumpkins by code. Coloring improves hand-eye coordination and encourages creativity.
This is a budget friendly activity since all you need is a printer, writing utensils, and coloring supplies. If you're sticking to a budget, you'll love these worksheets.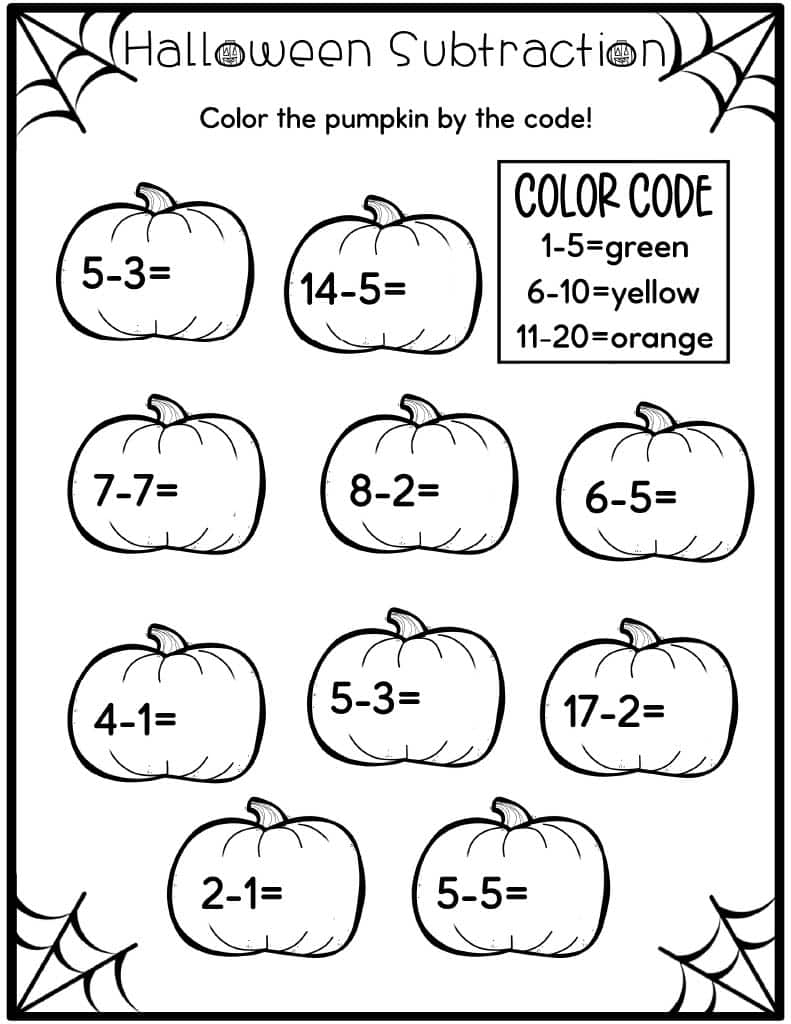 Supplies Needed
Pencil – I remember my school teachers always telling us to work on math equations in pencil, never pen! Being able to erase mistakes and go back to fix them is really important.
Coloring supplies – Use your favorite coloring supplies to color in each pumpkin once the math equation is solved. We love twistable crayons in our house! You can also use colored pencils. I'd steer away from using markers because you may not be able to see the equation after you color over it with marker.
Printer – Print each of these Halloween math worksheets in black and white. You can use your own printer, print at your local library, or print at your nearest Office Depot.
Classroom Use
When Halloween falls on a weekday, I always feel for the teachers who are tasked with the job of wrangling excited children all day long. So here is my help to make math time easier!
Print out these free Halloween math work sheets and pass them out randomly among the class. That way, kids can't take answers off of their neighbors paper because it will be something different than what they have.
Then if you have time leftover, read a fun book like How Big Could Your Pumpkin Grow by Wendell Minor. And maybe even watch It's The Great Pumpkin Charlie Brown!
What is Included in these Halloween Addition and Subtraction Worksheets?
In this packet of free printable Math Halloween worksheets, you will find 3 pages of addition equations and 3 pages of subtraction equations. For all six pages of math, there is also an answer key included.
Pro Tips!
Color the pumpkins on the answer key according to the color code listed. That way you can easily check equation answers and colors to make sure everything is correct.
Make this activity more exciting by using fun pens and fun coloring supplies. Maybe let you kids pick out a new pen from the store. Or maybe use glitter pens and spooky Halloween colors. No matter what you choose, just have fun with these worksheets!
If you want the pages to hold up a little better, feel free to print them on white card stock.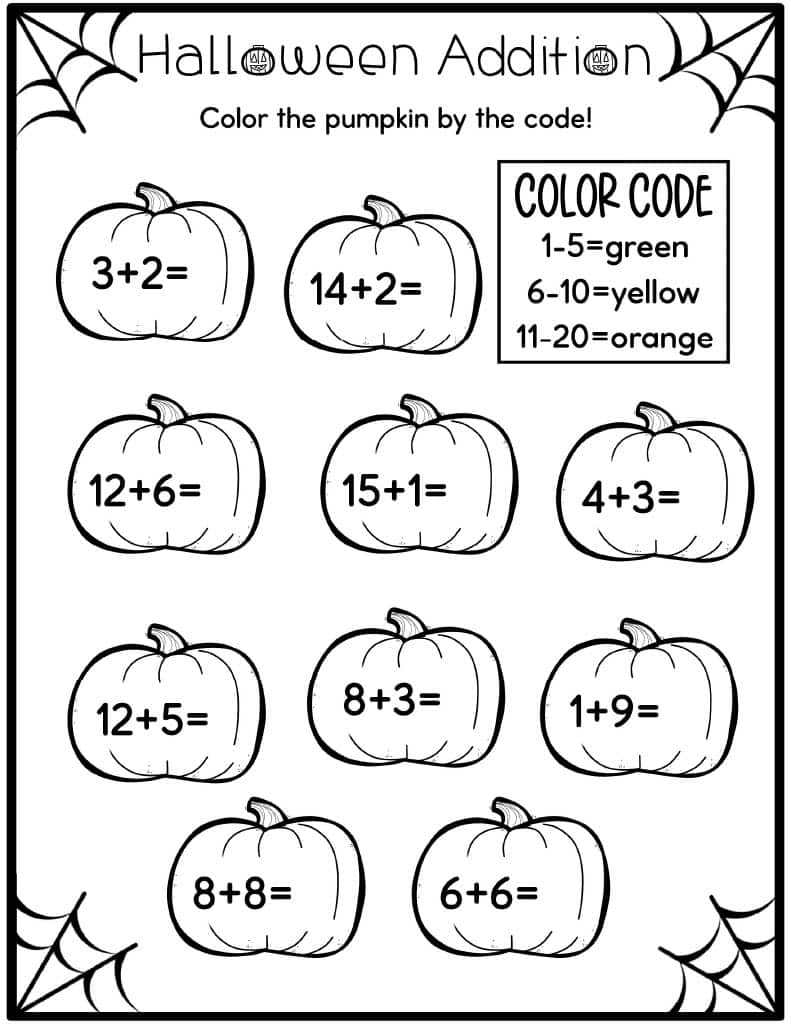 Addition and subtraction has never been more fun! Print out these worksheets and get to solving these spooky math problems.
More Halloween Activities and Crafts You'll Love