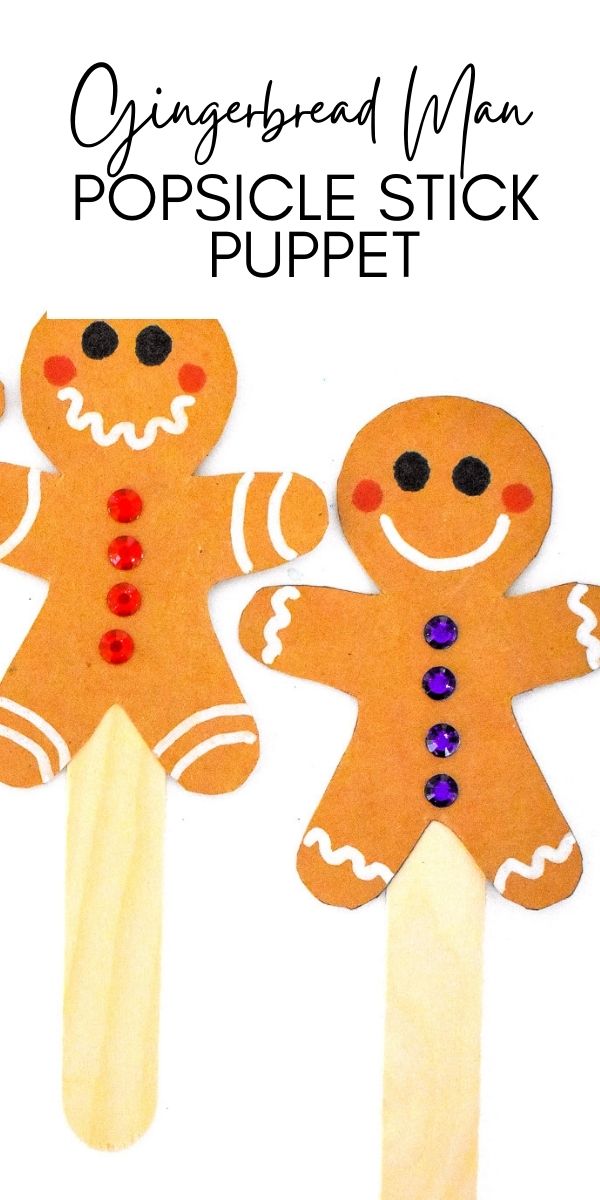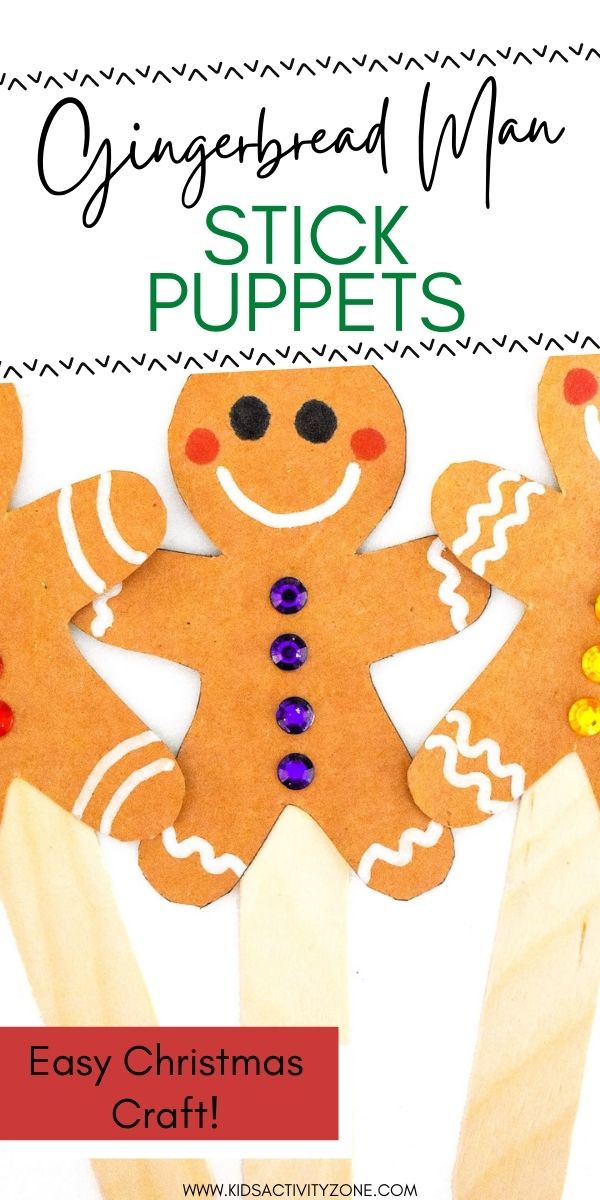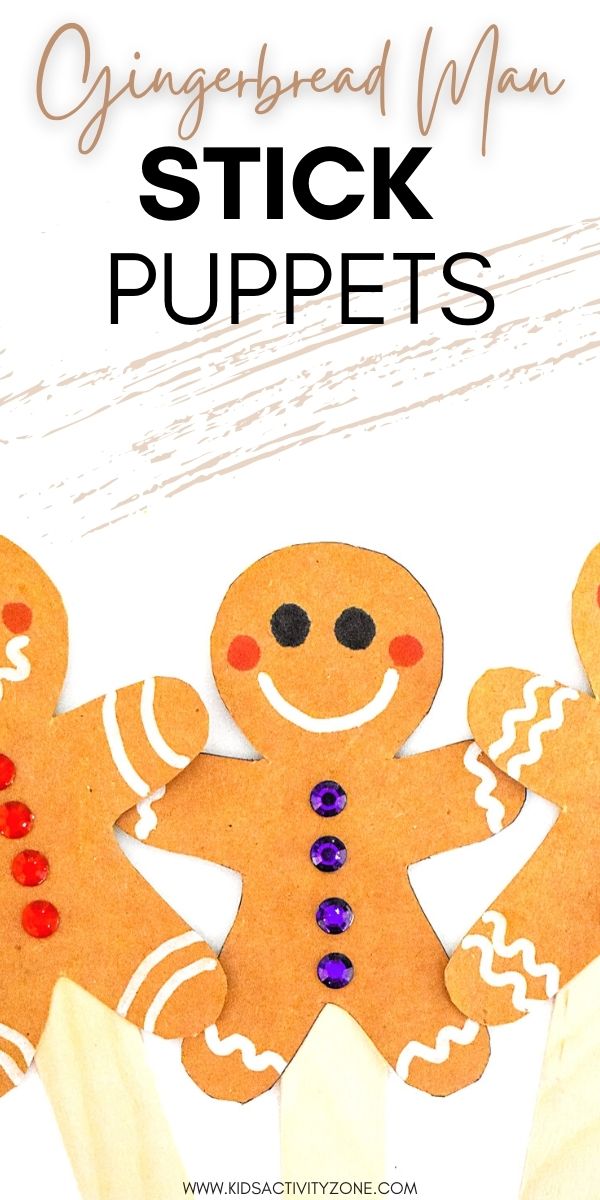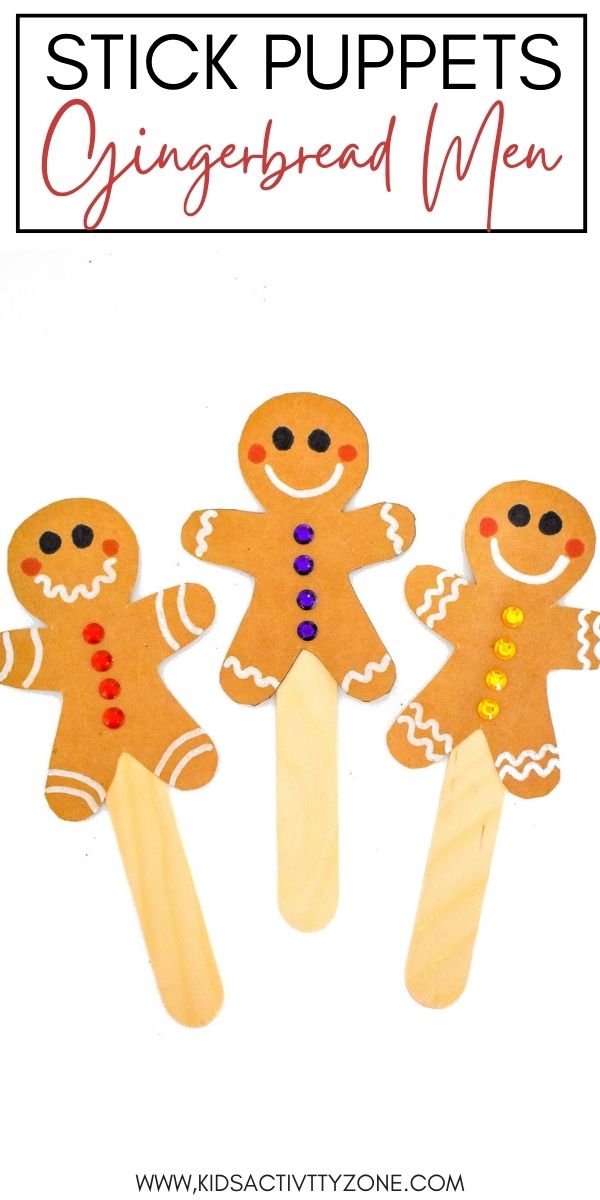 There's nothing cuter than the Gingerbread Man at Christmastime! Now, you can make these cute and easy Gingerbread Man Puppets! Simply trace and cut out the pattern for a gingerbread man, decorate and glue on a craft stick for and easy stick puppet!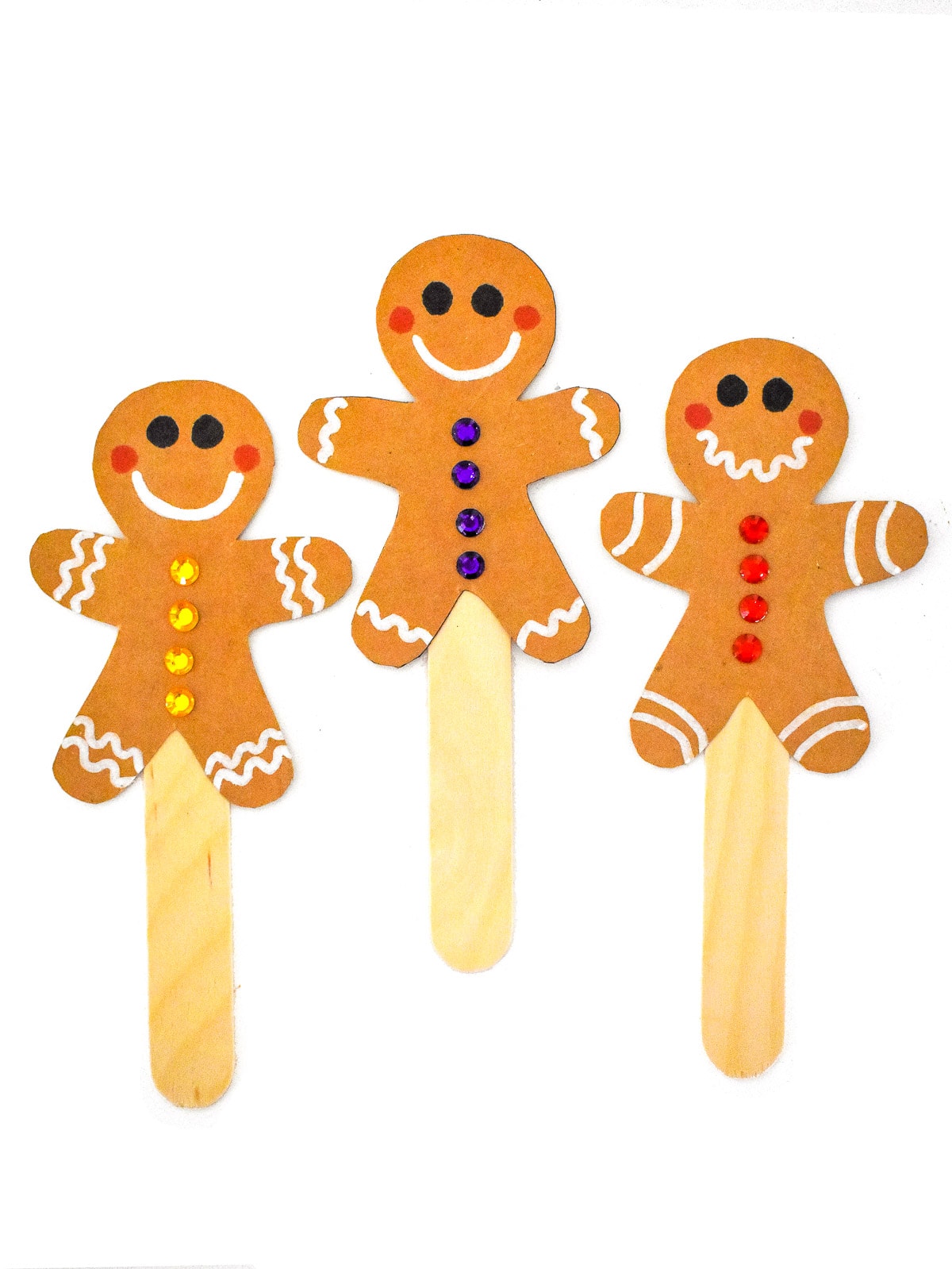 How cute are these Gingerbread Men? Such a fun and quick craft to do with the kids. They will love making cute Gingerbread Man Puppets.
You could have a themed Gingerbread Man day full of of fun activities!
You'd definitely need to read the book The Gingerbread Man first. Do this easy craft and make a batch of Soft Gingerbread Cookies! Finish the day off watching The Gingerbread Man Song!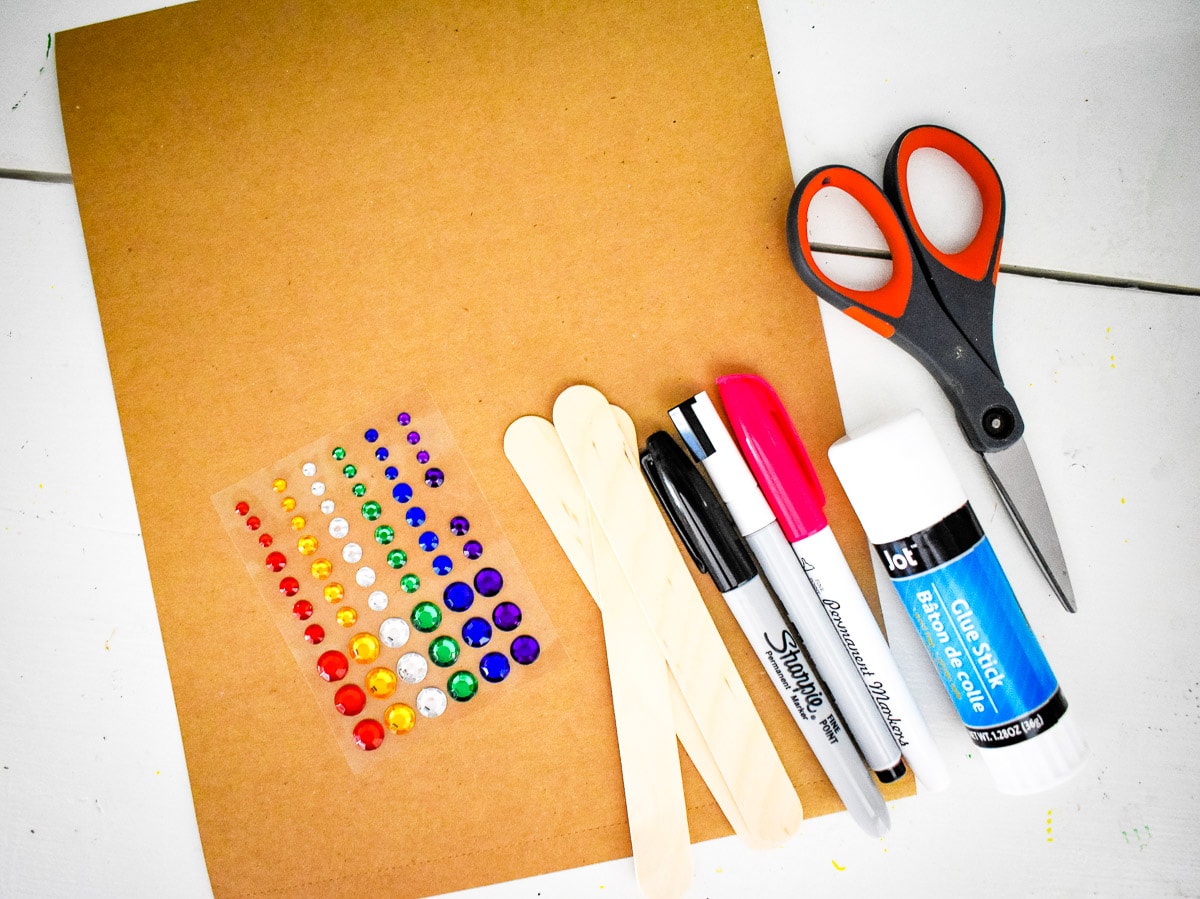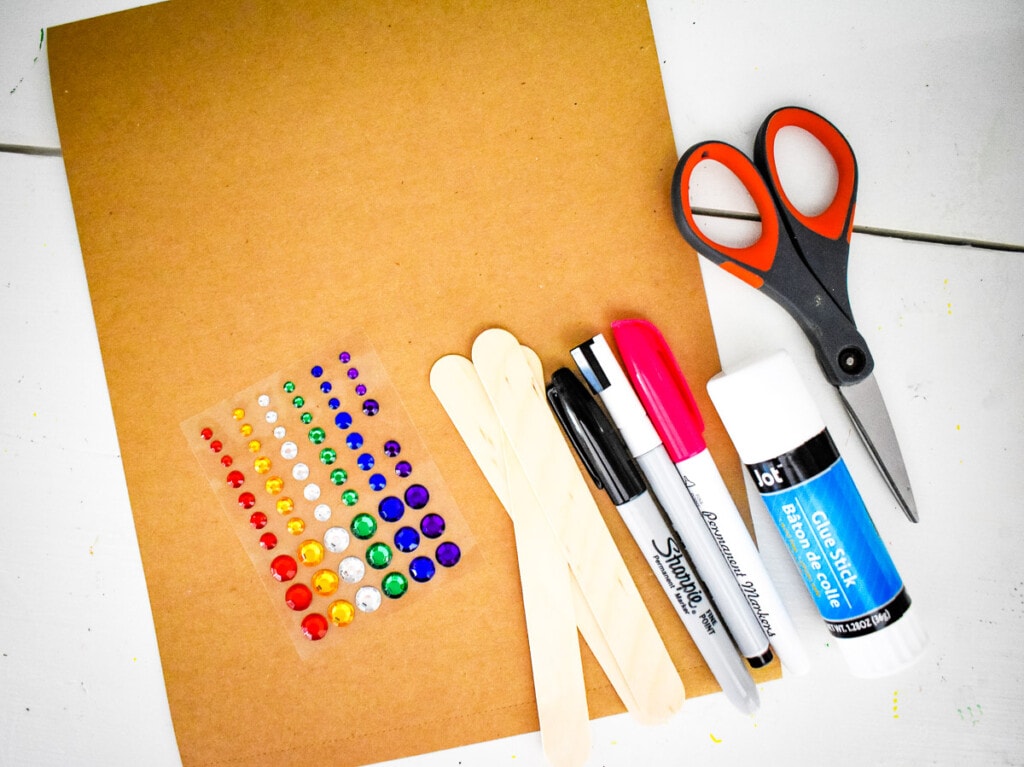 Supplies Needed for Gingerbread Man Stick Puppets
Print, Trace and Cut Gingerbread Man
The first step to this easy craft is to print the Gingerbread Man template out.
After you have the template printed cut out the gingerbread man from the template.
Next, trace the amount of Gingerbread man you'd like on brown cardstock paper. Using cardstock will help the Gingerbread man stay sturdy when you use him as a puppet and not flop around like it would on printer paper or construction paper.
After you have them traced on brown cardstock cut the Gingerbread men out.
Decorate the Gingerbread Man!
Now, it's time to decorate your gingerbread man and make him cute!
The first thing you'll want to do is to draw a simple mouth with white marker. Then draw lines around the hands and feet. We did squiggly lines.
Then make black circles for his eyes and complete the check with pink circles for cute pink cheeks.
The final decorations are the gems down the front of the gingerbread man. We used self-adhesive gems so you just peel and stick them creating his "buttons"!
Attach Craft Stick
Time for the finishing touch!
Grab your Jumbo Sized Craft Stick. A regular popsicle stick will work in a pinch, but the jumbo size helps hold the Gingerbread man up by giving him more support and it's easier for little kids hands!
Attache the craft stick to the gingerbread man and you have a cute stick puppet!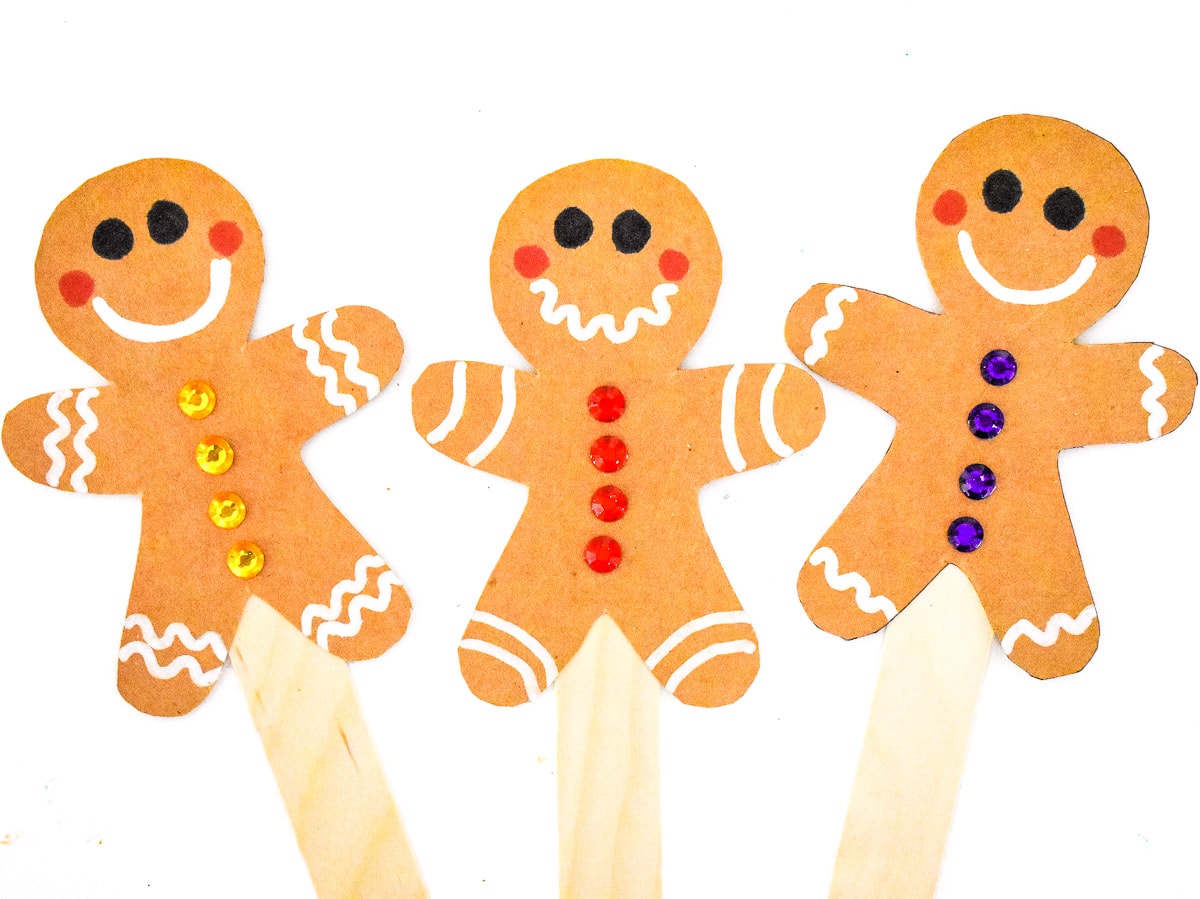 Grab these Easy Christmas Crafts!
If you take a picture and share them on Instagram make sure to #kidsactivityzone or tag us @kidsactivityzoneblog so we can see them!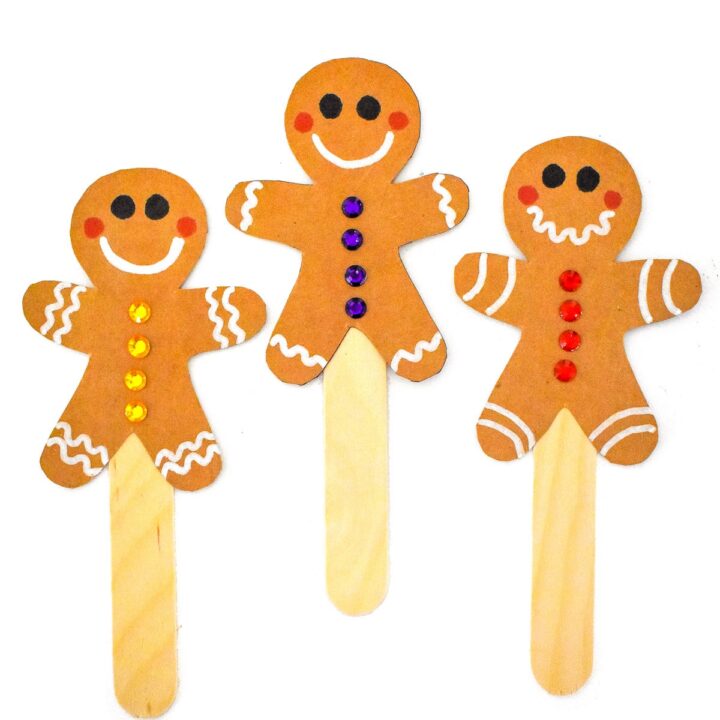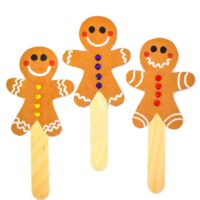 Gingerbread Man Puppets
Cute adorable Gingerbread Man glued to craft sticks to make puppets!
Print
Pin
Rate
Instructions
Begin by printing the gingerbread man template. Cut out.

Trace the gingerbread man on brown cardstock. Then cut out the Gingerbread man.

Draw a simple mouth with the white marker. Draw lines around the hands and feet, too.

Make black circles for eyes.

And complete the face with pink cheeks.

Now, stick small gems down the front of the gingerbread man.

Finish by gluing the gingerbread man onto a jumbo craft stick.