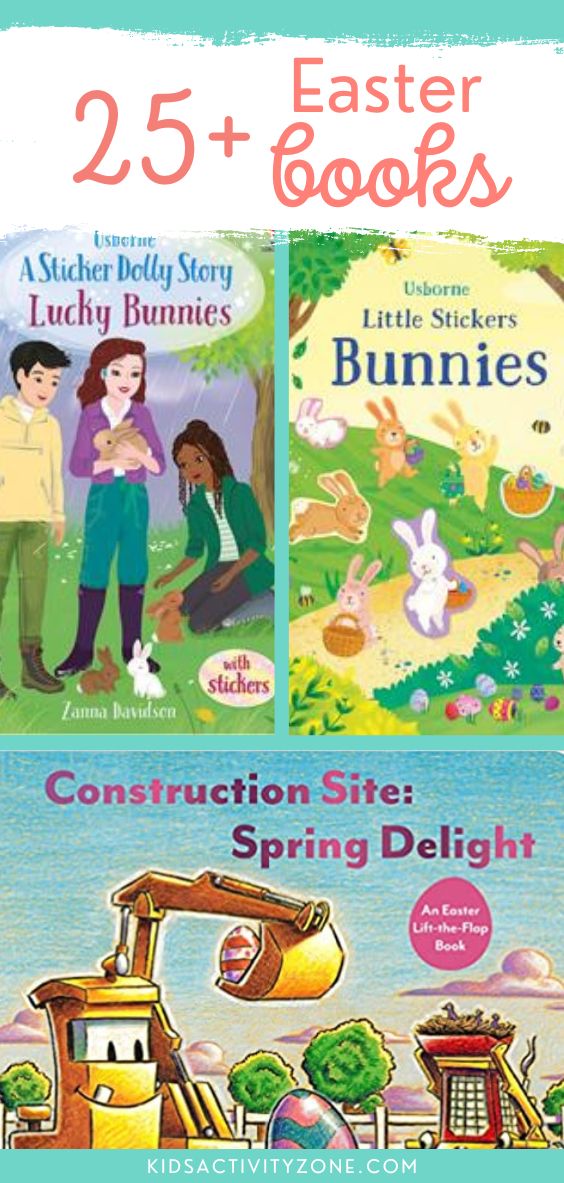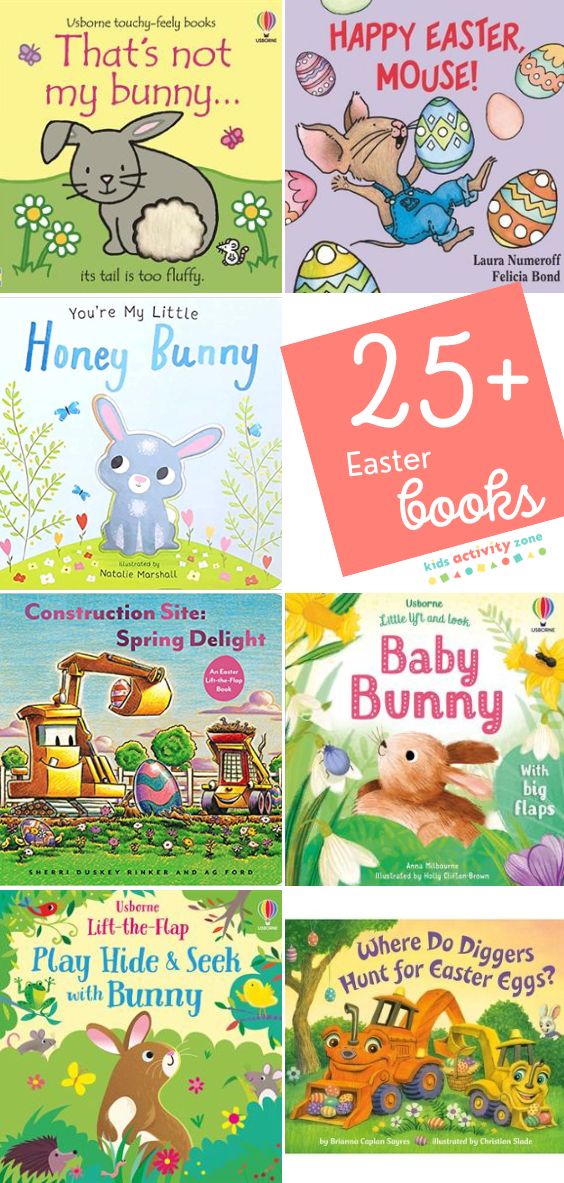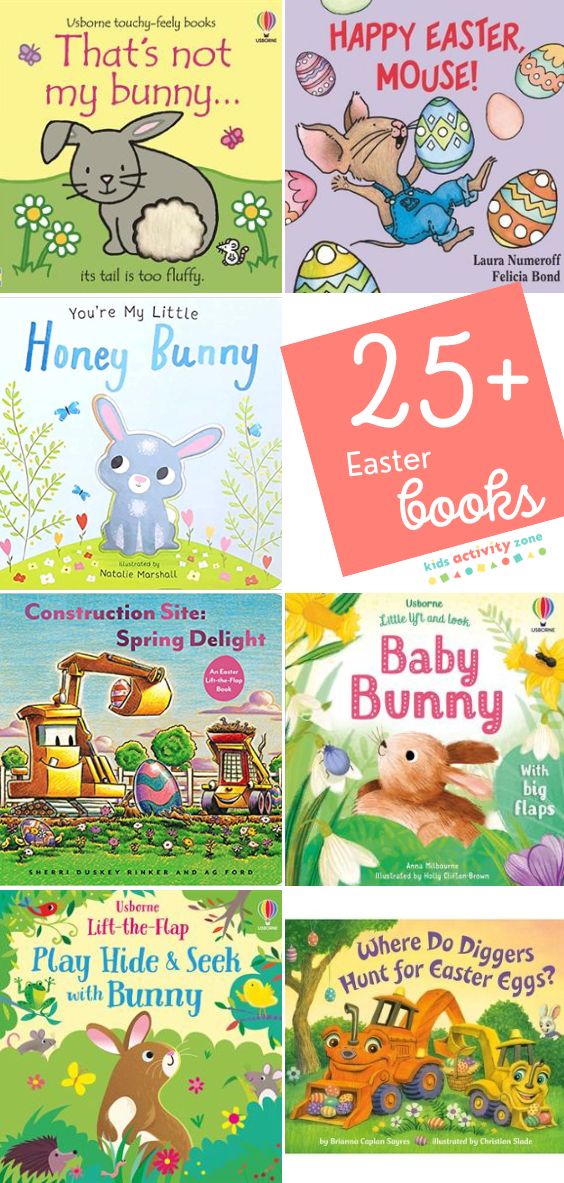 Looking for books to tuck in your child's Easter back this year? Here are over 25 of our favorite Children's Easter Books for their baskets. Their is something for everything with flap books, sticker books, young readers and more!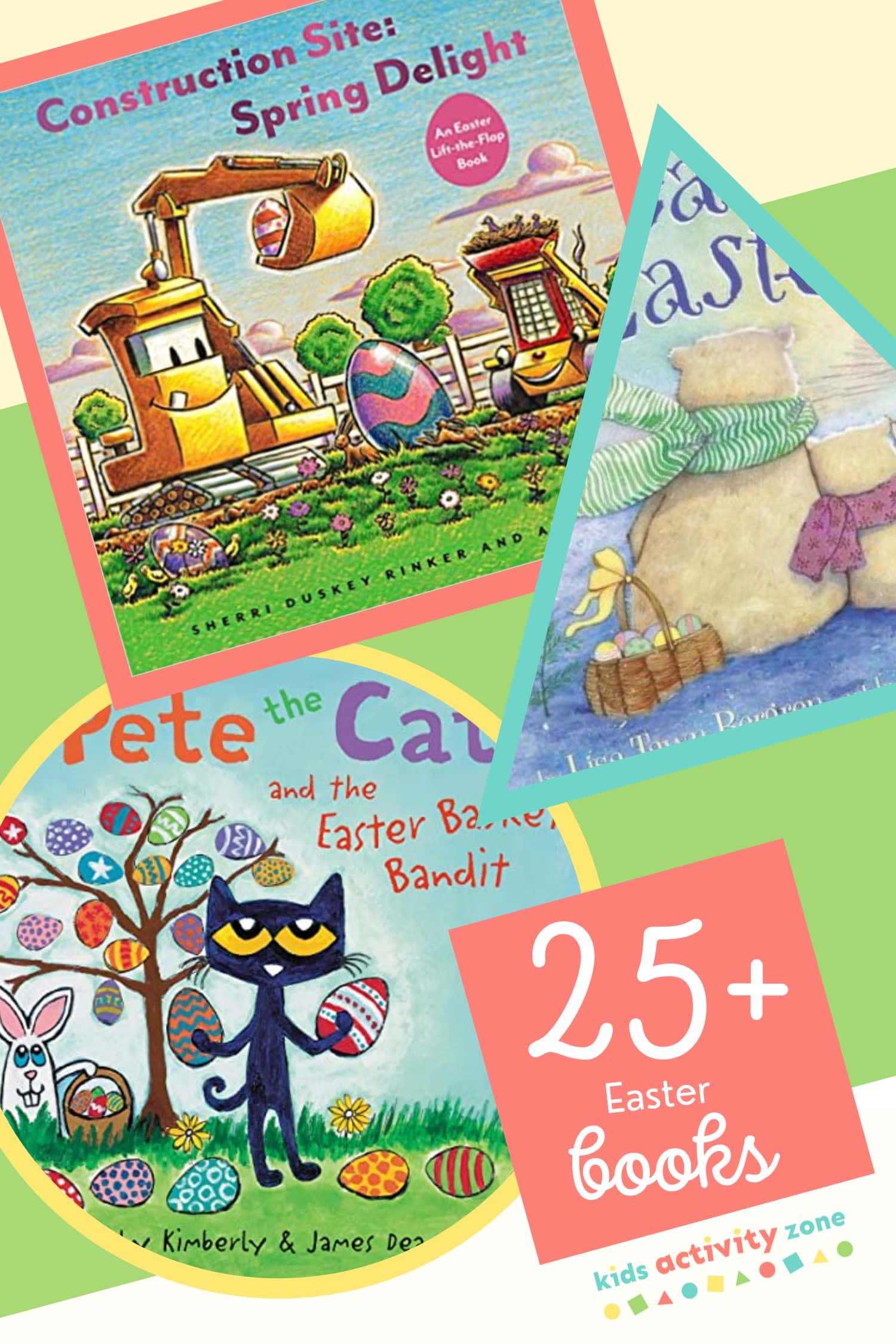 Wondering what to stick in your child's Easter basket this year? Books are always a great option that keep giving throughout the year.
We have round up 25+ of our favorite Children's Easter books for you! Books are a favorite way to celebrate holidays in our family.
In fact I tuck each season away and pull them out the next year which is great because the kids look forward to the "Fresh" books to read, plus I do too! It's always fun to dig into a new season books.
In this delightful book there are pages of cute little bunnies and flaps to raise. Lots of surprises waiting for little ones, under the flaps. What a fun book! With bright illustrations and lift a flaps!
The Easter Bunny is hiding eggs in different places! Can you spot them on each spread? Press the embedded button to hear church bells, chicks tweeting in the farmyard, and ducklings quacking on the river.
The dramatic events of the Easter story sensitively retold for young children. When Jesus rides into Jerusalem he is welcomed by cheering crowds. But soon the temple priests are plotting against him… A lovely book to read together or for new readers to enjoy alone.
Little children and their grown-ups can stick their fingers through the holes to become the ears and paws of the Easter bunnies as they hop around handing out the Easter eggs. Simple rhyming text and delightful illustrations combine perfectly in an engaging interactive board book.
In this beautifully illustrated hide-and-seek series, children can "spot" the bunny through a hole on each page… but when they turn the page, it isn't the bunny at all! Very young children will love searching for the elusive bunny, and all the charming details and other animals they discover along the way. Also available in Spanish!
Baby Animals is part of an exciting reading series for young children, with lots of pictures and very simple, easy text.
Little children will enjoy matching the baby animals to their mommies and daddies in this sweet lift-the-flap book. With warm and friendly illustrations that will appeal to the very young.
How do pigs keep cool? Why do farmers shear their sheep? Which farm animals live underwater? In this book you'll find the answers and lots more facts about farm animals around the world. This book is great for ages 5 – 7 years.
A fully illustrated collection of stories from the Bible, retold for young readers. Including Joseph and the Dreams, The Story of Baby Jesus, The Easter Story, Jonah and the Whale, Noah's Ark and more. A beautiful gift book that children will love to receive on any special occasion. It is also available in Spanish. This book is great for ages 8 and up to read on their own or younger children for parents to read to them.
This stylish, highly illustrated, interactive book is perfect for sharing with young children, and introduces science using a friendly lift-the-flap format. A great introduction to one of the fundamental themes of biology, perfect for curious young minds. Great for ages 4 and up!
Where's baby bunny gone now? Find the sweet fluffy bunny as she hops around discovering new friends in the meadow. Babies and toddlers will love lifting the flaps to find the animals, and find out what the bunny does all day. Meet a fluttery butterfly, a tiny mouse, and a springy lamb with the bunny, before she jumps back into her burrow to snuggle with her family. Great for one year and older!
Join the busy bunnies in this book as they get ready for Easter. Whether it's baking tasty treats for a picnic, planting colorful spring flowers, or making Easter bonnets, there are lots of exciting reusable stickers to add to every scene that are perfect for little fingers. Recommended for 3 years and up.
The Animal Rescue Dollies have a new mission… to save the bunnies on the Wild Isle. The rabbits are trapped on a hill as all around them, floodwaters are rising fast, but just when they think they've rescued them all, they discover some little babies, still deep within the burrow… will they be able to save them in time? Recommended for 6 plus years. Book 11 in the book series Sticker Dollies.
Little children will love joining Bunny and the other woodland animals for a game of hide-and-seek in this endearing flap book. Each page has a big, satisfying flap for little fingers to lift, revealing a different animal hiding behind it. A double-flap on the last page creates a surprising ending, and the artwork is full of fun details to look at and talk about together. Great for 2+ years old!
In this irresistible puppet book, Poppy and Sam spot a rabbit and follow it around Apple Tree Farm. Each page has a different action for you to do with the rabbit, from sneezing in the flowers to snuggling up with the other bunnies at the end. Recommended for years 1+!
Babies and toddlers will love touching the textured patches as they meet all of the different bunnies throughout this book! Great for 9 months and up. Part of the "That's Not My" Series.
Meet five adorable chicks in this delightful addition to the much-loved "That's Not My…" series. Babies and toddlers will love touching the textured patches as they meet chicks with soft wings, fuzzy tummies, and rough feet. Recommended for 9 months and up. Part of the "That's Not My" Series.
A sweet touchy-feely board book with five adorable little lambs for young children to meet. Features a tactile patch for little fingers to explore on every page, including a fuzzy back, a woolly tail, and soft ears. Recommended for 9 months and up. Part of the "That's Not My" Series.
Join Mouse from as he goes on an Easter egg hunt! Who is hiding eggs in Mouse's house? This adorable board book combines an engaging Easter theme with a story about colors!
This board book with sturdy pages is perfect for toddlers, who will enjoy the simple introduction to colors and counting. Each page has one or two sentences and points out a different color and number of eggs.
Beep! Beep! Little Blue Truck is out for a ride with his good friend Toad. The sun is shining and the flowers are blooming—it's a beautiful spring day! Who will they see along the way?
Open the flaps to meet all of the sweet baby animals just born on the farm. Peep! Peep!
Celebrate your little honey bunny with this sweet and colorful rhyming board book! With chunky pages for little hands and die-cut shapes to add depth and interest, children will love the interactive features alongside the story of love between a parent and child. Makes a perfect gift for Easter baskets, baby showers, or any occasion. Part of the "You're My Little" series of 12 books.
It's Easter at the construction site! As sunshine melts the snow away, the trucks discover all around them the signs of spring. Lift the flaps on each sturdy page to reveal blooming flowers, baby ducks, and gentle lambs—and a special Easter egg hunt surprise! With lovable rhyming text and heartwarming illustrations, this interactive Easter board book will bring smiles to truck lovers and their families while celebrating the beauty of spring. Part of "Goodnight, Goodnight Construction Site" series of three books.
How do you celebrate Easter? Do you dress up in your Easter best? Dye eggs bold and bright? How about going to a parade? For sure! Follow diggers, cranes, cement mixers—and more—for a fun and festive day full of surprises! Children who can't get enough of trucks will love all the books in the bestselling Where Do… series.
As Little Cub celebrates Easter with Papa, Mama, and her brother and sister, she begins to ask her papa questions about this very special day of the year. Papa lovingly explains God's plans for his children, while taking Little Cub on a memorable walk through her stunning Arctic world, and he shares how Easter came about in clear, simple terms that even the littlest cubs can understand. Part of the best selling series "God Gave Us" with 11 books.
It's Easter morning, and Pete's Easter basket is nowhere to be found! Who could've taken it? Readers will love helping Pete and his friends find the Easter Basket Bandit and learn that sharing is the sweetest gift of all!
Children will understand the real meaning behind Easter in this Berenstain Bears book. They will discover that Easter is more than candy and egg hunts as they read about the Bear cubs at Sunday school learning about Jesus' resurrection and salvation. Part of the Berenstain Bears Light Lights Faith Stories series of 82 books.