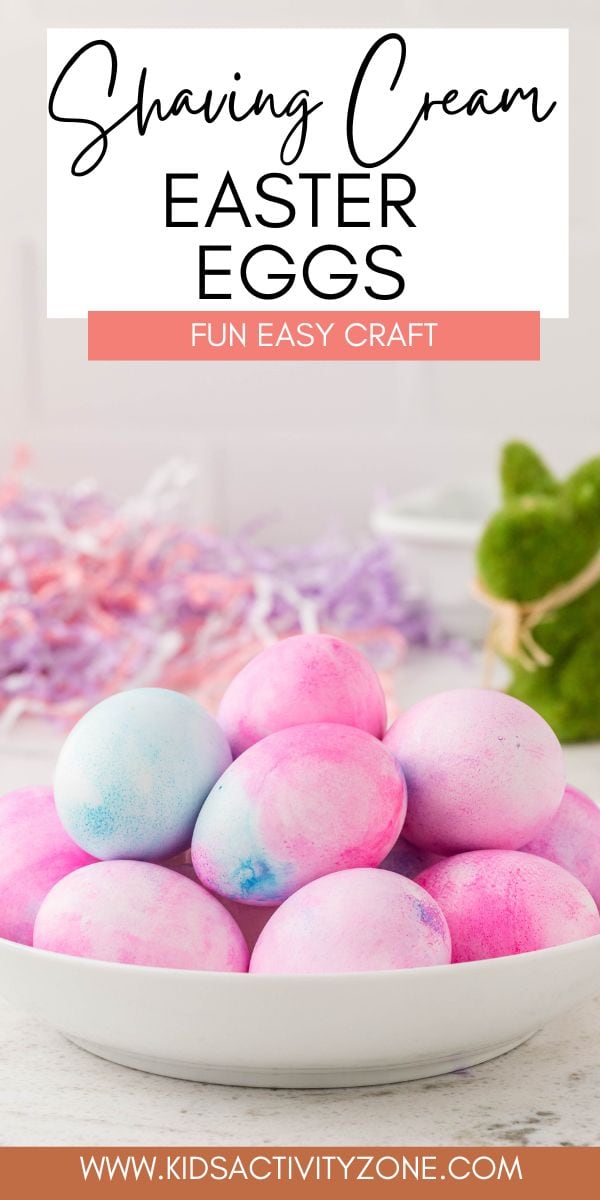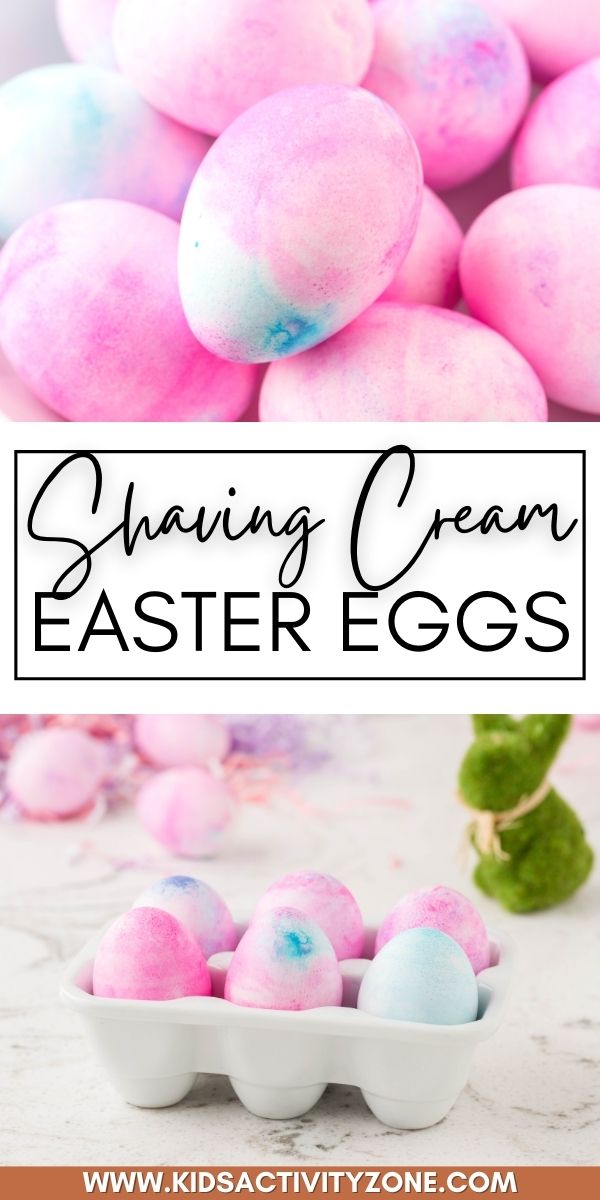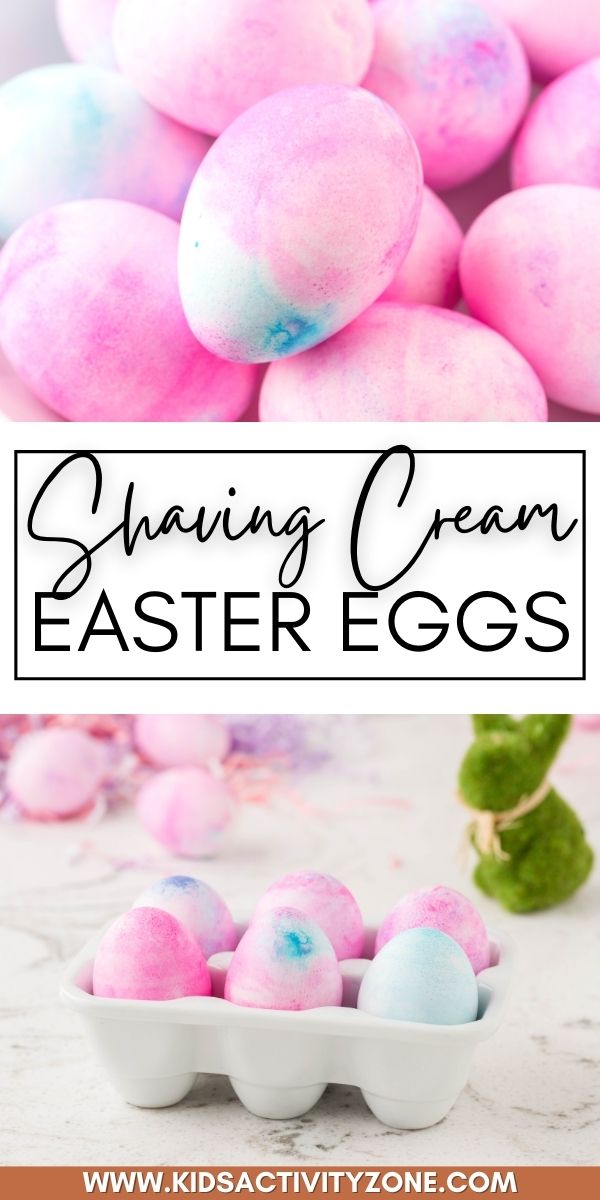 Dying Easter Eggs is so much fun especially when you do Shaving Cream Easter Eggs! Simply add food coloring to shaving cream in a container, add eggs and let them color. It's a great Easter activity that kids will love.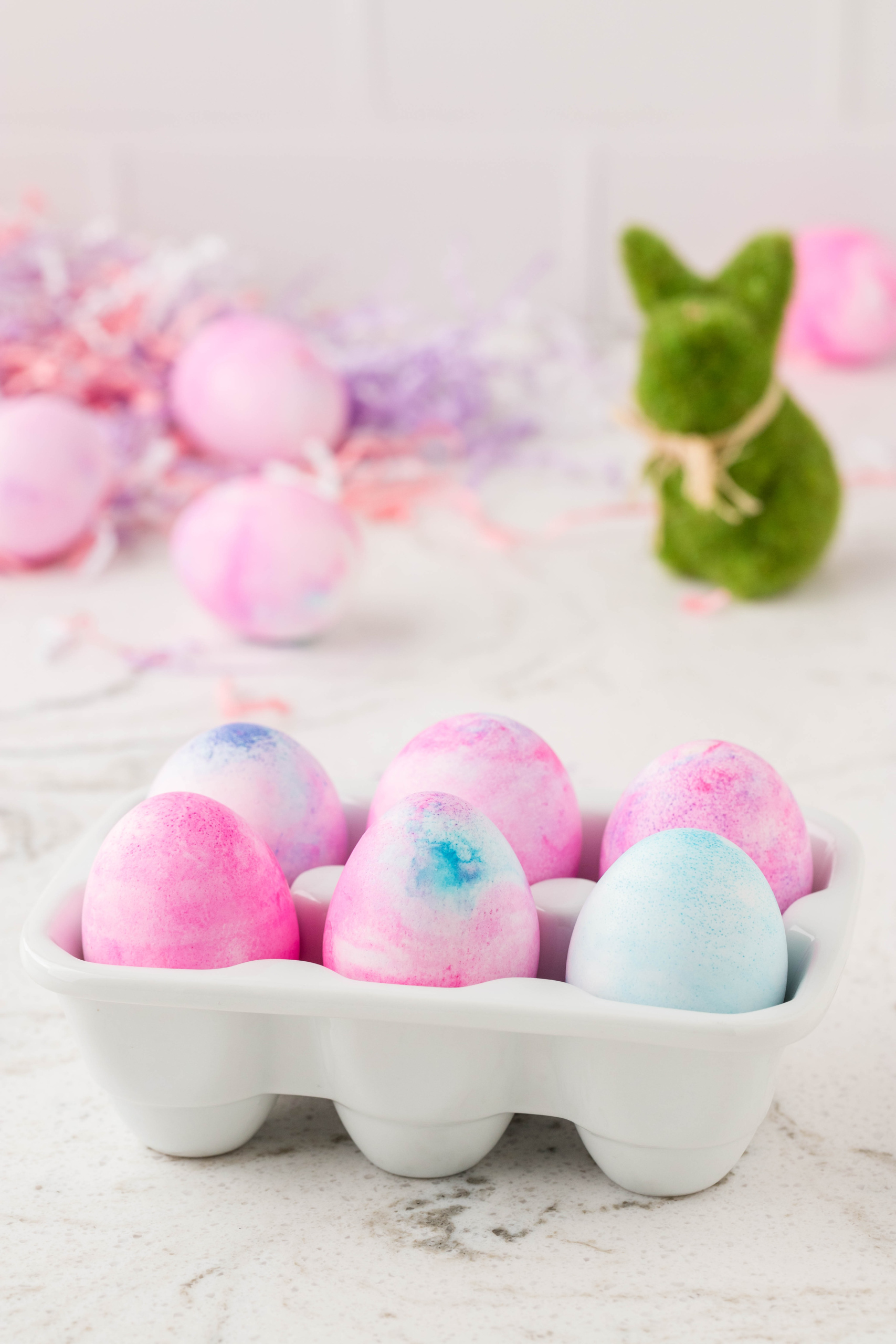 Easter is one of my favorite times of the year. Spring has finally arrived and there's sunshine instead of loads of snow! It's just a refreshing time of year and such a fun holiday, especially when you have really cool activities like shaving cream Easter eggs.
Dying eggs with shaving cream always makes Easter eggs turn out incredibly cool! They have this marbled tie dye effect that is just so much fun. If my kids could dye a thousand Easter eggs, I think they would.
There's just so many cool ways to dye them now. You dye eggs with fabric, with Kool-aid, and even make glitter eggs. Endless fun awaits!
Why You'll Love Shaving Cream Easter Eggs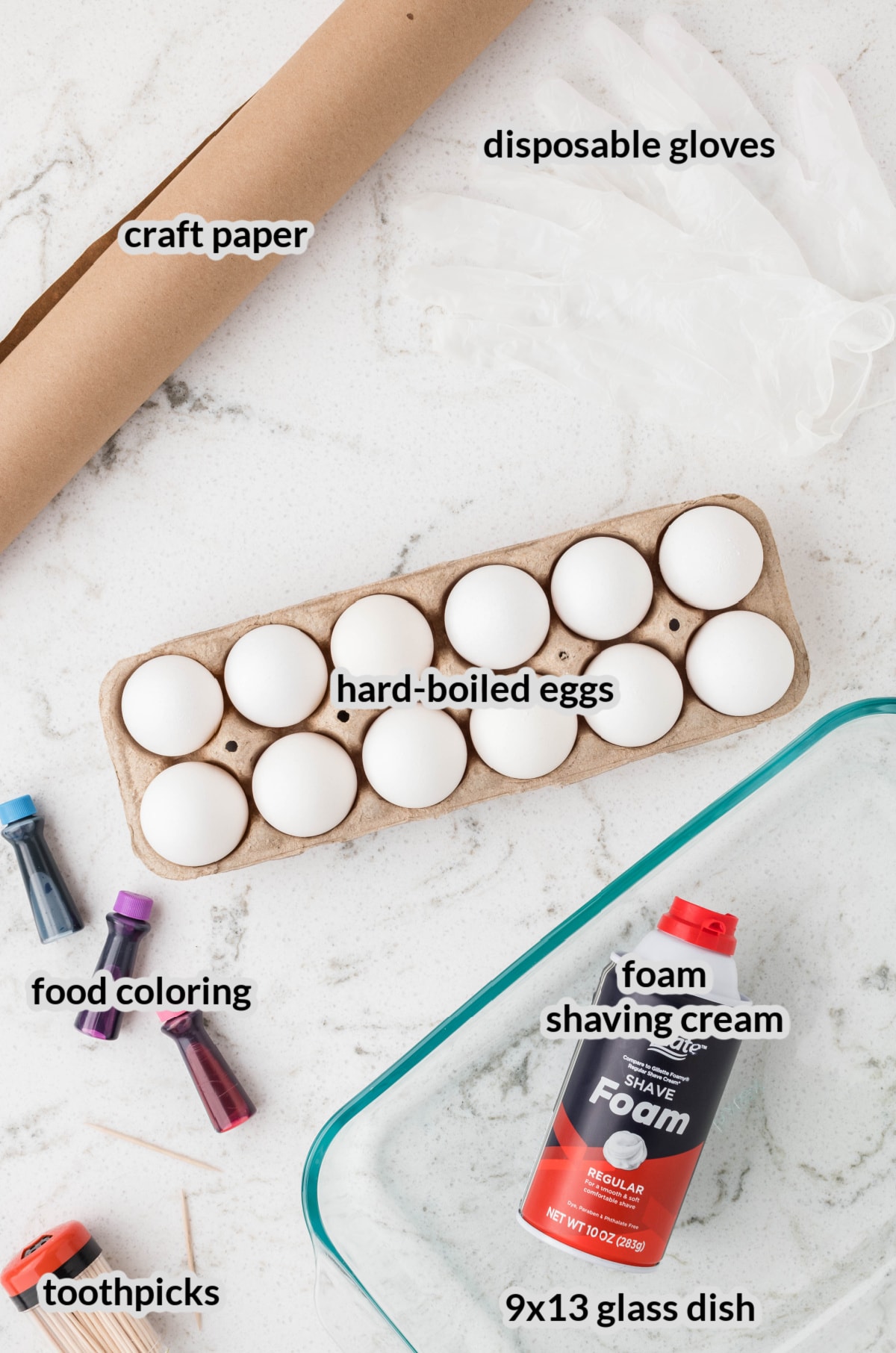 Supplies Needed for Dying Easter Eggs with Shaving Cream
How to Dye Eggs with Shaving Cream
Fill a 9×13 glass baking dish with shaving cream, about an inch full. Use a rubber spatula to smooth out the shaving cream and create an even layer.
Grab the colors you want to use and drizzle them across the top of the shaving cream, Then, drag a toothpick, wooden skewer, or plastic knife across the food coloring to create a marbled effect.
Put on a pair of rubber gloves and grab a cooled hard boiled egg. Gently roll the egg around in the colored shaving cream to coat the entire egg. Once you like how it looks, set the egg onto the craft paper for 10 minutes.
While the color sets on the eggs, fill a large glass bowl with cool water to rinse the shaving cream off of the eggs.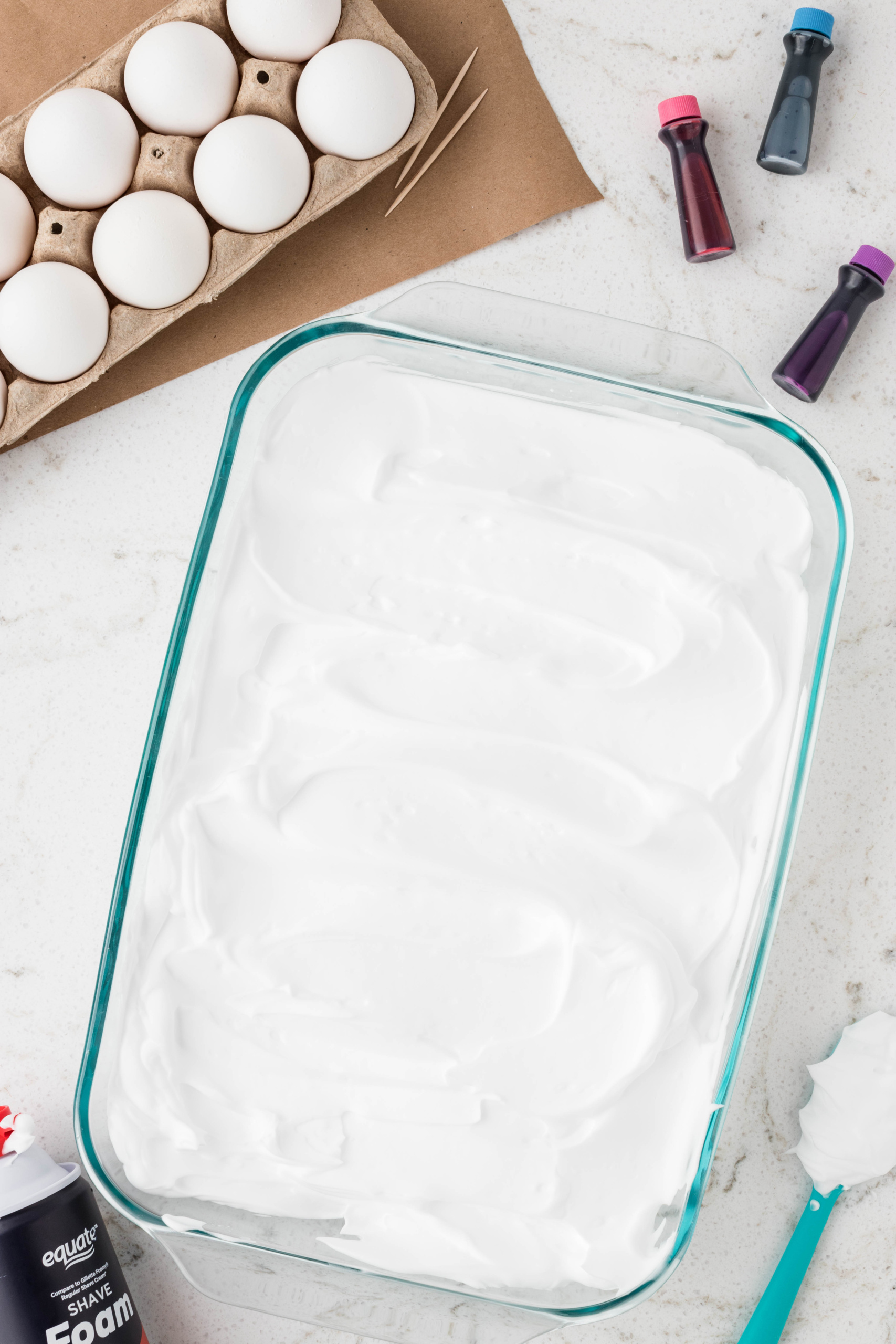 After about 10 minutes, dip each egg into the bowl of water to remove the shaving cream. Then, place each egg on paper towels to dry. Do not wipe the egg off, it will smear the color. Just allow it to sit and dry for 10 minutes.
Once dry, place them wherever you'd like to be displayed and enjoy!
Can you eat shaving cream easter eggs?
These eggs are not edible since shaving cream is used to color them. But they make an absolutely gorgeous Easter display!
What kind of shaving cream is best to dye eggs?
Any white foam shaving cream will work. Avoid any that have colored swirls in them or are gel based. They won't work and the food coloring may not transfer to the eggs.
Pro Tips for the Best Shaving Cream Easter Eggs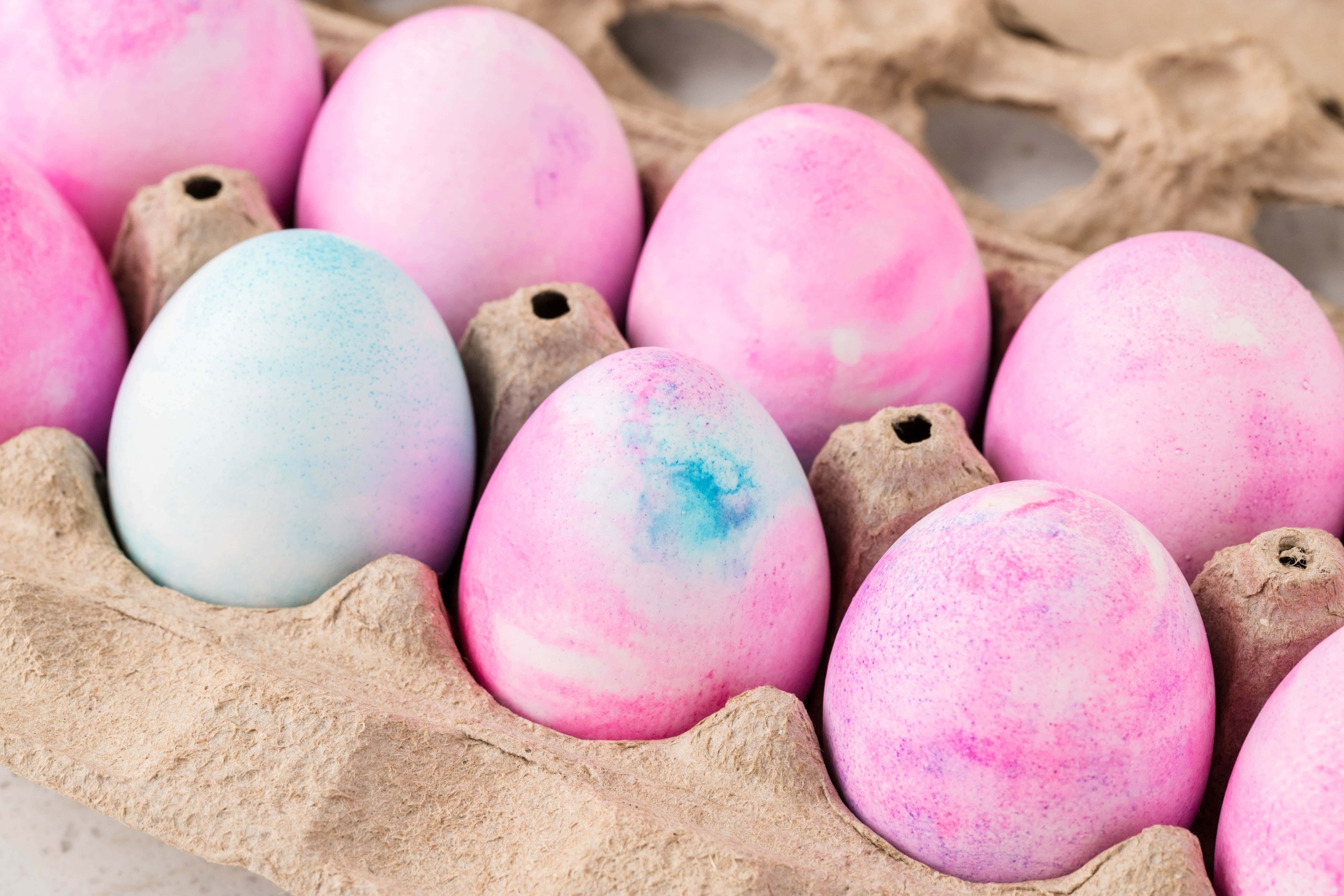 I hope you have a blast dyeing Easter eggs with shaving cream!
More Easter Activities and Recipes You'll Love
Yield: 1 Dozen Decorated Eggs
Shaving Cream Easter Eggs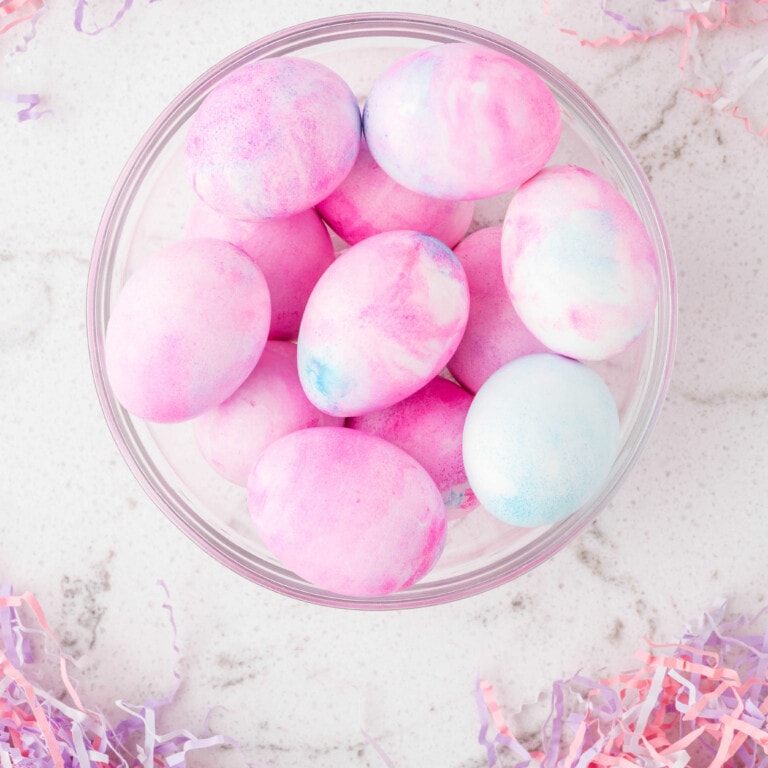 Learn how to dye Easter Eggs with shaving cream to create fun, pretty dyed Easter Eggs.
Materials
Instructions
Let's start by filling a 13 x 9-inch glass baking dish with an inch of shaving foam. Use a rubber spatula to smooth the shaving cream out evenly.
Next, grab your favorite colors of food coloring drops and drizzle them over the shaving cream. We used pink, blue, and purple! Drag a toothpick or wooden skewer through the food coloring to create a fun design.
It's time to wear rubber gloves! Grab a hard-boiled egg and roll it in the shaving cream. Coat the entire egg. Once satisfied with the design and color, gently set the shaving foam-covered egg onto craft paper. Allow color to set for 10 minutes.
While you allow the color to set on the eggs, prepare a large glass bowl with cool tap water for rinsing the shaving cream from the eggs.
Once the color dries, dip each egg in the water to remove the shaving cream. Then place them on a paper towel to dry. Don't rub the colored egg; it could smear the colors. Allow at least 10 minutes for drying time.
Your eggs are ready for a beautiful Easter centerpiece! ENJOY!
Recommended Products
As an Amazon Associate and member of other affiliate programs, I earn from qualifying purchases.