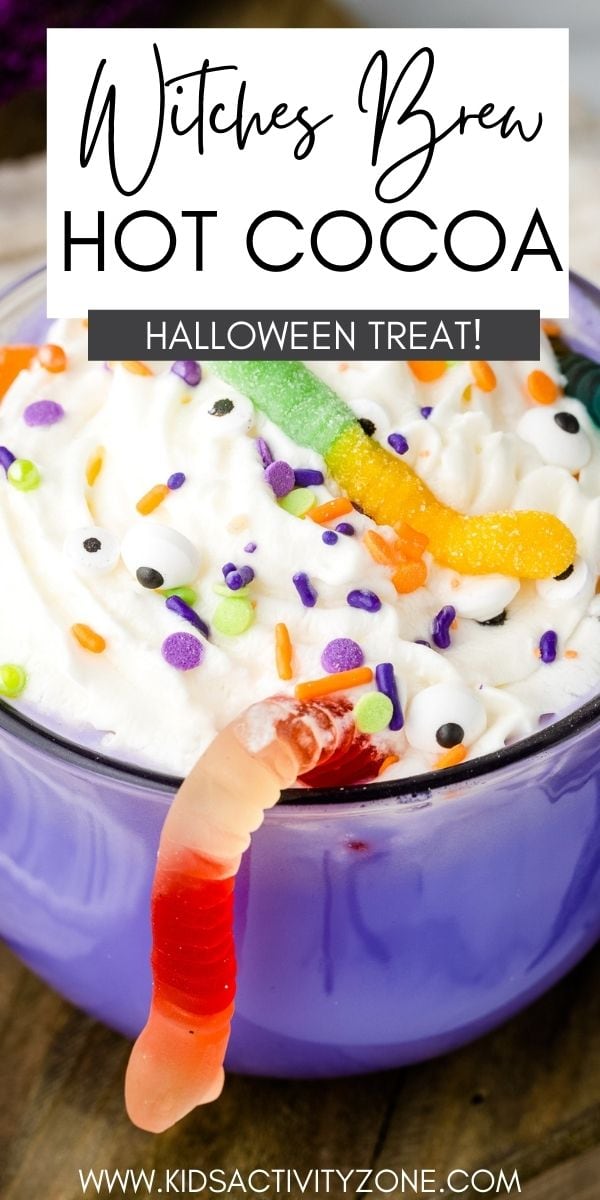 Delicious homemade hot chocolate recipe that is turned into a festive Halloween drink! This Witches Brew Hot Chocolate is colored purple and topped with whipped cream, gummy worms, candy eyes and sprinkles for a creepy, fun beverage the kids will love!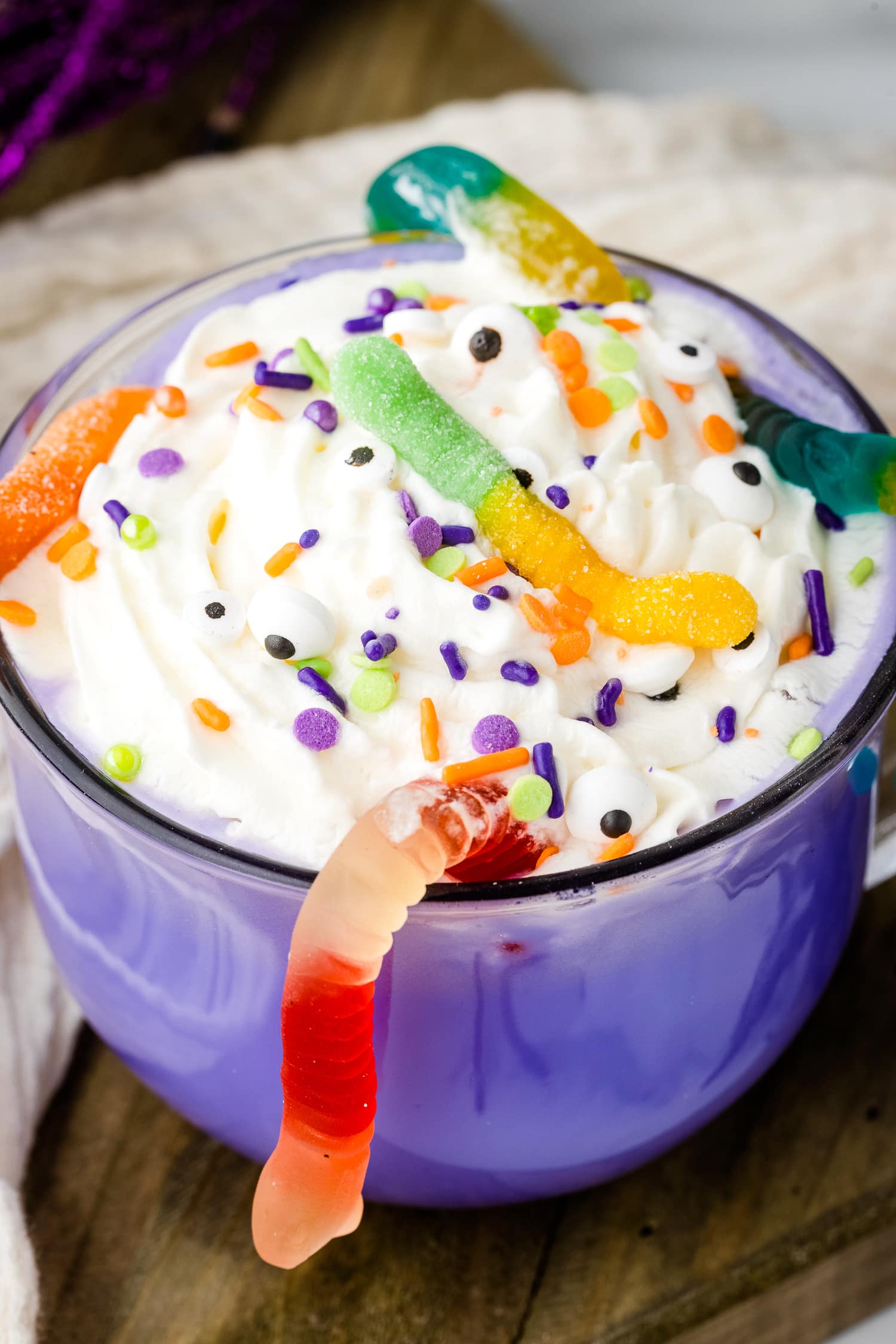 There's nothing more fun than creepy, crawly treats for Halloween and now you can have a kid friendly drink to go with it! Did someone say Witches Brew Hot Chocolate Bar at your next party?
This quick and easy Halloween beverage starts with a delicious homemade white hot chocolate that is colored purple and topped with whipped cream, candy eyes, sprinkles and gummy worms.
It's so easy to make the kids can help make the hot chocolate even! They will love having fun topping it with all their favorite Halloween candies!
Perfect for after trick or treating or your next Halloween party.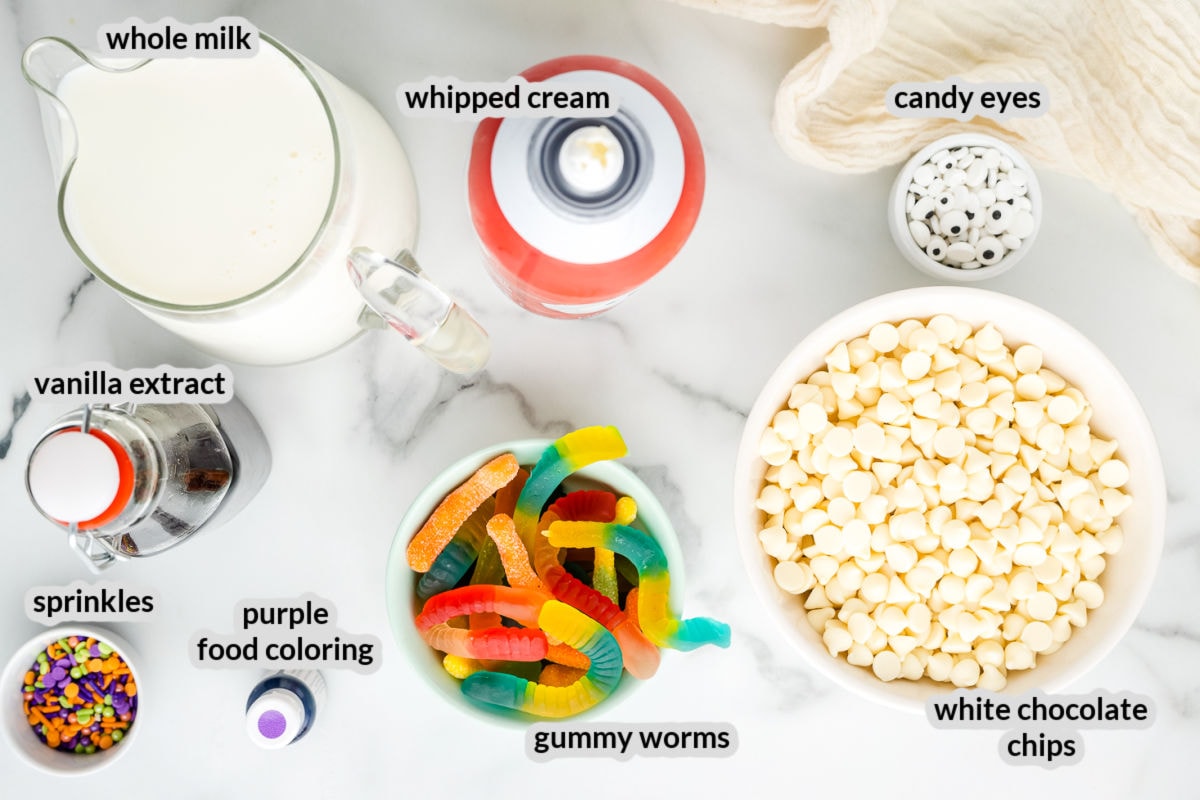 Ingredients Needed
Whole milk – This gives it a rich taste and we recommend using a milk with a higher fat percentage.
White chocolate chips – We used Ghirardelli chocolate chips. If you can't find those, you can always get a better quality white chocolate bar and chop it up until you have one cup of chocolate chunks.
Vanilla extract
Purple food coloring – If you don't have this you can mix blue and red food coloring together to get a purple hot chocolate or grab the food coloring at any craft store or on Amazon.
Whipped cream – Grab a can to make it easy or make your own homemade whipped topping and put it in a pastry bag to pipe on the top.
Toppings – We used Gummy worms, candy eyes and Halloween sprinkles.
Make Homemade Hot Chocolate!
In a medium saucepan, combine the milk, chocolate chips, and vanilla. Heat it over low heat and stir until all the chocolate is melted and warmed.
Add in enough food coloring till you get a vibrate purple.
Decorate & Enjoy!
Pour the chocolate mixture into four cups. Top them with the whipped cream, gummy worms, candy eyes, and sprinkles.
Use your imagination for the toppings. The sky is the limit!!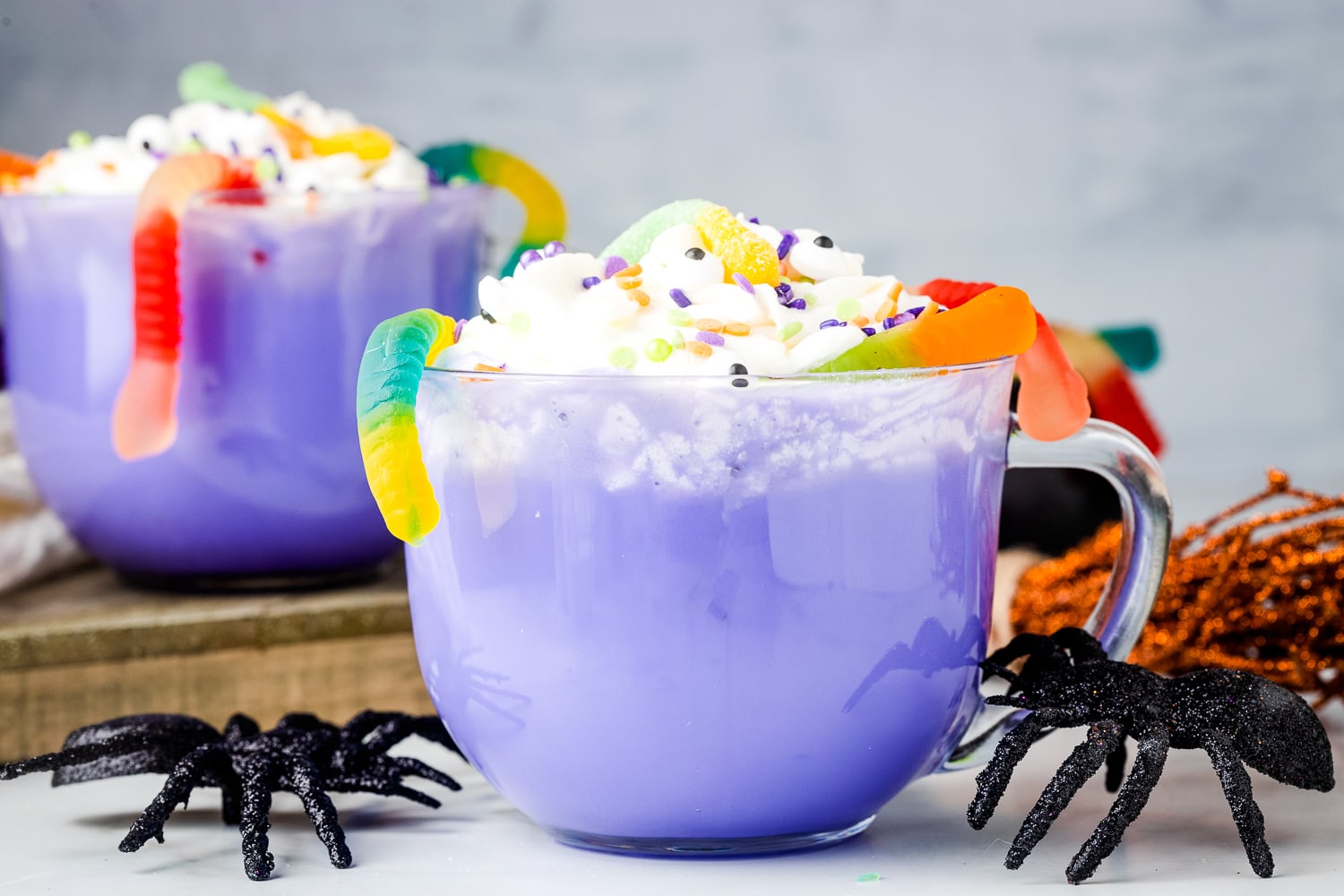 MORE HALLOWEEN TREATS!
Have fun concocting your Witches Brew Hot Chocolate for your parties!
If you take a picture and share them Instagram make sure to #kidsactivityzone or tag us @kidsactivityzoneblog so we can see them!