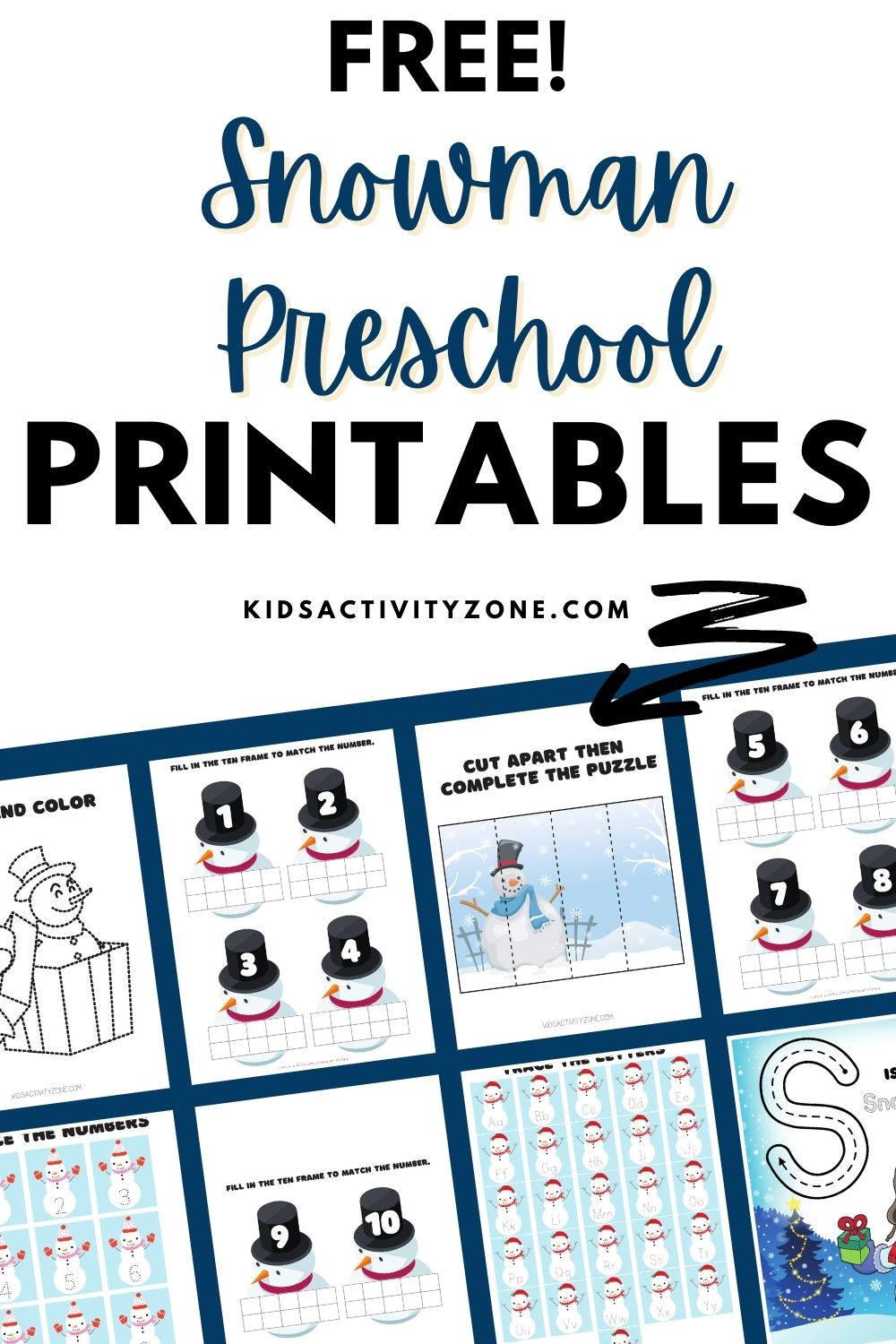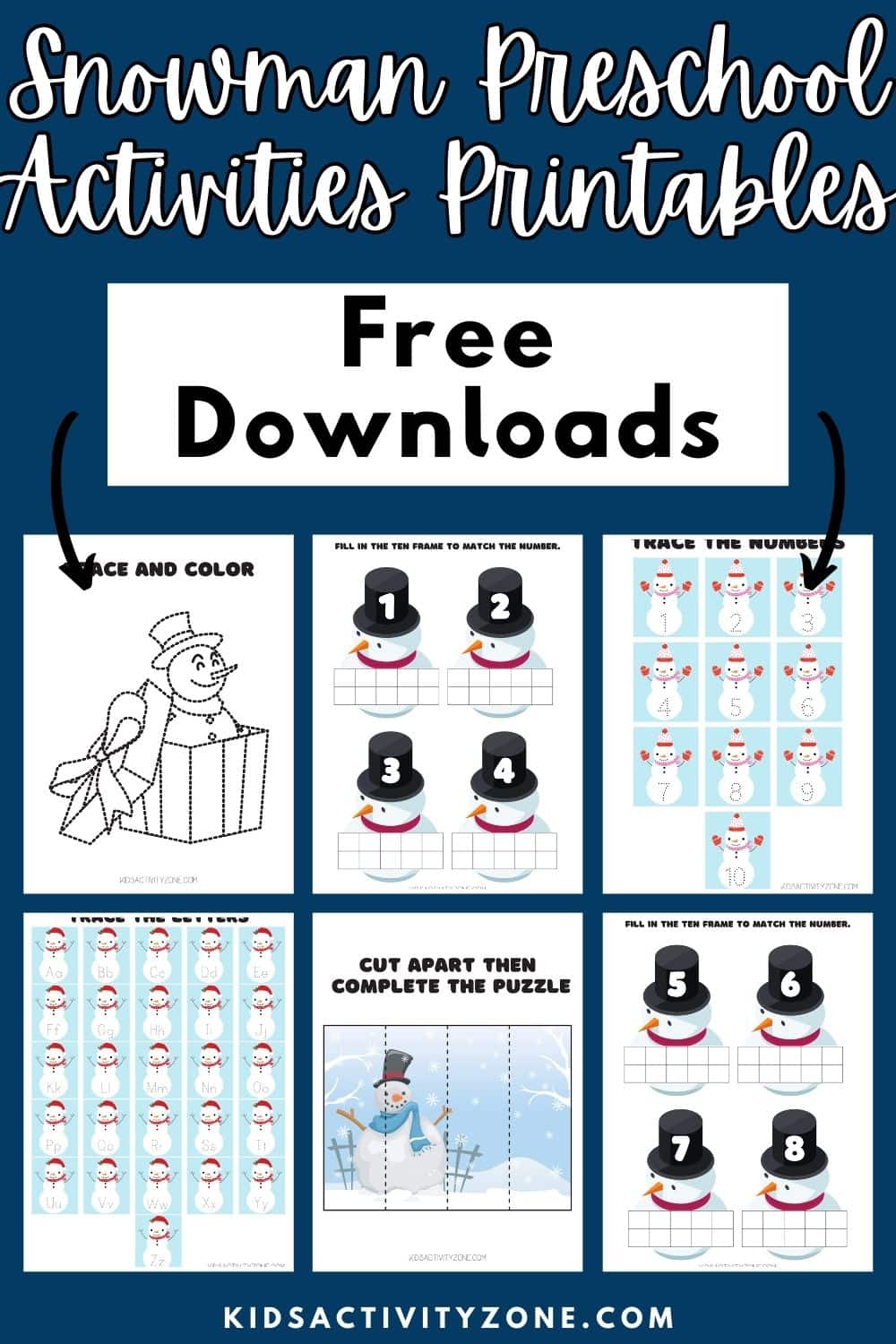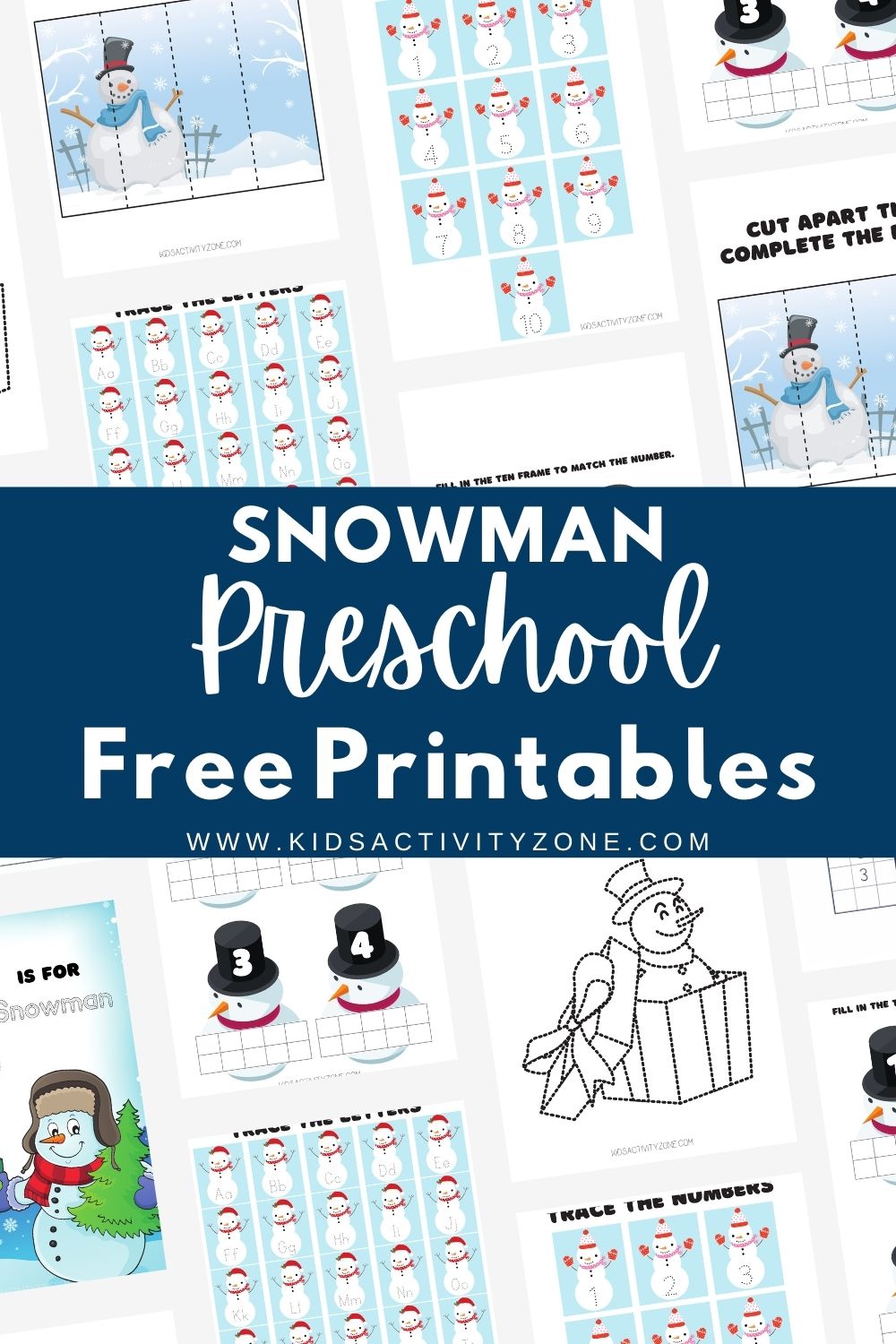 These print and go preschool worksheets are so easy to use at home or in the classroom. Snowman Preschool Activities Printable have a fun snowman theme to them to make your child look forward to learning! Activities include Tracing, Cutting, Practicing Letters and Numbers, Ten Frames and more!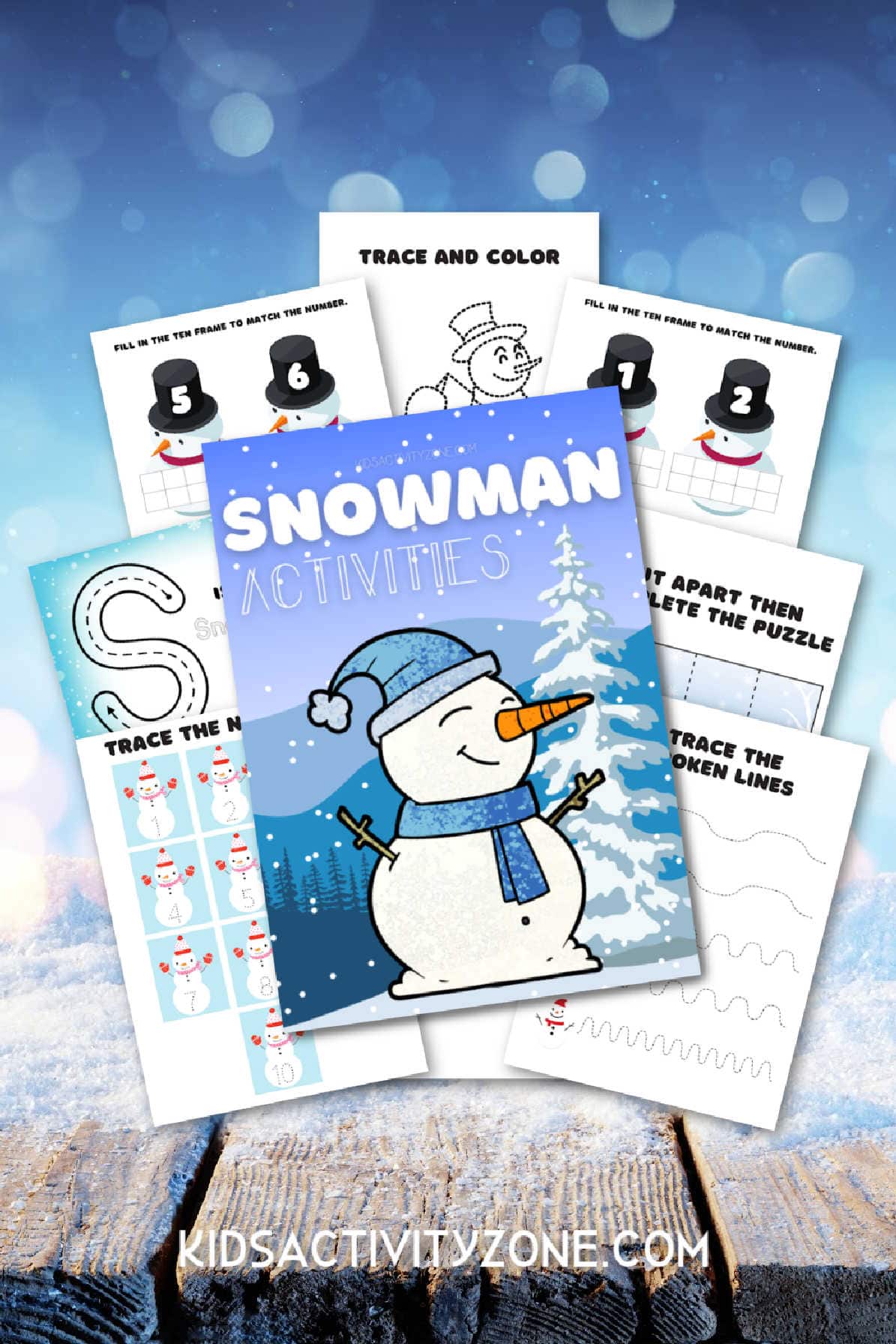 Beat your preschoolers boredom this winter by making learning fun with these Snowman Preschool Activities Printable. There's something for each child no matter how little they are! Check out this Beaded Snowflake Craft too!
What you get in this free preschool printable!
Tracing Numbers
Tracing Letters
Trace the Broken Lines
Trace and Color Snowman
Cut Apart the Snowman Puzzle
Fill in the Ten Frame
Tracing Numbers and Letters
These adorable snowman will make it fun for kids to trace numbers and letters!
Did you know that when children mindfully trace, they can help to improve their visual spatial skills and fine motor skills?
Tracing numbers is a great activity for preschoolers. It will help them not only learn to write numbers, but also help them practice counting and number recognition.
The children will practice both tracing the uppercase and lowercase letter for each letter in the alphabet. This will help them learn to write their letters, letter recognition and pairing the uppercase and lowercase version of each letter.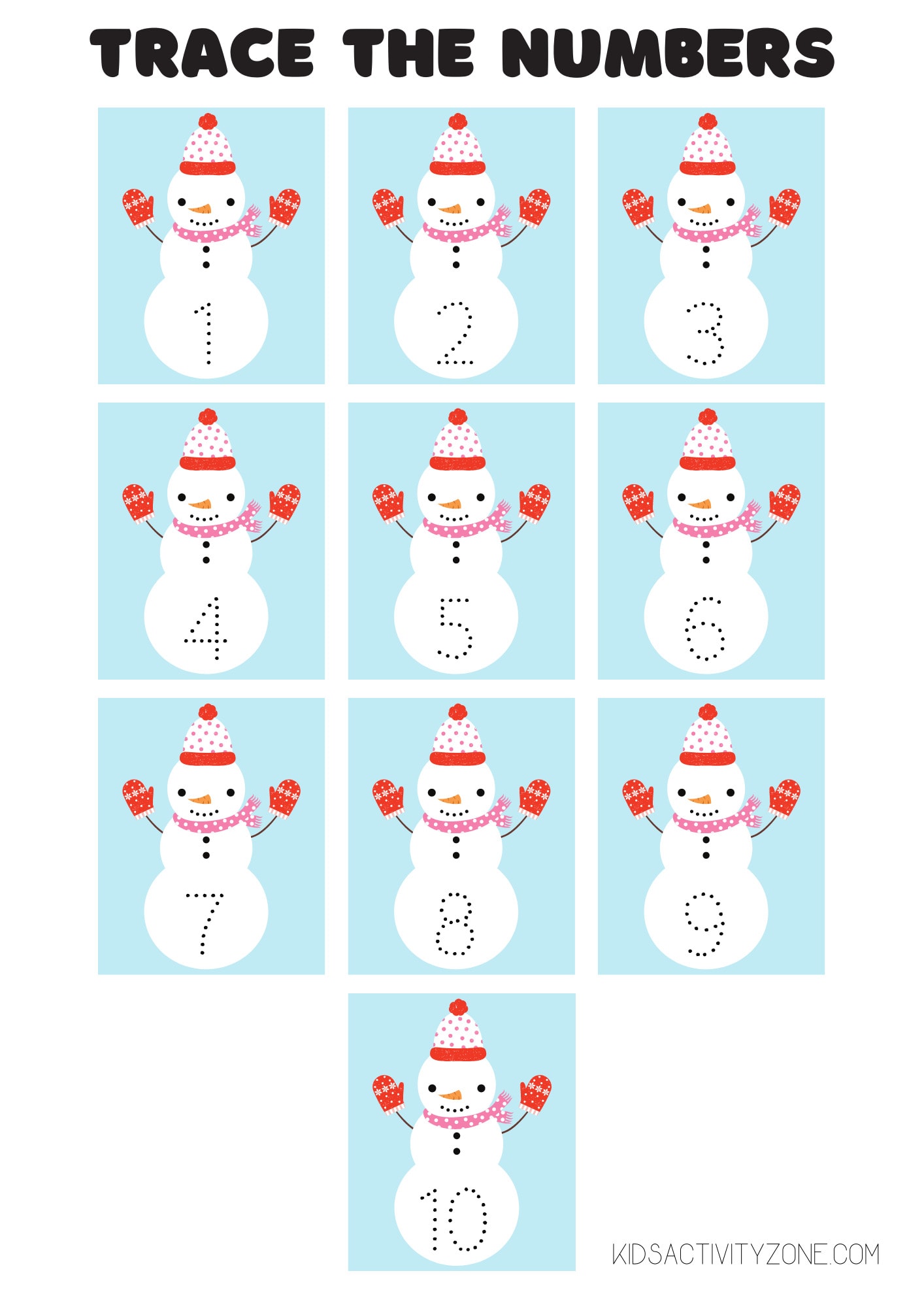 Trace the Broken Lines
Even the youngest preschooler will enjoy tracing these lines. This free printable will help your child develop fine motor skills with the trace the line worksheet.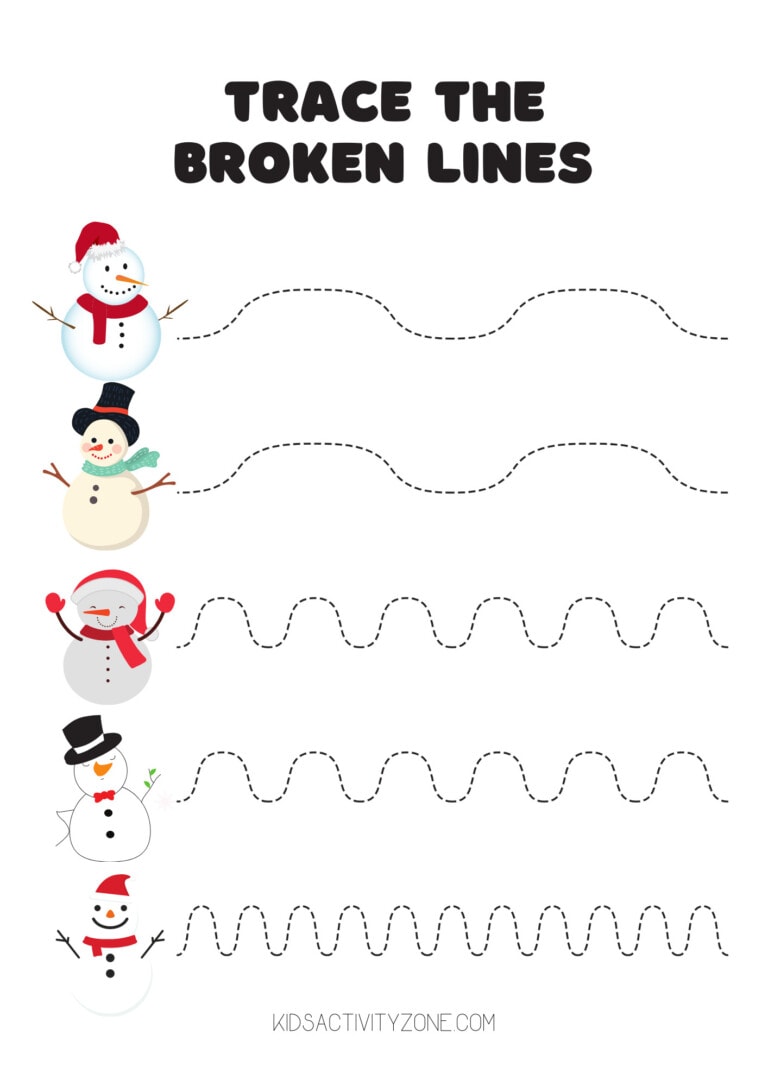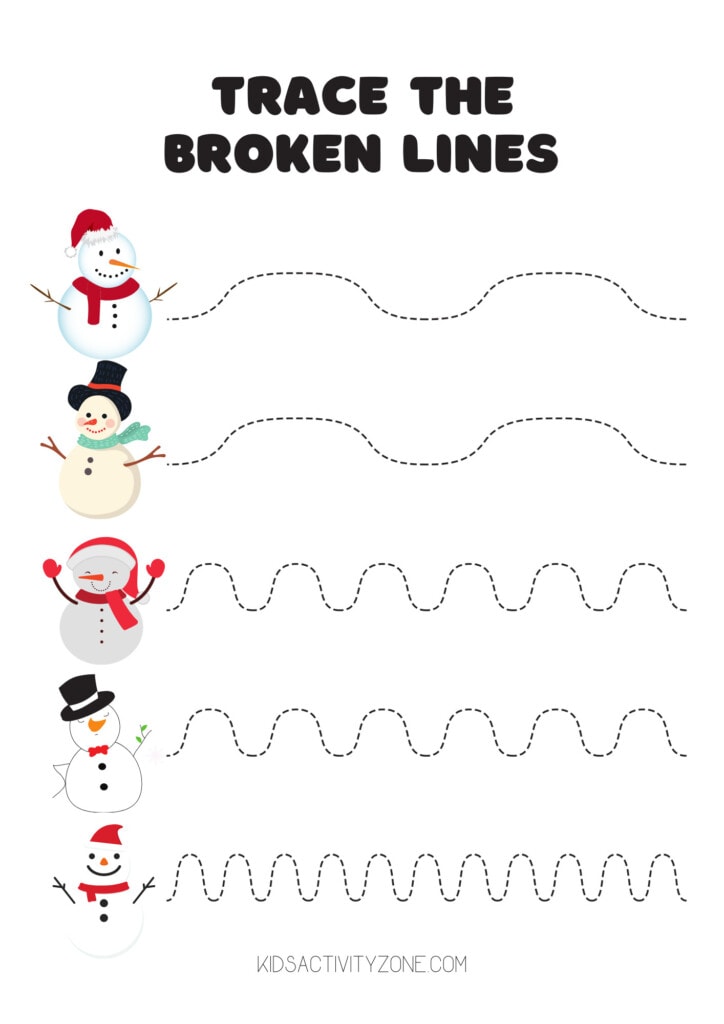 Trace and Color Snowman
Tracing is a theme in preschool because it helps with so many skills.
This fun printable let's the child trace and then color. Two of most preschoolers favorite activities!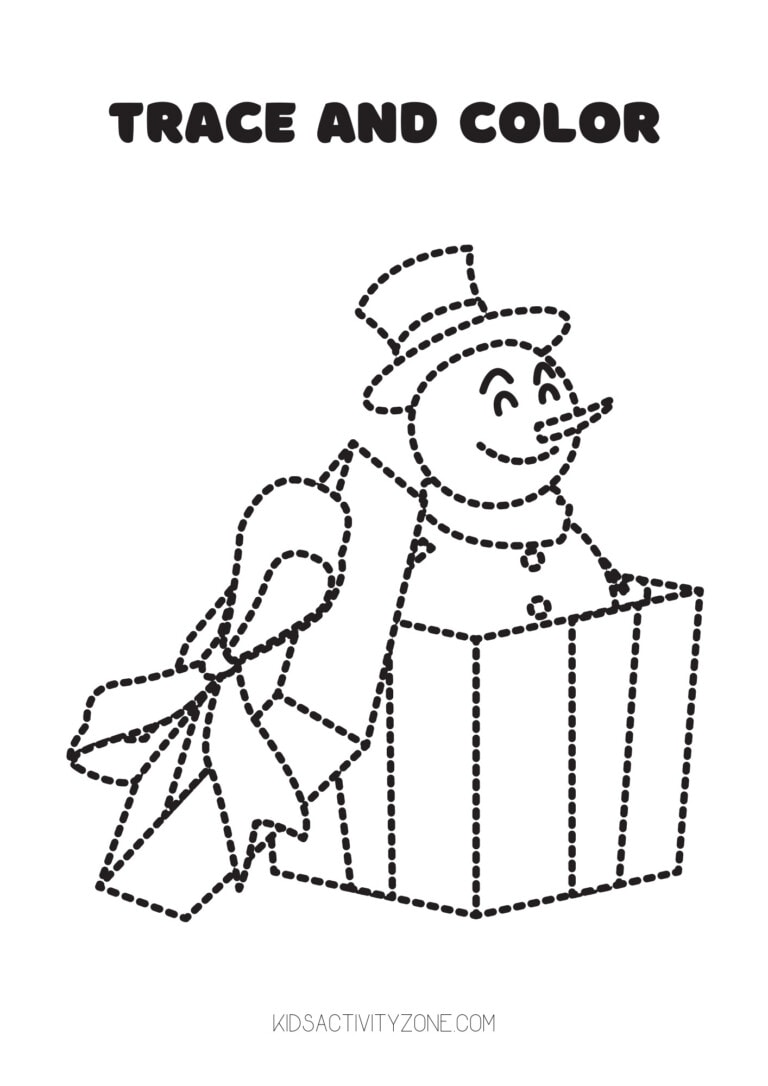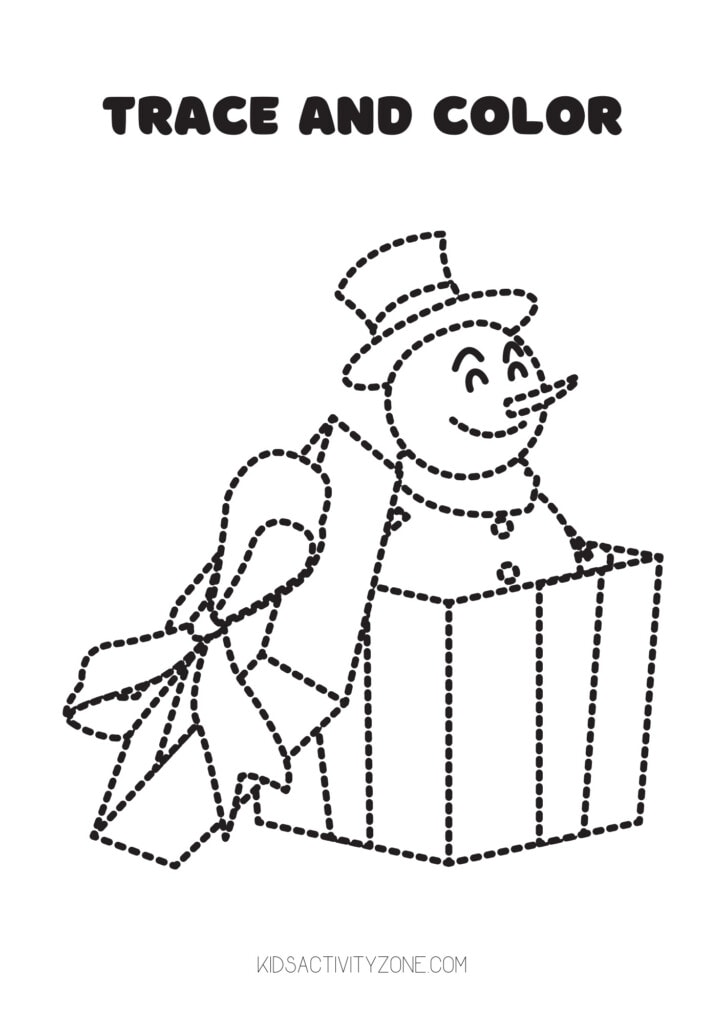 Snowman Cut Apart Puzzle
Using a scissors develops your child's fine motor skills. Plus, cutting gives young children independent movements for each finger that's why using a scissors is such a great activity for them. Using a scissors works on the separation of the two sides of the hand and strengthens the hand muscles.
Coordination is also addressed when they hold a scissors in one hand and something they need to cut in the other hand.
Plus, it's fun! Especially when they get it cut apart this fun Snowman puzzle and then piece it back together.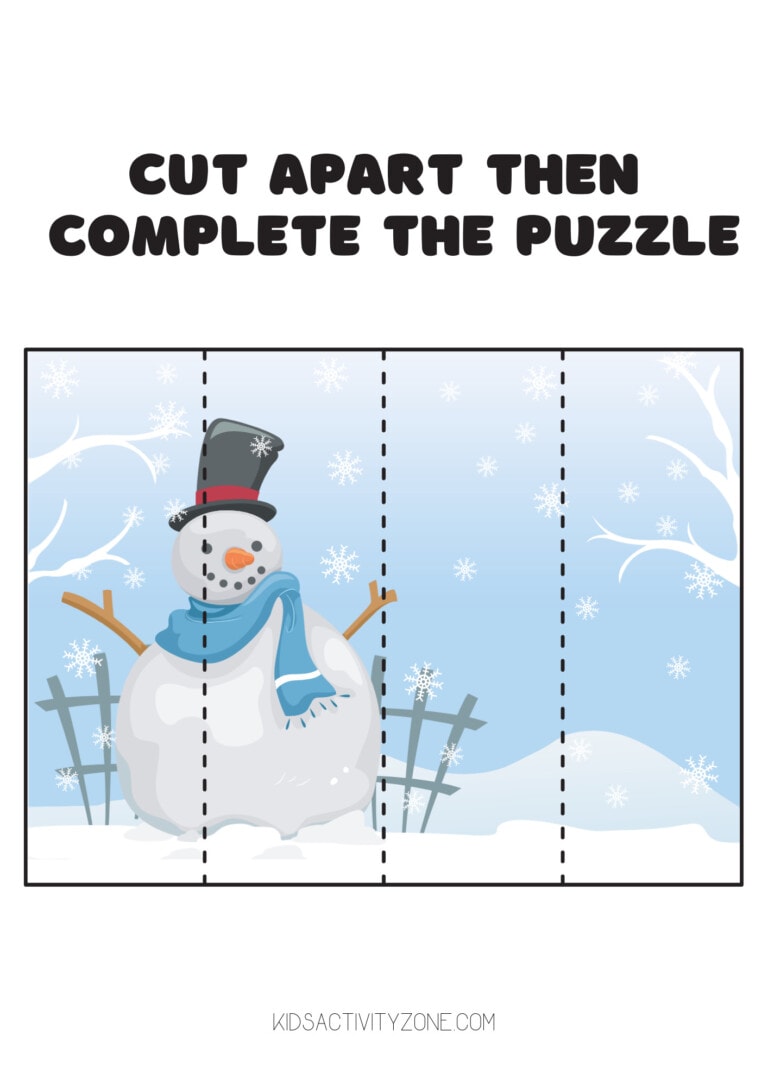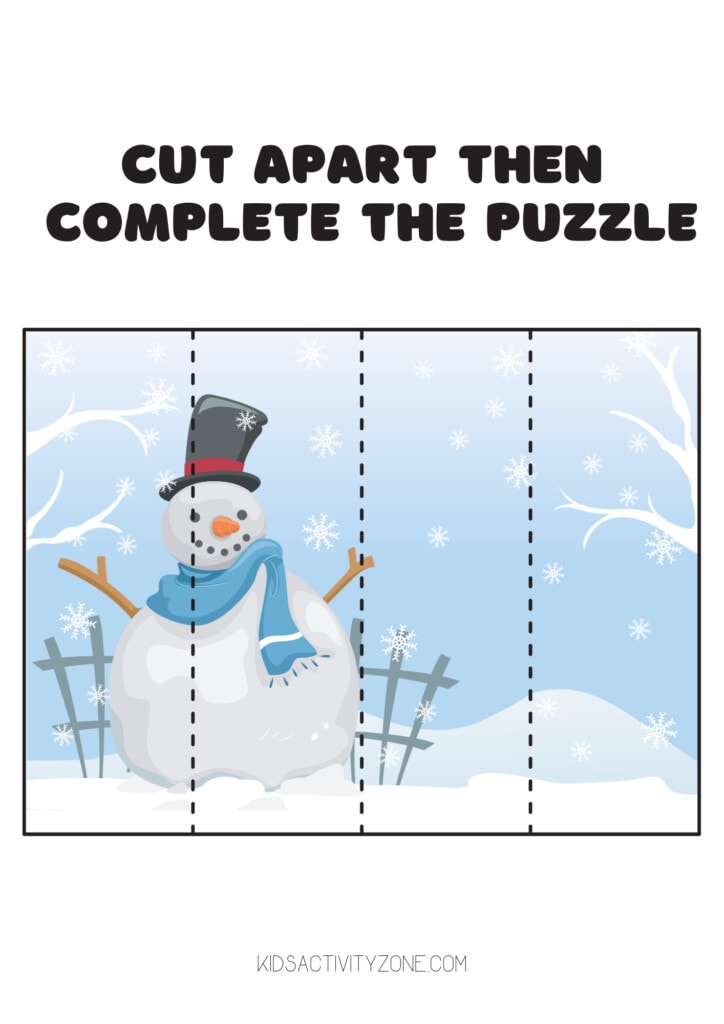 Fill in the Ten Frame
First of all you might be wondering what is a ten frame?
It's a rectangle with ten equal spaces. Five across the top and five on the bottom. You can use counters or manipulatives to represent the numbers less than or equal to the ten frame. For this printable the kids will color in the ten frame.
Using ten frames helps kids learn number sense and is a precursor to addition.
It's a great visual and provides kids with a visual for numbers and gives them experience working with numbers and their values.
Eventually, when they are older, it will help them with addition and subtraction so it's a great base activity for math!
Plus, it's coloring. Almost every child enjoys coloring!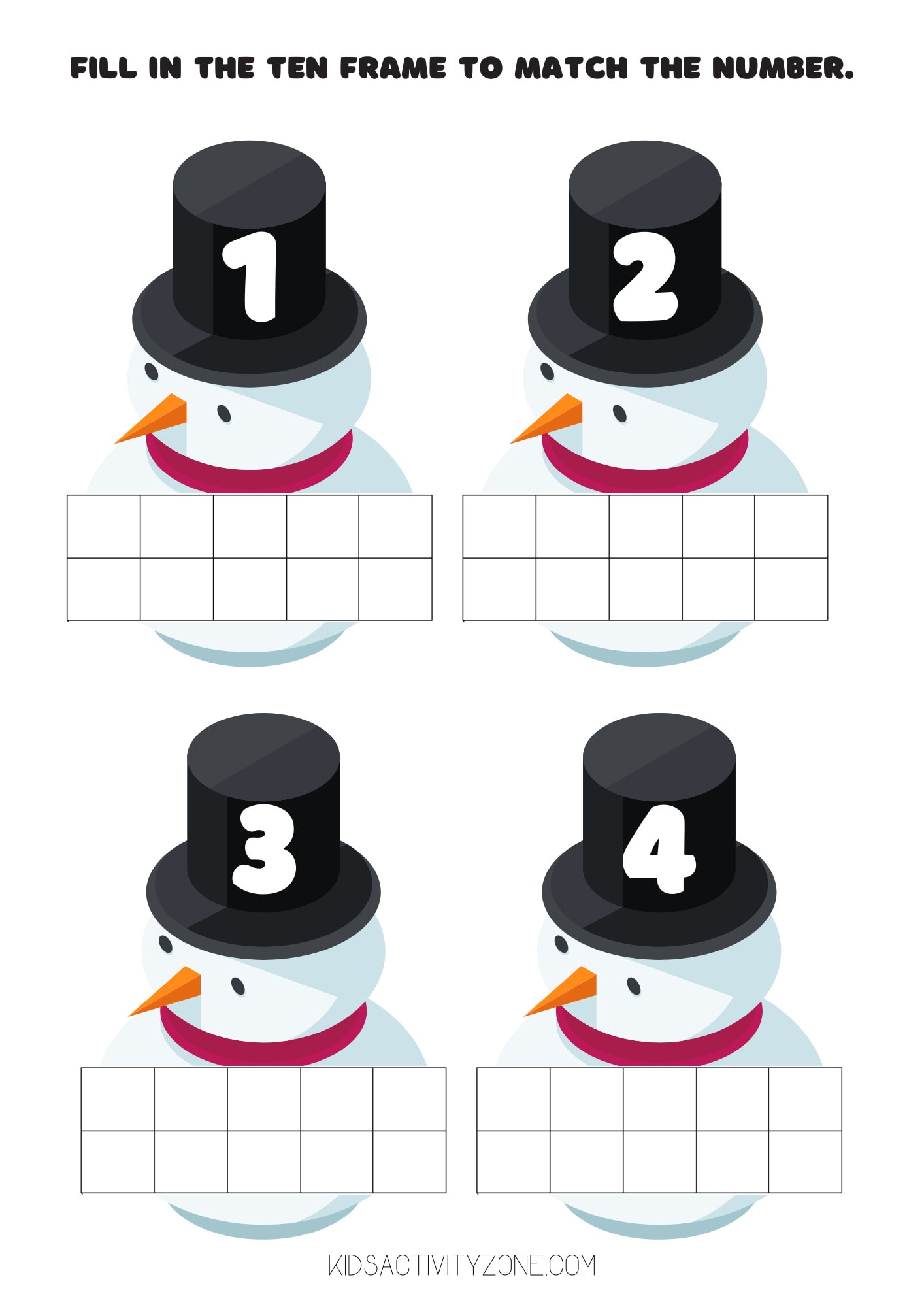 More Preschool Activities!
If you take a picture and share them on Instagram make sure to #kidsactivityzone or tag us @kidsactivityzoneblog so we can see them!