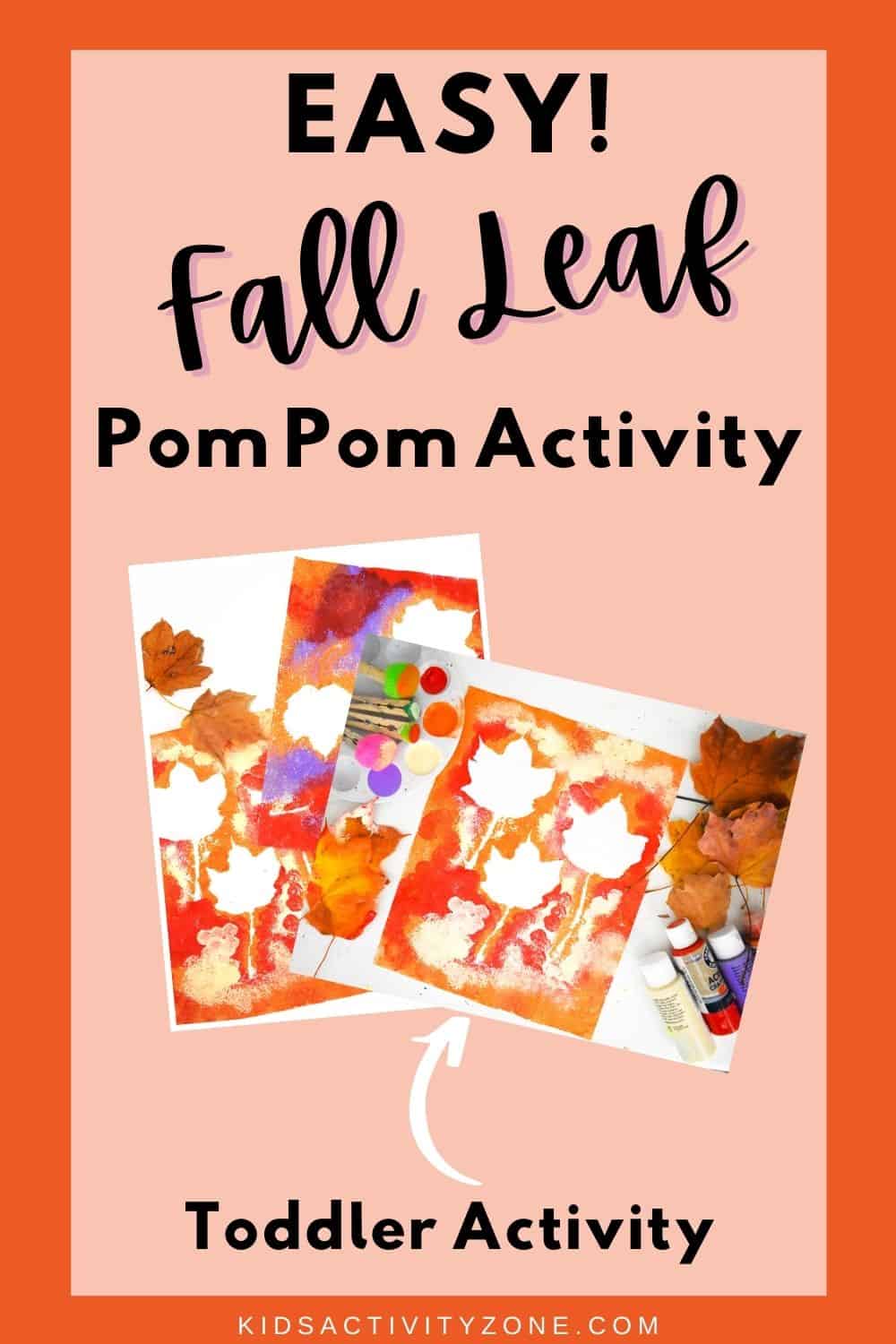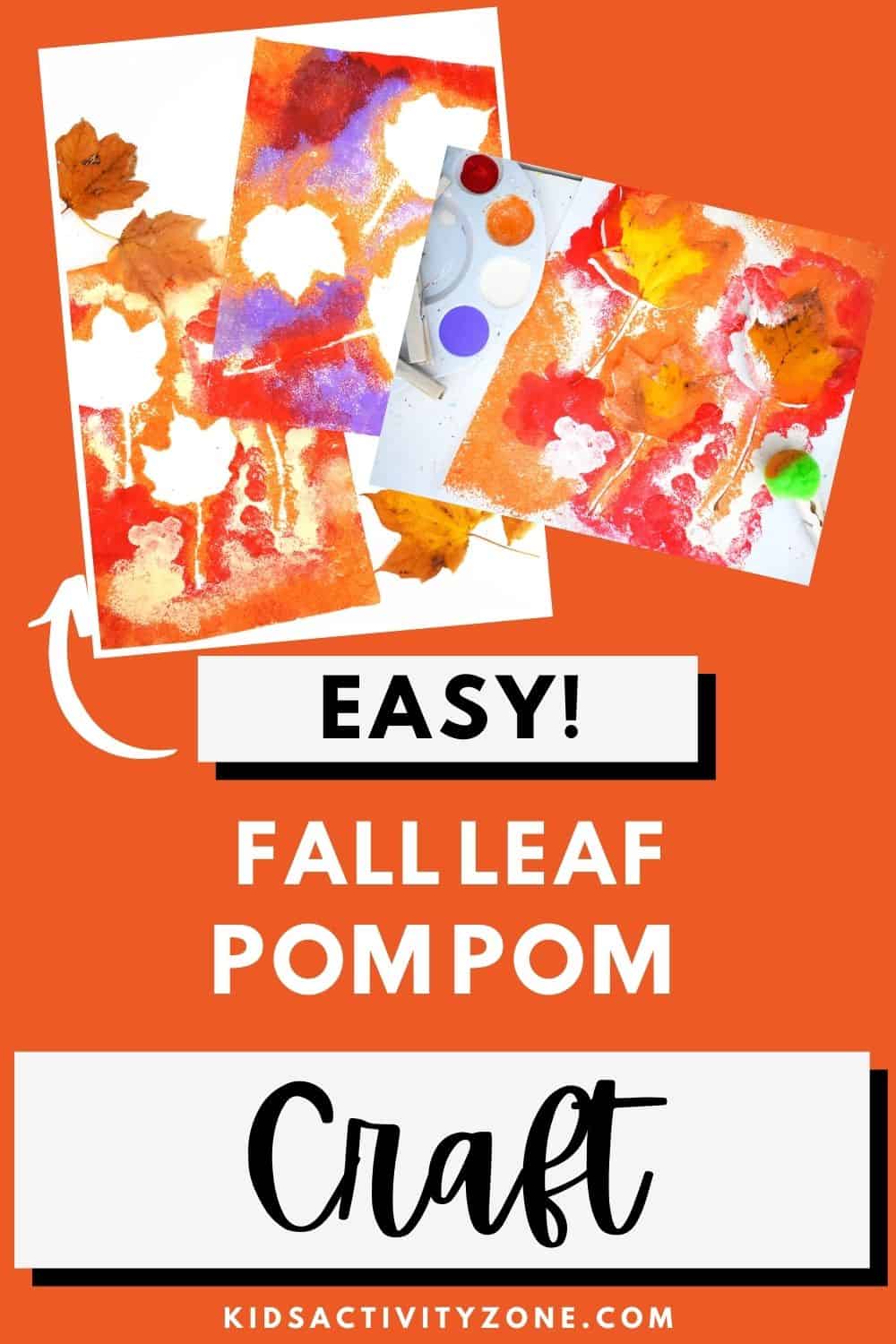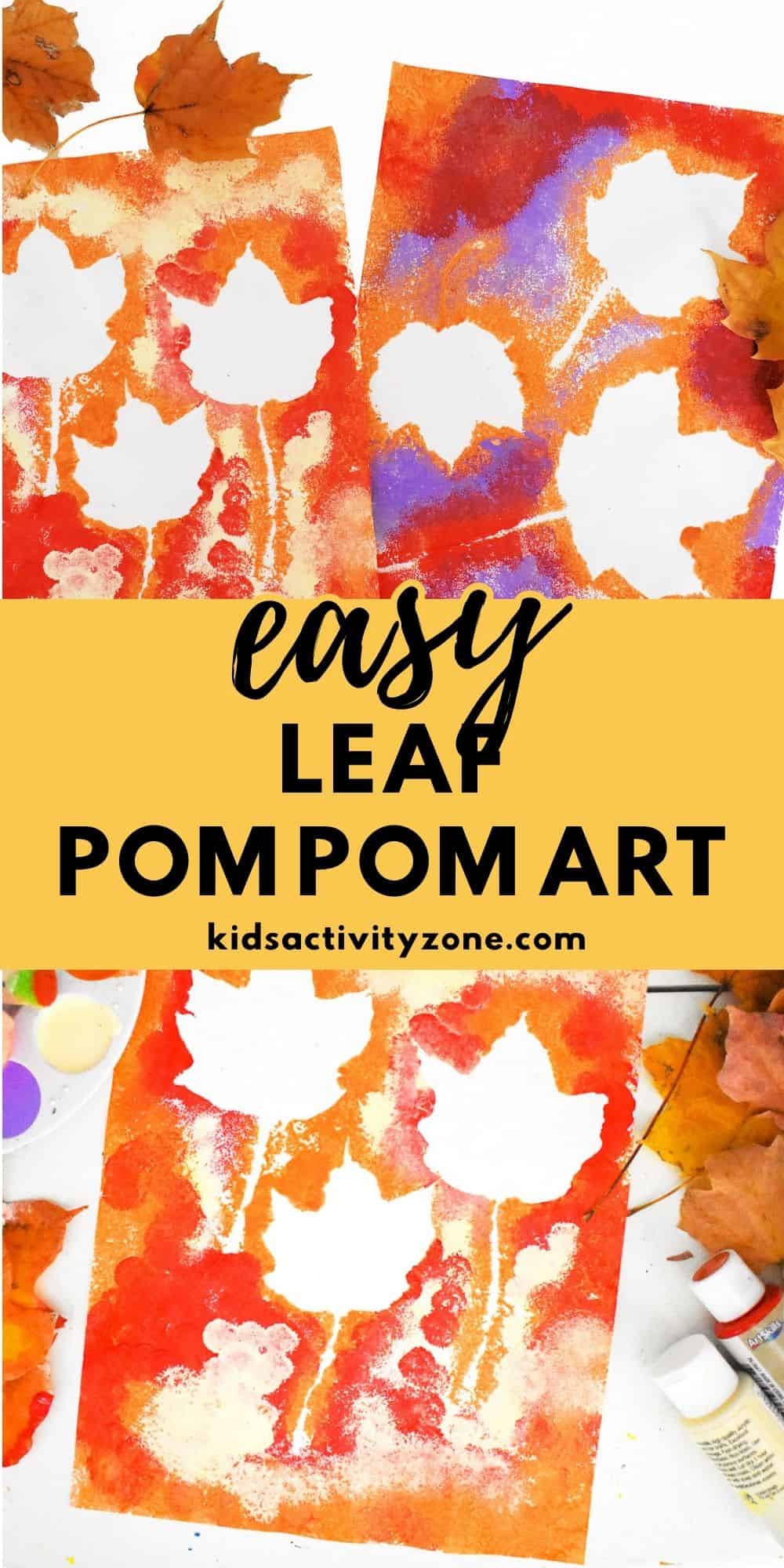 A quick and easy craft for toddlers and preschoolers perfect for fall. This Fall Leaf Pom Pom Painting Activity is easy to do with supplies around your house. Plus, it's a great for children's fine motor and sensory processing skills!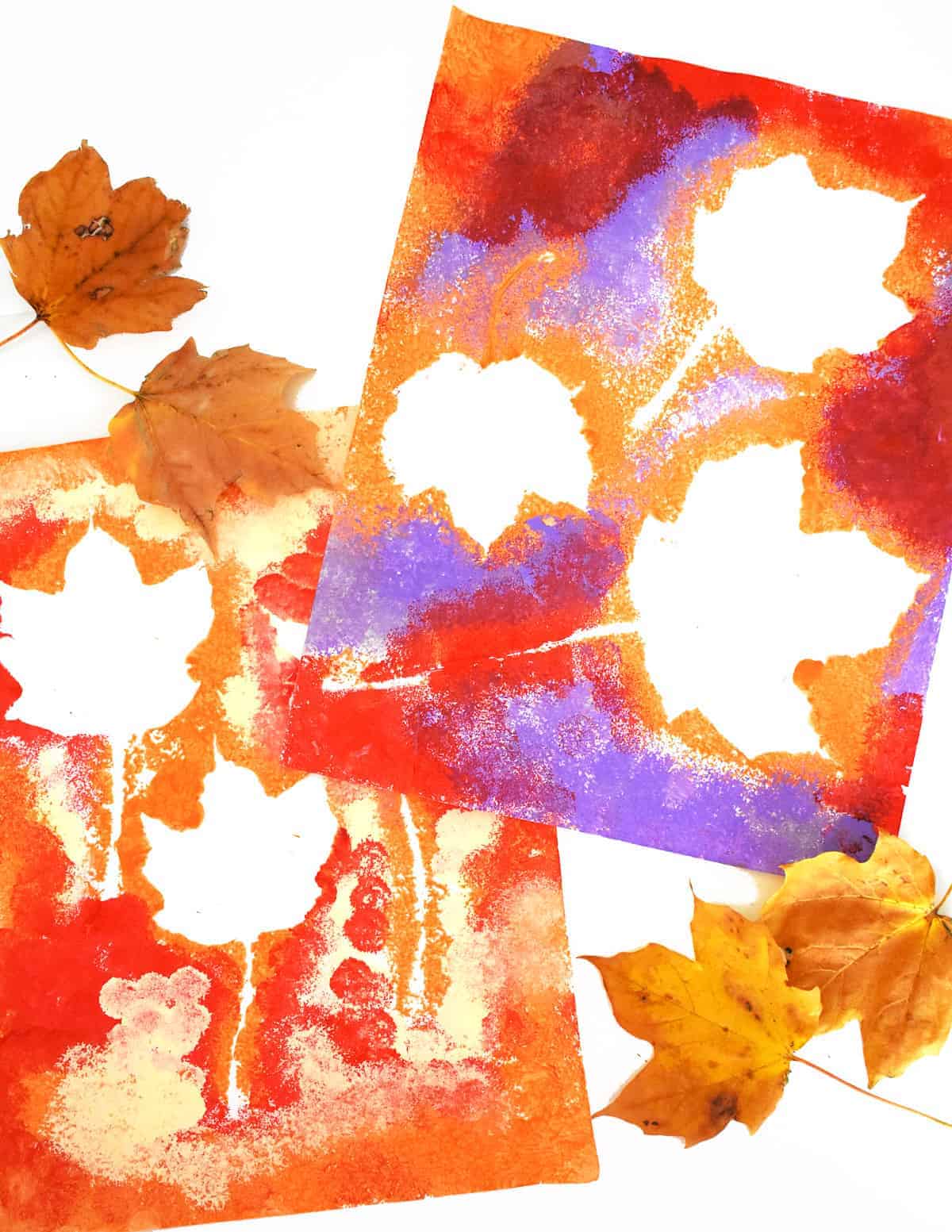 These Fall Leave Pom Pom Paintings are not only fun, but super cute to make. With minimal prep, supplies and clean up it's a quick and easy fall craft for young children.
You can either use a clothespin to hold the pom pom or the kids can squeeze it with their fingers and paint with the pom pom they are holding.
Using a clothespin can be less messy, plus some kids have an aversion to getting messy so this helps them participate in the process.
Did you know if you place the paint tray on the side opposite of the children's dominate hand it encourages them to cross the midline as they reach to dip and paint? It's important for children to be able to cross this invisible line because it strengthens the connection between the left and right sides of the brain. It also contributes to the development of hand dominance as they get older.
A simple, fun craft that's cute and helps them develop fine motor skills! A win-win in my book.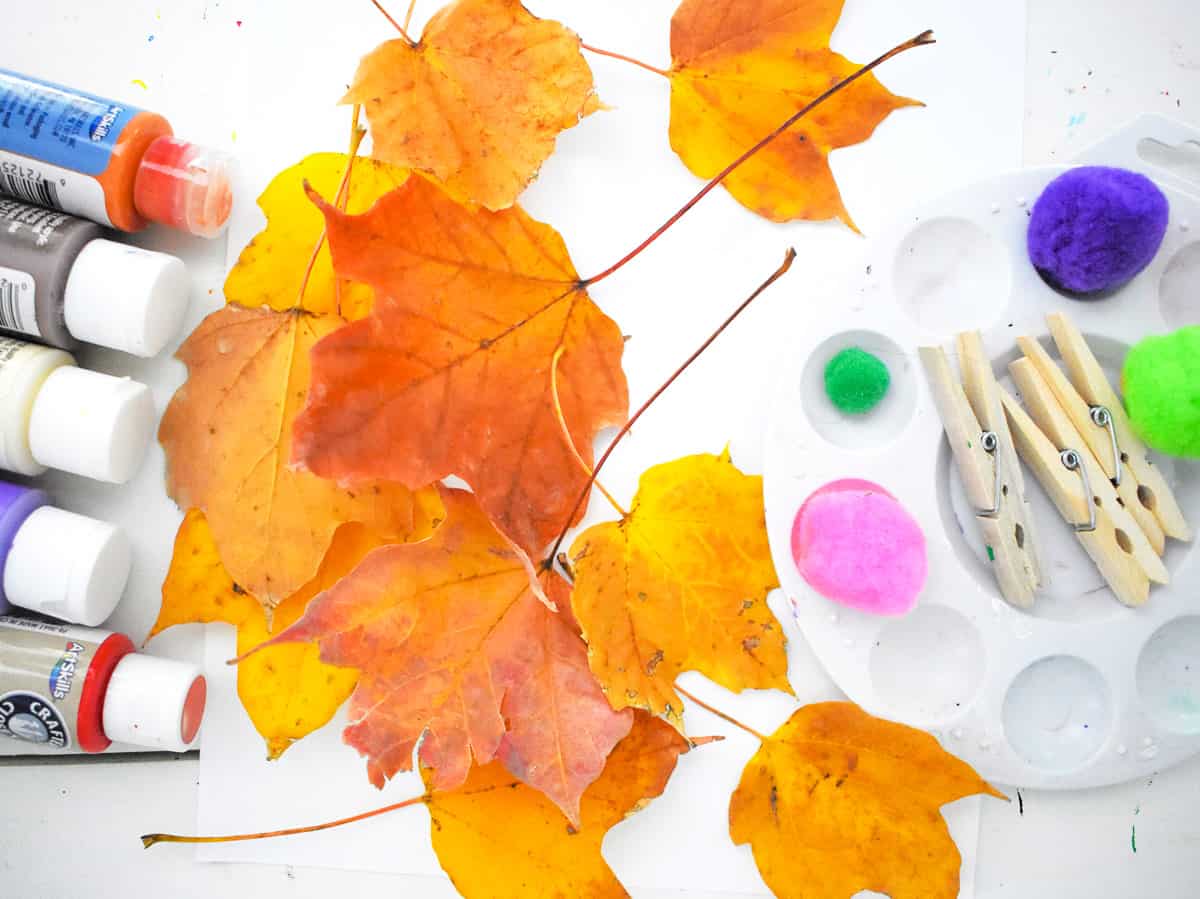 Supplies Needed
Fall Leaves
Clothespins – If you don't have clothespins kids can just pinch the pom pom with their fingers and paint like that.
Most of these supplies are common craft supplies that you already have in your house! That's why I love this fall art piece.
This is a great activity for toddlers, preschoolers and kindergarteners. If you have a wide range of ages of children they older can also help the younger ones.
Steps to Make Leaf Art Painting
First, head outside and gather an assortment of leaves to make your paintings with.
Next take masking tape and apply rolled up masking to the back of the leaves and gently stick them to the white cardstock. We used three medium sized leaves in our art.
Take a pom pom and clamp it into the clothespin. We recommend using a few different sized pom poms if you have them, but one size would work too!
Dip the pom pom in paint and then gently damp around the leaves. We used a combination of red, orange, purple and yellow paints, but you can use any colors you'd like.
Continue stamping until the page is covered. Once finished remove the leaves and the tape before it drys.
Let the paint dry in a safe place.
Expert Tip!
Match the color of the pom pom to the paint color to help kids learn their colors, matching and remember what pom pom goes into which paint color!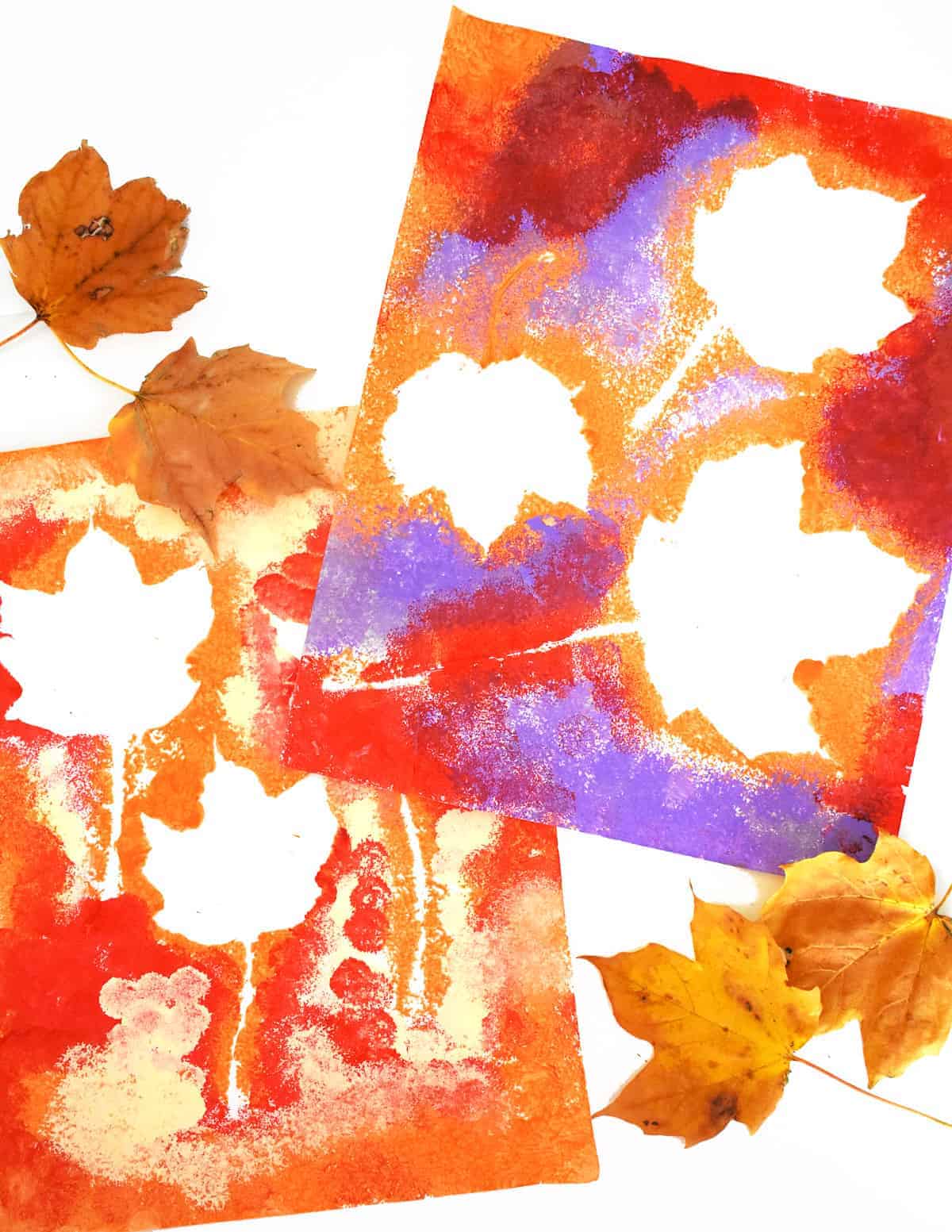 Looking for more fall fun?
Have fun creating your leaf art!
If you take a picture and share them Instagram make sure to #kidsactivityzone or tag us @kidsactivityzoneblog so we can see them!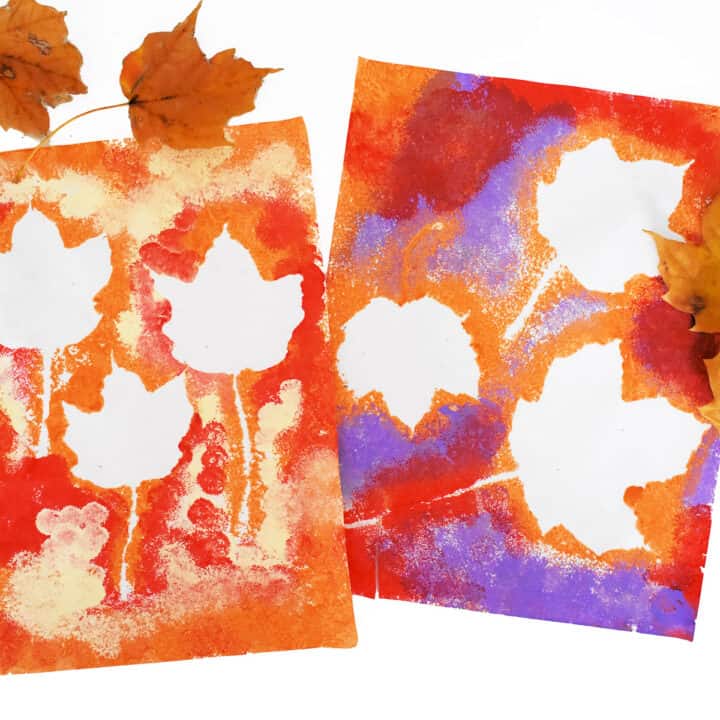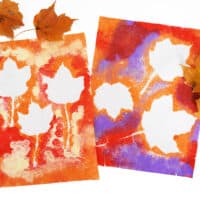 FALL LEAF POM POM PAINTING
Easy fall leaf craft! Use pom poms to paint outlines of leaves on white paper for an easy activity.
Print
Pin
Rate
Materials
Instructions
Begin by gathering a bunch of fall leaves from outside.

Use small pieces of rolled up masking tape on the back of the leaves to gently stick them to the white cardstock. We used 3 medium size leaves per sheet.

Now, clamp a pom in a clothespin. We used a couple different sizes of poms.

Dip the pom in the paint. We used red, orange, purple and yellow paints.

Begin stamping around the leaves and continue stamping until the page is covered.

Once finished, carefully remove the leaf and the tape.

Let the paint dry completely.