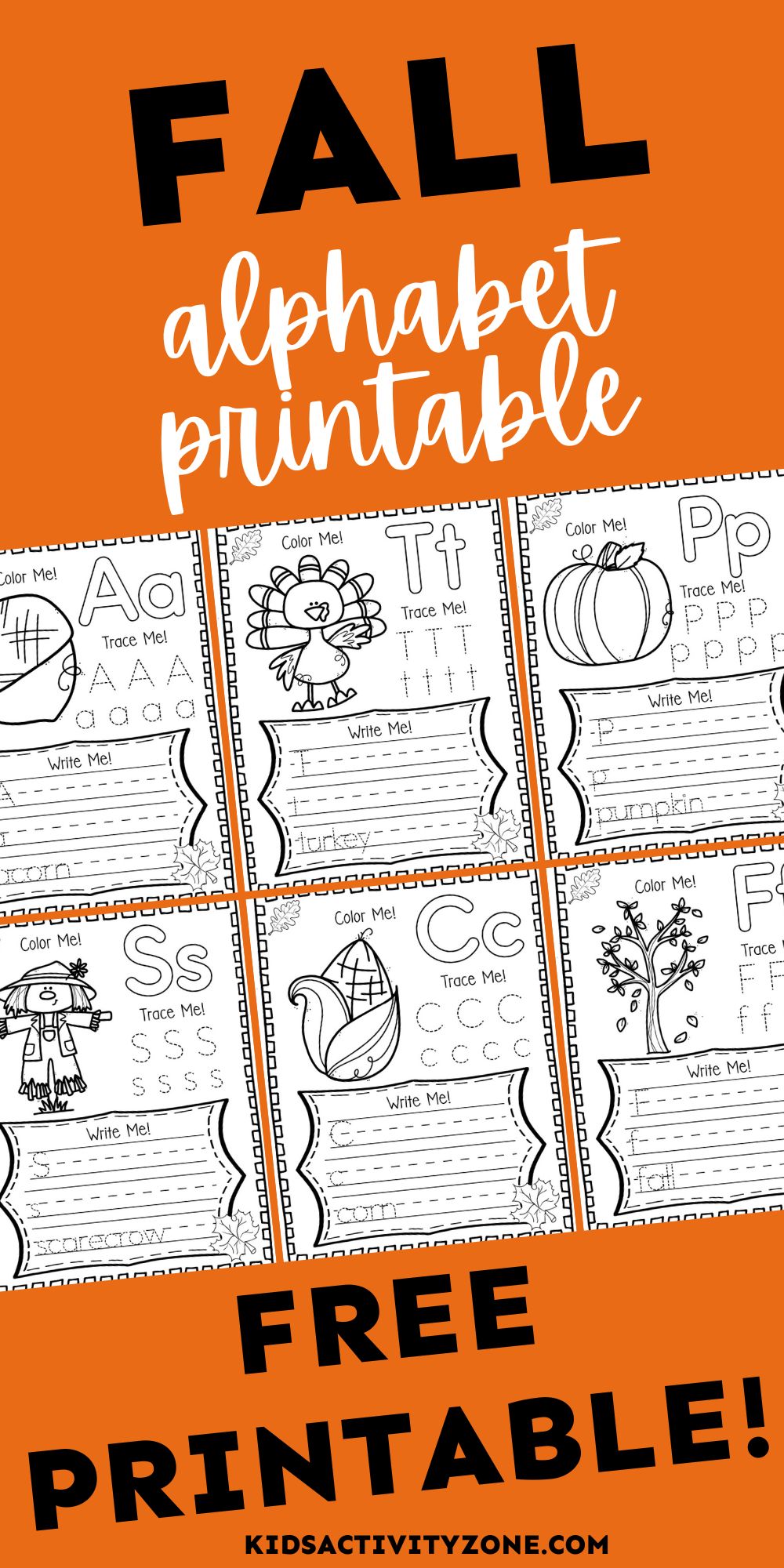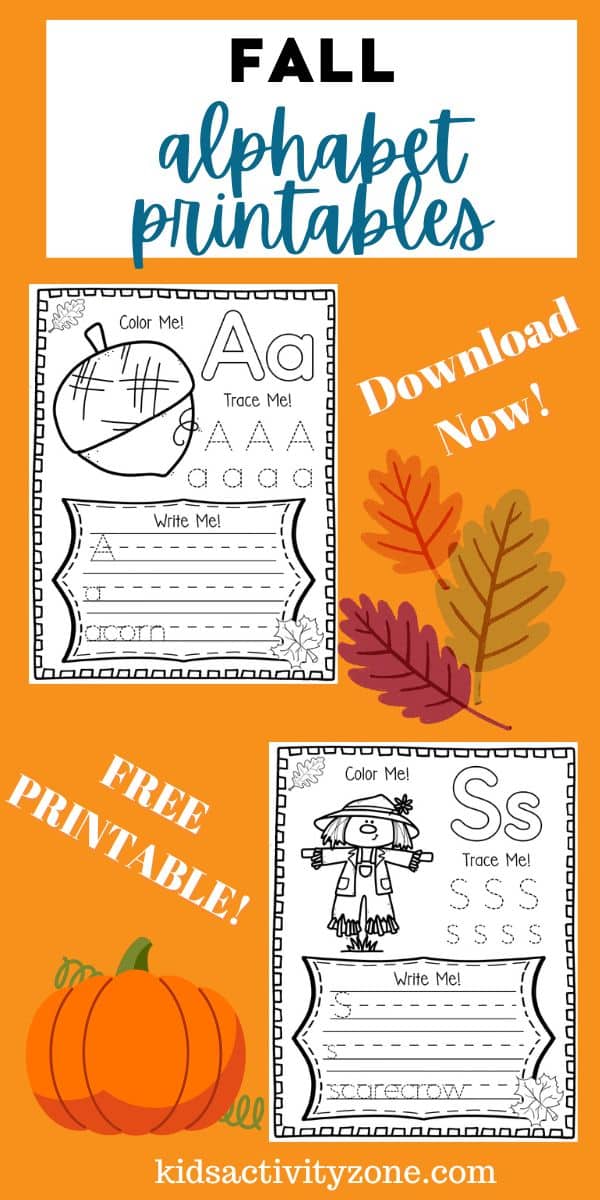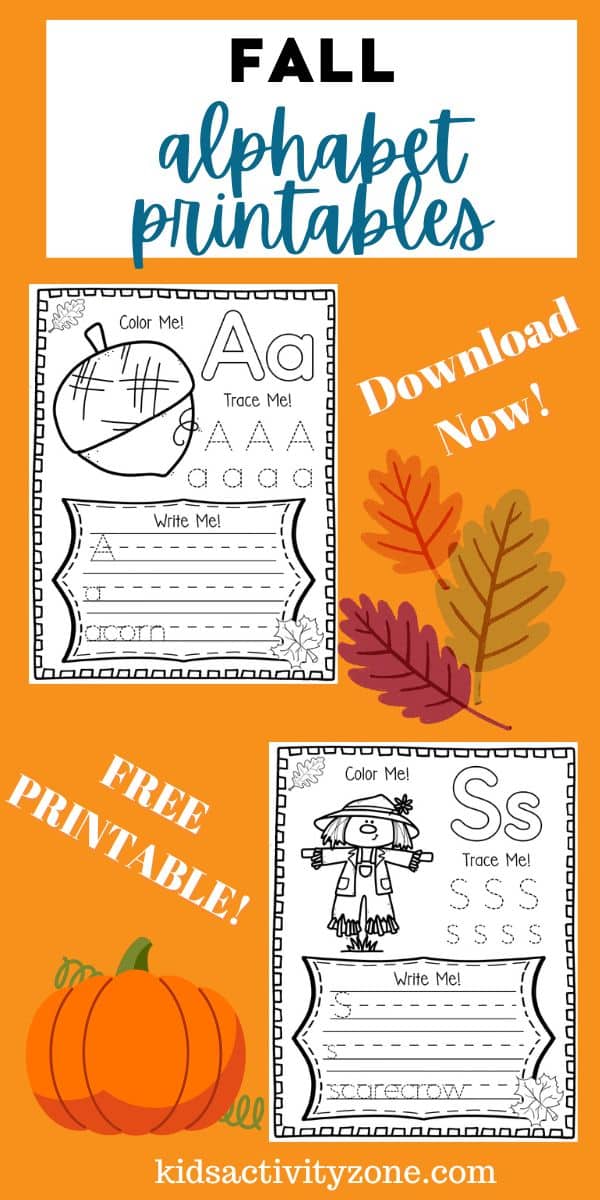 Fun and free Fall Alphabet Activity printable for kindergarteners or preschoolers. This free printable includes sheets for each letter of the alphabet. Each sheet focuses on the lower and uppercase tracing of the letter plus a fall themed word to trace and practice!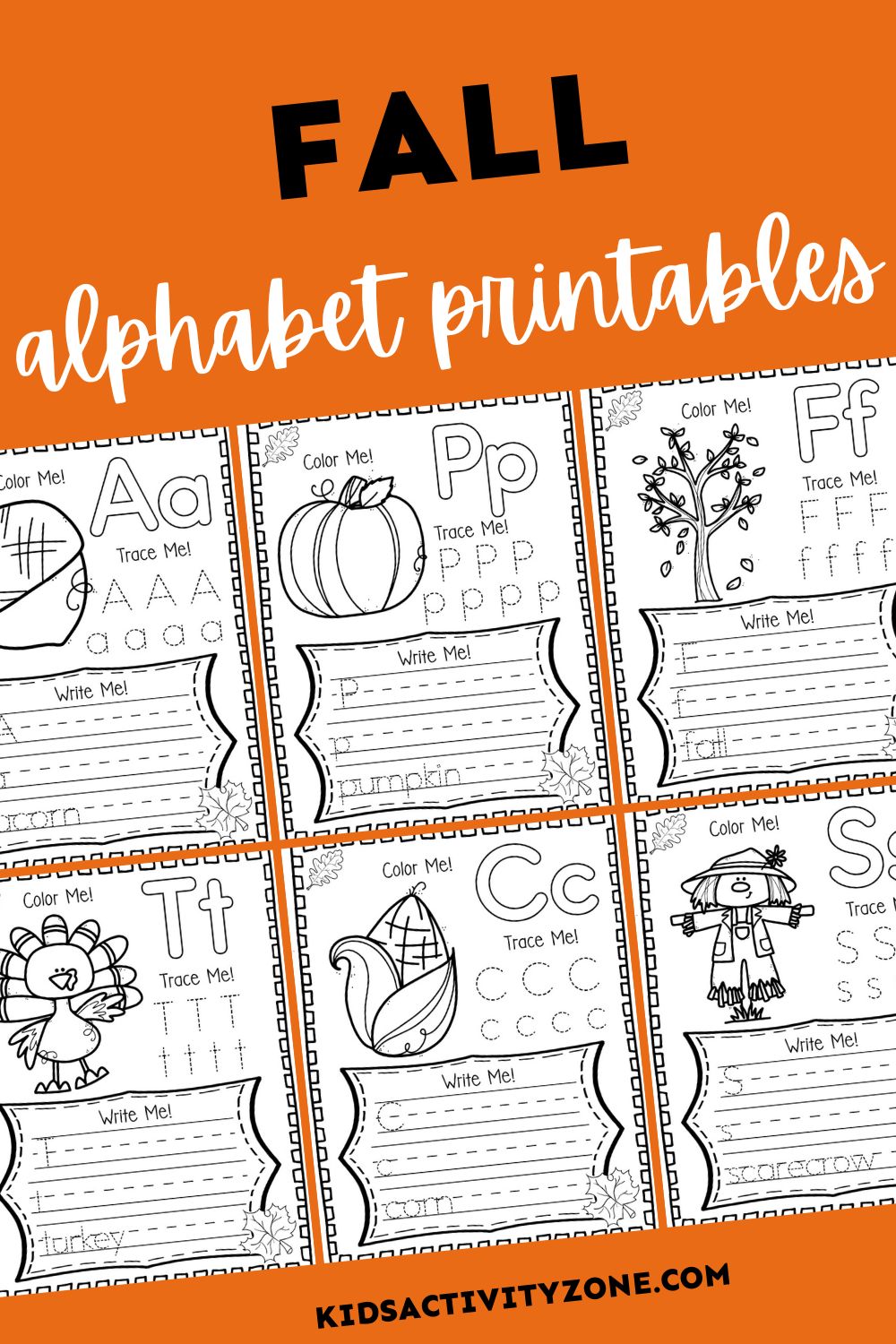 This fun fall alphabet activity is great to keep your kiddos occupied during fall break or Thanksgiving break. If you have a printer and your favorite coloring supplies, then you have everything you need. Your littles will have a blast learning their letters and coloring in the cute little fall themed pictures on each page.
Have a long drive to see family over thanksgiving? Then just print out each page, punch holes in them, and place them in a three ring binder. Add a pencil pouch with colors, markers, or pencils and you've got the best screen-free activity for a road trip!
You can make a batch of pumpkin playdough before you leave too…the best sensory activity. Road trips made easy with fun fall activities that will keep your kids entertained and pass the time quickly.
Why You'll Love this Fall Alphabet Activity
This activity can be used for homeschooling or even to keep the kids brushed up on alphabet while they're out of school. It's great for pre-schoolers who are beginning to learn the alphabet too!
Printable fall activity sheets are completely and entirely free. A great activity if you're on a budget!
Tracing letters in the alphabet can help improve fine motor skills and concentration in children.
Supplies Needed
Coloring supplies – I love these Twistable Crayons! They seem to last forever and are the perfect size for little hands to comfortably hold. If crayons aren't your thing, you can use washable markers or colored pencils too!
Printer – You don't need anything crazy fancy. If you have a printer that can print in black and white, then you are set to go. Don't have a printer? Check and see if your local library has a print center. You can typically print a lot of copies for an affordable price…sometimes even free!
Computer paper – Just plain white paper is all you need. However, if you'd like these fall alphabet activity printable pages to be a bit more sturdy, feel free to print on white card stock.
Fall alphabet printable activity pages – Print the pages with the link at the bottom of this blog!
What's Included in this Fall Alphabet Activity Packet
Each page of these fall alphabet worksheets are centered around one letter. In the right hand corner, each letter is written in uppercase and lowercase bubble letters that your kids can color in. In the left hand corner, there is a fall-themed picture for kids to color that corresponds with the given letter on the page.
Below that, there are dotted outlines of the letter in uppercase and lowercase to practice on. And then on the bottom of the page, there are three lines to practice writing each letter and even name the picture they colored at the top of the page!
How to Use these Fall Alphabet Printable Activities
Classroom use – If you're a teacher, these would be great to use in your classroom! Kids can get a little rambunctious towards fall break and Thanksgiving break, so giving them a fun activity that is still educational is a great way to keep them engaged. You can also just teach one letter a day during the fall and use these pages to solidify what they just learned!
Homeschool use – Just like use in a school classroom, these pages can be used in your homeschool teaching when your kids are learning letters. It's a great way to incorporate coloring and tracing practice while they learn their alphabet!
After school activities – Got a rainy day or cold weather and the kids can't play outside? Give them one of these printable fall activity sheets to keep them entertained. They'll have fun and learn something along the way!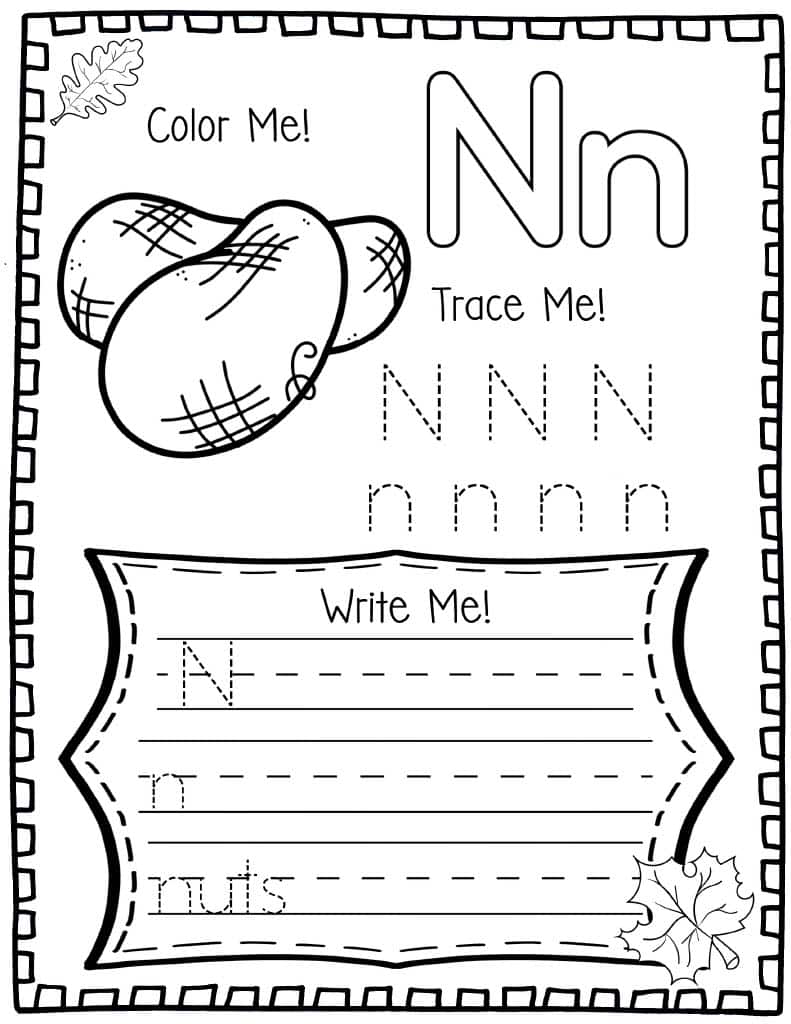 Ready to get in the best alphabet practice? These fun pages are a no-brainer!
More Fun Fall Activities