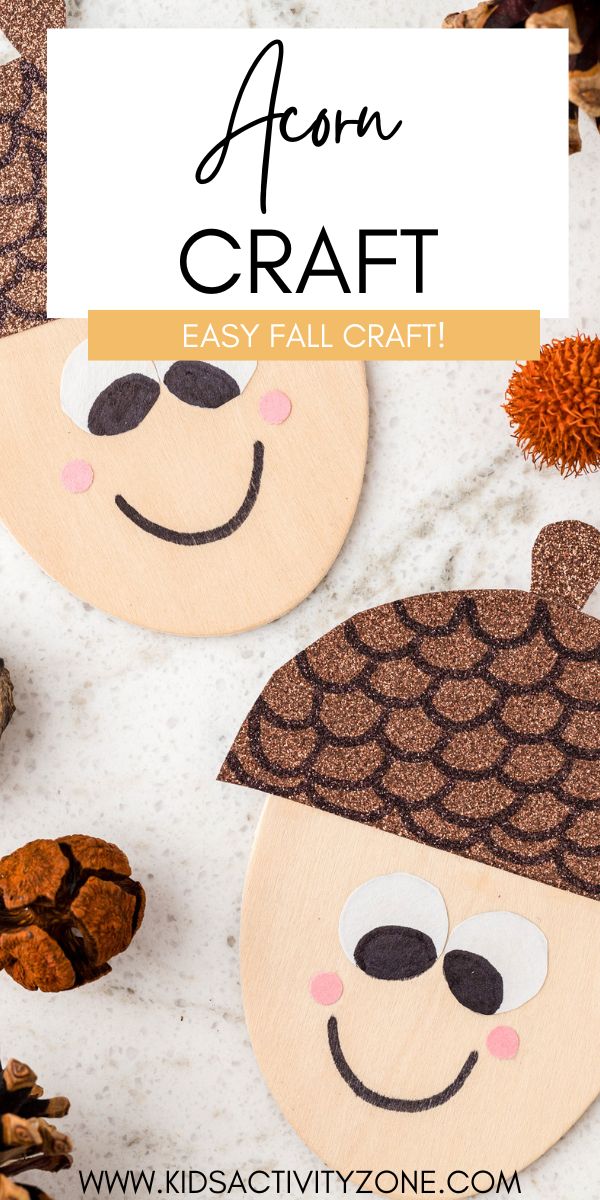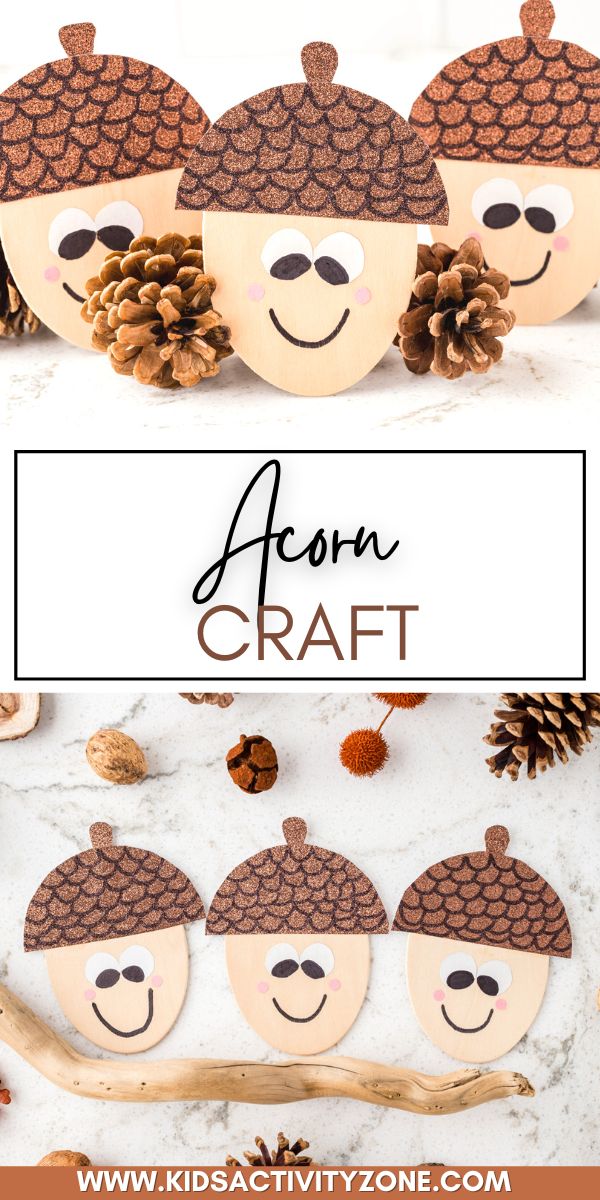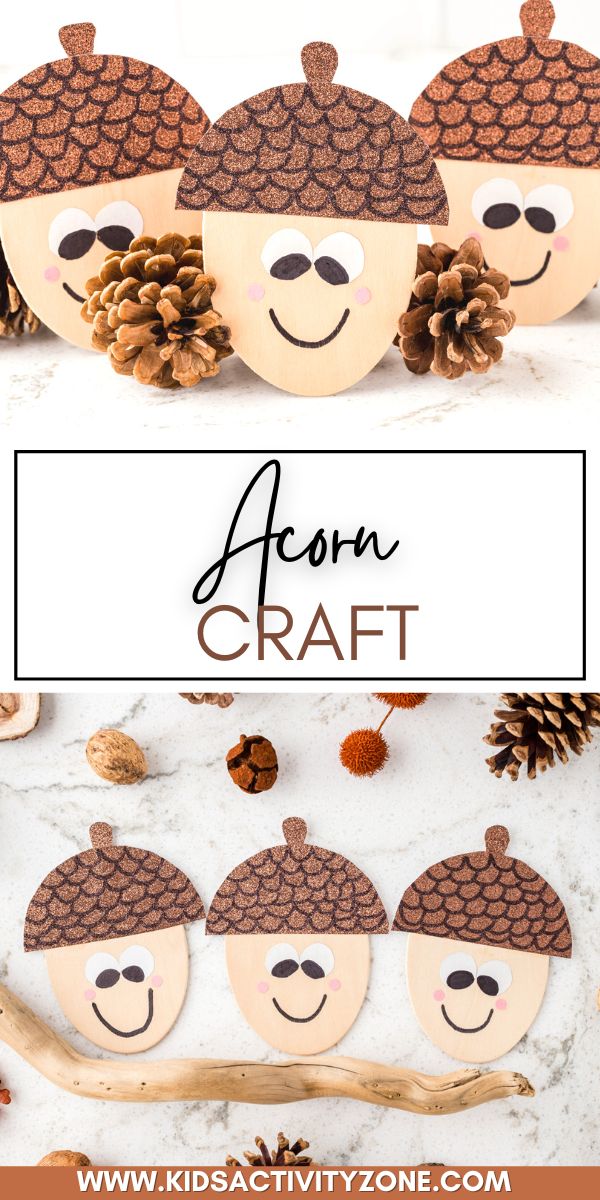 Easy Acorn Craft is the perfect kids craft for fall! These cute little acorns are easy to make with some basic crafting supplies. It's a fun fall craft for kids with step by step directions and pictures!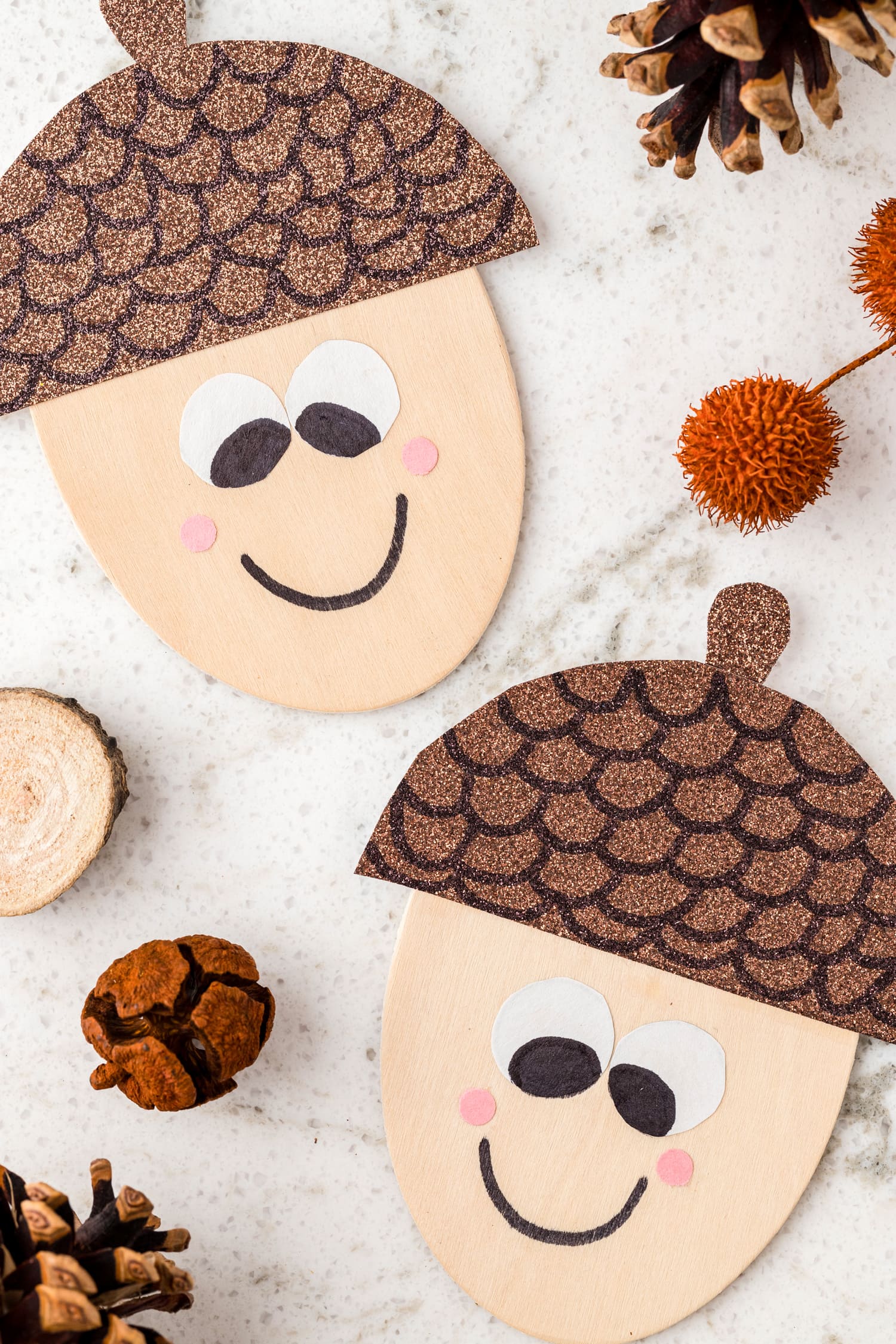 This adorable acorn craft idea is so easy to make and is perfect for your younger kids. Finding easy fall crafts to do over fall break is a great way to spend time with your kids and have some fun!
You can make a lot of little acorn buddies with this easy fall acorn craft, and soon you'll have a little acorn village! These would be so fun for your kids to hand out to family members and maybe even decorate for Thanksgiving with.
You can even add a magnet onto the back and display your acorns on the refrigerator!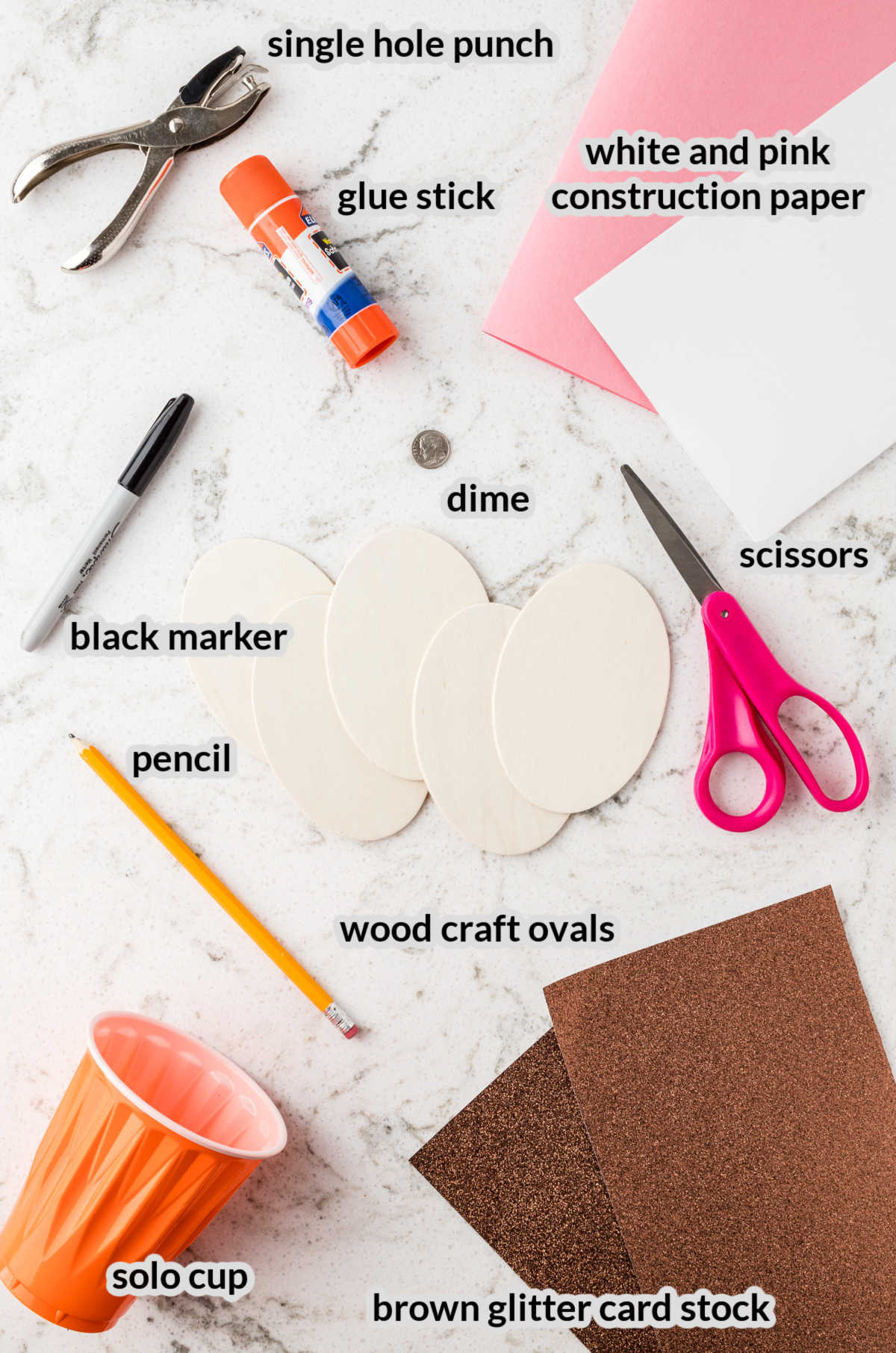 Supplies needed for your Acorn Craft
Glitter card stock, brown – Glitter makes everything better, but if you can't find glitter card stock you can use plain brown or construction paper.
Solo cup – I use this to trace a really neat circle to use as the acorn cap. You could use any cup or something else with a circular shape to trace…or freehand it if you're brave!
Pencil – Any writing utensil will work, but I like using a pencil so I can erase if I make a mistake.
Scissors – Safety scissors will work great for this easy fall craft if you have younger children that want to cut their own shapes.
Glue stick – A trusty old glue stick will work, but you can use craft glue if you'd like.
Wooden craft ovals – This is what makes the body of the cute little acorn. You can find these in the wood craft section of your local craft store.
Marker, black – You can use a sharpie or a washable marker if you have younger children. A colored pencil or crayon would also work!
Construction paper, white and pink – I used standard construction paper, but card stock would work as well.
Dime – I trace a dime to make perfectly round eyes! But you could use a button, different sized coin, or any other small circular object.
Single hole punch – I used this to punch out perfect circles in the pink construction paper. So much easier than trying to cut a tiny circle with scissors.
How to make this cute Fall Acorn Craft
These are so easy to make and turn out adorable!
Just follow the steps below and this easy fall craft for kids will come out perfect in no time! If you need to save time while making this craft, just precut each of the shapes from the steps below.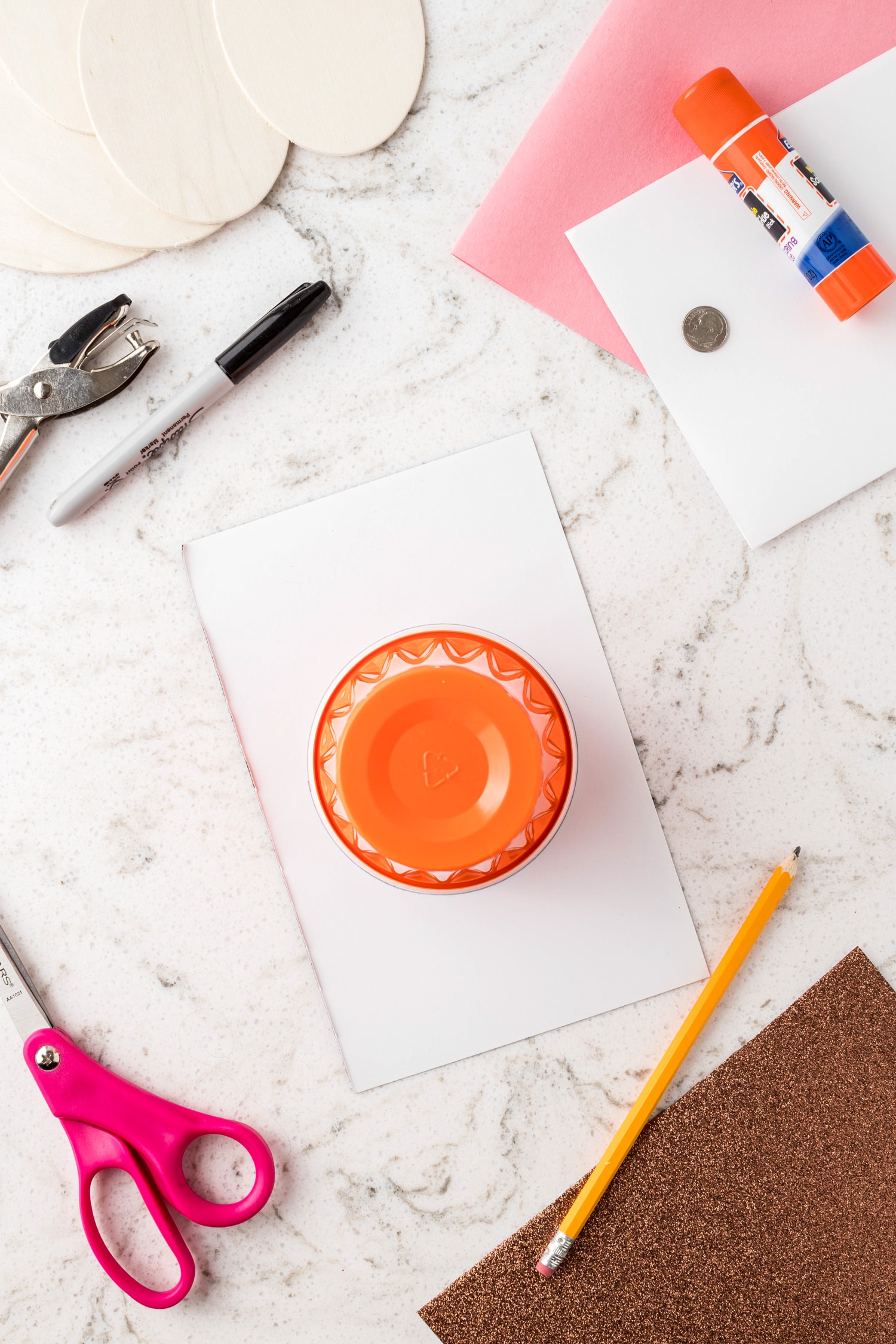 Using your cup, trace a circle onto the glitter or brown card stock. Cut that circle in half to make two acorn tops.
Then cut out a little rounded top triangle, kind of the shape of an ice cream cone, and glue it on the back of your half circle in the center.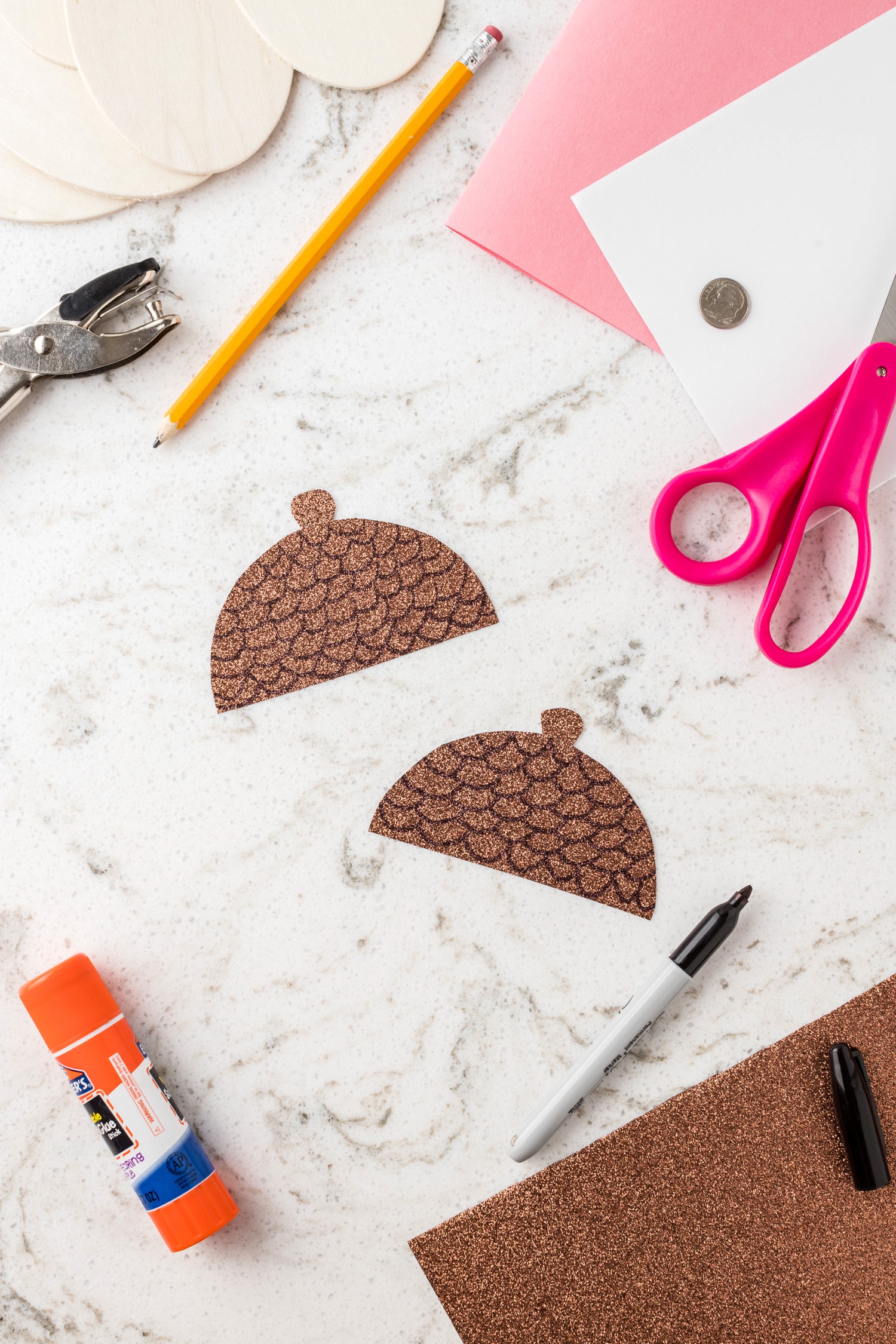 Using your black marker or other drawing utensil, draw an acorn pattern on the brown acorn top. You can achieve this look by drawing little half circles next to one another.
Take your glue stick and generously apply glue to the top third of a wooden craft oval.
Glue your brown acorn top onto that spot.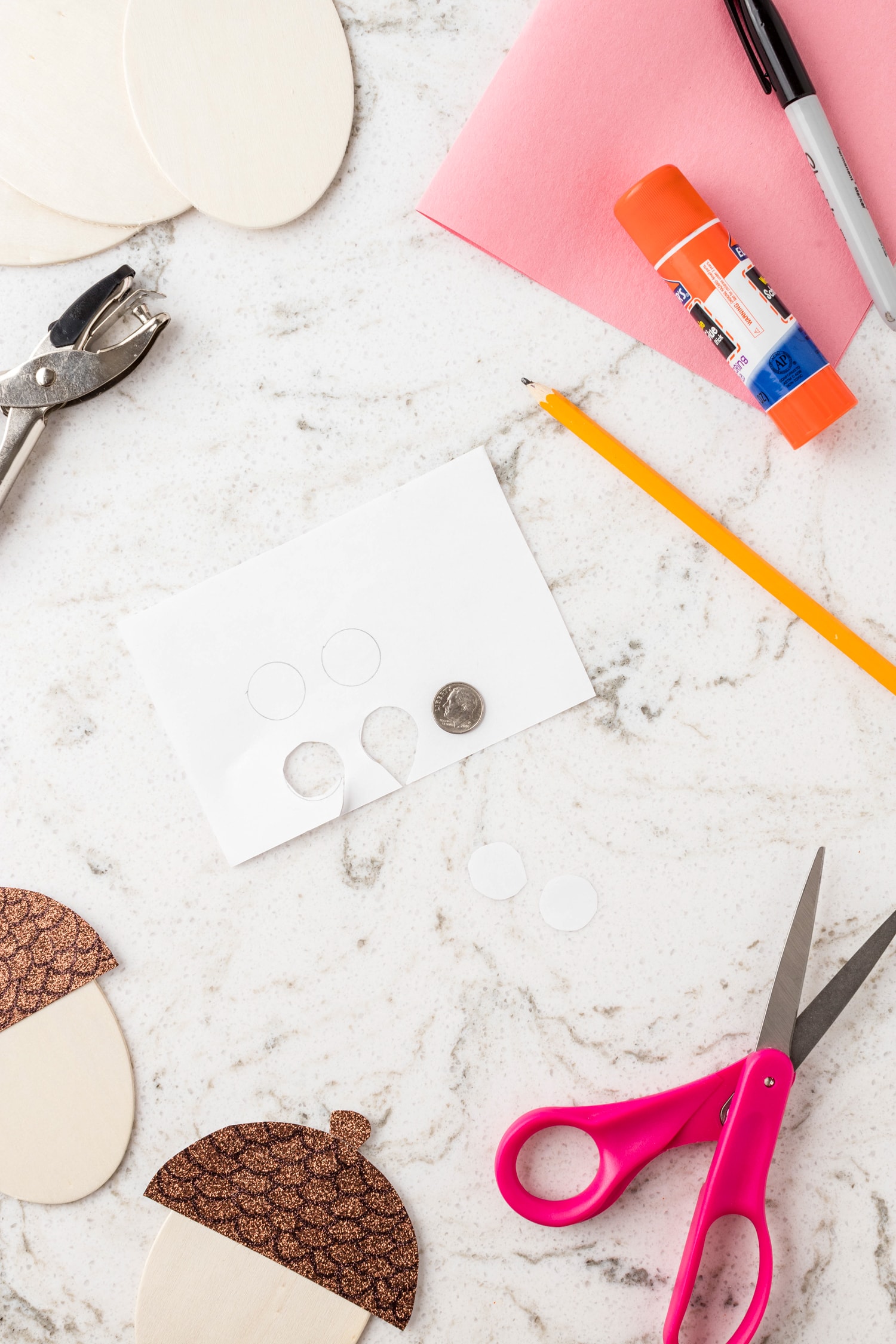 Using your dime and pencil, trace circles onto your white construction paper and cut them out. Glue them onto the wooden craft oval, just below the acorn cap.
Draw pupils onto the eyes with a black marker and don't forget to give your acorn a smile!
Take the hole punch and punch out a few circles from your pink construction paper and glue them onto each end the acorn craft smile.
Voila, they're done!
Pro Tips!
You may precut any items for this project to save time and make the activity easier.
Adding a magnet to the back is a fun addition to this project. It makes for a perfect way to display the acorns on the fridge!
Wooden craft ovals for these acorns can be located in the "wood crafts" aisle of your local craft and hobby store. Otherwise, find them on Amazon!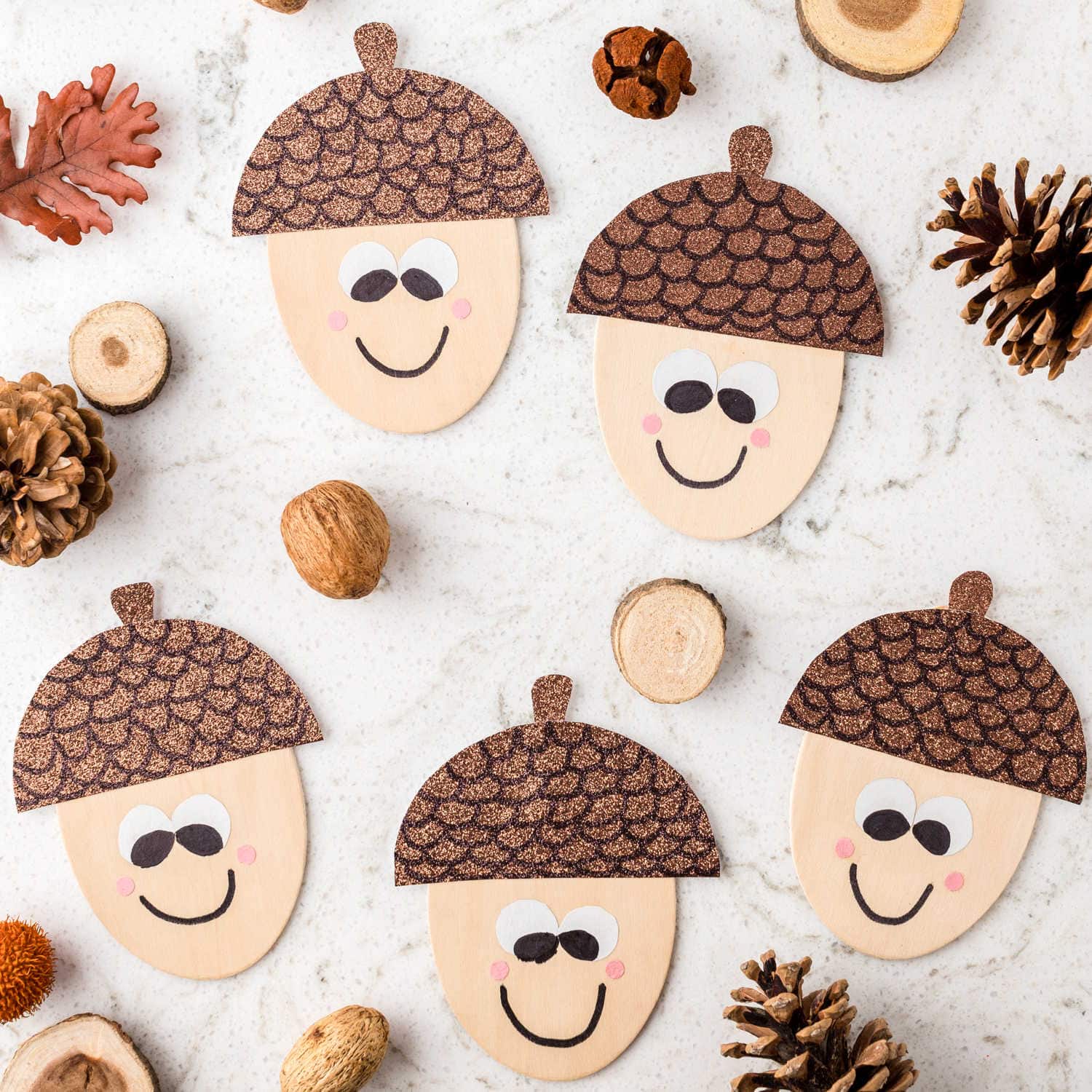 Get ready for fall with these adorable Acorns! They make the perfect craft to display on the refrigerator or gift to grandparents and friends. Best part is they only take about 30 minutes to make!
More Fall Crafts You'll Love
Yield: 2 Acorns
Acorn Craft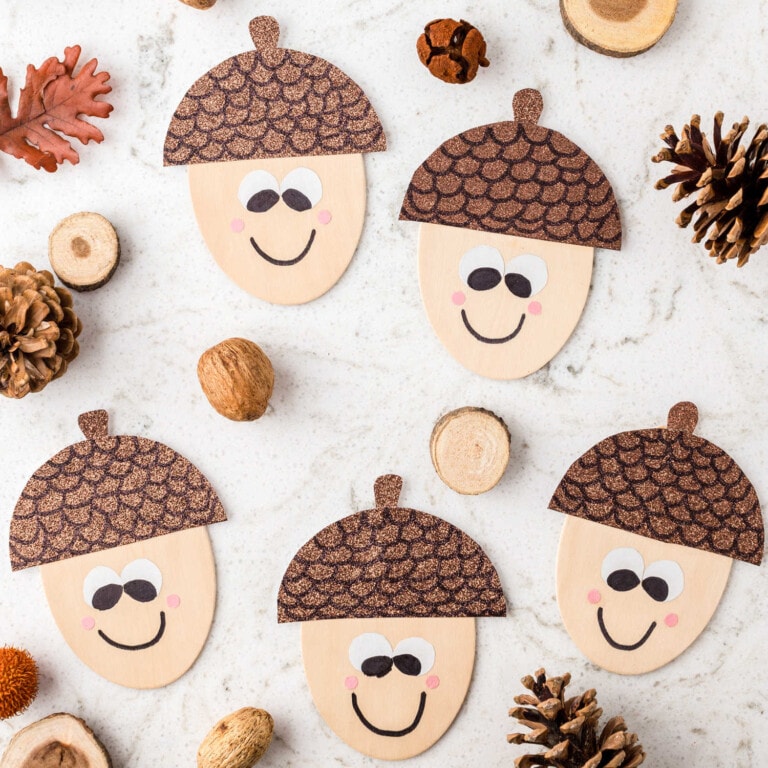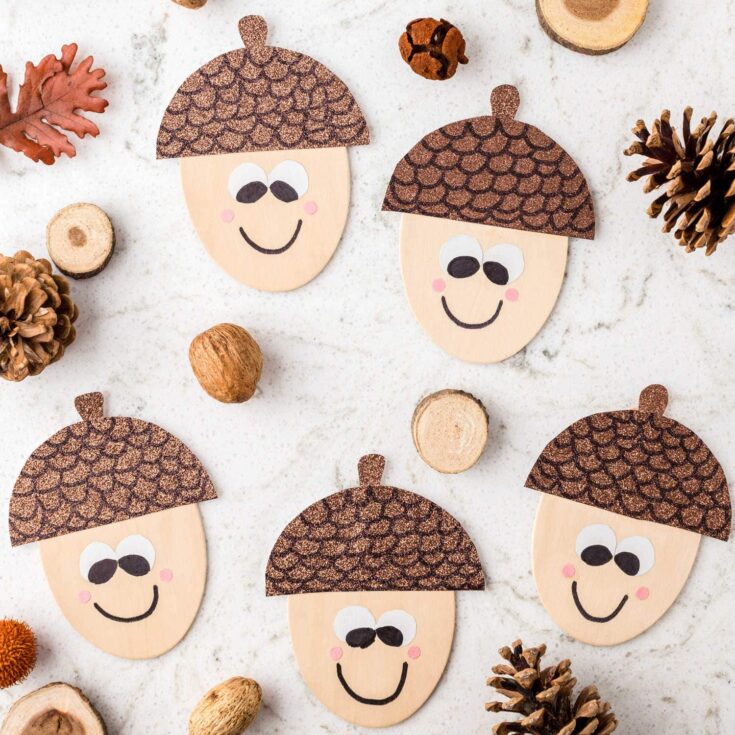 Cute and easy Acorn craft that is the perfect fall kids craft!
Materials
Solo cup
Pencil
Marker, black
Dime
Instructions
Let's start by tracing a circle on the back of the glitter card stock. Using a solo cup, outline the mouth of the cup. Cut the circle that you traced.
Next, cut the circle in half. This is the cap for your acorn.
Cut a small triangle out of the card stock and round the edges to create the stem. Glue the stem to the back of the half moon. Allow drying until secure.
Next, flip the "acorn cap" over and, using a black marker, draw scallops to add texture to the cap.
Add the "acorn cap" to the body of the acorn by grabbing a wooden craft oval and add a thin layer of glue to the top ⅓ of the oval. Press the "acorn cap" onto the glue until secure.
Once secure, let's give this acorn some eyes! Take a piece of white construction paper and, with a dime or similar-sized object, trace 4 circles. Cut out the circles and affix them to the body of the acorns. With a black marker, draw in the pupils of the eyes.
Finally, let's give this acorn a smile! Grab a black marker and draw a smile. Then with a hole punch, make 4 small circles out of a sheet of pink construction paper. Glue these near the smile for some rosy cheeks!
Recommended Products
As an Amazon Associate and member of other affiliate programs, I earn from qualifying purchases.