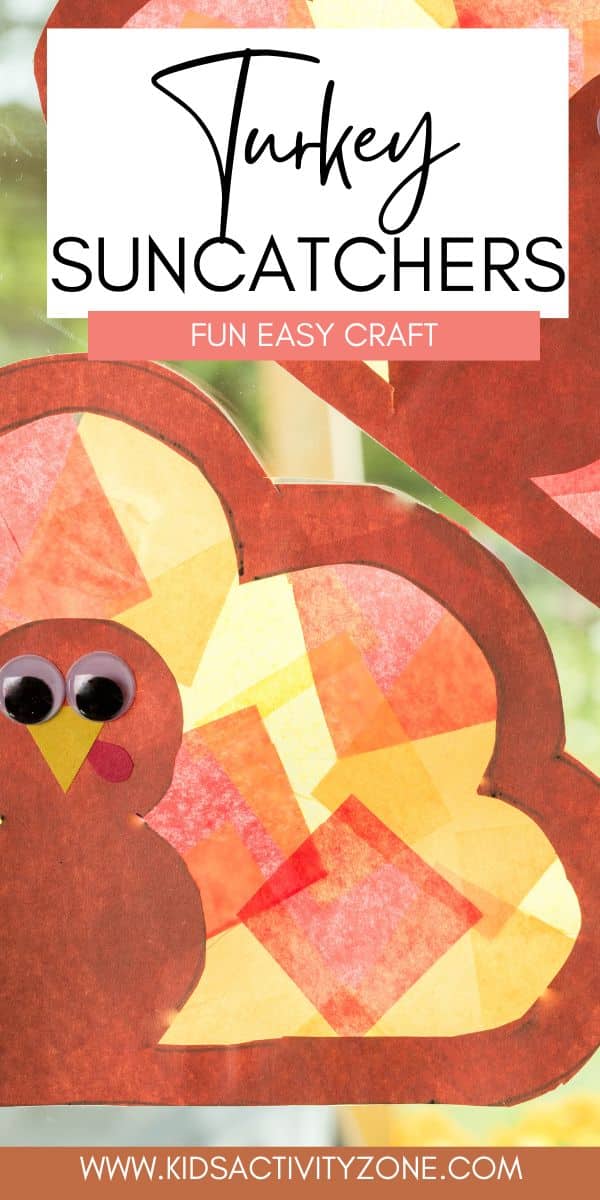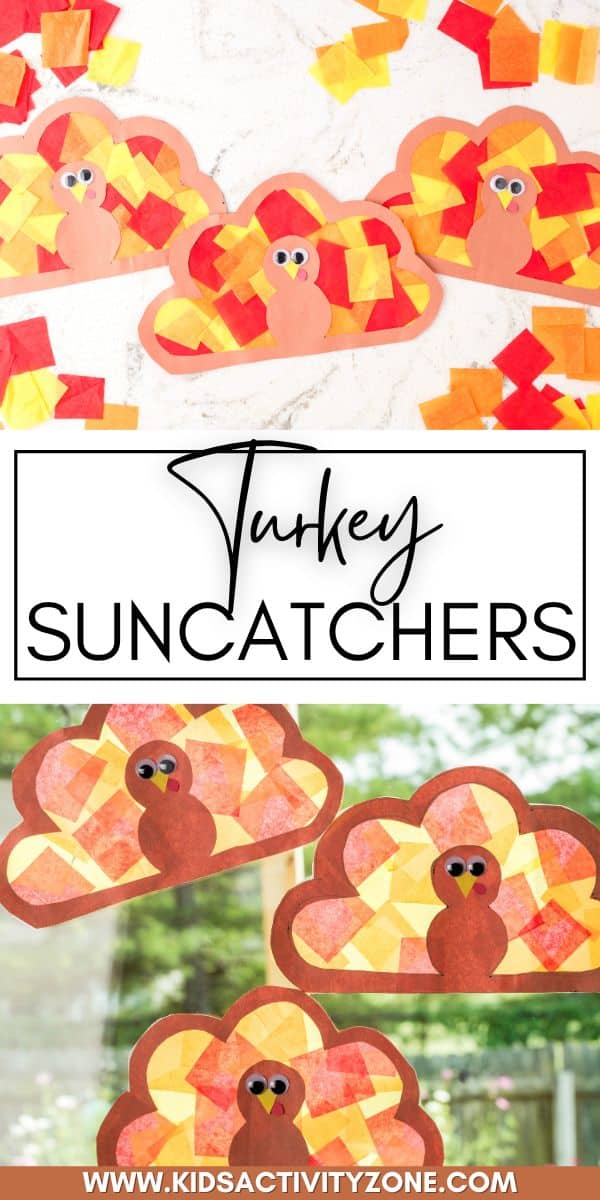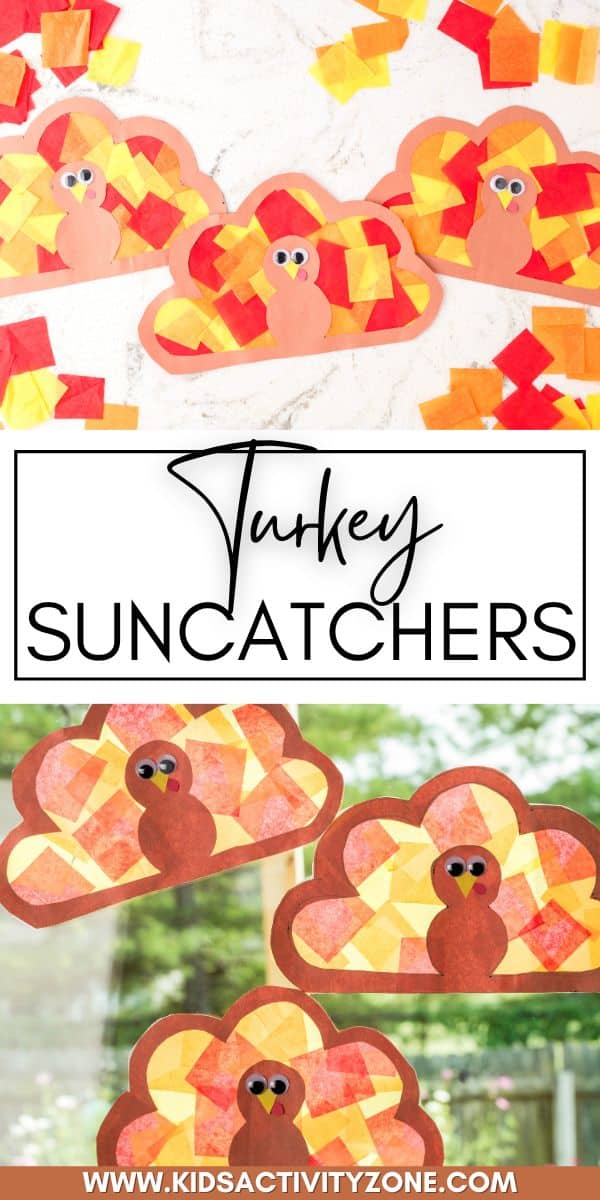 Need a quick and easy fall craft to keep the kids busy? This Turkey Suncatchers Craft is such an easy craft. Print off the turkey template provided, add tissue paper to contact paper and top with the turkey. These Thanksgiving suncatchers look so pretty hanging up in your windows!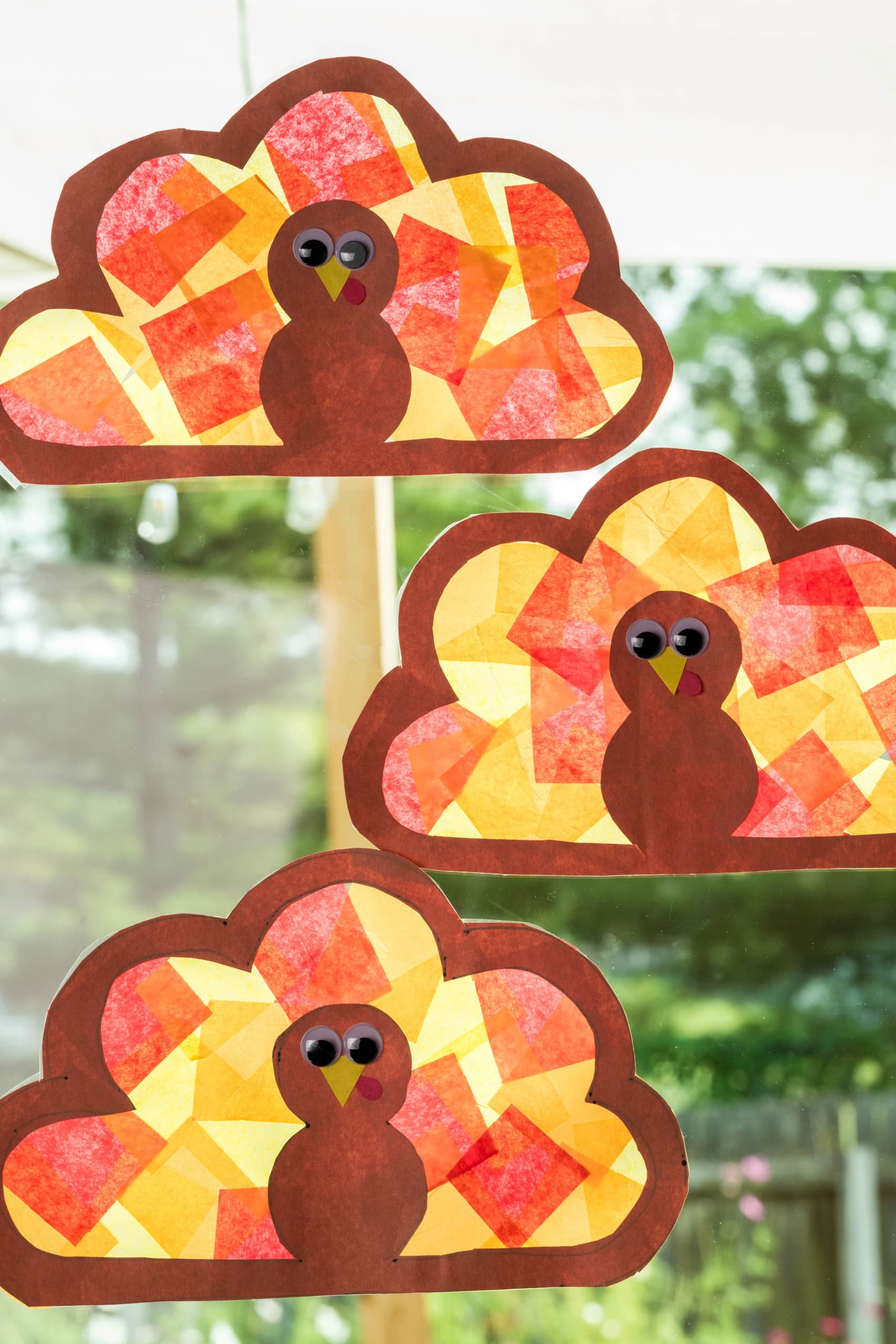 Turkey suncatchers are the perfect kids activity for the Thanksgiving holiday. Hang them in the window and gaze at them during your tasty feast. The kids will be extra excited that they got to create some decorations for the holiday!
Sun catchers are so much fun to make too. We have tons of different ones on this blog, and my kids have made them all many many times. I think one of my favorites has to be this snowflake suncatcher! Just so much fun and extra unique.
And now I really love this turkey suncatcher template. This gobbly little fella is just so perfect and absolutely adorable. Use this craft as easy entertainment during the holidays, a classroom activity, or for craft time!
Why You'll Love Turkey Suncatchers
Cutting, tracing, and glueing are all great activities that work on fine motor skills. Great for littles and kids of all ages!
This easy activity is a great way to entertain kids during the holidays. Thanksgiving break can be a lot of fun, but sometimes you run short of activities. So just add this to the list!
It only takes 20 minutes to complete this fun Thanksgiving craft. A great last minute craft addition to your schedule.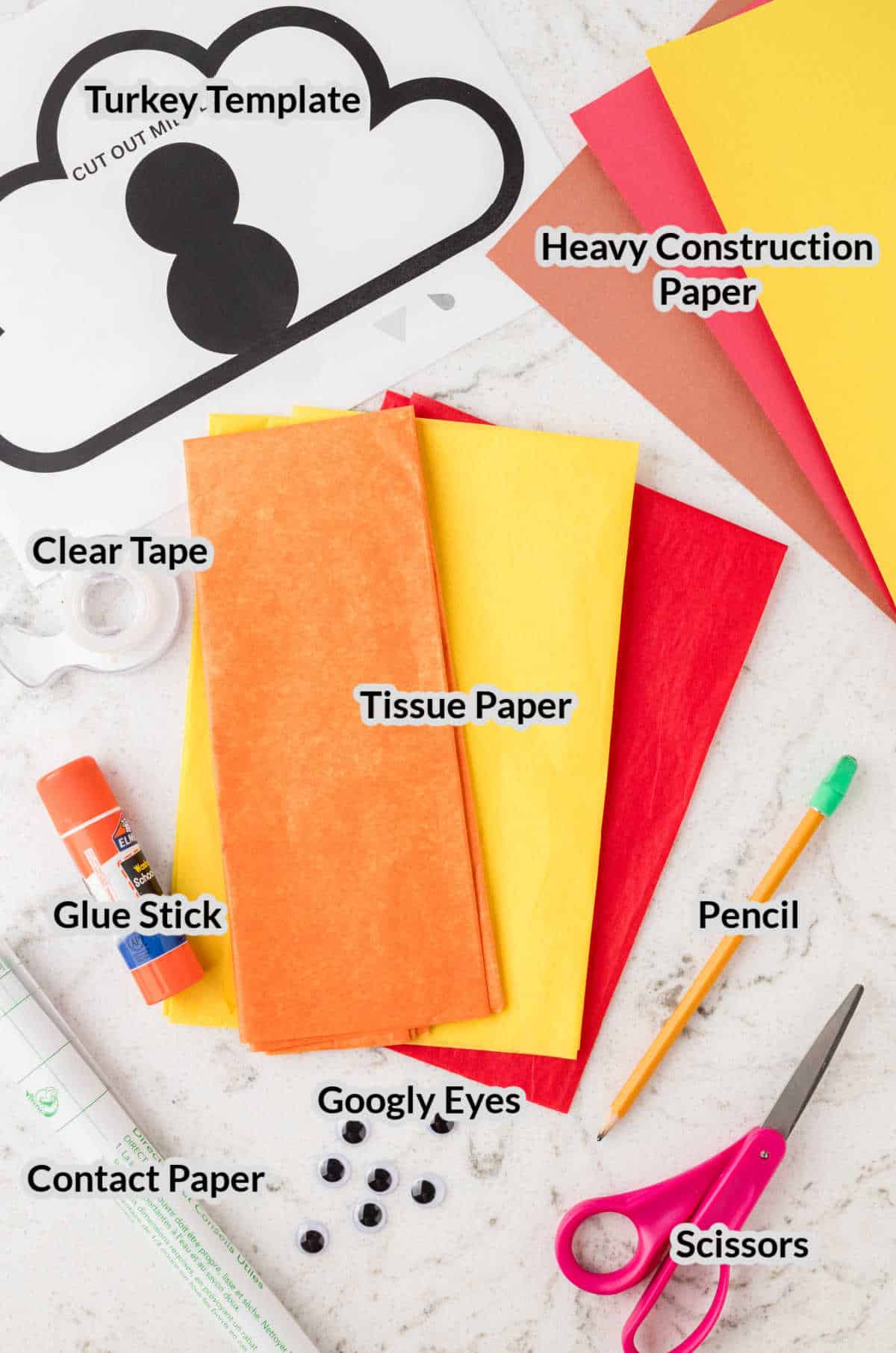 Supplies Needed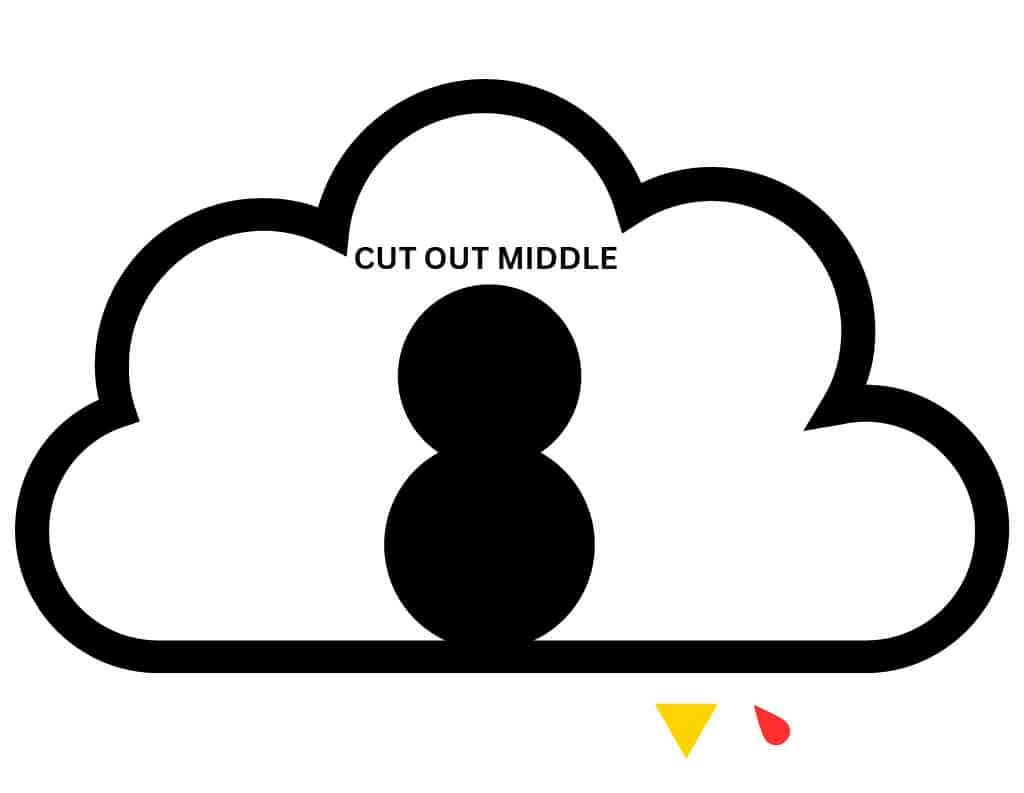 How to Make a Turkey Suncatcher
Begin by printing out the turkey suncatcher template, and then carefully cut it out.
Place the cut-out turkey on top of a piece of brown construction paper and trace the inside and outside of the outline. Then cut the traced turkey and set it aside.
Grab your tissue paper and cut it into 2-inch squares, then set aside.
Cut a piece of contact paper that is slightly larger than the turkey, then place the turkey outline underneath the contact paper with the sticky side up.
Next, place the cut tissue paper squares in a random pattern all over the contact paper, inside of the turkey outline. Overlap the tissue paper pieces so that there is no empty space left.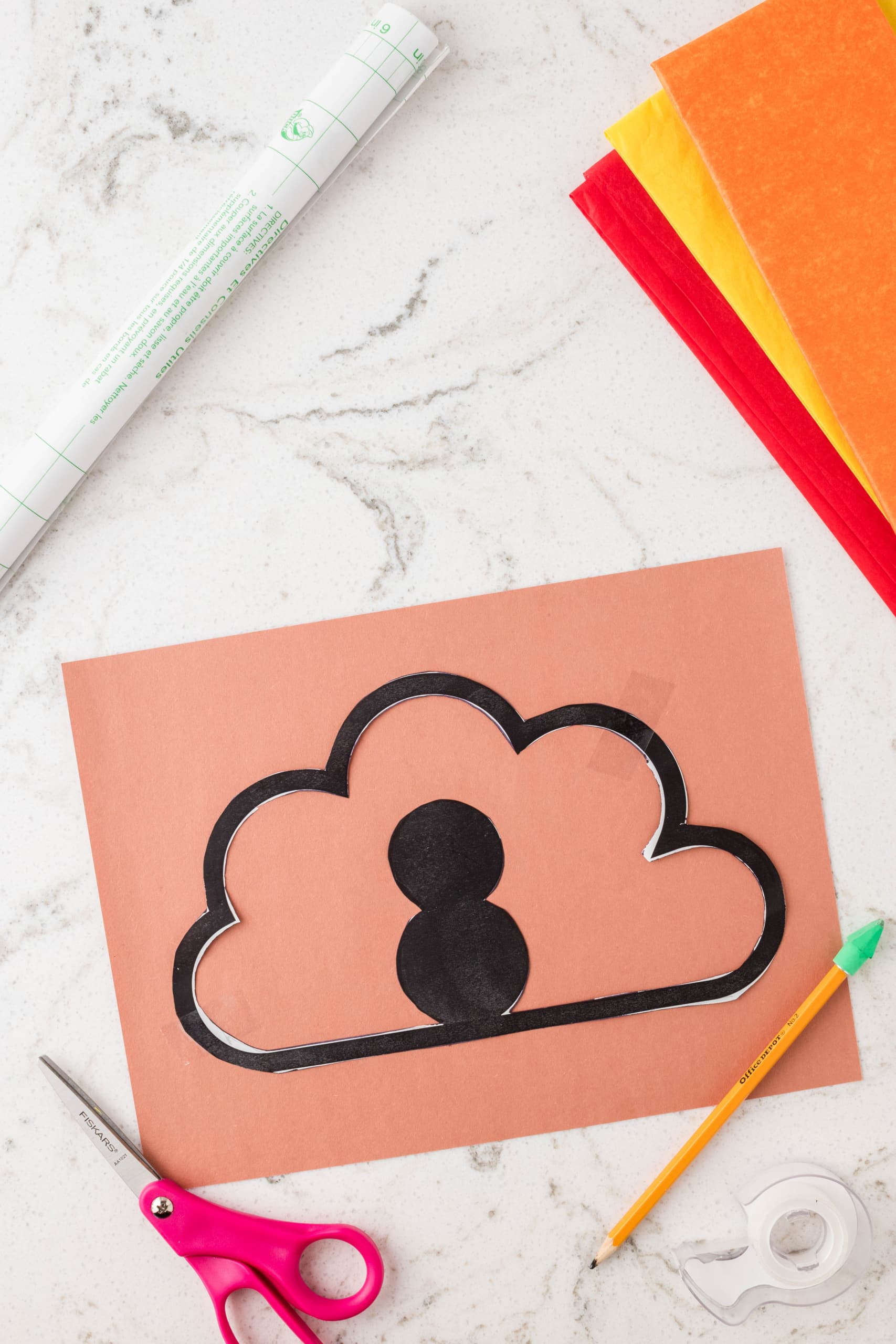 Place a bit of glue onto the back of the turkey template, and then lay it over the tissue paper covered contact paper. Be sure to align the turkey so that the tissue paper is like a stained glass fill. Press down on the template outline to secure it in place.
Then cut the excess contact paper off the outside edges and place a book on top of the suncatchers to adhere to the turkey really well.
While you wait for that to dry, cut a beak and wattle out of the yellow and red construction paper.
Then glue the beak and wattle onto the face of the turkey, along with two googly eyes. Let the attached decorations dry for a bit.
Place the completed suncatcher on a door or window that gets plenty of sun and enjoy your adorable creation!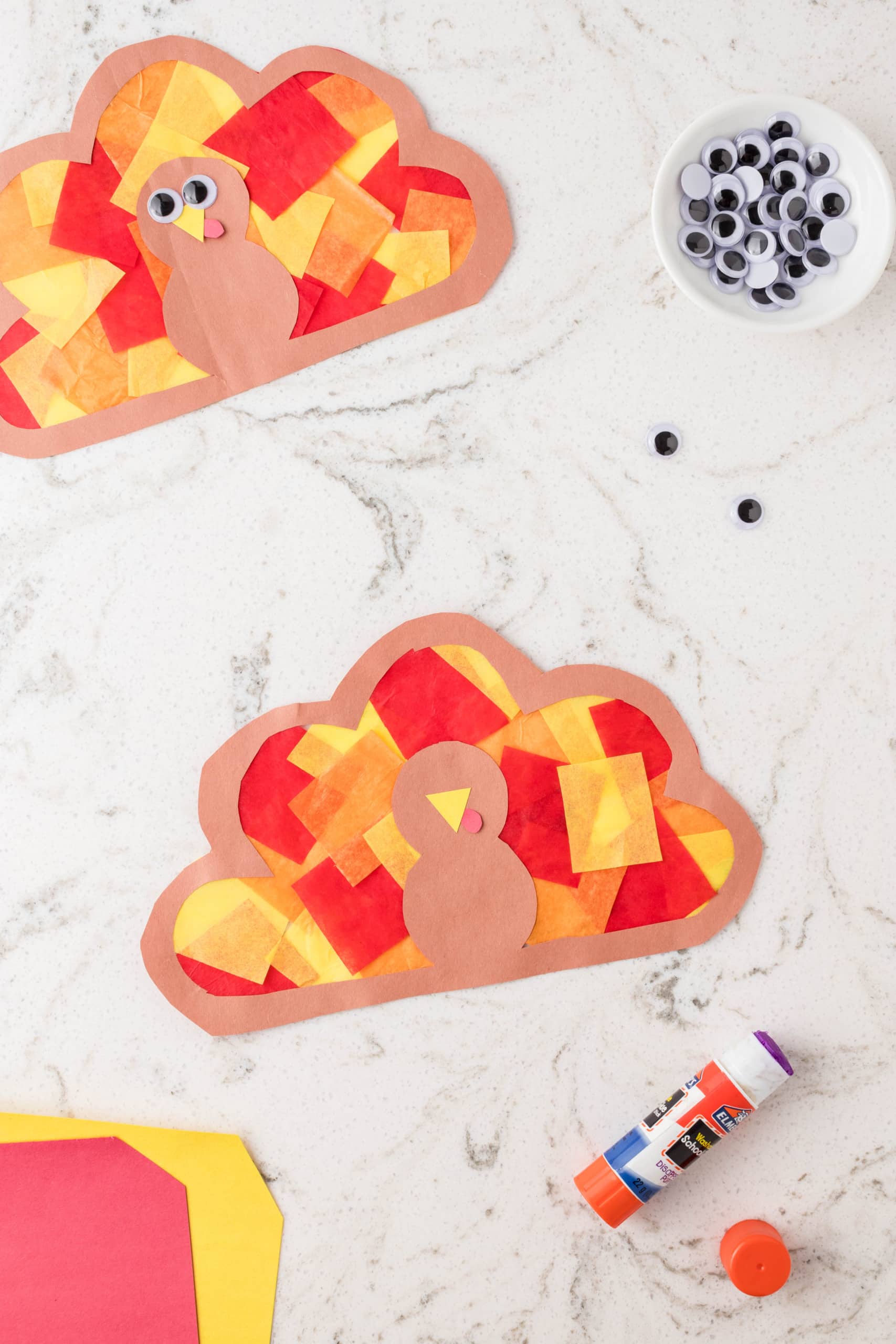 What can I use instead of contact paper to make my turkey suncatchers?
If you can't find contact paper, Press n Seal works just as good! You just need some kind of clear plastic with one side that is sticky so that it can hold all of the tissue paper squares.
What do I do if I don't have a printer?
If you do not have a printer and can't print the template, you can freehand an outline! Simply draw a "cloudlike" shape that has a straight-edge bottom.
Don't trust your free-handing skills? Check with your local library or Office Depot and see what printing services they offer. You can likely print out a few pages for a couple cents each.
Pro Tips
For a super jazzy turkey, add a little bit of glitter to the cardstock outline of the turkey suncatchers! You can use glitter glue too.
If you are making this sun catcher in a classroom setting, write each child's name on the back of the turkey so you can know whose is whose.
Although this craft uses Thanksgiving themed colors, feel free to use any color you want. Does your kiddo want a pink and purple turkey? Then go for it!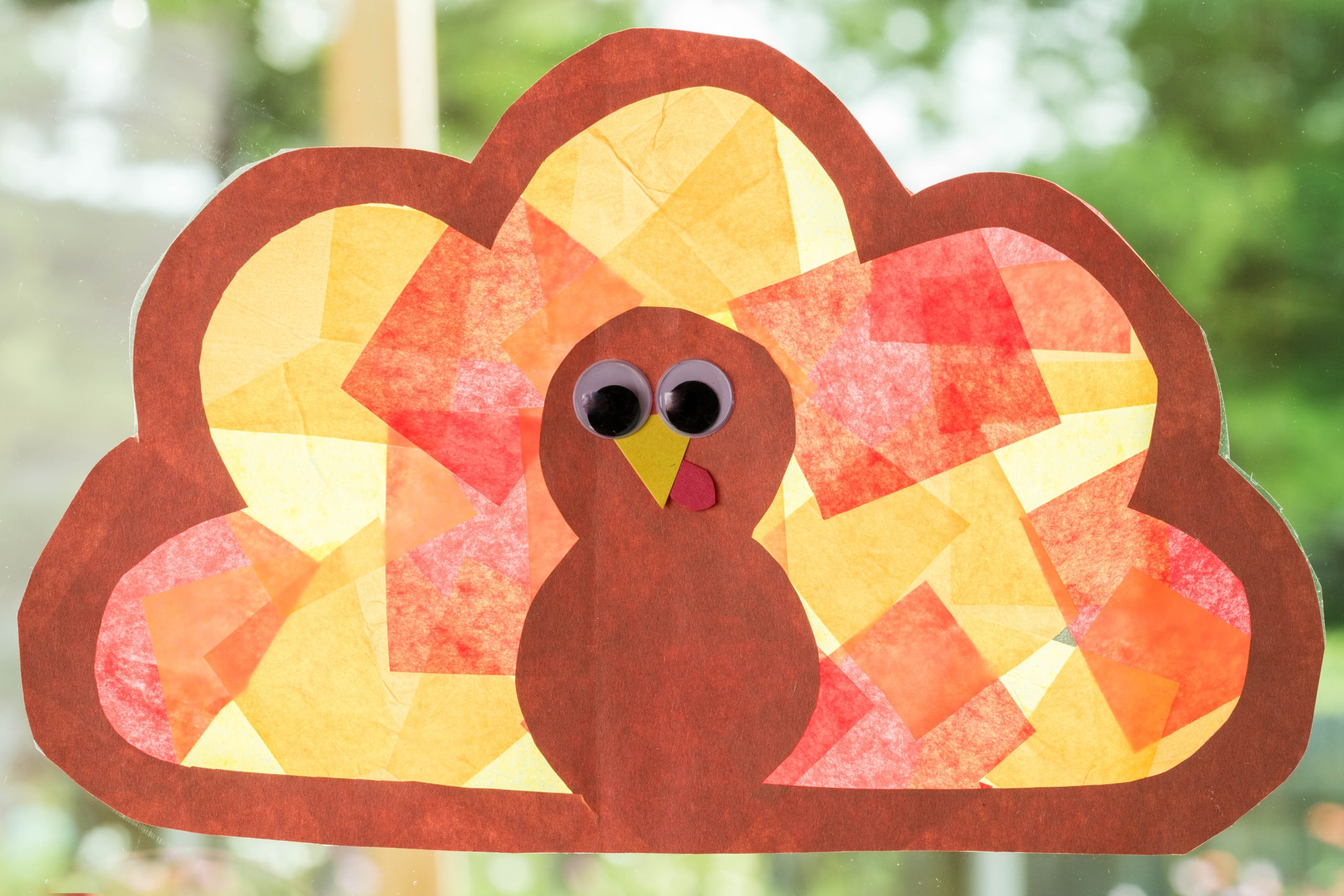 This adorable turkey sun catcher is a great Thanksgiving craft. Make as many as you want and display them proudly for everyone to see!
More Thanksgiving Crafts You'll Love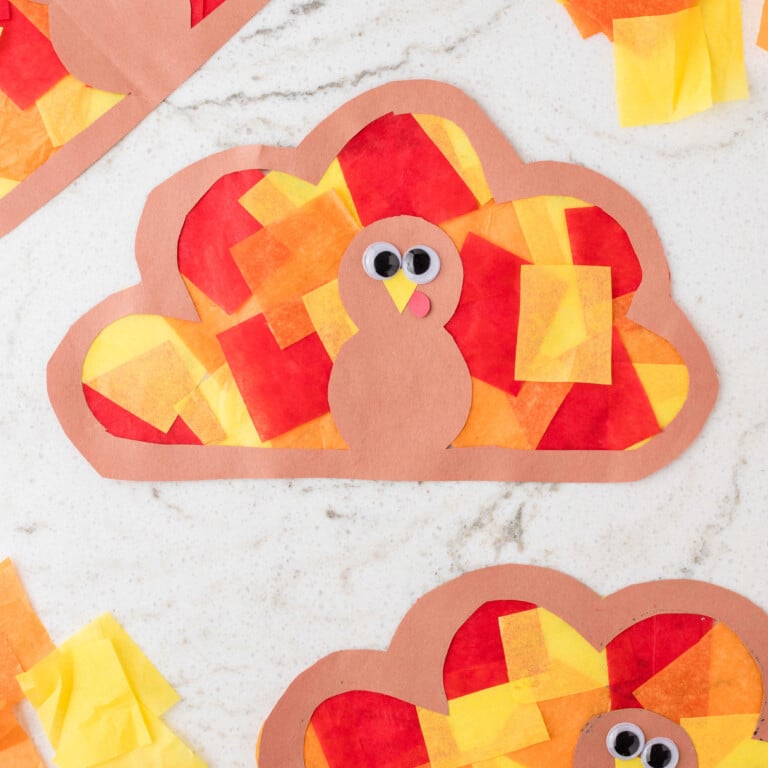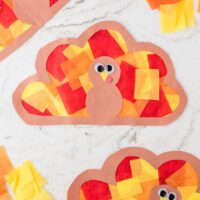 Turkey Suncatchers
With a few supplies you will have so much fun crafting these Turkey Suncatchers for an easy fall craft.
Print
Pin
Rate
Servings:
1
Turkey Suncatcher
Instructions
Let's start by printing out the turkey template and cutting it out.

Place the cut-out turkey template on top of a piece of brown construction paper and trace the outline inside and out. Cut your tracing and set aside.

Next, cut your red, yellow, and orange tissue paper into 2-inch squares. Set aside.

Take your clear contact paper and cut a piece slightly larger than the turkey. Place the turkey underneath the contact paper with the sticky side up. Place the previously cut tissue paper squares on the contact paper, filling all the negative spaces inside the turkey template. Feel free to overlap the tissue paper squares and press them to secure using additional glue if necessary.

Place some glue on the back of your turkey template and lay it over your tissue-covered contact paper. Align the turkey so the tissue paper acts as stained glass and no gaps are showing. Cut the excess contact paper and place a book or heavy object on the turkey to secure it for a few minutes.

Cut your "beak" and "wattle" out of yellow and red construction paper using the templates provided.

Glue the "beak" and "wattle" to the face of the turkey. Then, glue the googly eyes just above the beak. Allow a few minutes to dry.

Place on your favorite door or window and watch the sun shine through this cute Turkey Suncatcher!
Notes
If you don't have a printer, this turkey design is easy to draw freehand.
If working with smaller children, cutting the template beforehand saves time with this activity as it uses fine motor skills.