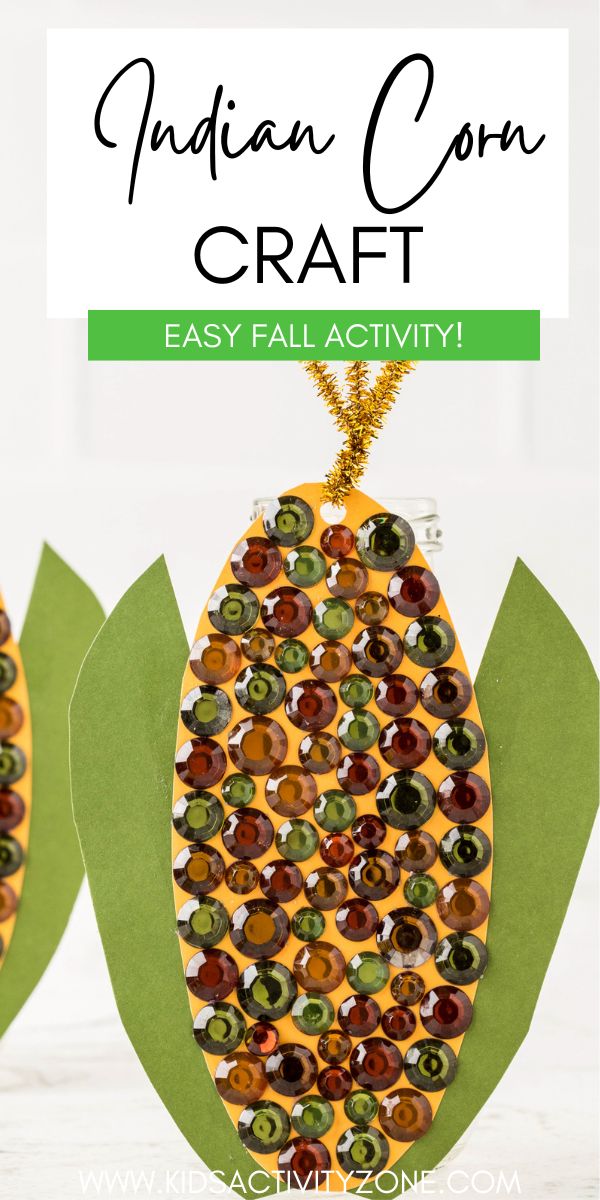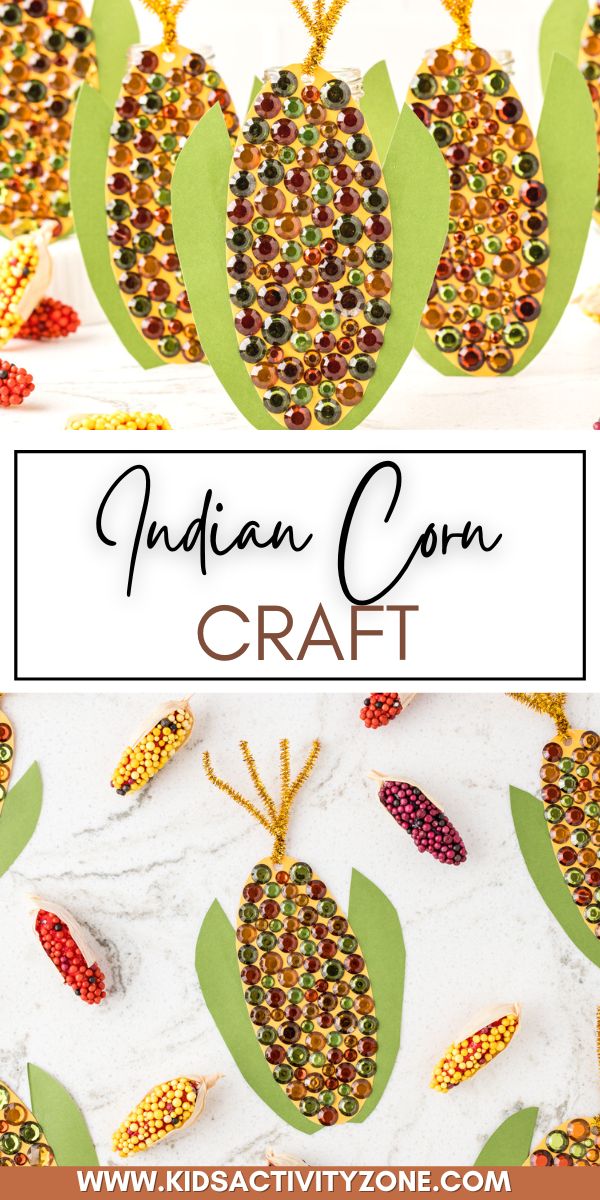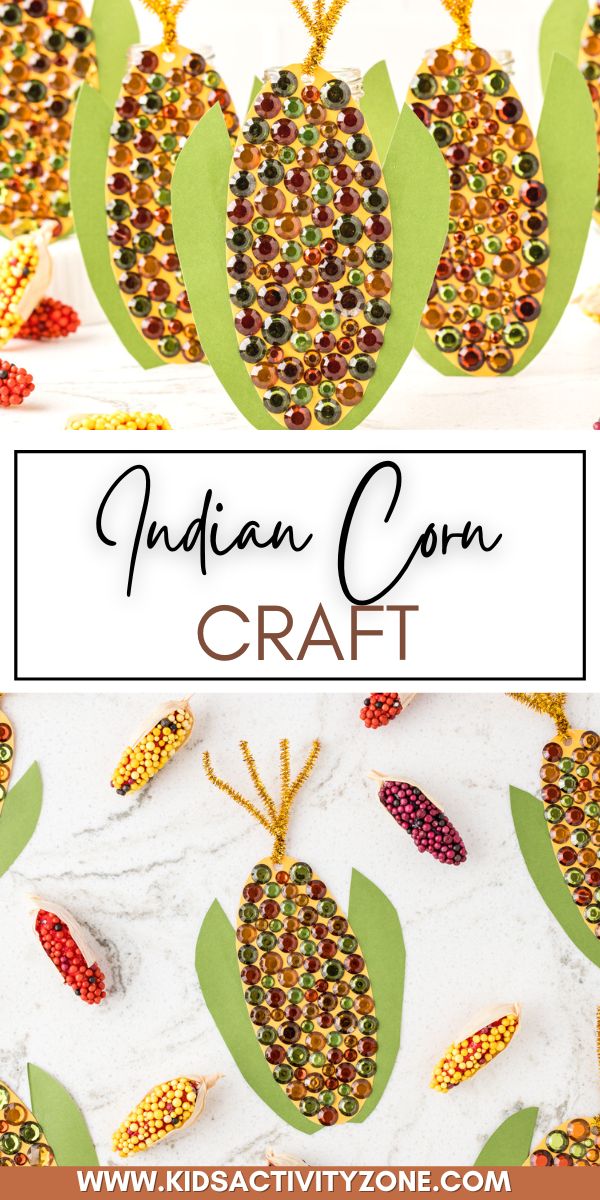 Indian Corn Craft is a cute and fun fall activity for kids that's easy to make! Cut out your Indian Corn then decorate it with gemstones. Add a magnet to the back and it's the perfect gift for grandparents or hanging on your refrigerator.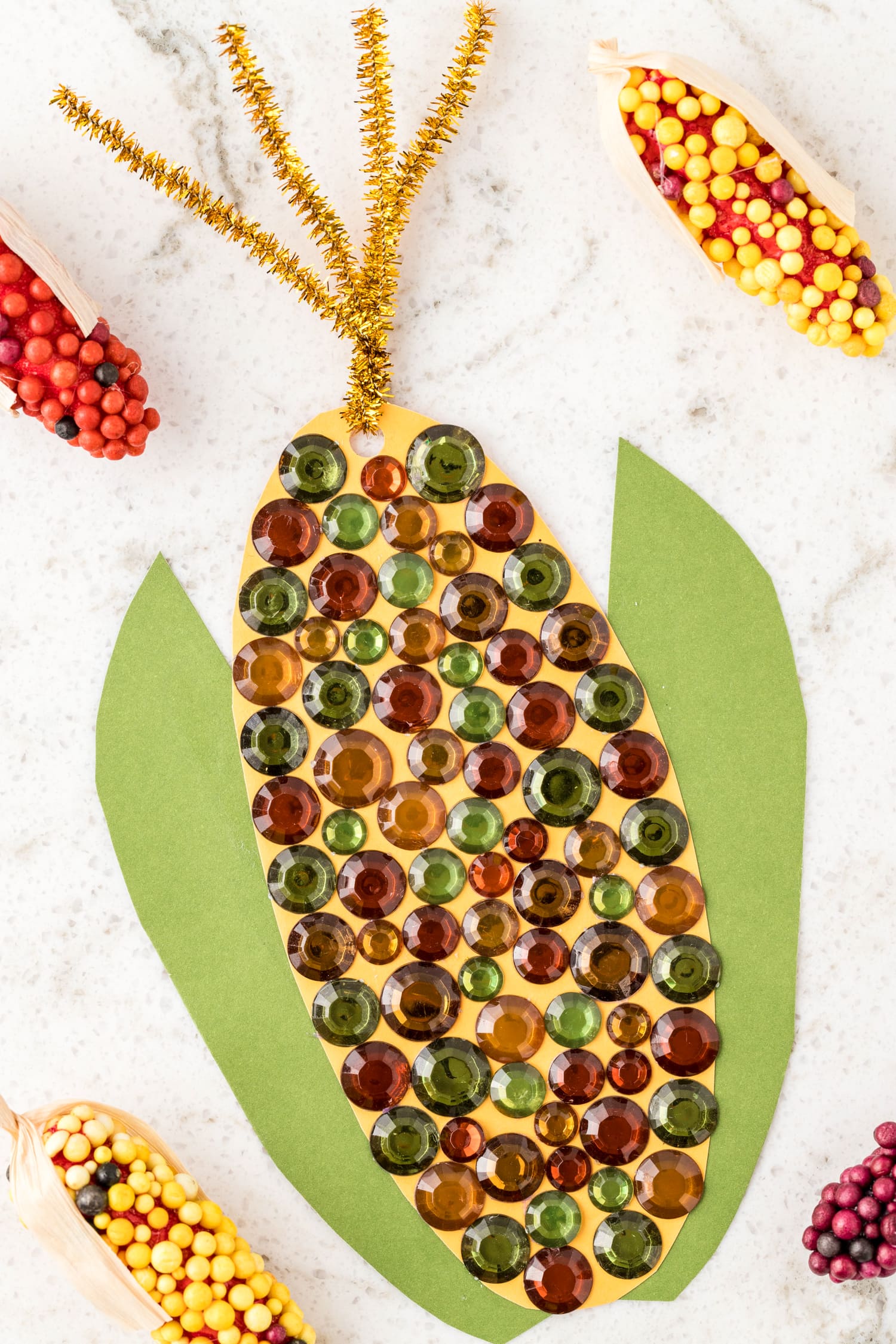 I love fall! Pumpkin patches, hay rides, apple cider, and corn mazes. Our family always so much fun during fall before it gets too cold!
This Indian corn craft fits into the fall fun perfectly! This easy fall craft makes a great fridge magnet and is a great addition to our day to keep the kids busy with Thanksgiving activities.
This craft is great for kids of all ages! It doesn't make much of a mess and is easy to clean up. We all love easy clean-up on Thanksgiving!
Why You'll Love this Indian Corn Craft
This craft requires gluing of very small objects, which can help to refine fine motor skills.
You can use this Indian corn craft to teach your kids about the history of Thanksgiving!
This craft is very affordable and is a great option for large groups of children.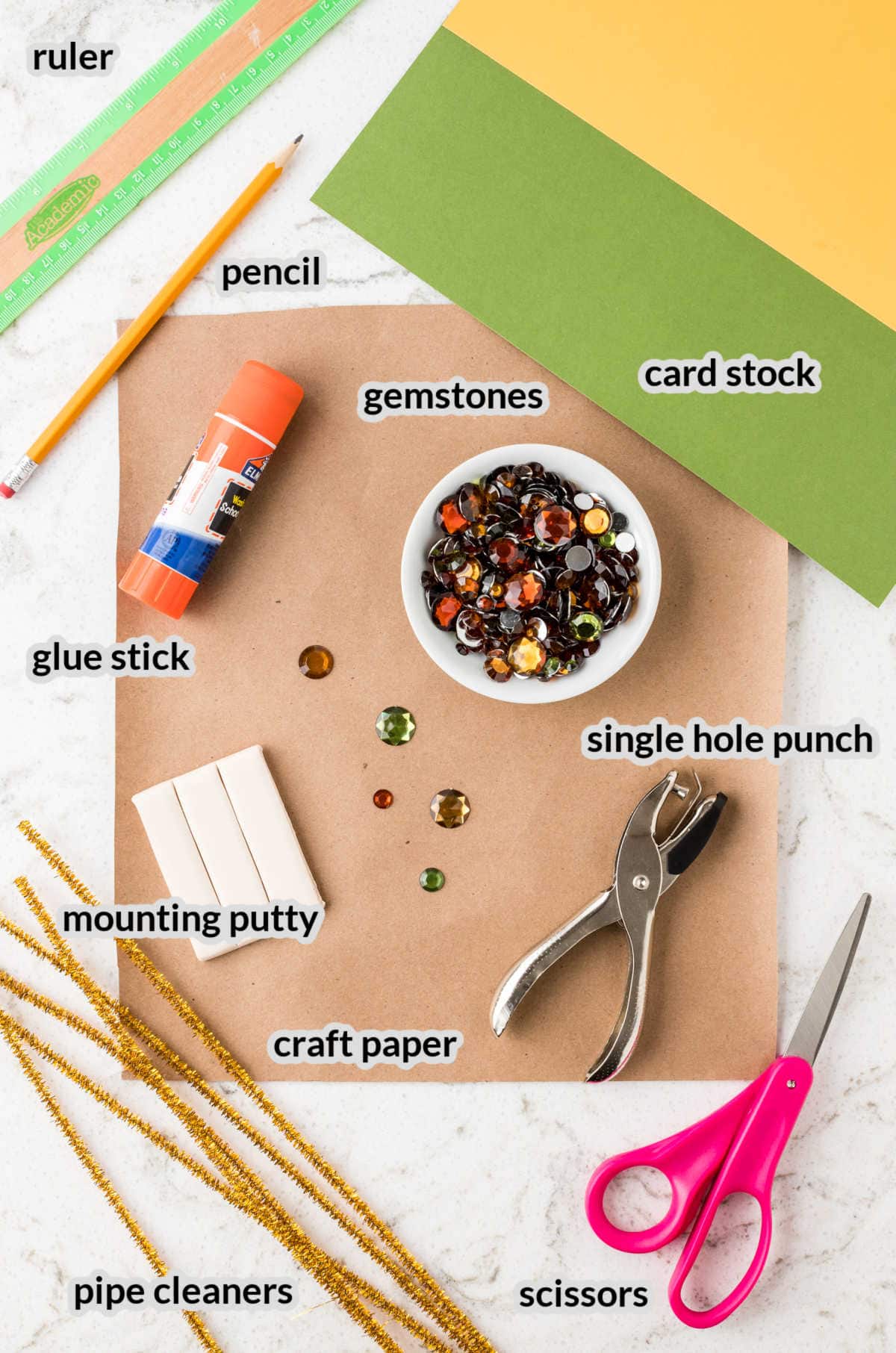 What You'll Need for your Indian Corn Craft
I can't find gemstones. What else can I use?
If you're unable to track down some craft gemstones, you can use dried beans, buttons, craft pom poms, or any other small and decorative object.
How to make this Corn Craft
Trace: Begin by tracing an oblong oval shape onto the green cardstock. Cut it out and then use it to trace the same size oval onto the yellow cardstock.
Cut: Cut out your yellow oval and set it aside. Take your previously cut, green, oval and fold in half lengthwise. Cut along the fold to evenly divide the oval.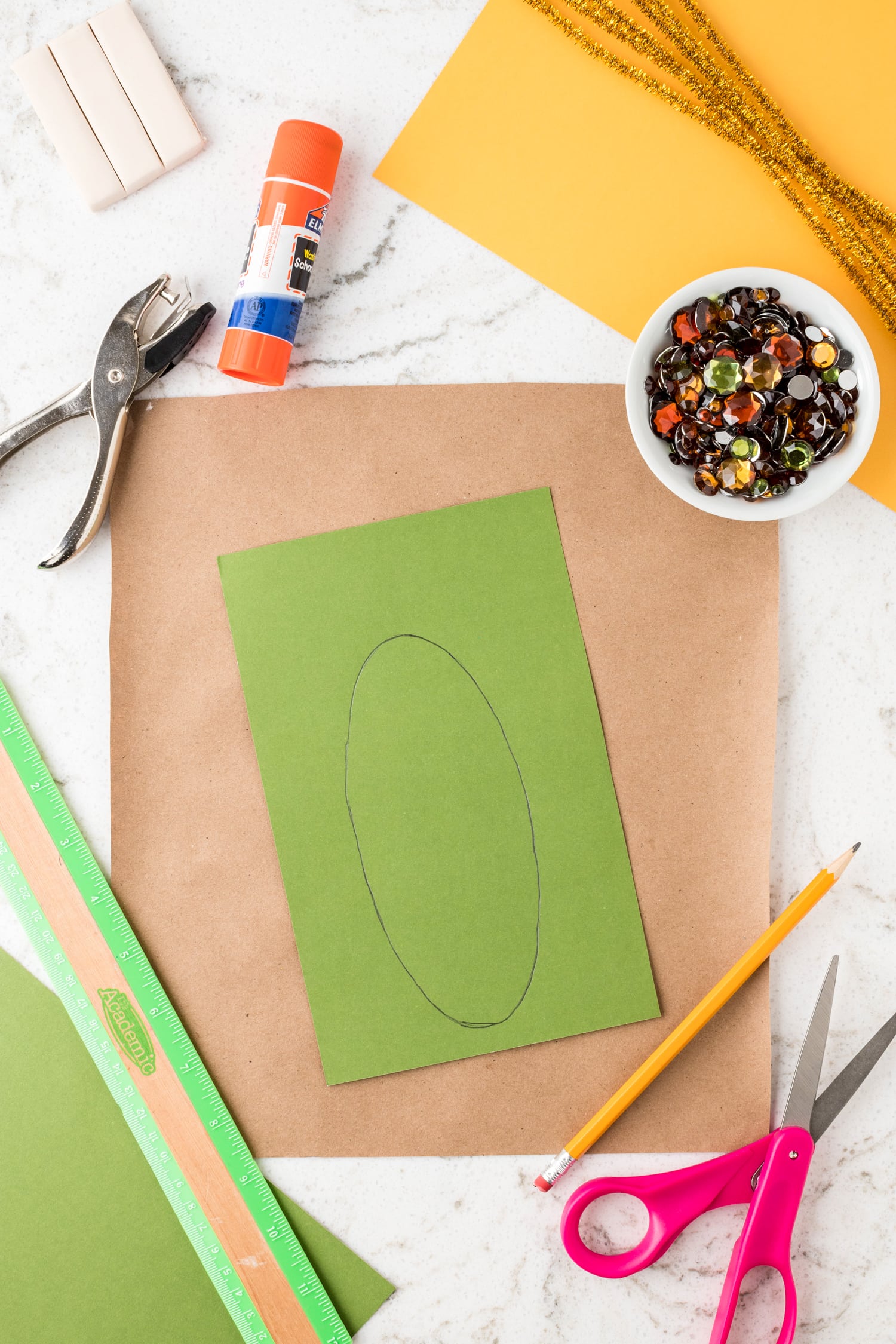 Glue: Your yellow oval is going to act as your corn, and your divided green oval will act as the corn husks! Apply glue onto the back of your corn oval and glue the two sides of the husk onto the corn.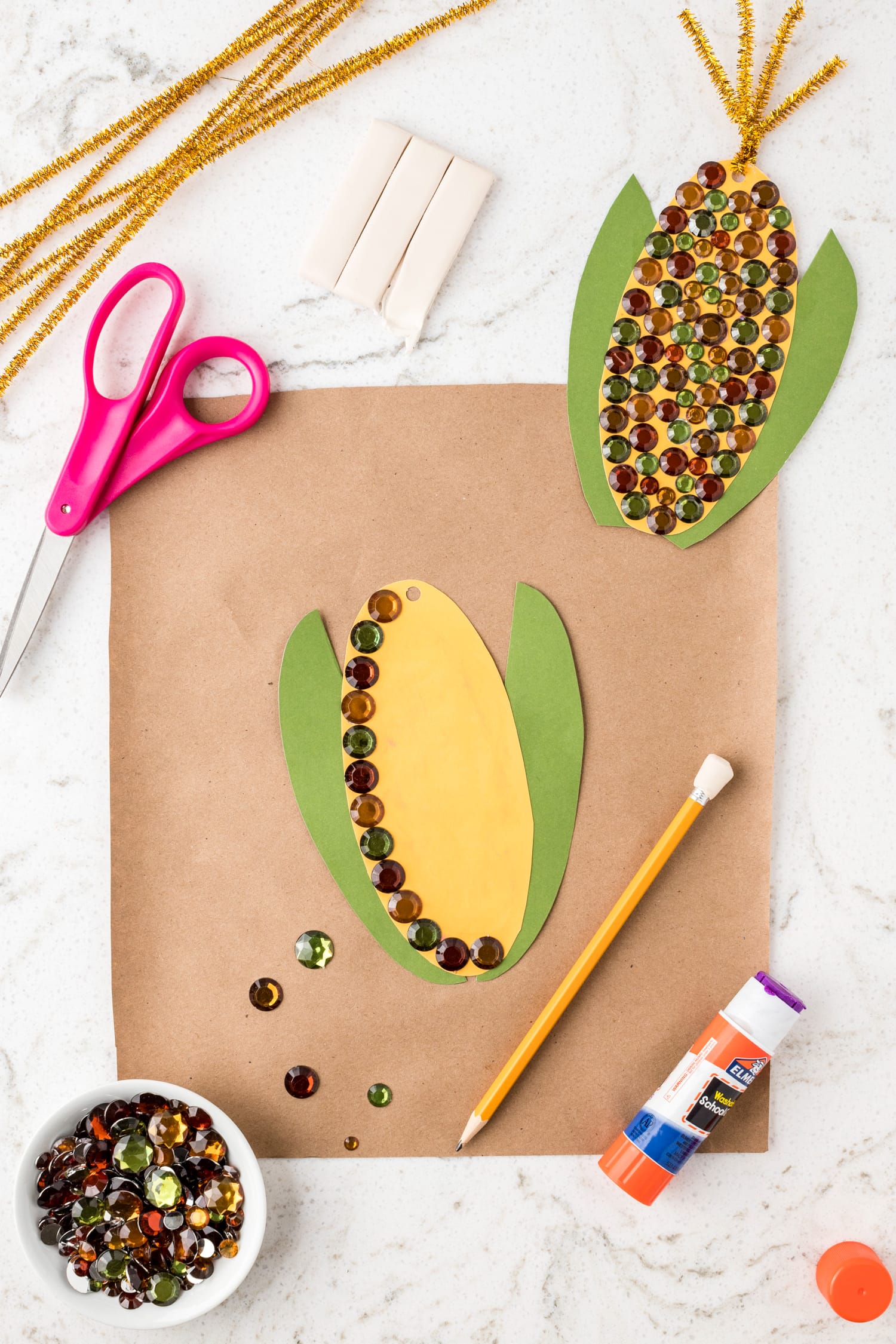 Create: Begin by using the hole punch to create a hole at the top of the corn to feed the pipe cleaners through later. Add some mounting putty to the eraser end of a pencil. This will help you easily pick up each gemstone as you decorate.
Decorate: Apply glue to the front of the corn and press gemstones down into the glue in a random assorted pattern. Once your Indian corn craft is covered in gemstones, feed a few pipe cleaners through the hole at the top to create a tassel.
Allow to completely dry and then display your beautiful work!
Pro Tips!
Add a magnet onto the back of your Indian corn craft and display it proud on your refrigerator!
Place a few dots of mounting putty on the back of your cardstock and press it down onto the craft paper on your workspace. This will help keep the corn from shifting as you glue gemstones on!
In order to save some time, pre-cut your corn and husks before starting the activity.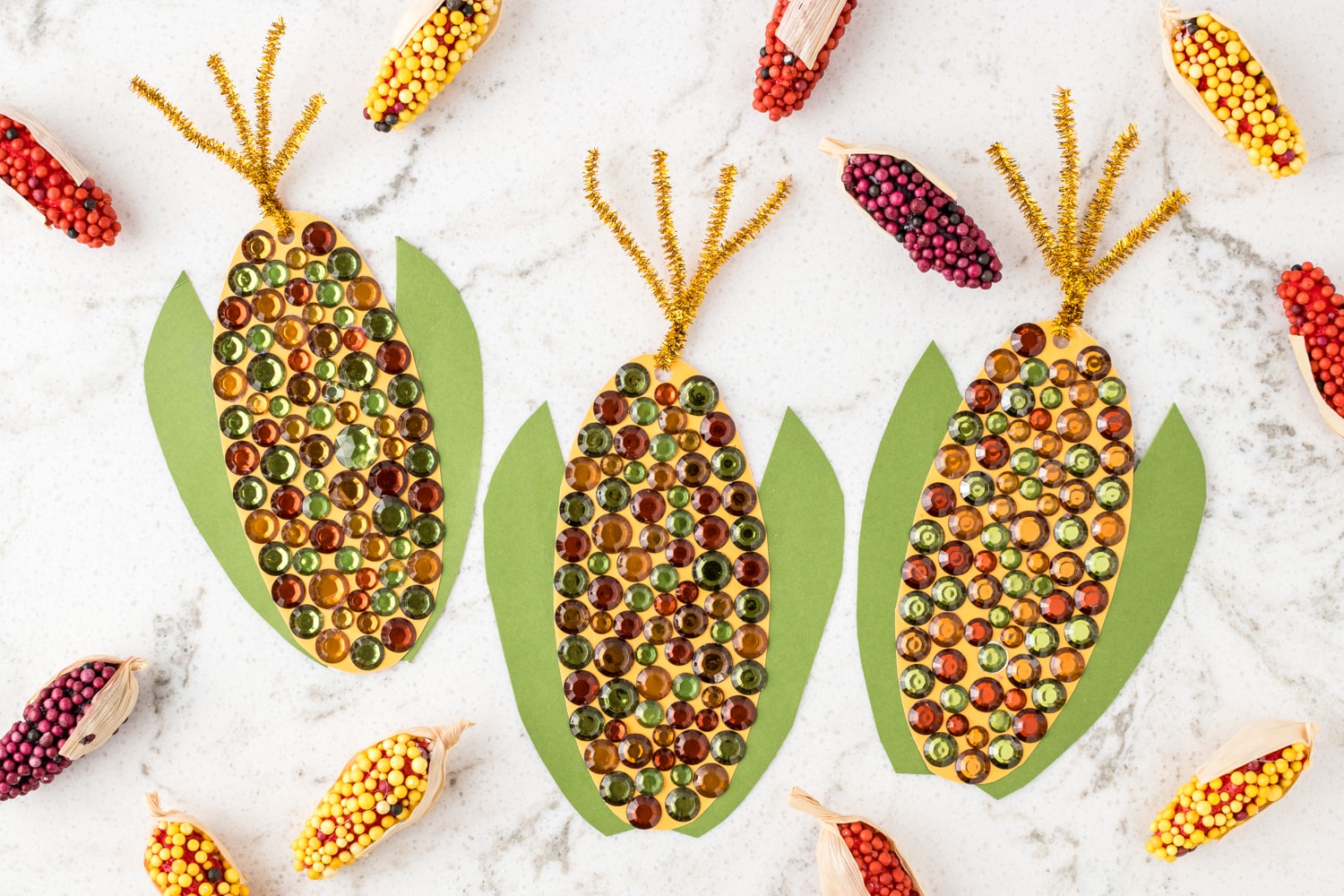 Doing a fun fall craft for kids doesn't have to be crazy difficult! This Indian corn craft will be so much fun and family friendly.
More Fall Activities You'll Love
Yield: 1 Indian Corn Craft
Indian Corn Craft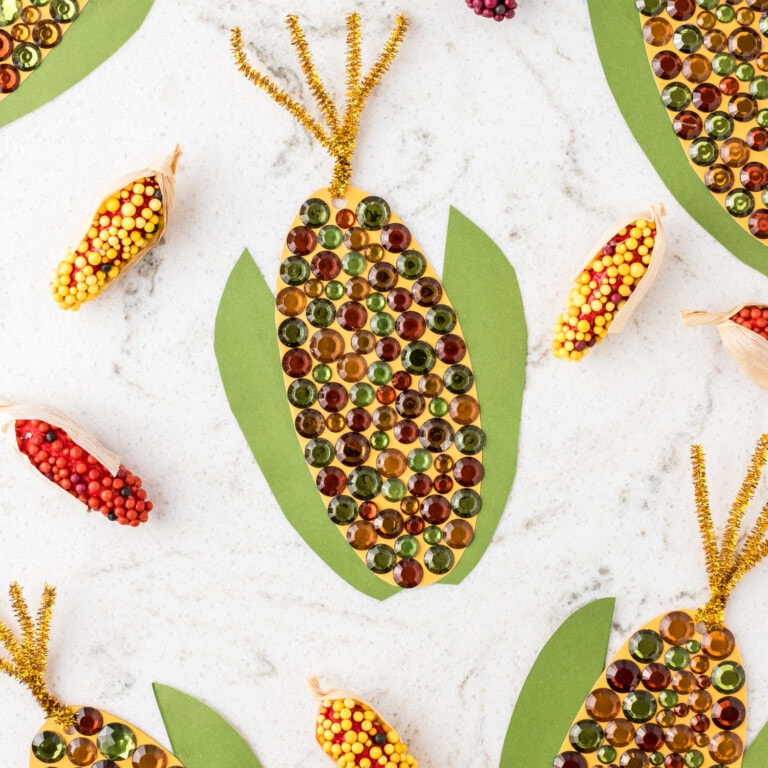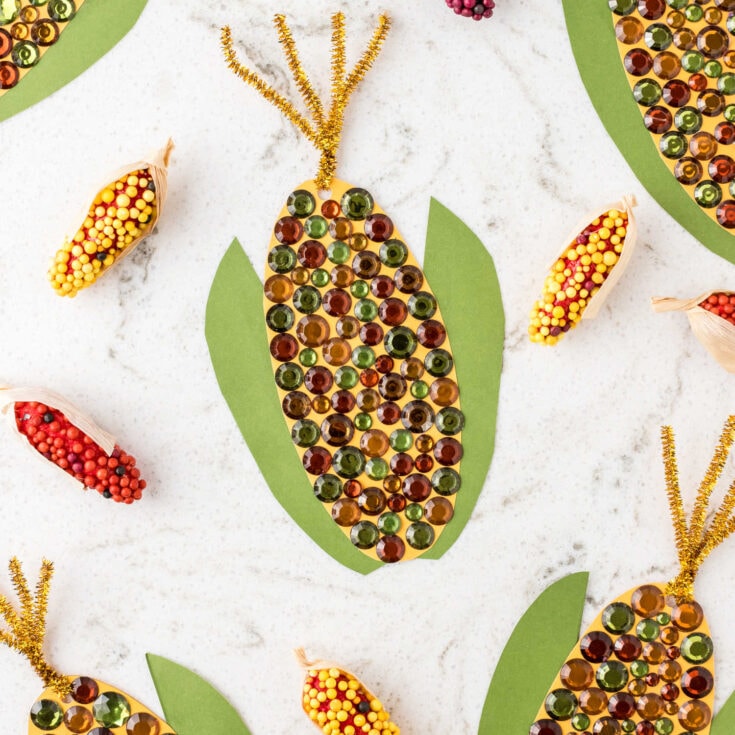 Cute and easy Indian Corn Fall Craft for kids is fun to make!
Materials
Instructions
Start by tracing a 6-inch oval onto a piece of green card stock and cutting it out to use as a template and later for the cornhusk.
Use the green template to trace another 6-inch oval onto the yellow card stock and cut it out.
Fold the green template in half and cut it down the middle.
Now it's time to attach the cornhusk to the corn. Apply a thin layer of glue on the back, and press the 2 halves of the cornhusk to secure. Allow drying time.
Once dry, let's decorate the corn! First, punch a hole in the top of the corn cob. Then spread a thin layer of glue on the cob and start placing gemstones in an assorted pattern. The easiest way to pick up the stones is to take a pencil and press a ball of removable mounting putty onto the eraser. It allows you to pick up the gems and secure them onto the corn cob quickly and mess-free!
Lastly, let's make the tassel! Take a gold sparkly pipe cleaner and cut it in half. Insert both halves into the previously punched hole, bend them together, and twist to secure them.
Now your corn is complete and is an excellent decoration for fall!
Notes
This craft uses fine motor skills. It may take a little longer for younger children.
Recommended Products
As an Amazon Associate and member of other affiliate programs, I earn from qualifying purchases.