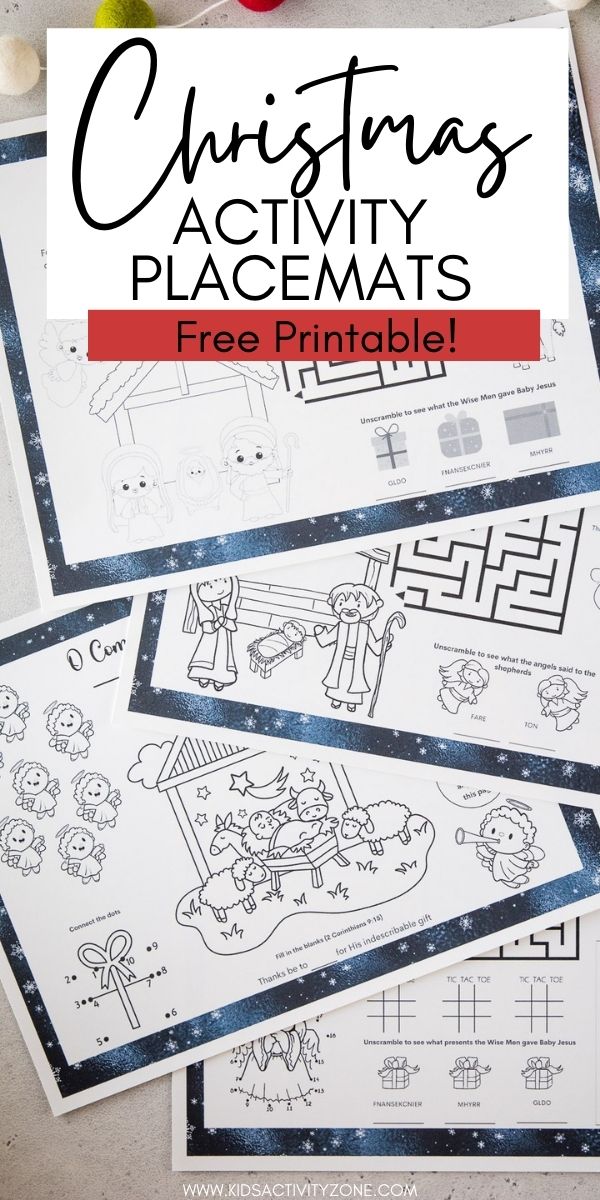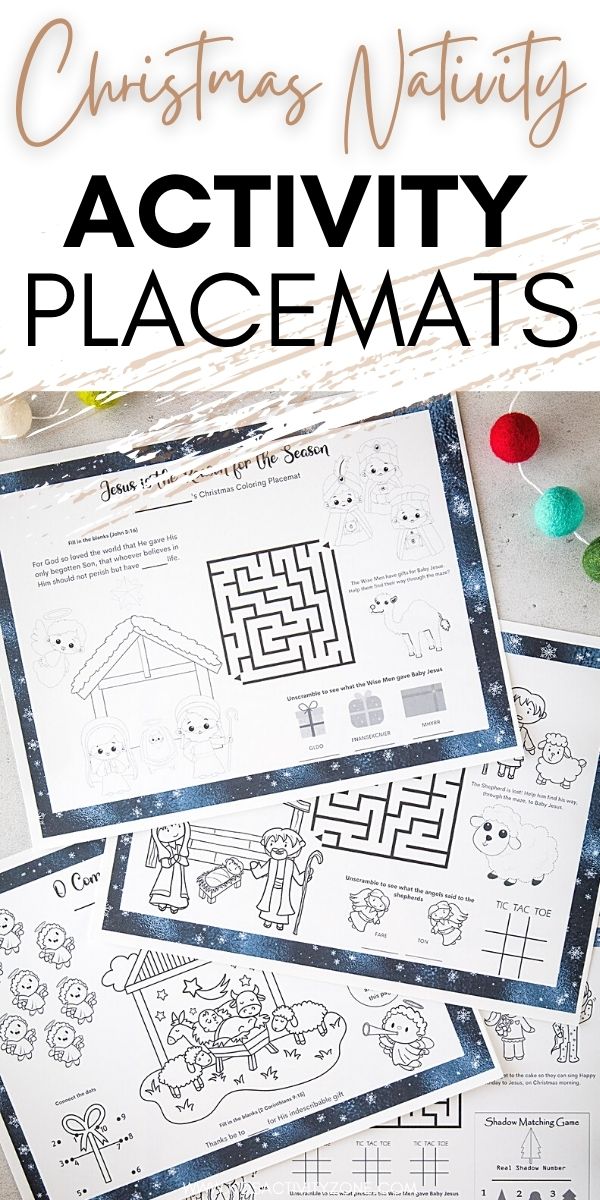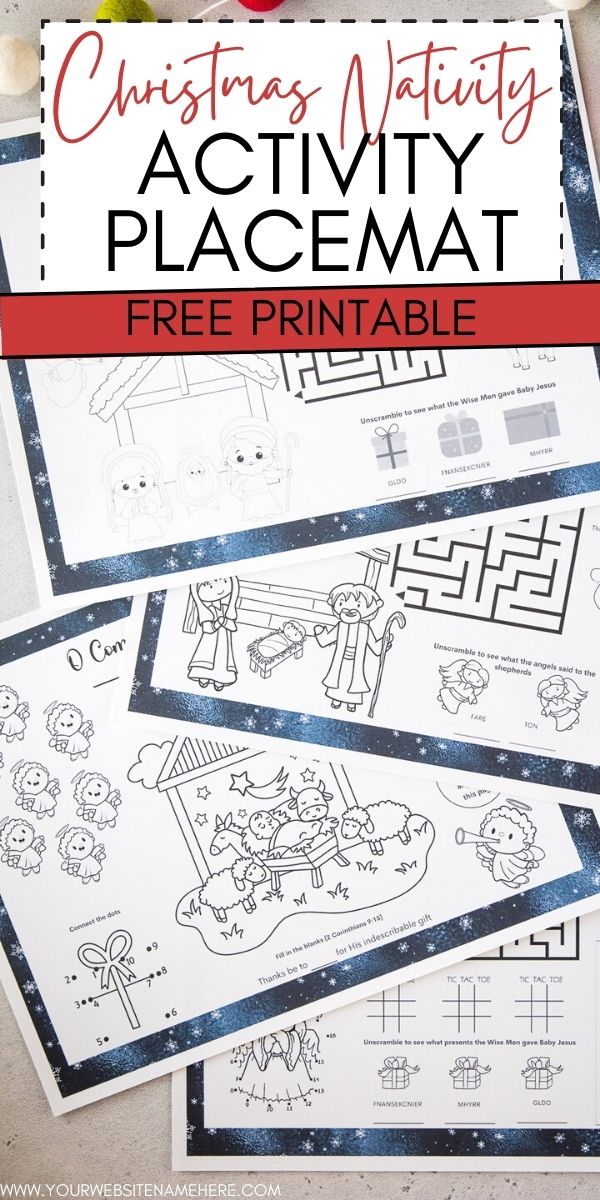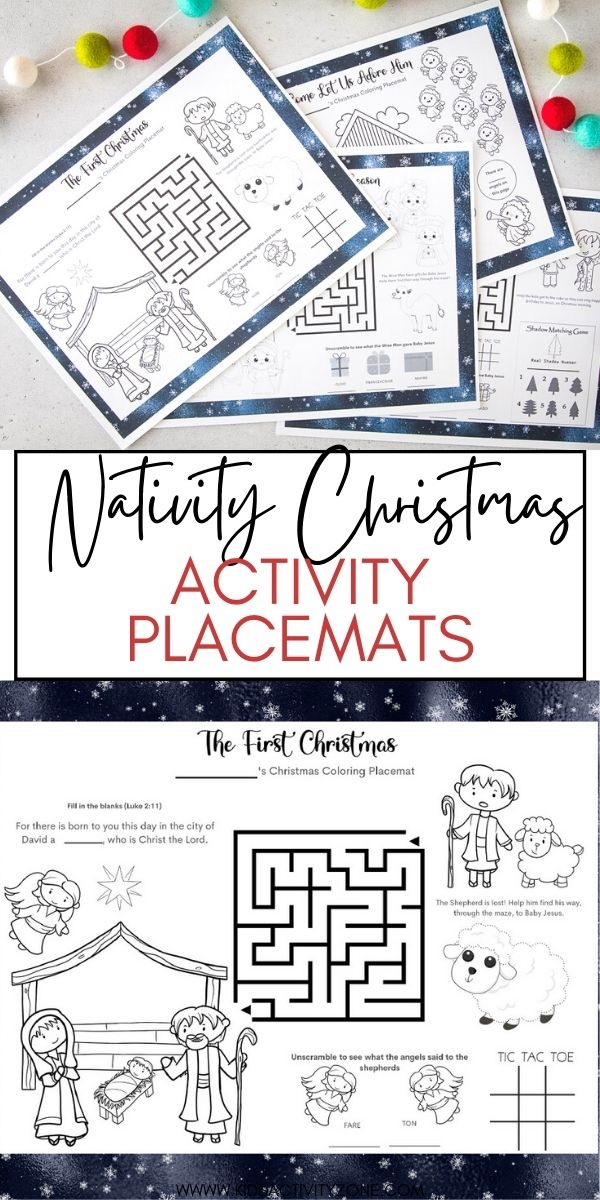 Keep those little hands and minds busy during Christmas Dinner! These Nativity Christmas Activity Placemats are so easy to download, print and place at your table for Christmas meals. Four different placemats with activities based on the true reason for Christmas.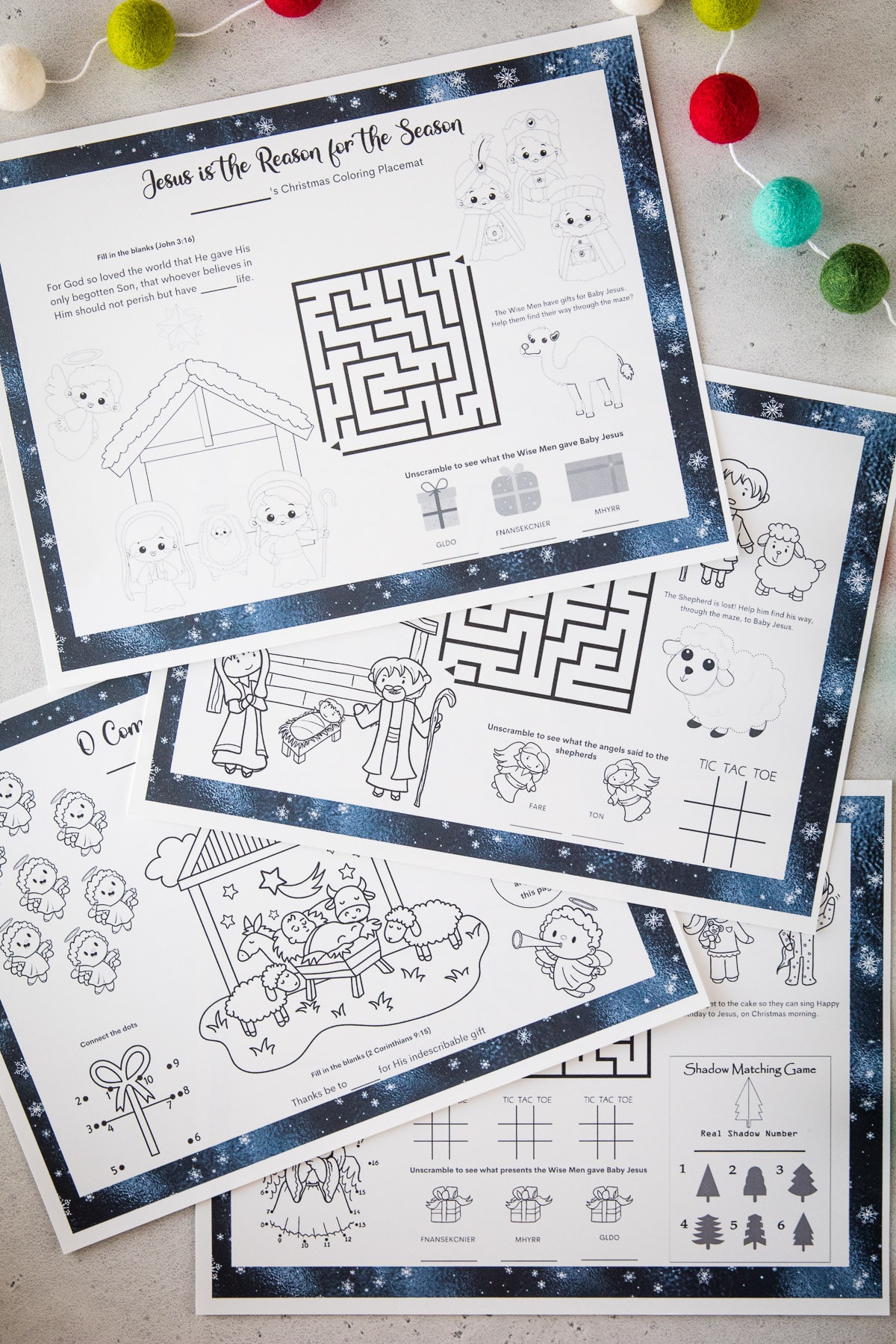 Tired of kids wanting to get up from the dinner table or being restless through Christmas dinner? Use this free download of four different Nativity Christmas Activities Placemats!
It will keep them busy, happy and not bothering you. Plus, it reminds them of the true reason for the season.
The best part about this is that the adults will even have fun partaking in the activities. Who doesn't love a little word unscrambling or tic tac toe!
What activities are on the placemats?
There are four different versions of the placemats with a variety of different activities on each one. Here are some of the activities!
Maze
Unscramble the Christian words
Fill in the blanks (John 3:16), (Luke 2:11), (2 Corinthians 9:15) and (Isaiah 9:16)
Tic Tac Toe
Connect the dots
Count the angels
The activities on the placemat are all Christian based which is amazing. It's hard to find activities that include the Birth of Jesus!
How to use Nativity Christmas Activity Placemats!
First, you are going to need white cardstock to print these placemats onto. You could also use white printer paper, but the cardstock is going to hold up the best!
Download the free Nativity Christmas Activity Placemats.
Then print on the the placemats. Place them at each person's spot at the table and write their name on the placemat if you'd like to do assigned seating.
Place a pencil or pen with the placemat. To make it fun we usually buy Christmas themed pencils to go with the placemats!
You could even grab dry erase markers, laminate the placemats and pass them around between people so everyone can do all four of them!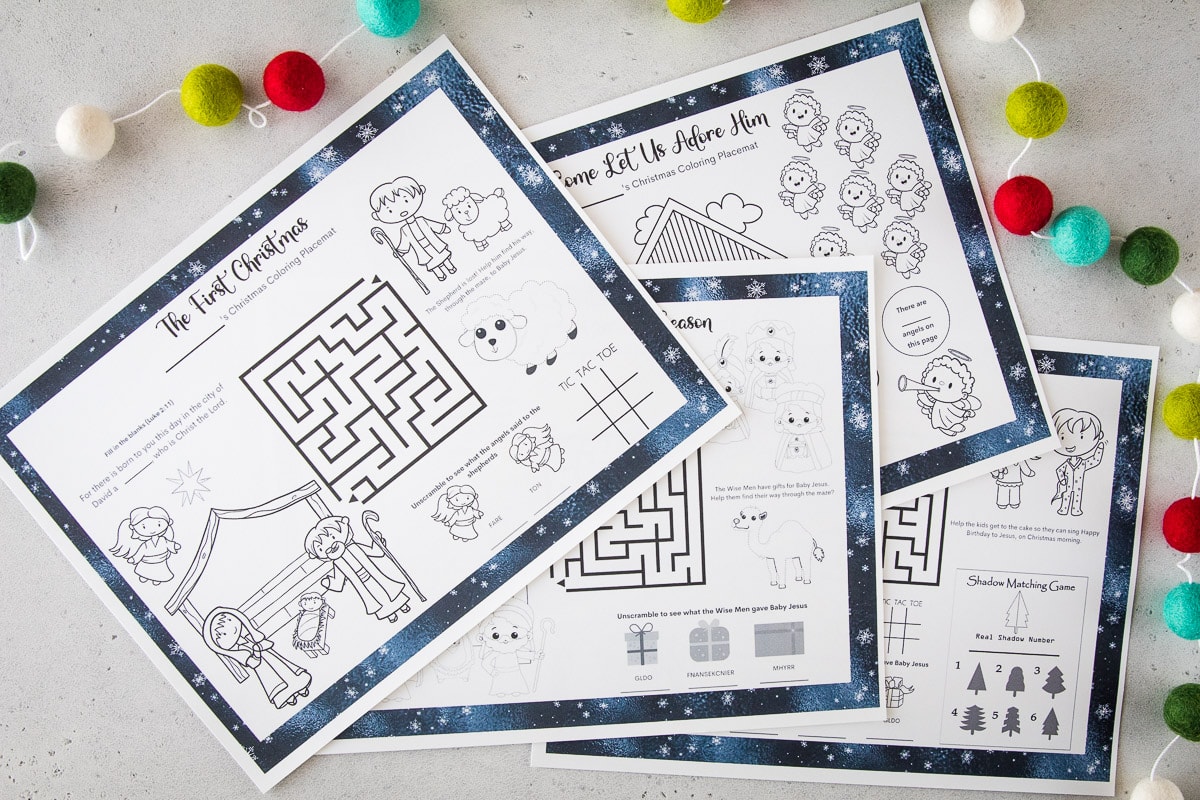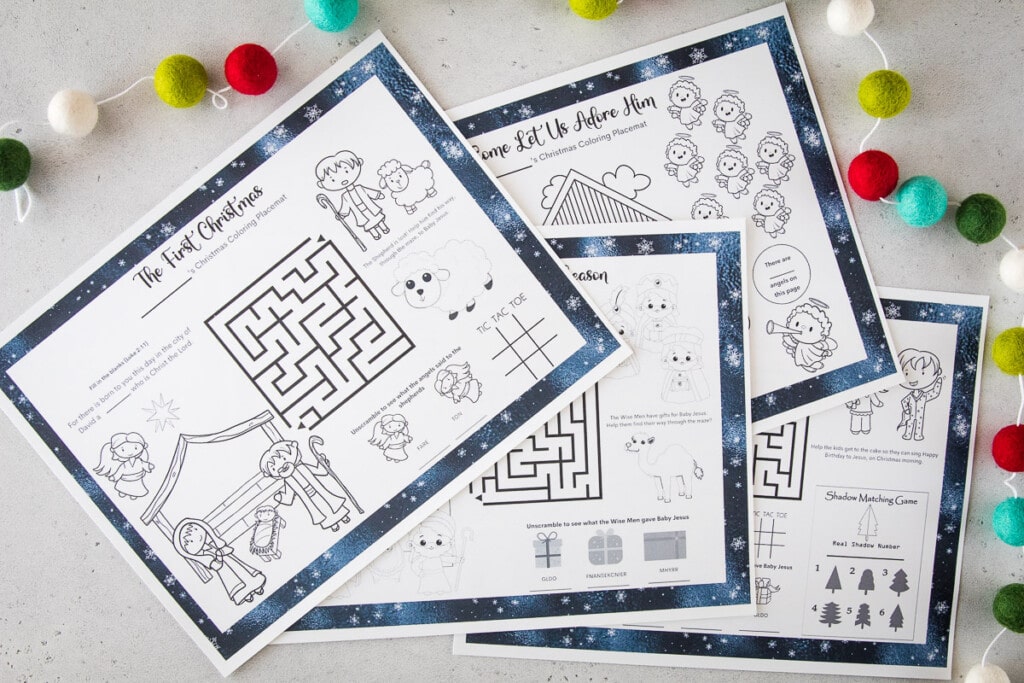 MORE CHRISTMAS ACTIVITIES!
Need some more Christmas Coloring Sheets to pair with your Penguin and Mrs. Claus? Grab this set of 10 Free Christmas Coloring Pages!
Want to include the whole family in a game of laughing and fun? Grab this free Christmas Charade Game and have fun!
A full pack of fun with this Christmas Activities download including Word Find, Word Scramble, Sudoku, Christmas Bingo, Coloring Pages and more!
If you take a picture and share them on Instagram make sure to #kidsactivityzone or tag us @kidsactivityzoneblog so we can see them!