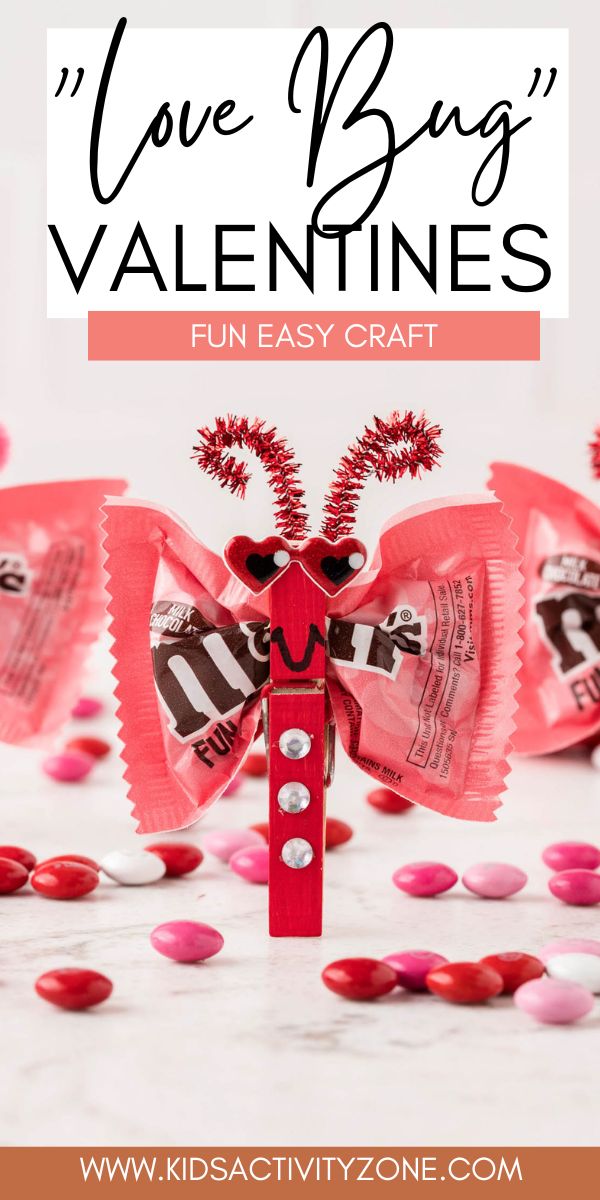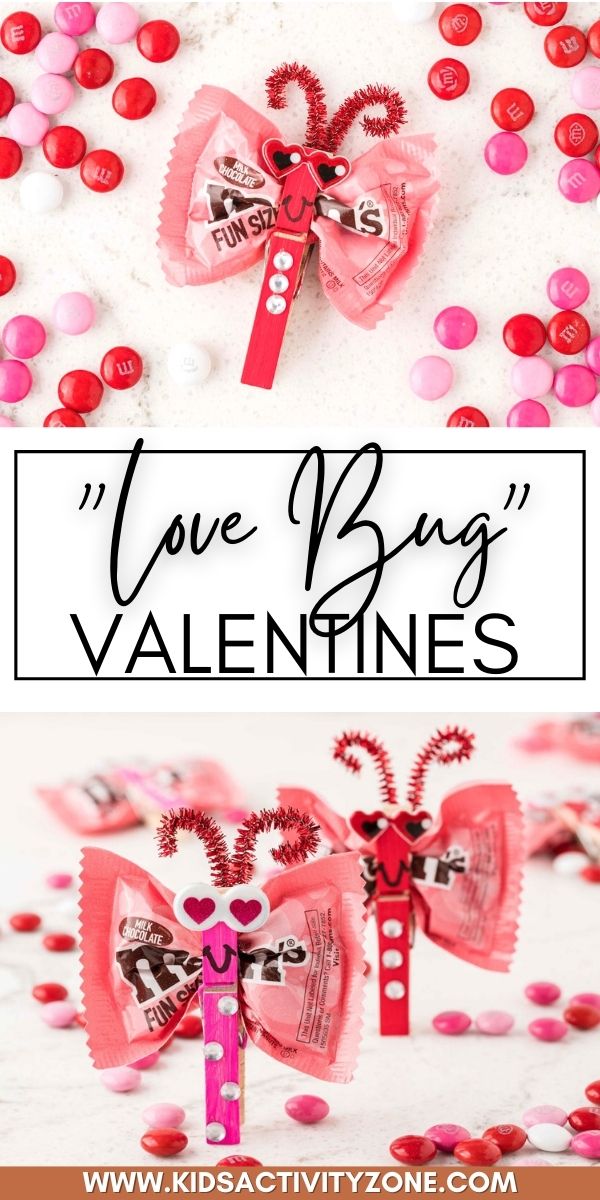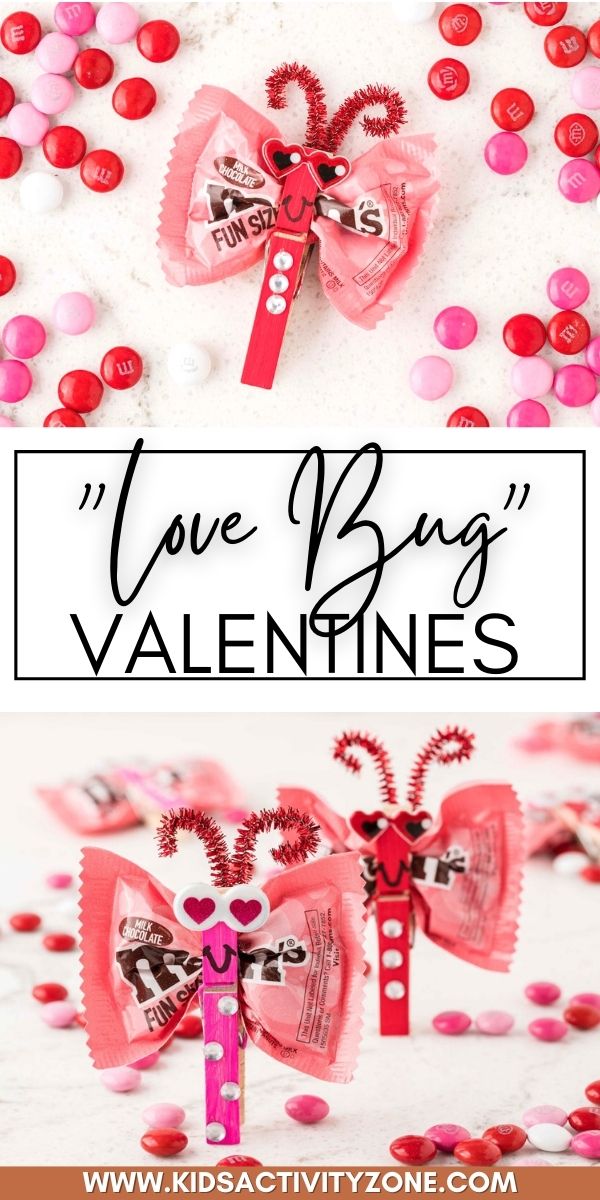 Love Bug Class Valentines are an easy homemade treat that is perfect for sharing with classmates on Valentines Day! Turn a mini pack of M&Ms into a "Love Bug" with a clothespin and have fun decorating them.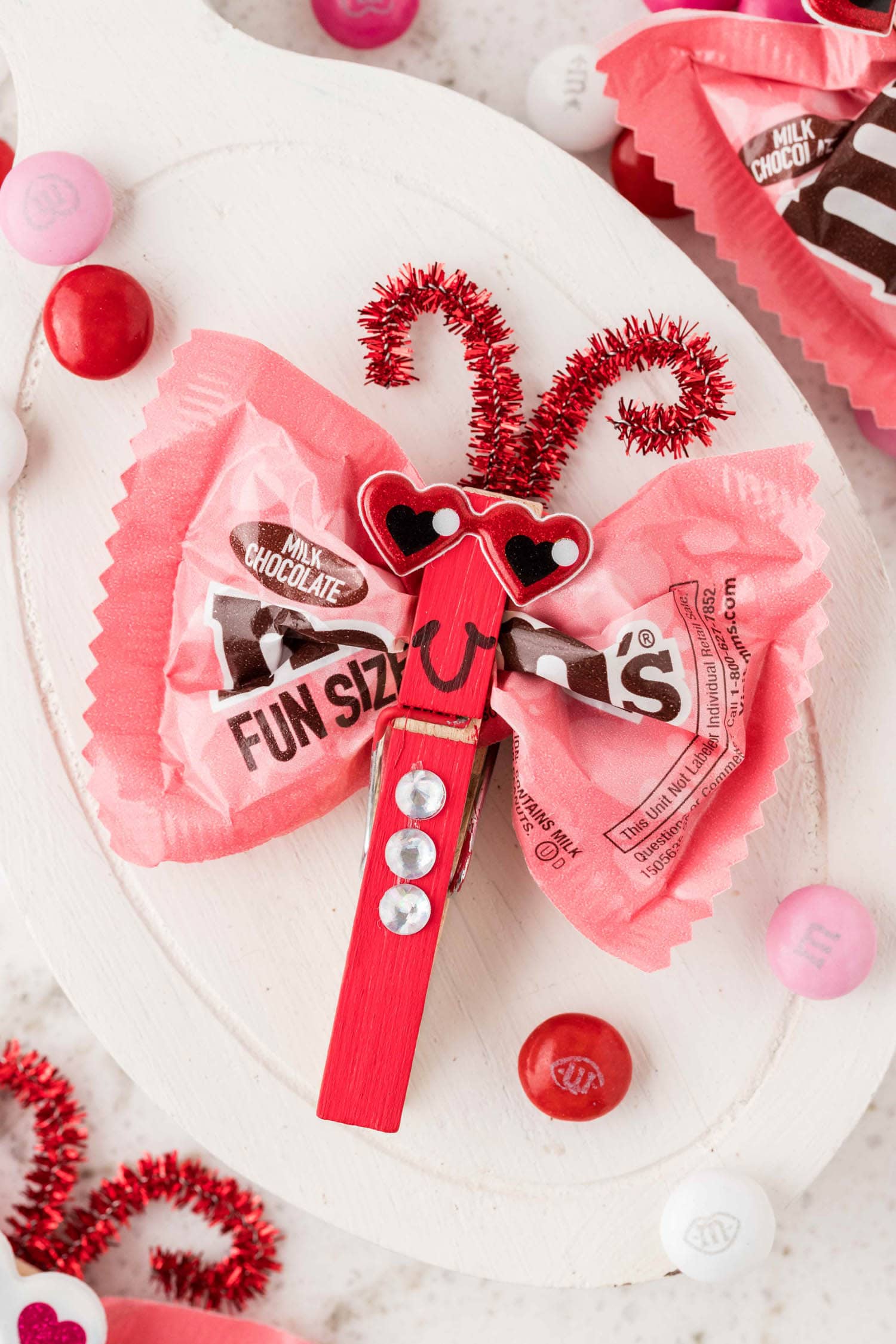 Finding unique class Valentine's for your kids to give their friends doesn't have to be stressful! Kids love to create special Valentine's treats to show their friend that they really care.
It's the sweetest thing when the show all the love they have in their little hearts! These love bug class valentines are a simple craft that kids of all ages can make so they can have something special to give their friends.
These cutie little Valentines love bugs are so much more fun than store bought cards! They're thoughtful, fun, and a sweet treat all combined into one. Your kids will have a blast using their imagination to make each bug extra special.
They can even write their classmates names on the back of each bug as they make them so that they can personalize each one for each friend. This DIY Valentines gift is so fun!
Why You'll Love these Love Bug Class Valentines
These little love bugs are the perfect way for your kids to create personal Valentines treats to hand out to their classmates and friends.
Love bug class valentines are very open ended and promote creativity and imagination!
Many of the materials for this Valentines craft come in bulk packages, making this a really affordable DIY Valentines gift that your kids can create.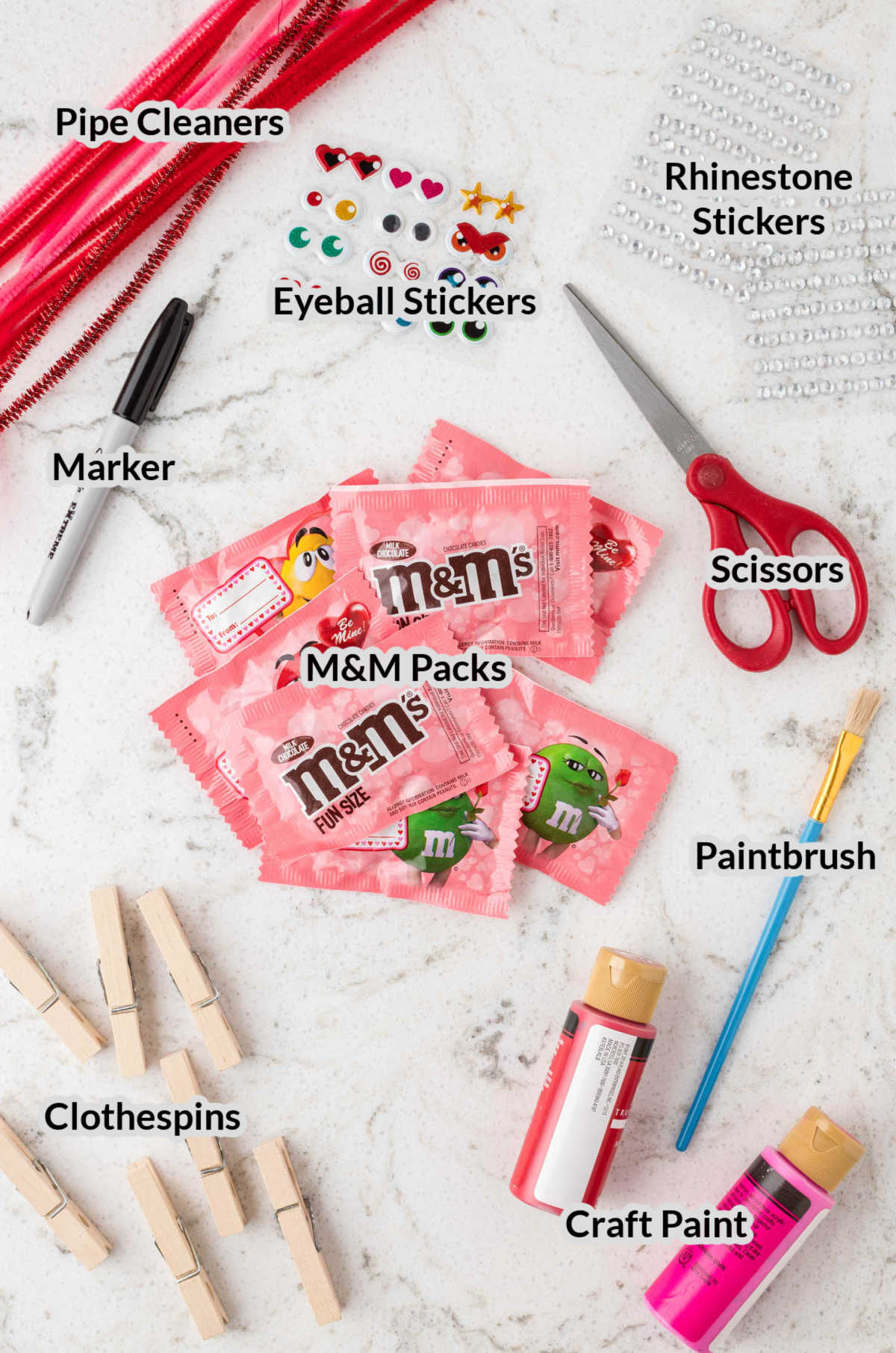 What You'll Need to Make Valentines Love Bugs
Wooden clothespins – You can find these at your local craft store. If you're unable to find wooden clothespins, plastic clothespins will work as well!
Craft paint – I used red and pink craft paint, so choose a Valentine's color or whichever color you want! You could also use washable markets to color in the clothespins.
Paintbrush – Any simple, small paint brush will work to paint your clothespins.
Pipe cleaners – You'll make little love bug antennas out of pipe cleaners. You can use glittery pipe cleaners or regular pipe cleaners of any color!
Scissors -If you're making these class Valentines with younger children, consider using safety scissors.
Marker – You'll need a black marker to draw the mouth on your love bugs.
Eyeball stickers – These stickers can be found on the craft aisle of your local grocery store, or at your local craft store. Sometimes you can find them in the scrapbooking section of your local craft store!
Rhinestone stickers – Rhinestone stickers can be found in the craft section at your local grocery store or at your local craft store.
M&M's fun size packs – If you wan't to mix and match (or you don't like chocolate) you can use fun size packs of both M&M's and Skittles. The important thing is that they are the fun size packs because they will become the wings of your love bugs.
How to Make Love Bug Class Valentines
PAINT: Cover your workspace with craft paper or a disposable tablecloth and then begin by painting the front of your clothespins in the color(s) you've selected. Let them dry for about 10 minutes.
CREATE: Take a pipe cleaner and wrap it around the little notch in the clothespin where it opens. Create a "V" shape with the ends of the pipe cleaner and then twist the ends to create a little curly q.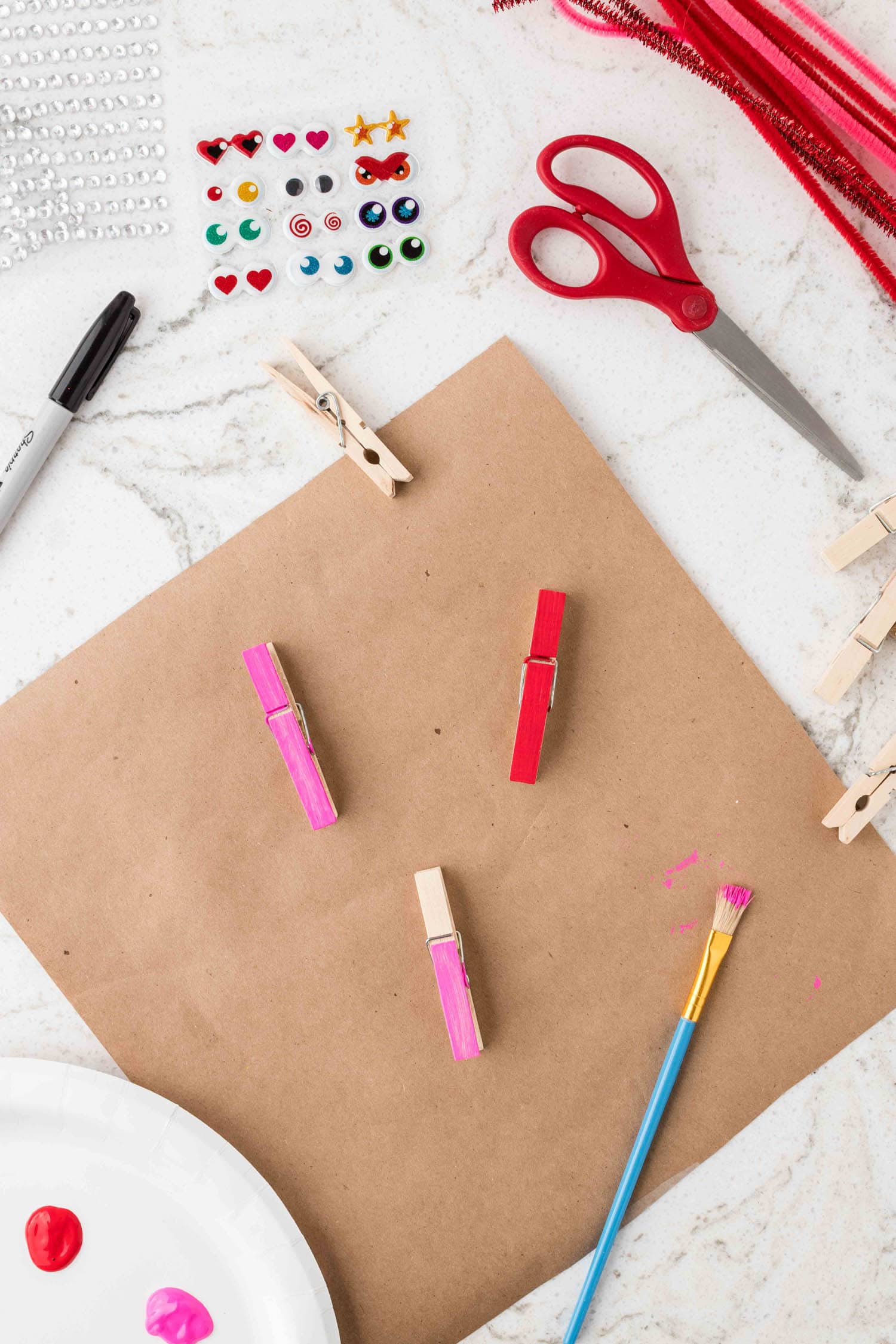 DECORATE: Using your marker, draw a cute little smile on your love bug. Then, choose eyeball stickers and place them onto the top of your love bug Valentine. Place a few rhinestones on the body of you bug too.
MAKE IT SWEET: Grab a pack of fun-size M&M's and pinch them in the center with the opening of the clothespin to create "wings".
That's it! These DIY Valentines gifts for kids are so simple and sweet.
I can't find fun sized bags of candy. What else can I use?
If you're unable to find fun-size bags of M&m's, Skittles, or any other candy, you can put some candy into snack size ziplock bags and use that!
Pro Tips for the Best Class Valentines
In place of rhinestones, put a light layer or glitter or glitter glue to add the sparkly touch that these little love bugs need!
You can place a small magnet on the back of each Valentines love bug so that kids can use them as a fridge magnet.
If you can't find eyeball stickers, just use googly eyes and glue them on securely!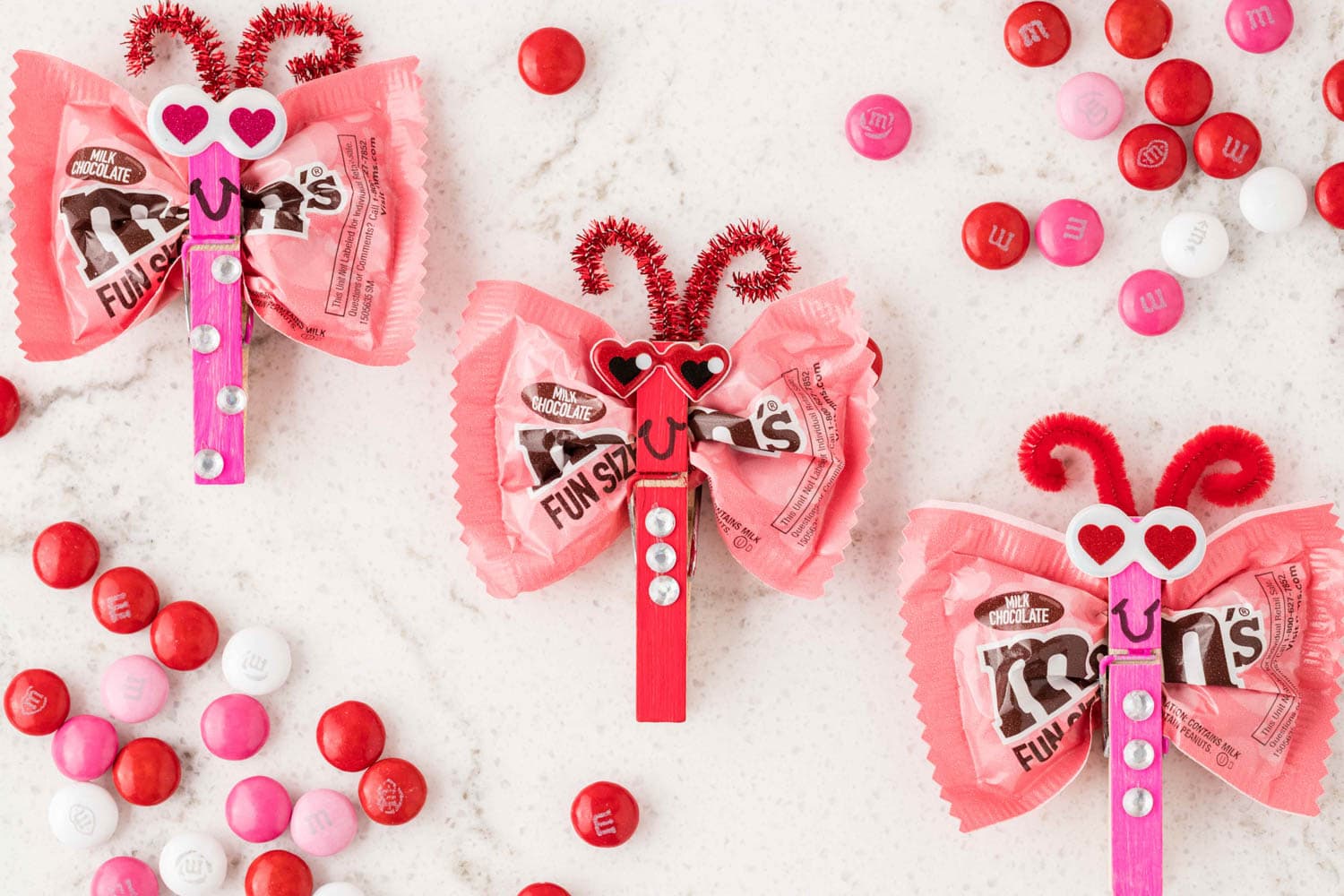 This fun Valentines craft will have your kids so excited to hand out their class Valentines this February!
More Valentines Day Craft and Activities You'll Love
Yield: 1 Love Bug Craft
Love Bug Class Valentines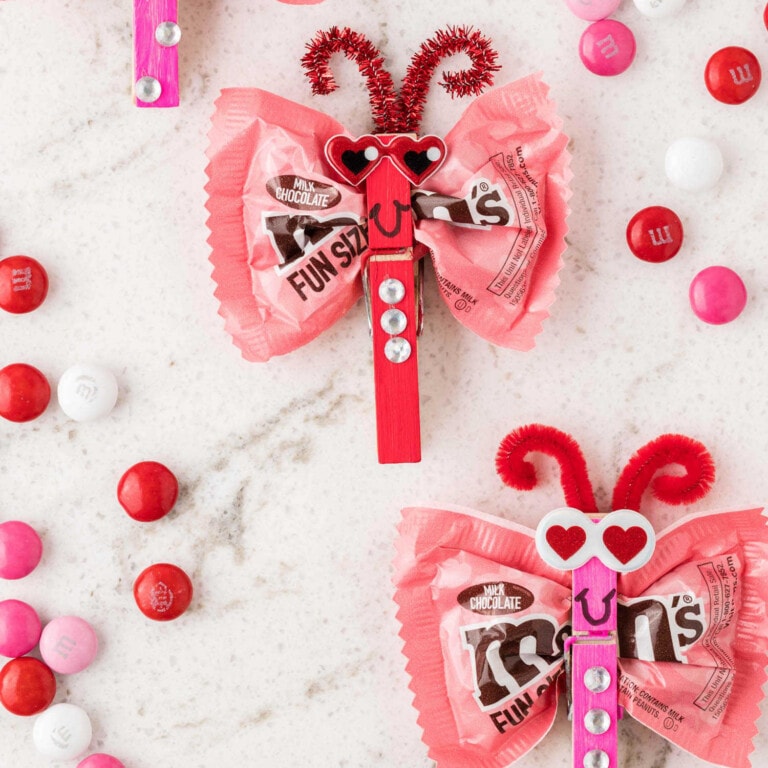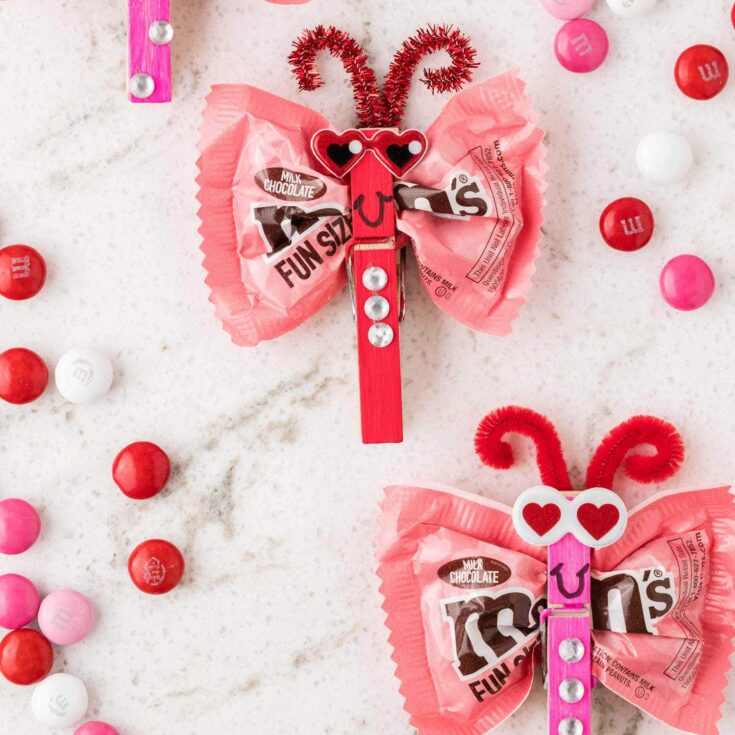 Cute, fun Love Bug Valentines Treats made with a mini package of M&Ms and a clothespin for an easy Valentines Day Craft
Instructions
Let's start by painting the clothespin, which will be the bug's body. Grab a wooden clothespin and add a thin layer of paint to the front side using a small paintbrush. Allow the wet clothespin to dry for about 10 minutes.
Let's make the antenna for our bug! Wrap the pipe cleaner around the notch of the open clothespin, then twist it on the back side to secure it. Form a "V" shape with the ends of the pipe cleaner, and bend the ends of the "V" to create a slight curl on each antenna.
Now, let's give our bug some personality! Grab a marker and draw a smile and add the eyeball stickers. Add the rhinestone stickers to the body for a sparkly touch!
Lastly, take a pack of fun-size M&M's, gather them in the center, and pinch them with a clothespin. Now your Valentine's Day Treat Love Bug is complete!
Notes
These are fun and easy treats for a Valentine's Day Party activity or to hand out at your class party!
If you can't find the fun-size M&M's, you can also use a snack-size bag to fill with Valentine's m&m's or your favorite candy treat!
Recommended Products
As an Amazon Associate and member of other affiliate programs, I earn from qualifying purchases.