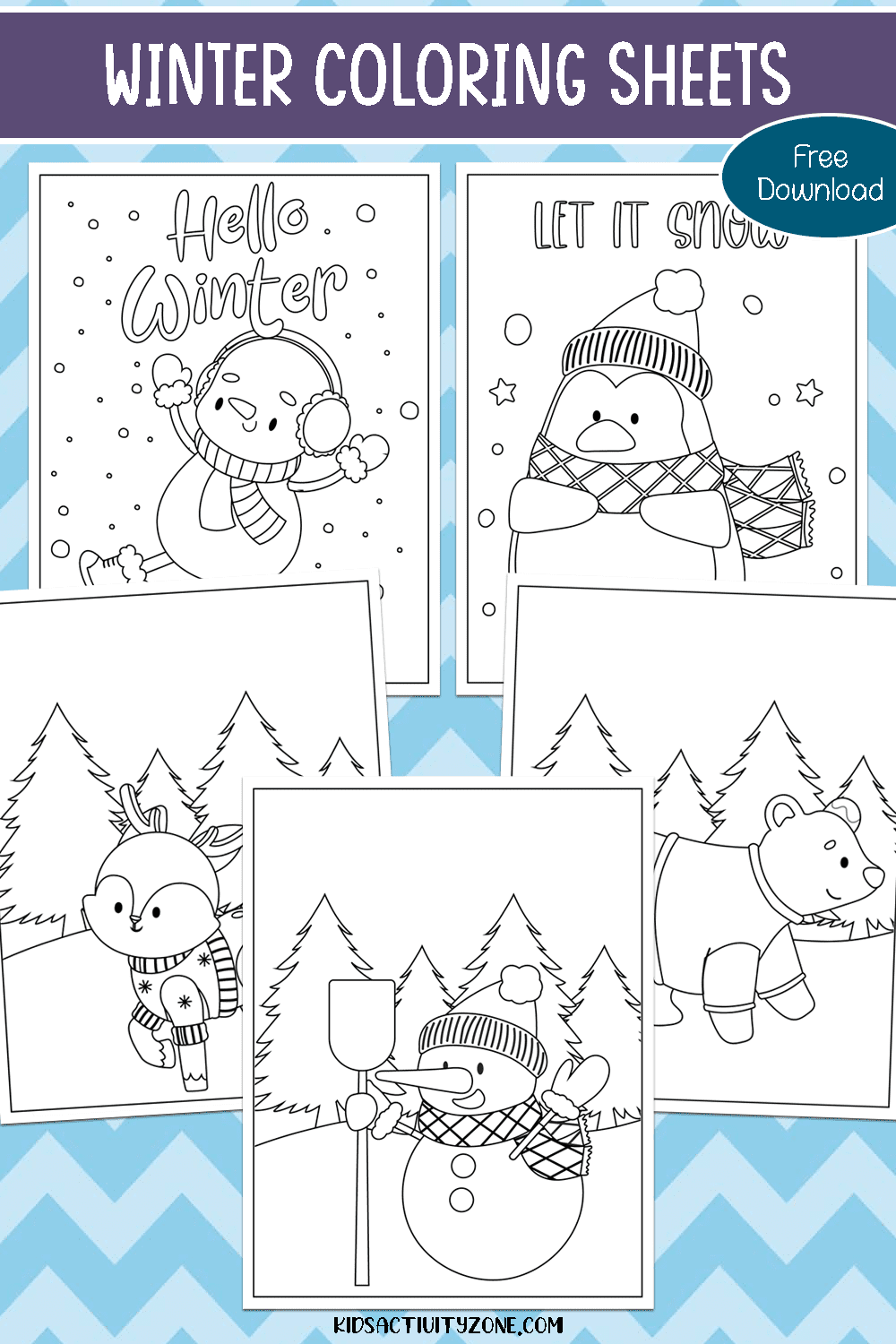 Winter Coloring Pages are a great way to have fun while developing fine motor skills, color recognition, and doing something creative. This free download includes five free coloring sheets!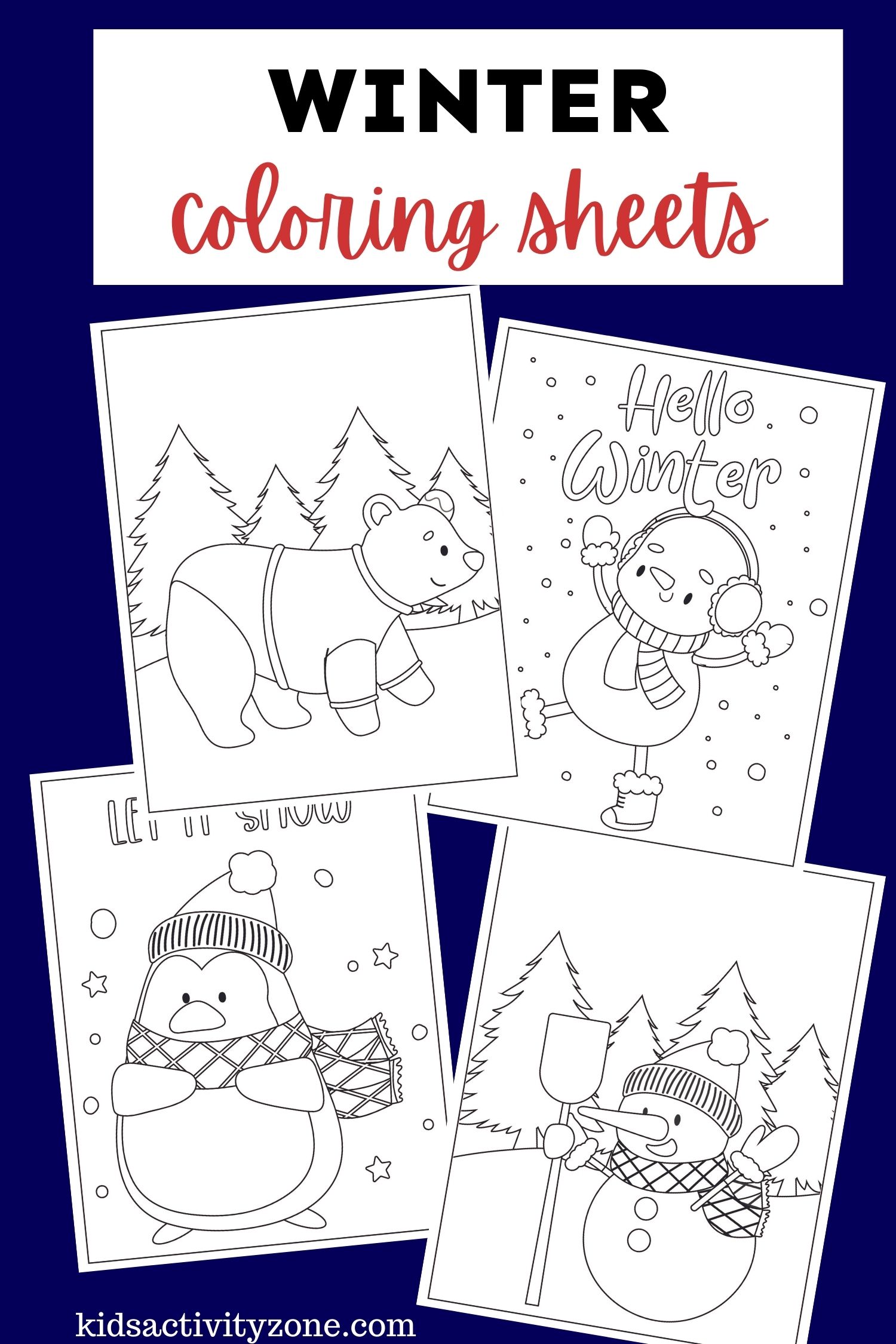 Winter can be a bit gloomy and kids can easily get bored staying indoors. But we have a perfect activity that can keep kids happy and excited during gloomy winter days. These cute winter coloring pages are a perfect holiday craft and the best thing is they are low-cost and mess-free.
I always try to come up with activities that are a lot of fun but don't require lots of supplies. No one wants to run to a craft store during chilly winter days, right?
That's why these free coloring pages are my favorite. Kids can color the charming winter scenes, snowmen, snowflakes and welcome the winters in a unique way.
If you are looking for winter coloring sheets to print, you are at the right place. These are perfect for kindergarten, preschoolers, and first graders.
Winter Coloring Sheets Included
Cute Hello Winter Snowman
This cute snowman is welcoming the winter in his fluffy outfit amid the snowflakes. Let your child's imagination run free, and ask him to color the snowman as he sees fit. Usually, children are pretty great at getting creative, so this is a perfect opportunity for them to pretend as if it's their own snowman, and they have to decorate it any way they want.
Adorable Penguin
Kids are always obsessed with Penguins. Color this adorable little penguin how you kids imagine their pet penguin to be. When it comes to coloring creativity, the sky's the limit.
Little Reindeer
Who doesn't like reindeer? This cute little reindeer is roaming in the wild and enjoying the snow. The mountains in the background look majestic too. This winter coloring page of baby reindeer is a unique activity to keep kids occupied.
Beautiful Winter Scene
This beautiful winter scene complete with high mountains and a cute snowman with his woolly hat and muffler, will get your kids in Christmas spirit. There is something about snowmen and snowflakes that always get the kids jumping with joy.
Beautiful Polar Bear
If your kids love animals, these coloring pages are just the thing to kill the boredom and do something fun yet productive. This polar bear winter coloring page gives them an opportunity to bring a bit of winter inside the home. They will have great fun coloring the majestic animal.
Snowman With Hat
This snowman is in the festive spirit with his cute gloves, muffler, and woolly hat. Everyone loves snowmen whether kids or adults. This winter coloring page can be a great resource for adults to polish their creative side too.
SUPPLIES RECOMMENDED
Free Online Winter Coloring Pages
Whether you want cute winter coloring pages for kindergartens or preschoolers or you want to bring a bit of fun home- these pages are perfect for you. All you need is a pack of crayons or color markers and this free coloring page printable and let the colors take over.
Looking for more winter coloring activities? Check these awesome ideas out!
If you take a picture coloring these Winter coloring pages and share them on Instagram make sure to #kidsactivityzone or tag us @kidsactivityzoneblog so we can see them!