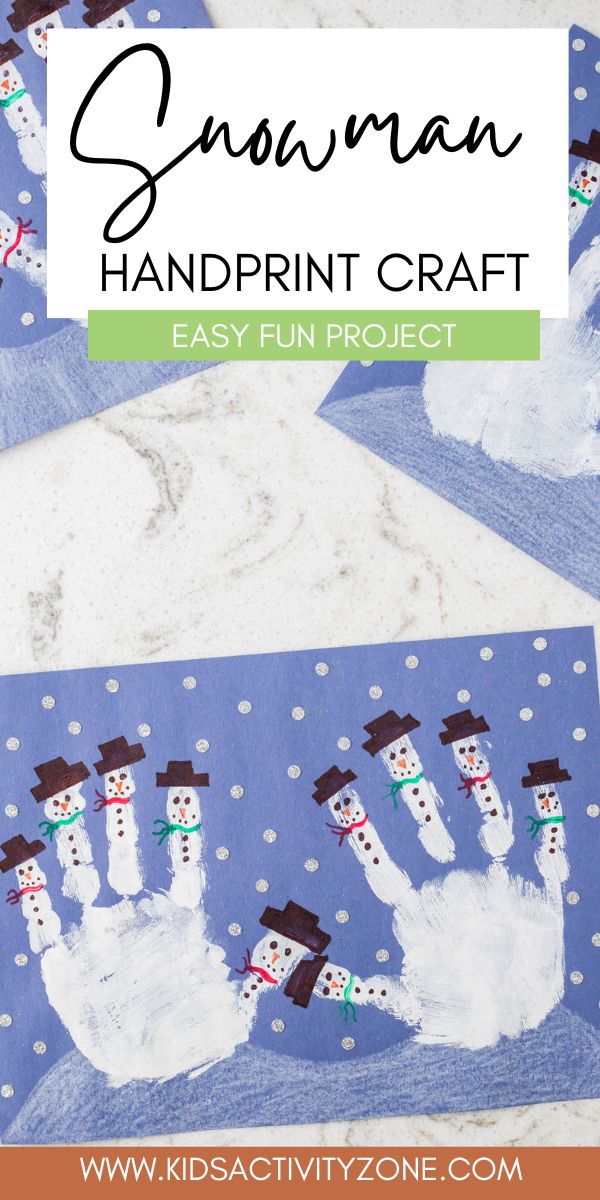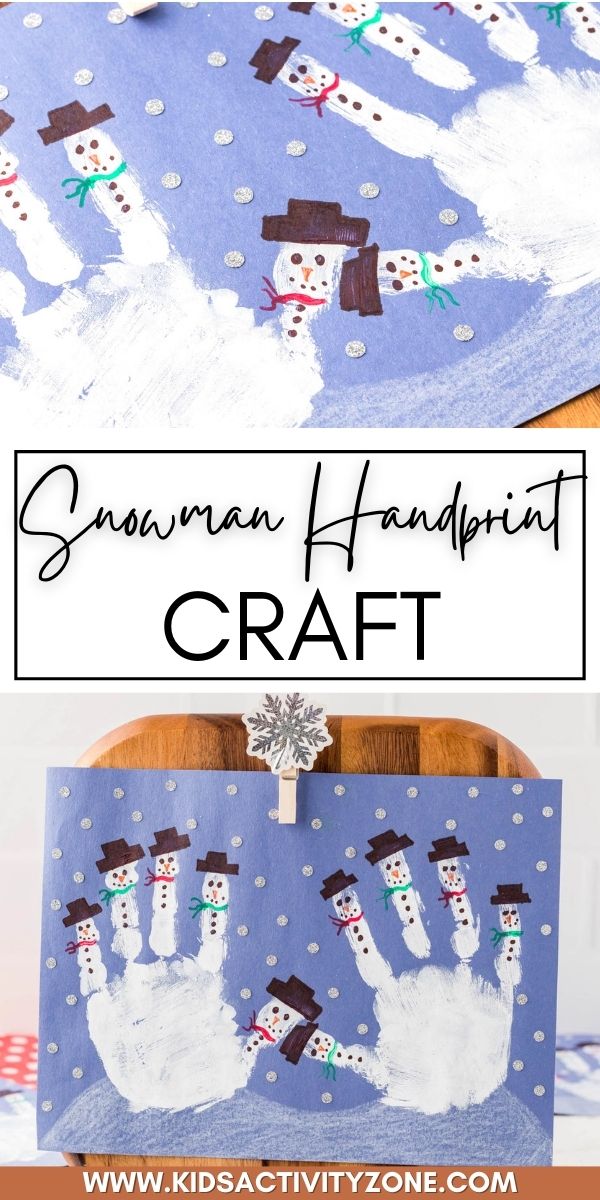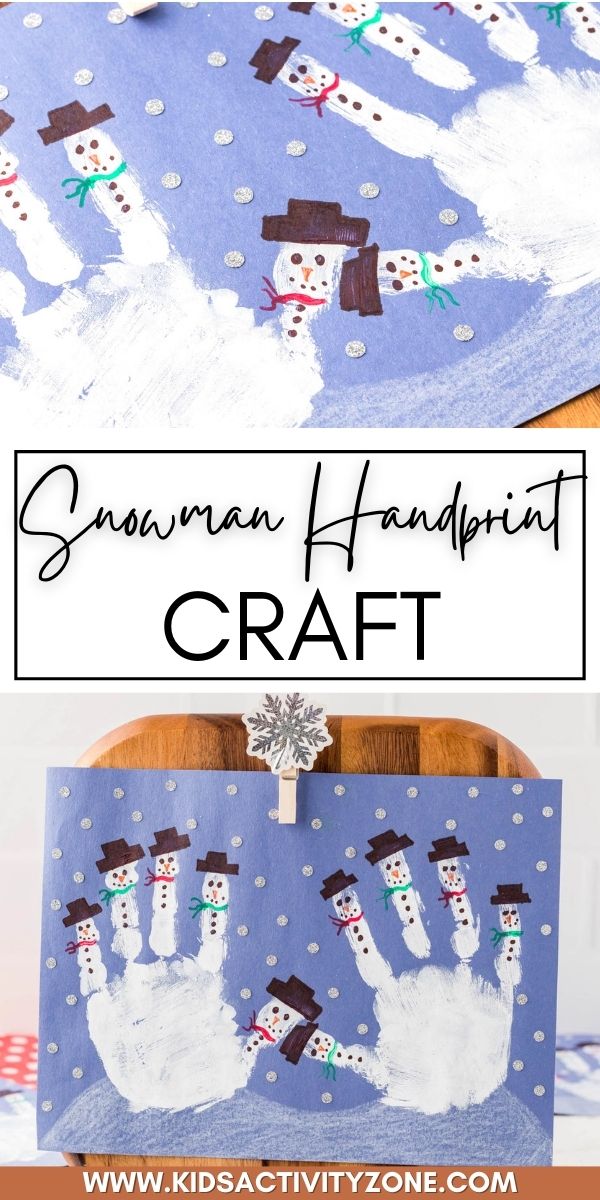 The kids will have so much fun getting messy and creating this Snowman Handprint Craft! Simply paint your child's hand, press it on a piece of paper and decorate the fingerprints to look like snowmen. They will have so much fun with this easy winter craft and you'll treasure it forever.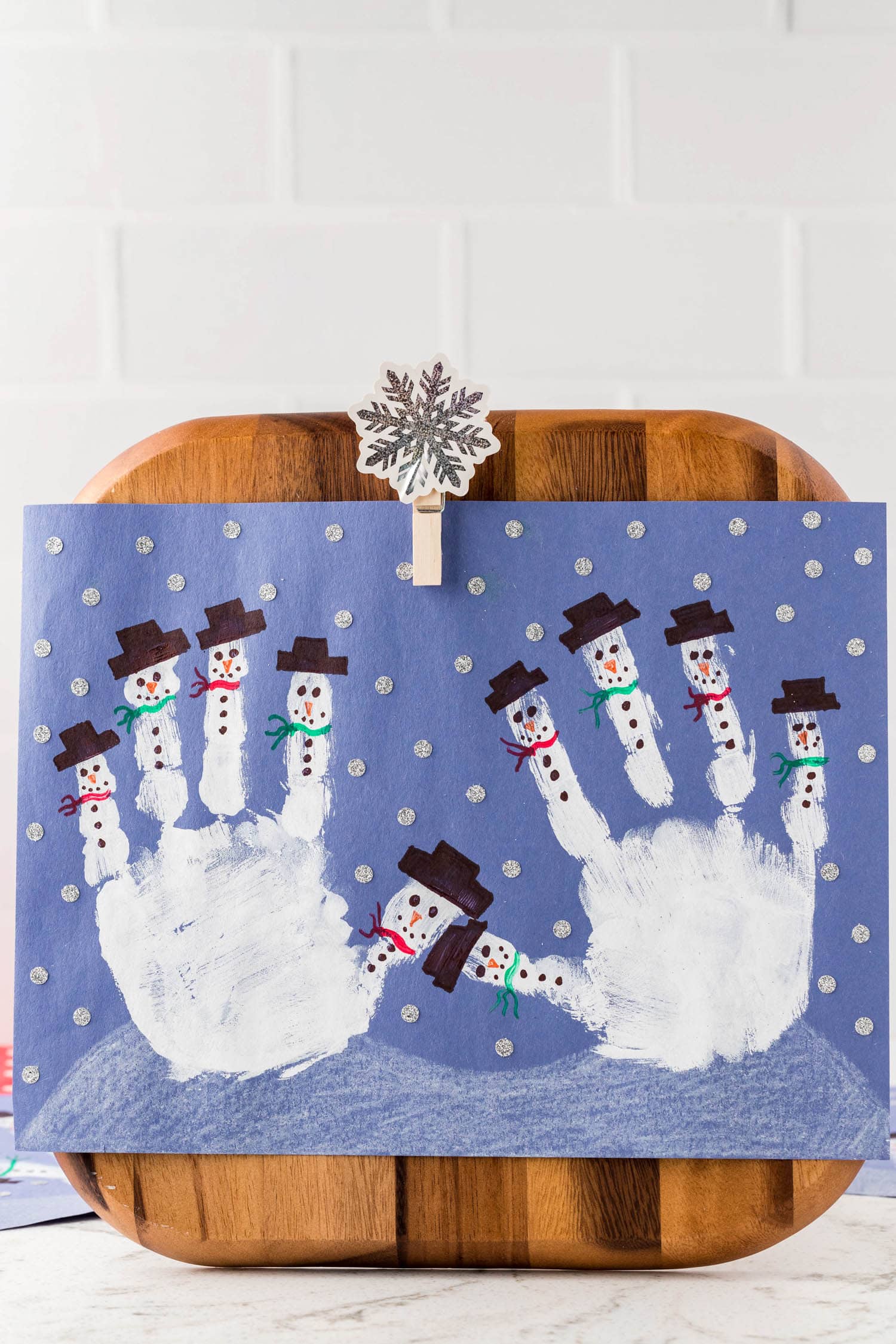 Everyone needs a good snowman craft around Christmas time, right? This easy snowman handprint craft is the perfect addition to a snowman themed activity day, complete with watching Frosty the Snowman and making these Snowman Cookies.
I love keepsake crafts like these because one day I'll be able to show the kids just how tiny their little hands were. These types of crafts are so special to me, and it's just extra fun that it turns out so cute too!
Why You'll Love this Snowman Handprint Craft
The supplies you need for this easy Christmas craft are likely things that you already have around your house!
This craft makes a great keepsake since your little one's handprints are the centerpiece of the craft.
This a great craft idea for little kids! It's super simple and something that they can be creative with.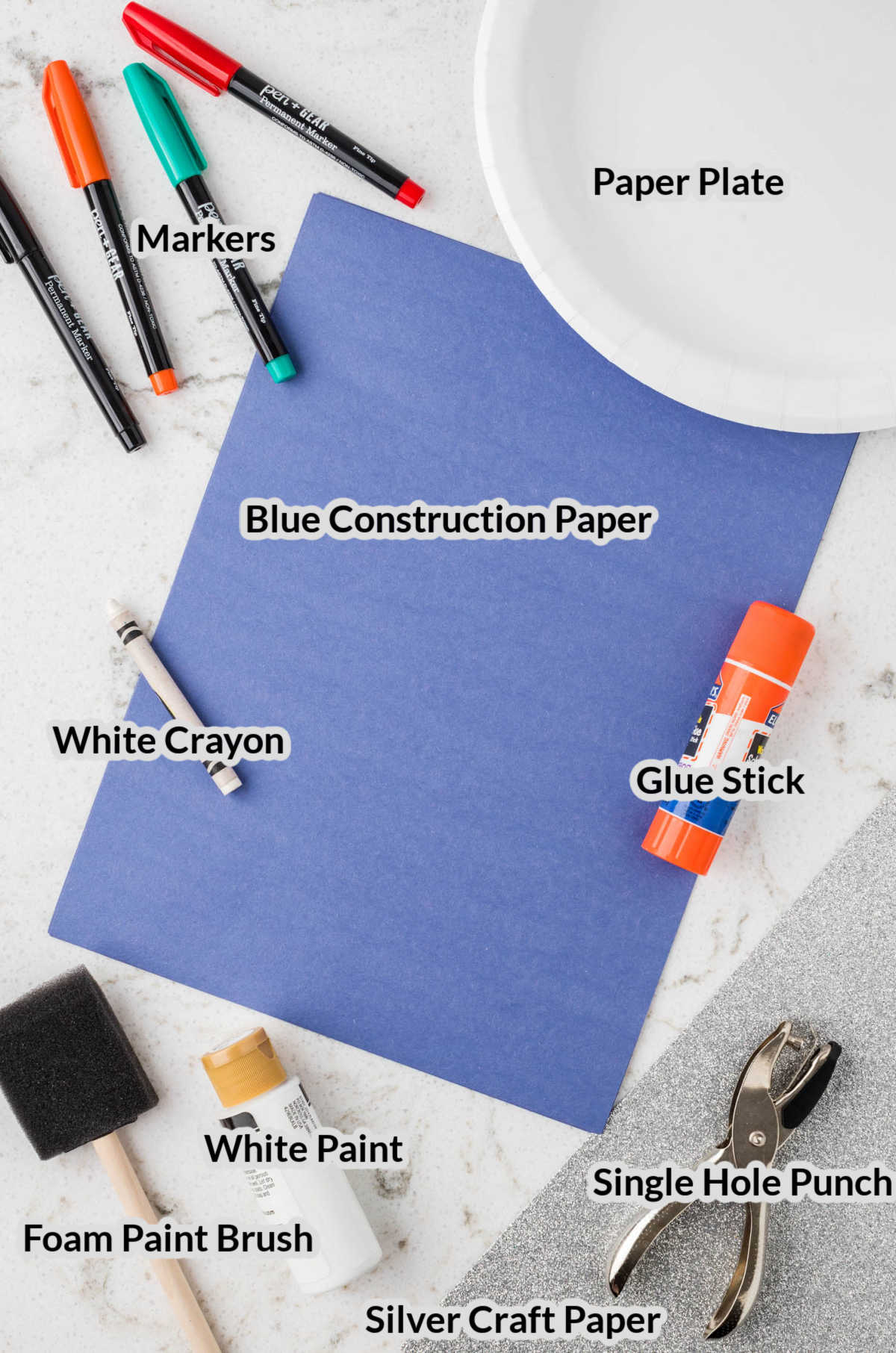 What You'll need for this Handprint Christmas Craft
Craft paper – This will help protect your work space from glue and paint spills.
Crayon, white – You'll use this to create the snowy hills that your snowman handprints will sit upon. You could also use a colored pencil or a paint marker!
Construction paper, blue – You can use either construction paper or card stock!
Craft paint, white – Be sure to purchase washable, non-toxic, white paint to use for the handprints in this snowman craft.
Paper plate – Use this to hold you paint that you'll dip your hands in. You could also use a plastic plate or foam plate.
Foam paintbrush – I used a foam paintbrush for this snowman handprint craft, but you could use any regular craft paintbrush.
Markers, black, orange, green, and red – I used markers to draw the hats, faces, and scarves onto each snowman but you could also use crayons and colored pencils!
Card stock, silver – Glitter card stock makes the "snowflakes" extra fun, but regular white paper or card stock will work as well.
Single-hole punch – You'll use this to punch out each snowflake.
Glue stick – Any glue stick or other craft glue will work for this craft!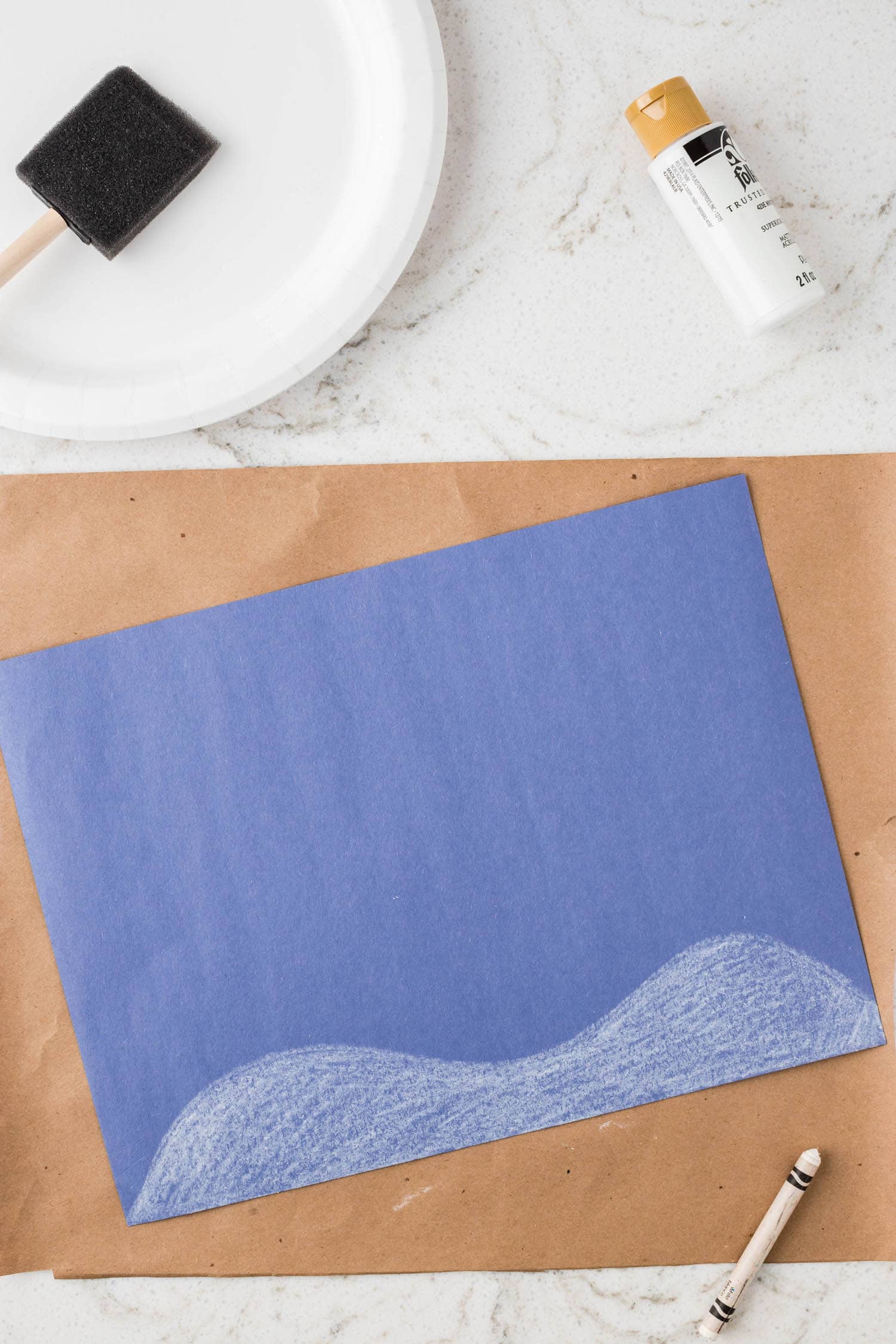 How to make this Snowman Handprint Craft
CREATE: Place your blue construction paper on top of your craft paper and trace a wavy line across the bottom. Color it in with your white crayon or colored pencils to make snowy hills!
PAINT: Using your paintbrush, cover your palms in white paint and then gently press them down onto the blue construction paper. While your handprints dry, wash the excess paint off of your hands.
COLOR: Take your markers, crayons, or colored pencils and begin decorating each finger as a snowman. Add a top hat, a smile, two eyes, a carrot nose, 3 buttons, and don't forget the scarf!
DECORATE: Using your hole punch, punch out plenty of little dots from your glitter or white card stock. Use your craft glue to glue them all around your handprint snowmen to create affect of falling snow.
Allow everything to fully dry and your cutie handprint Christmas craft is done!
Pro Tips for the best Snowman Handprint Craft
Add a stick-on magnet to the back of your blue construction paper to easily display it on the refrigerator.

If you're feeling adventurous, sprinkle a little bit of glitter onto your handprints while the paint is still wet. Once it dries, shake off the excess glitter and decorate as normal!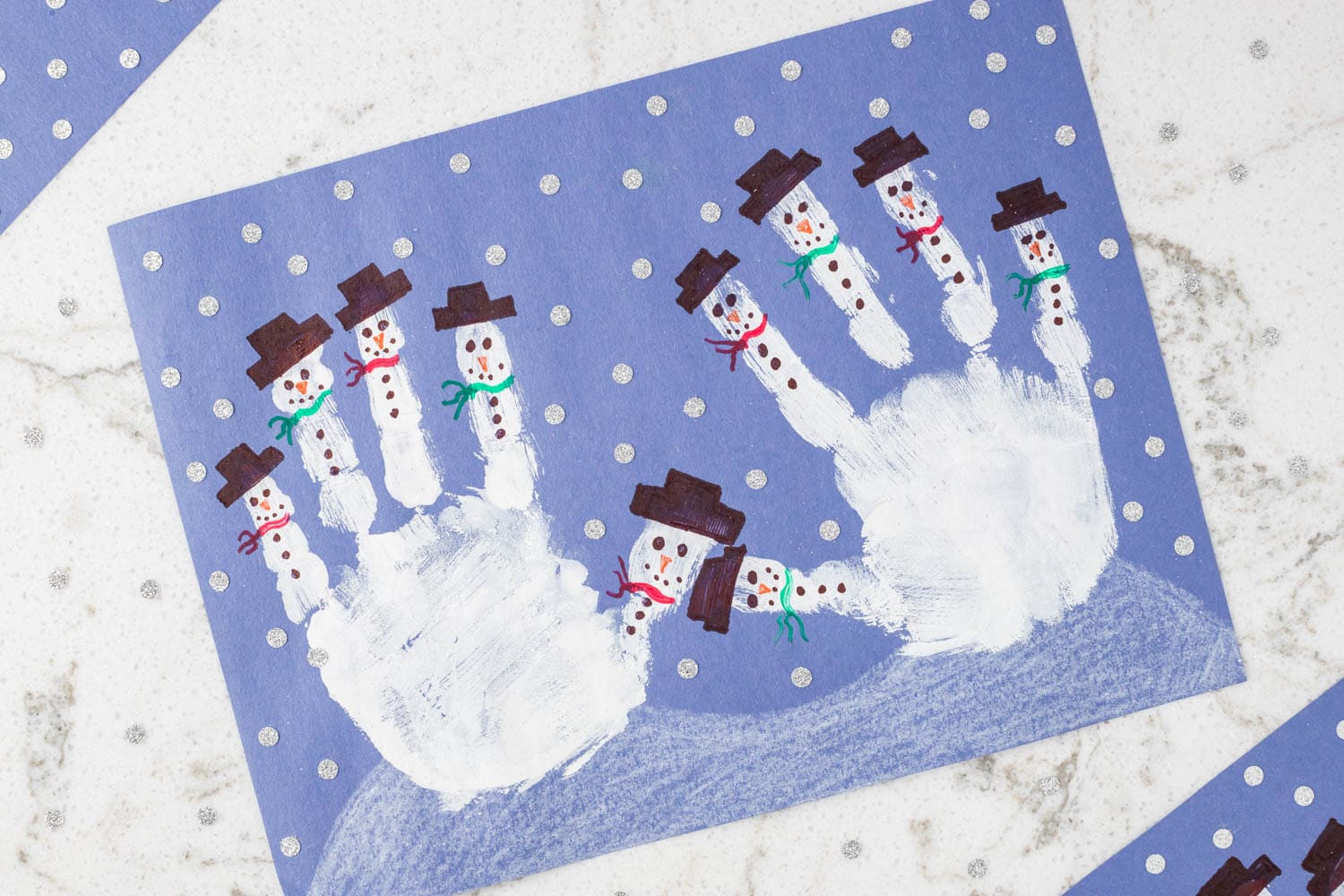 This craft is quick and easy, and will create some sweet Christmas memories for you and your kids!
More Christmas Crafts You'll Love
Yield: 1 Snowman Handprint Craft
Snowman Handprint Craft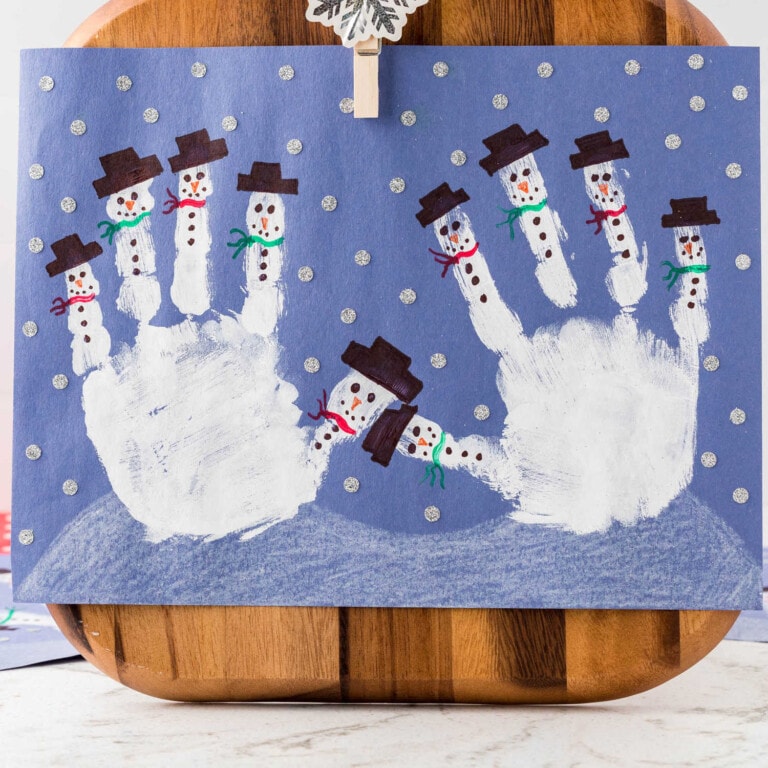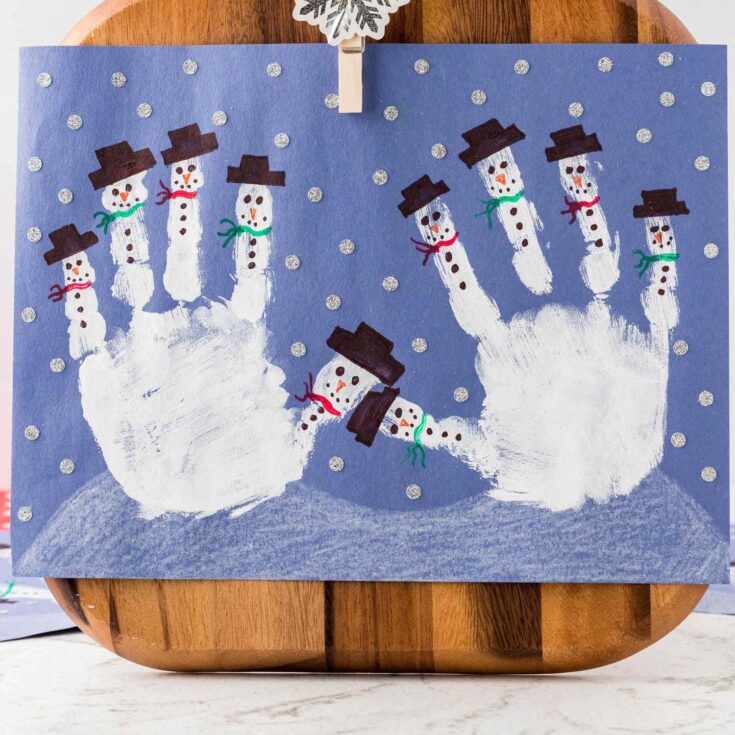 Cute and easy Snowman Handprint is the perfect winter craft for kids with minimal supplies!
Materials
Instructions
Start by covering your countertop or table with craft paper or a table covering to protect the surface.
Let's grab a blue piece of construction paper and draw a wavy line on the bottom of the page to create a snow mound for our snowmen. Color it in to create the effect of snow.
Next, using a foam sponge paintbrush, paint both palms of your hands with white craft paint. Carefully press both of your hands down on the paper into the snow. Wash hands and allow hand prints to dry for at least 10 minutes.
Once the handprints are dry, take a black marker and draw on the snowmen's hats, eyes, mouths, and buttons. Use the orange marker to create a carrot nose.
Next, grab your red and green markers and give your snowmen each a scarf!
Lastly, grab a hole punch and a sheet of silver glitter card stock. Punch holes in the card stock.
Use the punched holes as snowflakes for your winter snowman scene. Secure the "snow" to the blue construction paper with a glue stick. Allow drying time.
Notes
Handprint crafts make great gifts for Moms, Dads, Aunts, Uncles, and Grandparents alike!
Use water-soluble, non-toxic craft paint for this project to ensure it will wash off your hands quickly.
Pro tip: use a piece of sticky putty on the end of a pencil to place the "snowflake" dots quickly.
Recommended Products
As an Amazon Associate and member of other affiliate programs, I earn from qualifying purchases.