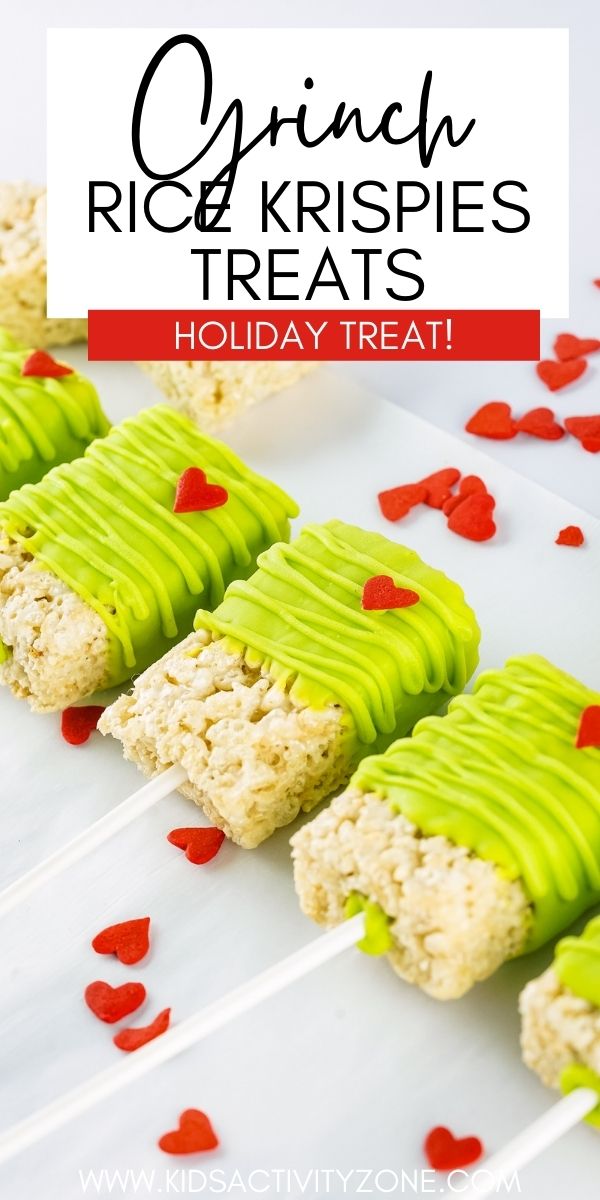 Rice Krispies Treats that are dipped in green candy melts and decorated with a red heart! These Grinch Rice Krispies Treat Pops are the perfect treat for a holiday or Grinch themed party.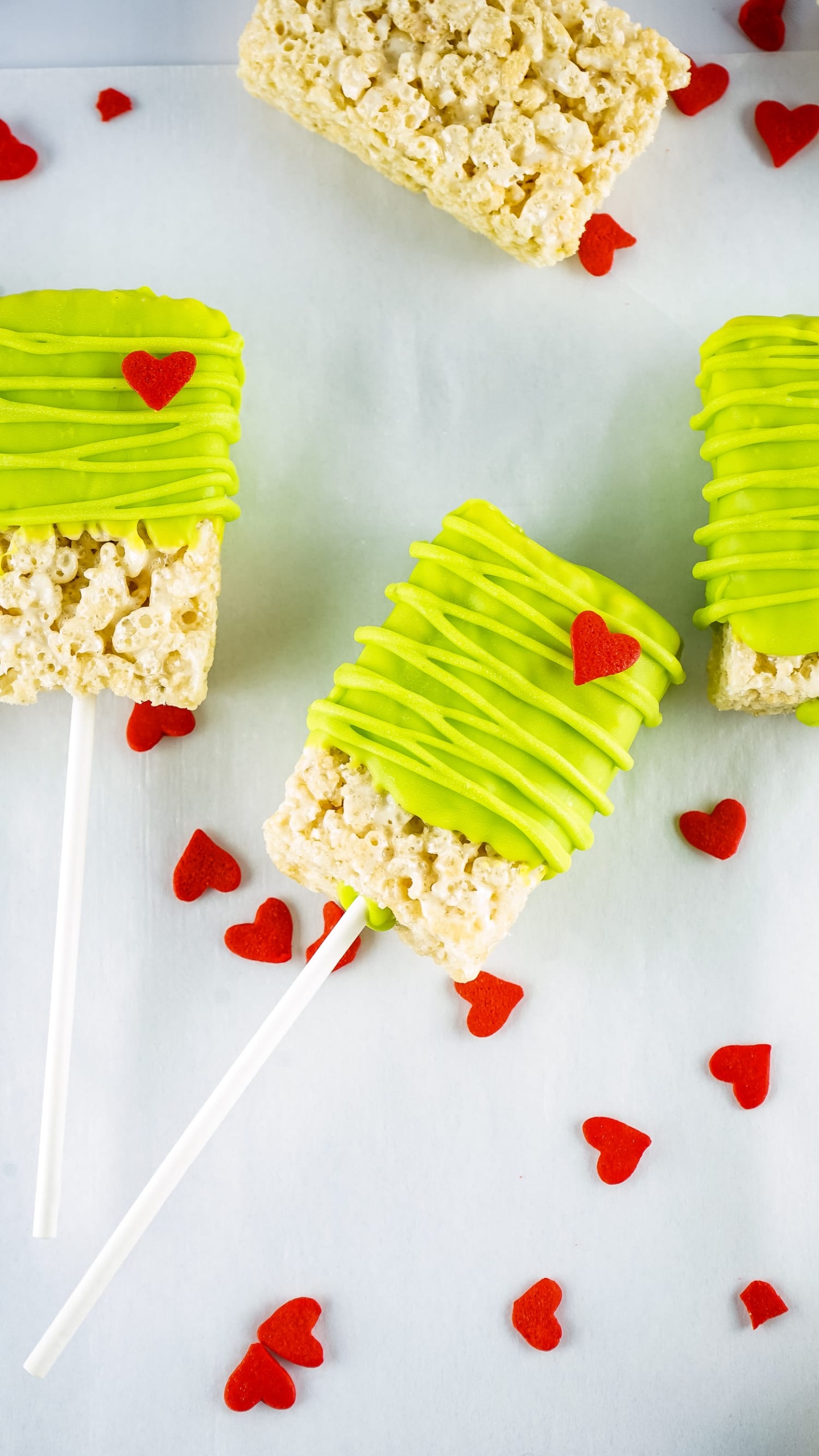 Rice Krispies Treats that are dipped in green candy melts and decorated with a red heart! These Grinch Rice Krispies Treat Pops are the perfect treat for a holiday or Grinch themed party.
Are you hosting a holiday party this year? These Grinch rice krispies treat will be the perfect sweet treat to share with your guests. Or plan a family movie night and enjoy these treats along with the movie, How the Grinch Stole Christmas!
Marshmallow treats dipped in a green candy coating and decorated with a red candy heart – they are just too cute! What's even better is how easy they are to make.
You Will Love This Easy Recipe
You can use store-bought Rice Krispies treats to make it really easy! Candy melts and heart sprinkles turn them into fun holiday treats.
This is a great recipe for the kiddos to help out with – they can dip the treats, add the drizzle, and place the red hearts.
We love treats on a stick so be sure to check out our Grinch kabobs and Reindeer cookie pops after you give this recipe a try!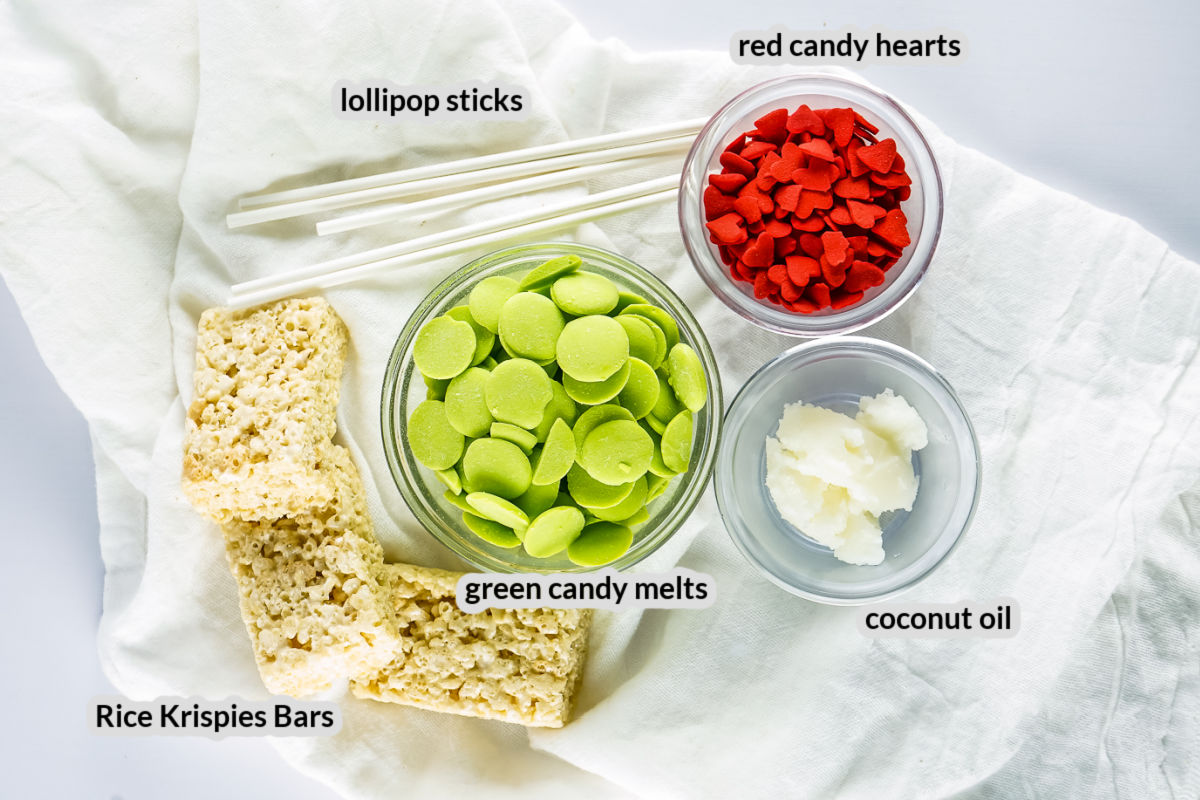 Ingredients
Rice Krispies Treats – you can use my favorite rice krispies treats recipe or buy them premade.
Vibrant green candy melts – Available at craft stores or on Amazon. Make sure to grab the vibrant green to get the best Grinchy color!
Coconut oil – this thins the candy melt, so you get the right texture for dipping.
Large red heart sprinkles – Look for them in the baking aisle at the grocery store, craft store or Amazon.
Helpful Tools
INSTRUCTIONS
Place the lollipop stand on a baking sheet. Line a second baking sheet with parchment paper.
Melt the green candy melts following the package instructions. Once melted, stir in the coconut oil and stir until combined.
Secure the Sticks: Dip each lollipop stick about a 1/2″ in the candy melt and then stick it in the middle of one end of the rice krispie treat.
Place it on the prepared baking sheet and repeat with the rest of the treats. Chill them for five minutes before doing the next step.
Pour the melted candy melts into a tall cup. Dunk each treat about 2/3 of the way to coat. Allow the excess chocolate to drip off and then place the treat in the lollipop stand. Chill the pops for 10 minutes or until the coating has hardened.
Transfer the rest of the candy melt to the Ziplock bag. Snip off one corner of the bag. I like to snip it at a 45 degree angle to make it easy to drizzle.
Take the treats and lay them on the baking sheet lined with parchment paper. Drizzle the candy coating over the top of each marshmallow pop.
For the best look, go partly down both sides without touching the pan. If your drizzle reaches the pan, your treats will have spikes that stick out once hardened.
While the coating is wet, place one red grinch heart in each treat's upper right-hand corner.
Chill the Grinch treats one more time for about five minutes or until the coating is hardened. If you aren't serving them right away, store them in an airtight container.
FAQ
I can't find green candy melts, what else can I use?
You can use white candy melts. Melt them first and then use green food coloring to tint the mixture. It must be an oil based food coloring made specifically to color chocolate. Start with a little coloring – it's easy to add more, but if you add too much it's hard to fix it.
Can you use homemade rice krispies treats?
Yes, you can absolutely go DIY with this recipe and make homemade ones with rice krispies cereal, butter, and marshmallows. I would make the treats about 3″ x 2″ when cutting them to size.
How long do they keep?
Keep them in an airtight container and they will keep well for up to two days at room temperature.
Tips
If your chocolate is too thick, add more coconut oil and reheat for a few seconds in the microwave to thin it.
For the dipping, be sure to use a cup or container that is wide enough to fit the treat and deep enough to dip the treat so it's 2/3 coated.
If your drizzles harden before you can add the hearts, just use a dot of candy melt on the heart and place it on the treat so it sticks.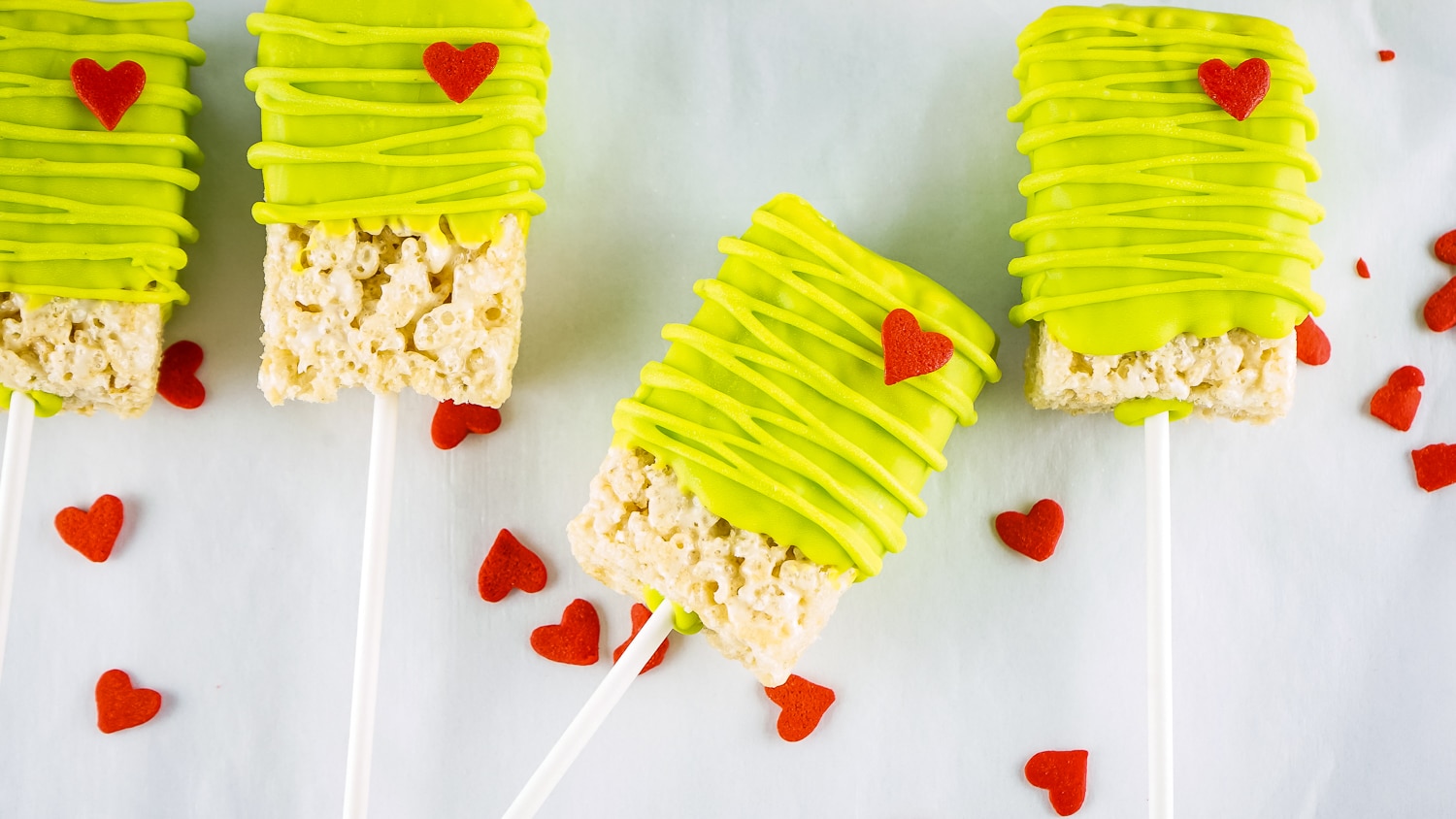 I can't wait for you to try these yummy Christmas rice krispies treats! They're always a winner with both the kids and adults. So, plan a grinch movie night and treat your family to a batch – it'll be a fun holiday memory!
More Easy Christmas Party Recipes
Here are more easy party recipes everyone will love!
Want more Grinch recipes? You need to make a batch of Grinch Cupcakes!
No one can resist a handful of Reindeer Chow – it's an easy sweet snack recipe that's perfect for the holiday season.
Easy Reindeer Pretzels are almost too cute to eat!
If you take a picture and share them on Instagram make sure to #kidsactivityzone or tag us @kidsactivityzoneblog so we can see them!
Remember if you enjoy making these Grinch Rice Krispies Treat Pops be sure to comment below and give us a five-star review! It would make our day!
Yield: 10 Treats
Dipped Grinch Rice Krispies Treats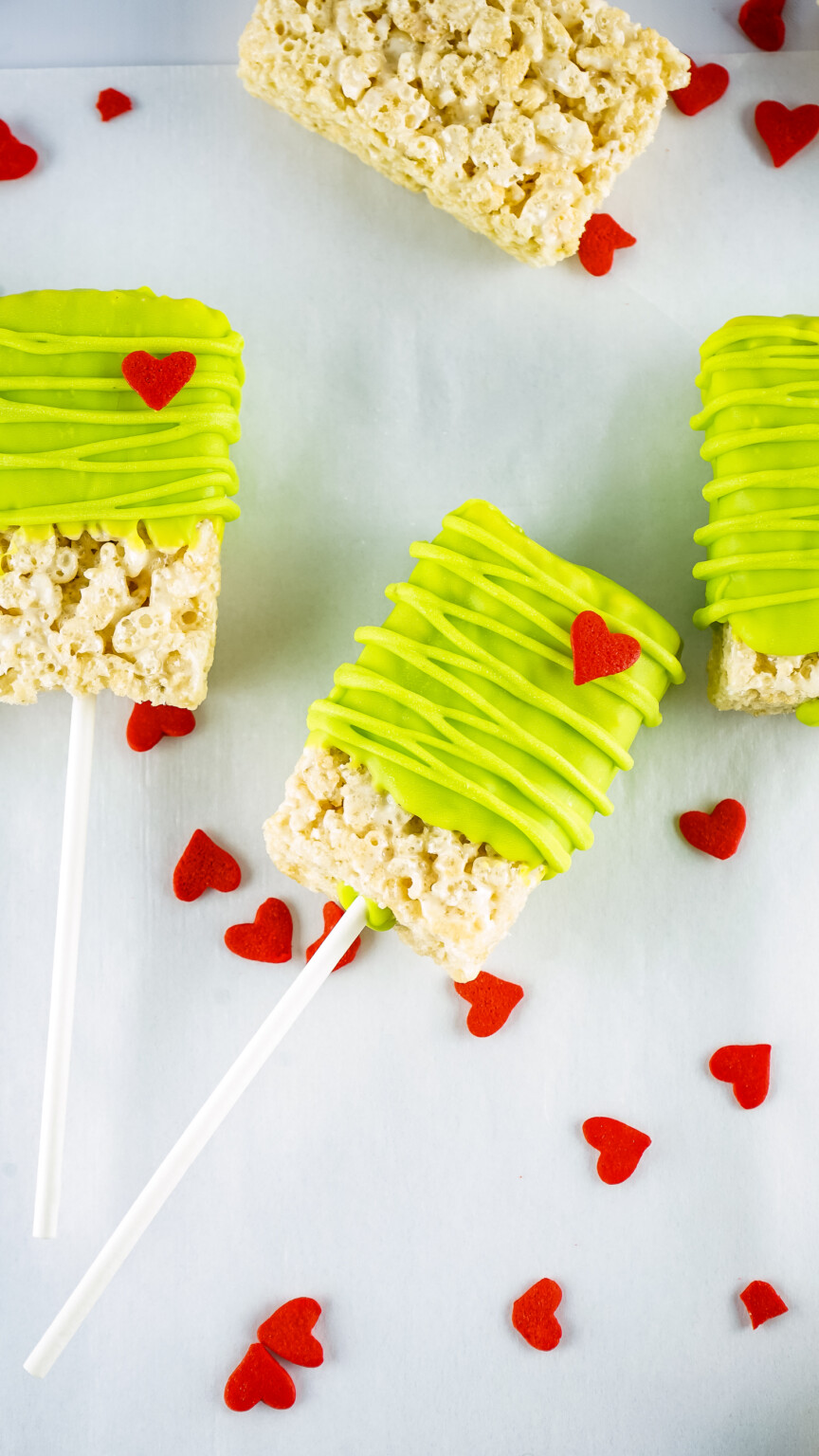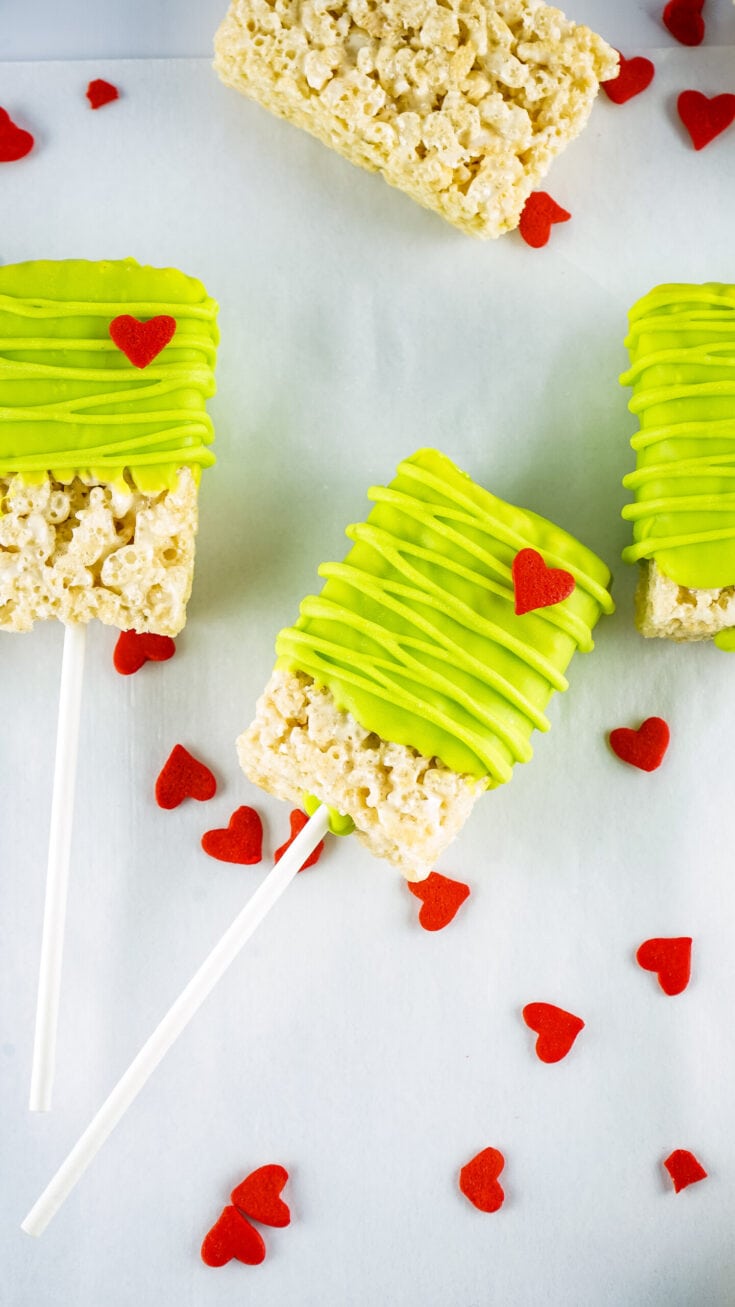 Easy No-Bake Grinch Themed Rice Krispies Treats! A fun and easy treat perfect for holiday parties.
Ingredients
10 Rice Krispie Treats
1 Tablespoon Coconut Oil
Instructions
Place your sucker stand on a hard surface, such as a baking sheet.
Line a different baking sheet with parchment paper and set aside.
Place your candy melts in a microwave-safe bowl and cook them on high for 3 minutes or until
melted. Be sure to stir the candy melts every 30 seconds during the cooking process.
Add the coconut oil to the melted candy melts and stir until fully combined.
Dip the sucker sticks into the candy melts (about half an inch is good) and then slip the sticks
into the middle bottom of each Rice Krispies treat.
Place the Rice Krispies treats on the prepared baking sheet and chill for about 5 minutes.
Place the melted candy melts into your tall cup and dunk each treat about ⅔ of the way into the
chocolate.
Remove from the cup and lightly tap the bare end of the stick on the counter to even out the
chocolate.
Place in your sucker stand and chill for about 10 minutes or until hardened.
Place remaining candy melts into a frosting bag or gallon size ziploc bag. Use a scissors to cut a small tip off the bag.
Lay the pops flat on the prepared tray and drizzle the chocolate over the top of each pop and
immediately add a heart sprinkle to the upper-right corner of each treat.
Return the treats to the fridge to chill for another 5 minutes, or until hardened.
Recommended Products
As an Amazon Associate and member of other affiliate programs, I earn from qualifying purchases.
Nutrition Information:
Yield:
10
Serving Size:
1 Treat
Amount Per Serving:
Calories:

239
Total Fat:

4g
Saturated Fat:

1g
Trans Fat:

0g
Unsaturated Fat:

2g
Cholesterol:

0mg
Sodium:

90mg
Carbohydrates:

51g
Fiber:

0g
Sugar:

26g
Protein:

1g