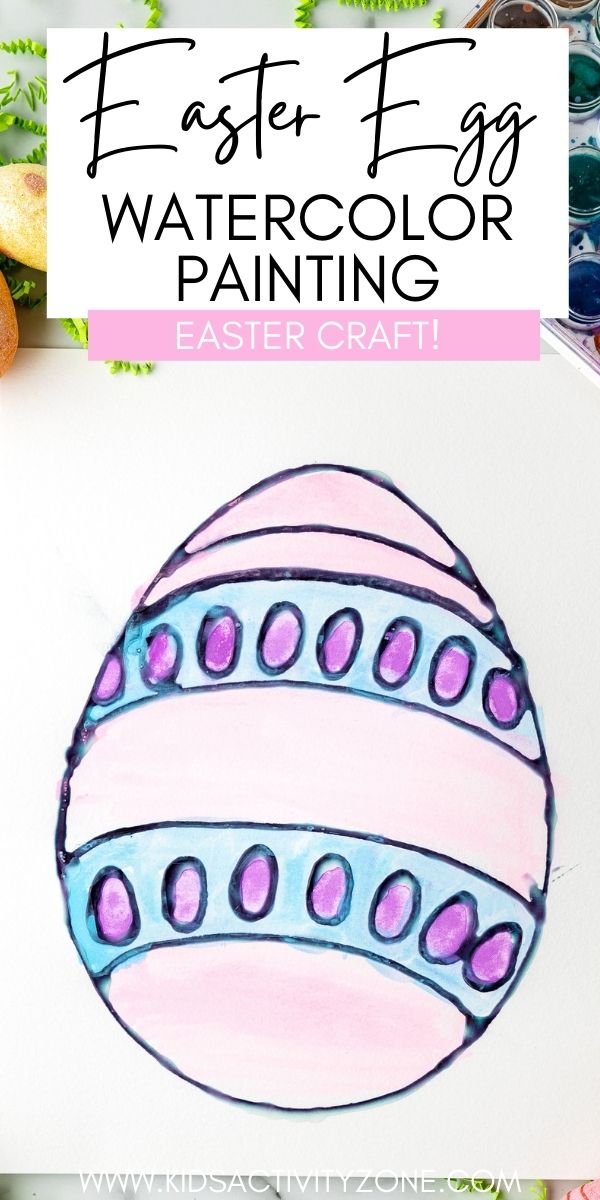 Have your kids create a beautiful masterpiece to display during the Easter season with this easy Easter Egg Watercolor Painting! This Easter Egg painting is an easy to make craft project. If your kids are older they can do it on your, but if they are younger you can help them draw and glue and let them paint it by their selves!
It's always fun to do arts and crafts for the holidays, but I like easy ideas that look impressive with minimal supplies. That's why I love this easy Easter egg painting with watercolors. Simply draw the Easter egg (kids love to help design it or draw it themselves!) then trace it with glue and paint it.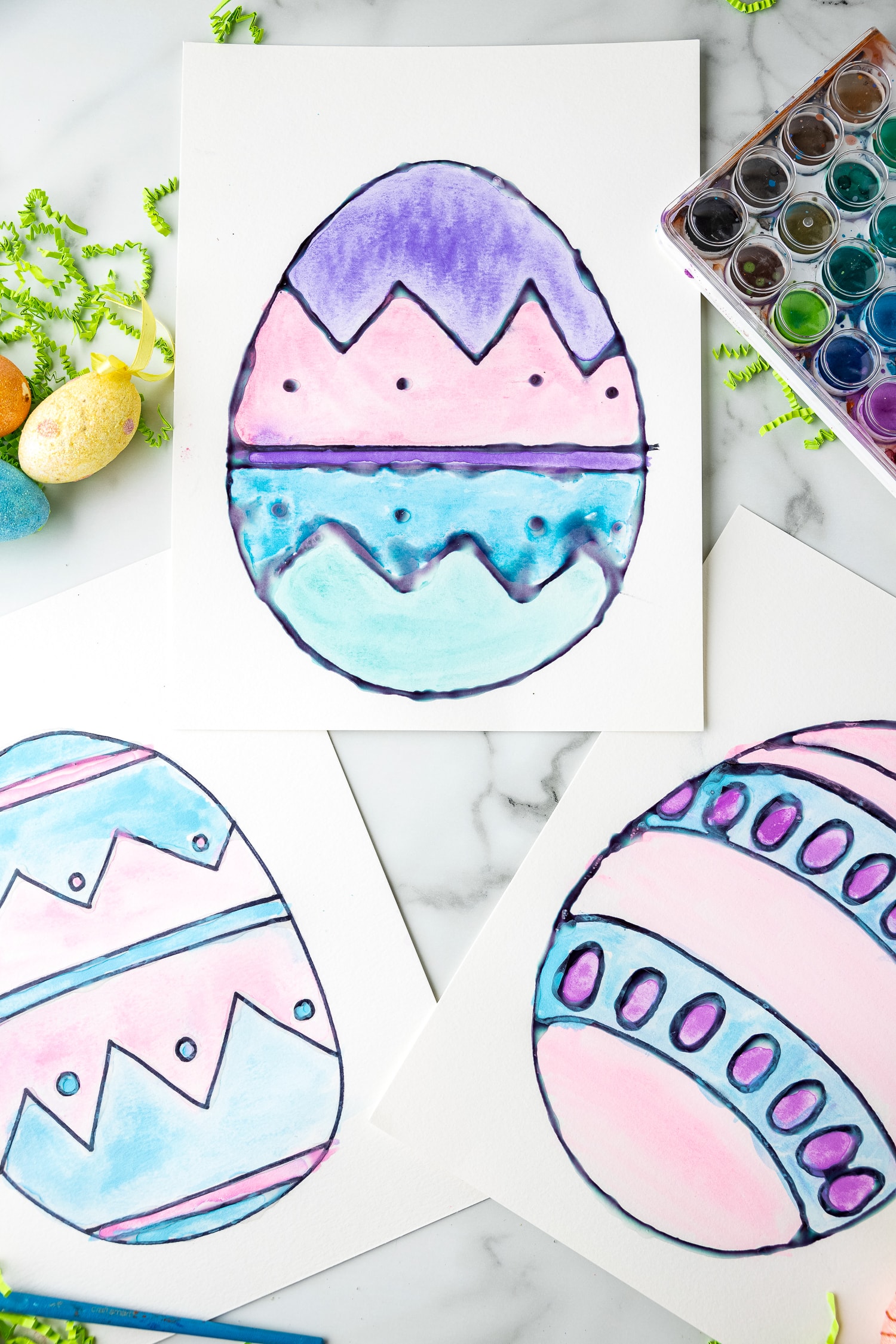 The results is a beautiful Easter egg painting that you can display around the house, gift to parents and tuck away as a keepsake.
It's the perfect arts and crafts project to do at home with your kids over the holidays.
Why this Watercolor Easter Egg Painting is fun!
It has minimal supplies!
It's great for older kids to make, but can be a fun project for you to help your younger kids with.
Makes a statement piece that you can proudly display or gift!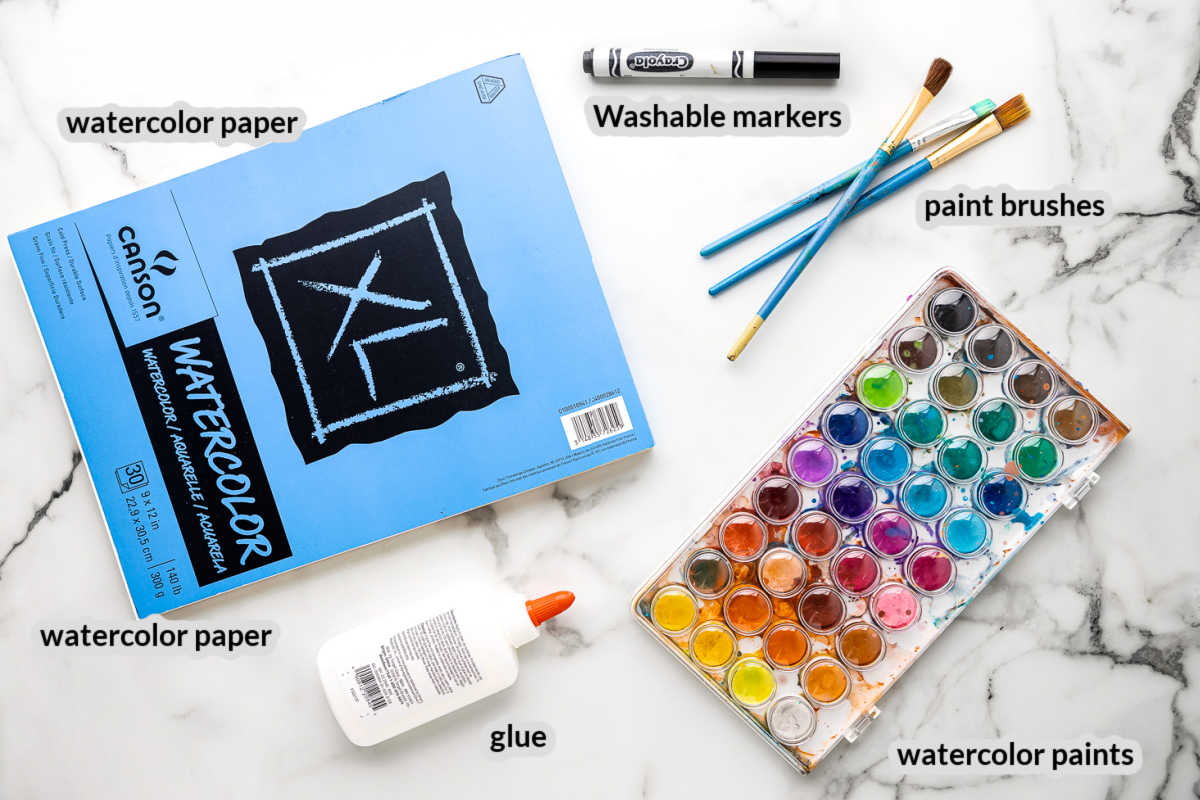 Supplies Needed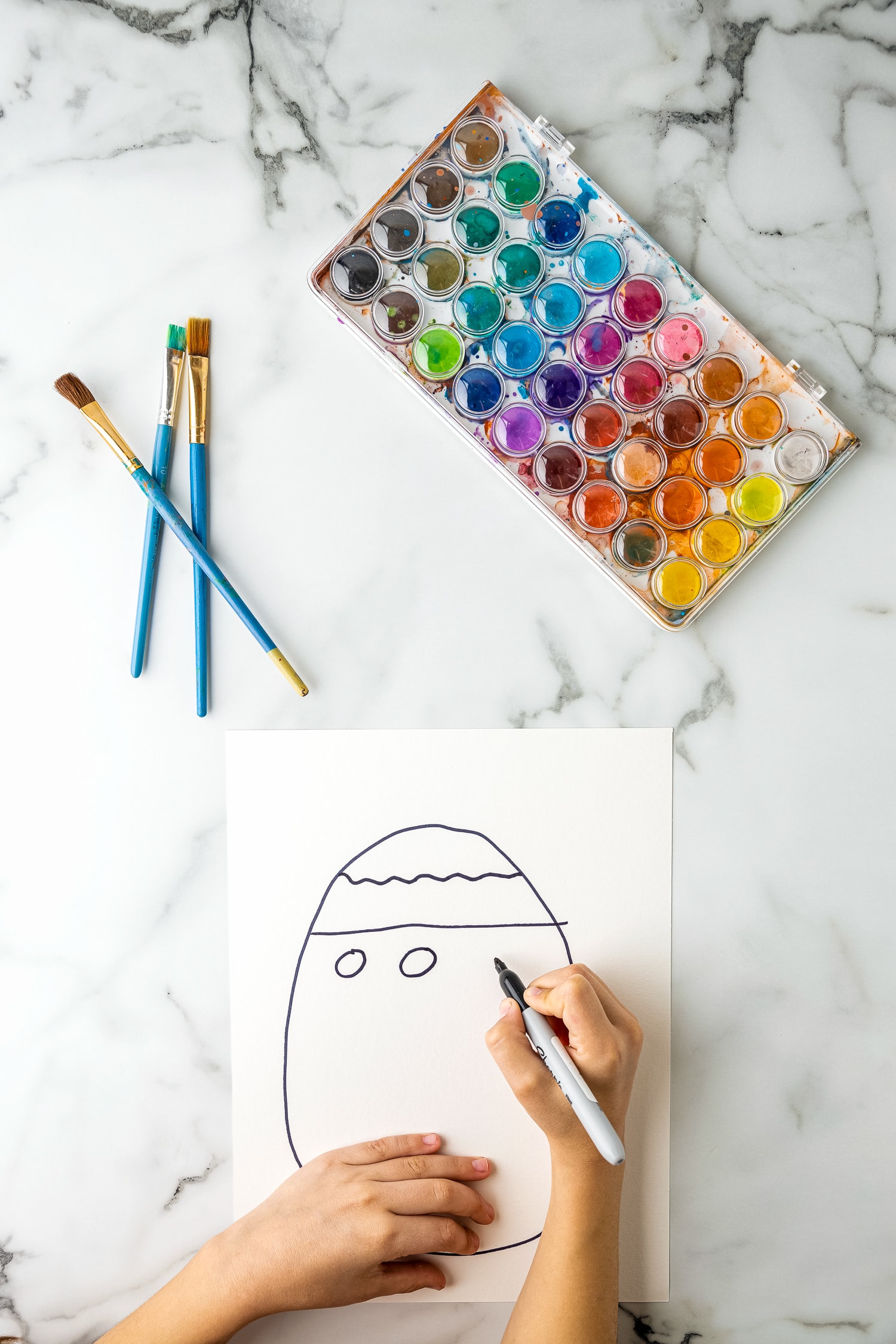 How to Make a Watercolor Easter Egg Painting
The first thing you want to do is take a black washable marker and draw the shape of an egg on your watercolor paper.
After you have the outline it's time to decorate your egg with circles, lines, zigzags etc.
Then trace the marker lines with the liquid glue and let dry for about two hours.
Time to paint! Grab your watercolor paint and paint your eggs with your favorite colors. Let the egg painting dry and proudly display.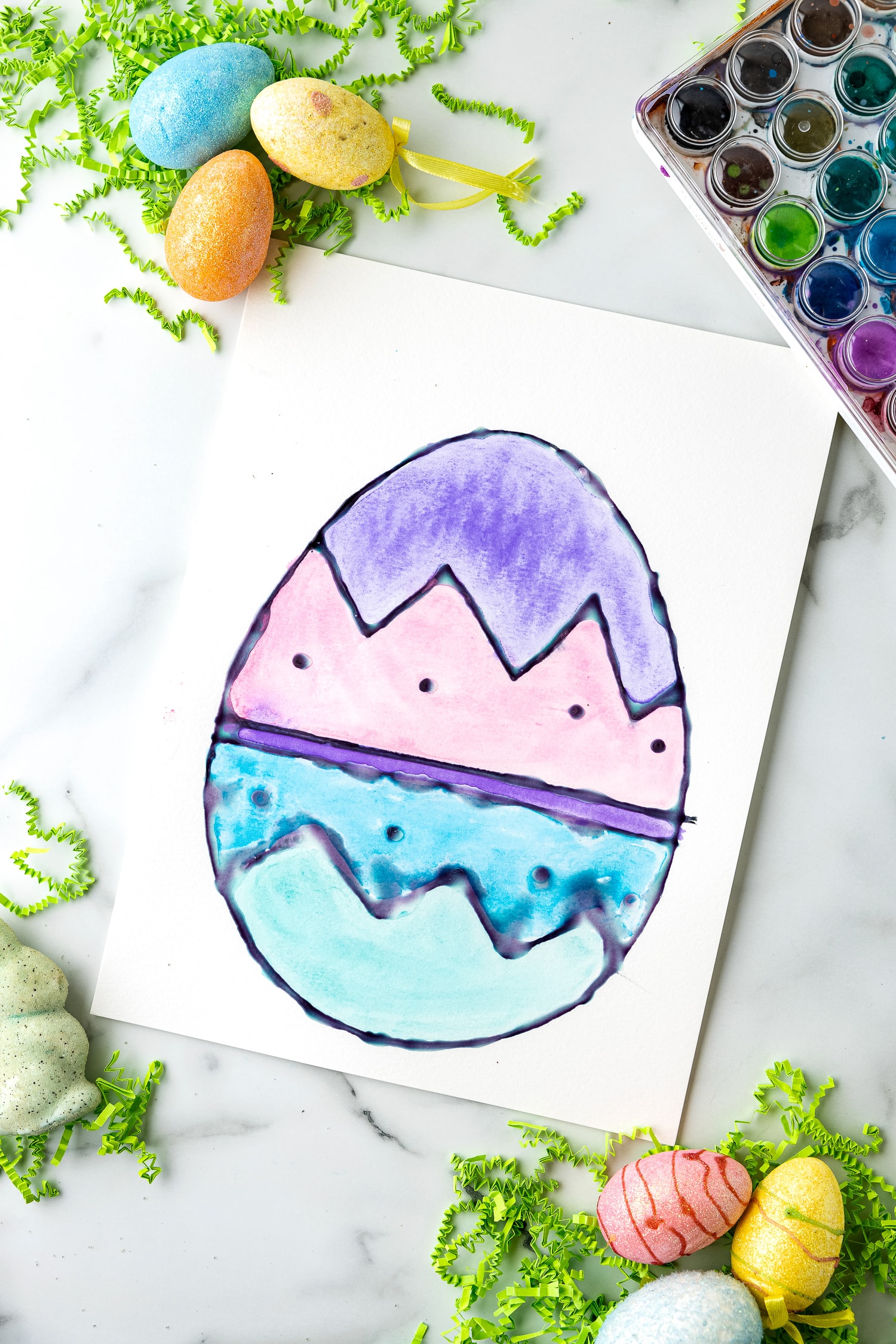 How come it has to be a washable marker? Can't I just use a pencil or permanent marker?
You can use any drawing utensil you would like besides crayons. I use washable markers because the glue will absorb the ink and change colors. I've tried it with a permanent marker, and the glue will remain clear, which is still cool. It just doesn't give you the same look.
What's the point of outlining the lines with glue?
This helps the watercolor stay in the area you want that color. It also adds a cool texture to your image. This is a great way to work on fine motor skills with your child to learn how to do different lines and dots with your glue and not to use too much.
Can this be done with regular paint?
While you can paint it with regular paint, I don't recommend it just because it will be too thick of a texture to stay within the glue lines.
I can't seem to draw an egg shape. What can I do?
If you want that shape to be a nice and crisp egg, you can go onto Google images and print off a generic Easter egg coloring page, cut it out and trace that shape.
About how long does the glue take to dry?
It kind of depends on how thick your lines are. My glue started to dry after about two hours, but I let them dry completely overnight just to be on the safe side, so I didn't end up with any glue on my good paintbrushes.
Can this be done on regular paper instead of watercolor paper?
You can do this on regular paper, but I love the way watercolor spreads on the specific paper for watercolors. It's also a thicker paper, so it doesn't bleed as easily.
Where do you get the watercolor paper?
You can get it at any craft store or here on Amazon.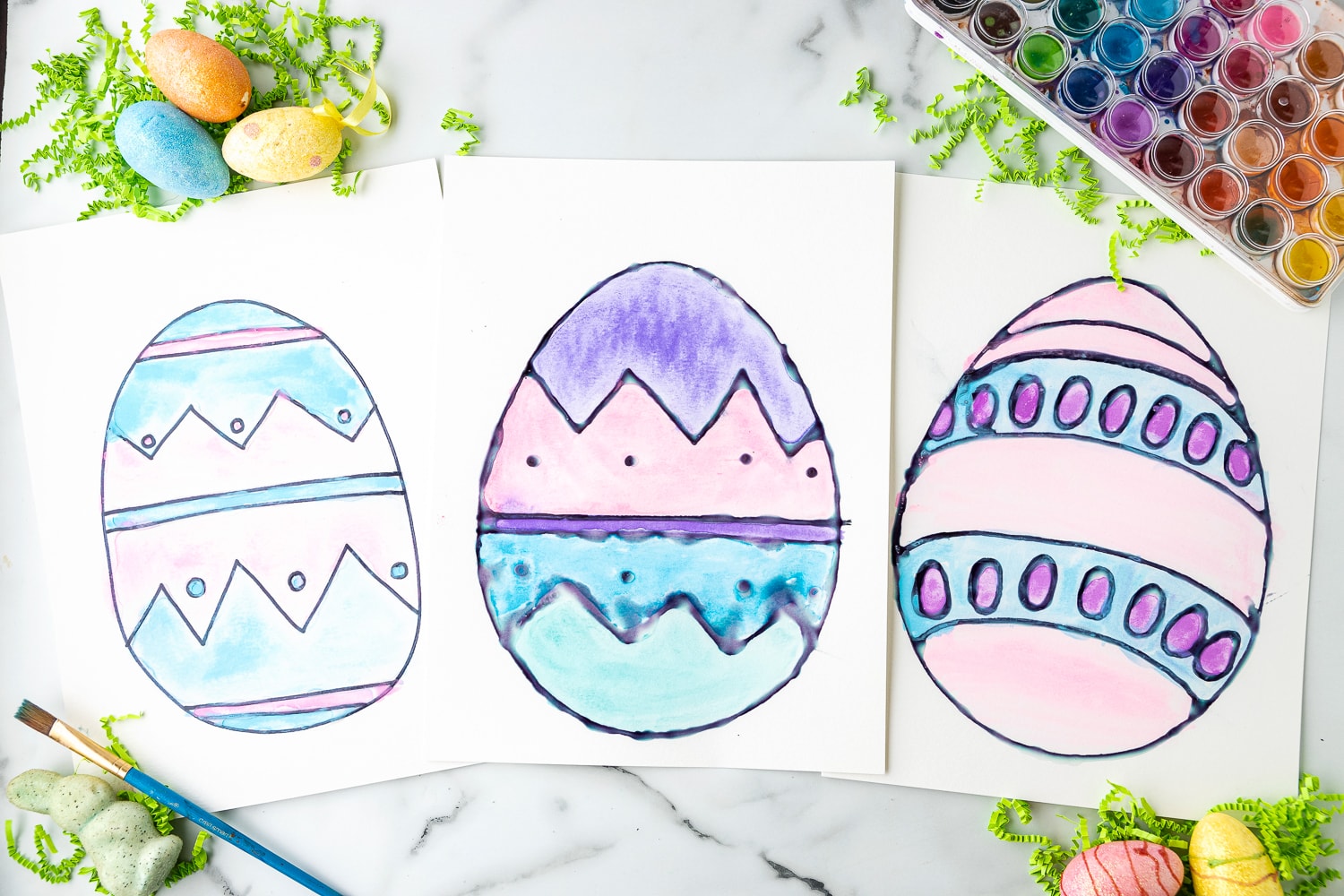 Fun, Easy Easter Crafts and Activities for Children!
If you take a picture of your Easter Egg Potato Stamp activity and share them on Instagram make sure to #kidsactivityzone or tag us @kidsactivityzoneblog so we can see them!
Watercolor Easter Egg Painting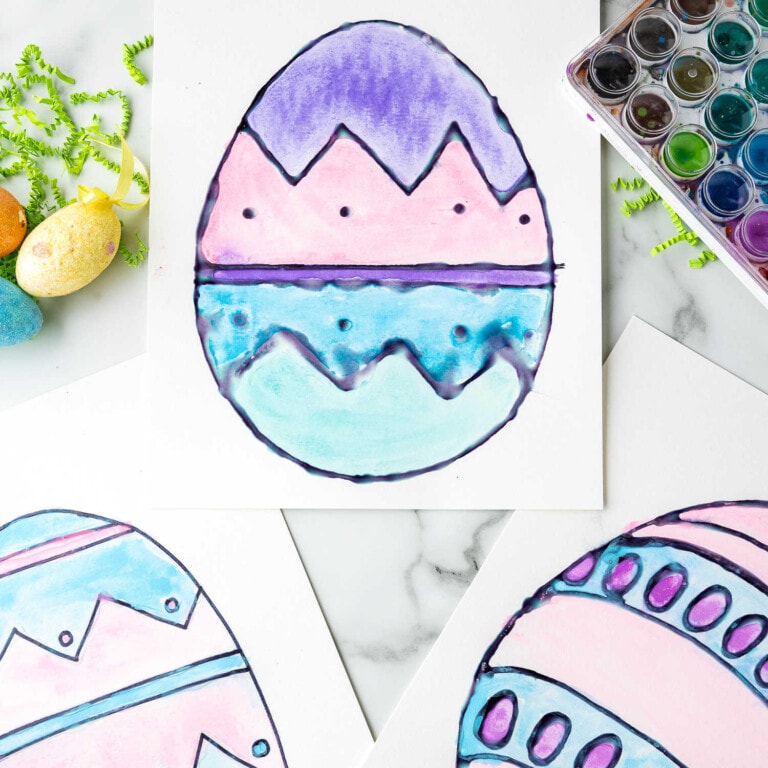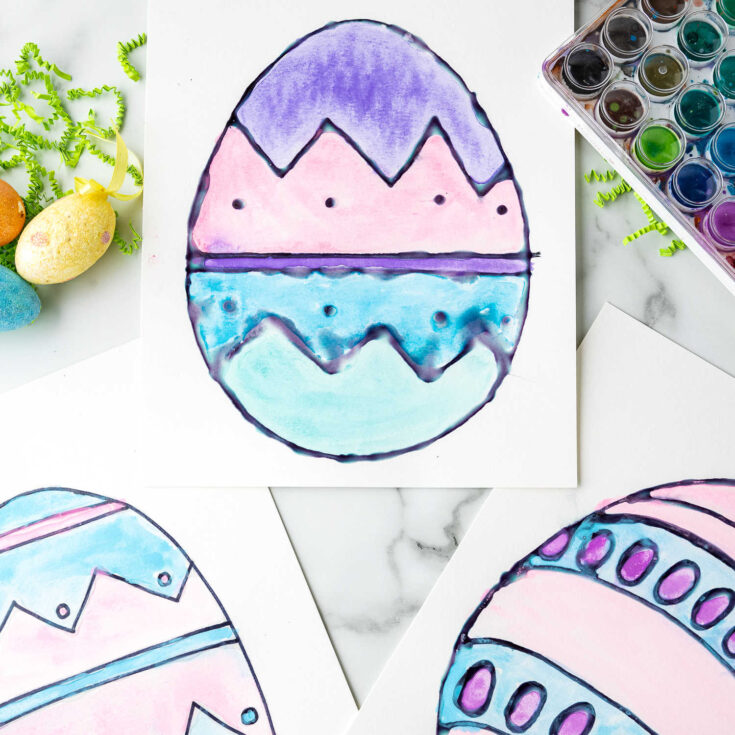 Cute and easy Watercolor Easter Egg painting makes the perfect Easter craft for kids!
Total Time
3 hours
20 minutes
Materials
Instructions
Using your marker draw an egg shape on your paper. Decorate your egg with lines, zig-zags, or fun shapes.
Trace the marker lines with the glue and allow them to dry completely.
Paint your egg with your favorite colors of watercolor.
Recommended Products
As an Amazon Associate and member of other affiliate programs, I earn from qualifying purchases.