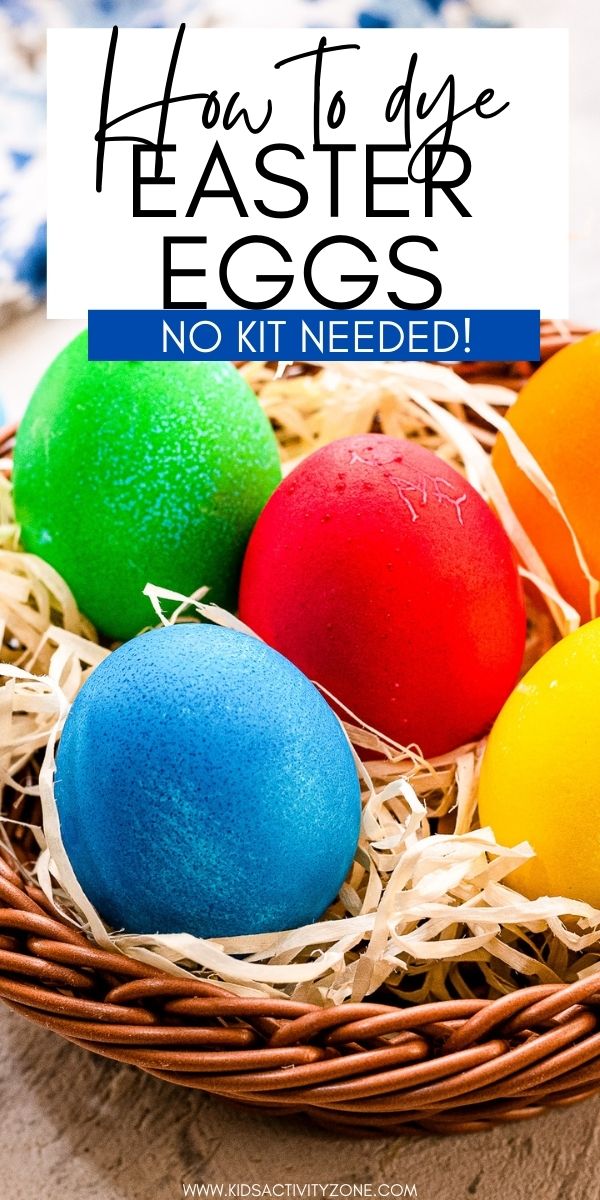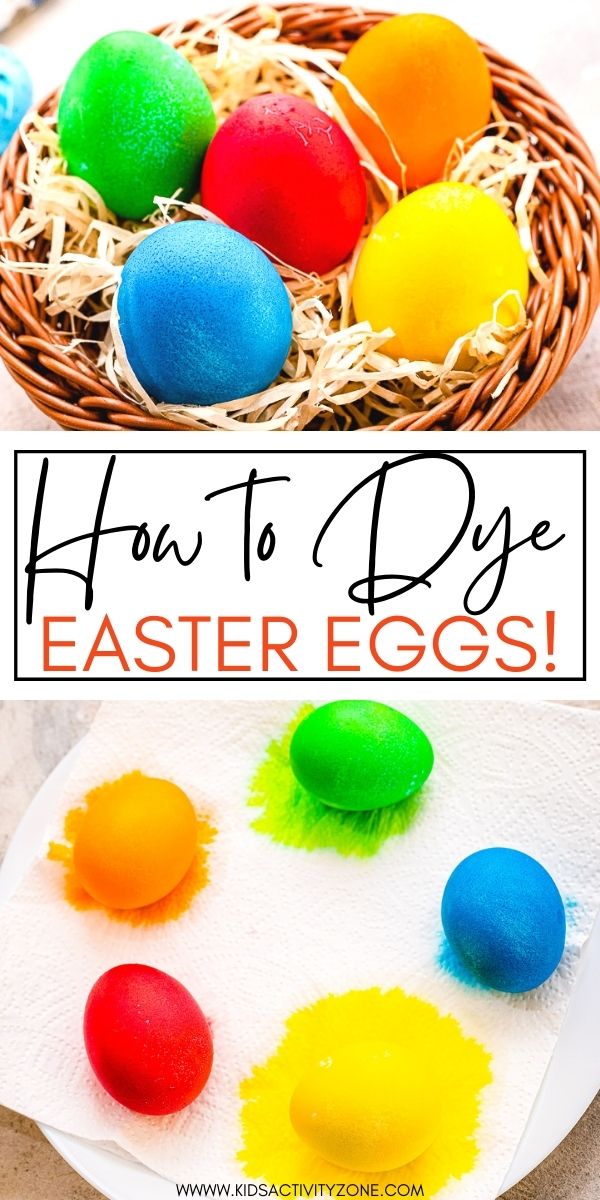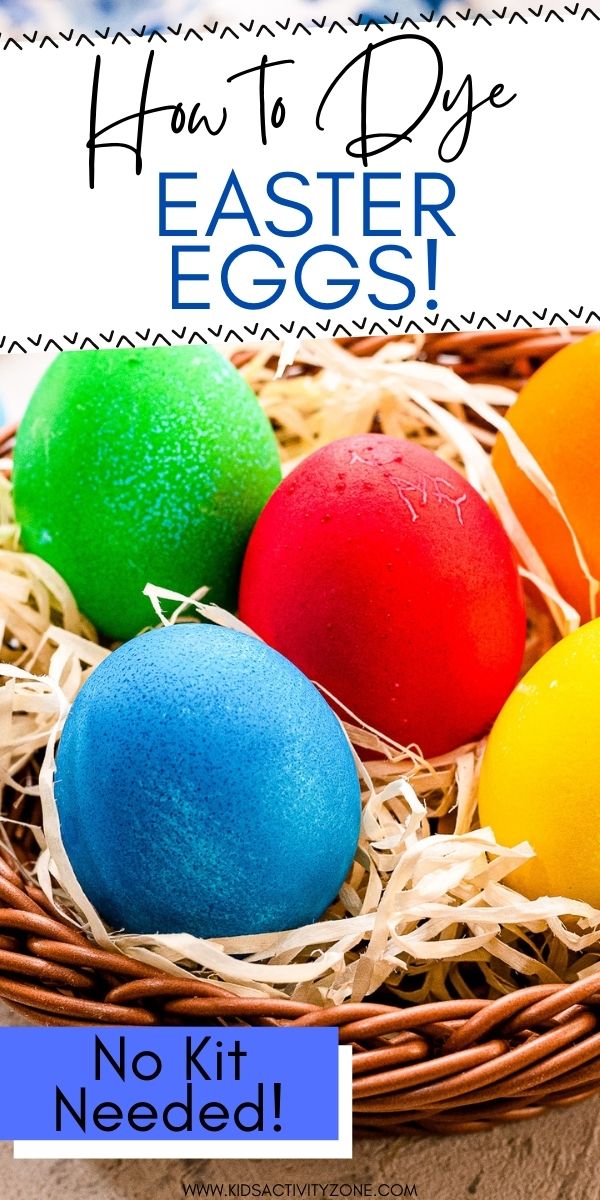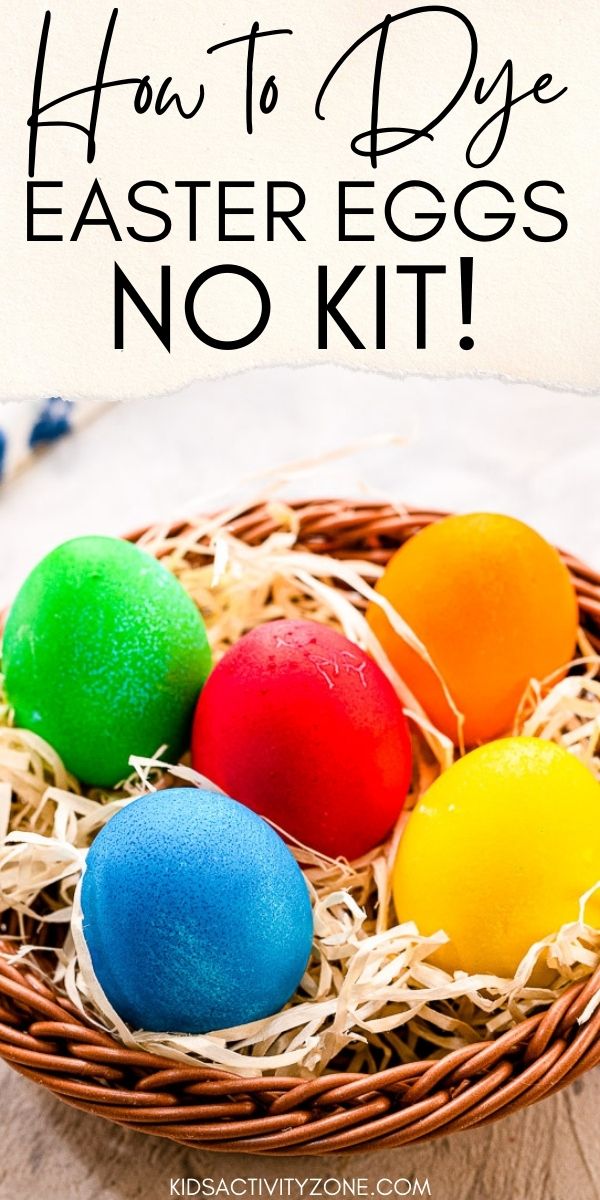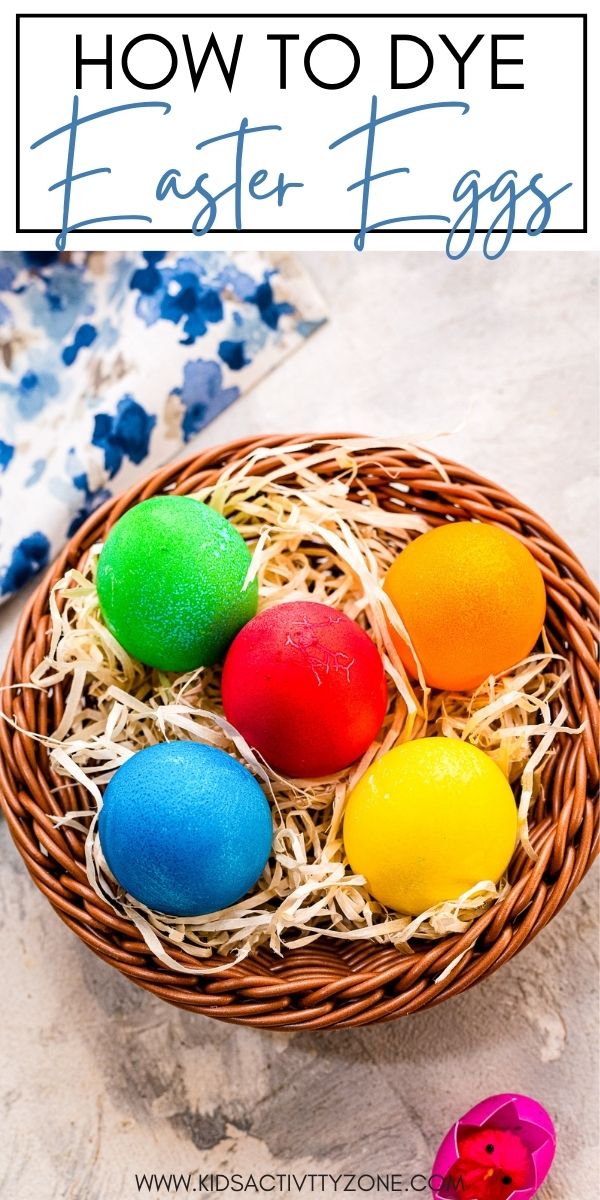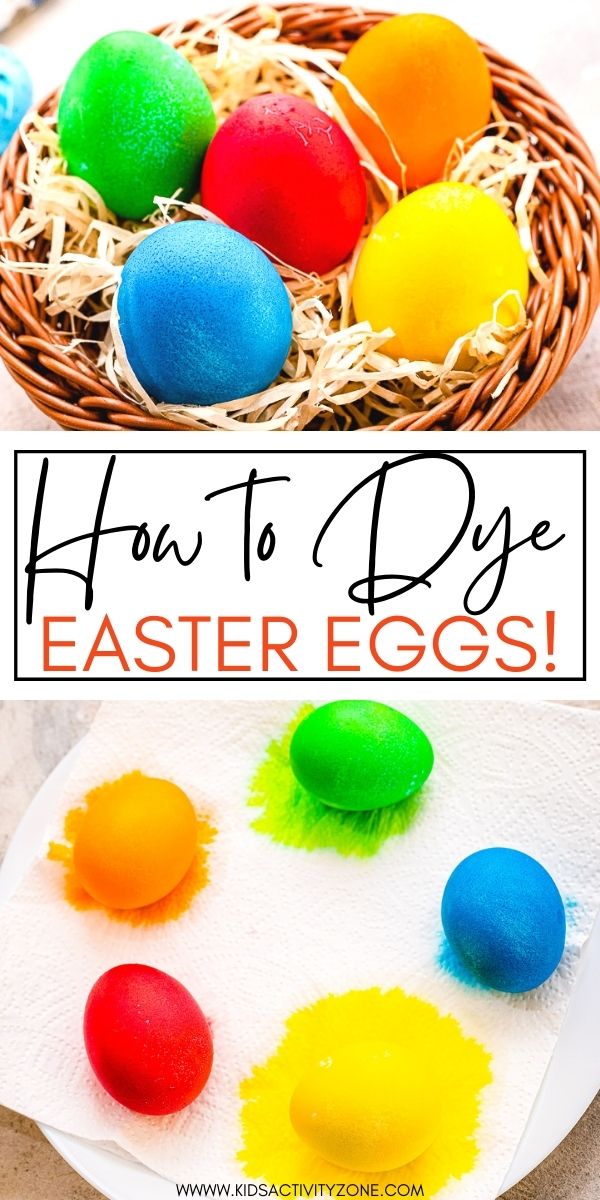 Quick and easy step by step instructions on how to dye Easter Eggs at home with no kit. You only need a few things that you probably already have in your pantry. You'll have bright, vibrant dyed Easter Eggs in little to no time!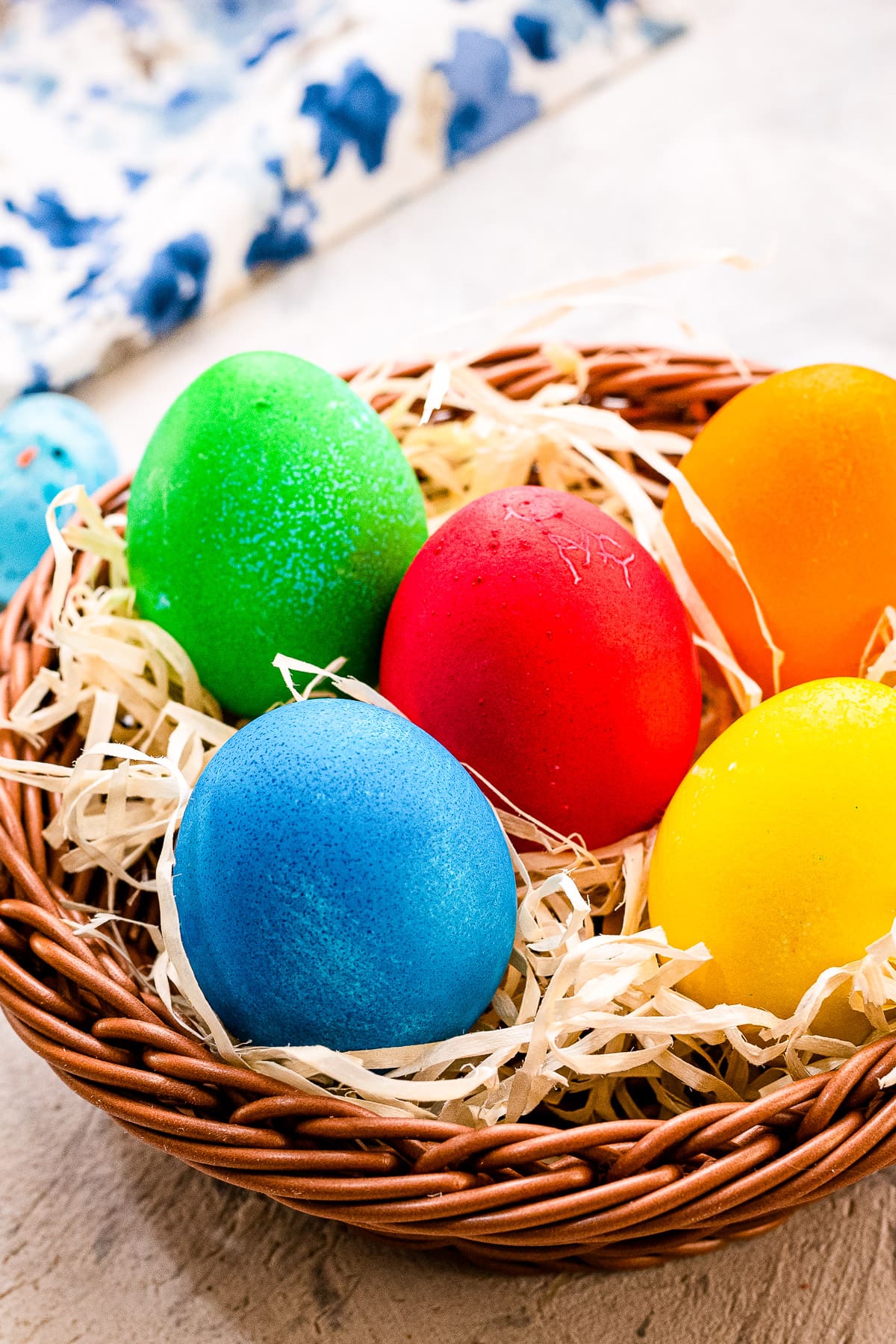 Did you know you can dye Easter eggs at home without a kit? It's so easy to do with pantry and kitchen staples. If you are in a last minute panic because you forgot the Easter Egg Dying kit no need to worry.
All you need is water, hard boiled eggs, food coloring and vinegar. That's right, that's it!
These dyed Easter Eggs are so easy and fun to do that the kids will have a blast. Check out the tips and tricks to make variations of these Easter Eggs in the post.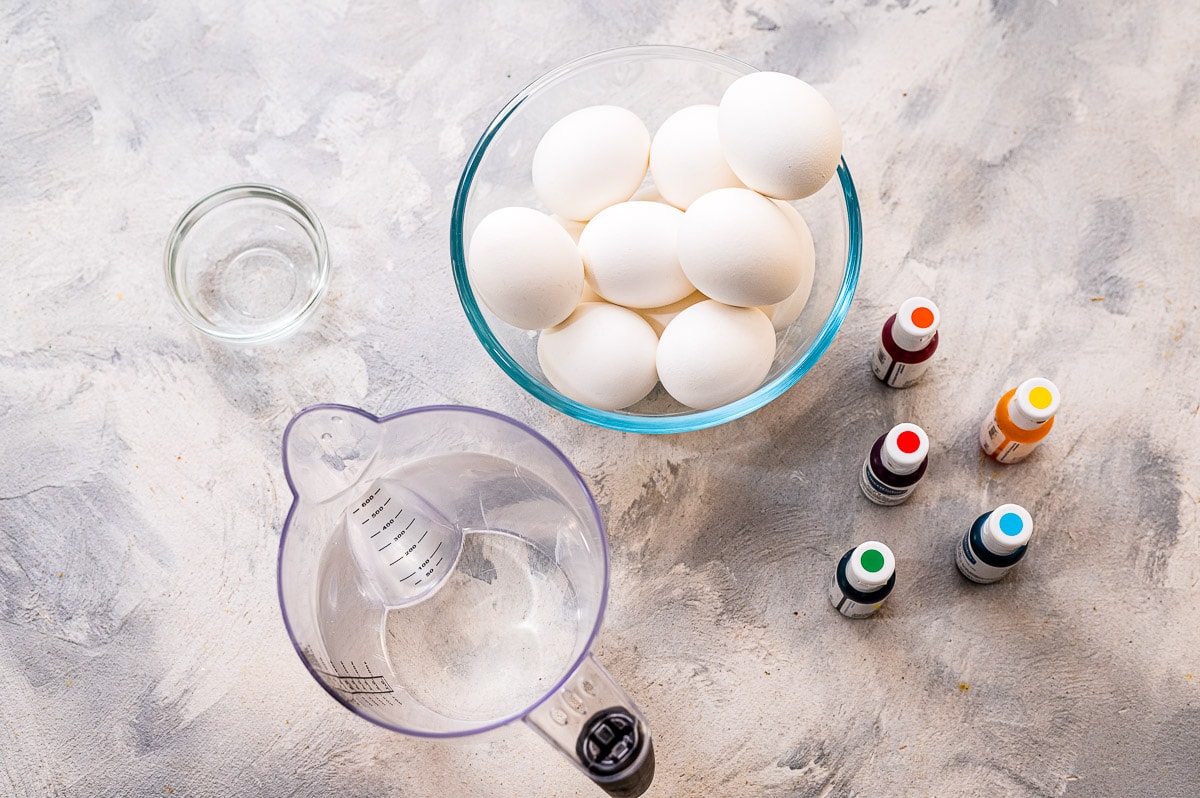 Supplies Needed to Dye Easter Eggs
Hard Boiled Eggs – To prepare hard boiled eggs simply place the eggs in a pot and cover them with water. Put the lid on the pan and heat on high until the water boils. Remove the pan from the burner, keeping the lid on and let sit for 12 minutes. Then remove the eggs and place them in an ice bath to stop the cooking process and let sit until they are cooled.
White Vinegar – This is necessary as it helps to bond the dye to the eggs. If you don't have vinegar you can use lemon juice as it is a mild acid that will work the same.
Boiling Water
Food Coloring – The most vibrant color will come from a gel food dye but any food coloring will work.
How to Dye Easter Eggs
Mix – Divide ½ c. boiling water into five different bowls. Add 1 tsp vinegar and 10 – 20 drops of food coloring to each cup to achieve desired colors. Stir to mix.
Dye – Place an egg in the dye for about 5 minutes or until desired strength of color is achieved.
Dry – Using a slotted spoon, wire egg holder or tongs remove egg from the coloring and let dry on a paper towel. Repeat until all eggs are dyed.
Tips and Tricks!
The longer you leave the egg sit in the dye the more vibrant the colors will be. More dye will also give you a more vibrant color.
Flip your egg over half way through the time it needs to dye to get an even color on each side.
Save the egg carton and place the eggs back in it for safe storage after you are done decorating them!
Remember to store your dyed eggs in the refrigerator if you plan on consuming them at any point. If they are out for more than 2 hours at any point discard them. Make sure your dye is food coloring if you plan on consuming them also in case the dye bleads through the shell.
Hard boiled eggs will keep in the refrigerator for about a week. Do not peel them before you are ready to eat them as the shell protects them from bacteria.
Did you know you can use the float test to tell if an egg is good still? Drop them in a pot of water and if it sinks you can eat it. If it floats toss it!
How to Decorate Eggs
Two Toned Eggs – To get a two-toned egg simply submerge half of the egg in dye and old the rest of it above the dye until desired color is achieved. Place on paper towel and let dry. When it is dry hold it by the dyed portion of the egg and dip it into another color for the other half.
Ombre Eggs – Similar to the toned two eggs except you overlap the colors to create a combination in the middle of the two colors.
Free Hand Design – Grab a white crayon and write your name, Happy Easter, Jesus, draw a cross etc. then dip it into the dye. When it dries this writing will show up on it!
Stripes – Grab some rubber bands and wrap them around the eggs before dying. Dunk the egg in the dye and then let it dry. After it's dried remove the rubber bands to reveal your design!
More Colors – Don't stick to the dye colors you have. Combine them to make new colors! Add red and blue together to get purple. Use just a little red dye to create a light pink!
Stickers – Grab some stickers, foam ones work great for this, and place them on the eggs before dying them. After they are dry peel off the sticker to reveal the shape of the sticker on your egg.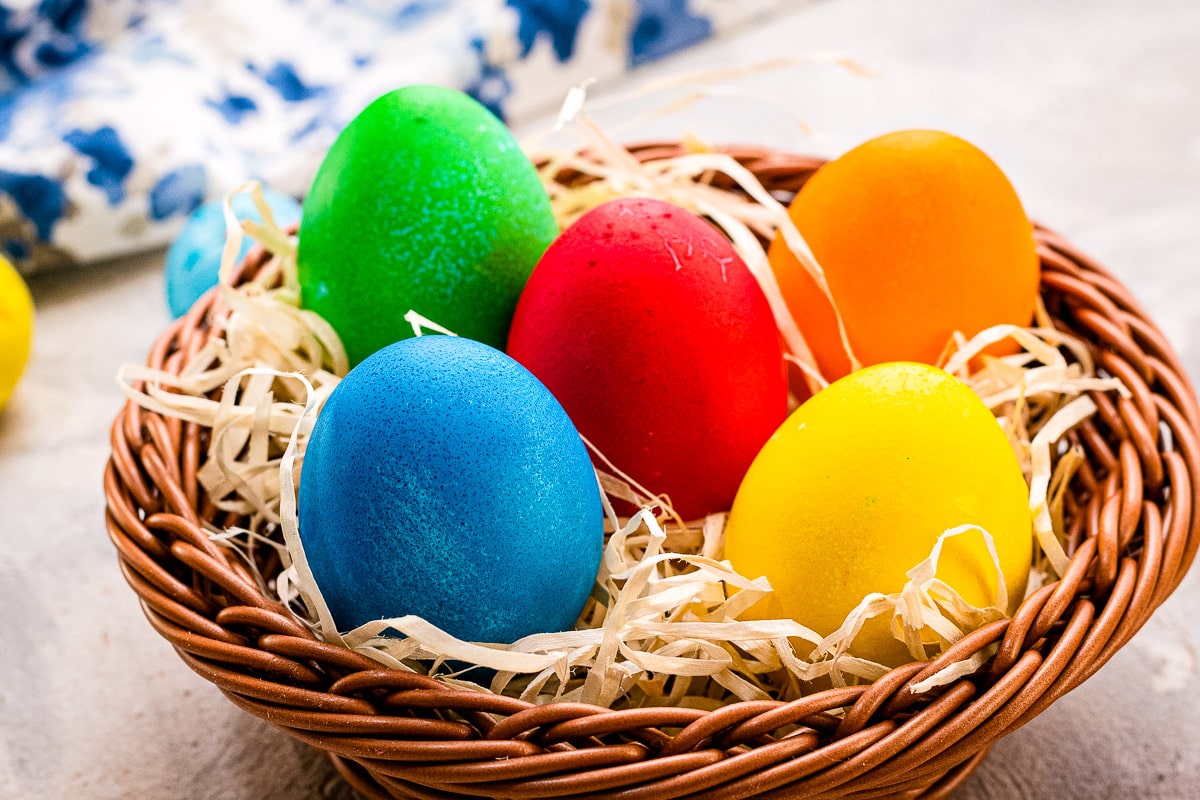 Coloring Easter Eggs is such a fun activity for kids and adults to do together. Have fun and use your imagination!
More Easter Activities!
If you take a picture and share them on Instagram make sure to #kidsactivityzone or tag us @kidsactivityzoneblog so we can see them!